The Best Things to do in New Zealand with Kids
The Best Things to do in New Zealand with Kids
It's painful having to pick the very best things to do in New Zealand with children.  It's like trying to choose your favourite child.  But I understand that if you are planning to visit New Zealand and haven't been before, you're looking for reasons to convince yourself that this is the best place to visit with kids
In this guide we will cover some of the most beautiful places in New Zealand that you absolutely must go to and some unique experiences in NZ that will give you something to write home about.  We hope this gives you a great starting point for planning your family trip to New Zealand.
While there are so many incredible places to visit, these are some of the top ones for first time visitors.  Perhaps it will be enough to convince you to stay longer or come for another trip.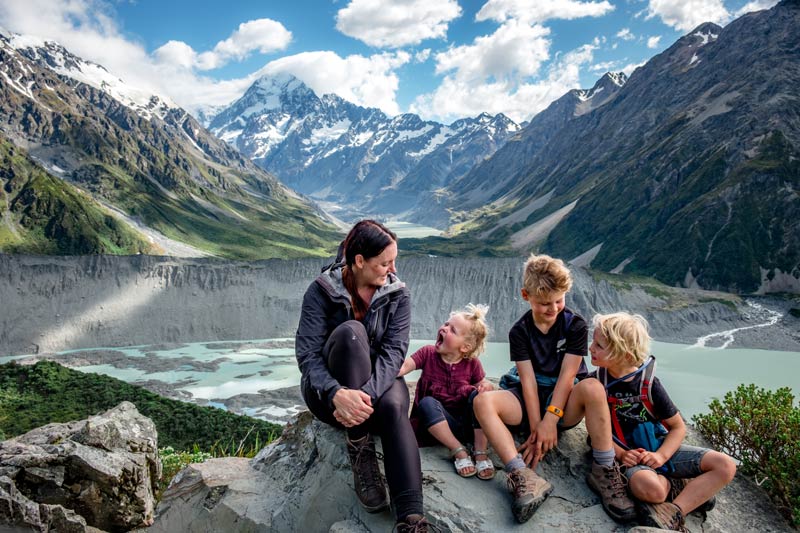 Why visit New Zealand?
New Zealand is famous for its incredible outdoor landscapes.  Our small country of around 5 million people has such variety.  We have mountains, volcanoes, rainforest, deserts, secluded beaches, gorgeous lakes and more.
Come for the nature, then stay for the fun adventure activities, incredible vineyards, explore maori culture, the fresh food and native wildlife.

Visiting New Zealand with kids
New Zealand is such an easy place to explore with children.  Besides the long flight you are likely going to take to get here, we really think that is the hardest bit.
Kiwi families do plenty of travel around the country, whether it be for a family camping holiday or a hotel stay, operators are used to kids coming as part of the package.
There are so many things to do in New Zealand for kids and the whole family, so unless you are wanting to do big ticket adventurous attractions, you'll find an option for families for most things.  Even jetboating in Queenstown you can take a child as young as 2 or 3.
In lots of major attractions, kids under 5 will go free so if you are travelling New Zealand with a baby or young kids, this will help the budget for sure.  Also keep an eye out for school holiday deals where companies will sometimes offer "kids go free with a paying adult" deals.
(Photo below: Childrens Walkway Rhino Walk, Akaroa, Canterbury)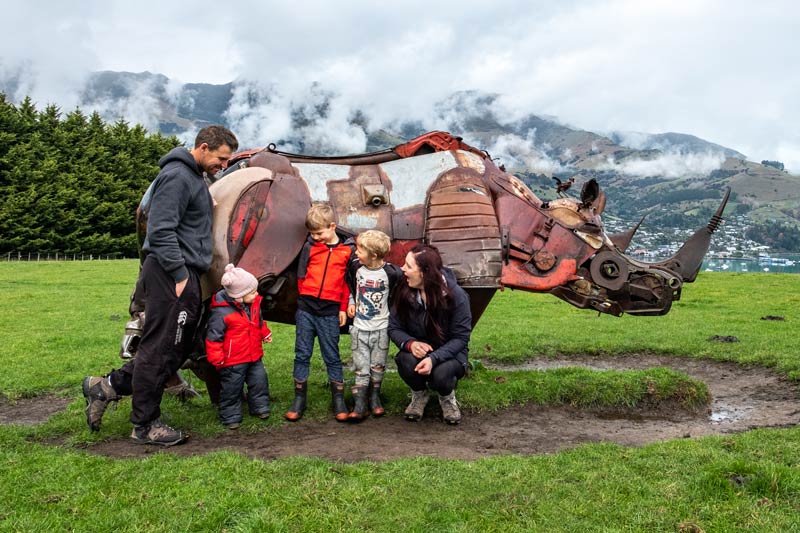 There are also so many things to do in New Zealand with a baby.  When we travelled with our little ones, we found a baby carrier ideal for sightseeing.  Some great things to do with babies are boat cruises, scenic flights, the many New Zealand playgrounds and walks.
How do I know:  We are a New Zealand family, born and bred and we travel around New Zealand with our three children.  There are so many things to do in New Zealand with toddlers and kids.  We guarantee you will have a great time!
** Please note that this article may contain affiliate links.  These do not cost you any extra but any commission earned goes towards the running of this website.  Thanks for supporting us

What to do in New Zealand with kids: Table of Contents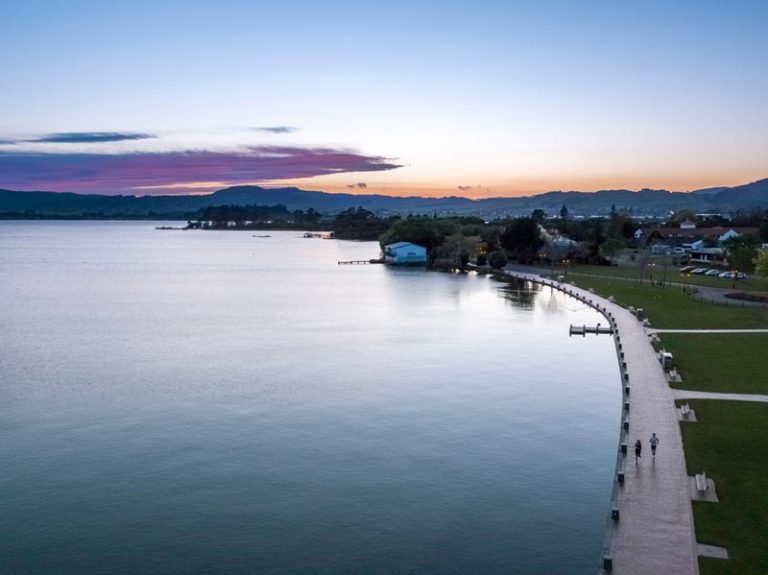 1. Visit Queenstown, New Zealand
Queenstown, our adventure capital, is the poster child of New Zealand tourism.  It's a small waterfront town sitting on Lake Wakatipu, surrounded by mountains.  You can hike or do watersports in summer at the lake and ski in mountains in winter.  And all year around you can do adventurous attractions such as skydive, jet boat, bungy jump and zipline.

The best things to do in Queenstown with kids
Go up the Skyline Gondola for the views and go luging (younger kids can double with their parents)

Hire bikes and mountain bike on the excellent trails

Take a jet boat on Lake Wakatipu or the Shotover River

Sail on the TSS Earnslaw Steamship to Walter Peak Farm for a traditional kiwi farm show where you get to feed the local animals

Visit the Kiwi Wildlife Park to see our New Zealand kiwi bird

Eat an iconic Ferg Burger or have fish and chips by the lake

Take a walk on the Bobs Cove Track, an easy 45 minute return walk with great views

Take the scenic drive to Glenorchy. The views from this road are totally worth it
You could easily spend a week or two in Queenstown, but 3-4 days should help you tick off some of the main highlights.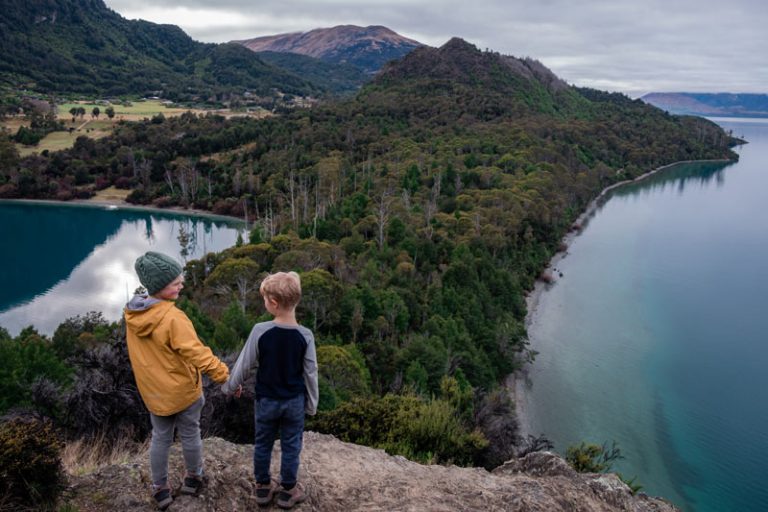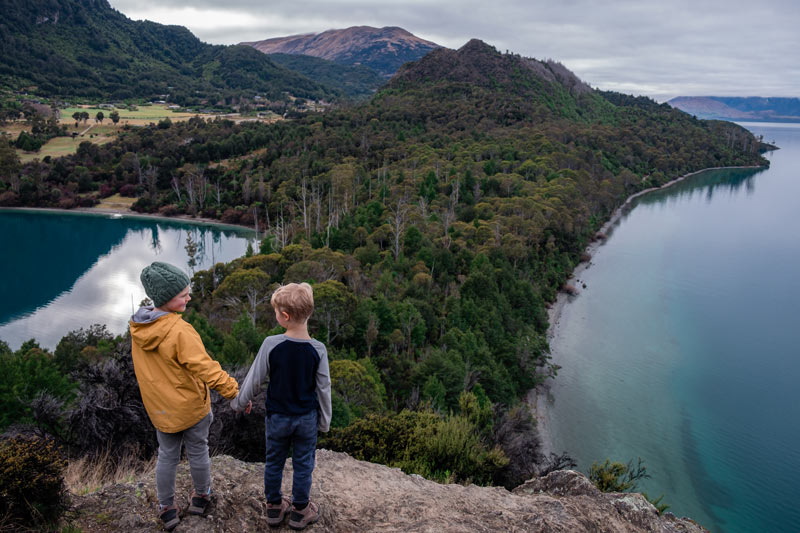 2. The remote Milford Sound, Fiordland
Milford Sound is an incredibly remote region in New Zealand.  With dramatic cliffs all around, this body of water is something to be marvelled at.  Located about 1.5-2 hours from Te Anau, its one of the rainiest places in New Zealand.
But don't be put off by the rain.  When it rains, hundreds of waterfalls come out and it looks like the mountains and the cliffs are crying.  The mist is so magical, so rain or shine, this place needs to be visited.
The most popular thing to do in Milford Sound is to take a boat cruise.  They all offer a similar cruise path, with Southern Discoveries having an option to visit an underwater observatory.
Cruises head out to the Tasman Sea and back, passing waterfalls allowing you to dance in the "rain".  You will have the option to drink waterfall water and you may even spot dolphins on the cruise.
Besides a cruise, you may also choose to do a kayaking tour (only Southern Discoveries do a tour for kids 5+) or take a day walk on the Milford Track
Recommendations:  Stay at Milford Sound Lodge so you can experience Milford in the quiet, after the cruises and buses have left.  It is the only accommodation besides campsites along the Milford Road and it is lovely.  We love staying here
If you're interested in more about Milford Sound, click our Milford Sound article here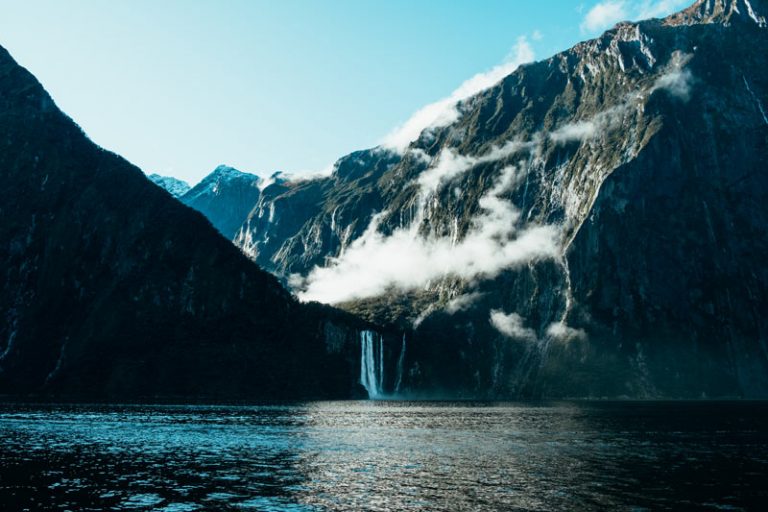 3. Marvel in Maori Culture
You can't visit New Zealand for the first time without exploring some Maori culture.  One of the best places in New Zealand to do this is in Rotorua.
There are many tours that help you experience traditional Maori dance, let you try a hangi (a traditional meal cooked in the ground with hot stones) and help you understand a bit of history.
We think it's really important to learn a little about the culture of a new place, so here are a few operators who run fun and informative tours

Learning about Maori Culture around New Zealand
Mitai Maori Village, Rotorua: Their evening tour includes a hangi for dinner, concert, dancing and opportunities to learn some language and customs too.  Find prices and dates here
Ohinemutu, Rotorua: Free to enter, Ohinemutu is a living maori village where you can learn about how Maori use geothermal waters for cooking, bathing and heating.
Te Papa Museum, Wellington:  Te Papa is our national museum (free to enter but donations appreciated) and they have some incredible display and information.  The carvings on the meeting house is incredible
Waitangi Treaty Grounds, Northland:  Learn about the Treaty of Waitangi, a document signed between the Maori and British that led to the colonisation of New Zealand.  Take a look at ticket prices here
Visit Tane Mahuta, Northland:  New Zealand's largest native kauri tree is huge, and it is here you can learn about him and maori myths and legends surrounding the forest.
Find out more in these articles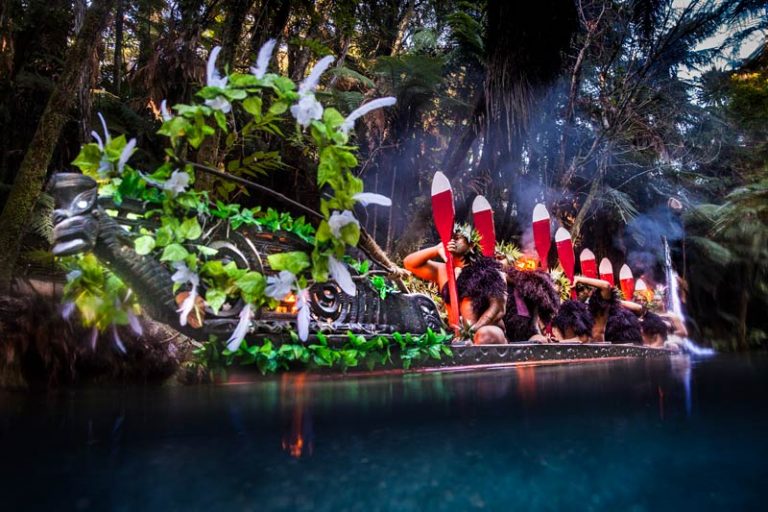 4. Awesome New Zealand Walks with Kids
One of the best things to do in New Zealand is take a walk.  Its the best way to get up close to nature and really see the beauty.  Sometimes it's the only way to make it to these incredible spots.  Here are some great short walks with kids
Marokopa Falls:  If you visit Waitomo Caves to see the incredible glow worms and cave structures, head 30 minutes into the wilderness to the cascading Marokopa Falls.  Just a 10 minute walk that is well worth the drive.
Read more: Marokopa Falls and more short walks in Waitomo

Mt Maunganui:  A short steep uphill climb taking 25-45 minutes to the top, this sunrise will give you the best start to your day.  Watch the sun peek up over the horizon and Mt Maunganui Beach.  It really is worth getting up early for

Hooker Valley Track, Mt Cook: A 10km return walk taking 3-4 hours, this walk is surrounded by snowy mountains and has three awesome swing bridges the kids will love.  Keep an ear out for avalanches and our cheeky native kea, the worlds only alpine parrot
Read More: Hooker Valley Track, Mt Cook

A day walk on the Abel Tasman Track, Nelson:  This is a 30+km trail, however you can take a water taxi and complete just a few hours of the track if you wish.  There are so many incredible beaches and bays and this is such a good option if you have small kids who can't walk for hours, or if you don't have time to take on the whole 3 day walk.
You can also do a scenic cruise along the Abel Tasman coastline, finding Split Apple Rock and have a beach stop off.  You can find more info on scenic cruises here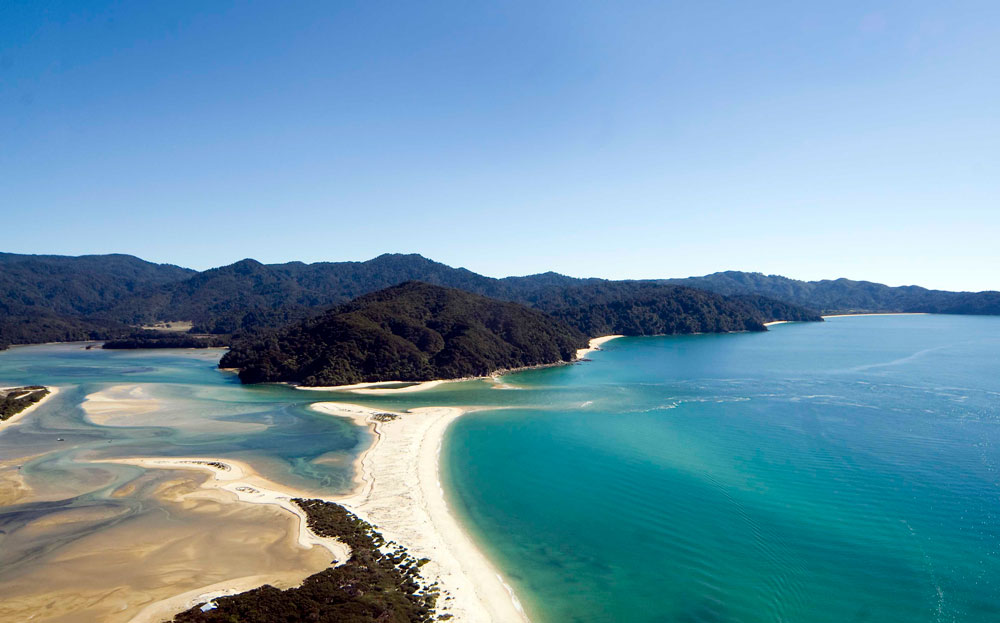 Hokitika Gorge, West Coast:  This 1 hour loop track will take you to some of the most amazing blue green water you've ever seen.  You won't believe its colour.  Swingbridges and the opportunity to rock hop will keep the kids entertained and its the perfect spot for a family photo.
Find out more about this walk:  Hokitika Gorge Walk

If you love to walk, you might be interested in checking out these articles
5. New Zealand Film Locations
One of the things that New Zealand is most known for are some of its incredible landscapes, as showcased in films such as the Lord of the Rings, the Hobbit and Narnia series.
If you are into the films or just love to see pretty places, here are a few that you can check out
Visit Hobbiton: 
One of the best things to do in Hamilton with kids, the Hobbiton film set is EVERYTHING you wish it would be.  If you're a huge fan, its a no brainer.  And while I'm not a super fan, I enjoy the films, it was just the best.  You really are walking onto a set that is so well kept.  Just like walking into the movie.  Kids under 9 are free so make the most of it if they are young.
You must book tickets in advance, so secure your Hobbiton tickets here (with free 72 hour cancellation)
Lord of the Rings
The other option is a to take a Lord of the Rings Tour.  These are super fun and will connect you with all the references to the films.  A lot of the operators even worked with the film crews were here so have some awesome inside knowledge.  Take a look at these tours below
Glenorchy Lord of the Rings Tour:  Visits locations such as  Isengard, the Ithilien Camp, Lothlorien & Fanghorn Forest.  1/2 day tour from Queenstown.  Check out the latest prices here
Wellington Lord of the Rings Tour:  If you select the full-day tour, you'll have the opportunity to walk the forests of The Lord of the Rings and visit the peaceful Shire, Rivendell, Isengard, and the Great River Anduin. You will visit Weta Studios, where you'll be acquainted with the award-winning props, special effects, and sets that they use for their movies.  Check out the full tour info here
The Narnia Films
Castle Hill, Canterbury:  A scene very close to Flocked Hill where the big battle scene was filmed in the Lion, the Witch and the Wardrobe

Cathedral Cove: In the second film where the siblings arrived back

Anatini:  Aslans camp in the Lion, the Witch and the Wardrobe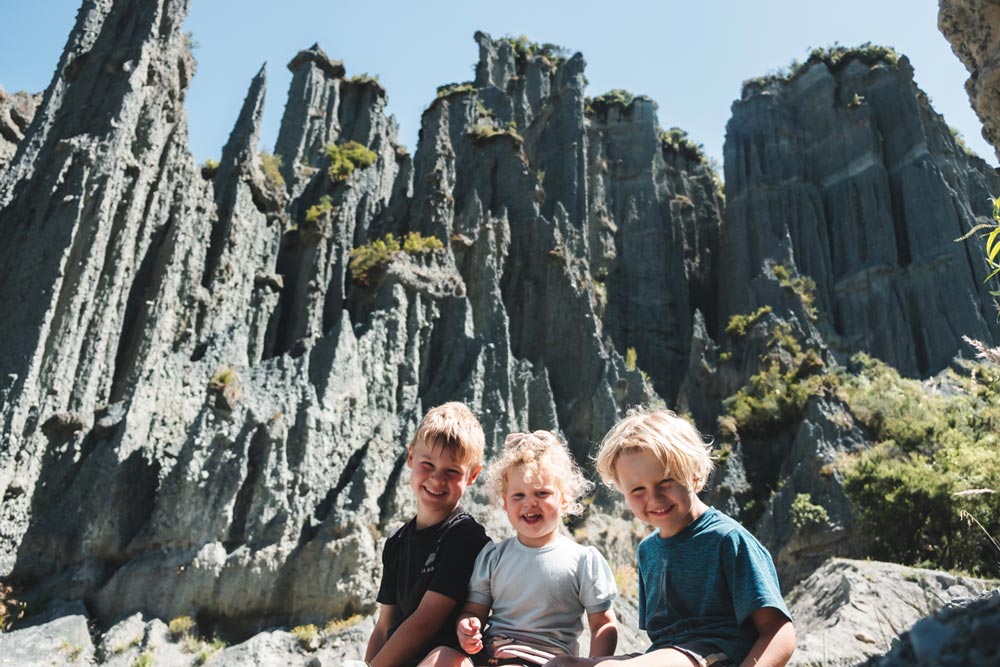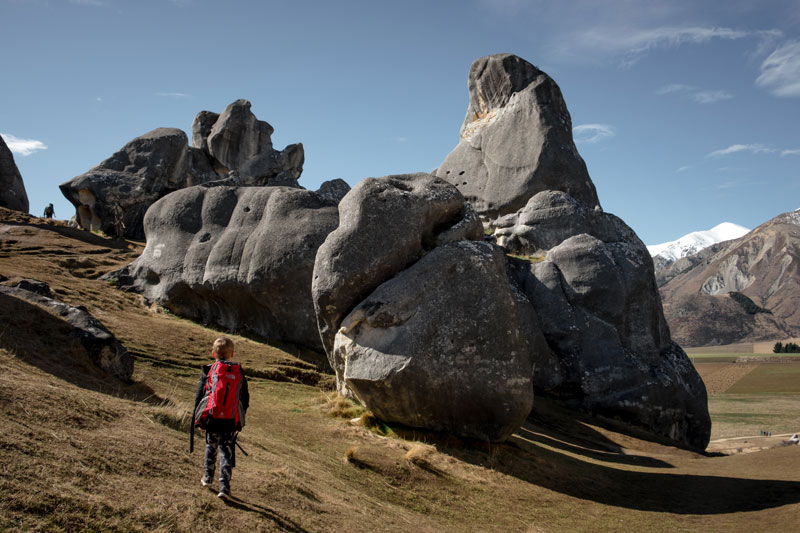 6. Magical New Zealand Mountains
If you follow me on Instagram, you will know I love the mountains, a lot.  So if this is you too, then the South Island is the place to head.  Taking photos of snow capped mountains is one of my favourite things to do in New Zealand in winter.

If you love hiking in the mountains, then head to Mt Cook, Wanaka, Queenstown and Fiordland
Skiing in New Zealand with kids is awesome and you have lots of options.  The Queenstown/Wanaka region has 3 main commercial ski fields (Coronet Peak, the Remarkables, Cardrona) and Canterbury has Mt Hutt.  In the North Island, there is Whakapapa and Turoa on Mt Ruapehu.

Beyond that there are what we call club fields.  They are smaller fields, often run by volunteers and club members, with much reduced facilities.  You won't find fancy chair lifts or kids clubs here, but there is still some amazing skiing to be done.  So depending on your skill level and what sort of facilities you need, we will have you covered for snow sports here.
Read more: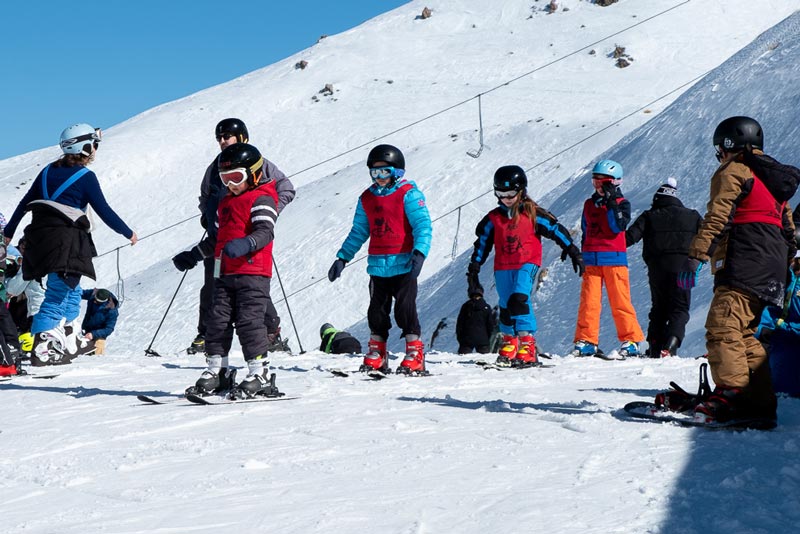 7. The Best Beaches in New Zealand for kids
The best beaches in New Zealand are in the North Island.  Sorry South, I know you have some cool spots too, but the North Island is the warmer island and home to many amazing beaches.
Summer in New Zealand is December to February, but any local will tell you that February/March has the best summer weather.  Those who live in the "Winterless North" aka Northland will let you know that you can swim in spring and autumn here too.
It's worth nothing that New Zealand is nothing like tropical island swimming.  If you are hoping for the warm waters of Thailand or Fiji, you're in for a shock.  In comparison, our water is cold.  But to be honest, on a hot day in Thailand, I want much cooler water than they offer.
Image below: Wharariki Beach / Image credit: Cape Farewell Horse Treks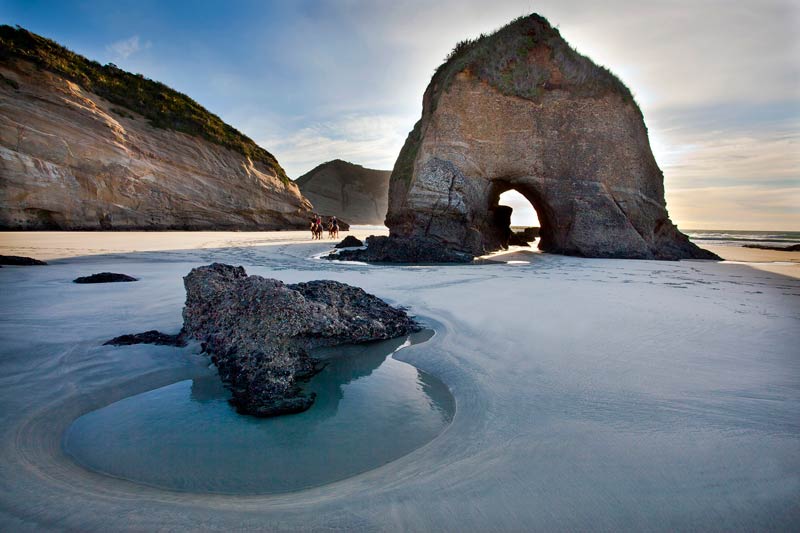 Here are some of our favourite beaches in New Zealand for kids
Rarawa Beach, Northland: The most pure white sand with a good estuary for kids to swim in.  The main beach can get a little rough, but for older kids with boogie boards, or if you stay in the shallows, its a great day at the beach
Mt Maunganui, Bay of Plenty:  This place is lucky as it has the main beach which is a great surf beach, as well as Pilot Bay which is perfect for paddleboarding.  So whatever the weather or wind, one of these beaches, right next door to each other will have you sorted.
New Chums Beach, Coromandel:  Only accessible by walking, this beach is the undiscovered beauty you have always dreamed of.  So pack a backpack with food and supplies and head up and over the hill to this Coromandel beauty.
Hot Water Beach, Coromandel and Kawhia:  Two unique spots are Hot Water Beach in the Coromandel and Kawhia Beach.  Here at low tide, you can dig holes in the sand and access the warm water that sits just below the surface.  Kids will love making their own hot pools for free on the beach.  Such a fun thing to do in New Zealand with family.
The best things to do in New Zealand in summer is to hit the beach, so no matter where you are, they'll be less than a few hours away.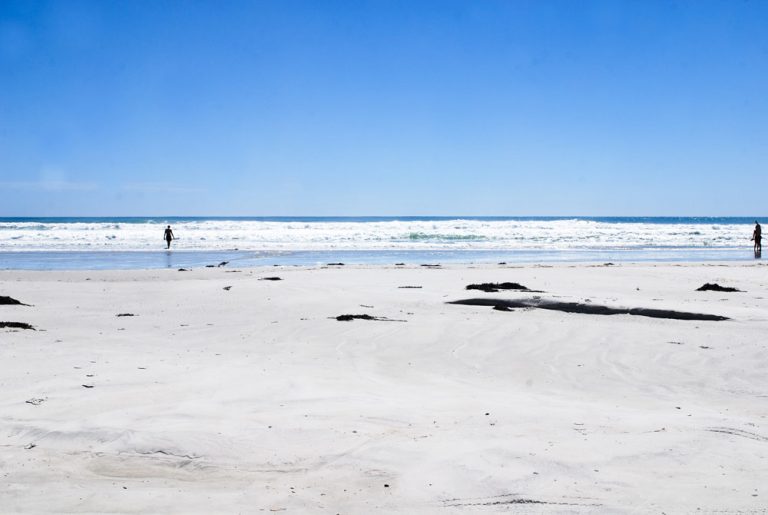 8. Have you ever seen a Volcano?
If you've arrived into Auckland International Airport, you won't have to head far before you find volcanoes.  In fact, Auckland is home to 53 volcanoes and they are right in the city and the suburbs.  But don't worry, they are dormant and any movement is well documented.
One of the coolest things to do in Auckland with kids is to check out some of the most popular volcanoes in New Zealand: Rangitoto Island, Mt Eden or One Tree Hill.

Throughout the rest of country, why not check out
Lake Taupo:

New Zealand's largest lake is actually a crater lake.  Take the kids to the shoreline to find volcanic rock such as pumice

Whakaari / White Island:

This erupted in 2019 and devastatingly killed a number of tourists who were exploring the island.  This active volcano can be seen from the shores of the Bay of Plenty or by scenic flight

Mt Ruapehu

is the largest active volcano in New Zealand and also has two ski fields.  There was a small eruption in 2007 that spread ash, rocks and water across the mountain.  Volcanic alerts help to keep everyone safe in the area and these are frequently triggered by small rumblings.

Mt Taranaki

is one of the most symmetrical volcanoes in the world and is an absolutely stunning sight.  Exploring the many walking trails on the mountain is one of my favourite things to do in New Plymouth
9. The Best Sunrises and Sunsets in Aotearoa
Did you know that New Zealand is home to the first sunrise in the world, every day.  Since we are so close to the dateline, the East Cape is the first place to see it, therefore making it something to tick off your bucket list.
Some great places to see the sunrise
East Cape

Mt Maunganui, Bay of Plenty

Castlepoint, Wairarapa

Kaikoura

Nugget Point Lighthouse, the Catlins
West Coast sunsets are incredible too.  A lot of the West Coast beaches have awesome black sand too.  Here are some of my favourite New Zealand sunset spots
Piha Beach, Auckland

Raglan, Waikato

Wharariki Beach, Tasman

Hokitika, West Coast

Gillespies Beach, West Coast

Milford Sound, Fiordland
Sunset at Gillespies Beach on the West Coast of the South Island, sun lighting up the mountains behind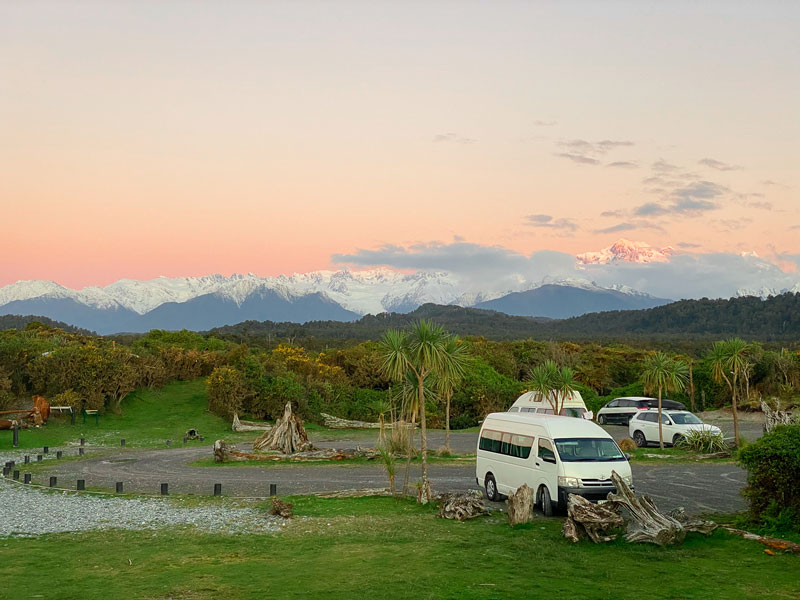 10. Get an adrenalin hit with Adventurous New Zealand Attractions
If there's one that New Zealand is good at, its adventure.  Thanks to some great marketing from AJ Hackett who invented the bungy jump and our crazy natural landscape, there are tons of adventure activities in New Zealand.
Here are some great adventure activities that you can do with kids
Zorb in Rotorua:  Jump inside a huge inflatable ball and tumble down a hill.  Sounds crazy, it is!  One of the best things to do in Rotorua with kids. Click here to find out more
Jet Boat:  There are jet boat tours all around the country.  One of our favourite is the Fiordland Jet who speed down a river and end up in the clearest of lakes.  They also chat about the history of the area, the Lord of the Rings film location and they even let our kids have a little drive.
Luging:  A bit like downhill go karting but safer.  Kids under 6 can double with an adult meaning this is great fun for the whole family.  Skyline Luge is located in Rotorua and Queenstown.
Bungy Jumping:  An iconic New Zealand activity, kids can bungy from 10 years old in some cases.  You can find bungy jumps in Queenstown, Hanmer Springs, Taupo and Rotorua
Ziplining: 

There are tons of places to zipline in New Zealand and for most, kids from 6 and up can join in.  The longest and highest zipline in New Zealand is at the Christchurch Adventure Park.
For more adventures in New Zealand, see below
11. Get up close to our New Zealand Wildlife
With New Zealand being an island nation, we have many native birds and animals that never had the chance to migrate to other parts of the world, meaning New Zealand is the only places you can see them.  Here are some of our favourite wildlife encounters in New Zealand.
Kiwi:  The famous bird is nocturnal so the chances of coming across one in the wild is very rare.  However one of the most common spots is on Stewart Island in the deep South.  Stay overnight on Stewart Island and chat to the locals about the best spots to see them at nighttime or take a Kiwi Encounter Tour to up your chances of seeing one
Or else you can see them in some of the zoos or wildlife centres around the country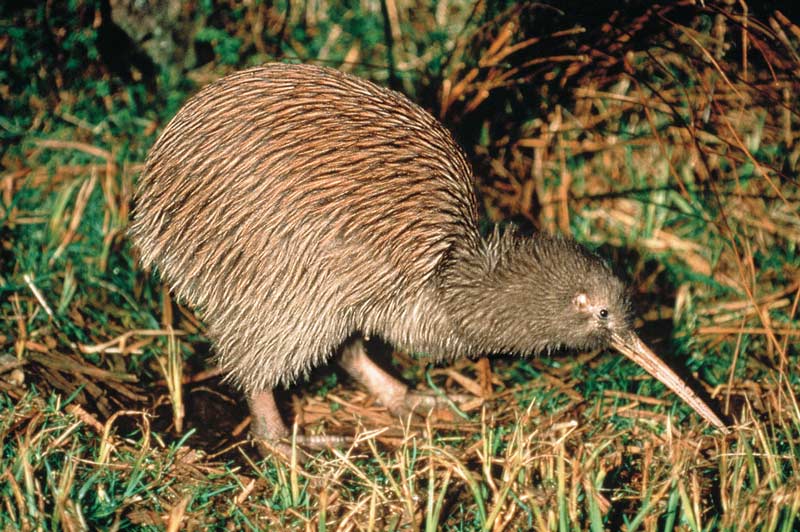 Kea:  Kea are the worlds only alpine parrot and can be found in alpine regions of New Zealand.  Three popular places they are spotted are Mt Cook National Park, Arthurs Pass and Milford Sound
Hectors Dolphins:  Hectors dolphins are the smallest and rarest dolphins in the world and can only be found in the Akaroa / Banks Peninsula region of New Zealand.  Take a wildlife encounter cruise or dolphin swim in Akaroa to see them up close.
Other places to see or swim with dolphins are in Kaikoura, the Marlborough Sounds and Auckland.


Whales:  While not native to New Zealand, our proximity to Antarctica means whales love to hang out in our waters all year around.  Some of the most common whales include humpback whales, blue whales and orca.  Whale Watch Kaikoura take an awesome tour and you are almost guaranteed to see whales, they don't miss often.  Check out the Whale Watch Kaikoura tours here
Penguins:  Kids love seeing penguins and we have some awesome spots to see them in the wild.  Penguins commonly play and feed in the water during the day, then come home to nest on the shores at dusk.
Some great spots to see them include:  Pohatu Penguins (below), Oamaru Penguin Colony, Curio Bay, Roaring Bay
For more information please read:  Where to see Wildlife in New Zealand and the Best Things to do in Catlins with kids
12. Taste our classic kiwi tucker (New Zealand food)
Food!! One of the best things to do when exploring a new country is to experience local food.  Yum!! But New Zealand cuisine is a little hard to define.  We have some traditional Maori meals and native plants, some awesome seafood, but the rest of our foods have come from so many other cultures, given how young our country is and our eclectic mix of cultures we have here in New Zealand.
So while you could visit Japan and have traditionally Japanese food, here in New Zealand, our popular fish and chips, is essentially British, much like our Sunday roast.  Some of our most popular restaurants may be more Asian fusion than a specifically NZ cuisine.
But here are a few popular things that kiwis love, and kiwis who live overseas miss when they are away
Fish and Chips:  A classic Friday night dinner or anytime you are running short on time.  Battered fish pieces laid on top a pile a deep fried chips (thick fries, not potato crisps)
The Meat Pie:  A classic mince and cheese pie is a must try.  Tasty minced meat in a gravy, topped with cheese all wrapped in a flaky pastry.  Quality varies across the board but try somewhere like Glamour Cake Bakery in Lyttelton for a high quality product (also the freak donuts there are amazing)
Hangi:  A traditional maori meal cooked in the ground over hot stones.
Seafood:  If you get the chance to try paua, kina, whitebait and the biggest green lipped muscles you've ever seen, then do.  Quite an acquired taste, but totally unique
Sweets:  In the supermarket, pick up some: Pineapple Lumps, Jaffas, Whittakers Chocolate
Classic Kiwi BBQ:  Every summer, all families will have a classic kiwi bbq at some stage.  Steak and sausages on the bbq, coleslaw and potato salad sides, with a traditional pavlova dessert (meringue)
Southland Cheese Rolls:  Rolled up bread with a cheesy filling all baked for some hot cheesy comfort food
13. Take a classic kiwi road trip and try out our Road Trip Itinerary
We have created some a New Zealand North Island road trip itinerary and a New Zealand South Island Road Trip itinerary aimed at families travelling with kids.  They include what we deem to be the highlights as well as some hidden gems we love.  See the articles below
Road Trip Itinerary for the North Island: Things to do in New Zealand North Island
Road Trip Itinerary for the South Island : Things to do in New Zealand South Island

If you are more interested in some region guides, then you may find these helpful
Visiting New Zealands North Island
Awesome things to do in Northland with kids

The Best Things to do in Taupo with Kids (pictured below)

Exploring Waitomo, beyond Waitomo Caves

Free Things to do in Wellington with kids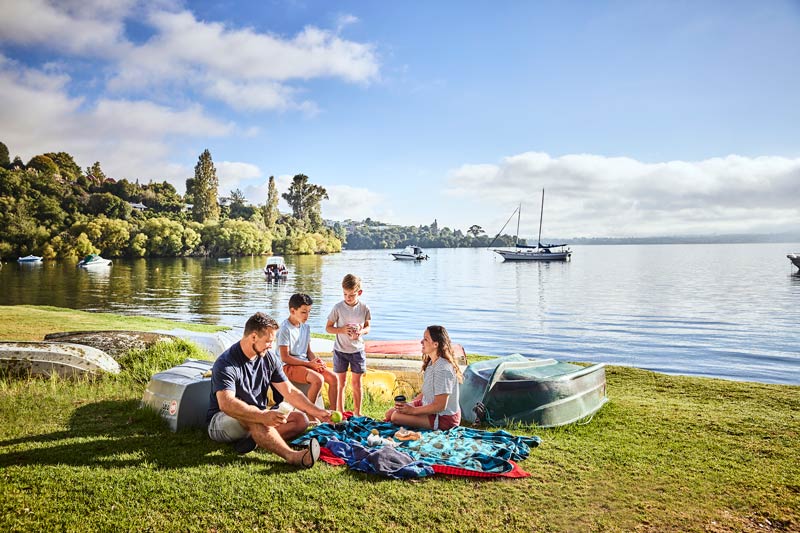 Things to do in New Zealands South Island with kids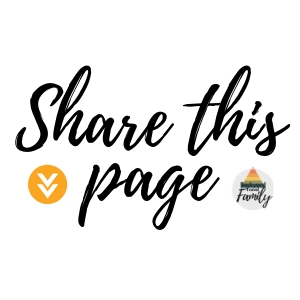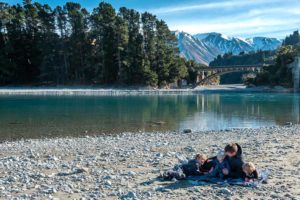 Things to do in Ashburton with Kids and around the Mid Canterbury Region If you are like me, you are always looking for interesting things
Read More »