20 Things to do in Picton
Things to do in Picton, New Zealand
Picton is most famous for its big port and is home to the Cook Strait Ferries.  It is the jumping off point for the ferries between Picton and Wellington and the unofficial capital of the Marlborough Sounds.
Anyone road tripping between the North and South Island must take a ferry, which may leave you wondering "What to do in Picton while waiting for the ferry".  But it is also a great place to base yourself while exploring the Marlborough Sounds, full of beautiful coves, bays, tracks and wildlife.
Please note: this article may contain affiliate links.  These do not cost you an extra but any commission earned goes towards running this website. Thanks so much for your support!
Jump to Section:
Picton Accommodation
Picton is not a huge town but it does have a range of accommodation given that it is a port town.  You may consider staying close to the Picton township if you have a very late or early ferry, or why not check out a tranquil spot in the Marlborough Sounds if you have some time up your sleeve.  Right lets check out where to stay in Picton, New Zealand.
Picton Top 10 Holiday Park, Picton NZ
Top 10 Holiday Parks have great facilities for families and this Picton camping ground is the same.  Childrens playgrounds and swimming pools will keep the kids entertained, as will the bike and gokart hire on site.  They have a range of accommodation from simple tent sites, to basic cabins to modern studios and villas.  For great family friendly accommodation, Picton has it all right here.
Click here to check out the latest prices
For other Picton camping spots that are a bit out of the main centre, try Momorangi Bay or Rarangi Beach, just 20 minutes from Picton.
Harbour View Motel, Picton
Highly rated Picton Accommodation, the Harbour View Motel has studios and apartments sleeping up to 6 people.  Guests enjoy fully equipped kitchens and only a 500m walk to the waterfront.
The Moorings Luxury Apartment
The Moorings Luxury Apartment has two bedrooms and can sleep up to 4 people.  Families will enjoy the outdoor swimming pool and close proximity to the Picton Waterfront.  You have to see the view from this property!
Click here to find out more information
Picton Airbnb
If a Picton AirBnB is more your style, try this large 3 bedroom penthouse apartment with incredible views and onsite gym.  What do you think?

How to get to Picton
Picton Ferry
If you want to drive between the North and South Island, you have to go through Picton.  It is the start or end point for the Cook Strait Ferry
There two ferry companies, the Interislander Ferry and the Bluebridge Ferry, run a passenger and freight service as well as a car ferry (all in one).  You can book your vehicle onto the ferry to take it between the North Island and the South Island and it is highly recommended to book in advance, especially over the holiday season.
The Picton to Wellington Ferry will take approximately three hours and both companies run similar style services.  Both have cabins you can hire for the sailings and the Interislander often has a few more passenger areas, but they are much of a muchness.  Just choose the time and price that suits you best.
Read More:  Must read tips for taking the Picton Ferry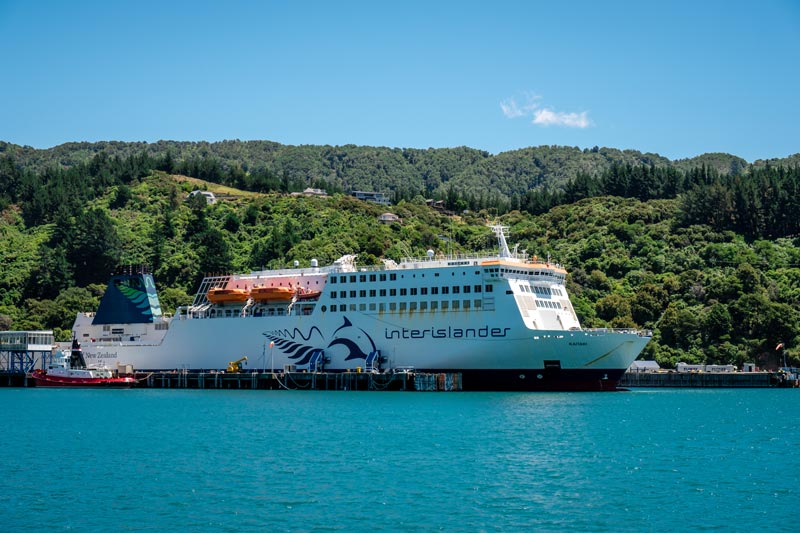 Driving to Picton
Approximate driving times to Picton include
Christchurch to Picton:

4½ hours (although there can still be significant delays in Kaikoura.  Check the NZTA trip planner for planned roadworks, some are adding an hour to your drive time so plan to arrive in Picton early)

Kaikoura to Picton:

2 hours but see above

Nelson to Picton:

1 hour 50 mins

Blenheim to Picton:

25 mins
The Picton Ferry Terminal is located at the end of Lagoon Road.  There is an NPD fuel station here which is a good place to fill up before you hit the chaotic Wellington City streets when you arrive.
Train from Picton to Christchurch
Have you ever considered a more luxurious and relaxing way to travel?  Why not try the Christchurch and Picton train (and return of course)  The Coastal Pacific train journey takes 5.5 hours and connects with the Interisland Ferry.  
It is a relaxing way to travel and has wide windows, perfect for views of the Kaikoura Coastline.  You can book your train to Picton here
Flights to Picton
The Picton Airport is small, but its close proximity to the capital means that Picton to Wellington flights are extremely efficient, taking only 30 minutes.
You can fly with Sounds Air, with flights starting from $59, which can be cheaper and faster than taking the Cook Strait Ferry.
Short Activities while waiting for the Interisland Ferry in Picton, New Zealand
Picton Playgrounds
Picton Waterfront Playground: The Pirate Ship
Right on the waterfront, overlooking the boats, you will find a large childrens playground, complete with splash pad and a huge pirate ship.  This is a great playground for all ages, with a smaller play area for toddlers, or lots of climbing and rope swing activities for the older kids.  A great place to burn off steam before jumping on the Cook Strait ferry.
In the summer, make sure you bring the kids togs or a change of clothes as there is a great splash pad to cool off in.  Jump on the water cushions and play in the streams of water.  Even the adults might love to take their jandals off on a hot day.
For kids, this will be one of the best Picton attractions.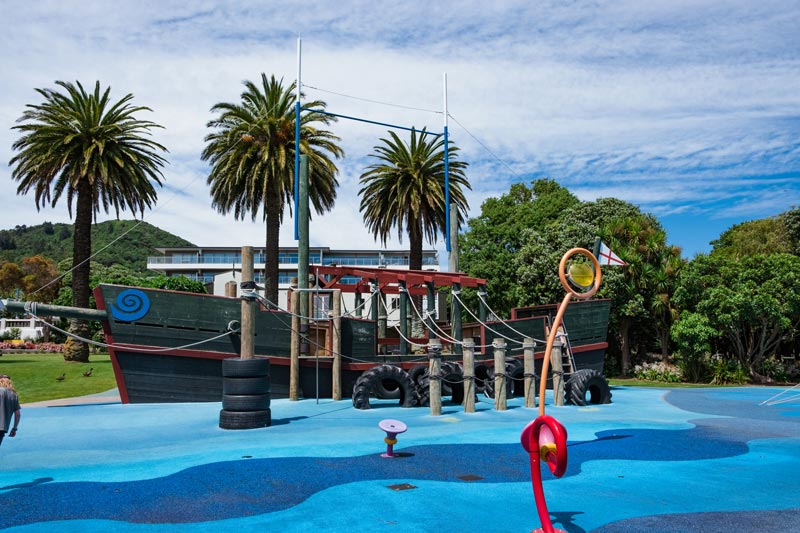 Waikawa Bay Playground
If you are looking for somewhere more tranquil, head 5km around to Waikawa Bay and have a picnic on the shore.  There is a smaller playground here and a grassy spot for a picnic, as well as a bbq right overlooking the water.  Those who love to spot boats will enjoy watching locals sail to the Waikawa Marina.  Playgrounds are the best things to do in Picton with kids!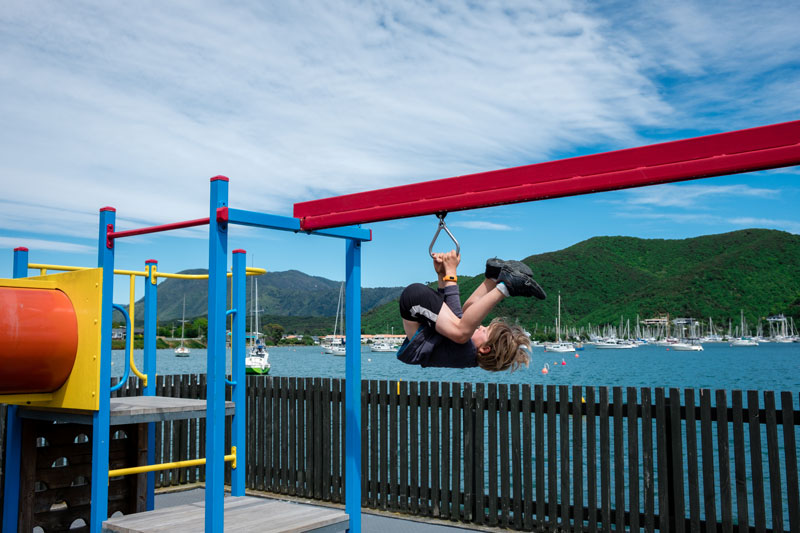 Take a walk in the Kaipupu Wildlife Sanctuary
The Kaipupu Wildlife Sanctuary has a beautiful 60-80 minute walk on this island peninsula and is only accessible by boat.  Fortunately Beachcomber Cruises provide water taxi access right from the waterfront.  It only takes 10 minutes to reach the Kaipupu Wildlife Sanctuary by boat and they can pick you up from the jetty about 2 hours later.
There is a lovely viewpoint and picnic table on the island which is perfect for lunch, and there you will also find a Toyota Kiwi Guardians Medal post (where kids can apply for a medal for exploring the outdoors)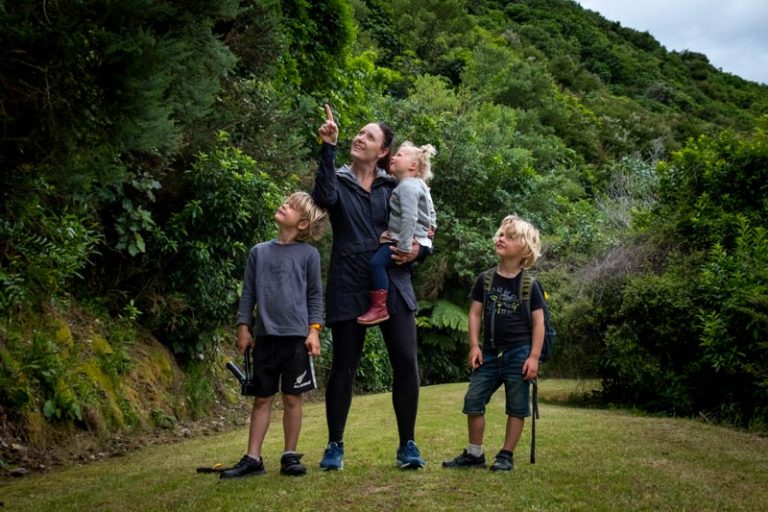 Visit Motuara Bird Sanctuary
Beachcomber Cruises run a 4½ tour to the Motuara Bird Sanctuary, a predator free island near the very tip of the Marlborough Sounds.  Bird lovers will have a ball, admiring the beautiful native birds who live here.  You have about an hour on the island to explore and walk up the viewpoint, just 800m and enjoy the views over Ship Cove.
Click here for the latest prices and times for the Motuara Bird Sanctuary Tour
Take a scenic flight
There is no better way to appreciate the expanse of the Marlborough Sounds than to take a scenic flight over this beautiful landscape.  Leaving from Picton Airport, flights range from 20-45 minutes.  Take a helicopter flight with Coast to Coast Helicopters or small passenger plane with Pelorus Air (flights starting from $99)
Take a Picture Perfect Photo from the Picton Lookout
Nip just up the hill from Picton (on Queen Charlotte Drive towards Havelock and Nelson) and you will find a spectacular Picton viewpoint.  The Picton Lookout has vast views over the township and is a great vantage point to watch the ferries and boats zip in and out of the Picton Harbour.
The best thing is, no walking here, just a few minutes drive from the Picton Ferry.
Go for a swim in the Marlborough Sounds
Just a short drive will take you to some great swimming locations.  On a hot day, if you arrive too early at the ferry, take a trip to one of these pretty bays for a cool off.
Ngakuta Bay
Just an 18 minute windy scenic drive from Picton, you will pass the Picton Harbour Lookout and some great vantage points over the Marlborough Sounds.  Ngakuta Bay is a popular spot for baches (holiday homes) and has a lovely sandy spot for kids to play and beautiful clear water.
Momorangi Bay
Momorangi is another popular holiday spot (just 5 minutes on from Ngakuta) and has a DOC campsite right near the bay.  A similar sheltered spot to Ngakuta Bay, with the added bonus of the Momorangi Store for ice creams and treats.
Anakiwa Bay
Anakiwa is a 35 minute drive from Picton (or you would pass it when driving from Havelock/Nelson to Picton) and is another great spot to swim or kayak.  It is at the beginning of the Queen Charlotte Track (a 3-4 day walk) and there is a lovely 1 hour return walk to Davies Bay here.  It is a great place for a picnic especially if you were coming from the Nelson/Tasman region.
Check out a Picton Museum
Looking for things to do in Picton on a rainy day, then head indoors to the Picton Heritage and Whaling Museum, right across from the playground or the Edwin Fox Ship and Visitor Centre on the Dunbar Wharf.
The Picton Heritage and Whaling Museum will help you understand the life of a whaler, and about the families and history of Picton.  
The Edwin Fox ship is the oldest merchant ship in the world and last surviving ship that took convicts to Australia.  Learn what it was like to be a passenger on the ship and explore the remains of this huge vessel.
Hire a kayak or stand up paddleboard to explore
Sitting on the Picton Waterfront, that water looks pretty inviting right?  So why not hire a kayak or paddle board to explore the Picton Harbour?  Marlborough Sounds Adventure Company hires these from their base in Picton.
Picton Walks
There are a number of short walks around Picton that are a great way to explore the area and see some beautiful views.  Check out a few of the best Picton walking tracks below.
Picton Waterfront:  While not a walking track, its a lovely place to stroll and younger ones with scooters and balance bikes will enjoy the flat surface
Tirohanga Track, Picton:  A beautiful bush track, steeply climbing through native bush to a Hilltop Viewpoint over Picton.  This Picton walk takes about 45 minutes one way and is one of the best walking tracks Picton has to offer.
Lower Bobs Bay Walk: An easy walk from Picton Township, walking over the Coathanger bridge to Bobs Bay.  The walk runs along the bay and there are some great spots to swim.  It is only 1km each way, but there are some steep dropoffs in places to you will need to watch children closely.
Snout Track, Picton: A 3-4 hour hike out to the headland, with beautiful views over the Marlborough Sounds.  It can get quite muddy at times, so decent footwear is advised.  This track leaves from Victoria Domain.  You can drive there, or walk there via the Lower Bobs Bay Walk.
Picton Movie Theatre
Not usually on your list of things to explore, however if you have had a ferry sailing cancelled due to bad weather, I'm guessing you won't want to be going outside.  The Picton Cinema has three theatres and shows all the latest feature films.  
It is located right next to the EcoWorld Aquarium.
Half Day and Full Day Trips from Picton
Take a walk on the Queen Charlotte Track
The Queen Charlotte Track is a 3-4 day multi day hike, however you can choose to do a section of the walk and jet in and out via water taxi.  It is one of my favourite Picton hikes and I love how you can break it up and do whatever section you like.   A popular section of the track is from Ship Cove to Furneaux Lodge.  This is a 15km walk, taking 5-6 hours with the added bonus of exquisite dining options at Furneaux Lodge on arrival.
A walk on the Queen Charlotte Track is one of the top things to do in Picton, so put this on your Picton Must Do list!
Deliver mail with the Picton Mailboat
Ever wondered how mail gets delivered to houses on remote islands? By mailboat of course!  Take the Picton Mailboat Cruise which explores a different route every day to deliver mail and packages to remote areas of the Marlborough Sounds.
Your captain will provide great commentary about the history and interesting facts of the region while you explore bays that are almost untouched.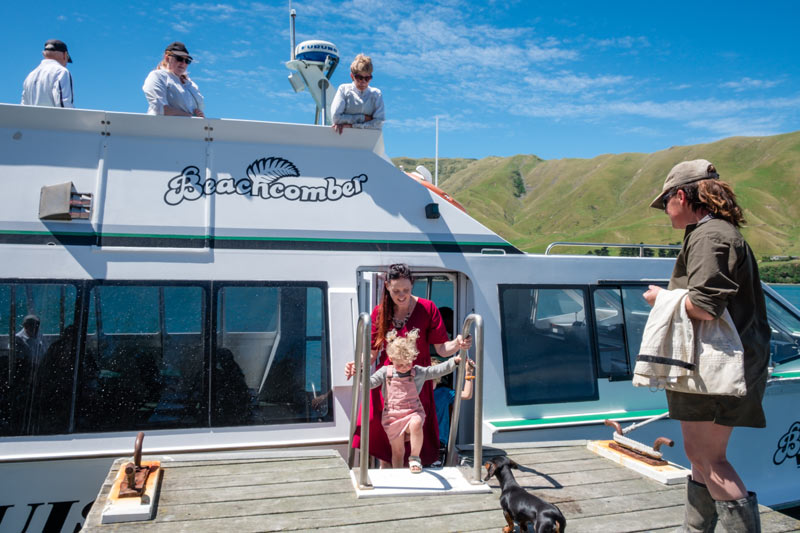 Take a Paua Pearl Tour in the Marlborough Sounds, Picton
Try a truly unique experience and head out on a tour of the Arapawa Blue Pearl farm.  Take a private water taxi out to the farm on Arapawa Island, an hour from Picton and find out how the Radons farm paua on their property.  Stunning views from the island, coupled with their innovative farming systems will leave you with unique memories of an undiscovered wilderness.
One of the most unique Picton activities, book here with Beachcomber Cruises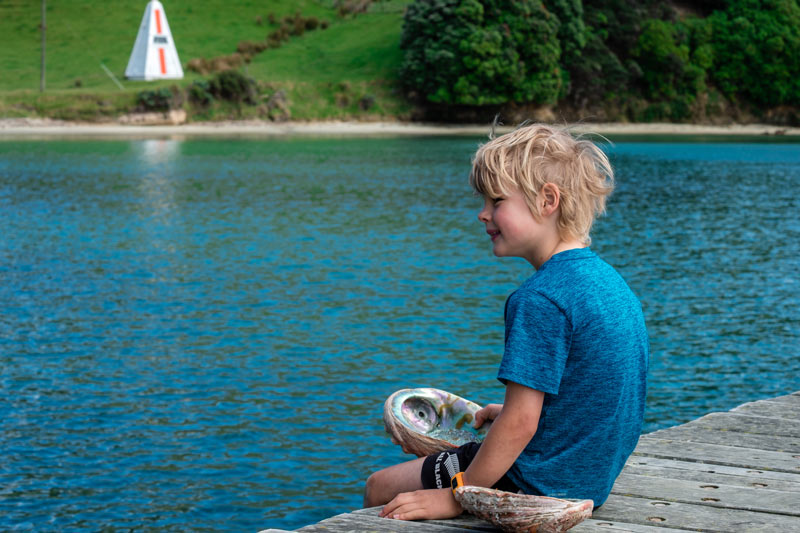 Mountain Bike on the Queen Charlotte Track
The Queen Charlotte Track is 70km long and runs from Ship Cove to Anakiwa.  The track is rated grade 3-4 with a few grade 5 sections and is usually ridden over 2 days comfortably.  You can take a water taxi from Beachcomber to drop you off, or pick you up so that you only have to ride in one direction.  Or order a drop off and pick up to just choose one section to ride.
Do a winery tour in Blenheim
With over 30 wineries close to Blenheim you could do a DIY cellar door tour at some of the many beautiful vineyards, or jump on a Marlborough Winery tour and leave the logistics to the local professionals.  They will drive you to a selection of top wineries and share the beauty of the region.
Take a guided kayak tour
Marlborough Sounds Adventure Company run full day guided kayak tours (as well as half day and multi day bike and kayaking adventures) so join them as they help you explore the beauty of the Sounds.  All gear and safety equipment is included and you know you can trust them as they have over 25 years of experience.
Kayaking really allows you to get up close with nature and it will definitely be one of the most memorable things to do in Picton, New Zealand.
Take a look at guided kayak tours here
Take a dolphin tour or swim with dolphins, Picton
E-Ko Tours run nature cruises with dolphin viewing as well as Picton dolphin swim tours.  The Marlborough Sounds is a really peaceful place to view dolphins as it is not out in the open ocean so it is far less likely that you will get sea sick (a huge bonus)  A great small group tour, perfect to fill in time before the ferry or on a longer holiday in Picton.
Click here for times and prices of a dolphin swimming and viewing tour with E-Ko Tours
Phew are you tired now?  After that, there's nobody wondering What to do in Picton anymore.  In fact, I've even convinced myself what a great base for Picton activities the township is! If you have any more ideas to add to our Things to do in Picton NZ list, then come and chat to us over on Facebook or Instagram.
Need some more information to plan your New Zealand holiday? Check out these further resources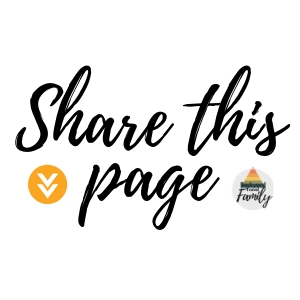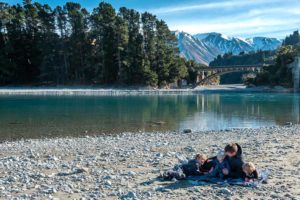 Things to do in Ashburton with Kids and around the Mid Canterbury Region If you are like me, you are always looking for interesting things
Read More »