The Ultimate Family Camping Checklist and Recommendation Guide
The Ultimate Family Camping Checklist
Let me premise this article by saying that depending on who you talk to, you either need a lot of gear, or barely any at all.  We are recreational campers.  We go for 2 days, sometimes up to a week and we travel from place to place.  We love being outside, but we also use it as cheap accommodation, meaning we can travel to more places and do more things. (But I always forget things, so this is why we made our own family camping checklist)
If you're thinking about camping, New Zealand is one of the best places to do it.  From cheap DOC sites to fully serviced camping grounds, you can camp by mountains, lakes, oceans and more!  And it's totally awesome!
You absolutely can pack for camping on a budget…. And if it's your first time camping and you aren't sure whether this is going to be your jam, then don't spend a lot.  Just get by with the bare basics and have a really good time.
But if you are planning on spending two weeks in the back of nowhere without many facilities or supermarkets nearby, then you are going to need more equipment than a trip to your local Top 10 holiday park.
We are going to give you a full equipment travel checklist and camping packing list for what you need for your camping holiday, running from if you could absolutely do without it, a cheap alternative or a long term quality option.  We have got something for everyone. So don't worry, we have sorted with the best things you need for camping.
Camping Checklist Table of Contents
In-depth discussion of: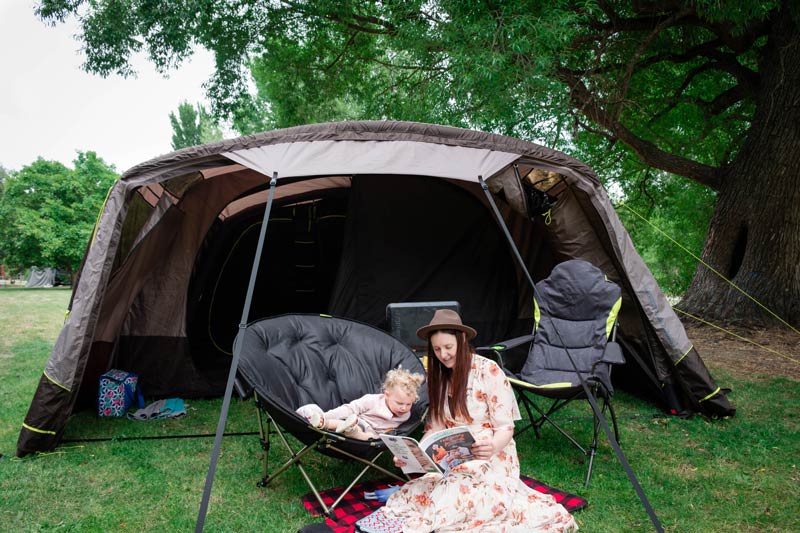 What to do before packing for camping?
One of the biggest problems with packing for camping, isn't making sure you have enough stuff, it's making sure you have enough room.  Do you have enough room in your boot to take everything you want to?
Do you need a trailer or a rooftop box?  If you have a large tent, a gazebo, a large chilly bin or a pile of chairs and sleeping mats, then these items are going to take up the bulk of your room.  Check these fit first before bulking out on all the extras. Let's just say we were seriously considering a new vehicle on one of our trips.
Here is our campers checklist.  If you would like to download your own version to print, or use our editable form to create your own, click here
How to choose the right gear?
If you are starting to build out your gear, you may be wondering what to invest your money in, how to choose the right product, so here are a few things to consider when purchasing some of the major ticket items.
Also don't forget: Your friends and family may have some of these items, so beg, borrow and steal them to fill up your kit (okay, maybe not the last one)  They're like your own little second hand camping supplies store – but cheap. (or check out camping gear sales on Trademe or Facebook groups)
If you are looking for quality gear, then make sure you do your research.  I often research equipment online, look at reviews, narrow down my choices then head to the store to check them out.  It's hard to tell the thickness of a camping mattress or the quality of the tent material from an online description.
Also chat to your friends about what they do and don't like about their tent or sleeping mats etc.  As well as any recommendations or things to consider when purchasing.  It's likely that your friends have similar needs to you, so this is a great place to start.
If you are searching for camping brands and camping stores NZ, I can highly recommend Zempire who are stocked by Hunting and Fishing and Bivouac Outdoor.  Macpac and Kathmandu have some great quality gear too.  If you are looking for budget camping equipment then Kmart and the Warehouse are good options and Mountain Warehouse have some related outdoor equipment that may be useful.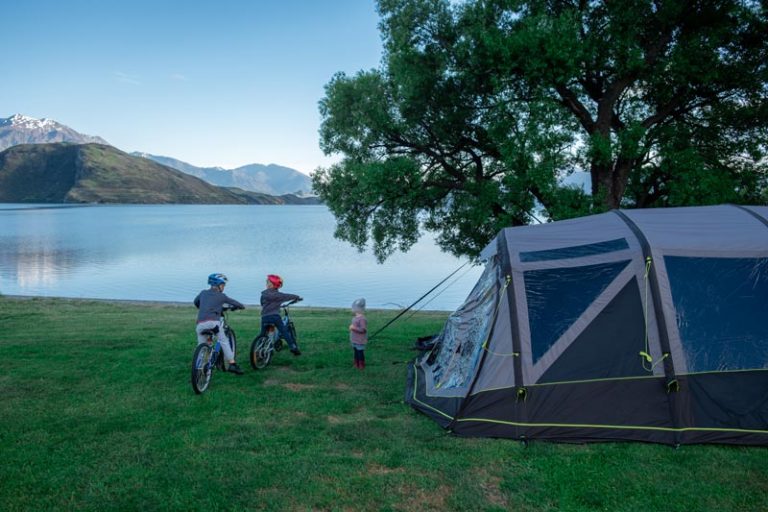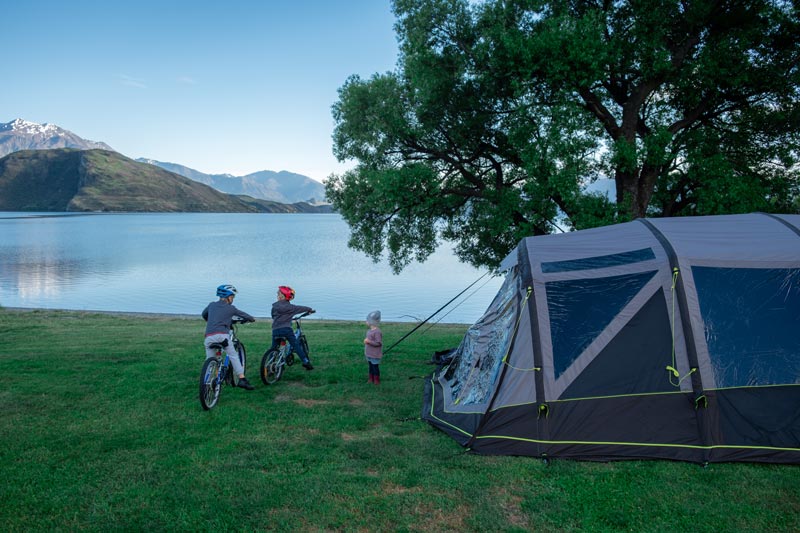 Basic Family Camping Checklist
Below I have our full list of things to pack for camping.  We will detail some of the larger purchases below and some things to consider before shelling out your hard earned money.
Tent Gear
Tent for the family

Extra pegs

Mallet (to bang in the pegs in hard ground, we always forget this)

Multitool

Duct tape (fixes everything)

Repair kit (for mats, tents etc, should come with your gear, but keep it somewhere close)
Sleeping
One of the most important things when considering your basic items for camping, is how well you will sleep.  It's one of the reasons that many people are put off by camping but wow, has technology improved and there are some incredible comfortable options.  (We will discuss these in-depth below.
Sleeping Bag
Sleeping Mattress/Stretcher/Airbed
Pillow (or pillowcase to put folded clothes in instead)
Kitchen Camping Gear Checklist
Not very exciting some of these, but they are essential things to bring on a camping trip. I can't tell you the number of times I have forgotten a tea towel, or dishwashing liquid or the brush and shovel.  So add these to your camping necessities list so you don't end up like me. (Many of these need no introduction but I'll discuss major items below)
Gas Cooker or portable BBQ with gas supply
Matches/Firestarter
Frypan
Pot
Plates
Bowls
Cups/Mugs
Cutlery
Wooden Spoon
Fish Slice
Tongs
Bucket/bin for washing dishes
Biodegradable dishwashing detergent
Dishbrush/cloth
Tea Towel (at least 2)
Big water container if water is not accessible
Cutting board
Good sharp knife (we recommend the Victorinox cutting knives – top of my camping cooking list and actually my favourite kitchen knife)
Bottle opener/corkscrew
Chilly bin or cooler bag
Ice or freezer packs
Rubbish Bags (basic things to take camping, yet always forgotten)
Reusable shopping bags for the supermarket
Cooking Oil, Salt, Pepper
Optional Kitchen Camping List items
Kettle
Coffee plunger (top of some people's camping essentials list)
Tupperware or food storage containers
Kitchen cupboards or similar kitchen setup
Living Area Camping List for families
Have a think about how you will use your time and space. Where will you eat, what will you do if its wet?  These might give you some ideas about what else to bring along.
Table and Chairs or Picnic Mat to sit on
Camping Lantern
Headtorches (my kids just love these and its top of their camping list for family and kids)
Brush and shovel (to clean the sand out at the end)
Optional Camper checklist items: Miscellaneous
Insect repellant candles (citronella)
Books, board games, cards:  camping essentials for family nights in or rainy days
Doormat or towel to wipe feet 
Specific camp proof extension cord for a powered site
Sunshade/tarp/shelter (if tent doesn't come with shade area)
Camp rug
Hammock
Sports equipment: Beach cricket, racket ball, rugby/soccer ball, frisbee
Personal Camping Items List
This is a hard list to create for someone else.  Take your normal clothes you would need for a holiday but think about what is easy to wash and dry, and what to wear if the weather is cool.  Think about how the temperature drops at night.  For kids, definitely a few extra sets of clothes won't go astray
Clothing Packing List
Thermals/Merinos are fast drying and keep you warm
Rain jacket and waterproof pants
Everyday clothes for the right season: T-shirts, Shorts, Pants, long sleeve shirts etc
PJs
Underwater
Socks
For winter: gloves, hats, winter jacket/ski overalls/pants, consider gumboots
For summer: sunhat, sunglasses, UV protective shirts, togs (swimsuit) jandals, watershoes
Toiletries
Toothbrush
Toothpaste
Body wash/soap
Shampoo/Conditioner
Sunscreen ** essential items for camping
Insect Repellant (top of your camping necessities checklist and bite cream if anyone flares up)
Hand sanitiser
First aid kit (for general cuts, scrapes, first aid)
Toilet Paper
Towel (quick dry one is better for longer trips, but any will do)
Toiletries Extra
Portable/solar camping shower
Portable camping toilet
Earplugs
Eye mask
Cosmetics
Sanitary products
Portable washing line with pegs (if you plan to stay for a while)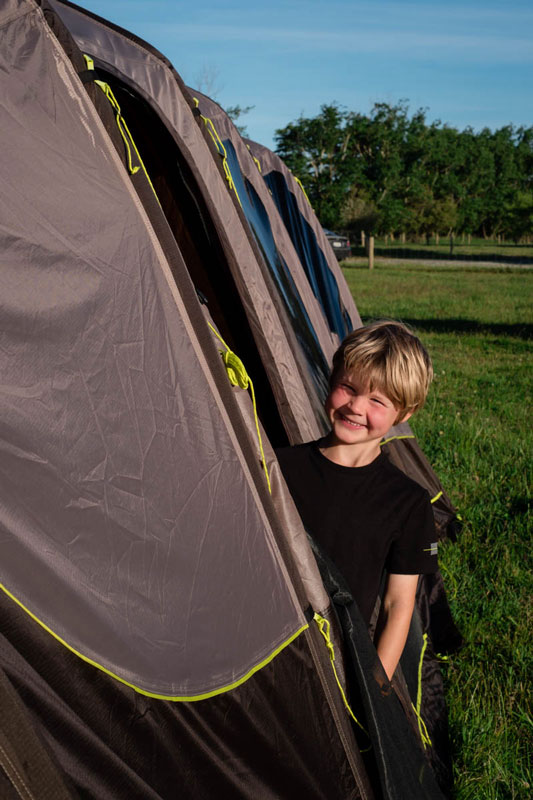 Camping Tents, NZ
One of the most necessary things for camping, of course, the tent. Choosing the right tent for your family could be an article on its own.  (seriously.. It could)  Only you can decide the best tent, but here are some things to consider when choosing the best one
Questions to Ask to choose the best family tent
How many people will usually be using your tent?

How many times per year do you think you will camp?

Will you be going off grid and need space in your tent, or is it just a space to sleep in, while you use the facilities of a campground?

Will you be camping for long or short periods of time.

How much room do you have in your vehicle for all your equipment
The answers to these questions will help determine whether you just need a small tent, big enough to sleep your whole family, or whether you need more space to live, eat, cook etc.
We have had the privilege of partnering with an amazing New Zealand brand: Zempire (NZ specialists in camping gear) We absolutely rate them and their products and we think they design the best camping tents.  (We have created some imagery for them, but have no obligations to write about them, our opinions are our own)
All the kiwi ingenuity that New Zealanders are known for is what is fueling this company.  They totally get camping and have added so many functional features, I can't even think of improvements.  From glow in the dark zippers to towel holders in the showers, to tinted tent windows, they really have thought of everything.  So let me know give you a bit of a rundown on our tent and why we love it
Zempire Aero TXL Pro Review
The hotel
My dad called this a hotel, thats how awesome it is.  The Aero TXL Pro is a 6-8 person inflatable tent, with 3 bedrooms, plus a 4th bedroom added in if you require it.  It has a big lounge/living area as well as a large awning area, so two indoor spaces and an undercover space (without floor) which is where we cook.
Separate bedrooms for the kids
For families we love it because it has separate bedrooms for all the kids.  They aren't bumping into each other all night and can't annoy anyone.  But the best part is that it is inflatable.  As a mum, I can put this up on my own. There are no flimsy poles to deal with.  Just peg it out and inflate 5 big poles.  It's that easy.
Nailed the little details
They've thought of the little things too
Covered area over one door so you don't get wet unzipping the tent when its raining

Tinted windows for privacy, but you can see out

Special holes for power cords

Plenty of tie backs for insect screens and airflow

Lots and lots of airflow pockets and windows

Glow in the dark zipper ties

Storage area in the living space and pockets in each bedroom

Comes with a double action pump that makes inflating so fast

You can stand up in the tent without stooping at all.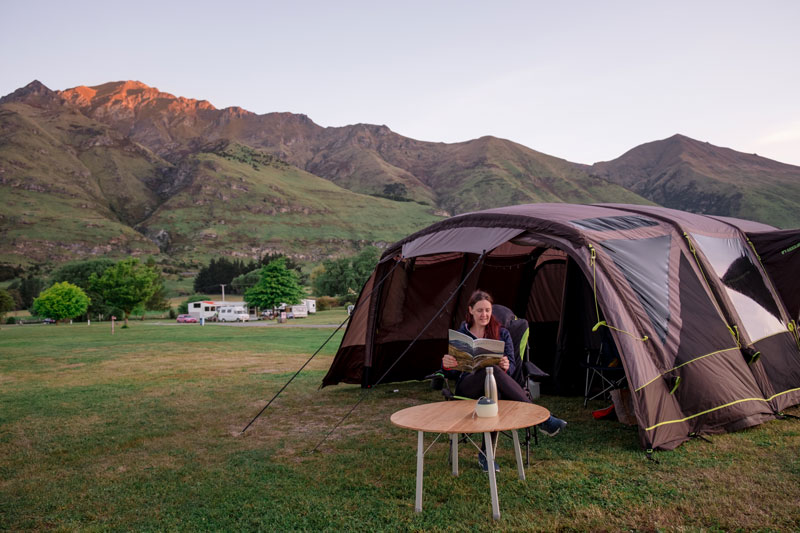 The Downsides
The only real con for the tent is that it is large and heavy.  The tent is about 7mx4m so on a recent trip to a DOC campsite, it only just fit in the camping spaces. (this was the only time we have encountered this though)  It is also almost 45kg, so its really heavy.  I can lift it into the car by myself, just.  But if you have this large tent, then there are going to be extra hands.  My 5 and 7 year old give me a hand and this makes it easy.  But you don't want to be lifting it far to your campsite that's for sure.
Verdict
So we highly recommend the Zempire inflatable tents.  There are much smaller versions if you don't need the space or as many bedrooms, but if I have to say, I love the space.
What is the best tent to choose?

 
If you only camp for short times infrequently, a cheap model tent from a budget provider would make do. Some friends have even used a cheap pop up camping tent from the likes of Kmart, but you will want to make sure the weather is really good, warm and not windy for those.
But if you want to be comfortable, are looking for the whole camping experience and will use it year on end.  Buy a quality tent like Zempire
Camping Checklist for Sleeping
Sleeping bag
Is it absolutely essential?  No you could definitely take a duvet from home if this is your first jaunt.  But they do take up a lot of room, so are only suitable for camping close to your car and if you have a decent sized vehicle.  But you will want one if it's going to be cold as a proper winter sleeping bag will have better insulation.
Budget Recommendation: Try Mountain Warehouse. They have a variety of options from $35 which is really reasonable.
Mid Range option: Kathmandu have a good variety of mid range options.  Join their summit club to get a good discount throughout the year, or they do have good sales so buy these in advance of your camping holiday.  
Hard Core Camper: We have a Sea to Summit sleeping bag.  These compress to a small size (which was why we bought it for hiking) It has a -10C warmth rating as we camp in the South Island.  So these were important to me.  We picked ours up at Bivouac Outdoor.  We highly recommend these guys as you can take products home to show the family, see if they fit properly and if they aren't right, just return them.  Their service is amazing and I can't recommend them enough.
Note: Debatable about whether it's one of the camping must have's, but a sleeping bag liner can be a great addition.  That way you don't have to wash the bag so often which isn't great for down bags.  Or if you plan to camp in the heat, it will either stop the sweat getting in, or you can use it standalone as a very thin bag.
Pillow
Is it essential?  Technically no, You could always use a rolled up sweatshirt or jacket inside a pillowcase, but for me, I don't sleep well without a good pillow.  This is an essential on my list.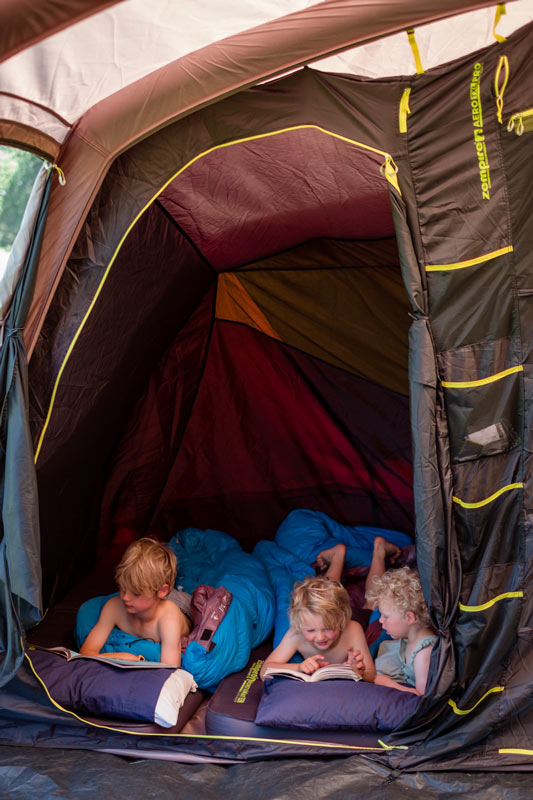 Sleeping Mats vs Stretchers vs Airbeds
Perhaps the most contentious of all the camping essentials, the camping mat.  What do we sleep on?  The more comfortable the camping mattress you sleep on, the better everyone is rested, and the happier the trip.  Big call right? I do think that these are one of the most important things to bring camping, so I would spend your money here.
So here are your options
Thin blue foam mat:

Pros – cheap  Cons – very thin, not well insulated

Stretchers: Pros – off the ground so warmer, won't deflate. Cons: Requires assembly, some are bulky.  Our friends at Zempire recommend their Speedy Stretcher (and combine this with their Monstamat, you'll never know you were camping) 

Self Inflating Mattress: There are so many different types. These can pack down quite small and usually take a short time to inflate.  We have the Zempire Monstamat and we cannot recommend it enough, easily the most comfy mat I've slept on.

Air Bed:  Can be very comfortable, some go down, don't forget the pump as it will take you a long time to blow that baby up.  Can get cheap options at Kmart or the Warehouse. Quality: variable
Camping Lights
Headtorches and camping lanterns are the perfect camping accessories and some sort of light is essential. The best camping lights NZ has to offer as the Zempire Megadome lights.  You can pick them up from your local Hunting and Fishing store and not only do they provide a dimmable light, its rechargeable by USB (yip you can charge it in your car even) they also have a USB charger in it.
Charge your phone or device while you are sleeping and you never have to buy rechargeable batteries.  Ever.  I love how it glows a little at night, meaning it's really easy to find in the dark for those late night bathroom breaks, and it can really light up a whole room when hung from a cord up on the ceiling.
Some of the best things to take camping, are those that are multipurpose, like these lights.  Space is often at a minimum.  Once you are seasoned campers, everything you need to take camping grows, so you can consider upgrading to a trailer or rooftop boxes for more space.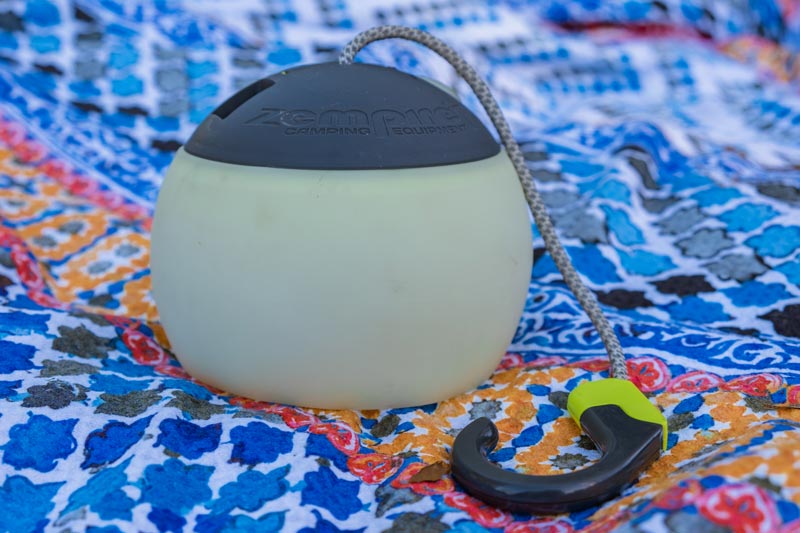 Cooking and Eating Equipment
What to cook on?
If you are staying in a fully serviced campsite such as a Top 10 Holiday Park, you don't need any type of stove to cook on.  Just bring some pots and pans from home and borrow the ovens/stoves/bbqs from the campsite.
If you are going off grid, or don't enjoy communal cooking.  Here are the main options you are looking at. (also you don't need to have specific camping pots and pans on your camping supplies list, unless size and weight are going to be an issue)  We just take ours from home.
Rapid Boil Cooker or Jet Boil
These are all in one water boilers that are super efficient and can boil a few cups of water in just a couple of minutes.  You don't cook anything in these except water, but they are perfect for making hot coffee/tea, soups and the dehydrated meals you might tramp with.
We have a Torpedo 7 Rapid Boiler and we take this when tramping to huts overnight, or pop it in the bag for a winter hike.
Traditional single camping stove:
These little burners are usually powered by a gas canister and you will need to buy a small pot (or pot set) to cook your food on.  You can obviously boil water as above, but can cook anything you would normally cook in a pot.  
They can take a while to boil, so have some patience and choose faster cooking foods.  Instant oats are far faster than rolled oats, chop any veges small for a faster cooking time etc.  
The upside is these cookers are relatively inexpensive and small.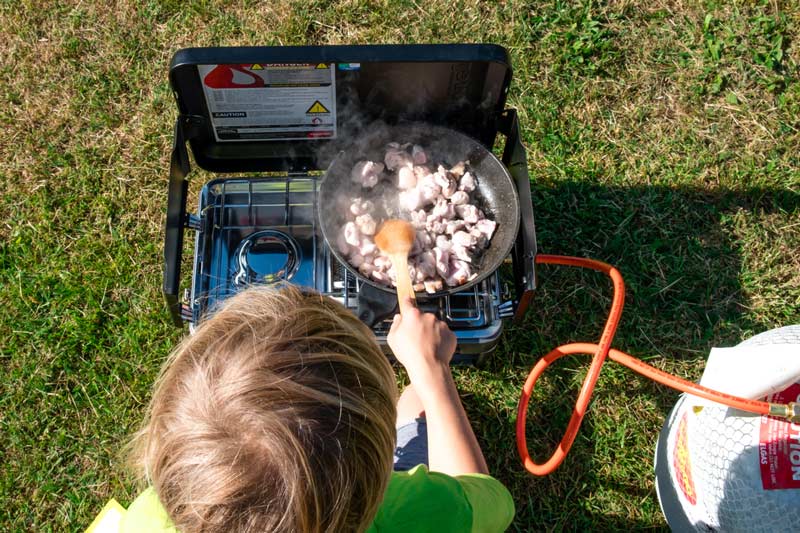 Gas Cooker with LPG bottle
A cooker like this Zempire 2 Burner Deluxe and Grill is really multipurpose.  It has two stove tops so you could boil water for pasta and cook meat in a frypan for example, as well as grill meat or toast underneath.
The real plus of an LPG bottle is that this is like cooking at home.  It didn't take too long at all and far faster than a wee single burner stove
Portable BBQ
BBQ's like the popular Mini Weber are ideal for camping.  Not only can you grill meats, these bbqs can act like an oven, cooking a roast or even fresh bread.  We don't have one, so I can't attest to that, but I think these would be awesome.  Would also free up some cooking space if you need more than two burners.
Or Eat Out
If you are only away for a few nights or love to eat out, then you absolutely don't have to cook while you are camping.  There is usually a restaurant somewhere, or pick up a cooked chicken from the supermarket.  There are plenty of options.
We love having the option to cook.  With kids it makes our camping trip so much easier as we always have access to food and we never feel like eating out all the time.  Much easier to cook healthy meals "at home"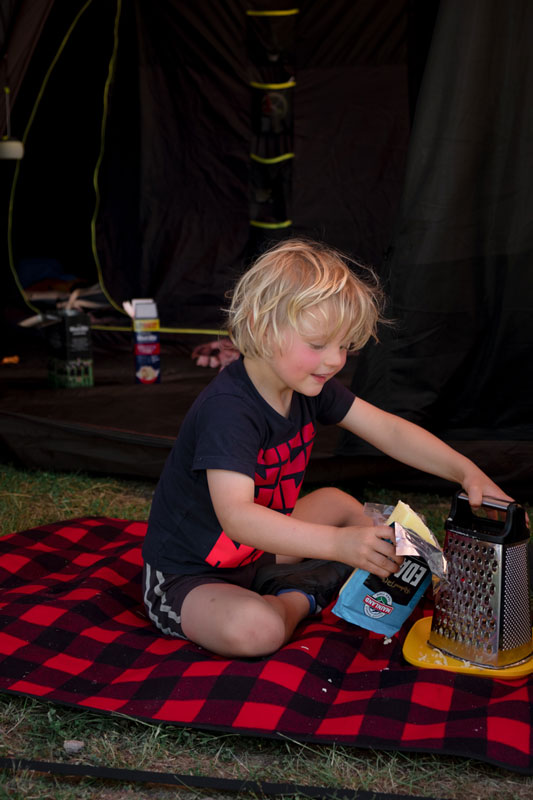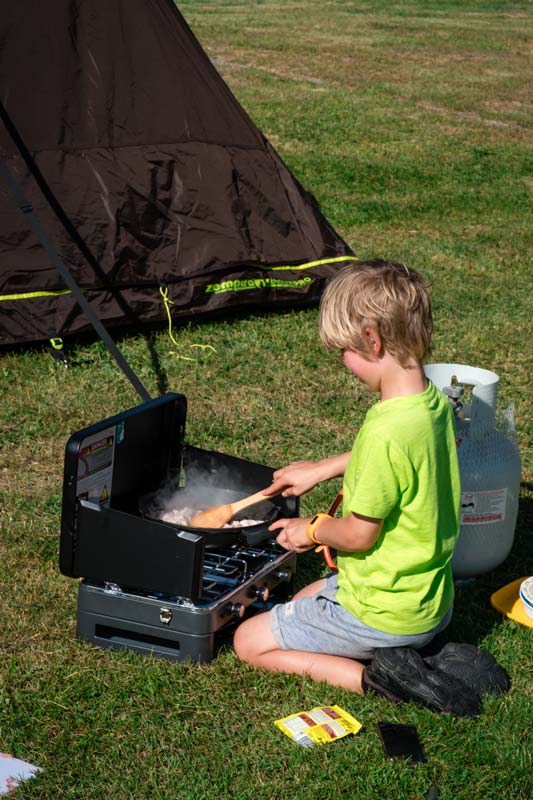 Keeping things cold: A must have for camping in summer
If you are visiting a commercial campground, the kitchens here will have fridges and often freezers for you to cool your food.  Basic things like milk, meat, cheese etc are ideally kept in here.  You will usually just need a labelled bag or container so everyone knows whose is whose.
If you have a powered site, those looking for luxury often take a powered cooler, or even a fridge (yip just power it on the back of a trailer and your wine and beer will be cooled all holiday)
If you are off the grid, your best options are a hard chilly bin or a cooler bag.  You may think that a huge chilly bin will be the best, however bulky bins are hard to fit in with all your gear, and unless you are filling it to the top, are often harder to keep cool due to the large areas to cool down with freezer packs.  You may find a medium sized chilly bin and a few cooler bags will do the trick (depending on how long you are away for)
One of the best ways to keep things cold is to fill up milk bottles with salt water.  These will stay colder due to the lower freezer point, so freeze these up well in advance.  If you are wanting to freeze items for later in the trip, have a bag or chilly bin that you do not open until days into the trip, and/or consider freezing meals/meat.  Every time you open a chilly bin, you are increasing the temperature and it will defrost faster.
Table and Chairs
These are an optional item but if you have kids, life is much easier with both of these.  Until we tried the Zempire Kitpac Round table, I never realised how much I needed it on my camping equipment list.  Until now, I had always just used a mini chopping board or a plate and fumbled around preparing meals.  But it was just so much easier having the space to meal prep, or for the kids to eat meals (especially breakfast) at a table.
The upside of the Zempire Kitpac table is that it is collapsible, but it also adjusts to coffee table size to full height.  I wish I had bought a table earlier to be honest.  And now we take it to picnics, sports events, backyard bbqs and everything.  Totally well used.
Question: Do you need kids chairs on your family camping list? I chose not too, so I didn't have to buy bigger chairs later, but the kids do sit better in them.  Not required, but if your budget allows, they are much easier.
Yes, you don't absolutely have to have tables and chairs, but life is just so much more comfortable with them.
Personal Camping Gear List
Travel Towels
You can just take towels from home if you have the space, but these can be hard to dry.  We recommend the Tesalate sand free beach towels.  They absorb water really well (up to twice their weight in fact) and they dry really quickly which is really important when you are camping.  But the best thing about this towel is that sand and dirt doesn't stick to it.  It's like magic!  If you've got kids, you can't go past one of these towels.
If you buy an extra large Tesalate towel for 2 (photo below), it can also double as a picnic mat or a doormat to dry your feet on, and you won't be bringing sand inside (bane of my life – I just hate sand in there)
Merino Layers
The best camping clothes are merino layers (and awesomely, we make the best merino in the world in New Zealand.) I always recommend using merino layers for camping for two reasons. 1. Merino is quick drying. 2. It is odour resistant.  When you might not have access to washing facilities, or will be wearing the same clothes a lot (as you do when you are camping) then quality merino can be worn day in and day out without anyone noticing.
Our favourite merino layers are from Farmers for the kids and Icebreaker for adults
Warm Jackets
Even if you are camping during the summer in New Zealand, it usually cools down in the evening, especially if you are in the South Island.  So a good warm jacket is an essential at any time of the year.
We highly recommend the Therm storm jackets for kids.  They are like a puffer jacket but are fully waterproof (something many other puffer jackets are not) and they even have splash magic, meaning a pattern reveals itself when it gets wet.  The kids love it and the quality of these jackets are awesome.  They are designed here in New Zealand and we love to support kiwi small businesses, so go and check them out
For adults, I love my Kathmandu full length puffer jacket.  I get really cold and this is perfect for all winter and nice and snuggly on cool evenings.  Such a great buy and so warm.  You can also get shorter versions.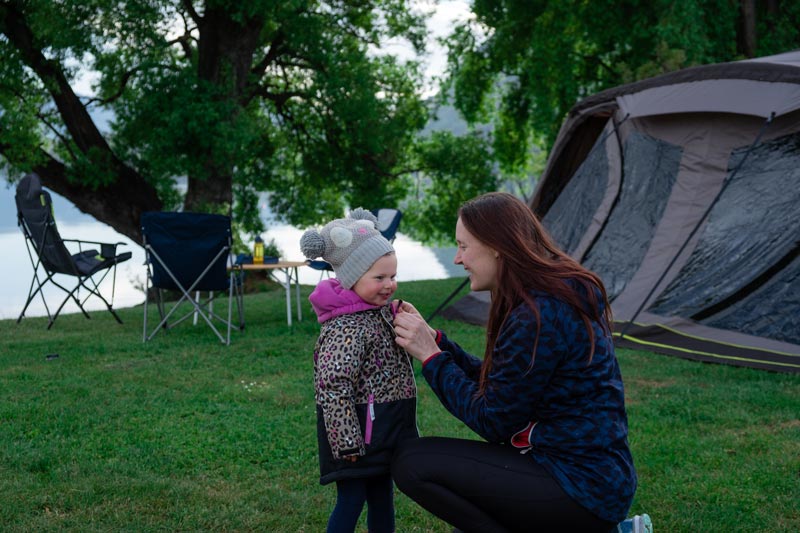 Camping with Kids Checklist
If you are camping with young kids, then you might need a specific camping list for kids.  Here are the speciality items you might need to take for camping with young kids. Add these to our printable family camping packing list.
Portacot

Nappies and wipes

Pacifier/Dummy

White noise (my absolute must have for camping with babies and we still swear by this.it helps drown out the other campground noises and your voices when they're trying to sleep)

Bibs

Portable high chair (we highly recommend the Phil n Teds Lobster.  A lifesaver for 6-18 months ish)  Clips onto a picnic table and so many surfaces.  It's no fun eating meals everyday with them on your knee)

Baby Sleeping Bag.  As the temperature can drop at night, waking will often happen if they are cold.  We use merino layer, pjs and Woolbabe sleeping bags from the Sleepstore. They are totally awesome.  Can't live without them

A flexi tub/bucket for bathing

Waterproof pants or overalls and jackets if you have a crawler.  They are likely to get wet from dew, or just general outdoor dirt

A playmat or towel for young babies to lie on.  A Tesalate towel is a good idea.  Grab an XL one for a large space to crawl around on.
If you are a seasoned camper with kids, make sure you let us know of any other awesome ideas for your basic camping checklist.
So there you have it.  A complete packing list that you can download for free, a great tent camping checklist, NZ specific and made for families. We hope our discussion and recommendations of some of the most important items has helped you make some great camping gear decisions.  But we haven't discussed everything… I'm sure you can choose the right kind of shampoo and brush and shovel, without our help!
If you are wanting to move to glamping, there are a heap of cool things to pack for camping luxury style.  Add plush furnishings and even camping carpet, get a power cord and bring your coffee machine and fan, camping solar panels etc, but that's an article for another day.
If you are after more Camping Tips for families, head over to our camping with kids article here.  There are a few more recommendations in this article as well.  Happy Camping families!
We can't wait to see your camping adventures, so make sure you come and share your tips and journey with us!  What are some of your best things to bring camping?