Milford Sound vs Doubtful Sound
Milford Sound vs Doubtful Sound: 
You're not the only one who has debated which sound to visit… Milford Sound vs Doubtful Sound…hmmm Doubtful Sounds vs Milford Sounds.  Whatever you do, you must choose one of these amazing Fiordland cruises.  I've been reading people saying "Is Milford Sound worth it?"  The answer is yes, yes yes.
Of course, I would say, that if you have time, then definitely do both, but I know not everyone has the time, nor the money for both experiences.  So lets give you a run down of both experiences, as we have done both with kids and a baby, and let you know our thoughts.    
Article Table of Contents
Please note:  This article may contain affiliate links.  We earn a commission from these links to cover the running of this website, but don't worry, they don't cost you any extra.  Thanks for supporting us and our free New Zealand guides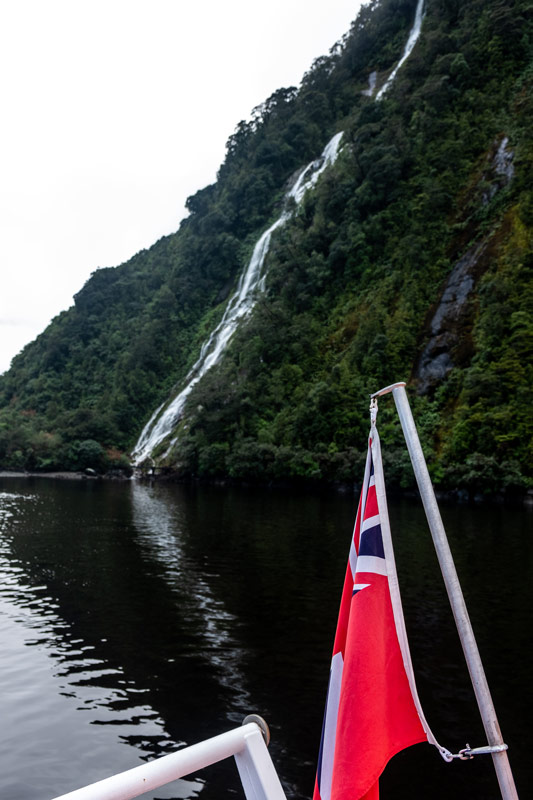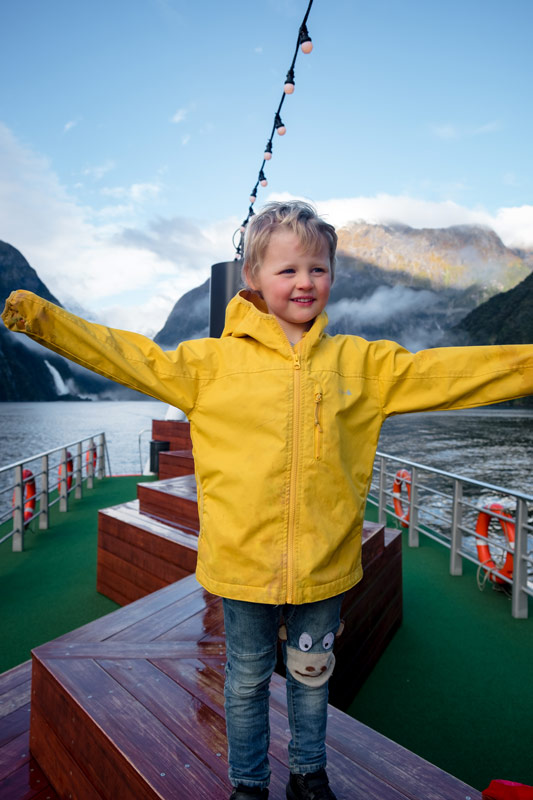 Where is Milford Sound and Doubtful Sound?
Milford Sound and Doubtful Sound are both located in Fiordland.  The main centre for Fiordland is Te Anau, which is about 2 hours south of Queenstown.  If you are visiting Queenstown too, make sure you check out our best things to do in Queenstown guide here
Te Anau to Milford Sound, New Zealand
According to Google Maps, Milford Sound is a 1 hour, 43 minute drive from Te Anau, however the drive will take at least two hours, and more if you stop.  The road can be icy and treacherous in winter, where I would allow three hours, especially if you are new to New Zealand roads. In fact, in winter, I would suggest you could take the bus option as a more relaxing way to head to Milford.  You can spend more time enjoying the ride instead of concentrating on the dangerous roads.
You can also take one of the Milford Sound tours from Te Anau, which includes bus transport, if you don't want to drive all that way.  All of the bus tours will stop at a few viewpoints including Mirror Lakes.
Fun tip:  Milford Sound isn't really a sound at all, it is one of New Zealand's fjords. What is the difference between a sound and a fjord you might ask?  A sound is a valley filled in with water, whereas a fjord is an underwater valley created by glaciers.  When the ice disappears, because it is below sea level, it fills in with water (in a simplistic nutshell)
Map Credit: Tourism New Zealand

Queenstown to Milford Sound
The Queenstown to Milford Sound drive  (and potentially return) in one day is a massive haul.  The distance from Queenstown to Milford Sound is 287km but you should allow about 5 hours for this journey if you do, do it.  We actually did this as a day trip when Nathan was 9 months old, but it was a massive day, and didn't have much time.  While it is doable, it was a mission with him and I wouldn't consider doing it now they are older and won't sleep a lot of the way.
If you don't have a lot of time, then I highly recommend taking the bus.  There are many Milford Sound cruises from Queenstown packages that include bus transport.  Not only will you not have to worry about not making the Milford Sound boat cruise in time, you get to sit back and relax and just enjoy it.  Kids love not having to be in a carseat in a bus too, so that is a bonus.
Check out the prices of Queenstown bus packages here
How to get to Doubtful Sound (Te Anau to Manapouri/Doubtful Sound)
Doubtful Sound is technically much harder to get to, and is a much longer experience, however there is very little drive time.  So if you have young kids, and don't want to endure a 4-6 return drivetime in one day, then Doubtful Sound is for you.  
To get to Doubtful Sound, drive 15 minutes to Manapouri, where you will take a 1 hour boat cruise across Lake Manapouri and a 1 hour bus trip to Doubtful Sound.
Note:  If you don't have a vehicle you can choose one of the Doubtful Sound tours from Te Anau, that includes a pickup by bus.
Queenstown to Manapouri (for Doubtful Sound)
It will take about 2 hours to drive from Queenstown to Manapouri. This is an easy drive, and beautiful around the lakes.  There are so many things to do in Queenstown, so Doubtful Sound is a great stop if you are continuing south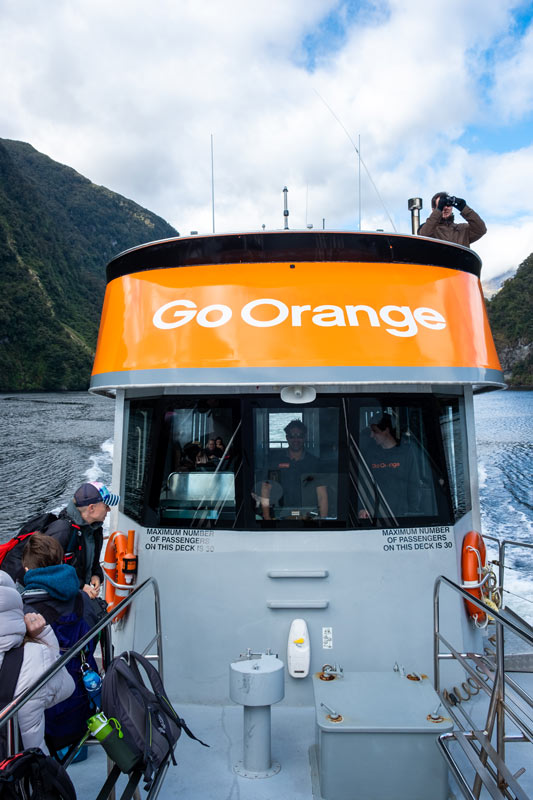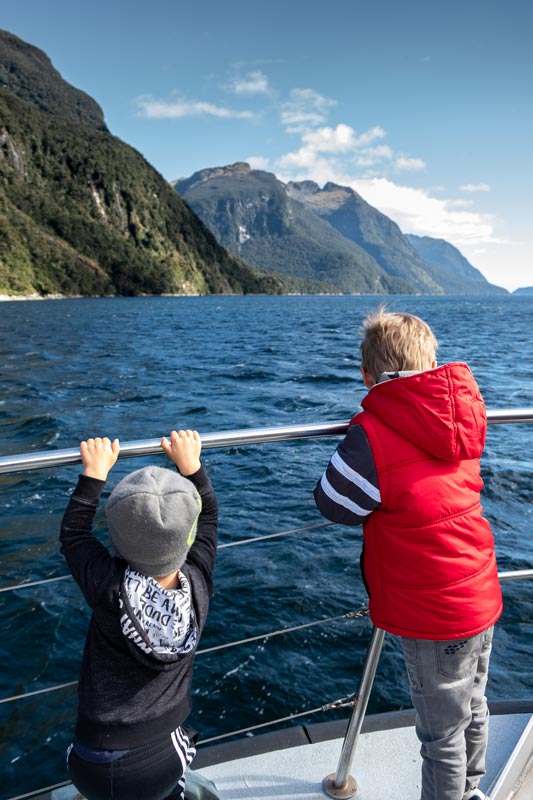 Milford Sound Cruise vs Doubtful Sound Cruise
Both cruises are similar in that you are unlikely to get very seasick as the sounds are relatively calm and don't go far out into the open sea. However if you feel green at the sight of water, bring along some seasickness tablets to help.  Right, let's take a little look into the details.
Wildlife in Milford Sound and Doubtful Sound
You should be able to spot all sorts of wildlife in both Milford and Doubtful Sound.  If you're lucky you might be able to spot bottlenose dolphins in both sounds, as well as little blue penguins and seals.  If you are incredibly fortunate you may even be able to spot the Fiorldland crested penguin who has an orange beak and yellow feathers on his head.  They are very rare and endangered and are only found in the Fiordland/Stewart Island areas.
If you enjoy seeing birds, then bring some binoculars.  Birds aren't my favourite (its something about their beaks and feet…) but my kids love spotting them.
Doubtful Sound Cruise
We travelled on a Doubtful Sound Cruise when the kids were 9 months old, 3 and 5 years old.  The trip was so cruisy.  Honestly, it was just easy even though the kids were young.
We were able to take a stroller on board both boats too, so if you wanted a space for a baby to sleep, then this is possible too.  There wasn't too much room on the Go Orange boat, but there are low passenger numbers so we just made it work.  And baby girl slept for 90% of the boat tour with the vibrations and loud sounds of the boat.  (the perfect white noise)
I liked this trip because we didn't have to drive very far, so the kids had more time to roam and explore, as opposed to being stuck in the car, or dragged in and out of carseats with all the little stops along the way.

First Boat Trip across Lake Manapouri
Your first boat ride will take you from the Pearl Harbour Visitor Centre across Lake Manapouri, to the Manapouri Power Station.  This journey will take about an hour.  This boat was medium sized and took passengers from a number of different companies across the water.
If it's wet, don't worry too much, because you'll be able to see some great waterfalls powering down the cliffs.  It's pretty cool.
After this, you will be able to explore the little visitor centre, with history of the area, before you board a bus to head over the Wilmot Pass.  

Bus over Wilmot Pass
The Wilmot Pass is a very famous piece of roading in New Zealand, as it is the most expensive to be built, and it isn't connected to any other road network.  It is literally a road from one water to another and the only way to get there, is by boat.
On the bus trip there is a great viewpoint over the whole of Doubtful Sound (photo below) and a stop to look at a small waterfall too.  The bus over Wilmot Pass to Doubtful Sound will take around an hour with the stops.  Our kids loved the bus ride, partly because they didn't have to sit in their carseats and because it was a bit bumpy.  All the things that kids love right?
Then finally, you have made it to Doubtful Sound.  Even though it takes a while to get there, a Doubtful Sound day trip is totally worth the effort.

Doubtful Sound Cruise
Doubtful Sound is such a hidden wonder.  Being here you just get that sense you are in a very special place… one that not many others have ever touched.  You start in Deep Cove and take a 2.5 hour boat journey out to the Tasman Sea, then return.
Doubtful Sound weather, like most of Fiordland, can be very rainy, with over 200 days of rain per year.  But it gets much less rain than Milford Sound, so that's a plus! The rain will help bring out the hundreds of incredible waterfalls.  We happened to visit on a clear sunny day, so there weren't as many as we had hoped, but that's just the weather for you.
The companies that run Doubtful Sound tours include:
Go Orange (we travelled with them)

Fiordland Cruises (12 years +)
Top tips: 
 Most operators only have snacks, or no food available as Doubtful Sound cruise are much more intimate and have fewer passengers.  So bring a full packed lunch with you and lots of snacks for the kids.  Even without running around, all that fresh air makes them terribly hungry.
 
Other activities in Doubtful Sound
Doubtful Sound Overnight Cruise
Real Journeys, Doubtful Sound run an overnight cruise which is a great way to see more of the sounds and spend more time here.  We haven't done this cruise yet, but enquired, and the only thing to note is that if you have an infant, you have to book a private twin share room.  There are quad rooms, but they only have a curtain, so they only allow infants in private rooms. (just something to consider)
Other companies who run Doubtful Sound Overnight tours include
Fiordland Expeditions

Go Orange (Sea Kayaking and Camping – minimum age 16 years old)

Fiordland Cruises  (12 years +)

Doubtful Sound Kayaking
Go Orange Doubtful Sound run a kayaking tour.  The minimum age for kayaking is 16 years old.

Fiordland Cruises (who only take kids 12+) run a full day tour.  Unsure of the minimum age for kayaking.
Doubtful Sound Accommodation
Unless you take an overnight cruise, you cannot stay in Doubtful Sound as there aren't any Doubtful Sound Hotels.
If you want to stay close to the terminal at Manapouri, here are some Manapouri accommodation options.  Otherwise, head 15 minute down the road to Te Anau where options are more plentiful.
Manapouri Accommodation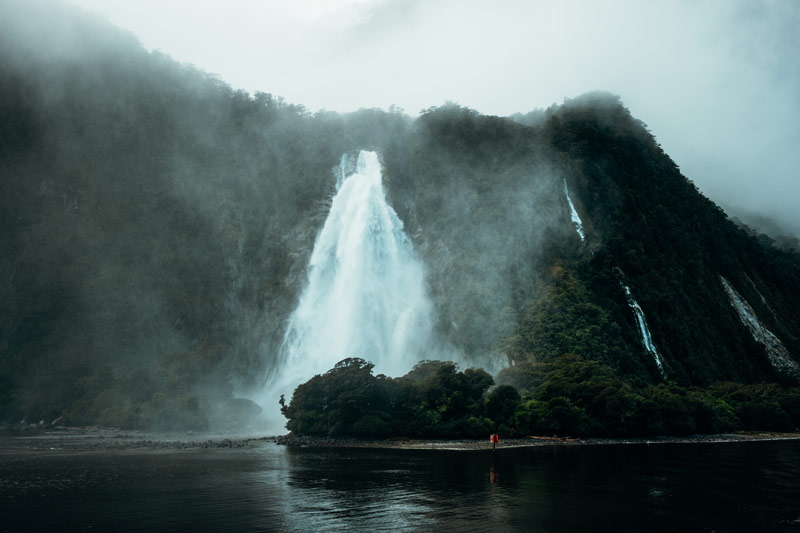 Milford Sound Day Cruise
Milford Sound is the most famous and popular day trip of the two sounds journeys.  In fact Rudyard Kipling (the author of the Jungle Book) called it the 8th Wonder of the World.  It really is beautiful and is a must do drive.   There are plenty of stops along the way if you have time and some great half day hikes that are suitable for families too
Some great Milford Sound Road stops along the way
The Chasm

Lake Marian Falls (20 mins) or Lake Marian Track  (3-5 hours return – hard – Photo below)  

Key Summit Track (3 hours)
The road trip from Te Anau to Milford Sound will take about 2-3 hours, and possibly more in wintery conditions.  When you plan your cruise, do take into consideration the drive so that you are not rushing for your Milford Sound boat trip.
If you are doing this as a quick trip, there will be a minimum of 4 hours of driving, something to consider if you have young kids.
Photo: Lake Marian below

Top tips for traveling in summer:
If you are travelling in summer and are staying in Te Anau, I advise taking an early morning boat cruise and seeing some of the little stops like Mirror Lakes early, before the masses of tour buses head in from Queenstown.  It does feel a little like grand central station with a lot of buses and boats arriving in Milford for those 11-1pm boat journeys, so avoid this if you can.
Top tips for winter:
There are far fewer people traveling to Milford Sound in winter, so this is the one time I suggest jumping on a bus.  The Milford Road can be treacherous in winter, and you do not wanting to be "rushing" to get to your boat sailing.  
The bus is a great way to avoid a long car journey with the kids, and I know mine much prefer to roam a little on the bus, or sit on my knee, as opposed to being strapped in a carseat. It also gives parents a chance to really appreciate the amazing scenery on Milford Road.  Sometimes it's just nice to be driven and not have to worry about anything (that doesn't happen too often now does it?)  A lot of the cruise companies below run Milford Sound Day tours from Queenstown.
Real Journeys Milford Sound Boat Cruise – Photo Credit: Tourism New Zealand

Milford Sound Cruise
The Milford Sound Cruise will take somewhere between 1 hour 30 mins and 2 hours and 15 minutes depending on which operator you choose to go with.  All visit the beautiful falls along the way, will keep an eye out for dolphins or seals and reach the exit to the sea.
The best Milford Sound cruise company will depend on your budget and what you are looking for.  On some journeys you will have an option to visit the underwater observatory.  Other differences are that some will have well trained nature guides, and others, just general commentary around the area.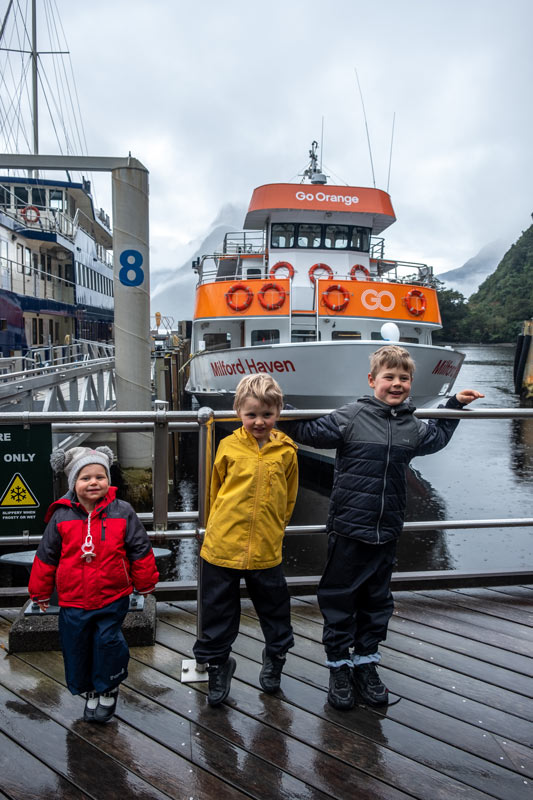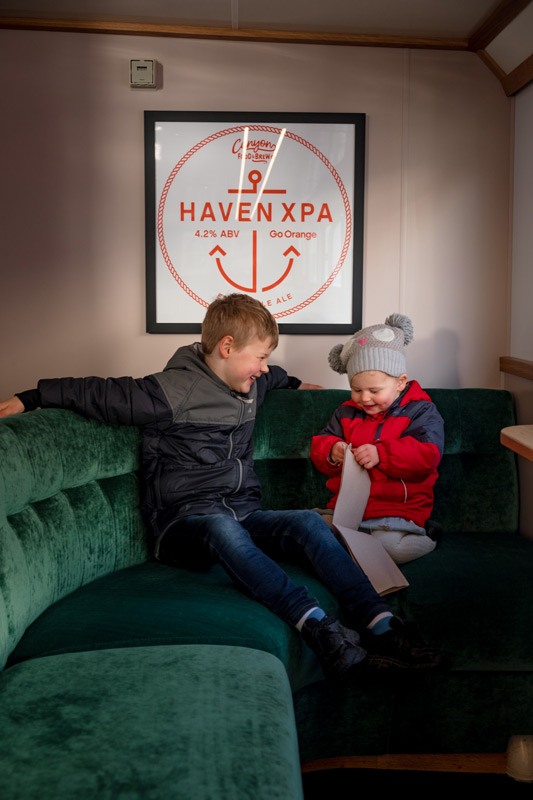 We sailed with Go Orange who along with Real Journeys have some great kids for free deals during the school holidays.  We loved the modern orange boat with plush finishings that looked cozy inside, quite different from its unassuming exterior.   Our winter cruise included a hot lunch of fish and chips or soup and was a two hour Milford Sound cruise.  Easily the kids favourite part was spotting all the waterfalls, and even getting soaked when the boat drove right up to one.  Make sure you bring your raincoats for this one.  It will be a memory you won't forget and you can't do this on the Doubtful Sound Cruise
Milford Sound's most famous landscape is Mitre Peak which towers over the Milford Sound.  Milford Sound is more majestic.  The sound is narrower and higher, making you as a passenger feel so small, magnifying its beauty.  Doubtful Sound in comparison is wider and more open, but still beautiful.

Companies who run a Milford Sound Tours
** Click on the links above to make a Milford Sound Cruise booking or check out prices and availability
Milford Sound cruises prices vary per operator and what they offer and they often have deals at different times of the year, so do go and check to choose the best option for you.  Do also be aware that Milford Sound cruise times change as per the season.  There are more sailings in the summer as there is more light and more tourists, while only a few times during the winter time.

Other activities in Milford Sound
Kayak Tour Milford Sound
Kayaking is a great way to experience Milford Sound.  Being at water level, the sounds feel even more vast.  There are a couple of companies who you can take a Milford Sound Kayaking tour with
Milford Sound Overnight Cruise
An overnight cruise is a really efficient way to experience Milford Sound. The cruises depart mid afternoon and return mid morning, include your meals on board and allow you experience sunrise and sunset.  They park up at night in a sheltered bay where you can listen to the sounds of the water lapping at the boat.
Companies who run a Milford Sound Overnight Cruise

Milford Sound Accommodation
If you want to avoid the drive there and back in one day, or spend more time exploring the region, then you have a few options for accommodation.
Milford Sound Lodge
If you are looking for Milford Sound hotels, this is your only option, but thankfully, its a lovely one.  The accommodation looks beautiful and we haven't stayed there yet, but it's on our list.  
One of the biggest benefits of staying in Milford Sound, is that the majority of people do not.  Therefore you will practically get the place to yourself at sunrise and sunset and can avoid the influx of visitors.  I think this makes it much more special, and being able to experience it in its tranquil setting is just devine.
We visited one late afternoon after hiking the Lake Marian track, right in the middle of the Easter school holidays and stayed for sunset.  There were about a dozen people wandering around and that was it.  It was perfect.
Milford Sound Lodge has some 2 bedroom chalets that are perfect for families including a little kitchenette, as well as their Rainforest Campervan Park. Unfortunately they don't have any tent sites, but if you are on a campervan road trip, they are closest place to park for Milford Sound.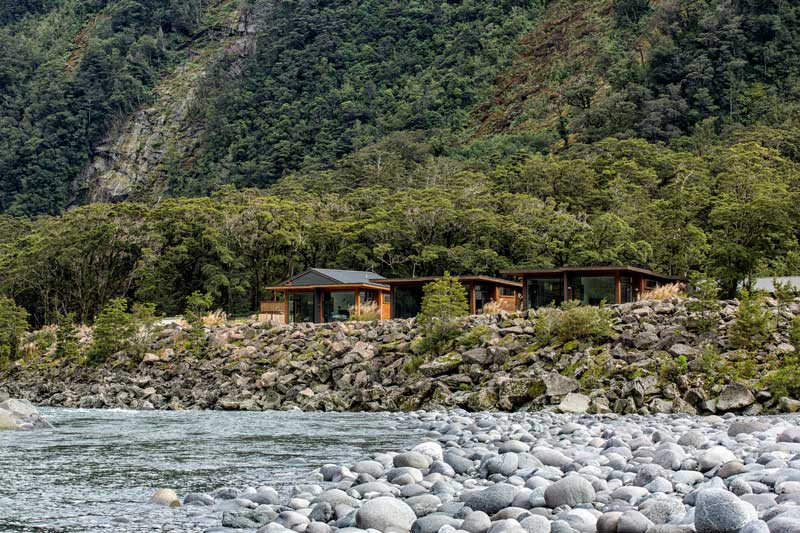 Campgrounds at Milford Sound
Besides the campervan parking at Milford Sound Lodge, if you want to camp, the only other options are to stay at Department of Conservation Campsites.  These DOC sites have few facilities, so do not be expecting power or running water, but they have toilets and a beautiful location and are cheap.  Basically they are camping as nature intended.
There are a number of campsites on the Milford Road, but the closest DOC site to Milford Sound is Cascade Creek.  The Lake Gunn nature walk also starts from here, which is an easy walk for families.
You can take a look at the other DOC campsites and this great Milford Road resource here
Te Anau Accommodation
The other option is to stay in Te Anau and along the Milford Road, or be picked up by bus in Te Anau.  There are some great family friendly accommodation options in Te Anau.  Some that we really like include: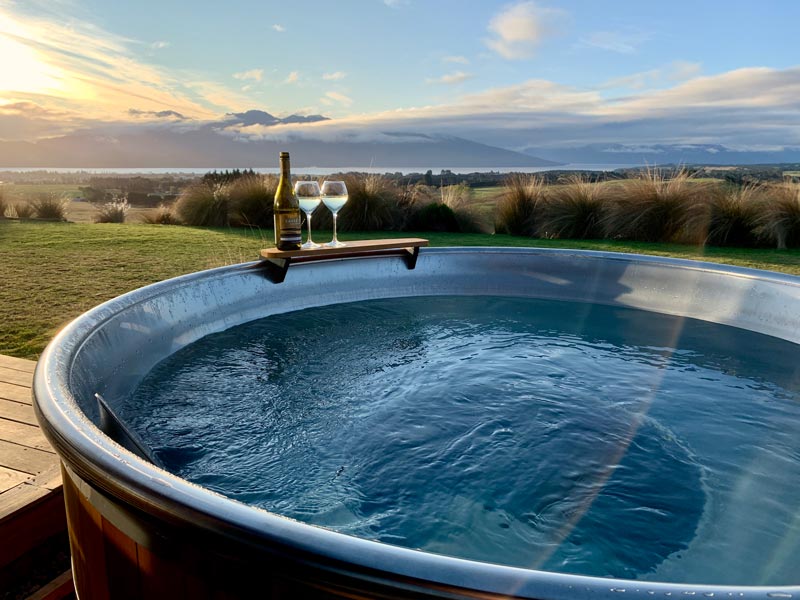 Conclusion: What we would choose…. Milford Sound or Doubtful Sound
Both Milford Sound, Fiordland and Doubtful Sound day cruises are full day trips from Te Anau.  Whether you drive yourself to Milford Sound or take the full day experience in Doubtful Sound, it will take you all day to experience either of them.  Choose Milford if you like to tick off bucket list items, or Doubtful Sound if you like to collect off the beaten track adventures.  If you have a family, here are my thoughts below.
As an adult, I loved the drive into Milford Sound and found Milford Sound a more stunning location.  The landscape was more dramatic and had more wow than Doubtful Sound (they were both amazing but if I had to choose).  I liked being able to stop at short walks and viewpoints along the way, however my kids get a bit over being dragged in and out of their car seats to be honest.  So as an adult or with older kids, I would choose Milford Sound.
For a more relaxing day that young kids would enjoy, I would choose Doubtful Sound.  It was only a short ride to the boat in the morning and the kids loved having 3 boat rides and 2 bus rides.  I felt like I could relax more and just enjoy it, and not have to worry about making it in time for the Milford Sound boat cruise (I felt like that put us under a bit of pressure as the road does take longer than it says).
Milford or Doubtful Sound?  The choice is yours!