Te Anau Walks: Beautiful lakeviews, hikes to hidden lakes and short walks for kids
Te Anau Walks
Lake Te Anau, New Zealand is such a beautiful spot, if you don't go explore further you will definitely be missing out.  If you are wondering what to do in Te Anau, you absolutely have to go explore its natural beauty, and the easiest and cheapest way to do this, is to take on one of the great Te Anau walks.  I know walks aren't exactly Te Anau attractions, but I still think it's one of the best things to do in Te Anau.
Here are some great Te Anau walks and some others closeby that are perfect for getting to know the region.  Leave some time to walk these tracks, as they are some of the most beautiful South Island walks.
Table of Contents
Walks in Te Anau, Fiordland, New Zealand
New Zealand Great Walks in Te Anau
There are some awesome multi day hikes in Te Anau.  This article will concentrate on short walks and day hikes, but if you are looking for some longer Te Anau hikes, take a look at the resource below
Click here to find out more about the above New Zealand Great Walks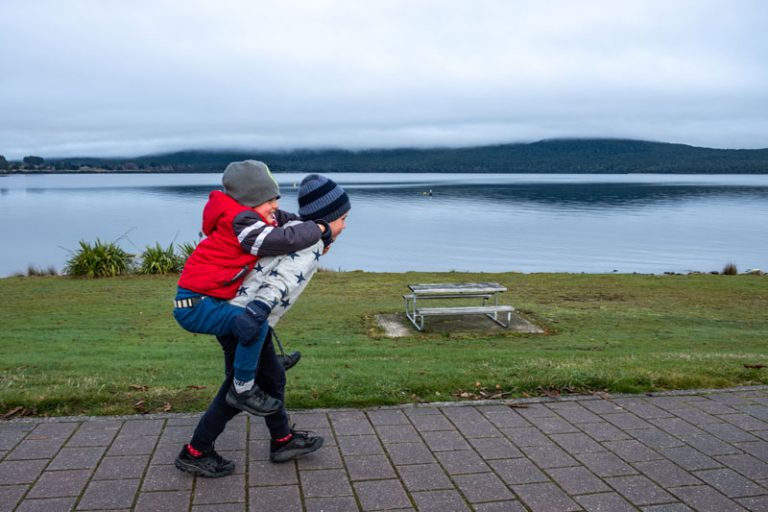 Te Anau Short Walks
Lake Te Anau Lakefront: Lake Te Anau Visitor Centre to the Bird Sanctuary (30-40 mins return)
A great short walk in the mornings is the stroll from the DOC Visitor Centre on the Te Anau Lakefront to the Bird Sanctuary.  The visitor centre said it was only a 15 minute walk, but it took us around 20 minutes with little legs.
The walk is flat and ends at the incredible Te Anau Bird Sanctuary.  Time your walk at the right time to hit the 10.30am bird feeding talk. (Check the website to double check which days this is on)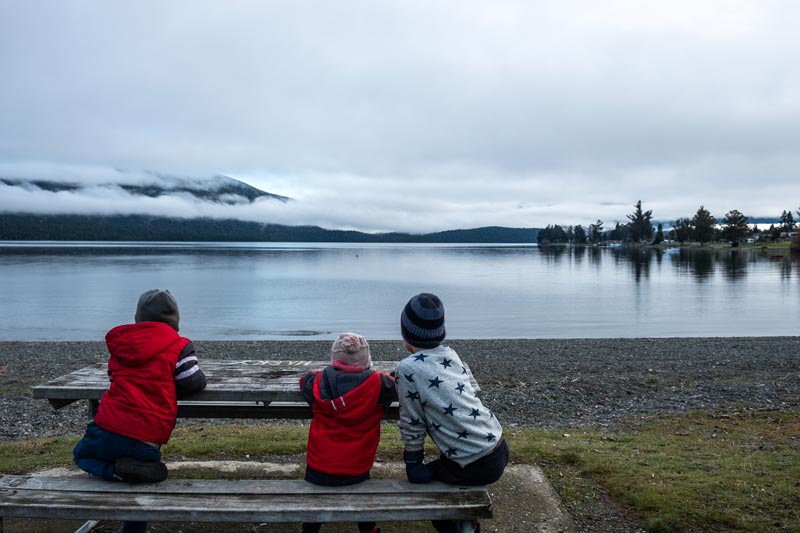 While I am not a particularly huge fan of birds (cue creepy feet and beaks) I have to say that I really enjoyed this visit.  You have the opportunity to get in the Takahe enclosure, see a beautiful eldery ruru (owl), Kaka (bush parrot), Kakariki (Antipodes Island Parakeets) and more.
We were taken around the DOC facility and learnt all about the birds, were able to feed to ducks by hand and get a real sense of the amazing work that happens here.
Did you know?
Takahe were thought to be extinct. 

They were rediscovered in Fiordland in 1948 and now there are 418 Takahe in New Zealand (July 2020)

The bird sanctuary is helping to

reintroduce young Takahe back into the wild

to build their numbers.  This is a great chance to see up close, some of the rarest birds in New Zealand

The Te Anau Bird Sanctuary helps to look after birds who would not make it on their own in the wild.  Even though the facility is free to enter, they rely on donations to help them look after the sick and injured bird.  Please help by donating to them when you visit.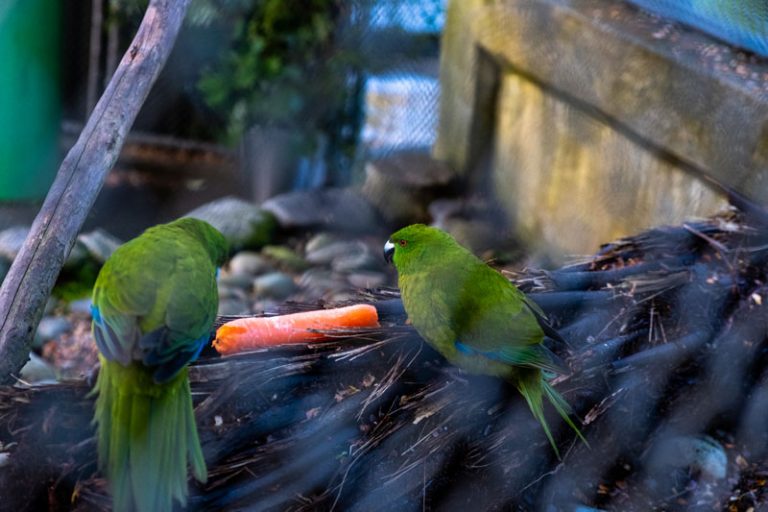 Lake Mistletoe (25-40 minutes return loop)
Lake Mistletoe is a great short walk for the family, just 20 minutes from Te Anau.  It is close to Te Anau Downs, where Milford Sound hikers will start their trek.
The track is a loop track that does join up with the road to make a full circle.  So be aware you will walk for about 3-4 minutes up the hill back to the carpark on the main road.  There is however a big verge so you don't have to put yourself in danger.
This walk is more of a wetlands walk, one that reminds me of West Coast trails more so than here.  The lake is only a five minute walk down the track.  So if you just wanted to pop down and back, this will not take you long.
While the DOC sign said it would take 45 minutes to complete, it only took the kids and I about 25 minutes, so it's not a particularly long or hard track.
The lake itself isn't particularly remarkable, but it is a lovely walk through the forest and good one for little legs.  I like to make sure the kids all get a turn at walking including my toddler, and this is a good one for that
Mirror Lakes (5 minutes)
Mirror Lakes could barely be called a walk, but it is really pretty so I had to include it.  There is a lovely viewpoint just on the side of the Milford Road called Mirror Lakes.  There's a little boardwalk, perfect for toddlers and above that will take about 5 minutes (round trip)
The boardwalk will take you to a viewing platform where the mountains reflect in the water.  It is usually very still here, hence the reflections.
How to get to Mirror Lakes:  It is well signposted on the Milford Road Highway, on the left hand side, about 40 minutes from Te Anau.
Kepler Short Walks
One of our greatest finds in Te Anau was that you can walk a section of the Kepler Track (a New Zealand Great Walk) as a short walk or a day walk. DOC great walks are premier tracks with well looked after huts and tracks in sought after locations.  They are very popular and huts often book out early.  These Kepler Track Day walks are a great introduction to the area, and well worth it if you don't have the time to do the full Kepler multi-day hike.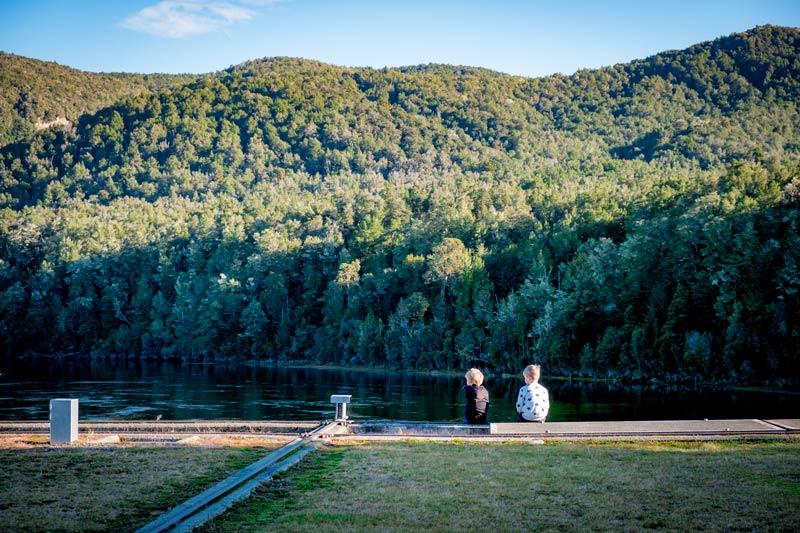 Kepler Control Gates to Dock Bay (1 hour return)
We chose to walk from the Kepler Control Gates (photo above) to Dock Bay, an easy 1 hour return walk and it was the perfect length walk and just absolutely stunning. Te Anau weather can be quite wet, so if it happens to be raining (as it does in Fiordland) this is a great track as it is quite dense in bush.  You won't get as wet walking this track in the rain (compared to others)
I haven't walked a track as green as this track was (in July) in a long long time.  The sheltered bush track was mostly flat (not boardwalk flat, but no real hills) and in 30 minutes we jumped down the little trail to the beach.  Welcome to Dock Bay!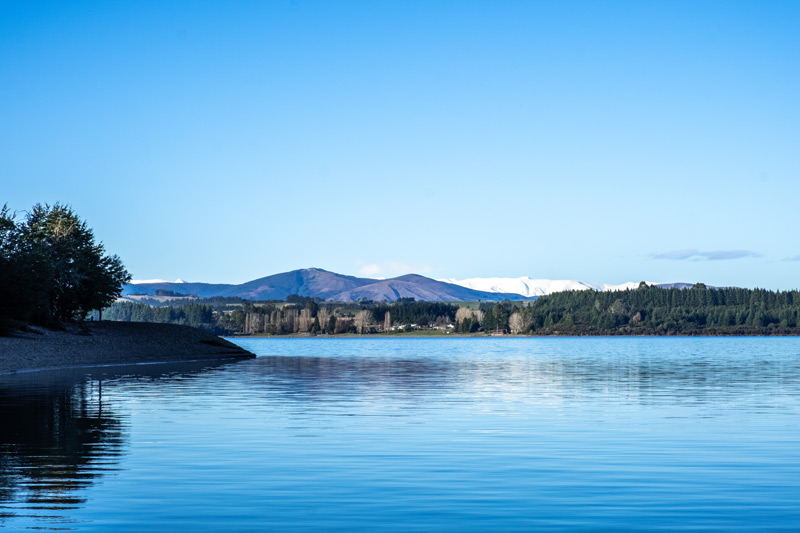 My kids love tracks where you can't really see around the corner.  It's like their own fun game of "are we there yet?" (without being so annoying)  In terms of bush tracks, this has to be one of my favourite NZ walks, the bush is just incredible here.
The track is also part of the DOC Kiwi Guardian programme.  You will find the post near the turnoff sign to Dock Bay (just past it on the main track)  On the beach there is a picnic table to have some lunch, and our kids just loved playing in the water and on the rocks and tree branches.
How to get to the Kepler Track:  Start this walk at the Kepler Control Gates. (signposted off Golf Course Road – the road from Te Anau to Manapouri) It is only a 5 minute drive from Te Anau to the Kepler Track.
Control Gates to Brod Bay (3 hours return)
If you want to keep walking, it will be another hour to Brod Bay, making it a three hour return walk.  It's a leisurely walk thats lovely and flat and has a great lakeside beach to swim at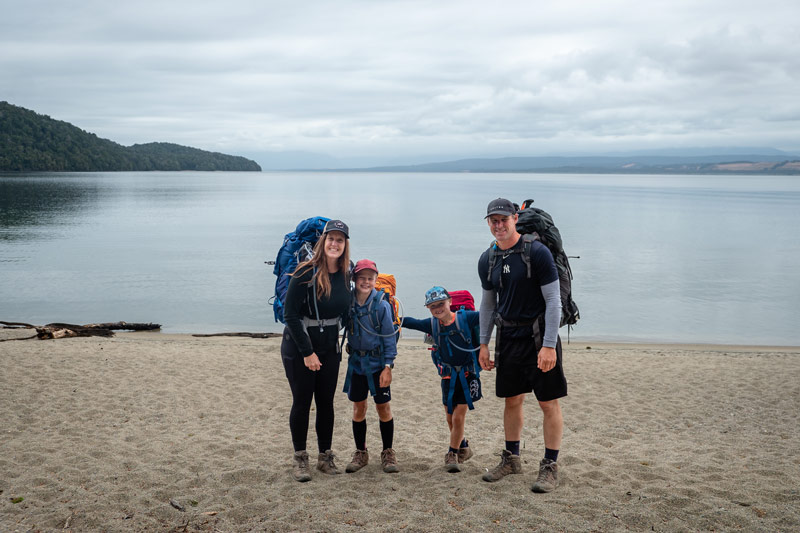 Milford Foreshore Loop Track (20-30 mins)
Milford Sound is such a small wee place.  I couldn't help but want to spend more time here.  So if you are like me and want to really enjoy the beauty here, then take a little walk on the Milford Foreshore Loop Track.
This is a short 20-30 minute loop track.  It's just a quick meander, but will take you down to the beachfront and give you access to the water.  But user beware:  the sandflies will eat you alive here.
There's a great little bridge, a hidden swing and great views all around.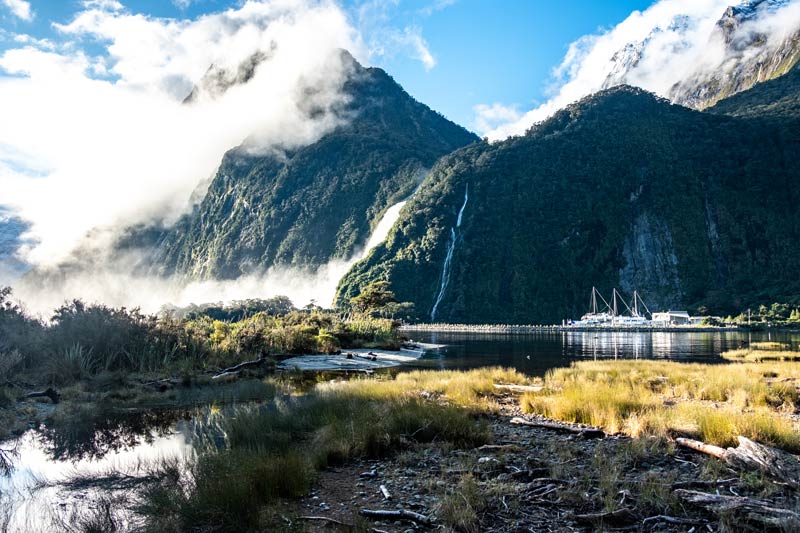 How to get to the Milford Foreshore Loop Track:  Park in the Milford Sound carpark and follow the walking track to the left (opposite direction to the boat cruises) It will take about 2 hours to drive from Te Anau to Milford Sound.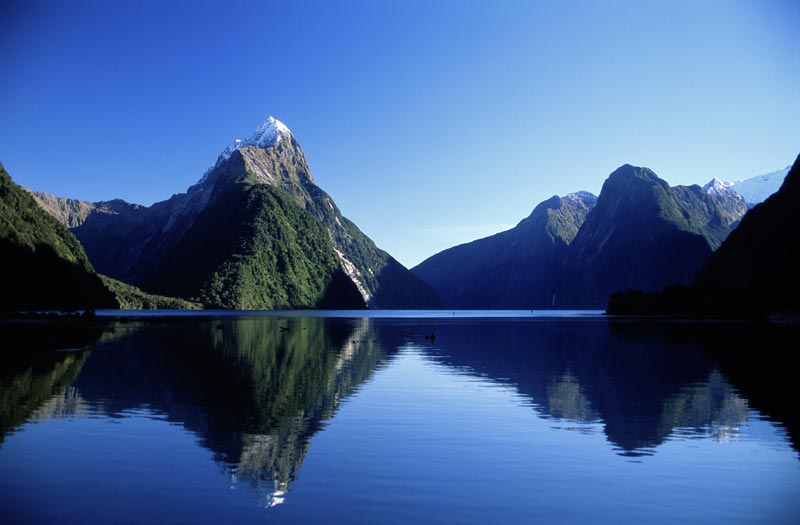 Lake Gunn Nature Walk
Lake Gunn Nature Walk is a 45 minute loop track through the forest and along the lakeside.  It is great for bird watchers and animal lovers as wildlife is abundant.  You may even see bats.  Lake Gunn often has great reflections too and can be especially still in the mornings.
The Lake Gunn Nature Walk starts at the Cascade Creek campsite and can be very popular, especially in the summer.  This is a great family friendly walk, whether you are staying there or passing through on a day trip.  
How to get to the Lake Gunn Nature Walk:  Drive on the Te Anau-Milford Highway (State Highway 94) and you will find the track on your left, about 50 minutes along this road.  It starts at the Cascade Creek Campsite (DOC campsite)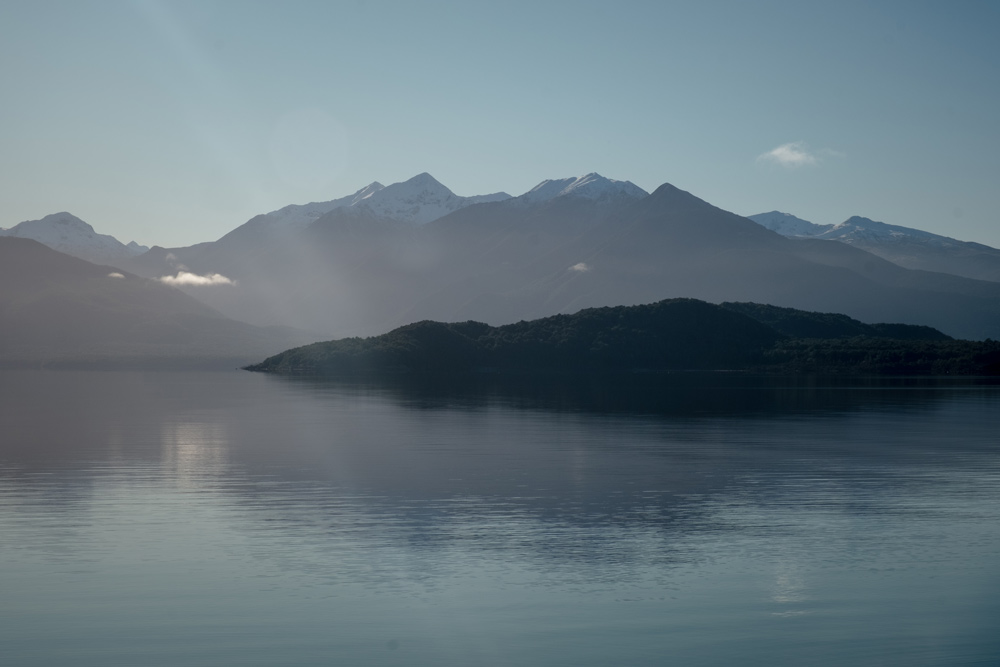 Lake Manapouri Walks:  
Lakefront Walk – Fraser Beach
I personally love Lake Manapouri.  It is more striking than Lake Te Anau as the mountains are closer and more prominent here.  So if you drive from Te Anau to Manapouri (just 15 minutes away), make sure you take a walk on the lakefront down at Fraser Beach.  
The walk from one end to the other will take about 30 minutes, but you don't have to walk a set route.  Just park up and stroll.  It's my favourite little Fiordland walk, and just perfect at sunset.
A few other Manapouri Walks that we haven't tested out yet are listed below.  The problem with a few of these walks, is that you need to have boat access to reach them.  Water taxis are available for some, more so in the summer.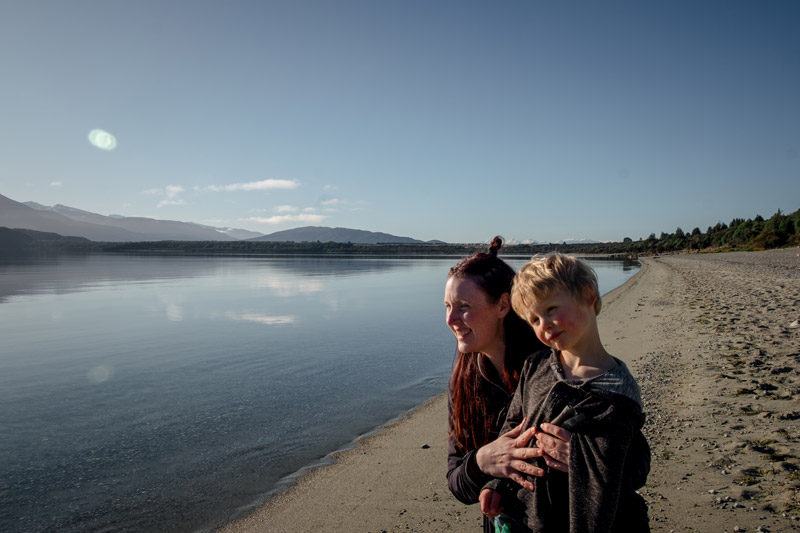 Manapouri Walks
These are the Manapouri walks on our list as they sound like they have good views and would be worth the effort (without being too long)  Let us know if you have done any of these walks near Te Anau
Circle Walk (3-4 hours) 

Monument Track (2 hours) Boat Access required

Stockyard Cove Track (1 hour) Boat access required
Half Day Hikes Te Anau
Hiking is one of my favourite Te Anau activities.  We know you will love these Te Anau hiking trails!
Lake Marian Track and Lake Marian Falls
Lake Marian Falls are just a 20 minute walk at the beginning of the Lake Marian Track.  It is a great little hike for young people and is very safe.  The flat is flattish, with a slightly uphill angle.  This part of the track is well formed and very easy.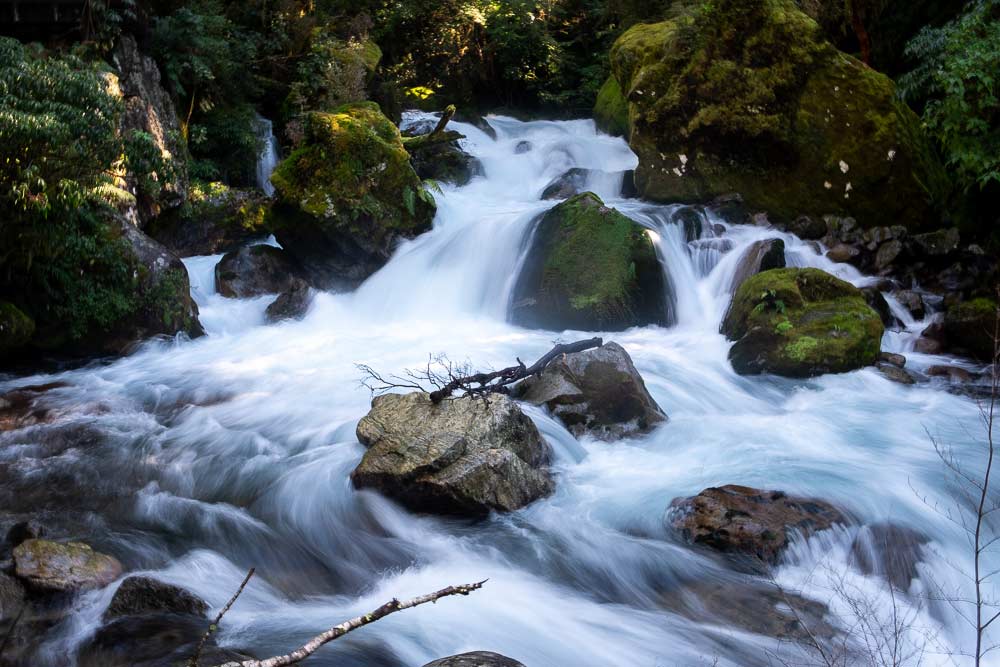 Lake Marian Falls are not particularly high, but there is a great volume of water which makes them quite impressive.  The sound alone is quite something.
If you have good hikers on board, you may wish to hike up to Lake Marian.  It is quite a difficult hike but the alpine lake is incredible and well worth the effort.  You do need good footwear as the terrain is very rocky and rough the whole way up.  It's almost like hiking up a river bed.  This hike has a special memory for us, our first bike hike with the kids walking independently.  So this stays in our memory as one of best hikes near Te Anau.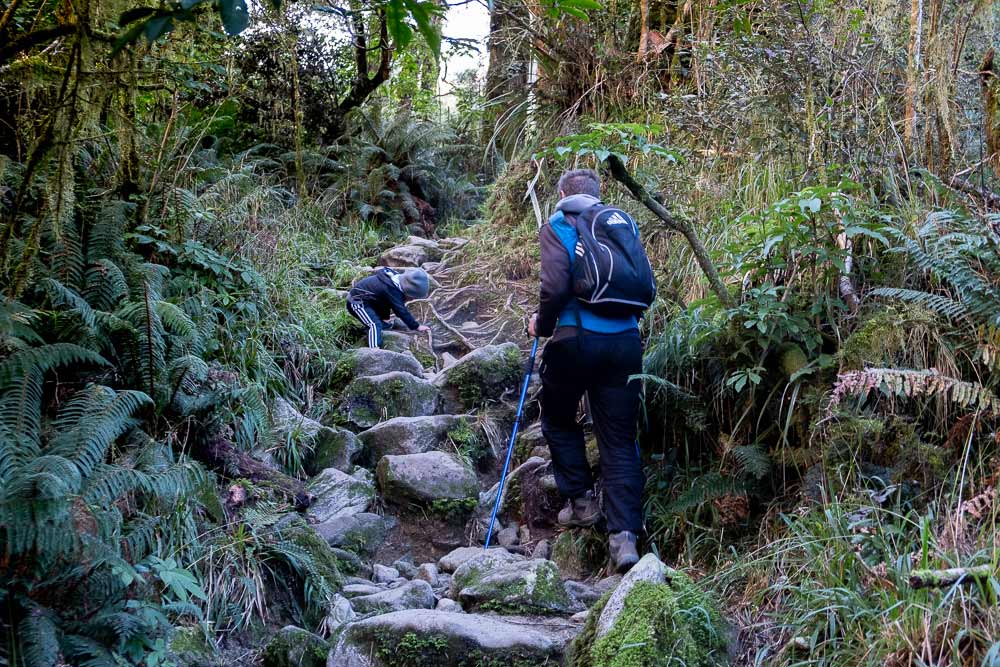 Allow 3-4 hours return for the Lake Marian Hike.  For more information on this walk, including how we did this with young kids, read here.  This is one of the prettiest Te Anau day hikes and you won't be disappointed.
For directions on how to get to Lake Marian and everything you need to know about hiking this challenging but amazing track, click here
** Please be aware that some tracks on the Milford Sound Road close in bad weather due to slips.  So double check if its open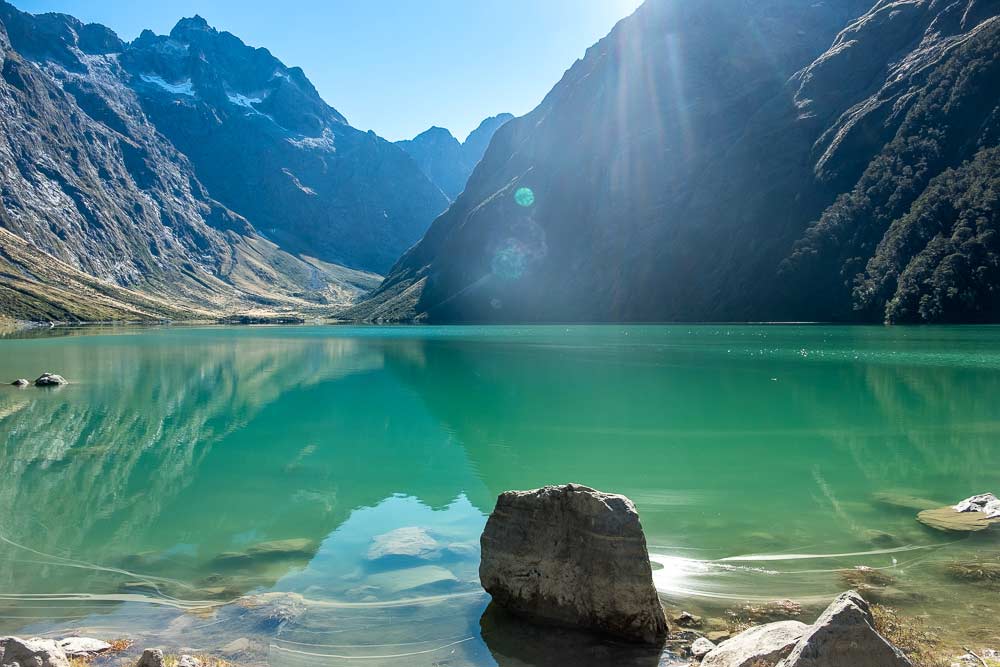 Key Summit Track
The Key Summit Track is part of the Routeburn Track, one of New Zealand's Great Walks.  It is an intermediate level walk, taking around 3 hours return.  The whole Routeburn track is 32km long, but this Te Anau half day walk is only 3.4km.
It will take about 3-4 hours return with kids.  It is uphill, but not as strenuous at the Lake Marian track which is much steeper.  The views from the top, over the Fiordland National Park are beautiful, so keep your camera handy.  Then head back down and back the way you came.
As far as half day hikes go, this is certainly one of the more popular Te Anau tracks.
How to get to the Key Summit Te Anau Track:  Drive from Te Anau, down the Milford Road (State Highway 94), about an hour, and the carpark will be on your righthand side, signposted for the Routeburn Great Walk.
Brod Bay to Luxmore Hut: Challenging day hike on the Kepler Track
Those who have great hikers and older children may be interested in doing the Brod Bay to Luxmore Hut Hike.  This steep Fiordland day walk will take between 6-8 hours return, starting and ending with a water taxi.  (You could walk from Brod Bay to Te Anau, but this will definitely be enough with kids)
Fiordland Outdoors run an efficient Kepler Water Taxi with regular departures during the summer months and on request over winter.  Such a beautiful way to start your hike.  You won't be disappointed.
The views from the top are stunning and will be some of the best you will get over Lake Te Anau.  There is also an option to stay overnight at Luxmore Hut.  Make sure you book your hut stay in advance as this is one of the most popular Te Anau hikes.
DOC Te Anau will be to help you plan this trip, as you need to be safe on alpine hikes.  The weather can be very changeable here, so make sure you chat with the local experts, especially if you are attempting this with kids.  We haven't done this one yet but it's on my list!
More awesome things to do in Te Anau and closeby
So what do you think about these Te Anau walking tracks? I just love DOC tracks as they always go to the most beautiful places.  Do you have any other favourites that we have missed out?  Come and join the conversation and follow us on Instagram and Facebook.