15 Incredible Things to Do in Akaroa
Akaroa for Foodies, Family, Nature Lovers and History Buff Itineraries for Best Things to do in Akaroa, New Zealand
Akaroa is a beautiful seaside settlement, just 80 minutes from Christchurch.  It is the main township in Banks Peninsula and is a popular place for local Cantabrians to summer holiday or take a weekend away.
While many tourist outfits will try and sell you on the perfect day trip to Akaroa, it's much more than a day trip from Christchurch.  From foodie experiences, to New Zealand history, to nature and wildlife, there really is something for everyone, even the kids.
Before we dive into the best things to do in Akaroa, lets check out a few practical travel tips for exploring Akaroa
(Please note: this article may contain affiliate links.  These do not cost you any extra, but the commission earned goes towards the running of this website. Thanks so much for your support!)
A quick bit of Akaroa History: Volcanoes and its French influence
You can't go to Akaroa without knowing a little bit about the history.  Besides the fact that you will get there and think…. These street signs don't look like they are in English, and is that a French flag, it is worth noting that Akaroa is a former French Settlement.
In a very simple nutshell, the French were interested in Akaroa for whaling and thought it was a great place to settle.  By the time they got back to Akaroa, the Treaty of Waitangi had been signed and the British were set up here.  Both French and British lived here and rules and customs were strained.  They even had separate cemeteries. There are still people living in Akaroa today whose ancestors first set up here.
Another thing to note is that Banks Peninsula is actually a volcano.  The two main eruptive centres are the Akaroa Harbour and at Lyttelton.  But don't worry, it is extinct and there has been no sign of any volcanic activity for over 5 million years.
Article Table of Contents
click straight to a section below or scroll down for the full article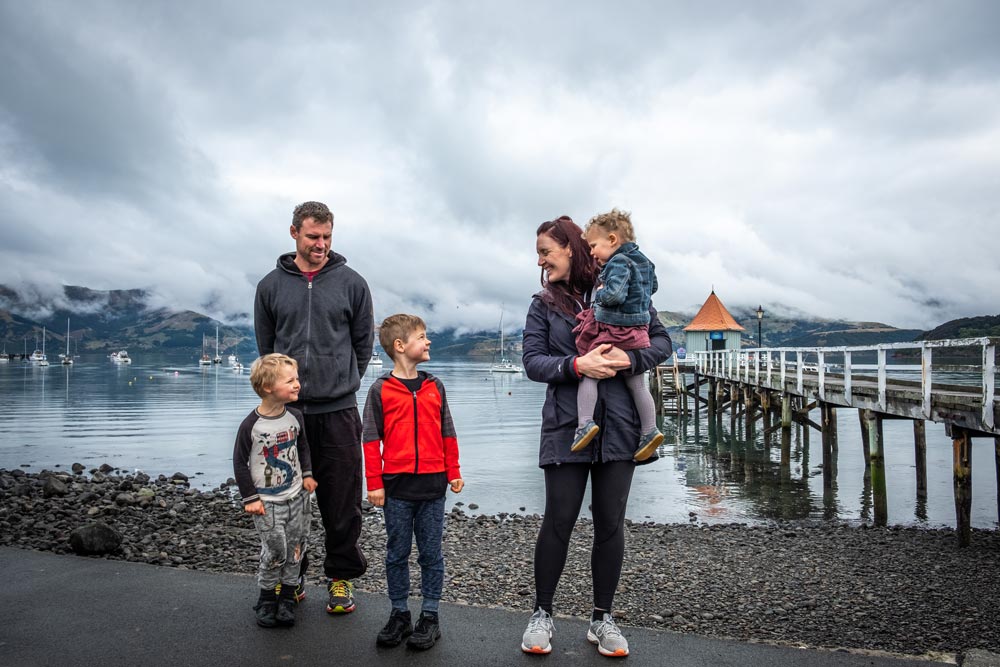 Where is Akaroa?
Akaroa is located in Banks Peninsula, about 80 minutes drive from Christchurch.  After the small settlement of Little River, it can be quite windy, but it is well worth it. The views of the alluring blue water as you come over the hill will make you feel like you are a world away from the city.
How to get to Akaroa, New Zealand
The easiest way to get to Akaroa is by driving your own vehicle or rental car.  Some of the fun of exploring Akaroa is finding your own bay or beach, which cannot really be done without your own transport.
Tour operators often run a day trip to Akaroa but to be honest, these don't leave a lot of time to try out everything Akaroa has to offer.
You can take a bus from Christchurch to Akaroa with a private bus company such as Akaroa French Connection.  Prices start from $50 return per person.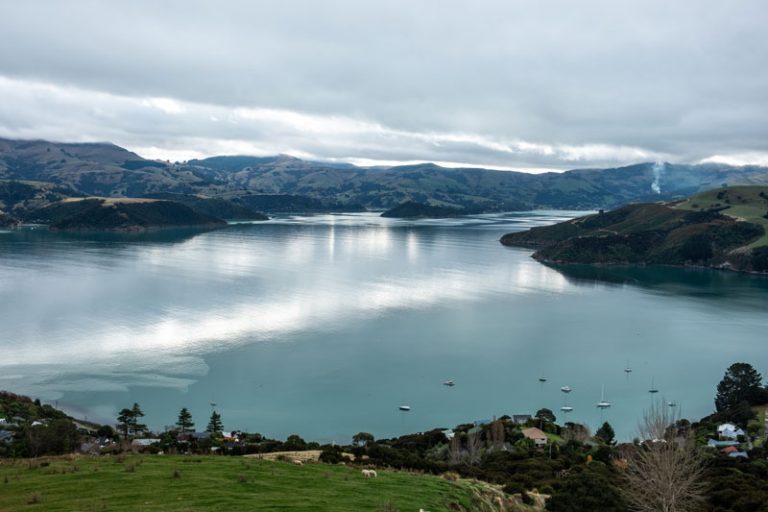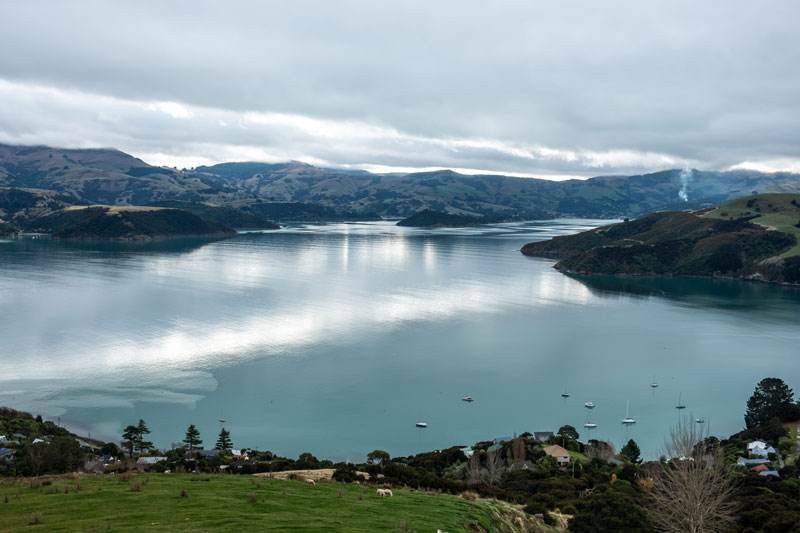 Where to stay in Akaroa
One of the most popular times to visit Akaroa is during the summer.  It is a popular place to head for the weekend to relax, swim and boat, so at these times, Akaroa accommodation can fill up quickly.
There is a range of Akaroa Accommodation available, depending on your need for family accommodation, couples accommodation or group accommodation.
Akaroa Motels
We recommend: Akaroa Criterion Motel
We highly recommend the Akaroa Criterion Motel.  The central location is perfect, just one block from the waterfront and it is so close to beautiful cafes and restaurants such as Ronas cafe and Ma Maison Restaurant.  
The Akaroa Criterion Motel has large spacious accommodation and is perfect for small families and of course couples.  They have large studio rooms with a large double bed and single bed, with plenty of room for a portacot as well.  We felt perfectly comfortable here and regretted not staying longer.  Check prices here for one of the best places to stay in Akaroa.
Also check out
Akaroa Camping
Camping in Akaroa is particularly popular in the summertime, and again, book these ahead in advance.  Here are a few Akaroa camping options that you might like to consider

Okains Bay Campground:
The Okains Bay Camping Ground is the perfect mix of relaxed kiwi camping and budget friendly accommodation.  This beachside location has a great playground for kids and kitchen facilities, but you will need to bring or boil your own water here.  Okains Bay is ideal for families with both waves to play in as well as an estuary for younger kids.
This is my personal favourite, as I love being right on the beach, but it's about 25-30 mins from Akaroa itself, so will just depend on your plans, or the point of your trip.
Akaroa Top 10 Holiday Park:
The most kitted out in terms of facilities, the Akaroa Top 10 Holiday Park has a range of options for all budgets.  From unpowered campsites to self contained family units, this hilltop site has some of the best views you will get from your tent or campervan.  Click here to see camping, cabin and motel options
Duvauchelle Holiday Park:
Just 10 minutes before Akaroa, this campsite is great if you are going to be exploring the wider Banks Peninsula area.  You are close to the Summit Road and can head out to Wainui, with the benefit of a quieter spot than Akaroa itself.  Lovely grass camping and amazing harbour views.  It's a popular spot for boaties with the great Duvauchelle boat ramp so close.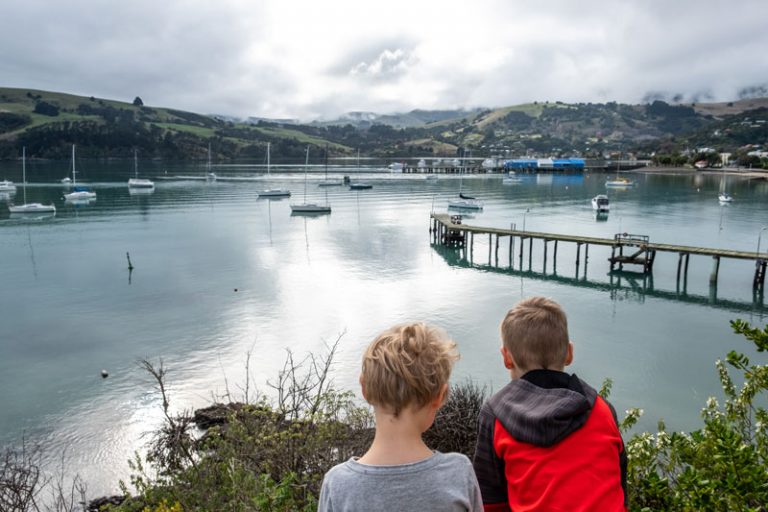 What to do in Akaroa New Zealand: The Best Akaroa Attractions and Things to do 
No matter what your interests, there is always a fun Akaroa activity for you.  Whether you are a history buff wanting to learn about the french influence, or early life in New Zealand, a foodie who loves nothing more than local produce served to perfection, or a family wanting to check out all that nature has to offer in Banks Peninsula, Akaroa is the place for you.
We have created 3 x three day itineraries for an ideal Akaroa holiday to suit you.  Check out the links to skip straight to the activity, or just scroll down for 15 awesome things to see in Akaroa New Zealand
3 day Itinerary: Things to see and do in Akaroa with kids: Nature, Wildlife and Fun
3 day Itinerary: What to see and do in Akaroa for Foodies
3 Day Itinerary: What to do in Akaroa NZ for Arts and History
What to do in Akaroa for a day: Our Akaroa One Day Itinerary
It's not going to be enough I tell you, but if I had to choose, my one day Akaroa itinerary would look like this
Stroll on the Akaroa waterfront

Regret only one day in Akaroa, book accommodation, do more tomorrow 🙂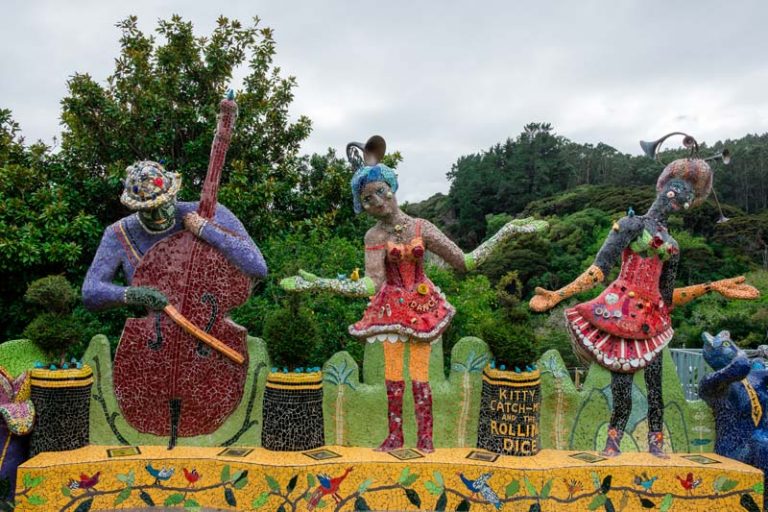 15 of the Best Things to do in Akaroa, New Zealand
If you are spending some time in Akaroa, things to do include:
1. Childrens Bay Walkway (The Rhino Walk Akaroa)
The Childrens Bay Walkway is a leisurely 1 hour return walk from Childrens Bay to the top of the hill, to the soon to be famous Rhino sculpture. It is easily the best walk in Akaroa for kids.  Locally known as the Akaroa Rhino walk, this is a great track for kids as there are many other "animals" (sculptures) to come across on this walk.  
The walk is not too difficult, with a gentle uphill incline (although it is up the whole way), but can be wet and muddy at times.  Gumboots are a good option for kids after some rain, and don't risk a jandal disaster in the summer, you will need those for the beach later on.
If you are interested in extending your walk, you can continue on the coastal loop around the headland, or even down into the next door bay.  These loops can take around 3-4 hours so make sure you take some water and picnic lunch.  It's one of the best free things to do in Akaroa with kids and we know you'll love it.
How to get there:  If you are driving to Akaroa from Christchurch it is just a few moments before the township on your righthand side, on Childrens Bay Road.  Head down this narrow road and the walk has a signpost on your right.  Parking is on the side of the road but there are no toilet facilities here.
If you are looking for some harder hikes in Akaroa, check out Banks Peninsula walks here. The directory is really comprehensive.

2. Fish and Chips at the Beach (a Family favourite) and the Kids Playground.
No summer holiday in Akaroa could be classed as complete without fish and chips at the beach.  You could head to Akaroa Fish and Chips, right on the waterfront which is easily the best location, but the locals tell us that Murphys on the Corner on Church Street is their go to.
So grab a pack of your favourite treats and head down to the beach, or the Childrens Playground near the wharf.
In the summer, this is a good spot for a swim if you are staying locally, however it isn't my favourite Akaroa Beach.  We prefer to head over to Okains Bay or Le Bons Bay which have lovely sand and estuary areas, perfect for young kids.  They are still popular, but more secluded, so worth the 30 minute drive over the hill.
However the Main Beach at Akaroa often has water sport activities such as kayaks and paddleboards for hire during the summertime which can be a lot of fun for the kids.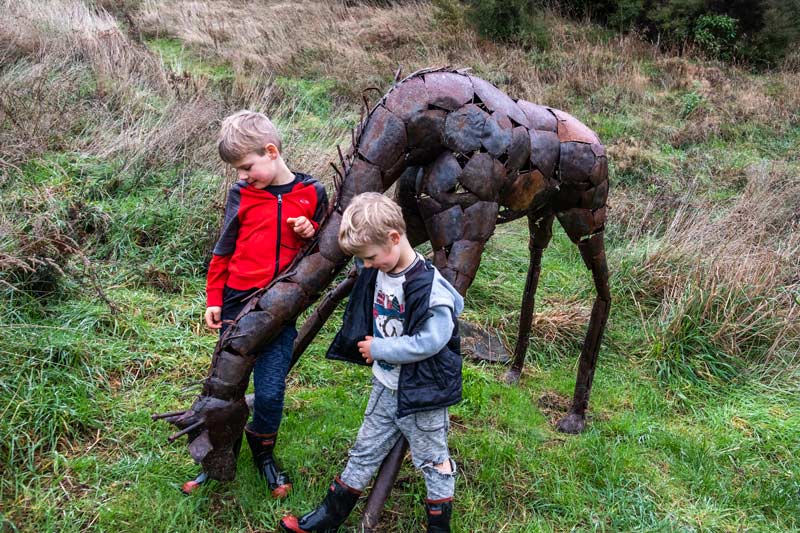 3. Pohatu Penguins
If your kids love animals, then a visit to Pohatu Penguins is an Akaroa Must Do!  The classic Pohatu Penguins tour is an evening tour where you will get to peer into the Little Blue Penguin nesting boxes, watch the penguins socialise in the water from the bird hide and maybe even sneak a peek at the wee penguins walking ashore from their day on the ocean.
The whole tour is about 3 hours long and includes transport from Akaroa Township, history of the area, some incredible photo stops including Misty Peak, before even seeing the main event.  If you didn't know that Akaroa used to be a volcano or how these special Akaroa blue penguins got their colour, then you will know all of this before you leave.
What makes Pohatu Penguins special is that the penguins are being lovingly protected by the landowners, with not too much help from the Department of Conservation.  The owners noticed the terrible increase in predators (cats, dogs, stoats, ferrets) and the devastating effect on the penguin community.  It is their commitment as well as the tourist dollars that is keeping the penguins alive.  At last count, there were over 1200 breeding pairs of little blue penguins in the Pohatu Marine Reserve.
Note: If you are visiting with kids, this is one of the top things to do in Akaroa in winter, as the sun sets earlier.  This means the kids aren't out too late as sunset is obviously much earlier in winter and the penguins come ashore earlier.  Just don't forget warm clothes.

4. Shamarra Alpacas Akaroa
What to see in Akaroa? An alpaca or course, tons of them. Have you ever met an alpaca?  They are just the cutest things.  You just want to throw your arms around their necks and cuddle them like a teddy bear, although they may get grumpy and spit at you (That's right, some spit – they are part of the camel family)
A visit to Shamarra Alpacas will give you the opportunity to learn all about the beautiful alpaca species, touch their incredibly soft wool and even feed the beautiful animals, all on top of their incredible farm overlooking the water.  A farm with a view; they honestly could not have picked a better spot.  Kids will love their up close and personal visit.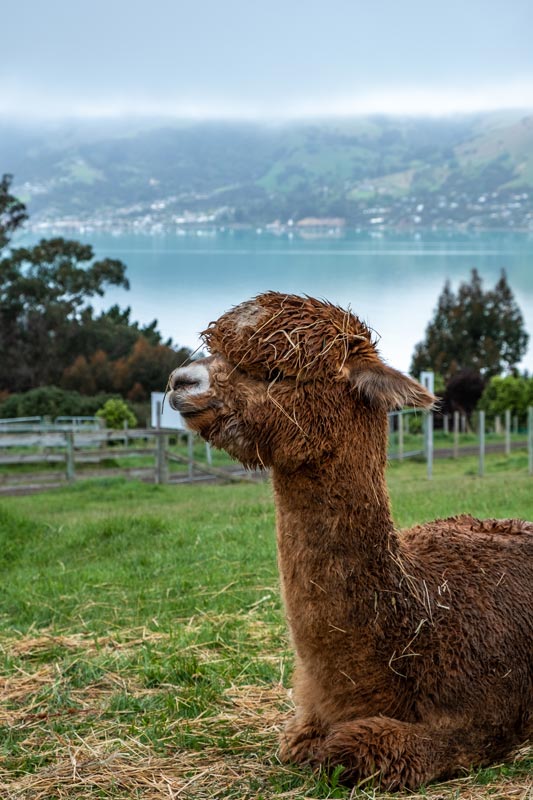 5. Akaroa Dolphins
A luxury option and great family friendly Akaroa cruise, the lovely Akaroa Dolphins crew will take you out to explore Banks Peninsula by boat.  Dolphins are quite the highlight and Akaroa is home to the Hectors dolphin.  Hectors Dolphins are endangered, and around 1000 of them live in the Banks Peninsula region.
Your Akaroa Dolphins Cruise offers complimentary beer, wine and non-alcoholic drinks, as well as home baking.  What makes Akaroa Dolphins unique is that they have dolphin spotting dogs on board.  Their senses help to find the dolphins and you will never miss spotting one.
6. Black Cat Cruises
Black Cat Cruises also offer nature cruises that spot the awesome wildlife in Akaroa Harbour, including dolphins, seals, white flippered penguins and all kinds of birdlife.  But they also offer a unique experience "Swimming with dolphins".  Sail out, find dolphins then enter the water and play with these amazing friendly creatures.
Black Cat Cruises also has a dolphin guarantee.  Don't see a dolphin, come back again for free. (although to be fair, the chance of seeing them is quite high)  Dolphin viewing is one of the best things to do in Akaroa and is definitely a memory that will last for a lifetime.
Check out dates and prices for swimming with dolphins or a dolphin watching tour here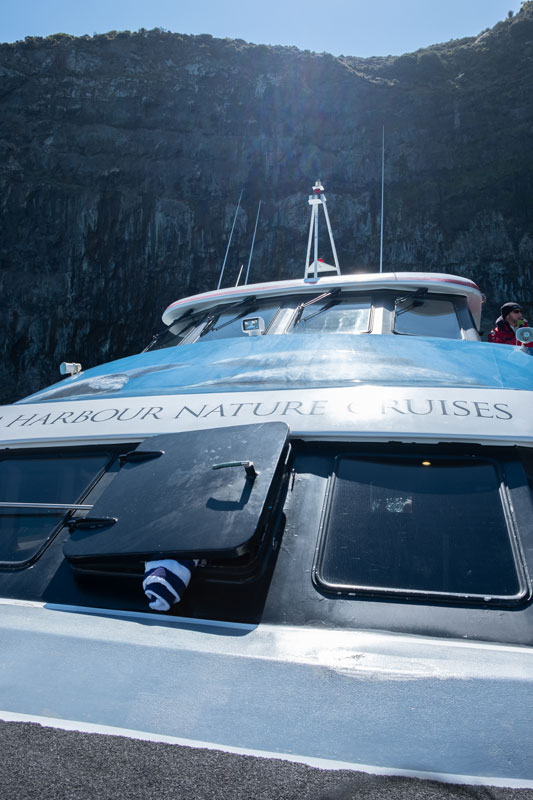 7. Wine Tasting in Akaroa
Banks Peninsula is lucky enough to have three boutique wineries:  French Peak Winery, Meniscus Wines and Akaroa Winery.  You can arrange a cellar door visit at all three of these vineyards and taste some of the most delicious locally produced wines.
French Peak Winery is located in the beautiful French Farm region of Akaroa, and is run by French winemaker Renan Cataliotti.  For only $5 you can taste four wines. A highlight of our visit was the French Peak Rose 2020, which tasted like strawberries and cream with a hint of apple pie.  If that's not a summer wine, I don't know what is?
You absolutely must order a platter to accompany your wine tasting, as you will regret not trying the chewy french baguettes and Barry's Bay Cheese (Highly recommend the Gouda)  You may even get to try some other locally made delicacies.  In fact, our hostess for the day brought along her very own homemade quince jelly and walnuts from her garden for us to try.  This just epitomised the incredible hospitality we felt from the whole Akaroa community.
Top tip:  Make sure you check the websites for their cellar door hours
8. Barrys Bay Cheese
I had a wee rave above about Barrys Bay Cheeses so if you love cheese, it is definitely worth a stop.  You can buy cheese directly from their factory shop and even watch some of the process through their big shop window.  But if you want to arrange a group visit to learn more, just get in touch with them.  They also stock other local products such as Robinson Bay Olive Oil which is used by chefs all over the Peninsula.
Can you believe the original Barrys Bay Cheese Factory was built in 1895.  You know they have got to be good to last the test of time. One of the more unique places to visit in Akaroa and just a tip: the Gouda is amazing!  
9. Akaroa Cooking School
If you are a foodie, you will have definitely heard of the Akaroa Cooking School.  Booked out months in advance, the Akaroa Cooking School is heralded by the Lonely Planet as one of the top 10 cooking schools in the world.  If that isn't enough to get you excited, I don't know what is.
The food is incredible, the intimate setting is divine, but the absolute highlight are the two chefs, Ant and Lou Bentley.  This husband and wife team are incredibly inspiring, talented yet so humble and down to earth.  Classically kiwi, they make you feel like you've known them forever and are so happy to share their knowledge.  And they do so without making you feel silly for asking such a simple question.  That in itself is a skill that cannot be taught.
The concept at the Akaroa Cooking School is a 10-4pm five course wine and food match, all prepared by Ant and Lou in their demonstration kitchen. 
This is definitely an experience that is better to share together.  Whether it's a couples day out, a girls weekend, a reunion catchup, the Akaroa Cooking School is so fun with a group.
Top tip: You must book ahead as they are always booked up.  At writing they are full for 3 months in advance, so find a date, book it in and plan your Akaroa weekend away around it.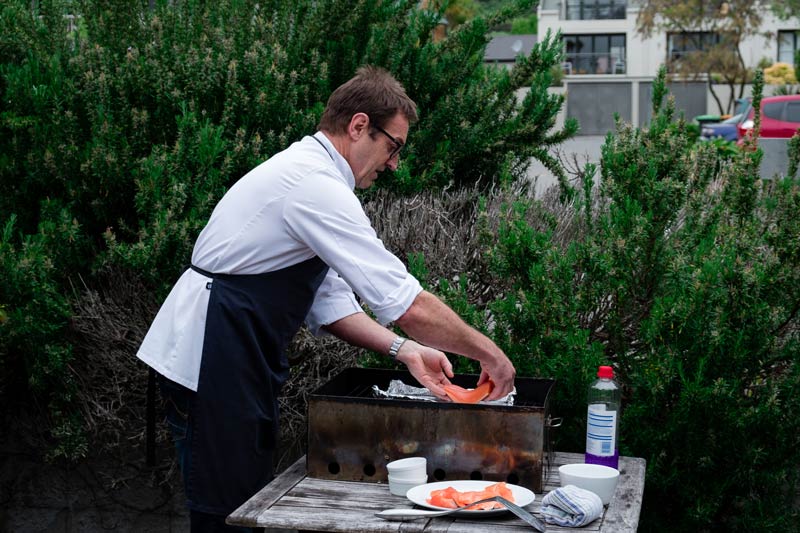 10. Akaroa Guided Walks
There is so much rich history in Akaroa.  It was one of the earliest settlements and had both French and English settlers.  This did cause controversy as I'm not sure if you are aware, the French and English weren't exactly friendly.
Linda Sutherland from Akaroa Walks runs historical walks in Akaroa and she has a special connection, in that her ancestors were on these first ships.  Akaroa's stories are her stories, her family stories and she shares these tales as you walk the village.  How fascinating it must be, to go to the museum and say "these are my ancestors things".  In a young country such as New Zealand, European history doesn't get any longer than this.
While on your walk, you may also find some beautiful shops in Akaroa, selling local produce and amazing artsy wares.  Some unique spots include: Mr Peacock, Hetties Rock and Crystal Shop and Studio 67
Or you could jump on board a Seventh Generation Tour and head out to Takapuneke, the site of a horrific massacre, the Onuku Marae where the Treaty of Waitangi was signed and the world renowned Hinewai Reserve.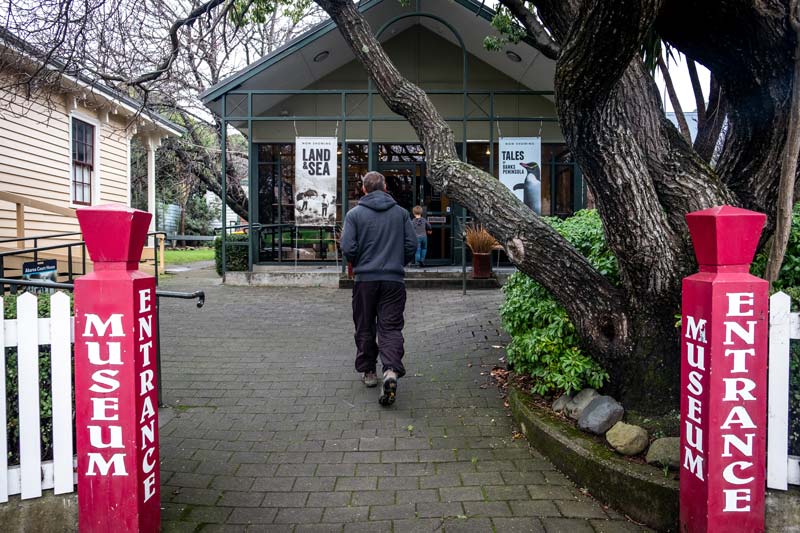 11. The Akaroa Museum
The Akaroa Museum is currently free and is a great starting point for learning about the history of Akaroa.  There is an area about the evolution of farming in the region, historic families and people in the area, including the famous Frank Worsley, the Captain of Ernest Shackletons miraculous Antarctic expedition.  It also houses one of the oldest cottages in Akaroa and it's amazing to see how tiny the houses used to be.  (and check out the tiny double beds)
The museum is an easy Akaroa sightseeing experience and a great thing to do on a rainy day. Akaroa is a little light on rainy day activities.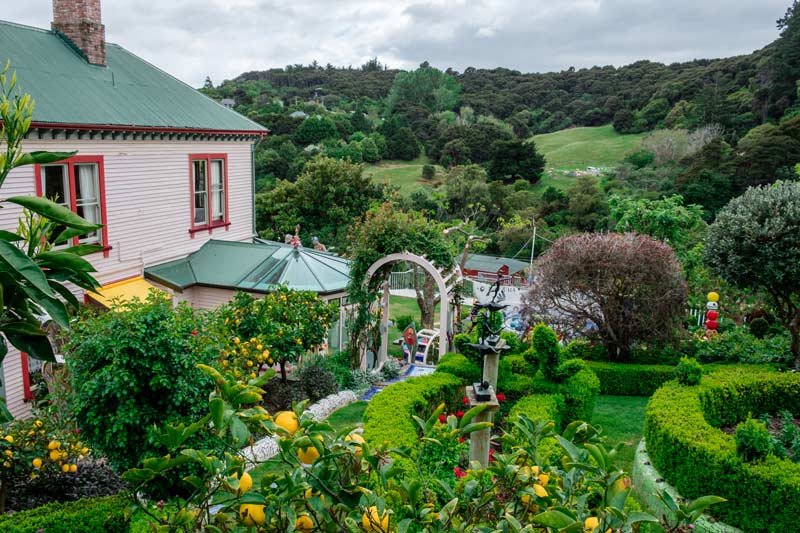 12. The Giants House Akaroa
The Giant's House is a spectacular art and sculpture garden in the heart of Akaroa.  Owner Josie has contributed almost 30 years worth of mosaics, sculptures and an eclectic mix of "art meets nature" to her incredible garden which you can explore freely.  Add this to your Akaroa to do list (its seriously something else)
It is an absolute assault on the senses… it is whimsical, maniacal, fabulous, breathtaking, creative, obscure and colourful.  There isn't one word you could use to describe it, except perhaps unbelievable.
As you first walk around, you are overwhelmed with awe, and your second trip around the garden, you are able to appreciate the intricacies and details and incredible vision Josie has.  You cannot visit here without a smile, it is actually impossible.  
A truly unique gem in Akaroa that has to be seen to be believed.  It is an Akaroa must do for sure.
13. Go Beach Hopping in the Summer
Banks Peninsula is home to some of the most stunning beaches in Canterbury.  It can definitely get to over 30C in Akaroa on a hot summers day, so if you are looking for a place to cool off, then get in a car and go for a drive.
Some great places to hang out on the beach are
Okains Bay

Le Bons Bay

Main Beach at Akaroa (it is close and popular
14. Find a picturesque viewpoint
Banks Peninsula is beautiful and hilly, but that also means there are some awesome viewpoints.  If you are looking for some amazing photography or Instagram spots in Akaroa, then check out these awesome views.  It's one of my favourite things to do in Akaroa for free (I really love water views)
Misty Peak

View from the Hilltop

Akaroa Wharf

Stoney Peak walk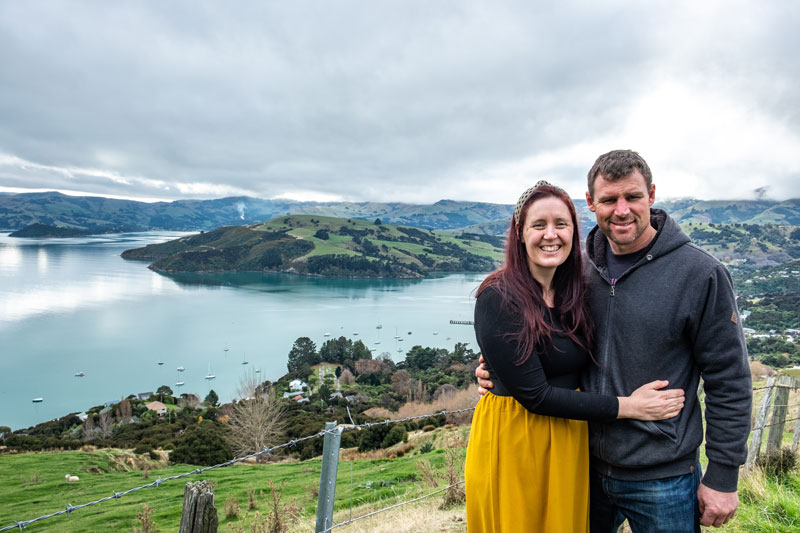 15. Eat French Cuisine and Gourmet Food in Akaroa
Whether you are taking a foodie itinerary, or just love delicious food, the french inspired cuisine can be found all over Akaroa.
Here are some delicious spots and some of the best places to eat in Akaroa.
Ma Maison: The most beautiful location in Akaroa, this waterfront restaurant has exquisite food. Fresh seafood here is a show stopper and the menu is infused with french flavours.  A great place for something a bit special, a long summer's day lunch or romantic dinner.
Mandala: Asian fusion might not be something that you expect from an Akaroa restaurant, but boy am I glad they exist.  The amazing Fijian-Indian owners bring flavours from their childhood and have a mouthwatering menu on offer.
The Brasserie: The Brasserie has a huge menu and is one of the best restaurants in Akaroa.  Casual food in a beautiful garden location, you can't beat it!  There is a kids menu on offer and the fruit smoothies are delicious.
Ronas Cafe: The perfect place to start the day with a hearty breakfast that will leave you full up with a ton of energy.  The cabinet always looks delectable and I can attest for the fresh muffins. 
Hilltop Akaroa: A bit out of town but with an amazing view, Hilltop Akaroa reportedly has amazing pizzas (can't confirm.. But the word on the street is they are good)
So don't worry about what to do in Akaroa, we have you sorted.  From classic Akaroa tourist attractions, to relaxing eats, you won't be disappointed. And if you are still wondering if there is anything else to do in Akaroa, then go for a drive.  There are bays and beaches galore and you'll likely find a little spot just for yourself.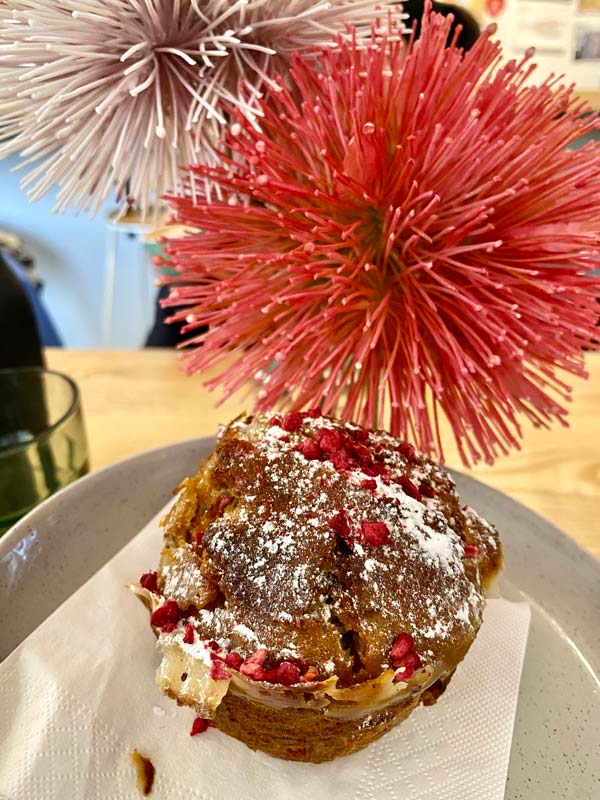 Things to do around Akaroa
Head to Little River
There is a great art gallery here and a renowned cafe: The Little River Cafe and Store.  All the food in the cabinet is delicious and it's a great stop between Christchurch and Akaroa.  It is also home to some unique accommodation in the Silo Stays.  You can sleep inside a grain silo and it is all kitted out with ecofriendly features.
Take a hike to Packhorse Hut.
Packhorse Hut is a great first overnight hut walk to a historic stone hut.  It only sleeps 9 so it is lovely and cosy.  There are two different routes to get here, taking between 2-4 hours return depending on the track.  You can find more details in our Guide to Packhorse Hut here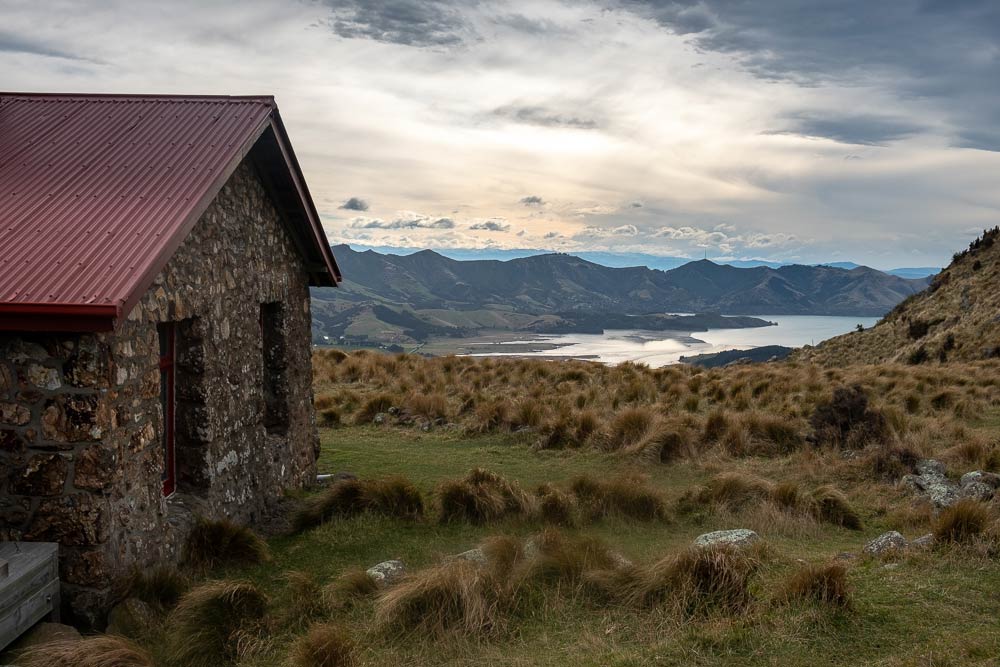 Head to Akaroa via Summit Road
Take the scenic drive from Christchurch to Akaroa via the Summit Road.  There are some great viewpoints up there over Banks Peninsula and Christchurch and some lovely walks here too
Explore Christchurch of course
You can't visit Akaroa without spending time in the main city of Christchurch.  We have some great articles that will help you to plan our trip
There's no need to ask what is there is do in Akaroa anymore – you're all sorted.  We hope you have an amazing trip!