Your Guide to the Best Things to do in Northland with Kids
The Best Things to do in Northland with Kids: Your Northland Bucket List
If you love beaches, warm weather, watersports and the outdoors, then Northland needs to be on your list of places to visit in New Zealand.  Everything above Wellsford (an hour north of Auckland) is classified as Northland. There are so many things to do north of Auckland! Would you believe there is 5 ½ hours worth of adventures north of Auckland, so if you thought Auckland was pretty much it, you would be mistaken.  So if you're not sure if Northland would be for you… check out our list of the best things to do in Northland with kids.
Why Northland?
Northland is known for its temperate climate and some of the warmest waters in New Zealand, so if you have been put off by the nippy waters in the South Island, warm yourself up in Northland.  One of the highlights has to be the Bay of Islands and its main centre Paihia, but there are so many places to visit in Northland, you must stay more than a few days.
One of the things I loved the most about Northland, was even in February (high season) it didn't seem super busy.  There were tourists yes, but I never felt overrun. We had beaches to ourself or just a handful of people. A lot of people just head south of Auckland, but you are really missing out if you don't explore this wonderful area.  There are so many things to see in New Zealand, so lets put Northland on your list.
Please note this article may contain affiliate links.  These links do not cost you any extra, but does help towards the running of this website
Day trip to Urupukapuka Island
Our day trip to Urupukapuka Island had to be one of our highlights on our road trip to Northland.  Instead of taking a more expensive tour around the Bay of Islands, we jumped on the Explore ferry to Urupukapuka Island and spent the whole day here.  It is one of the best places to go in New Zealand if you feel like your own tropical island holiday, just a stones throw from the mainland.
It has the most beautiful sheltered bay, perfect for swimming with young kids.  They jumped off the wharf, snorkelled with the fish, had a go at paddleboarding and just relaxed in the sun.  More adventurous families may enjoy walking on some of the islands many tracks to see the most beautiful panoramic views of the Bay of Islands.  If you are wondering what to do in the Bay of Islands, then check out our detailed article on this day trip here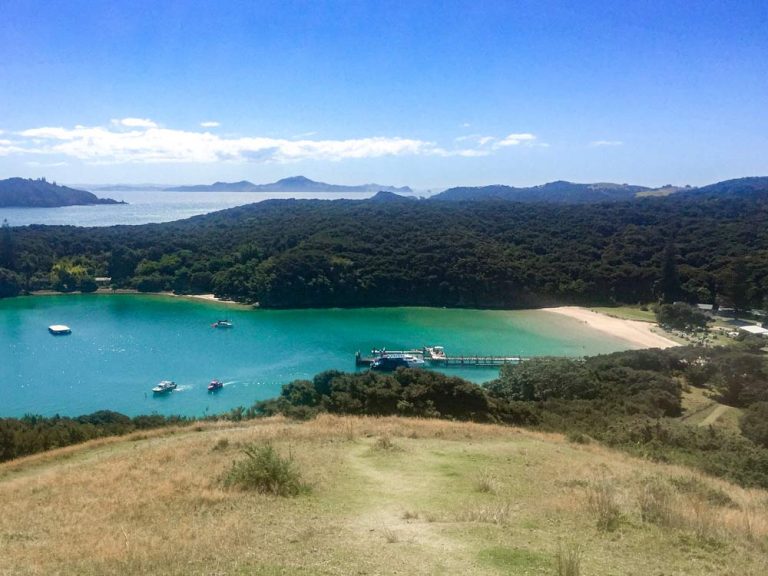 Swim in Coca Cola Lake in Doubtless Bay
Kids will love the thought of swimming in a whole lake of Coca Cola, so if you are looking for an alternative to the sandy salty beaches, try Lake Rotopokaka aka Coca Cola Lake.  It is a freshwater lake that is safe to swim in and just a crazy unique experience. For more information about Coca Cola Lake and how to get there (its a little tricky and people have missed it), click here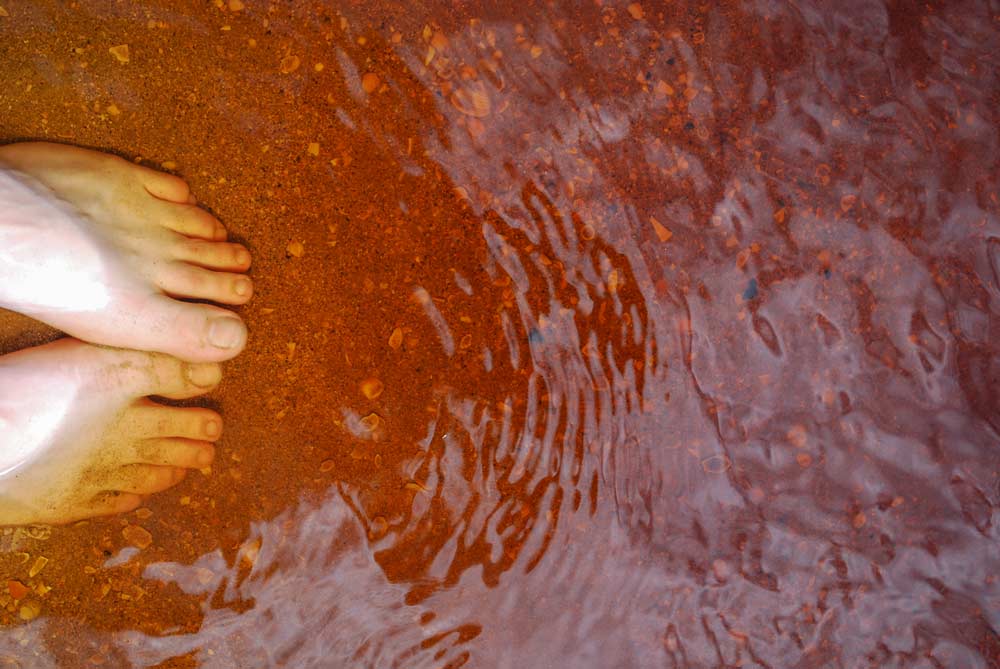 Walk the Mahinepua Peninsula track for amazing coastal views
The Mahinepua Peninsula Track is a beautiful 2 hour return coastal walk that your kids will love.  You can stop at the beach and swim, walk through beautiful bush and end at the Peninsula trig point where you can see out to the Cavalli Islands.  The kids really enjoyed this undulating track and you can find out more about it here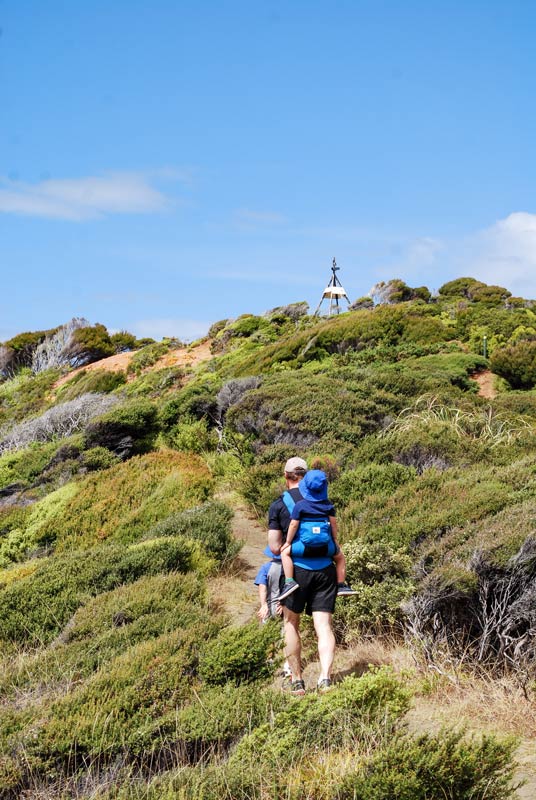 Visit Rainbow Falls in Kerikeri
Rainbow Falls is a little piece of heaven right in the township of Kerikeri.  The waterfall is stunning and one of my favourite parts are the viewpoints from both above the falls and at the bottom.  It gives such great perspective to these 27m tall falls.
The viewpoints are wheelchair and stroller friendly, as well as easy for toddlers to walk with a hand held.  Allow 30 minutes to walk between all the viewpoints, and a bit longer if you would like to swim in the waterfall.  To find out more about this beautiful Northland waterfall, click here

Swim at the crazy white sand beach at Rarawa Beach
If you are heading up to Cape Reinga, I highly recommend stopping at Rarawa Beach.  It has the brightest, whitest sand I have ever seen and makes for a beautiful and unique beach experience.  There is a large estuary here which is great for young kids. The waves are often rough here, so do be careful with older children in the main beach.  I think this is one of the best beaches in Northland because it is just so different. Top tip: Bring some sort of shade/shelter if you have some, there are no trees and it is very exposed here.
How to get here:  Rarawa Beach is found at the end of Rarawa Beach Road, 50 minutes from Kaitaia heading towards Cape Reinga.  It will be on your right hand side.
Visit Cape Reinga, the northernmost point of New Zealand
Cape Reinga, the top of New Zealand, is a must do on your Northland itinerary.  How could you come all the way to the north of New Zealand and not reach the official top right?  The beautiful lighthouse is an iconic kiwi photo and you will enjoy the lovely 300m walk out there.  If you are lucky, you will also be able to see where the Tasman Sea and the Pacific Ocean meet. It's strange to watch waves from two opposite directions crashing into each other.
Go sandboarding in the great dunes on 90 mile beach
You could be forgiven for thinking you had walked into an African desert, but these crazy sand dunes are all natural and all fun.  You can jump on a tour up 90 mile beach tour which often includes a ride on the Te Paki Sand Dunes, or you can self drive, bring your own boogie board, or hire a bespoke sand board and ride down the dunes like you would a snowboard.  
For kids, a few things to note:  If the kids have sunglasses for their eyes, or buffs to cover their mouth, this can help!  A mouthful of sand is no fun for anyone. The sand will get crazy hot, so shoes are recommended, even if they do end up filled with sand.  You can hire boards from the side of the road, or pick up your own at a store like the Warehouse if you plan to boogie board and beach a lot on your holiday.
Visit Waitangi to learn about a momentus point in New Zealand history
It's always nice to learn a little of the history of a region and by far the most significant point in New Zealand history was the signing of the
Treaty of Waitangi. 
In essence, the treaty, signed in 1840, was an agreement between the Maori chiefs and British crown about how to form a government and live together as one people. It is founded on several principles and the interpretation of both the Maori and English versions and the intent of the treaty is still a controversial debate today. 
You can visit the Waitangi Treaty Grounds to learn more about the history of the area, see where the treaty was signed, learn about maori culture and see inside a real carved meeting house and learn about native flora and fauna on the beautiful upper boardwalk.
To skip the line, book your ticket in advance here (for the same price as at the door) Also your ticket is valid for two consecutive days.  Great for kids to learn in bite sized chunks.
(Image Credit: David Kirkland)

Hike the Mount Manaia Track in Whangarei for incredible views
If you are looking for amazing views, the Mt Manaia Track is the place to come.  A word of warning, this is a steep track with a lot of stairs…. A lot. There are also sections of rock to climb without safety fences, so if you have a very young family (and you're not backpacking the kids) this might not be the right one for you.  But if you are up for a sweat buster, then the views from the top of the Mt Manaia track are totally worth the effort.
Located 28km east of Whangarei, this 4km return track will take adults about 2 hours, but allow a little longer for little legs.  I often find the downhill is not as fast as I think if I have to hold kids hands all the time (depending on the age of your kids) This walk is  one of the best things to do in Whangarei and easy the best view of the area.
Explore the high ropes courses at Adventure Forest near Whangarei
Adventure Forest is a high ropes course located just 10 minutes from Whangarei and the Tutukaka Coast.  One thing I love about this particular course, is that they cater for kids as young as 3 years old. The one hour session lets the wee ones access the Possum and Pukeko course and there is a 3 hour course of older kids.  The little ones often miss out so I just love this. This Whangarei activity will not disappoint.
Visit Tane Mahuta: New Zealands largest Kauri Tree (native)
Kauri trees are native to New Zealand and are touted as some of the worlds mightiest trees, as they grow over 50m tall and up to 16m wide.  The largest known kauri tree in New Zealand, is Tane Mahuta. They are grown in the upper North of the North Island and were commonly used by maori for boat building, carving and building houses.
You can visit Tane Mahuta in the Waipoua Forest, just a 5 minute walk from the road and marvel at the huge kauri which is 4.4m wide and approximately 2000 years old.  Kauri dieback is threatening extinction so the Department of Conservation is working hard to protect this native species.
(Image credit: David Kirkland)

Take a Hole in the Rock boat tour
The Hole in the Rock is an amazing rock formation way out in the Bay of Islands.  Legend has it that maori warriors used to paddle through it before battle for good luck.  There are a number of companies that run similar tour through the hole in the rock, and they will usually drive through the hole in the rock (weather permitting), view dolphins (and sometimes whales) drive past the Cape Brett Lighthouse and some stop off at Urupukapuka Island for a swim or relax on the beach.  
As the boats drop past Russell, this is a great time to hop off and look around Russell, and get a free trip back to Paihia (just talk to the crew onboard)  Getting out on the water is one of my favourite things to do in the Bay of Islands, so make sure you take at least one boat trip on your Northland holiday.
If you are short time, you can book a full day tour that includes the Hole in the Rock, go on a boat cruise for dolphins and explore the Bay of Islands.
To book this tour (also with free cancellation) click here for prices
Dive and Snorkel at Poor Knights Island Marine Reserve
If your family loves watersports or being on the ocean, then a day trip to Poor Knights Island Marine Reserve is a must do for you.  The Poor Knights Islands are a group of underwater volcanoes which have been shaped by the water into a collection of tunnels, caves and cliffs.  The arches and rock formations extend up to 100m below sea level making this a very popular spot for divers.
A day trip will take you to the Poor Knights Islands, tour through the worlds largest sea cave and give you the best day on the water.  The cruises with "A Perfect Day" provide kayaks, snorkelling equipment and stand up paddle boards for you to explore the reserve. There are millions of fish below the surface and dolphins are commonly spotted.  In season, you may be lucky enough to see whales, seals and orca.
This is a great trip no matter if you are in the water, or relaxing on the boat.  Parents will be glad to know that there are hot showers inside and air conditioned if your kids are tuckered out. For adventurous families, this is one of the best things to do in Northland with kids.
If you do get cold like me, make sure you take along a diving wetsuit to stay warm all day.  New Zealand water isn't quite so tropical haha.
Visit Cape Brett Lighthouse
This picturesque lighthouse has the most amazing coastal views and it just perfect at sunrise or sunset.  You can take a water taxi from Paihia and walk from the bay or walk the whole 8 hour (16.3km) Cape Brett track and overnight in Department of Conservation Hut.  It is a long walk, but a great adventure for kids who can manage a longer distance.
Ride a section of the Twin Coast Cycle Trail
The Twin Coast Cycle Trail runs from Opua (east coast) to Horeke (west coast)  For adults, it is a 87km track that can be done over two days. But you could also ride just sections of this track.  For example, the first section from Opua to Kawakawa is 11km and is a grade 1 trail. Most of the track is off road, with on road sections being quiet country roads, so it is a great place to bike with kids.  
There are many options to hire bikes as well as shuttles to transport you and your bikes to a section of the trail.  E-bikes and childrens bikes and seats are also available. Check here for your many options
(Image Credit: David Strickland)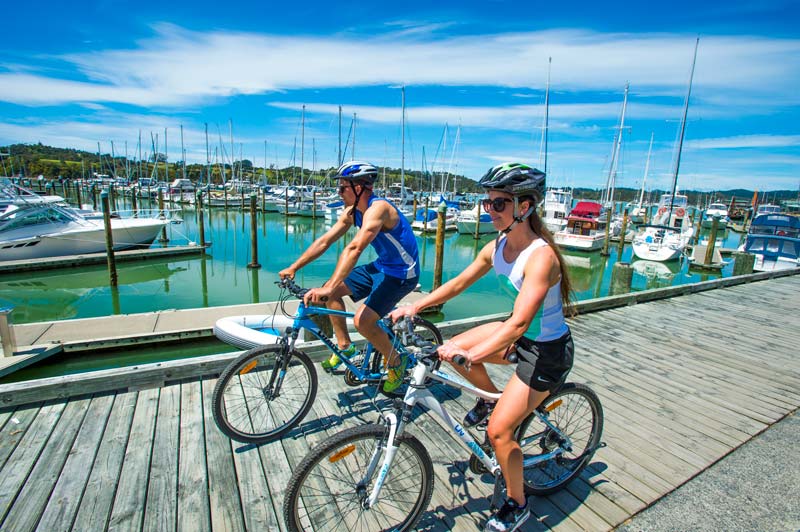 See Dolphins in the Bay of Islands
Being some of New Zealand's warmest waters, the Bay of Islands is a wonderful place for dolphins to hang out.  Take any boat tour and you are likely to see dolphins playing alongside your boat or take a take a dolphin tour to see these beautiful creatures in the wild.  Our kids just love spotting wildlife on the boats.
Swim in Whangarei Falls
Just a few minutes north of Whangarei is the majestic Whangarei Falls.  The carpark and upper viewpoint start at the top of the falls and there is a beautiful 1km loop bush walk that accesses the lower viewpoint.  If you are looking for fun things to do in Whangarei, then join the locals swimming in the waterfall. You don't need to go to a tropical island to fulfill this bucket list activity.  You can swim in a waterfall right here in New Zealand. For more information about these Whangarei walks and how to get here, click here
Have a traditional Kiwi Beach Holiday
There are some incredible beaches in this area which are perfect for a Northland camping vacation.  If you want to relax, swim in warm water and fall asleep to the waves crashing on the shore, try out these campsites
Tawharanui Campground

Matauri Bay Campsite

Tauranga Bay Campsite

Kai Iwi Lakes

Taupo Bay Holiday Park

Matai Bay Campsite
There are many more campsites dotted around, but if you google "doc campsites northland" you will also find some amazing Department of Conservation campsites which are often in the most exquisite locations right out there in nature.
So there you have it, a locals list of the best things to do north of Auckland.  We hope we have put Northland on your must see New Zealand list! If there are any other Northland attractions that you think we should add to our list, come over and join the conversation on Instagram and Facebook!  We would love to hear from you!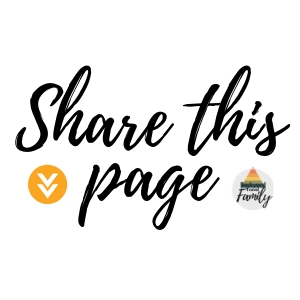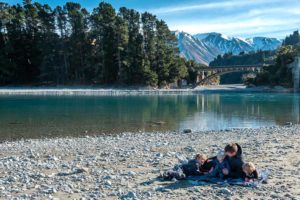 Things to do in Ashburton with Kids and around the Mid Canterbury Region If you are like me, you are always looking for interesting things
Read More »