Comprehensive Guide: Things to Do in Te Anau, Day Trips from Te Anau and Great Places to Stay
Things to do in Te Anau, New Zealand
I really feel for Te Anau.  A small town, sitting on a beautiful lake in any other setting and people would be flocking to stay here for weeks.  Instead, people hightail it for Milford Sound (which don't get me wrong, I love) and forget about the amazing place that Te Anau is.
Milford Sound may be the "big ticket drawcard" but there is so much beauty here…. In fact I'm almost considering backing out of this article completely.  I should keep it tranquil and beautiful…. Ok, I'll share, because you really need to see this place.
Although my one caveat, is that you have to love nature to visit Te Anau.  If you don't love being outdoors, then you may be left wondering what to see in Te Anau.  Keep in mind, the population of Te Anau is around 2000 people, so it's only a small town.
* Please note this article may contain affiliate links.  This does not cost you any extra, but provides me with a small commission to help run this website.  Thanks for your support

Things to do in Te Anau
How to get to Te Anau (scroll down)
Day Trips from Te Anau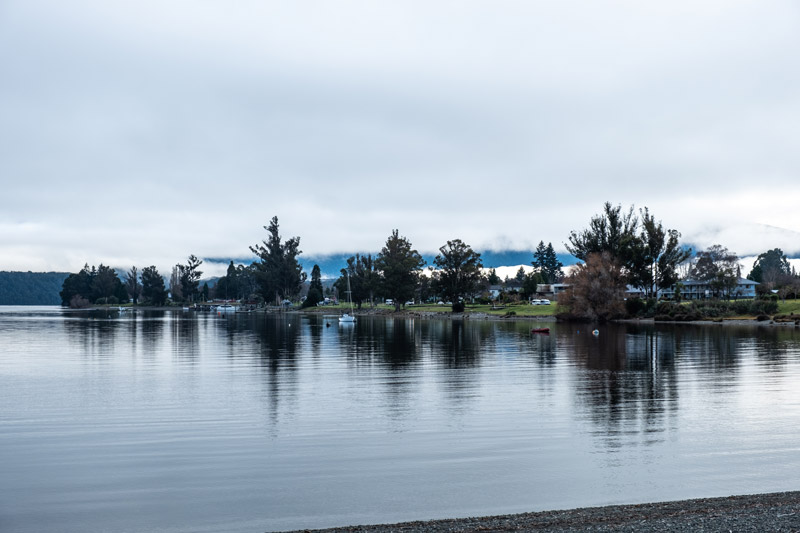 How to get to Te Anau
If you are wondering "Where is Te Anau?", well it's only a 2 hour drive south of Queenstown in New Zealand's South Island.  Most people will commonly combine it with a road trip to Queenstown, or fly in from there.  It is also only 1 hour 45 minutes from Te Anau to Invercargill, so it sits nicely nestled between two major locations.  If you are driving from Dunedin to Te Anau, this will take about 3 ½ hours.
Drive on the Southern Scenic Route
Te Anau is part of the Southern Scenic Route, where you can drive from Queenstown, all the way to Dunedin, via the Catlins.  If you are continuing on from Te Anau, I highly recommend the section from Manapouri to Invercargill on the Southern Scenic Route.  Its beautiful, and not all all windy (like often scenic routes are)
Flying in?
If you are looking for flights to Te Anau, then you'll be out of luck, but good thing the drive from Te Anau to Queenstown or Te Anau to Invercargill are just a short drive.  A little further afield is also Dunedin International Airport, so you can always include Te Anau in your New Zealand South Island Road Trip.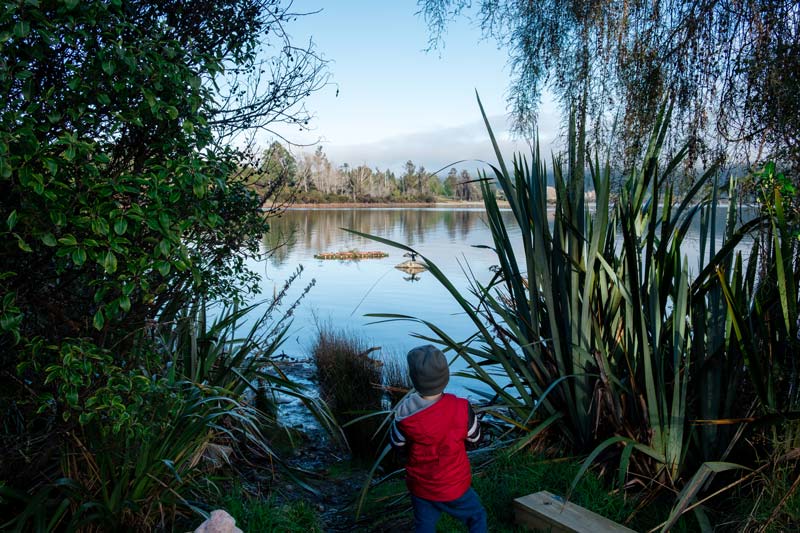 Te Anau Accommodation
I highly recommend finding somewhere to stay in Te Anau, as it's such a great base for exploring the Fiordland Area.  There aren't too many Te Anau hotels, as motel and apartment style seem to be more common styles of accommodation.  Check out where to stay in Te Anau below:
We had a quick change of plans and made a snap minute decision to stay here and it was absolutely perfect.  We had a one bedroom apartment with a kitchenette for just $150 per night.  The bathroom was huge and the kids had their first spa bath in it – cute!  The main bedroom had a double and a single bed, and there were another two singles in the lounge.
It wasn't flashy, but everything you needed for such a great price, right across the road from the lake.  Great value for money and family friendly, we totally recommend it.  Best value motels in Te Anau
Click here to check prices and availability at the Lakes Motel and Apartments Te Anau.  We found this one of the best places to stay in Te Anau on a budget (without resorting to a campground)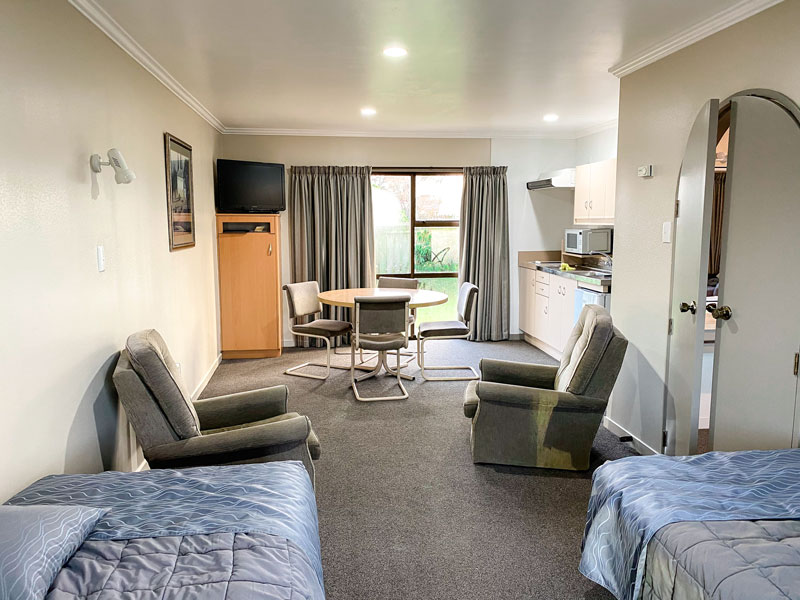 Radfords on the Lake has a beautiful lakeside setting.  It is modern and beautifully appointed and has some excellent one and two bedroom apartments that are perfect for families.  It has a fresh and clean feel, with a little bit of luxury.
It has a kitchenette, free wifi and outdoor bbq facilities.
Click here for the latest prices at Radfords on the Lake
Holiday Home Accommodation in Te Anau:
 Fiordland Eco Retreat
I love having a holiday home all to myself.  They always have such great facilities and I love having a full kitchen and washing facilities.  Fiordland Eco Retreat is a great family friendly accommodation option in Te Anau and has beautiful views over the lake (especially from their hot tub)
The three bedroom house is extremely modern and the lovely owners provide kids books and toys, highchair, portacot and kids friendly plates and cutlery if you require it.  One of the best family friendly places to stay in Te Anau.
Click here for the latest prices at Fiordland Eco Retreat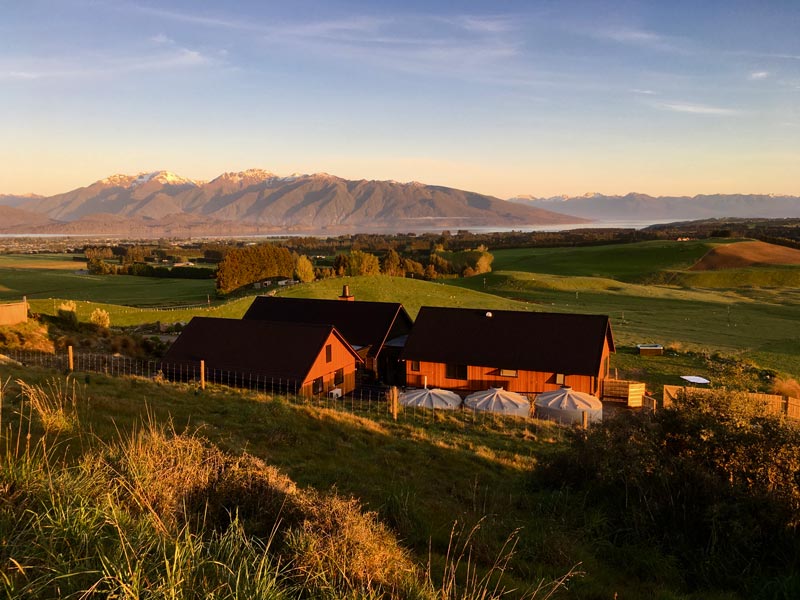 Check out the DOC campsite prices here
A few other popular Te Anau accommodation options include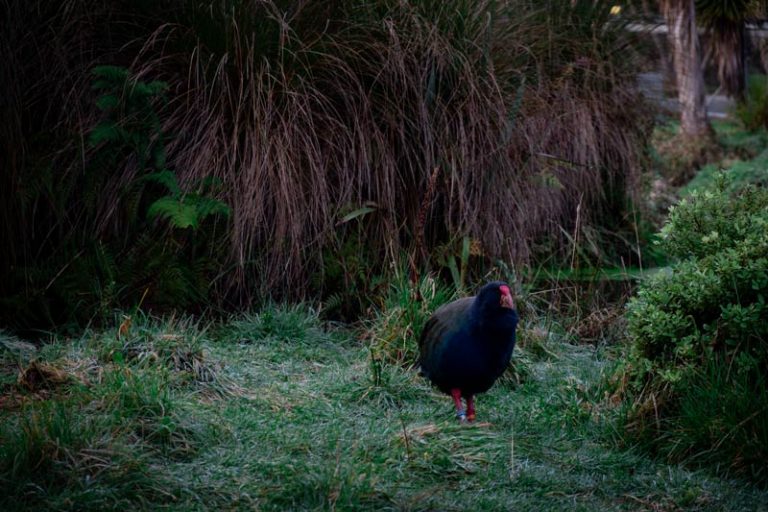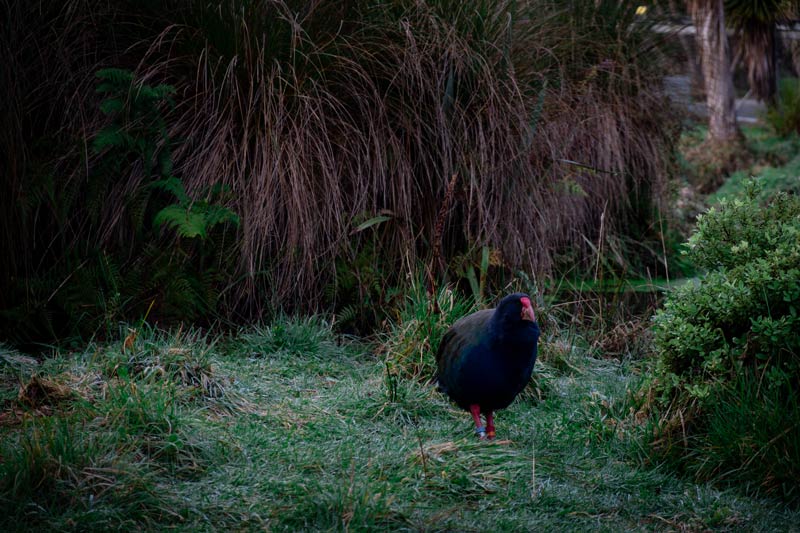 Te Anau Bird Sanctuary
One of the best free things to do in Te Anau (although do donate to keep this place going!), is to visit the Te Anau Bird Sanctuary.  The work that the Department of Conservation do at the bird sanctuary is just amazing.
The majority of the birds here and rescue birds who would not cope being back in the wild.  The other birds are the Takahe who have a very special story.  The Takahe were thought to be extinct, but 70 years ago they reappeared and the Department of Conservation are working hard to help the birds flourish.  Over 40 new chicks were raised in New Zealand last year, with them being reintroduced to the wild once they are old enough.
The Department of Conservation often run 10.30am feeding talks where you are able to enter the Takahe enclosure, feed the ducks and learn more about birds such as the Kaka, (who shrill a beautiful sound), the Karakiki (Antipodes Island parakeet) and even a lovely old owl who loves to snack on mice.   Also keep an eye out for Kea in the wild, as these birds are one of the more common things to see in Te Anau and Fiordland. (well, this mountain parrot is more common here than other parts of New Zealand, and we've always managed to see one on our trips)
The Te Anau Bird Sanctuary is one of the best things to do in Te Anau with kids.  An easy Te Anau must do for your bucket list.

Trout Observatory
The Trout Observatory is a great wee stop for kids and those interested in fish.  If you're looking for cheap things to do in Te Anau, then this $2 per person experience is ideal.
You should be able to see brown trout, rainbow trout and even freshwater crayfish here.  A great little stop and a fun thing for the kids to see up close.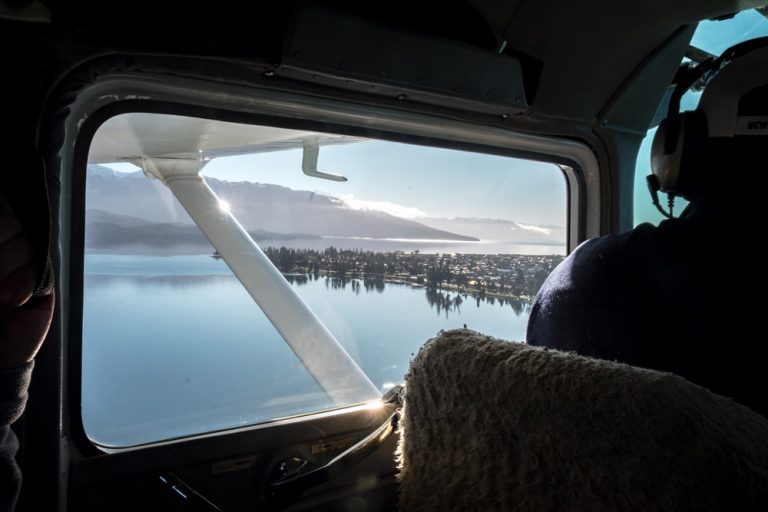 Wings and Water, Te Anau Seaplane
A completely unique family experience is to see Fiordland from the air, on a scenic flight with Wings and Water.  Fiordlands only seaplane can take you to places no road or track can see.  You can take a 15 minute scenic flight over Lake Te Anau and Manapouri, one of their most popular options, or a flight to Milford, Doubtful or Dusky Sound.
This family owned business offers such a personal service, and can tailor any trip to your budget or bucket list.  Make sure you head down to have a chat to Kylie and Ivan, your husband and wife pilots.  One of the most unique Te Anau activities, you must try it!
Want to know more?  Check out some of our epic seaplane photos here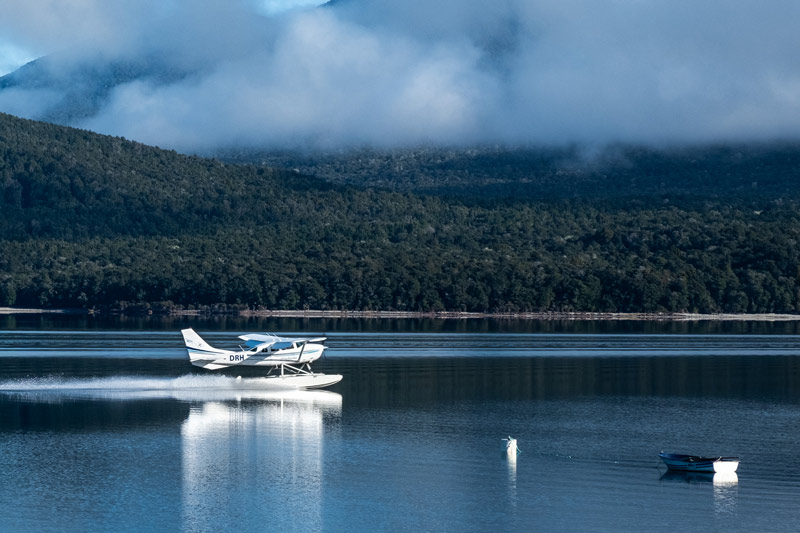 Fishing at Ivon Wilson Park
Just a kilometre from the Fiordland National Park Visitor Centre (towards Lake Manapouri) is Ivon Wilson Park.  One great thing that the kids can do here, is fish.  Kids can pick up a free fishing licence from the Visitor Centre and head on up for some easy and safe fishing at Lake Henry.  
The Childrens Fishery is full of rainbow and brown trout, so even if you aren't fishing, the kids will love spotting them in the lake.  We love finding free places to visit in Te Anau that are child friendly.
Te Anau Glow Worm Caves
Now you can see glow worms for free in many places around New Zealand, but this, is a bit of an adventure.  You take a Te Anau cruise across the lake before entering the caves for a guided tour and an explore.  This is what makes it one of the best Te Anau attractions for families.
The whole trip takes a bit over 2 hours, but isn't suitable for infants.  So the little ones will have to wait until they are bigger.  The only other thing to note is that you aren't allowed to take photos or video inside, so this experience is for your memories only.
Te Anau Boat Cruise and glow worms all in one, such family fun.
Faith in Fiordland Boat Cruise
One of the top things to do in Te Anau, is actually get out on the water.  If you are looking for something a little different, then why not head on a boat cruise with Fiordland Historic Cruises on their beautiful boat, Faith.
Faith has been completely restored back to the luxury vessel it once was.  They only take a small number of people (up to 16) and provide a really personal service.  You will be able to stop off to do a nature walk, as well as enjoy complimentary drinks and canapes on board, and yes, that includes a wee tipple too.
So if you're looking for a relaxing experience without the hustle and bustle of many others, then this is a great family friendly cruise.  Bonus: Under 4s travel for free.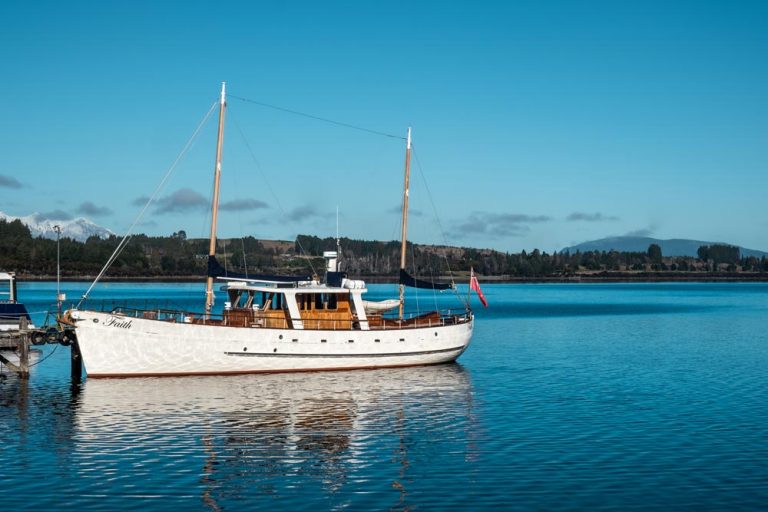 Head up to Te Anau's Lions Lookout
I happened to stumble upon this spot while I was doing some research, although I couldn't even find a photo, so headed out on a whim. I love a good lookout.  Seeing a place from up high really gives you a sense of the whole area.
Fortunately this lookout is easy to get to, and you can drive there!  It is located on Ramparts Road (a left turn just a few minutes before reaching Te Anau)  There is space to park your car here, but be aware, it can get mighty windy!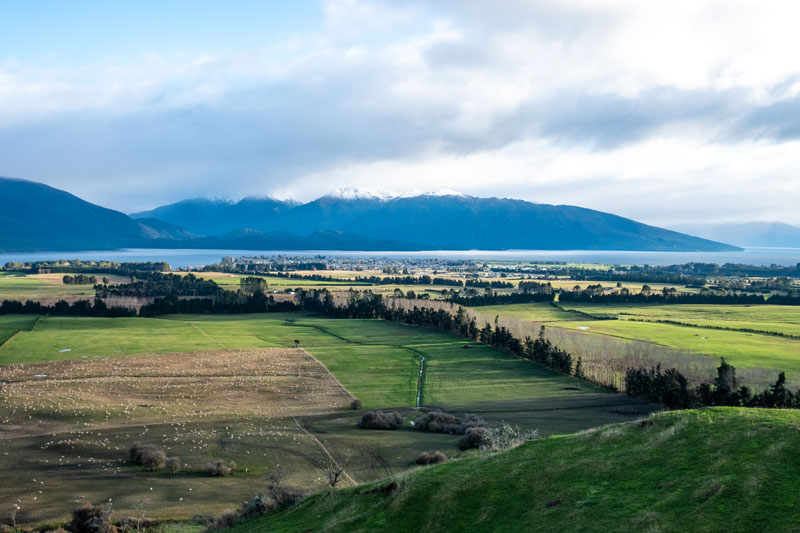 Lions Park Playground Te Anau
The best playground in Te Anau is easily Lions Park on the waterfront.  It has a great range of play equipment for all ages including this old school structure below, swings, slides, a flying fox, a great parent and child swing and a big grassy area for running around.
You can find other Te Anau playgrounds such as the Boat Harbour Playground on Dusky Street and the Henry Street Playground.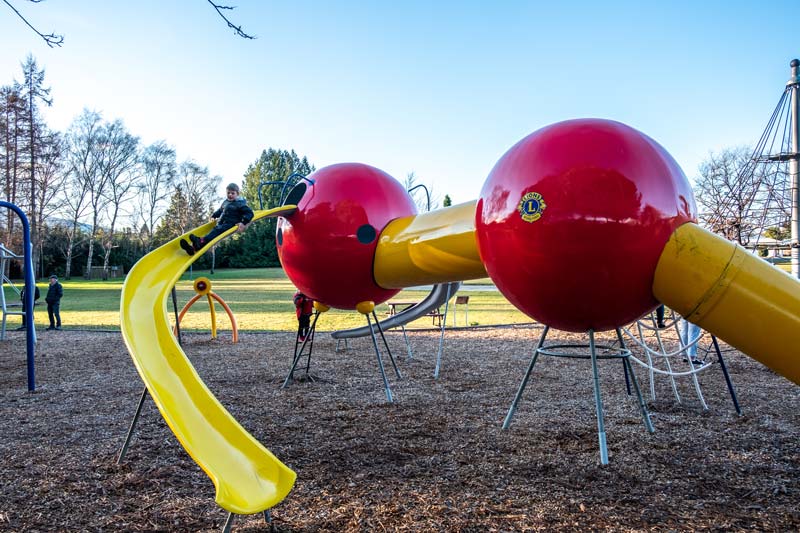 Biking Trails in Te Anau
There are some great easy cycling trails, perfect for families with kids.  Here are a few of the short bike tracks you can ride on in Te Anau.
Te Anau Lakefront: 3.4km between the Fiordland National Park Visitor Centre and the Te Anau Boat Ramp (return bike)
For young kids that would love a smooth surface to scooter or pedal, the Te Anau Lakefront is perfect.  You can cycle along the shoreline between the Visitor Centre and the Boat Ramp.  For new riders who may need a rest, also stop off at the Lions Park playground.

Fiordland National Park Visitor Centre to the Te Anau Control Gates:  8km return
Cycle along a small section of the Lake 2 Lake Cycle Trail from the visitor centre to the control gates.  The trail is offroad but is easy and approximately 4km one way.
Lake 2 Lake Cycle Trail – 19km
The Lake 2 Lake Cycle Trail is currently a 19km track, starting in Te Anau.  It will eventually connect Lake Te Anau, to Lake Manapouri, but for now, the turnaround point is at the Upper Waiau River.
The bike trail is an easy grade two trail that is wide and not technical. You obviously do not have to bike the whole trail and could turn around earlier, or you could combine this with a jet boat water taxi to make a real adventure of it.
Jump onboard the Cycle Rail River Taxi with Fiordland Outdoors and they can drop you and your hire bikes at the end of the Lake 2 Lake Cycle Track, and you can cycle back at your own leisure.  A great way to turn a simple bike ride into a real adventure for the family.
Perenuka Mountain Bike Park
If energetic mountain biking trails is more your jam, then head to Perenuka Mountain Bike Park.  They have 4 easy, 4 intermediate and 4 advanced trails, so have a great mixture of single tracks for the whole family.
Find the Perenuka Mountain Bike Park on Sinclair Road, just 6km from the Te Anau town centre.
Ivon Wilson Park
Ivon Wilson Park is a great urban park with a small fishing lake for kids and a mountain bike track.  The park itself is very pretty with lovely greenery.  The single track is 8km long and a mixture of easy, medium and advanced technical areas.  
Visit Lake Manapouri
Just 15 minutes down the road is my favourite lake in the region, Lake Manapouri.  Lake Manapouri is even more beautiful than Lake Te Anau and I think this is due to its more dramatic mountains.  It feels more intimate, less sparse and I've always really enjoyed my time here.
Head to Frasers Beach, just tucked in at the lakeside behind the main road.  It's so tranquil here and we have never been crowded with people here.  Perhaps that's why we love it, it just feels like a little piece of heaven we have discovered by ourselves.
Of all the things to do around Te Anau, this is one of my favourite spots.
 
Kepler Mountain View Alpacas
If your kids love animals, take them for a visit to Kepler Mountain View Alpacas.  Here you can take an alpaca for a farm walk, on a real working farm.  Kids will love meeting and feeding the alpacas, making the cutest photo opportunity. 
Kepler Mountain View Alpacas at 130 Hillside Manapouri Road, just 20 minutes from Te Anau.  They also have accommodation onsite.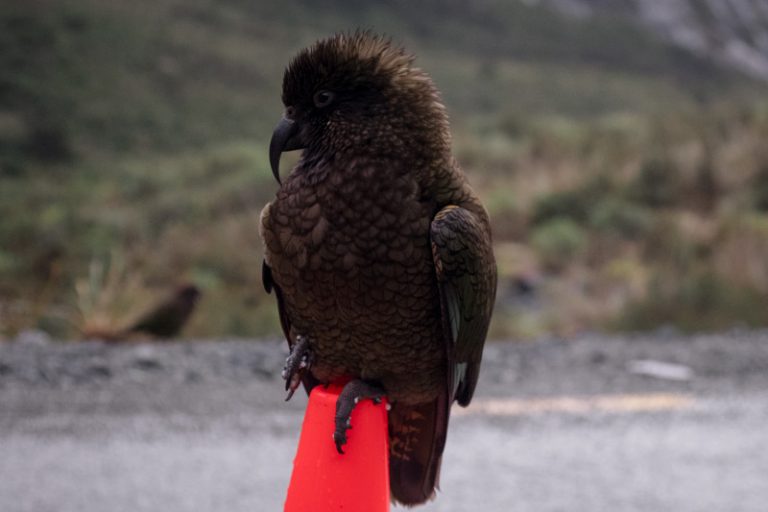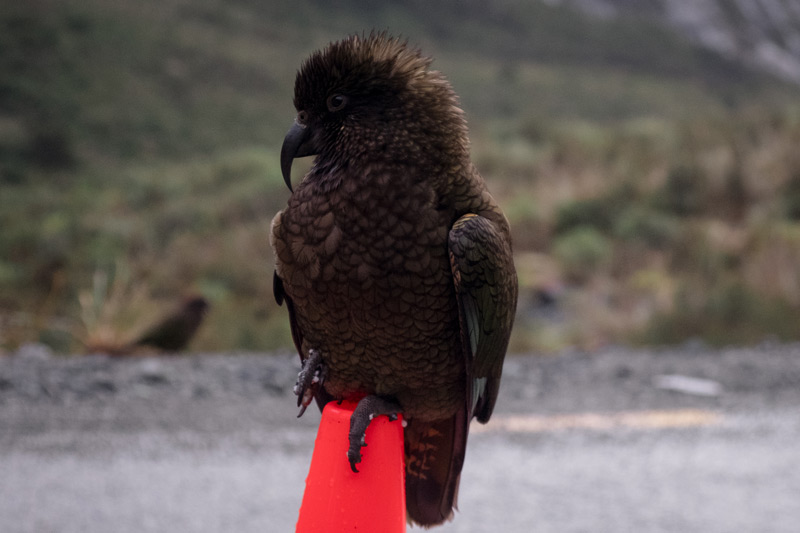 Day Trips from Te Anau
If you are visiting Te Anau, you absolutely must go and visit one of the sounds.  There isn't a lot of accommodation close to either Milford Sound or Doubtful Sound, so it is likely to be a day trip, with Te Anau as your base.
No matter which sound you visit, it will be a full day excursion.  If you're not sure whether to visit Milford Sound or Doubtful Sound, then check out this article here.
Day Trip to Milford Sound
Touted by Rudyard Kipling (author of the Jungle Book) as the 8th Wonder of the World, Milford Sound really is something else.  The drive on the Milford Road is stunning, with ever changing vistas and thousands of dramatic waterfalls in the rain.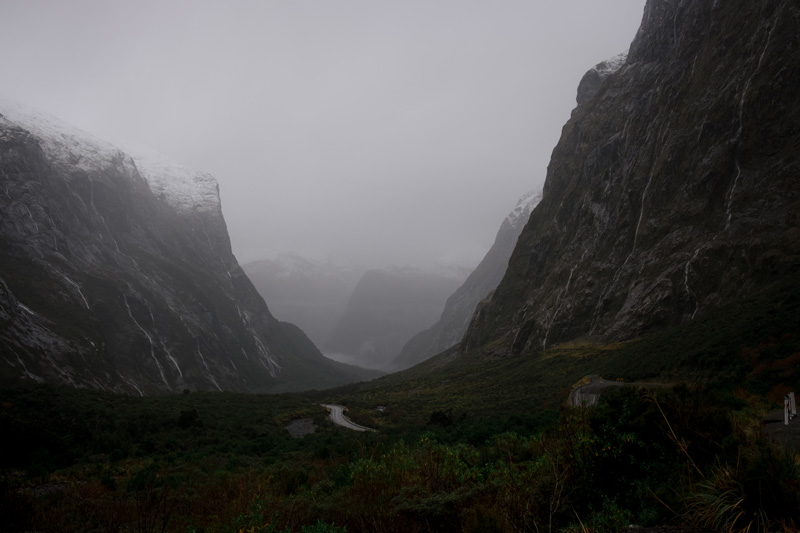 Allow 2-3 hours for the drive from Te Anau to Milford Sound, and plenty more if you are planning to do any of the short walks, or stop at the lookout points along this road. (Allow longer, you won't be able to help yourself)  If you don't want to drive (it can be a little dicey in winter) you can also take a Milford Sound Tour from Te Anau too, and take the bus.
The majority of people will book a boat cruise to really experience Milford Sound. We were hosted by Real Journeys/Go Orange (same company) and they were awesome.  Our winter sailing included a hot lunch, so the kids enjoyed their fish and chips on the boat which was such a treat.  The Go Orange boat is super modern inside, I mean, dark green velour coaches, yes please!  Loved the vibe and the kids had such an amazing time.  The Milford Sound boat cruise was 2 hours (one of the longer cruises of all of the companies) and will take you out to the Tasman Sea before heading back.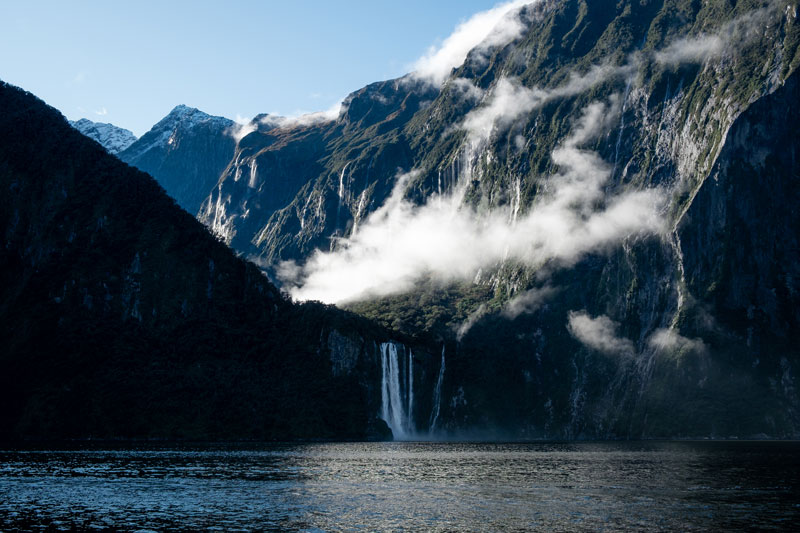 Milford Sound is famous for being able to take the boats right up to the waterfalls so you can experience the magnitude of the spray (and enjoy a nice shower).  You are likely to see dolphins and seas, as maybe even the elusive Fiordland penguin.
The best time to visit Milford Sound is actually in the rain.  Thousands of waterfalls appear in the rain and it is just a stunning experience.  I have managed to see it in both the sun and the rain, and I much prefer the waterfalls, despite getting wet.
There are so great walks around Te Anau and Milford Sound, click here to read more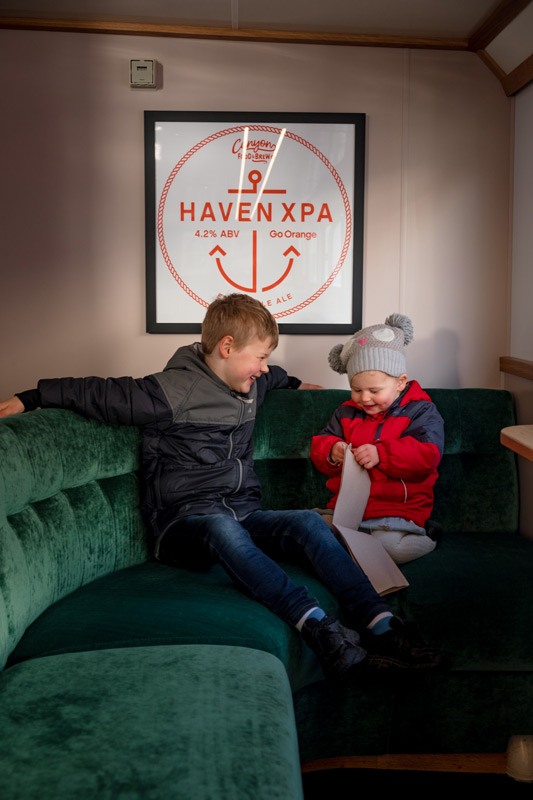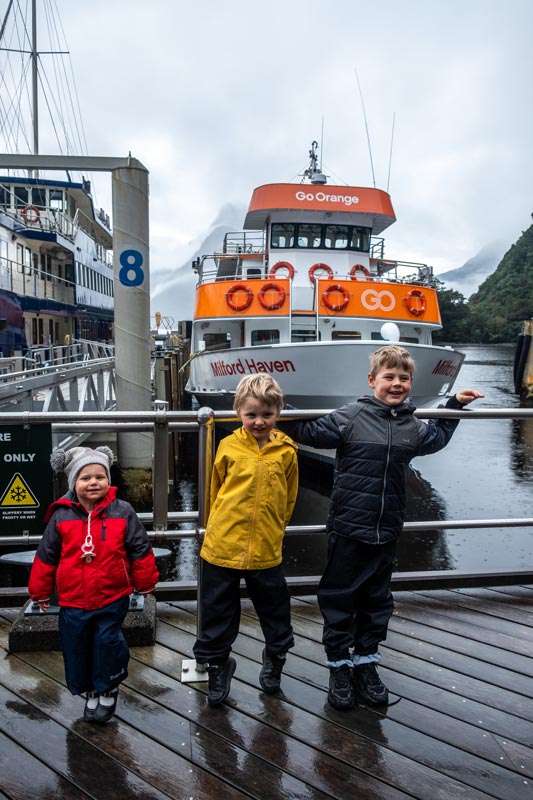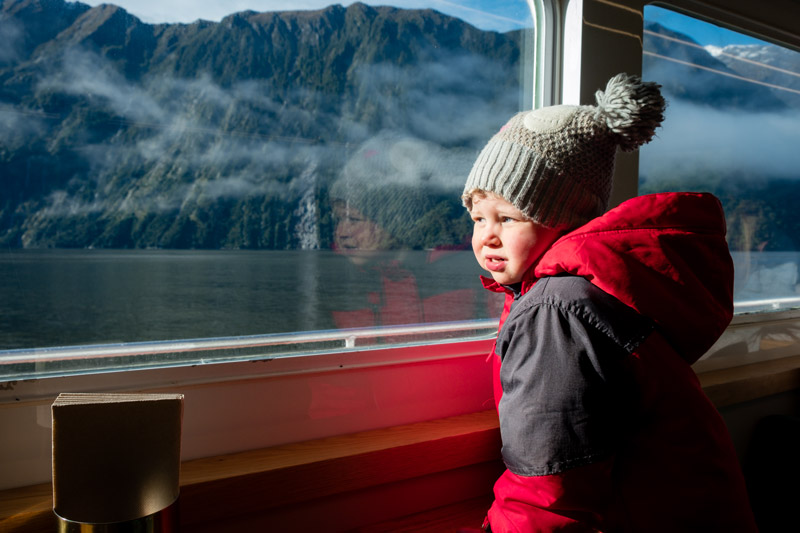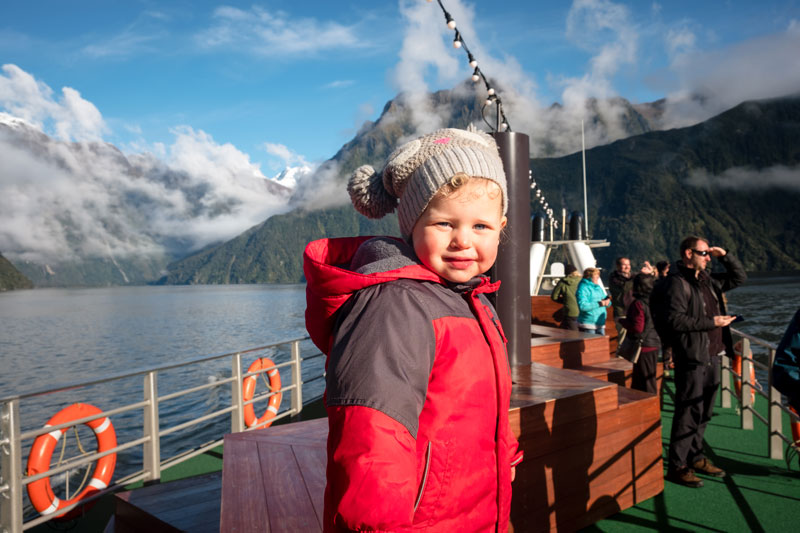 Day Trip to Doubtful Sound
Doubtful Sound is the far more adventurous trip of the two, and is far more untouched.  While you don't need a long drive to reach Doubtful Sound, you do have to take a boat across Lake Manapouri, a bus over the Wilmot Pass (New Zealand's most expensive road) before you finally reach Doubtful Sound itself.
I much preferred the extra boat cruise and bus journey from a relaxing point of view, although the drive to Milford is good too.  Check out our comparison article here
Doubtful Sound is a larger wider sound, compared to Milford and you can still find incredible wildlife here.  The Doubtful Sound cruise is longer, taking around 3 hours, again taking you out to the Tasman Sea.   Again we took a Go Orange boat, as we love their family friendly deals and great prices.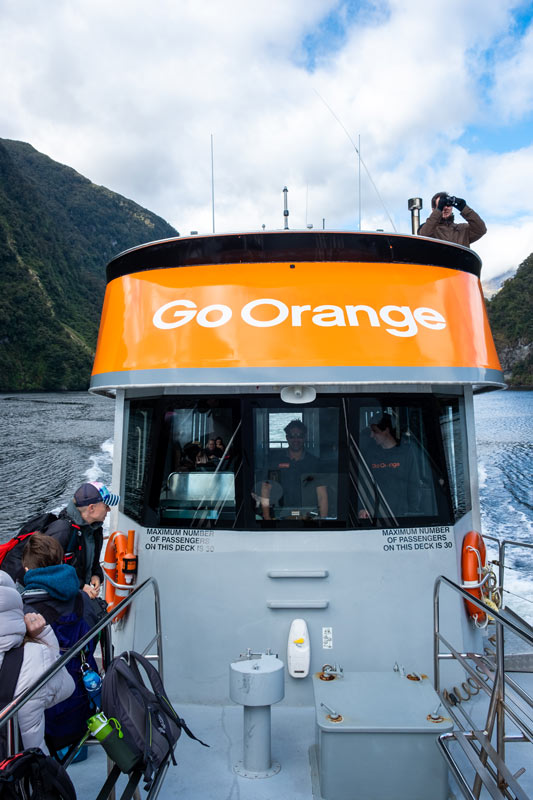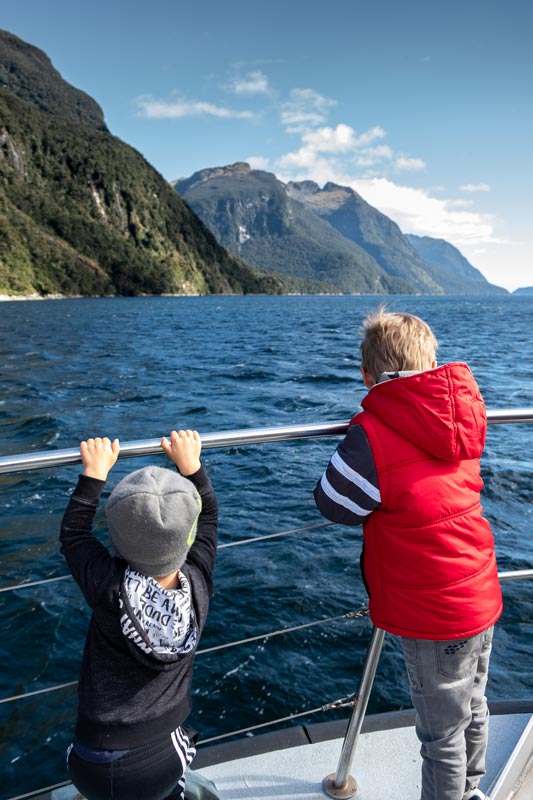 Other trips in Milford Sound and Doubtful Sound
If you are looking for more adventure, you could also take a Milford Sound kayaking trip or Doubtful Sound kayaking tour, or even stay overnight in either of the sounds.  One of the benefits of staying overnight, is that you will get to see sunrise and sunset, and experience the quiet sounds, practically to yourself.  A bucket list experience for sure.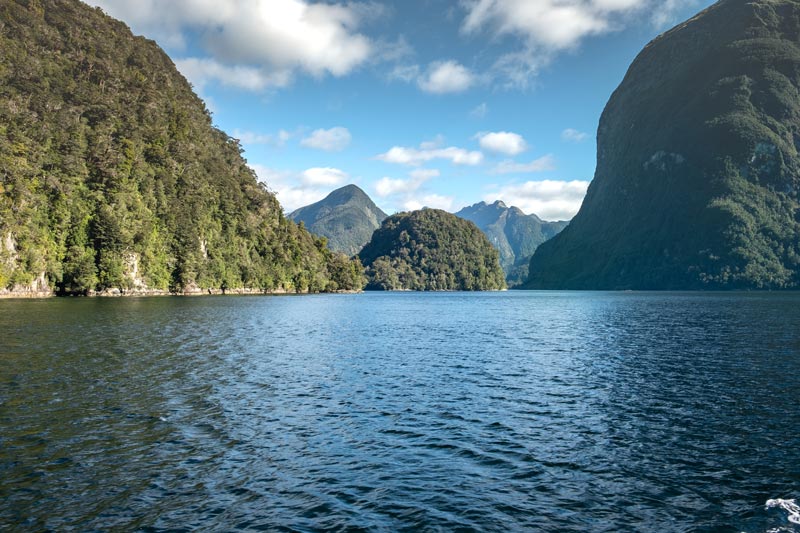 Te Anau Walks
One of our favourite things to do as a family is go exploring by walking or hiking.  I know that's not everyone's idea of a good time, but we enjoy it because we are all together.  Walking is also one of the best things to do in Te Anau for free, so a great budget friendly activity.
If you're looking for some great walking tracks, Te Anau has some really pretty ones..  We have a great list of walks in Te Anau here, but here is a quick overview of some of my favourites
Walk from the

Lakefront

to the Te Anau Bird Sanctuary (15-20 minutes each way)

Take a short walk on the Kepler Track

.   1 hour return to Dock Bay or 3 hours return to Brod Bay

Walk on the short bush track to

Lake Mistletoe

, near Te Anau Downs (25-40 minutes return)

Lake Gunn Nature Walk

: (45 minutes return)
If you are after some harder hikes in Te Anau, then check out this article too.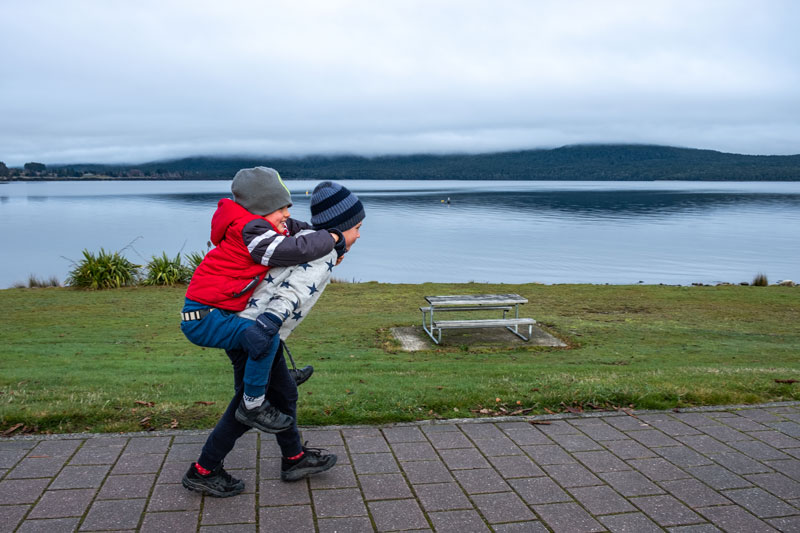 Things to do in Te Anau on a rainy day
To be honest, there are not too many things to do in Te Anau on a rainy day.  But one thing to note, is that rain isn't the end of the world.  It rains for 200 days a year in Fiordland, but you can still enjoy the outdoors, like taking a walk in a sheltered forest, heading to the Te Anau caves to see glow worms or heading out to the Sounds where the waterfalls will be heaving.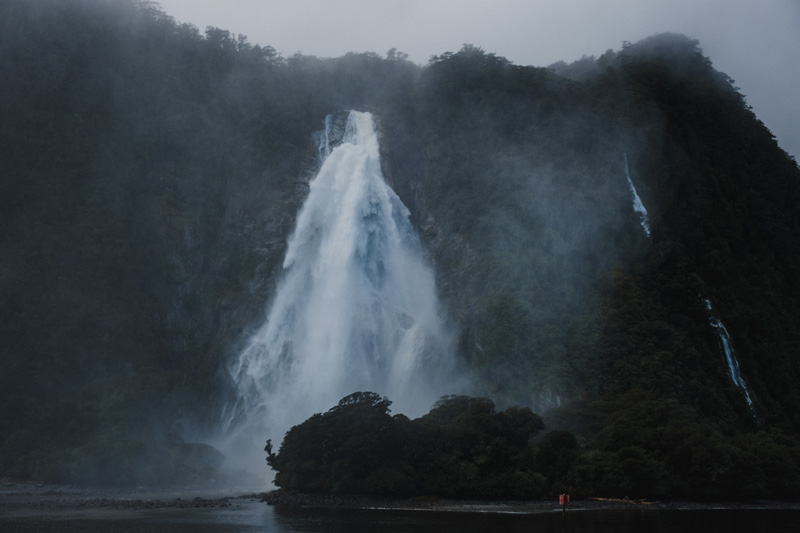 But just in case, here are few things to do in Te Anau when it rains, that are actually indoors.
Fiordland Vintage Machinery Museum:  If you are into old machinery, they have over 60 tractors, vintage motorbikes and even a working blacksmith shop.  Entrance fee is just a small charge, so head over and take a look
Fiordland Cinema:  Take in a new movie at the Fiordland Cinema and stay warm and dry inside.  They have all the new films, as well as a special Fiordland movie; Ata Whenua which showcases the dramatic scenery in the area.  This special film screens hourly and is a half hour showing.
Fiordland Community Swimming Pool:  This indoor heated swimming pool is open during summer months (October-March), and is located next to Fiordland College on Howden Street.
Go explore the Te Anau township:  There are some cute cafes, great stores to visit and  places to eat in Te Anau, so use this rainy day to experience a little bit of what makes Te Anau unique, the people.  Everyone has always been so friendly when we've visited, I even had a good yarn with the guy at the fuel station.  So go for a wander if it's a bit too rainy for your liking.
Things to do in Te Anau in Winter
I know many wouldn't consider going to a lakeside town in the winter, but to be honest, besides swimming, there really isn't much that you can't do in Te Anau in winter.  We have visited in the July school holidays and besides it being cold, and a little foggy in the mornings, we did the majority of the things on this list.
There aren't any Te Anau tourist attractions specifically for the winter.  You will need to head to nearby Queenstown if you want to ski at a commercial skifield, although you may be lucky enough to get snow on the ground for the kids to play in.  
The only thing you will have to be careful of in winter, are the roads.  The Milford Sound Road can be particularly icy, and will close for snow.  They are great at clearing and salting the roads, but this is a consideration.  Make sure you allow extra time during the winter to drive from Te Anau to Milford Sound or consider taking the bus to take all of the hassle out of it.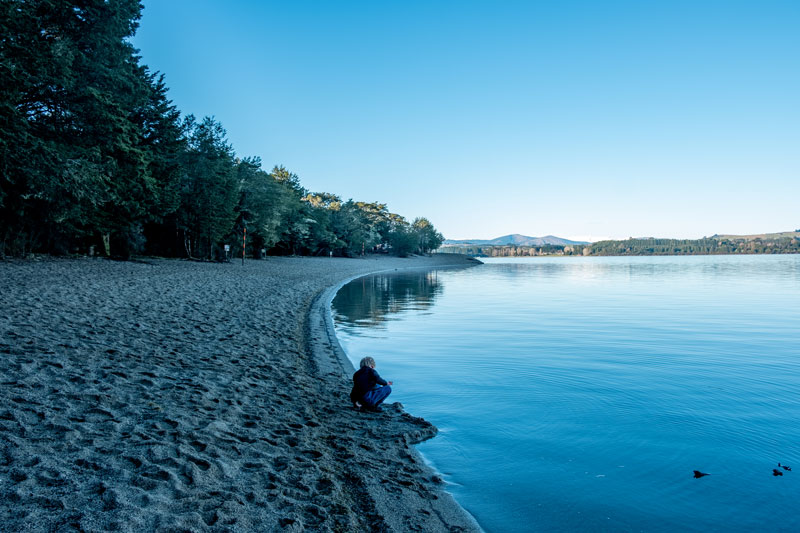 —–
Okay, so that's a huge list of what to do in Te Anau, New Zealand.  To be honest, there's not a lot of typical Te Anau tourist attractions.  But I love that there's not a whole lot of cheap operators touting kitchy experiences.  It's about the beauty and tranquility and all of that good stuff that nature has to offer.   Have I convinced you to stay in Te Anau for a while?
If you are visiting the area, you may also find these articles useful