42 Free Things to Do in Christchurch with Kids and Families
Best things to do in Christchurch for Free
Updated September 2023


There are many things to do in Christchurch with kids and that is one of the things that we just love about the city.  The natural landscape leads to amazing outdoor adventures, in the forest, up the Port Hills and even at the beach. We are quite conscious that costs all add up with a family, so you might be wondering… "What to see in Christchurch for free or What are some cheap things to do in Christchurch?"  Well the good news is, there are a lot of free things to do around Christchurch. These are some of our favourite family activities.
This article covers many fun things to do in Christchurch for kids, broken down into the following categories.  All of these are FREE things to do in Christchurch for kids, so they won't cost you a penny (except to get there)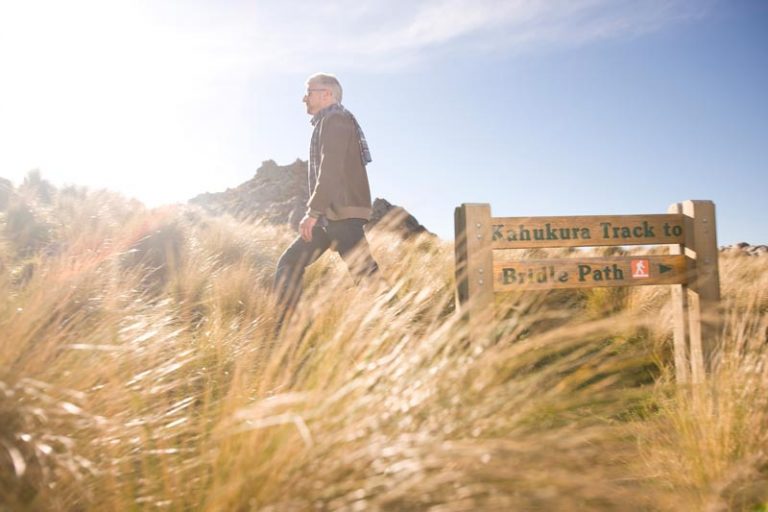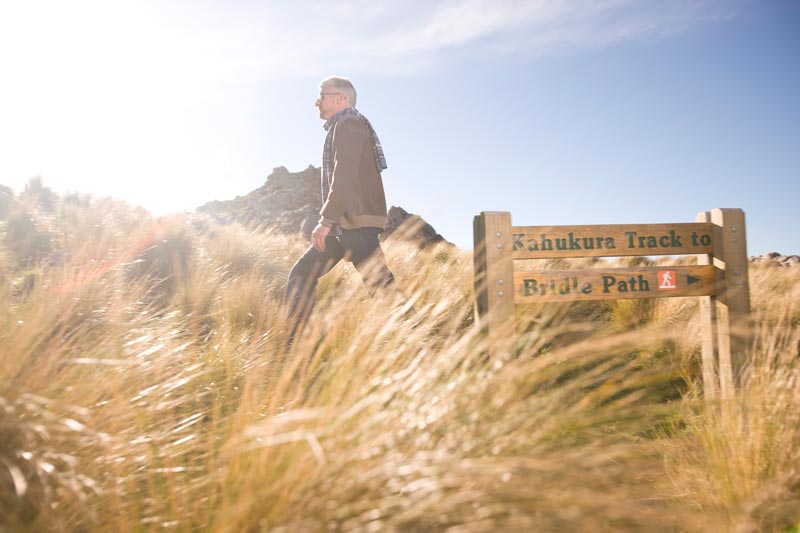 Where to Stay in Christchurch:  The Best Christchurch Family Accommodation
There are a ton of activities on this list, and so much to enjoy in the wider Canterbury Region, so you will definitely need to stay a few days in Christchurch City.  I personally love staying right in the CBD.  Walking to great family friendly eateries such as Little High Street Eatery or the Riverside Kitchen is so fun. (Also we live rurally so the novelty of walking anywhere is a real treat)
Here are some of our recommendations for great places to stay in Christchurch with family in tow.  (Please note these links are affiliate links below.  They do not cost you any extra but I may earn a small commission to help run this website.  Thanks so much for your support)
BACKYARD TRAVEL FAMILY RECOMMENDATIONS
We have physically stayed in, or visited rooms in all of these properties.  They are legit!
Heritage Hotel Christchurch:  I just love the older heritage buildings.  They are so beautifully restored and have huge rooms that signify the opulence of yesteryear, rather than the tiny rooms of new builds.  The Heritage Christchurch has lovely one and two bedroom apartments with full kitchens.  We have stayed here before and loved it.  Click here for the latest prices
Distinction Hotel Christchurch:  I was super impressed by the large modern rooms at the Distinction Christchurch and the bath in the bathroom was huge in the family rooms.  Love how the family rooms have the super large double beds in the "lounge area" and the kids rooms in a separate room.  Makes so much sense.  Our good friends stayed here (and I got to check it out) and they loved it! Check out these modern rooms here
There is tons of accommodation in Christchurch, but its much nicer to have a list of places you know are legit and we have seen these ones in person!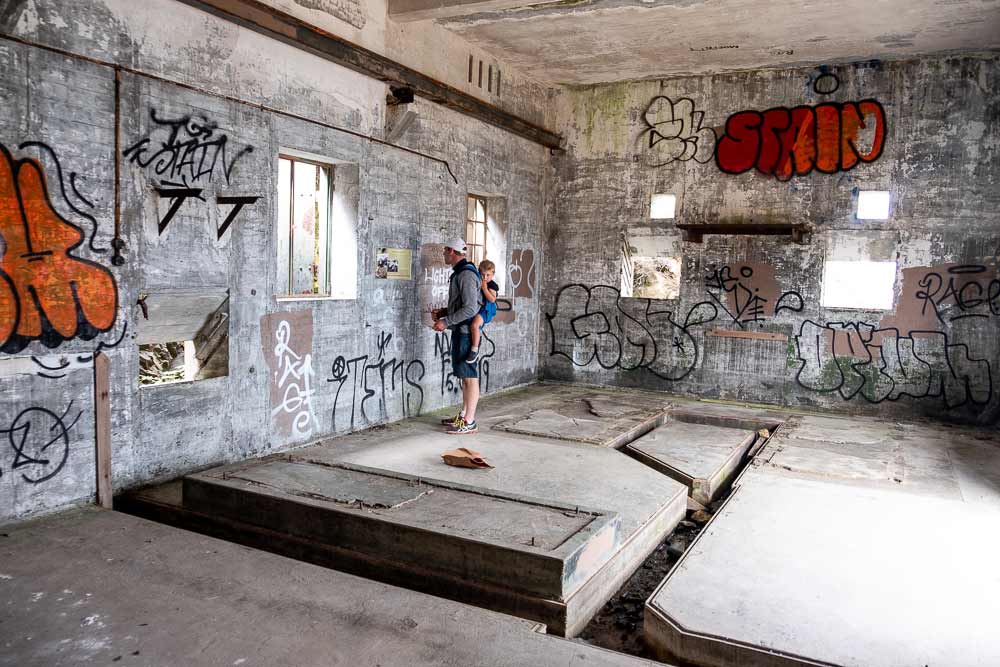 Best Playgrounds in Christchurch
If you are searching for fun things to do in Christchurch with kids, then the best place to start is with some epic playgrounds.  These are some of our favourite playgrounds in Canterbury
Margaret Mahy Playground: #1 on our kids list of top things to do in Christchurch 
What kids doesn't love a playground right? This one is epic! The Margaret Mahy Playground is the largest playground in the Southern Hemisphere and excitingly, is located right in the Christchurch CBD.  It is a large playground that really allows the kids to explore and be free. We love the element of risk that is included, yet it is really safe!  Our kids have been going down the huge slides since they were just 18 months old. 
Apart from the awesome slides at Margaret Mahy, their favourites are the splash pad in the summer, the mini trampolines and the flying fox.  This is definitely a destination playground, and if you haven't been, add it to your New Zealand must do list. To find out more about one of the coolest things to do in Christchurch for kids, see our article here.
New Brighton Pier and Playground
The New Brighton Pier playground has a great ocean theme, with a wooden pirate ship and whale splash pad.  There are musical instruments to play, swings and merry go rounds for the young ones and just the best view!  We often come here after a walk or swim at the beach. In fact, it makes New Brighton the perfect summer spot, as if the beach is too rough for young kids to swim in, you can just pop over to the splash pool here, right on the beach.
The pier is a great wee walk or place to scooter.  The kids will love seeing the local fisherman bringing up their catch and will marvel in how high they are over the waves 
Scarborough Park, Sumner
One of Christchurch's newest playgrounds, Scarborough Park will be a must visit if you are heading to Sumner Beach for a swim or an all important ice cream.  The brightly coloured playground has some great enclosed twirly slides, climbing frame, rope swings and climbing towers along with your all essential swings. You will find Scarborough Park at the far end of the Esplanade, near the clock tower under the hill.  

Spencer Park
While Spencer Park is very close to Christchurch, allow at least a half day trip here because the kids will be entertained with the variety of activities they can do here.  I did find the area a little underwhelming on arrival, but the natural playground totally won us over.
In the main picnic area you will find a children's playground , a paddling pool as well as tennis courts.  The picnic area also has a bbq as well as a number of picnic shelter which is great for a sunny day.  I really like how there were picnic tables that were wheelchair accessible, so you could sit in your wheelchair and use the table.  So simple but great for inclusion.
If you are up for a short walk, you can try the Wetland Pond walk which will only take 20 minutes, and is stroller accessible.  They kids will love the boardwalks and spotting the many birds along the way. Young children will also love the animal park where they can see a range of birds and farm animals such as sheep and Kunekune pigs.  
Other activities in the Spencer Park area include the Adrendalin Forest high ropes course ($), mountain biking trails that connect up with Bottle Lake Forest, swimming at the beach and orienteering.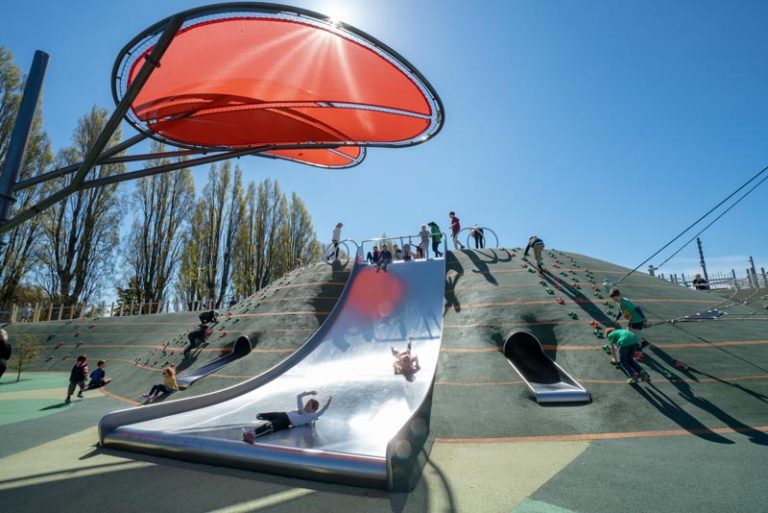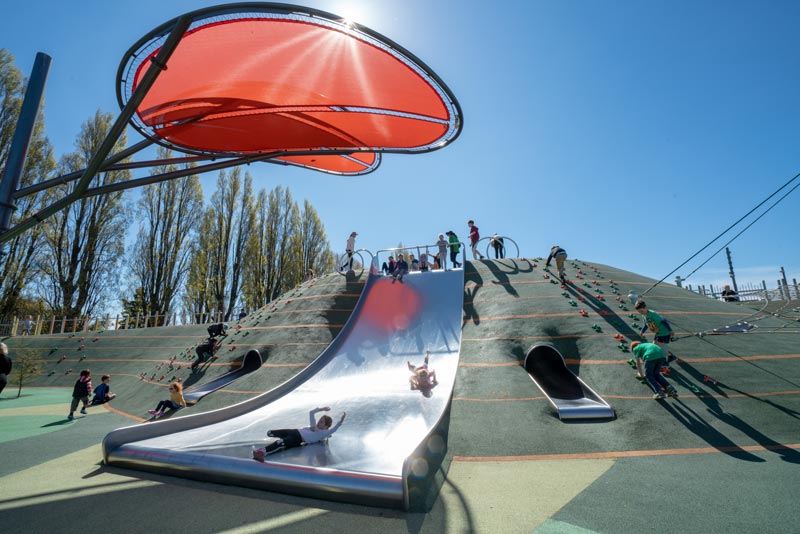 Free places to swim in Christchurch
Christchurch City Council Pools
Did you know that preschoolers (and their accompanying adult) can swim for free during school hours at Christchurch City Council pools?  I love that this is making swimming accessible to all, and it totally makes sense as this is the quietest time of the day! So make the most of this free activity for kids and grab your togs! (in term time only)
Splashpads
One of the best things about the city's new playgrounds, is that many of them have splash pads to play in.  You may be thinking, well why would you want a splash pad when you can just swim in the sea? But I find splash pads great for young ones, as there is less risk of them drowning (a parents worst nightmare) and it can give the wee ones some freedom to play without a parent having to hover over them.  My kids just love the splash pads at the Christchurch playgrounds and I love that it's a free thing to do (and I don't even have to put my own togs on!)  
Our favourite splash pads are at:
New Brighton Pier Playground
Beautiful Beaches in Christchurch
My favourite beaches in Christchurch are: Sumner Beach, New Brighton Beach and Taylors Mistake.  On a hot summer's day, this is the place to be, but do be warned… the water at south island beaches are refreshing, aka, quite chilly.  The kids never seem to mind, but it has to be a really hot day for me to welcome a dip.
New Brighton Beach, Marine Parade, New Brighton
New Brighton Beach is a really long beach, meaning you will always find a spot all by yourself.  (Although the safest spots are to stay within the flags, like right near the Pier which is patrolled)  There are plenty of spaces to park along the main road, or carparks right near the Pier. 
The great thing about New Brighton Beach is there is a great playground right at the base of the Pier, as well as a splash pad, so if the kids get bored of the sea, or it gets a bit rough in the waves, there is a safe place to swim here too!
A quieter spot and where we tend to hang out lately is at Waimairi Surf Club at the northern end of New Brighton.  It's a bit less busy being away from the little township but still under surf patrol
Sumner Beach, The Esplanade, Sumner
Sumner is perhaps the most popular beach in Christchurch and reminds me of a little beach holiday destination.  The esplanade is always teeming with people on a sunny summers day, dripping ice creams in tow. This beach suburb has lots of cool cafes and restaurants and is a great place to stroll after brunch.  Like most beaches in New Zealand, it has lovely sand. (I wouldn't usually have to state this, but my British friends seem to think that big stones next to the ocean constitutes a good beach)
Taylors Mistake, Taylors Mistake Road
If surf is what you are after, check the weather forecast at Taylors Mistake.  Just 15 minutes over the hill from Sumner is Christchurch's surfing mecca, that feels a world away from the city.  There is a playground here at the beach and you can also start the walk to Godley Head from here. There aren't any cafes or restaurants over here, but in the height of summer you will often find a fresh berry ice cream van or coffee cart.
Free places to bike in Christchurch
One of the beauties about Christchurch is that you can practically bike anywhere since it is flat, but if you are looking for something a little different, then check out these safe places for kids to bike in Christchurch.
Christchurch Adventure Park
Unless you have been to the Christchurch Adventure Park for some serious downhill mountain biking or ziplining, then you probably do not know about their great kids pump track at the base of the mountain, near the cafe.
Think of a pump track, like a mini bmx track, with a few ups and downs, as well as a big hill to test their speed.  We took our, then 2 and 4 year old, along and they had a blast! One was on a balance bike and one on a pedal bike and they zoomed around this small track for over an hour.  They also loved watching the zipliners overhead, and the downhill mountain bikers who finished their circuit across from the pump track. But shhh.. Don't tell too many people about it, as then it will get busy.  
The pump track is open and free to use by anyone.  The downhill mountain bike track does cost to use the chairlift, but well worth it if you need to combine activities for younger and older children.
Bottle Lake Forest
Of all the places to bike in Christchurch, this has the most diversity.  Kids can bike along the forest trails, in a combination of flat, or more technical tracks, or they can use the awesome pump track near the main carpark at Bottle Lake Forest. 
This pump track will keep both young kids and older children both interested as its spread out and has hills so big that my kids couldn't pull their bikes up.  As long as the kids are wary of the others biking around, you will find kids of all ages will enjoy pedalling around. There is even a technical course requiring bmxers to balance on a track and see saw.  While too difficult for my under 5s, they did find fun in walking along it like a balance beam.  For more information and photos of Bottle Lake Forest, click here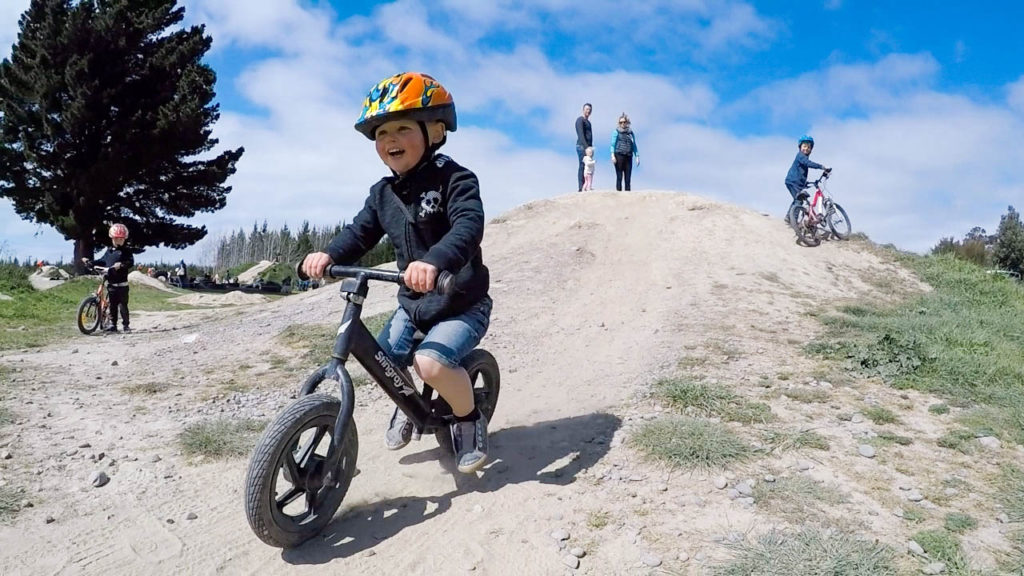 Knights Stream Park, Halswell
Knights Stream Park has a new scooter and bike park and is located in a beautiful new subdivision in Halswell.  The bike park area is perfect for kids learning to bike, from balance bikes to pedal bikes, and includes stop signs and roundabouts, making it like a real road.
The scooter area is polished concrete meaning it won't graze when you fall down (although bruises are inevitable)  There are a number of jumps and rails that will even entertain your teen or tween. The skate bowl will be a highlight for your older children, and is steep enough that it's not for the little ones.  Toilets are located closeby and there are shaded picnic areas. Head across the road for a break from the wheels and play at Neil Graham playground. For more photos and info on the best bike track in Christchurch, click here.

Kyle Park, BMX Track, Hornby
The BMX track at Kyle Park in Hornby is a great place for school aged children and older to cycle.  While my 3 year old would have sped down the hills, he just didn't have the leg power to get up the other sides, so leave this one out for preschoolers.  For teens who are looking for cool things to do in Christchurch New Zealand (that won't cost you a pretty penny) this could be it.
This is a great track to get up some speed and really push the boundaries.  Highly recommended if your older children are looking for a challenge. Just be careful as early in the mornings, it can be quite dewey and slippery.

Gap Filler Pump Track, Manchester Street, Christchurch CBD
If you have heard of the big swing in Christchurch, or seen it on your teens instagram, you may have noticed there is a bike pump track and scooter track right next door.  This track is like a mini velodrome loop track and BMX track combined with lots of bumps and corners. The last time we were there, there were tons of kids scooting and biking, including younger ones.  It was busy with children, but it was also a weekend. You will find this track across the road from the Margaret Mahy Playground in the city.
McLeans Forest, Mcleans Island Road
McLeans Forest, not far from Orana Wildlife Park, is part of the Waimakariri River Regional Park.  Here there are over 11kms of mountain biking trails with the longest trail taking around an hour to cycle.  There are a number of tracks, including walking trails and shared used tracks. The trail starts at Mcleans Island Road and goes right down to the Waimakiriri River.  The trails are suitable for family recreational bikers to competitive cyclists.
Hagley Park
The footpaths in Hagley Park are a perfect place to bike, and if you have young kids, there are plenty of stops along the way including the duck ponds, playground etc.  The loop of South Hagley Park is around 4km and the loop of North Hagley Park, including past the museum and hospital is approximately 4.5km.  The footpaths are flat and mostly concrete.  These loops are also good for strollers and pushchairs.  The only place you aren't allowed bikes are in the Botanic Garden.
Unique free activities in Christchurch for families
Free Orienteering in Christchurch at the Groynes
Orienteering seemed so difficult and boring when we were at school, but if only they named it something fun like treasure hunting, then I'm sure I would have taken a stronger liking to it.  In true parents fashion, we called this a scavenger hunt and our under 5s just loved this fun adventure. If you are looking for things to do in Christchurch for families, then this is a unique one.
They easily walked a couple of kilometres around the Groynes Recreation Reserve, free orienteering map in hand, on the lookout for the secret markers along the way. They took great pride in their discoveries and never once complained about the walk!  You can download a copy of the map for free here and print your own (including answers) or you can buy a copy from the cafe.
While you are exploring the Groynes with your kids, check out the awesome natural playground near the lake, feed the ducks, hire a paddleboat in the summer or even learn to fish.  This is also a great place to bike in Christchurch with kids as its completely flat and away from speeding cars. 
Giant Swing: Christchurch's newest Instagram location
Created as an art piece and as an answer to a space that Christchurch teenagers could hang out and Instagram, the Giant Swing is another reason to head back into the inner city.  The Giant Swing can be found on the corner of Manchester and Gloucester Street, across the road from the Margaret Mahy Playground.
Gap Filler: Super Street Arcade and Dance O' Mat
The Super Street Arcade, found on the corner of Tuam and High Street is the Worlds first outdoor arcade system.  There is a huge Times Square-esque screen on the side of a building and you use a giant joystick and buttons to play old school arcade games.
You will need 2-3 people to make it all work, thus encouraging interaction in the community.  This Gap Filler initiative must be on the most innovative things to do in Christchurch for sure!
The Dance O'Mat on Manchester Street is an awesome place to have a boogie.  You just need a $2 coin for the "washing machine" which activates the big speaker.  The $2 gets you 30 minutes of music time where you can stream your phone to the big bluetooth speakers.  There's some cool street art at this spot too.
Take a DIY Christchurch Street Art Tour
If a free walking tour is a bit more your pace from the other outdoor adventurous activities on our list, then take your own street art tour.  After the Christchurch Earthquakes in 2010 and 2011, street artists brought life back into the city with their vibrant murals. 
From Alice in Wonderland to sporting heroes to modern portraits, create your own art tour and create some family memories or Instagram highlights with your kids.  For more information on the different murals you can find click here.
 
Christchurch Skate Parks
If skateboards and scooters are considered a cool thing to do by your child, why not make a list and tick off the skateparks around Christchurch.  One of the larger parks can be found at Washington Way Reserve on Moorhouse Ave which has ramps, rails and a beginners bowl area. 
Other great options are the Jellie Park Skatepark in Burnside or checking out the list from the Christchurch City Council here.  The bowl below is at Knights Stream Park in Halswell
 
Watching the planes at the airport 
I don't know what it is about planes, but my kids are obsessed.  They spot them from a mile away, far before adult hearing has picked them up.  One of the best spots to see them fly right overhead is near the corner of Mcleans Island Road and Shipleys Road.  It is right at the end of the runway, so the planes fly really low! There are always aircraft enthusiasts parked up here, so is the perfect spot for plane spotting.
Things to do in Christchurch City CBD:  Take a Christchurch Attractions DIY City Tour 
As our kids are from the country, when they head to the city they see so much they've never seen before.  Historic buildings, amazing fountains and sculptures, they are able to learn about the history of a city. So take your own walking tour (or bring a stroller or scooter) and hit up the following locations in the Christchurch CBD
Here is a list of things to see in Christchurch
The Peacock Water Fountain in Hagley Park, outside the Canterbury Museum

The Arts Centre (one of my favourite attractions in Christchurch, for the architecture)

The Bridge of Remembrance

The Christchurch Cathedral, damaged by the Canterbury Earthquake in Cathedral Square

The Tramway at Cathedral Junction

Historic New Regent Street: a spanish mission styled shopping street (an instagram highlight)
Transitional Cathedral, aka. The Cardboard Cathedral, is a place of worship while the Christchurch Cathedral is being rebuilt

185 chairs memorial: 185 unique chairs to remember those individuals who were sadly passed away in the Christchurch earthquake disaster

Gap Filler: Big Swing and Bike track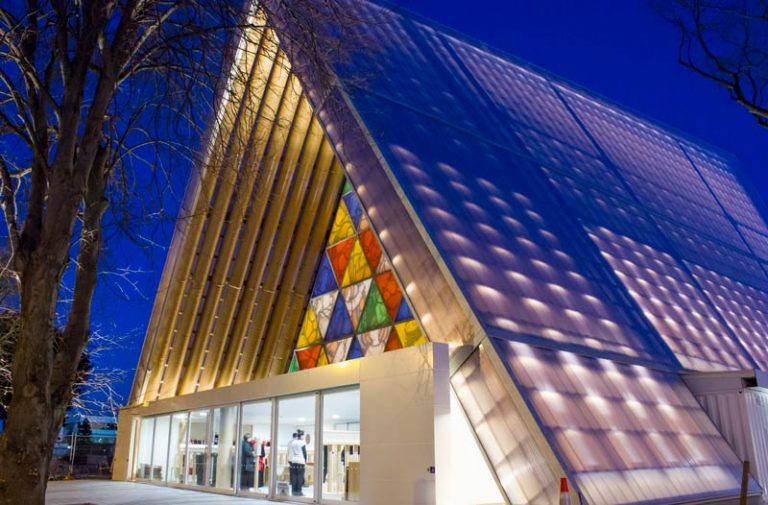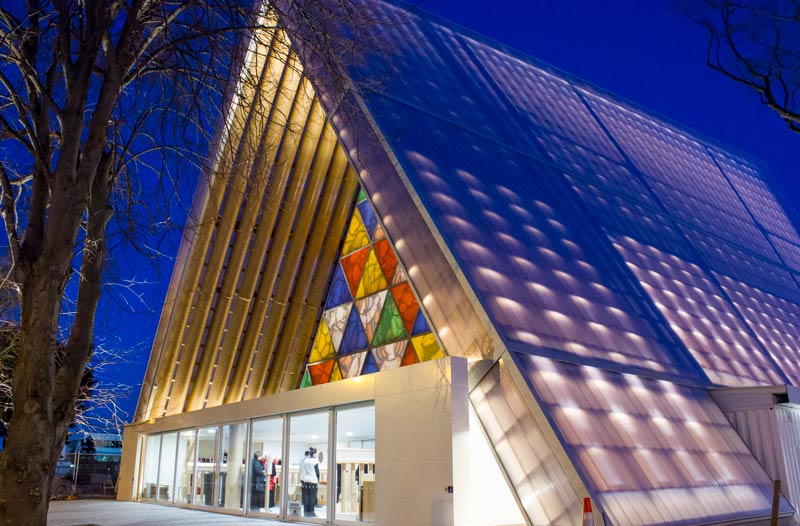 Best free indoor activities in Christchurch for kids
Air Force Museum
I may be a bit biased, as my father used to be in the Air Force, but we just love this museum.  At the front of the museum, you have your standard history which is really interesting, but less so for the youngest kids.  But head out to the hangar and your kids will be in paradise. Sometimes I can't actually believe this is a free activity in Christchurch, but I'm glad it is, as we visit a lot.  
The kids love seeing the real planes, even hopping in the cockpit of a fighter jet. We often visit in winter when we are trying to find a great indoor activity in Christchurch and this would have to be one of the boys favourite.  It is warm, free, has great parking, as well as decent coffee at the cafe. Everything you need right?
Canterbury Museum
Our kids don't get to visit museums very often, so when they do, they are often running around the next corner just to see what is next.  Our young boys particularly loved exhibits like the Moa Skeleton (which looks just a dinosaur mum!), seeing the different birds and insects and the big Sno-Cat from Antarctica.  The museum itself is a great free thing to do in Christchurch with kids, but you can also access the Discovery Centre in the museum for just $2 per child over 3. 
This will open up a new world of fun such exploring the insect drawers, digging for fossils and puzzles.  It is particularly great on a rainy day when my kids just seem to get cabin fever. My 16 month old really enjoyed the interactive floor which saw her squashing butterflies and bursting stars. 
Note as at May 2023, the Canterbury Museum is closed, however I believe they will have some sort of exhibition available perhaps at another location.  Go check the Canterbury museum website for more info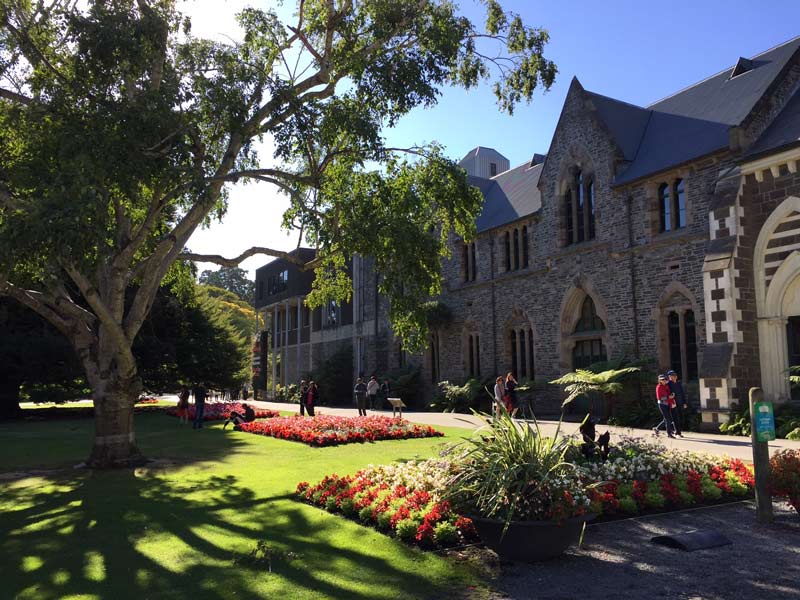 The Imagination Station
The Imagination Station has to be one of the best things to do in the Christchurch CBD for kids.  But what is it? Housed in the brand new Christchurch City library, is an enormous Lego and Duplo station.  There is a whole pit filled with building blocks, which is the perfect free thing to do, especially if it is raining.  
You will find it on the children's floor along with excellent bathroom and baby facilities. We often reward the kids with a trip here after some retail therapy and love that there is air conditioning on hot days, and it is toasty and warm on a freezing Canterbury winters day.
Cool things to do at Christchurch Central City Library
Above we highlighted the amazing Imagination Station that is housed here, but there are also many other exciting things for kids to do here.  Besides reading of course. They have games, as well as a huge screen that was used for a gaming competition when we were there. They have a "Whats on in Christchurch" section on their website and many programmes such as Books for Babies for the little ones.
Greenhouses at Christchurch Botanic Gardens
While you may have to walk from the carpark, exploring the greenhouses in the Botanic Gardens is a lovely thing to do in winter in Christchurch.  When its cold and maybe even raining outside, the greenhouses are warm and a great place for your toddler and primary school kids to run and explore.  Our 3 and 5 year old loved the cactuses, finding flowers in every colour of the rainbow and playing hide a seek. 
Becoming a budding artist at the Christchurch Art Gallery
The Christchurch Art Gallery may not seem a great place to take kids, but you will be surprised what gems are hiding inside.  Besides looking at exhibitions, you will find free art activities and sensory materials set up for preschool kids on a monthly basis.  Check out the family events section of the website for what is on offer this month. Also check out their school holiday offerings for your arty kids as they often have workshops for a nominal fee.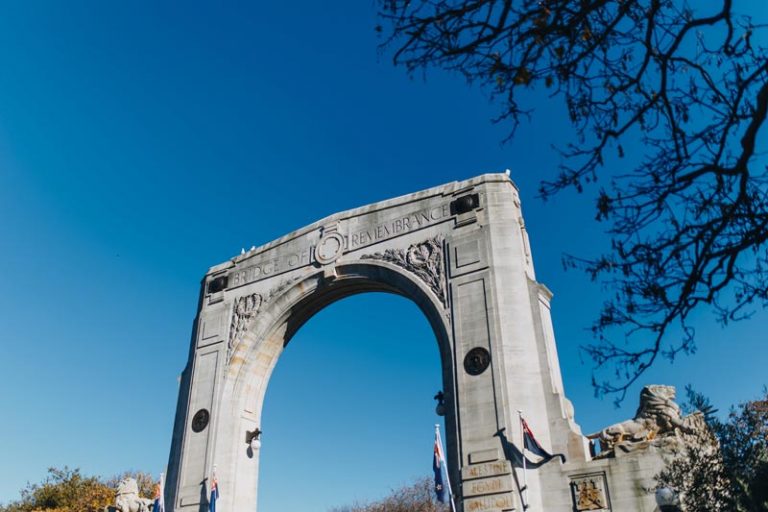 Best Free Events for kids in Christchurch
World Buskers Festival
The World Buskers Festival is generally held in Christchurch every January/February and there are many roving acts that are free to enjoy. (Although if you enjoy the show, do show your appreciation when they pass the hat around)  The shows have to be the most eclectic mix of magic, comedy, strangeness, free family fun and utter delight. 
There are multiple shows throughout the day, especially over the lunch break and can be found dotted around the Christchurch CBD (the Arts Centre, Cathedral Square etc)  The kids will be easily captivated and you can sit back, relax and enjoy the show.    This annual festival is one of the most amazing things to do in Christchurch.  Kid and Adults alike will both love it, guaranteed.
Christchurch Farmers Market
Every Saturday, from 9am-1pm at Riccarton House on Kahu Road is a buzzing farmers market.  It is free to enter and would have to be one of the most beautifully set markets I've ever been to.  Riccarton House is a beautiful Victorian Homestead built in the 1850s, and is nestled beside the Avon River.  
The farmers market is held in the gardens and on a sunny day, has to be one of the best places to brunch in Christchurch.  It's worth a stroll for the atmosphere and live music, but you'll be doing well not to leave without tasting some of the delicious treats.  It's not just a fruit and vegetable market! 
 
Winter Activities for Kids in Christchurch at KidsFest 
KidsFest is an annual 2 week event held over the July School Holidays.  While not all events are free, a lot of them are, and you have access to many fun activities in the Christchurch Area.  One particular favourite is the Polar Night at the Museum, where you find clues by torchlight to find Pere the Penguin. You can find more information about this years event at the KidsFest website.
Christchurch Lantern Festival
I love seeing events that just light up the kids faces and the Christchurch Lantern Festival will definitely bring joy.  Part of the Chinese New Year, Christchurch celebrates with hundreds of brightly lit chinese lanterns adorning the Avon River precinct in the CBD.  
Bring the kids for a free family event and check out the shadow puppets, acrobats and live music. Food trucks with delectable Asian delicacies line the lantern trail ensuring you don't even have to cook.  Find more information about one of the best free things to do in Christchurch at night: the upcoming Christchurch Lantern Festival here
Christchurch Walking Festival
Every year between late September and mid October, the Christchurch Walking Festival is on and offers a great chance to get out of tracks, often guided walks, and on trails you might not have tried before.
Particularly great for kids is the FREE Gruffalo walk in Bottle Lake Forest, where the kids relive the story and meet their favourite Gruffalo friends along the way, including the big monster himself.  Its a great way to encourage kids to walk, off road strollers can be taken along the way and you are able to get outside in nature. They often have face painting, colouring activities etc, so is a great half day activity in Christchurch.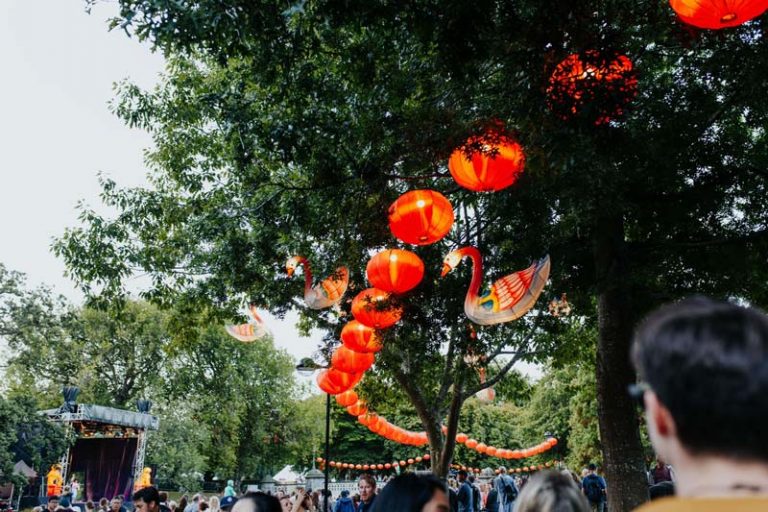 Best places to walk with kids in Christchurch
Bottle Lake Forest Fairy Village
As of September 2020, Bottle Lake Forest has its own Fairy Door Walk.  Well, it is a fairy village located in the forest, full of over 100 fairy houses and fairy doors.  Over a couple of hundred metres you will find these magical houses, created by the local community.  Originally popping up as a lockdown art project, turned short walk for kids, the fairy village was recently relocated to become a permanent fixture in Bottle Lake Forest.
You will find the Bottle Lake Forest Fairy Village at the beginning of the mountain biking trails (not far from the information centre) in the main carpark on Waitikiri Drive.
Read more: Bottle Lake Forest Fairy Village: Christchurch's newest fairy door walk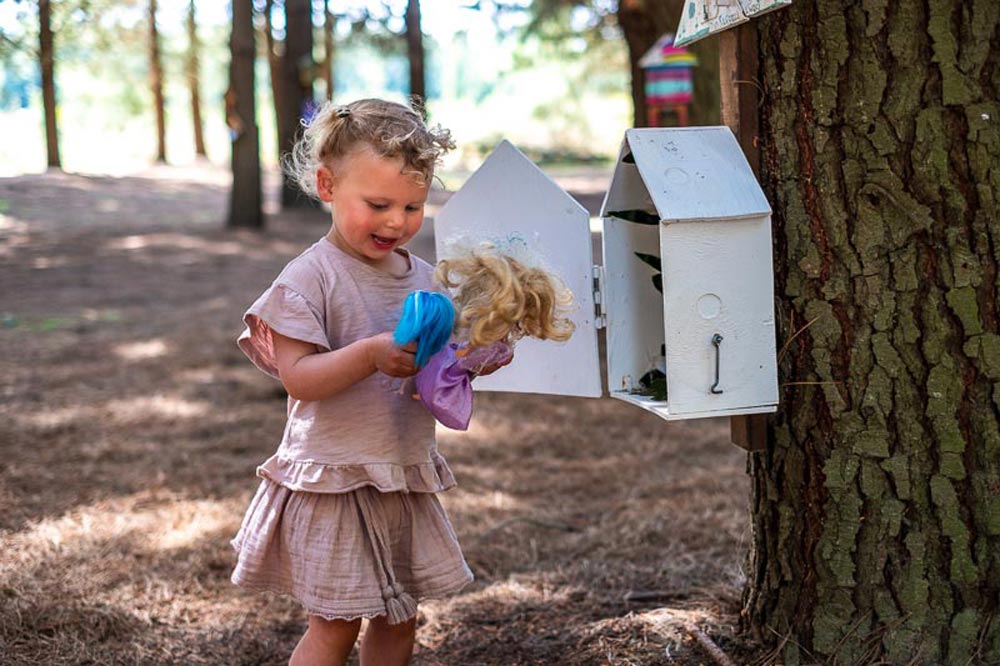 Riccarton Bush
If you are looking for a little piece of heaven, right in the middle of the city, stroll over from Westfield Riccarton to Riccarton Bush.  It is only a 10 minute walk through the bush, but you get to discover the last of the 600 year old kahikatea trees that used to cover the Canterbury Plains.  The bush is tranquil and quiet, in stark contrast to the busy Riccarton roads. 
Kids can also join in the Department of Conservation Kiwi Guardians programme where children can earn a certificate and medal for completing adventure tasks. It's an easy place to walk with toddlers in Christchurch and it's great to be able to let them explore freely.
Godley Heads Walk
Just over the hill from Sumner, you will find Taylors Mistake and this is the starting point for the Godley Heads Walk.  We found the Godley Heads track to be a great walk with kids in Christchurch, as the views were stunning, and the walk was mostly flat.  
If you walk all the way out to the end of the head, you will find the old gun emplacements from World War II, and you can follow the track around to find some old bunkers too.  To reach the old historic sites at Godley Heads, the track does go up the hill, which is quite steep but short. The whole loop is around 3 hours return, but we saw a lot of people walk along the trail with young ones, then turn back when the kids were getting tired.
If you have very young ones, you can also drive out to the Godley Head Carpark and explore from there.  This will be much more doable if the are small or can't walk for very long.  For more detailed information on this walk, click here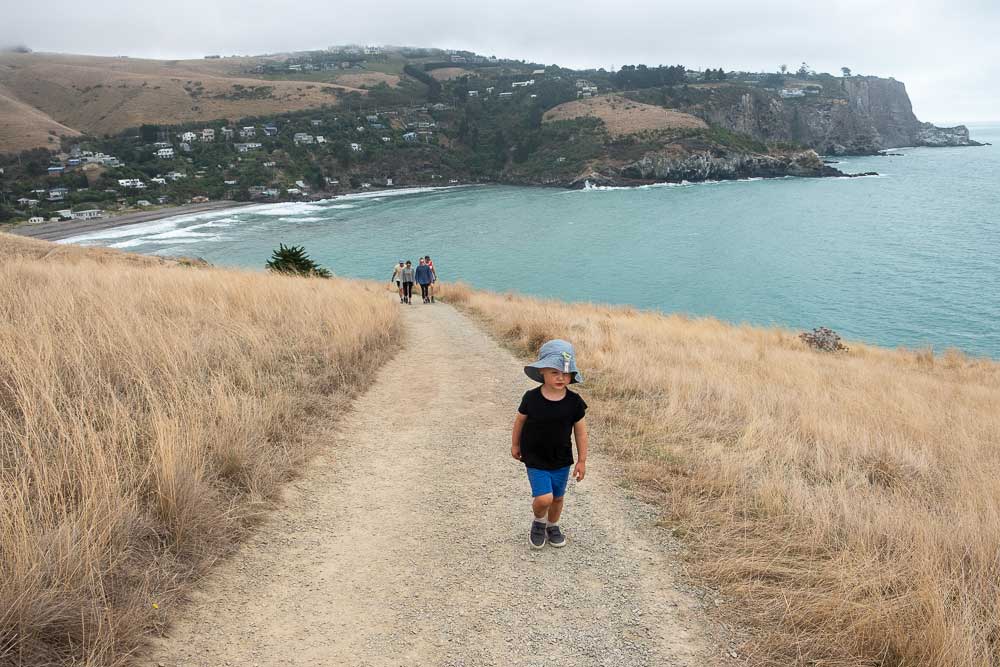 Christchurch Botanic Gardens
Kids will enjoy a short walk in the Christchurch Botanic Gardens as there are many things to see and do.  Combine it with a trip to the playground and an explore of the greenhouses for an easy active activity.  The small lakes in the middle of North Hagley Park, across from the Botanic Gardens are great for feeding the ducks, so pop over there if you have young children.
Wetland Walk at Spencer Park
If your kids love birds, then take them out to Spencer Park and test out the 20 minute Wetland Walk.  Hundreds of birds and ducks live here and my 4 year old really loved spotting them and counting how many he could find.  There are longer walks here too up to a couple of hours, so something for everyone.
Be amazed at the view from the Rapaki Track (photo below)
One of the most popular walking tracks in Christchurch is the Rapaki Track.  This is a 4WD style track (but no cars allowed) that heads straight up the Port Hills onto Summit Road.  You will see amazing views of Christchurch City as well as Banks Peninsula.
The Rapaki Track will take about 2 hours return when walking with kids, perhaps a little longer if young kids are walking themselves.  It is an uphill walk the majority of the way, but the views are worth it.  If you would like to know more information about this track, check out our article here
Walk to the Sign of the Bellbird for beautiful views of Banks Peninsula
That beautiful feature image from the top of this page…. this was taken at the Sign of the Bellbird.  You can walk here from the Sign of the Kiwi (and park on the side of the road near the cafe) and do the uphill, but not too difficult walk to the Sign of the Bellbird, or you can drive up and park just opposite the Bellbird Hut.  The walk will take about an hour and half one way, perhaps two hours with kids and some stops.
The Sign of the Bellbird Hut is merely a shell, but will serve as a shelter if the weather is windy and rainy.  This was one of three original huts in the Port Hills area, a teahouse, heading over to Banks Peninsula and Akaroa.
See the beautiful views across Christchurch on the Sugarloaf Circuit at the Sign of the Kiwi
The huge 120m tall tv tower that you can see from everywhere in the Port Hills is at the top of Sugarloaf Mountain.  There is a beautiful circuit track that is perfect for kids that leaves from the Sign of the Kiwi and takes about an hour.  It does go uphill, but it is not difficult and the track mostly heads around the mountain.
There are a few tracks around the Sugarloaf, but we walked in a clockwise direction, starting on Cedrics Track, which gave beautiful views over the city and Lyttelton, and then turned right on Gilpins track to head back to the Sign of the Kiwi.  The Gilpins track meanders through native bush making it a bit more interesting on the return journey for kids.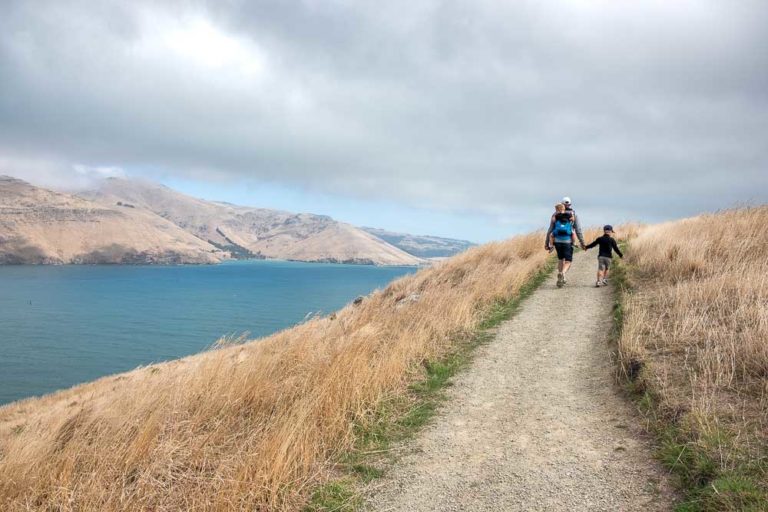 Best Free Things to do near Christchurch
Foster Park Playground, Rolleston
Foster Park is a great playground for kids near Christchurch.  Just 20 minutes from Christchurch City and out of the chaos, lies a fun adventure playground, perfect for kids of all ages.  Much like the Margaret Mahy playground, it has a great wide slide as well as many new innovative climbing frames, flying foxes and equipment tailored for young toddlers.  In the school holidays, it can be busy, but much less busy than Margaret Mahy in the city and much better parking too.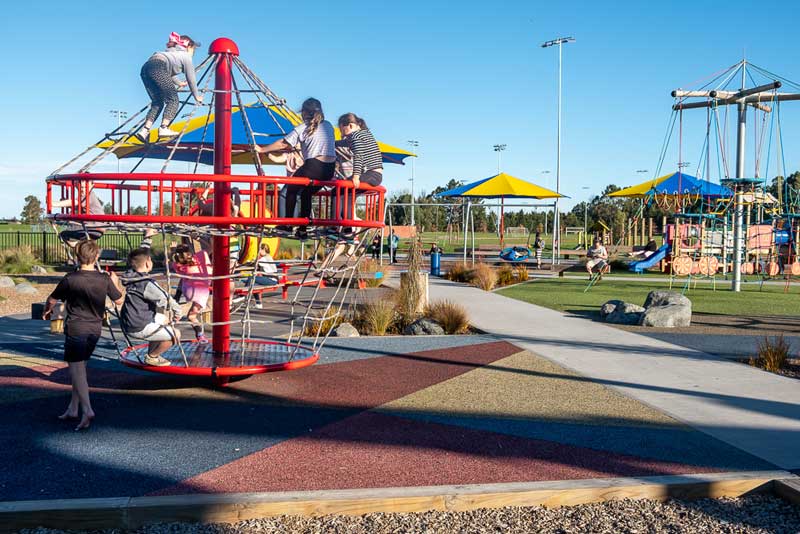 Become an explorer at Castle Hill, Arthurs Pass
Castle Hill is a great reserve filled with unique rock formations and is an adventurers paradise.  The kids can climb to the top of the rocks and see the view, see where the paths lead and become great explorers.  Located a bit over an hour from Christchurch Airport, this is a great half day trip from Christchurch and a perfect free things to do with kids.  For more info about this kid paradise, check out my Castle Hill blog here.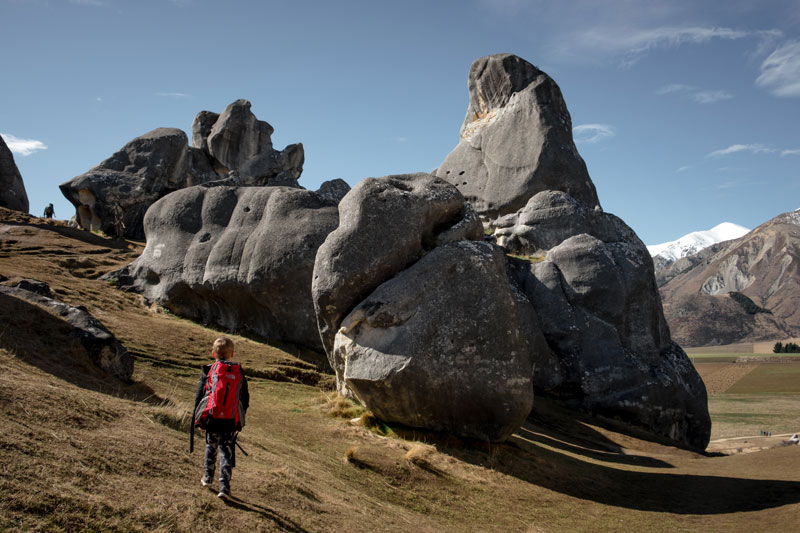 Beach Escape to Okains Bay, Akaroa (Day trip from Christchurch)
Over the hill from the french settlement of Akaroa, you will find the beautiful and tranquil Okains Bay.  If you were looking for one of the best beaches near Christchurch, this would be one of my top pics. The beach is flat, with plenty of room for building sandcastles. There is an estuary at the north end of the beach which is a perfect swimming hole for young ones.  At the south end of the beach are some great boulders to climb, but good luck getting the kids to come down.   
If you want a great day trip from Christchurch with kids and want somewhere you can relax away from the masses, then Okains Bay is a great pick!  The DOC campsite here is also beautiful, with great facilities and an awesome playground. Camping prices are cheap, so we would totally recommend this as a great weekend escape from Christchurch.
There are so many things to do in Akaroa with kids so check out our linked article if you want to make a weekend of it.
Below: Rhino Walk in Akaroa – a great 1 hour ish return walk with sculpture animals to find along the way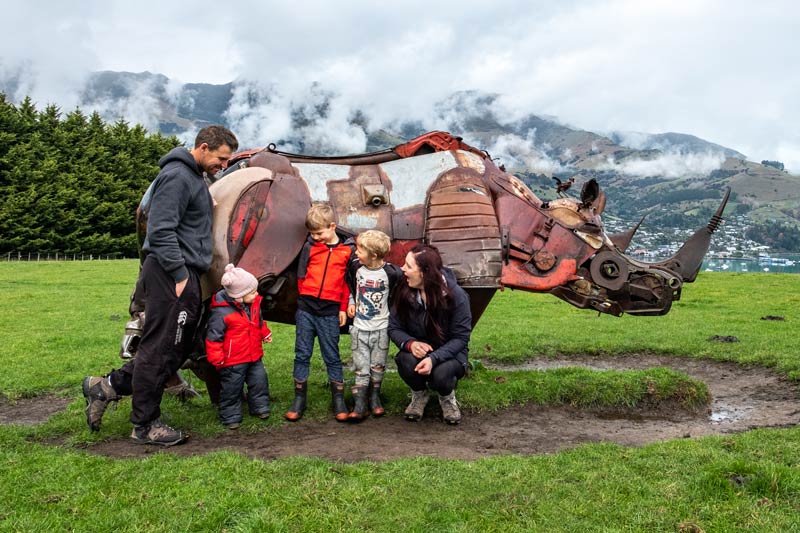 Chase waterfalls at Devils Punchbowl Falls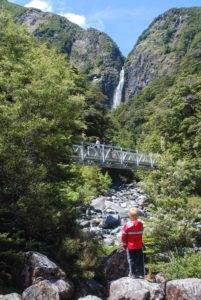 Take a day trip to Arthurs Pass Village, just 2 hours from Christchurch CBD and take on the very family friendly walk to Devils Punchbowl Falls. With kids, it will take about 30 minutes to walk to the waterfall.  Lots of bridges, stairs and forest paths will keep the kids entertained along the way. Be careful on the way back down the stairs with little ones in tow. Tag this walk onto a weekend away to the West Coast, or complete this after exploring Castle Hill.
Find emerald green water at the Rakaia Gorge
If it hasn't been raining, the Rakaia river is a beautiful greeny blue colour, right at the Rakaia Gorge.  This is a great spot to picnic on the rocks, take a walk down the Rakaia Gorge Walkway or watch the Discovery Jet zoom past.  Our kids love walking over the historic bridge and watching the water below.  The Rakaia Gorge Walkway is a 3-4 hour return walk with kids, or you can just walk to the lookout, which will take adults about 30 minutes and young kids around 45-50 minutes each way.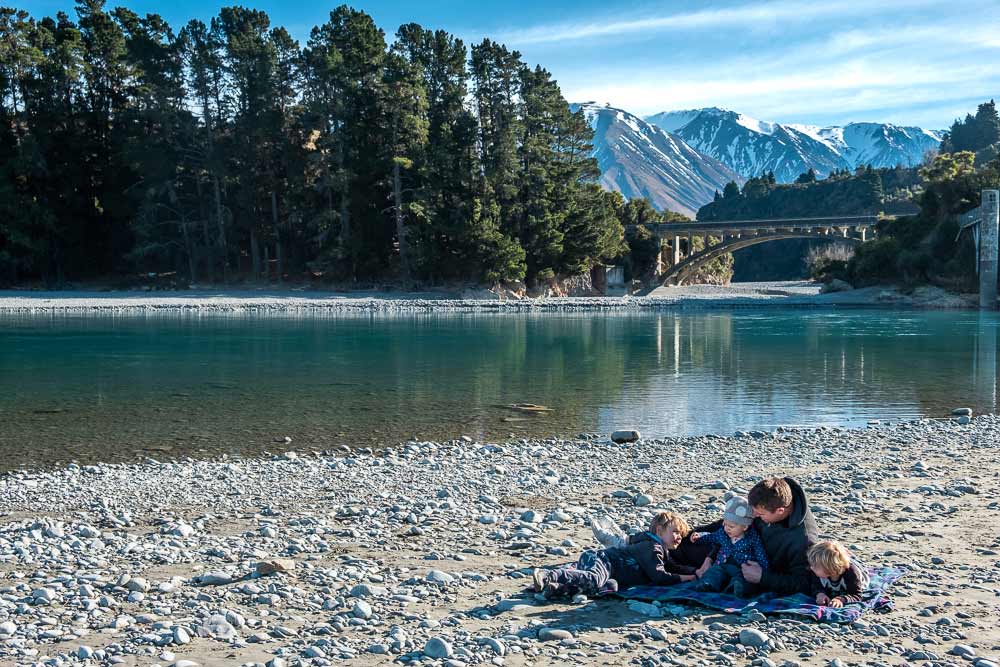 Hike to a Hut in Canterbury
We are really lucky here in Canterbury as there are a number of huts you can hike to that are perfect for beginners and your first overnight trip.  We have hiked to these huts as a day hike, but for a nominal charge, you can stay overnight. It's a great outdoor family adventure with a low price tag.
Packhorse Hut in Banks Peninsula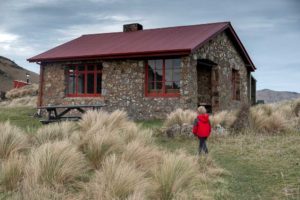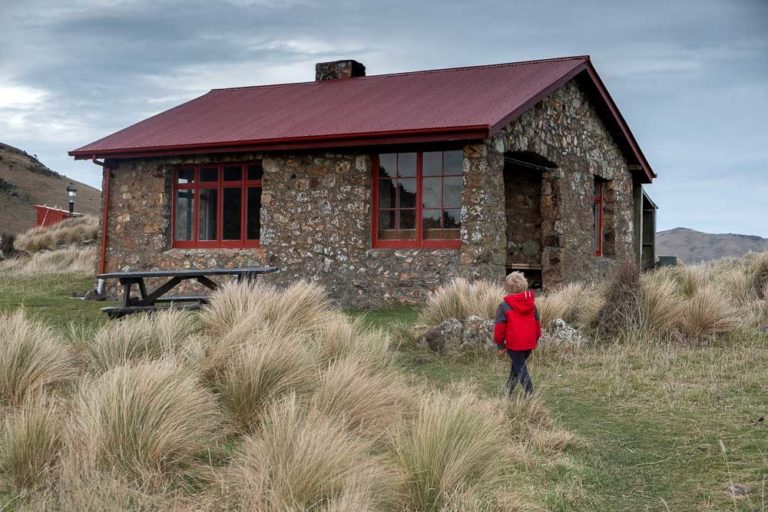 can be accessed by the Gebbies Pass Track and the Kaituna Valley Track. Gebbies Pass is only 35 minutes from the Christchurch CBD making it an easy family hike that will have you home in time to cook dinner.  The track from Gebbies Pass to Packhorse Hut will take about 4 hours return with kids plus a hut stop for lunch. For more detail on this hike, click here.  Not far from here is also the Rod Donald Hut (less than 1 hour one way) 
Woolshed Creek Hut, in Mt Somers, Mid Canterbury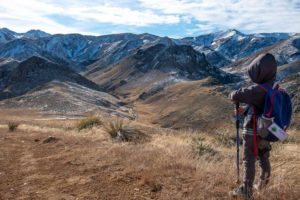 is another good half day hike, taking around 4-5 hours return with the family and rest stops along the way.  A good 1 hour climb at the start, some old coal mine relics to find on the way and beautiful views over the mountains before you descend steeply to the hut. Woolshed Creek Hut is a modern hut with double glazing and a log burner (wood provided outside) so can be accessed at any time of the year.  Our 5 year old walked this comfortably in a day and really wants to stay overnight next time. For more on this walk, click here.
Ski at Mt Hutt
Did you know that kids 5 years old and under can ski for free at Mt Hutt?  They can get a lift pass and ski anywhere on the mountain without paying a cent.  We all have those family friends who are ski bunnies, so borrow some gear off them and head up to the mountain for the day.  If you are sure about teaching your kids to ski, click here for our top tips.  If they aren't quite ready for skiing, bring along a sled and use the designated sledding area for free too!
Bonus tip:  If an adult hires gear at certain stores in Methven such as Big Als, they can get their ski gear for free. Pretty great!

What else is on your list of best free things to do in Christchurch with children?
With so many free things to do in Christchurch, we know you will enjoy your visit.  In the winter there are plenty of indoor activities to keep the kids busy, and it's often warm enough on sunny days with a warm jacket to be outside and enjoy some active activities.  Some of the best things to do in Christchurch in summer have to be the outdoor walks, beaches and playgrounds. Whatever you do, we hope you have an amazing visit to Christchurch.
If you are going to be around in the region for a while, why not check out Ashburton/Mid Canterbury (1 hour drive south) and Hanmer Springs (2 hours drive north)  For some ideas about what to do in these areas, check out the articles below
I'm sure by now you have a huge list of What to do in Christchurch with kids, but if you've got any more suggestions, make sure you come and chat with us over on Instagram and Facebook and let us know what we should add to this things to do with kids in Christchurch list!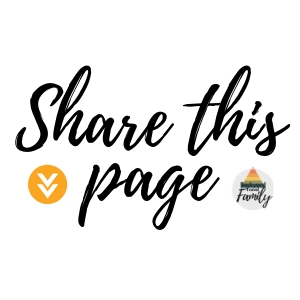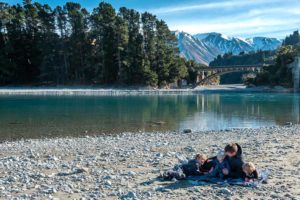 Things to do in Ashburton with Kids and around the Mid Canterbury Region If you are like me, you are always looking for interesting things
Read More »