A Weekend in Tekapo with Kids: Top things to do with Family
Best things to do in Tekapo (including with kids)
In the middle of the South Island, in the shadows of the Southern Alps, you will find the beautiful lakeside town of Tekapo.  If you haven't been before, you will be struck by the breathtaking colour of Lake Tekapo. It is a showstopper and will fill you with delight at the very first sight of it.
A lot of people only make a brief stop at Tekapo on the road trip between Christchurch and Queenstown, but we implore you to spend a couple of days exploring the region.
We took our 5 year old, 3 year old and 1 year old for a weekend in Tekapo in June and it was the perfect way to spend a family weekend in the beautiful Mackenzie Region.  
This article will overview the best things to do in Lake Tekapo, including with kids, as well as a few alternate activities in the Mackenzie Region.  Included in our guide to Lake Tekapo, New Zealand are:
Practical Resources
Best Attractions in Tekapo with kids
If you are wondering what to do in Tekapo, then we have you sorted. Click here to go straight to this detailed section.
Please note: This page contains affiliate links. This does not cost you any extra, but I earn a small commission for the referral.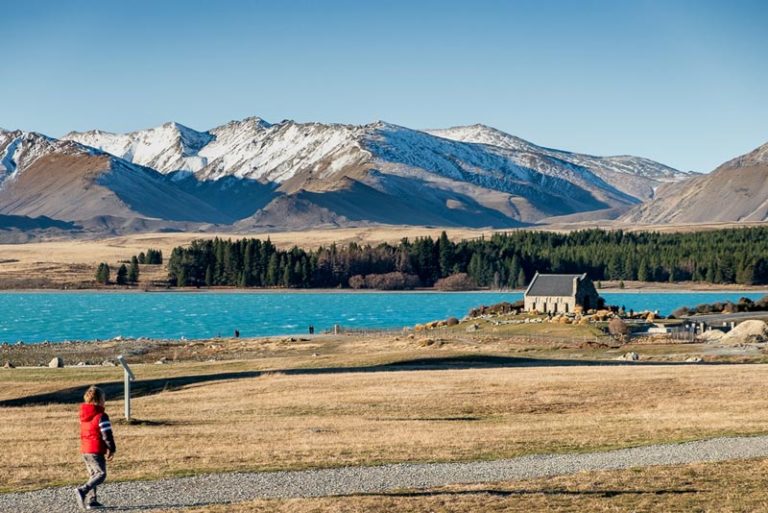 Where is Lake Tekapo?
Lake Tekapo is located in the beautiful Mackenzie Region, exactly halfway between Christchurch and Queenstown.  This small South Island town is a perfect stop on your New Zealand road trip, or a great weekend getaway. It will take approximately 3 hours between Christchurch and Tekapo, and the same between Tekapo and Queenstown.
How to get to Lake Tekapo:  Tekapo is located on State Highway 8, easily signposted in the Mackenzie Country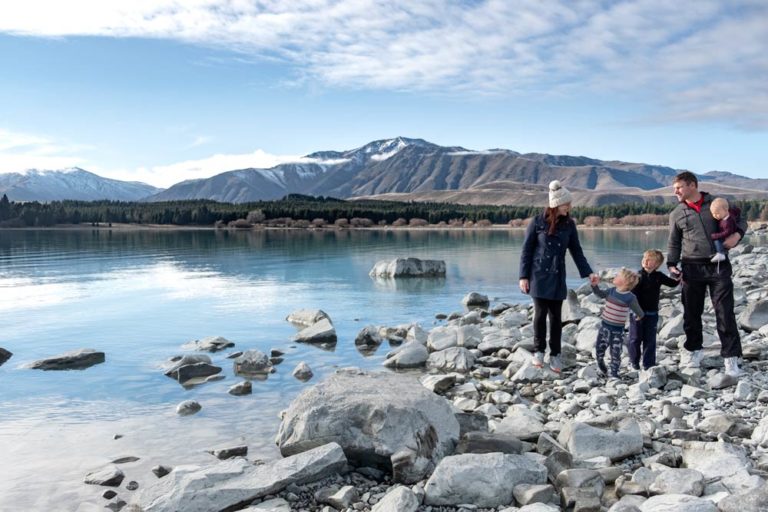 Lake Tekapo Accommodation
Tekapo isn't a particularly large place, but there is a good range of accommodation options.  We stayed at the Peppers Bluewater Resort (as discussed below) which is in the mid-high price range but there are other options.  We also stay at the Highlands Farm Stay in Twizel, just 40 minutes away.  More on that below too.
Budget Accommodation Lake Tekapo
The best budget accommodation in Tekapo would have to be the Lake Tekapo Motels and Holiday Park.  This Tekapo campground is right on the lakefront and walking distance to Tekapo Springs. This has motel rooms and holiday baches for families. There are portacot and highchairs available here at no charge.  Check out the latest prices at Lake Tekapo Motels and Holiday Park.
Read more: Top Tips for Camping with Kids and not going insane
AirBnb in Tekapo
AirBnBs can be a great option for families as they provide great space and means you can self cater to keep costs down.  Tekapo is not the cheapest place for those looking for budget accommodation, and AirBnbs in this area would be in the range of $250-$400 per night depending on timing (school holidays, weekends etc)  Cheaper AirBnb options can be found in Fairlie, about 35 minutes north of Tekapo, or in Twizel which could be a good base if you plan on visiting the Mt Cook National Park.
Our friends highly recommend the Black House, Tekapo AirB&B. It has three bedrooms, an outdoor tub and lovely views over the lakes and mountains.  You can click here for photos and prices
Luxury Accommodation in Tekapo
If you are looking for luxury accommodation in Tekapo, you couldn't go past a house at Lakeview Tekapo or the large Lakestone Lodge property, just 30 minutes down the road on Lake Pukaki.  
Peppers Bluewater Resort Review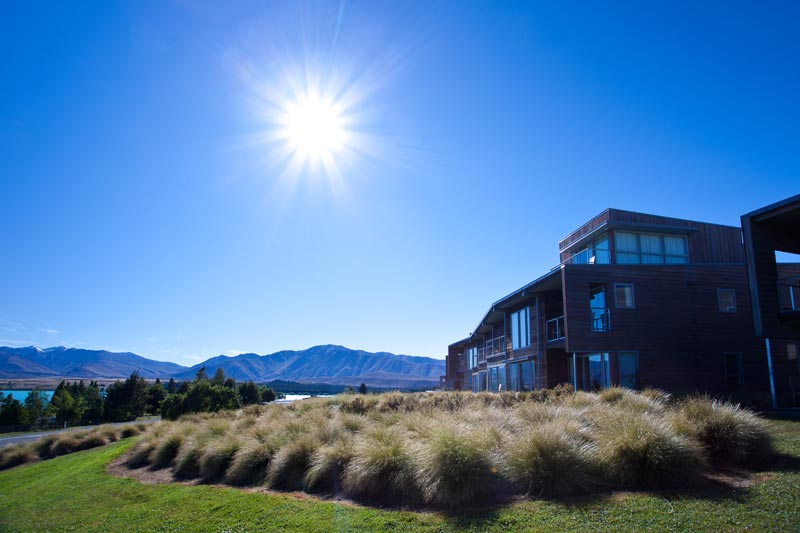 We were lucky enough to stay for two nights at the Peppers Bluewater Resort.  We had a two bedroom apartment with mountain views which was perfect for families.  There were two bedrooms and a bathroom downstairs, and a large kitchen, dining for 8 and two lounge spaces upstairs.  One of the lounge spaces had a pull out sleep sofa and chairs, and the other had couches with a tv. If the weather had turned, and we ended up getting stuck inside, there would be plenty of room for the kids to play without getting on top of each other.  We really appreciated the space here.  
We really think this is one of the best places to stay in Tekapo with families or for those that want a bit of space.
Click here for the latest Peppers Bluewater prices
Accommodation Near Lake Tekapo
Sometimes when Lake Tekapo accommodation is busy and quite booked out, or if we are going to be visiting Mt Cook in the same trip, we like to stay in Twizel.  It has a lot of holiday homes and reasonably priced accommodation, often cheaper than Tekapo too.  So if you don't mind doing a day trip.  We highly recommend the accommodation below
Highland Farm Stay Twizel
This awesome 2 bedroom cottage is perfect for families or two couples.  With a full kitchen and completely separate accommodation from the owners, its the most peaceful stay.  You get your own food (free of charge) to feed the alpacas, sheep and chickens and there is a farm walk, all accessible from your accommodation.  We loved our stay here and highly recommend it.  We have written a full accommodation review for you here on the Highland Farm Stay Twizel Accommodation
Click here for the latest prices and to check the calendar
The Best Rest Stops on a Road Trip to Tekapo
If you are having a weekend getaway with kids, you will most likely need to stop along the way.   Whether you are driving from Christchurch to Lake Tekapo, or from Queenstown, there are a few good stops along the way. Here are some of our favourite easy road trip stops you might want to check out. 
Christchurch to Tekapo
Geraldine: Good toilets and childrens playground at the Geraldine Domain, Corner of Geraldine-Fairlie Highway and Hislop Street, heading out of Geraldine on the main road to Tekapo. (Geraldine to Tekapo is about 65 mins)
Fairlie: Toilets and playground with a huge slide on the corner of Main Street and Talbot Road.  A stop at the Fairlie Bakehouse for a hot pie with the most beautiful pastry is a must!
Queenstown to Lake Tekapo
Omararama: Omarama Clay Cliffs to visiting the stunning rock formations (Henburn Road)
Twizel: High Country Salmon: Feed the fresh water salmon and perhaps pick up some tasty fish for dinner. (Twizel to Tekapo is 40 mins drive)
Mt Cook:  A 45 minute detour but the mountains are incredible and the drive along the glacial blue lakeside is amazing!  There are lots of Mt Cook Walks and other things to do in Mt Cook for everyone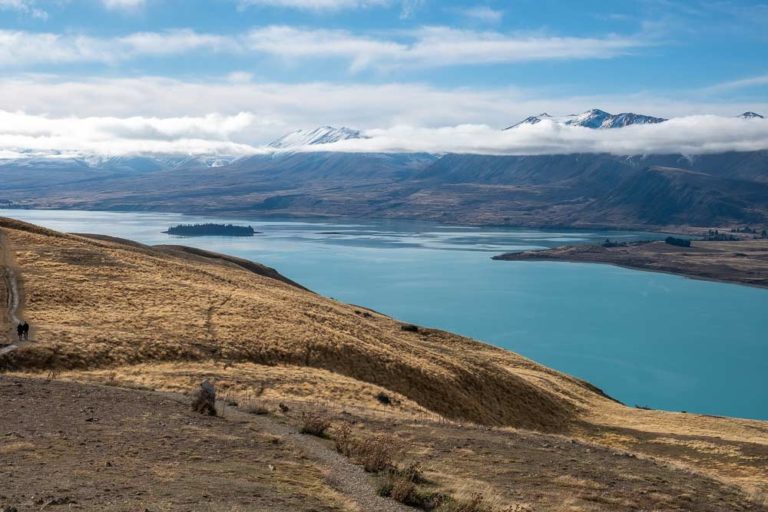 Lake Tekapo Weather 
Lake Tekapo Weather in Winter
It can definitely snow in Tekapo, but we didn't experience any snow when we were there, but I do tell you, it is definitely brisk.  We had highs of 6-8 degrees and lows of 0. Being in the shadow of the Southern Alps, the sun does seem to dip behind the mountains and hills quite early, so beware, it will get cold.  
In saying this, we were well prepared with thermal polypro long sleeves, sweatshirts and winter jackets.  Besides the late afternoon wind, we found it to be really pleasant and were happily active outside.
Lake Tekapo Weather in Summer
Lake Tekapo is over 700m above sea level so while the weather can be extremely hot in summer, it can also be cool overnight.  If you haven't heard of the term "4 seasons in one day" when dressing for New Zealand, then an alpine town like Tekapo is the epitome of this.
Make sure you bring lots of layers, from singlets/tank tops for hiking in the heat, to thermals and a jacket if you are camping or campervanning overnight.  Temperatures in the summer average around 22C in the day and 9C overnight.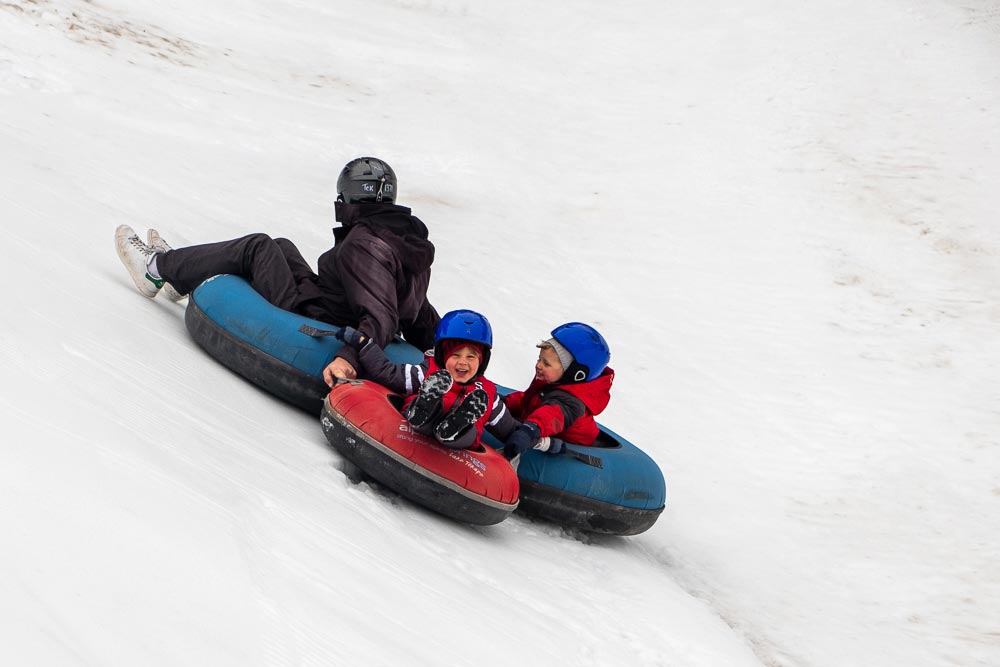 Best things to do in Lake Tekapo
Tekapo Springs
Tekapo Springs is much more than a hot springs venue, and it really comes alive in winter.  If you are looking for things to do in Tekapo with kids, then this place is perfect. You can have a snowy winter experience, without having to travel up the mountain with all the gear, and you are barely 5 minutes from your Tekapo accommodation.  It is easily one of the best Lake Tekapo activities for families as there is something for everyone.
In winter, your activity options at Tekapo Springs include: the Hot Pools, Snow Tubing Park, Ice Skating Rink and Spa Treatments.  If only they had babysitting services so we could have hit the spa.. Wishful thinking right?  In summer, in place of the snow activities they have a giant inflatable bouncing "castle" called the Aquanaut, which is tons of fun even for adults, as well as a giant waterslide in place of the snow tubing.
Snow Tube Park at Tekapo

Springs

My 3 and 5 year old just loved the Snow Tube Park.  Do bear in mind that you need to be over 1m tall to ride on a snow tube and that an adult will need to accompany the younger ones.  You can purchase a 1 hour snow tube pass, which gives you unlimited rides during this time.  
So what is snow tubing?  
Think of a big donut inflatable ring, similar to a waterskiing biscuit.  You sit on top of the snow tube and slide down the icy, snowy hill. Helmets are provided, along with a single or double snow tube.  (As a side note, the double tubes didn't go nearly as fast) There is a magic carpet to ride to the top of the hill, and Tekapo Springs attendants to help push you down.  
What gear do I need to bring for the Snow Tube Park?
The great thing about the snow tube park, is that besides warm clothing, you really don't need any specialist equipment.  We had the kids warm snowsuits, but they never fell off, and barely even walked on the snow, so if you don't have this gear, it's not essential.  As long as you are warm, and have decent shoes, then you will be absolutely fine.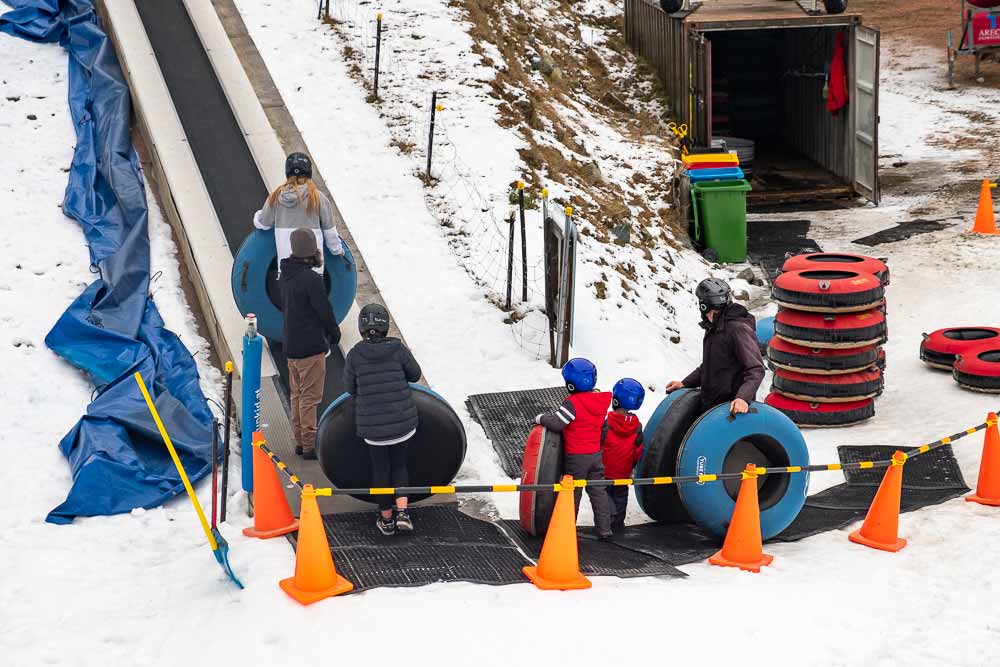 Was 1 hour enough time to Snow Tube?
For our kids, this was the perfect amount of time.  I would say they all had about 8-10 rides and there were perhaps 12-15 riders while we were there.  If there are larger groups, I would definitely recommend tubing down as a group (holding onto everyone elses tube) as it is super fun, but also means there is less wait time for everyone.  If it was much busier than this, there could be a lot of waiting. When we arrived at 10am, opening time at Tekapo Springs, there were only a few people and this timing would have been perfect!  So if your kids are up early, then just get in quick!
Was it scary for young kids?
It looked really tall from the viewing platform, as wee Emilia was too small to ride, but I was pleasantly surprised that my two were daredevils this day. (5 years old and 3 years old)  There were a couple of other younger ones that were a bit nervous, but happy once they saw some our children give it a go. If your little kids are a bit apprehensive, I would recommend popping them on your knee for security cuddles, or trying the double tubes which were slower.
Ice Skating at the Tekapo Springs Ice Rink
We didn't test out the ice rink on this trip, but I would be keen to give it a go when the kids are a bit older.  In saying that, there were some under 5s giving it a go, with metal frames to hold them upright, or you could hire a cute penguin to push along for stability.  Entry to the Ice Rink includes skate and helmet hire, and is an all day pass, so you can jump between skating and the hot pools all day if you like. We love this option as you can go home for a lunch break and a rest, and then come back and do it all over again.
Ice Skating Lessons are available as are group bookings for ice hockey and curling.  Surely this is one of the easiest places to experience winter in Tekapo.
Hot Pools at Tekapo Springs
After being outside in the cold and ice, the best way to warm up is with a dip in the hot pool at Tekapo Springs.  Despite the 6C air temperature, we barely noticed how cold it was, except for the scramble from the changing rooms to the pool. (Top tip: Bring jandals/flip flops for this wee walk as our feet were freezing)
One of the nice things about these pools is that they are not geothermal, which means it is completely safe to swim under the water.  If you are wondering why it's not safe to put your head underwater in geothermal pools, it is because a tiny organism called amoeba may be living there, and this can cause a deadly meningitis.  Don't worry if you didn't know, I had no idea either, but the GOOD THING is, that this is not geothermal, it is well chlorinated and there is no risk! So my kids had a great time swimming in the beautiful bath water, including 1 year old Emilia who just had a ball.  I loved that it was warm enough for her to swim here for hours without getting chills. The hot pools ranged from about 36-38C.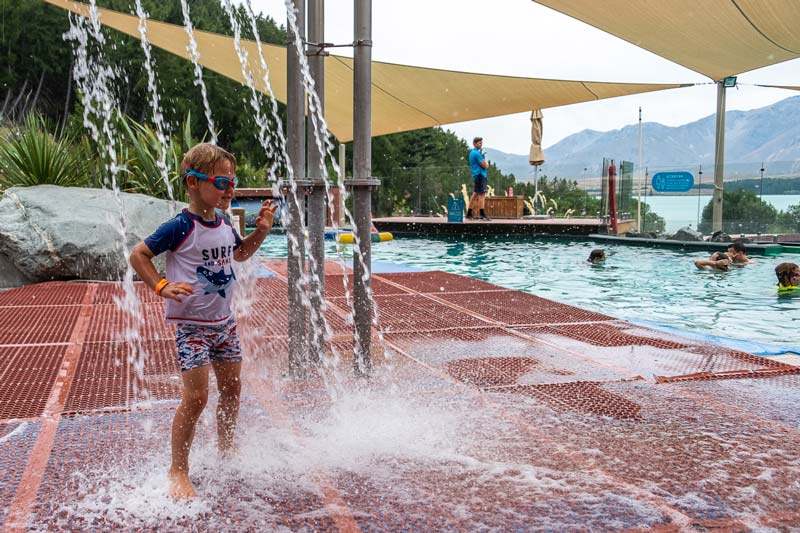 The Aqua Play Area was great for the kids, and it housed some inflatables, floating balls, water jets, showers and fountains.  It is still a warm 32C, but coming from the much warmer pools, this did feel a bit cold. The kids spent a short amount of time here and then opted to jump back into the main pools.  My advice, if you think the kids would like to play here, would be to do this first, as after running cold from the changing rooms, this will feel lovely and warm. Kids under 8 years old must be actively supervised in any New Zealand public pool, so this does mean an adult will have to join them in this cooler pool.
If you are wondering what to do in Tekapo that is fun for everyone, then you can't go past the Hot Springs at Lake Tekapo.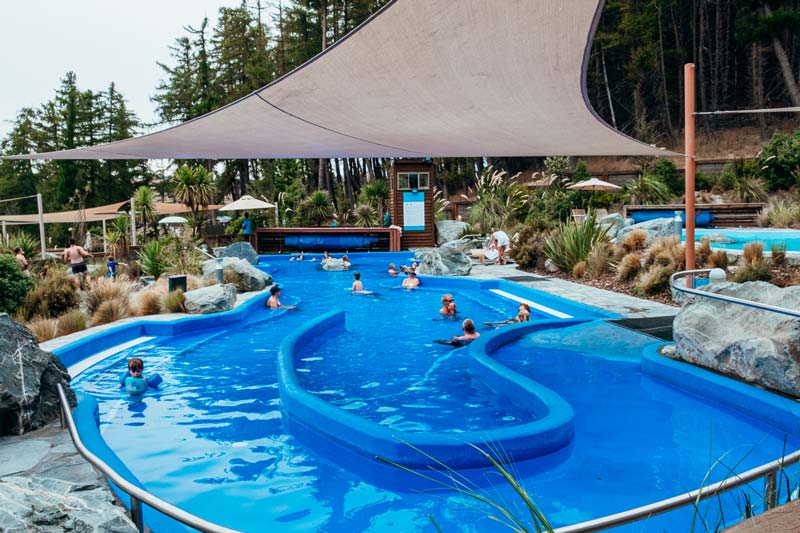 Mt John Summit Walk
The large hill overlooking Lake Tekapo is called Mt John, and at the very top, it houses the University of Canterbury Mount John Observatory.  You can drive up to Mt John Observatory, but do note there is a fee to drive to the top of $8 (June 2019) to help preserve the road. The views up the top are incredible, and there is also a well reputed cafe.  If you don't want to walk up the track from the Lake to the top of Mt John, I would recommend driving up as the views are stunning.
One of the most stunning Lake Tekapo walks, this hike will take about an hour and a half return.  It is an uphill climb that starts through the forest, then opens out so you can see over the plains and eventually Lake Tekapo at the top.
Start this walk at the lakeside, next to Tekapo Springs
For more information on this Lake Tekapo walk, click here.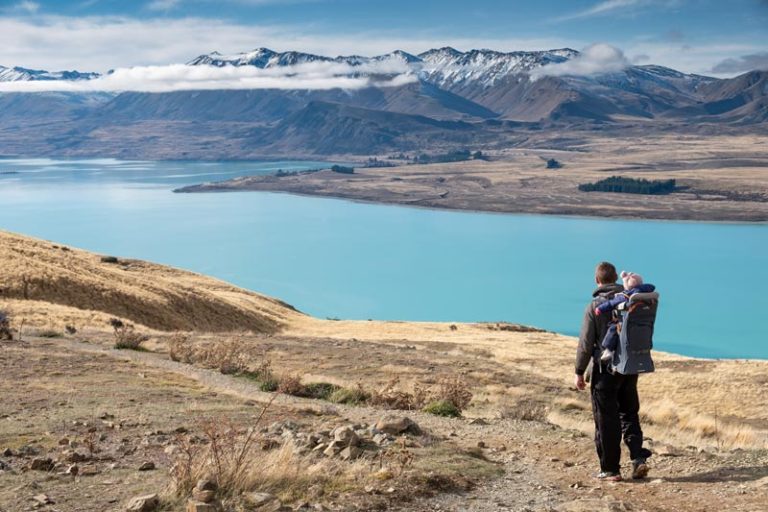 Visit the Church of the Good Shepherd
If you have googled or searched Instagram for Tekapo, you will surely have come across thousands of photos of the Church of the Good Shepherd. (It's one of the most popular things to see in Tekapo) This historic stone church is small, quaint and just beautiful and has the most amazing view. It is a beautiful place for contemplation and prayer, but pop your cameras away, as photographs are not allowed inside the church.
The kids thought this short stop was a great reprieve from the wind and happily listened to the music inside for a few moments of peace before tearing away to play with stones on the Tekapo lakeside.
Be aware that tourist buses do stop here in droves… but if you are staying in the Tekapo area overnight, you are lucky you can sneak down for an early morning visit like I did and have the Church all to yourself.  Sunrise in Tekapo in June was around 8am, which is a leisurely hour with kids, so if you would like photos of this iconic church without hundreds of people in the photo, I would suggest heading down then. (Note the church won't be open this early but you can walk around the grounds and area)
Bronze Sheepdog Statue
To the right of the Church of the Good Shepherd, you will find the bronze sheepdog statue,  another icon of the Mackenzie Region. It is a tribute to all the hardy dogs who have been working the mountain country.  While only a short stop to say hello, you can tick off this as one of your must see attractions in Tekapo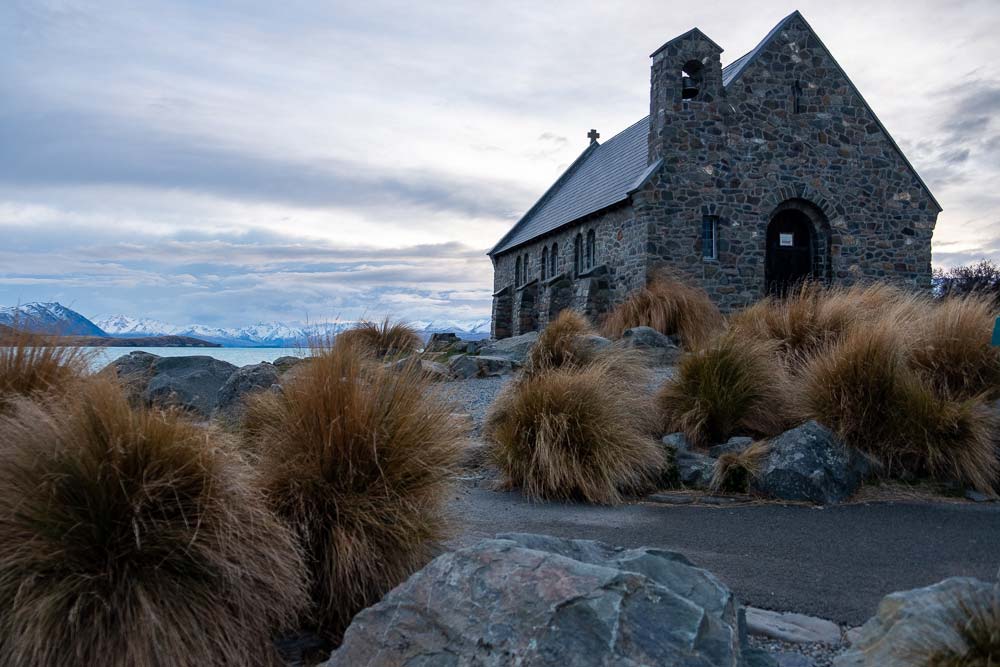 Lake Tekapo Stargazing
If you want to have access to the Tekapo Springs Hot Pools after dark, you can join a Lake Tekapo Stargazing tour, which takes you to the Mt John Observatory to learn about stargazing and use their amazing telescopes to explore the night sky. Your tour will end back at the Tekapo Springs hot pools where you can relax in the warmth and continue your celestial experience.
How to get find the best deals for Tekapo Springs and save money
Book Tekapo Springs combo deals.  Its much cheaper to book your ice skating, tubing and hot pools as a combo ticket, than separately.  You can choose any combination of activities, and there are family deals available too.

Use

bookme.co.nz

to book a time to use the hot pools, or do a stargazing tour, in advance.  These are timed entries, and usually the earliest in the morning and latest at night slots seem to be the cheapest.  We saved 50% on hot pool tickets.

For more information on how to save money on your holiday to Tekapo, click

here
Dark Sky Project Observatory Tours
Tekapo is an incredible place to view the stars, as the Mackenzie Region is an international dark sky reserve.  It is one of only 8 places in the world to be classed as a dark sky reserve and has a restriction on light pollution.  This means its incredibly dark at night, so its very easy to see the stars.
There are a range of tours available where you get to view the stars, constellations and planets through a huge telescope, explore the observatory and even get an astrophotographer take your photo to remember the experience.  Dress up warm as its freezing even on summer evenings, although a hot drink and warm jackets are provided.  Click here for the latest prices
They also have the Dark Sky Experience which is the daytime experience inside the main building on the waterfront.  This is great for families as it is available all day and the kids don't have to be out late at night. The tours leave hourly and they are a multimedia experience for all ages.  Click here for prices on this daytime experience
Roundhill Ski Area
Roundhill Ski Area is a truly picturesque skifield and usually opens late June/Early July.  The amazing snowy views over the Southern Alps and Lake Tekapo from Roundhill Skifield have to be seen to be believed.  As in, don't look at the view too much and ski off the mountain amazing.
We visited Roundhill Skifield and it had a relaxed vibe and was far less busy that the likes of Mt Hutt or your Queenstown Skifields (the Remarkable, Coronet Peak and Cardona).  There is no magic carpet for the younger kids, just a rope pull in the beginner area. Our three year old struggled a bit with the rope tow, but older kids should be okay with this.
A couple of things to note is that you cannot hire chains if required at the base of Roundhill Skifield.  You can purchase some from the Challenge Service Station in Tekapo itself. If you are looking for other winter and ski equipment, you will find Fairlie a much better service town.  Fairlie is located about 35 minutes north of Tekapo, towards Christchurch. 
Visit Lake Alexandrina
Lake Alexandrina is a beautiful hidden gem, hiding in the shadow of Mount John.  It is peaceful and quiet and free from tour buses racing to see the top sights with hundred of tourists on board.  If you're looking for a great relaxing picnic spot that you can perhaps have to yourself will basking in the winter sun, pop down to Lake Alexandrina.
To get there, drive down Godley Peaks Road, past Mt John Observatory and it will be signposted on your left.  It will take about 10 minutes from Tekapo itself.
Mountain Bike the Alps 2 Ocean Cycle Trail
The official Alps 2 Ocean Cycle Trail runs from Mt Cook (in the Alps) to Oamaru (to the Ocean), but there is an alternate route that starts this cycle at Tekapo.  I imagine it is because so many visitors stay in Tekapo and its such a beautiful ride.
The Alps 2 Ocean Cycle Trail is a multi day ride, but you also ride sections of the trail.  There are many bike hire operators who will drop you off and/or pick you up and drop you back at your accommodation.  Or you could start the whole track at Tekapo and end up in Oamaru.
The alternate route from Tekapo to Twizel is a 54km leg, or you can be transported to any section to complete a much shorter route (great for the more recreational riders).  Cycling is something that we enjoy as a family, so if you have kids there are many options for taking them along with you.
You can hire tow alongs or kids bike seats for those who are too young to ride long distances.  Get in touch with one of the many family businesses who will sort out of the best option for your family.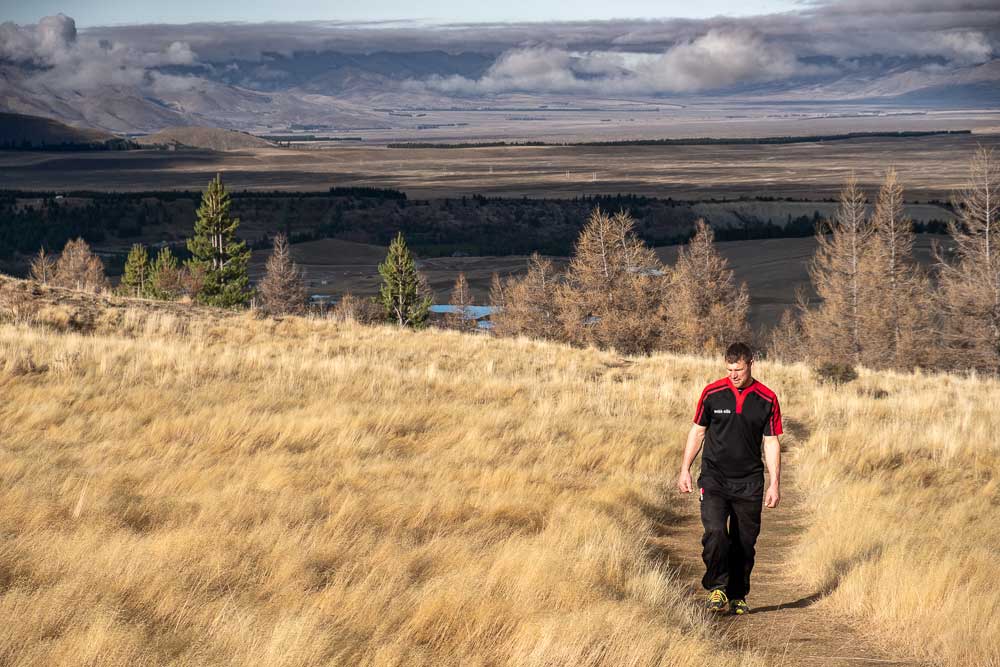 Cowans Hill Walkway/Cycle Track
Cowans Hill Walkway is another good short walk in Tekapo, if you are wanting some exercise and nice views.  It is not quite as spectacular as the Mt John Summit Walk, however any view of Lake Tekapo makes me pretty happy.
The walk will take about 1-2 hours return and includes a passage through the bush and an exposed section on a 4wd style track.
This track is also a mountain biking track, an easy grade two track.  You do need to be careful as this track is popular with walkers.
Photograph the Lupins, Lake Tekapo
If you're not sure what we are talking about already, go on Instagram searching "lupins Lake Tekapo" and you will be flooded with beautiful pink and purple images, mostly of pretty girls in pretty dresses frolicking in these beautiful lupin flowers.
I apologise if I burst your bubble, but these flowers are actually weeds.  However, they do make for a good photo. If you are looking for a memorable photo such as a family photograph or cute couples photo, then head to Lake Tekapo in the summer.  The best time to photograph the lupins in Tekapo is from November-January.
You will find the Lake Tekapo lupins close to shore, but do go exploring to get a place just to yourself.
Kayak and Paddleboard Lake Tekapo
With Lake Tekapo being that incredible glacial blue colour, I have no doubt you will want to get on the water.  While it is freezing cold, (yes, even in summer. Some call it refreshing) paddleboarding and kayaking on Lake Tekapo is a great option.
Paddle Wanaka operate at the lakefront in front of the campground.  EFTPOS is available and they even have wetsuits available. 
Tekapo Jet
Tekapo has quite a chilled and relaxed vibe to it, but if you are wanting to mix this up, then get your adrenaline going with the Tekapo Jet.  This jet boat ride will take you across the beautiful Lake Tekapo and will not only exhilirate you with the spins and turns, but your driver will provide a great commentary about the area and take you to awesome photo spots
Under 5s are free on the jet boat and they provide jackets to keep you dry and lifejackets.  The tour will take about an hour including transport to the Tekapo jet boat.
Horseback Riding in Tekapo
I can't think of a more unique way to see the epic views than by horse trekking in Tekapo.  With tours ranging from 30 mins for a taster session for beginners, to a half day adventure, there are options for kids and those with experience.   Go explore with local horseback riders with Mackenzie Alpine Horse Trekking.
Other things to do near Lake Tekapo
There are some beautiful spots in the Mackenzie Region so here are some of our favourite things to do around Lake Tekapo.
Tasman Glacier Viewpoint and Tasman Glacier Lake

Tracks (you can complete both in under two hours return) Its about a 75 minute drive from Mt Cook to Tekapo For more information on the best short walks in the Mt Cook National Park with kids, click here

Hooker Valley Track:

3 hour return flat walk to the Hooker Lake. I'd have to say this is one of my favourite hikes near Lake Tekapo, actually the South Island. Swingbridges, majestic mountains and lake and river views galore.

Kea Point Track:  A 1 hour return easy track, off road stroller accessible, to a great viewpoint over Mueller Lake and Mt Cook
A list of all the Mt Cook walks here
Drive to Mt Cook:

I know this sounds a little silly, as its just a drive, but driving around Lake Pukaki and seeing Mt Cook for the first time is just breathtaking and so memorable.  I will never forget my first time road tripping here. So even if its just for a half day trip and you don't want to hike/walk, you won't regret it.  Make sure you stop at Peters Lookout, a popular photo stop on the scenic route.
If you have any more Lake Tekapo things to do on your list, that we have missed out, come over and chat to us on Instagram or Facebook and we can add them to our Tekapo Must Do list.
Lake Tekapo New Zealand Itinerary with Kids
Friday Afternoon
Arrive in Tekapo and visit Lake Alexandrina (or find lupins in the summer evenings)

Settle into accommodation, Tekapo

Stroll along the waterfront at sunset and find places to eat in Tekapo township
Saturday
Morning Snow Tubing at Tekapo Springs or Waterslide (Aquadrop) or Inflatables in the Summer.

Lunch back at your accommodation in Tekapo (great if kids need a nap)

Afternoon Hot Pools at Tekapo Springs or a bike ride if weather permits
Sunday Morning
Visit the Church of the Good Shepherd and Bronze Sheepdog Memorial

Walk up Mt John Summit Track to see the beautiful views

Late Lunch in Tekapo with supplies from the 4 Square Supermarket on the lake.

Picnic at the Lakeside Playground (Picnic Tables here)

Drive Back Home