Planning a trip to New Zealand: A Guide for First Timers to New Zealand
How to plan a trip to New Zealand
New Zealand is far from practically every country in the world, besides Australia so we know that you are making a huge effort to get here and the planning process can be long.  We know that you want to have a perfect New Zealand holiday, so here are some tips to help you with your planning.
I'm so excited you are looking into planning a trip to New Zealand!! Congratulations!
Before you arrive in New Zealand
Arriving in New Zealand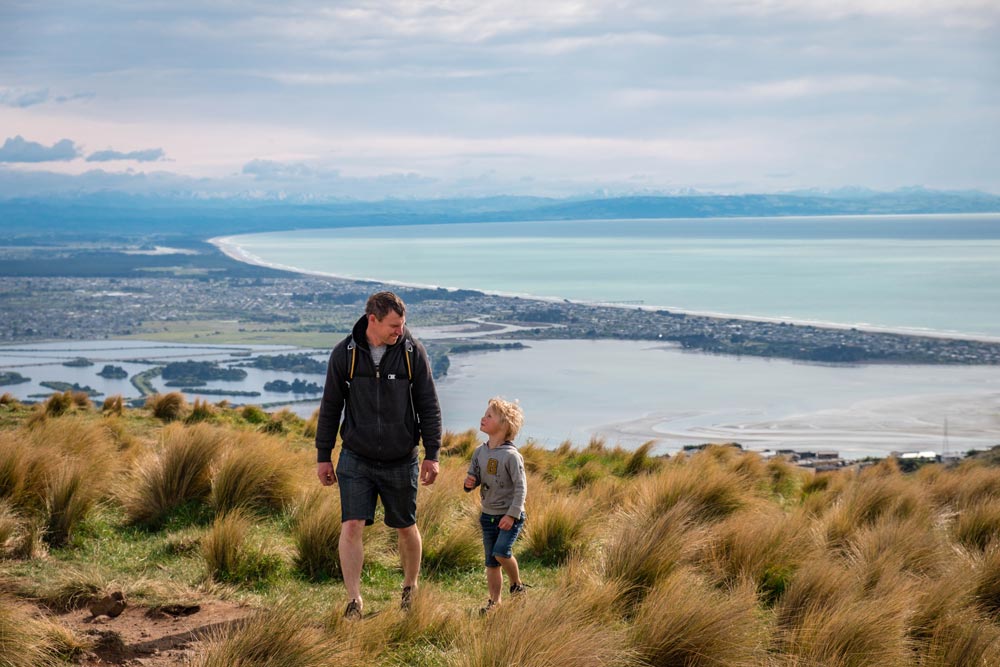 Visas and Entry to New Zealand
The best place to find out about visa requirements and entry to New Zealand is at Immigation New Zealand.  But here is some basic information to get you started.  Then go and check all the fine print to make sure you have all your ducks in a row.
Basic visitor information
Visitors will need a visitor visa unless you are from a Visa Waiver country such as the USA, UK and these

visa waiver countries

Visitors can stay for up to 9 months depending on intended plans.  You may have to show your ticket to leave New Zealand as well.

ALL visitors must have a NZeTA (New Zealand electronic travel authority) As at 2022, this costs $9 via the free app or $12 if completed online.  At the same time you pay for this, you pay for IVL (International visitor levy) which is $35 (2022)  You don't need to pay a third party to apply for you.  Do it directly in the app.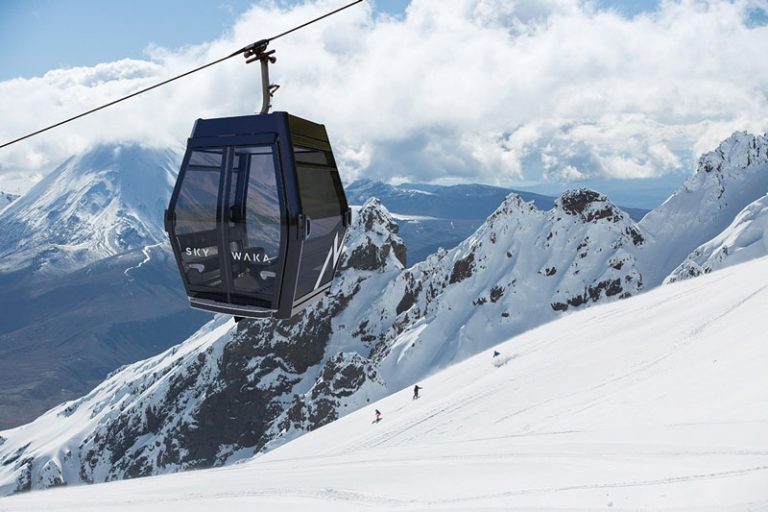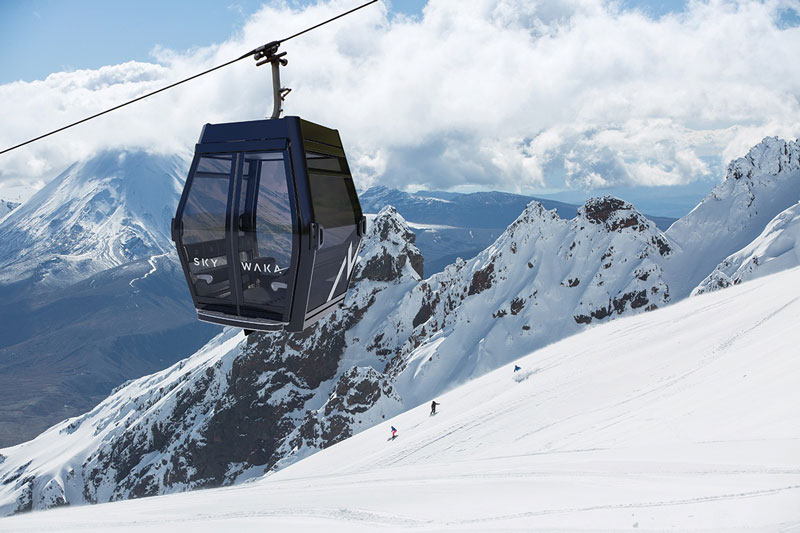 Buying Flights to New Zealand
Unless you are travelling from a closer country such as Australia, it's likely that you will book a flight into Auckland International Airport.  This is the largest airport in New Zealand.
The other main international airports are: Wellington (capital city), Christchurch and Queenstown.  If you are only in New Zealand for a short time, it may be worth booking a flight into the South Island and out of Auckland to save time (you don't want to spend 3 or 4 extra days driving your vehicle all the way back to Auckland just to fly out)
The main airport carriers in New Zealand are Air New Zealand (a Star Alliance partner) and Jet Star (a subsidiary of Qantas)
Tips for buying flights
Peak time to fly into New Zealand is December and January due to Christmas and school holidays.  Book these dates well in advance if you wish to visit in this period.

Grabaseat will often have great domestic as well as international deals on Air New Zealand flights
When to travel in New Zealand
Summer (December – February)  The warmest weather, the best time to visit the beaches, but often the most expensive time to travel as its peak season
Autumn (March – May) A great shoulder season and perhaps the most settled weather of the year.  March and April you can certainly swim in the Northern beaches still.  Beautiful autumn colours in some areas such as Otago
Winter (June – August)  Off peak season, great for skiing at Ruapehu in the North and the many skifields in the South Island
Spring (September – November)  The most varied weather across the country.  In the South I often have photos of crazy random beach days and skiing, both in the same month of October.  Could be hot or cold, prepare for all of it.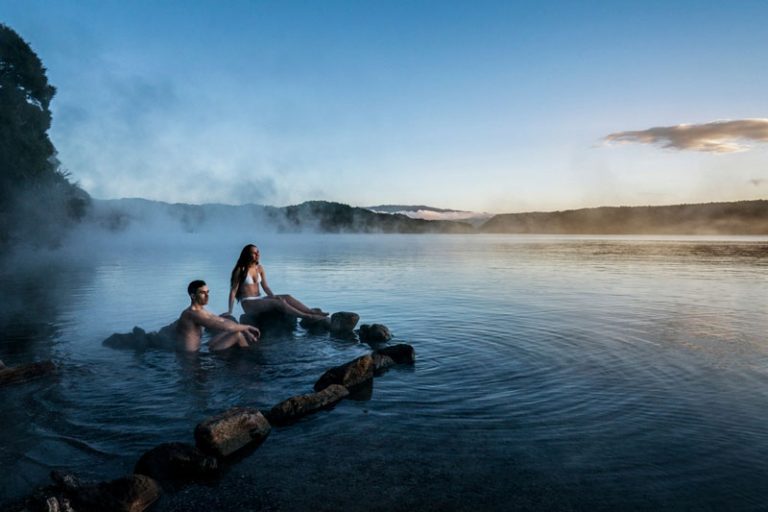 Public and School Holidays in New Zealand
The busiest time to travel in New Zealand is between Mid December and the end of January.  This is not only the Christmas holidays, but the primary school holidays.  Families tend to take their summer break here and popular camping spots, accommodation and hotels will book up fast here.  
January 1: New Years Day
January 2: Public Holiday
February 6: Waitangi Day
March/April: Easter Friday, Easter Sunday and schools get Easter Tuesday
April: 2 weeks of school holidays for primary and high school students
April 25: Anzac Day
1st Monday in June: Queens Birthday
June/July: Matariki, one day off, changes each year with the moon
July: 2 weeks of school holidays in July
October: 3rd Monday is Labour Day
October: 2 weeks of School Holidays 
December: Primary School holidays start approx 15 December (every school finishes on their own time)
December 25: Christmas Day
December 26: Boxing Day
Yearly School Holiday Dates can be found here.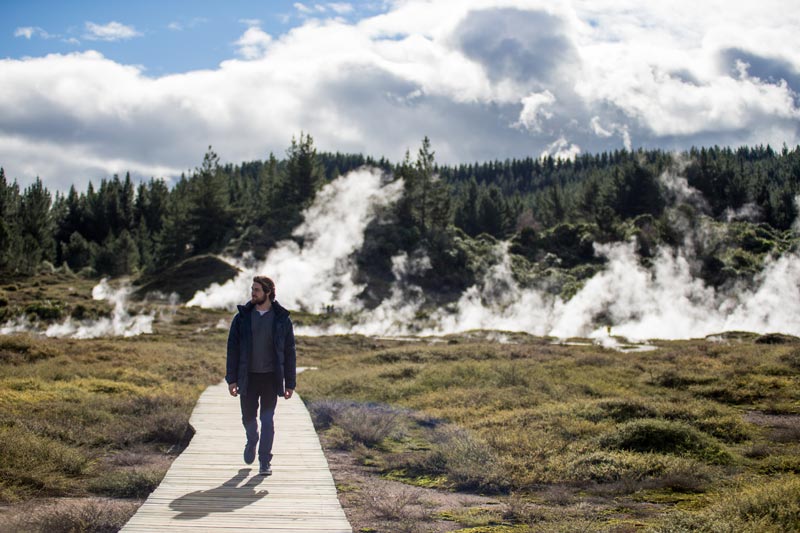 Arriving at Customs in New Zealand
Customs in New Zealand is strict.  Being an island nation, we have introduced very few "nasties" into the country.  If you are unsure whether you can bring something in at customs, then do ask, or declare it.  They won't hesitate to fine you, even if it's an apple from a transit airport.
There are a ton of things you must declare, but for parents, the main things to check for are
Any type of food in your bag.  An old banana from a lunchbox, spare food from your trip, you cannot bring fresh food into the country.  Bin it, or leave it on the plane.  If you have packaged chocolates etc, just declare it on the form and they will usually wave you through. 

Dirty shoes: You will need to wash and meticulously clean any dirt, grass etc from shoes, or be prepared for them to sanitise and soak your shoes.

Any camping or hiking gear:  Needs to be super clean so no bugs or strange dirts make it here

Any foreign wooden products: ie. souvenirs from Thailand etc will need to be inspected.  I was able to bring things in, but they had to be checked first.
No matter whether you say you have something to declare or not, you will have to go through scanners or have your bags checked.  To be honest, it can be faster sometimes to declare the shoes from the outdoor walk you did, so you can double check you didn't do something wrong, than to be scrutinised through the 'nothing to declare" aisle.
Be warned, don't try and cheat the system here.  Also, look after our great little country and keep it safe from foreign diseases and animals.
For a full list of what you can and cannot bring into the country, click here
Cash and Money in New Zealand
The majority of places you will visit in New Zealand will accept an EFTPOS card (normal bank card) but you may encounter a few who do not take credit cards.  These are often your local takeaway stores or small businesses.  Take cash for local markets and roadside stalls, but the majority of places having a valid bank card will be fine.
A few things to note:
Some places won't accept American Express.  But Visa and Mastercard are universal.

After a move to more online banking, some towns don't even have a bank anymore, and some only open a few days per week.  If you wish to use cash, it's advisable to get this sorted in a large city so you don't get stuck.

Our currency is the New Zealand Dollar.  Our coins are 10c, 20c, 50c, $1 and $2. Our notes are $5, $10, $20, $50, $100

Paywave (when your chip taps the payment screen) is only available in some stores.  Often small businesses will add a further charge (1-3%)  Large companies such as supermarkets do not.
Internet and Mobile Phones in New Zealand
New Zealand has 3G in most places, 4G in major cities and in rural areas, it is patchy.  If you are heading to rural areas or far from city centres and relying on google maps, make sure you put direction in, in advance.  There are plenty of places in New Zealand without decent coverage but in cities and towns you should have no trouble.
You can pick up local sim cards from the airport or main cell phone carriers.  Vodafone and Spark are the most common, with other options being the Skinny mobile network.
If you are looking for Free WIFI, most libraries around the country will provide this and so do some stores such as the Warehouse, McDonalds or New World supermarkets.  Hostels will often provide free wifi but many hotels will charge for access to the internet and it can be extremely expensive.  Don't assume it will be included in your accommodation.
Top tip:  Buy a Vodafone simcard in advance and have it waiting for you at the airport to collect.  To find out more about this awesome service click here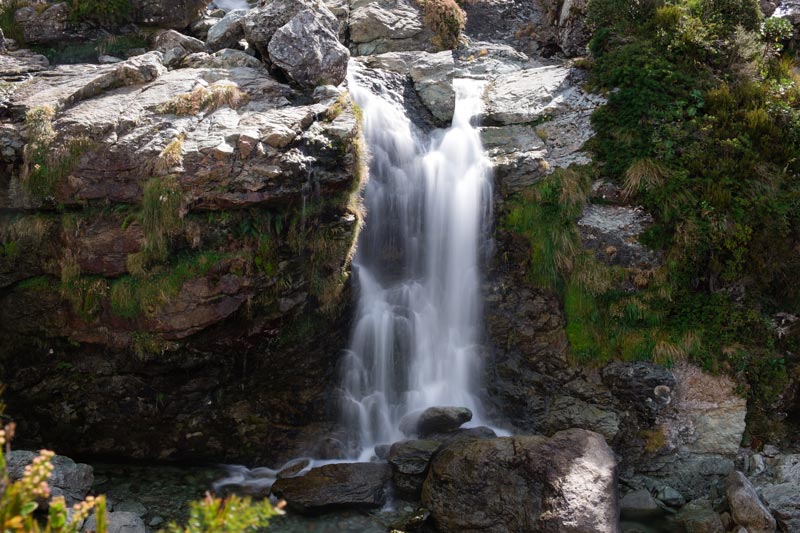 How to get around New Zealand
The best way to get around New Zealand is by driving.  There are so many incredible locations and landscapes that can only be easily accessed by vehicle.  If you are coming from a major international city, I imagine your thoughts will be that our public transport is dire, but we just don't have the population.  You will find that any major city has decent access for example Wellington by bus and train is great, but beyond that, public transport is extremely limited.
Car vs Camper
Most people choose to hire a car or a campervan.  If you want to do a road trip where you just see where the wind blows you and have an option to freedom camp, then a campervan is a great choice.  It's worth noting that this often isn't the most economical choice for a family (in peak season specifically) but it will certainly be a ton of fun.

A few things to note about Campervanning in New Zealand
Campervan rates are often largely discounted during the winter months.

You must have a certified self contained campervan to stay at freedom camping sites

Some towns have "no freedom camping" zones so don't expect to be able to stay for free the whole way around the country

You will need to budget for staying at powered sites if you want to use motorhome features like your oven or microwave and it's good to connect up every few days to fully recharge your system
Read More: Guide to choosing a family campervan in New Zealand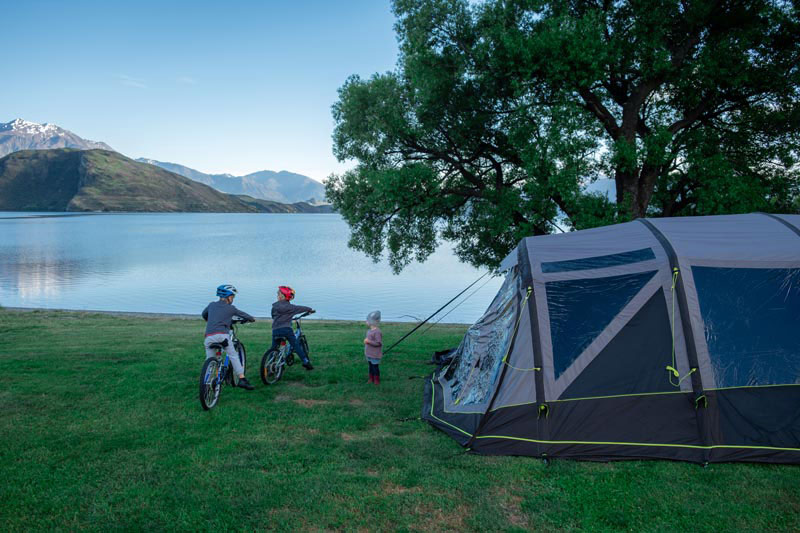 Cheapest Way to Get Around New Zealand
The most budget friendly way for a family to travel around New Zealand is to hire a car and choose cheap accommodation along the way.  Or cheaper still, if you're staying for a while, buy a tent and camping gear and camp at cheap DOC campsites.
Read More: Tips for camping with kids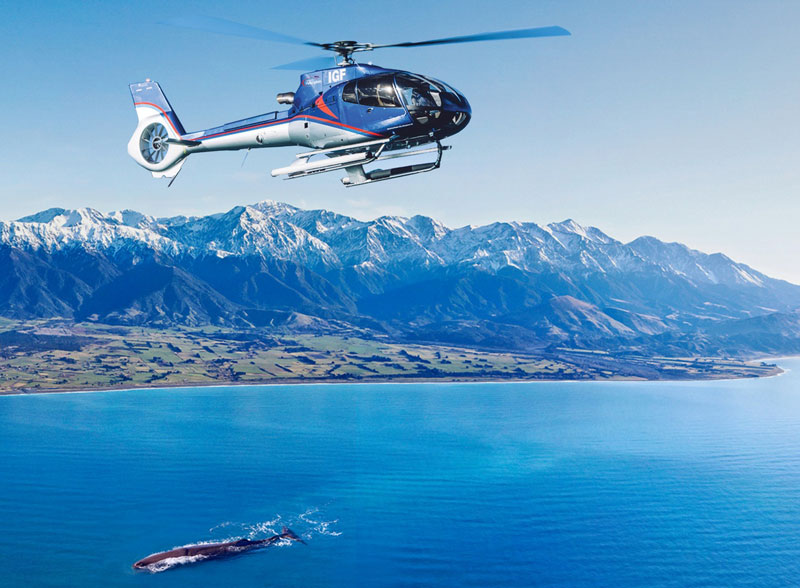 Driving in New Zealand
It's worth noting that New Zealand roads may be a bit different to what you have experienced at home.  We do not have many large multi lane highways and most are single carriageways (one lane each way)
With many coastal and rural roads, the roads can be windy.  But the nice thing is most road trips are extremely picturesque which makes a nice change from the boring highways of England and the USA.

Here are a few tips for driving in New Zealand
We drive on the left hand side of the road

It's advised to spend a night and get a good sleep after your flight before a decent drive.  Getting used to our left hand side driving and different roads takes good concentration to get used to

In general, we drive at 50km/h through towns and populated areas and up to 100km/h on open roads / highways, and 20km/h past school buses.

When the temperature drops, it's not uncommon for there to be black ice and it often snows on alpine passes.  Please be aware of the weather and road closures by checking NZTA or the AA online

Always have plenty of fuel as there are some instances where fuel stations are few and far between.  Windy, hilly roads most certainly use more fuel and we have plenty of that in New Zealand

If you have a campervan or are taking extra care when driving, please pull over if there is traffic behind you as there are often not a lot of passing lanes

Please pull over safely if you are stopping for a scenic photo.  There have been many cases of campervans parked practically on the road, or on dangerous corners.  So please stay safe out there.
For more road rules and tips we have a section about driving in New Zealand in this article here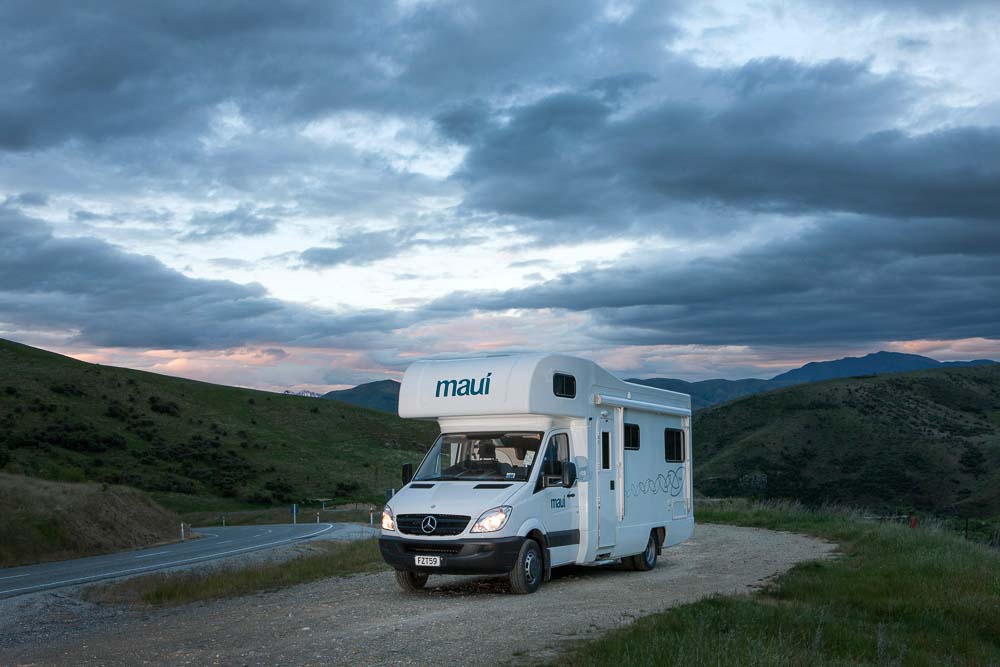 Accommodation in New Zealand
New Zealand has a range of great accommodation like most places in the world.  The only class we don't really have is resort style accommodation.  If you're looking for meals included, or kids clubs then we aren't the right option for that.
From cheapest to most expensive, here is a list of family accommodation we recommend in each class
Freedom Camping in New Zealand  
The shores of Lake Pukaki with views over Mt Cook are one of the best.  Suitable for self contained campervans for free.  To find more about the rules of freedom camping, click here
DOC Campsites:
Department of Conservation campsites are basic campsites,with toilets and fresh water, but no hot water or showers.  Often in the back country or picturesque locations.  Suitable for tent camping, contained and non-self contained campervans. Budget from $10-$25 per adult on average.
A few of our favourites
White Horse Hill Campsite, Mt Cook: Beneath the mountains, so pretty

Totaranui Campsite, Abel Tasman National Park: Golden sand, right on the beach, busy over summer

Maitai Bay, Northland: Beautiful sweeping bay, nice and safe for kids (pictured below)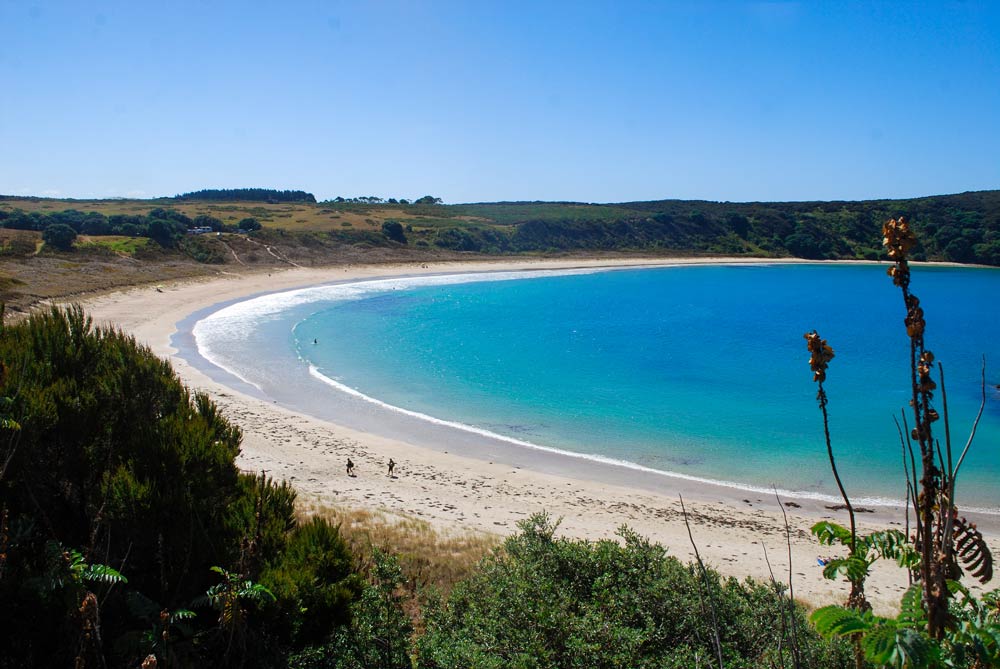 Paid Campsites including cheap cabin accommodation
Campsites with power and all the facilities you need such as showers, camp kitchen, campervan dump site, indoor lounge spaces and often a kids play area.  One of the most popular brands are the Top 10 Holiday Parks
Campsite prices generally range from $20-$30 per adult, kids under 4 or 5 are often free, and kids are around $10-$15 per night. (general range)
We love:
Hokitika Holiday Park: Huge flying fox playground and free go karts, this place is a hit for the kids. We've stayed in their cheap cabins which included a fridge and plates/cutlery and it was great.  Kids under 6 also stay free here.  To find out more click here: Hokitika Holiday Park
Te Anau Kiwi Holiday Park and Marakura Motels:  Closest campsite to the lake, but they also have deluxe motels, including a two bedroom unit we stayed in with 3 single beds, which was ideal for our family of 5.
Driftaway Queenstown:  A brand new campsite (2022) with the most beautiful kitchen space, a indoor games room with activities for kids and an outdoor jumping pillow.  This Queenstown campsite is right on the lake and only 10 minutes drive from Queenstown centre.  Click here for the latest prices
Glendhu Bay, Wanaka:  The only lakefront campsite in Wanaka, you can't beat its location.  Updated shower and kitchen facilities make this spot a breeze.  They book out over summer, so book in advance
New Zealand Hostels with family rooms
Hostels can be a good budget option for families.  An added bonus is that they have kitchens to help save money on eating out.  Hostels range from $25-$40 per person
Jucy Snooze, Queenstown: We loved the pod style accommodation where the kids would shut themselves away at night.  Right in the city centre, everywhere was walking distance.  Check out some photos of their super unique pods here
Motels in New Zealand
Motels in New Zealand are great for families as they have parking available, often have a separate bedroom as well as kitchenettes. A decent motel room is likely to be in the range of $150-$350 per night, depending on the number of people in your family
Here are some great motels:
Bella Vista, Fox Glacier:  Right in the centre of tiny Fox Glacier township is the Bella Vista motel.  The one bedroom units are perfect for families with a twin room for kids and main bed in the lounge room.  Kitchenette facilities were the perfect space for cooking the kids favourite pasta and having an easy meal in.  Well located to the beautiful Lake Matheson
Kings on Peace Motel, Rotorua: (pictured below) An excellent 5 star motel property with free bikes, wifi and EV charging. These super modern units have full ovens and fridges and even pod coffee. A beautiful stay, check out the latest prices here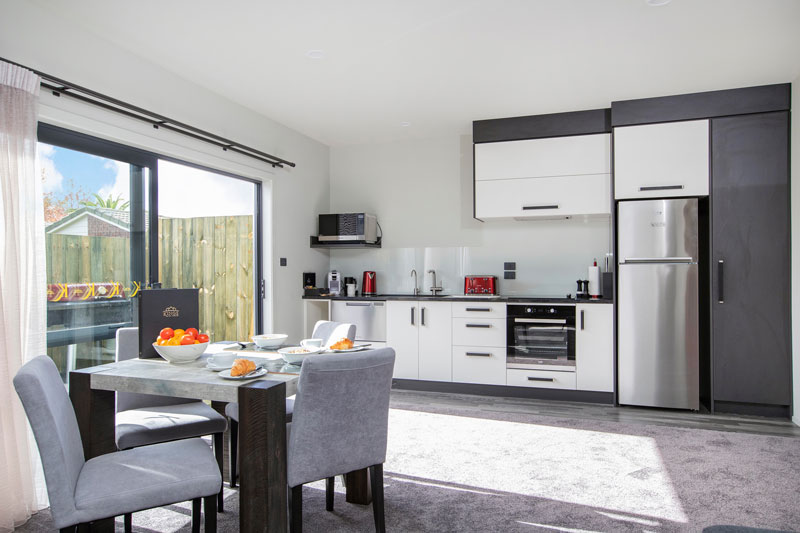 Hotels in New Zealand
Hotels are more common in the major city centres than elsewhere throughout the country.  Hotel prices for families range between $250-$450 a night depending on location and star rating.
A few of our favourite hotels
Heritage Christchurch: Families will love the loft style apartments with full kitchens and large lounge area right in the central city.  I love old style heritage building and this one is so pretty.  Click here to for the best deals
Distinction Christchurch: Right in Cathedral Square, this very modern and new hotel provides excellent one bedroom suites with huge bathtubs for relaxing.  I loved the twin beds in a separate room, leaving the large main room with the tv for the adults.  Click here for the latest prices
The Rees Hotel and Apartments Queenstown: Excellent restaurant onsite, great lake views, beautiful two bedroom and three bedroom apartments and they can organise in room movie nights and even a babysitter.
City Life Auckland: Another heritage style property with apartment style living.  They provided us with a portacot and highchair and we loved the full kitchen facilities and lounge space right in the city.  Right in the Auckland CBD, with an easy walk to the waterfront and shopping areas.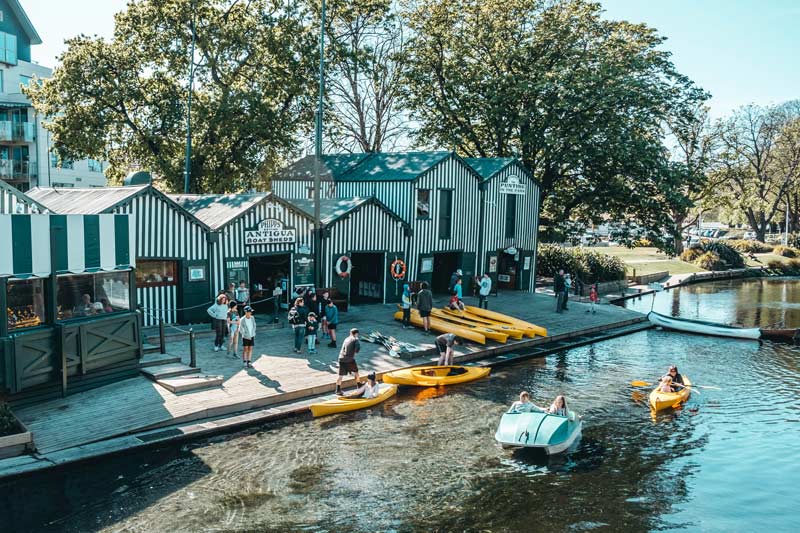 Luxury Accommodation in New Zealand
Millbrook Resort, Arrowtown:  This golf resort has luxury villas from just one bedroom to four bedroom resort homes.  It has a pool and fitness centre onsite as well as a restaurant.  Such a beautiful location and we loved strolling the grounds and using the outdoor play area.
Matakauri Lodge, Queenstown:  From suites to the owners cottage sleeping 8 people, this blissful location is relaxation defined.  With an onsite spa treatments available and full meals provided if you wish, its the perfect place to relax.  Click here to see the amazing views from this property
Kauri Cliffs, Northland:  The beautiful Bay of Islands is a great place to explore and after a day at the beaches, relax at Kauri Cliffs.  Kids will love the onsite pool, 3 private beaches and separate bedrooms of the family suites and owners cottage. Relax at the golf course, spa or you might never want to leave your room.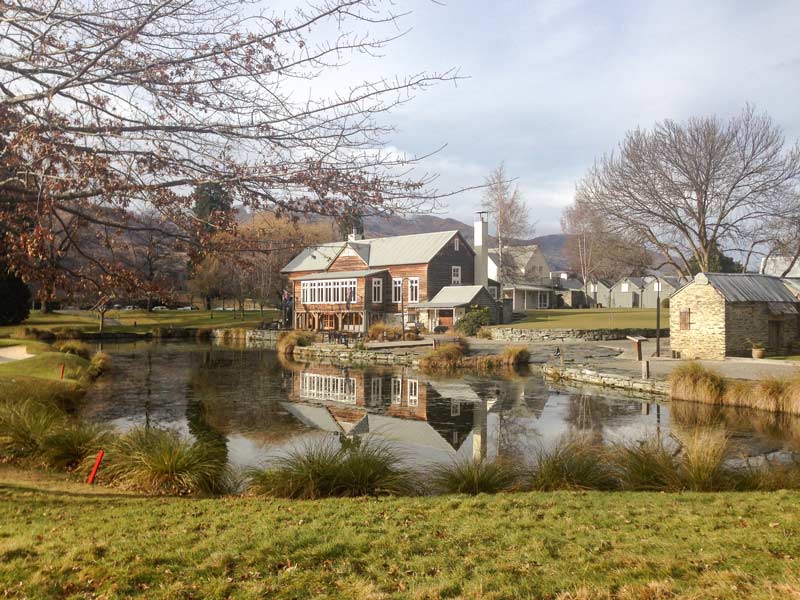 Basic New Zealand Geography
New Zealand Trip Planning 101: Learn the layout of the land.
New Zealand is made up of three main islands.  The North Island, known for its awesome beaches and major cities, the South Island, home to the Southern Alps and dramatic landscapes and Stewart Island, a remote island which has the best chance of seeing our native kiwi bird.
If you are flying in from overseas, it's likely you will land at Auckland International Airport (North Island). The other major international airports are Wellington (North Island), Christchurch and Queenstown (South Island)
It's worth noting that if you are driving between the North and South Island, you must book a car ferry (its a 3.5 hour trip).  As of late, these ferries have been quite full, so I recommend booking these in advance.  Read more: Tips for booking the Cook Strait Ferry
North Island:  Tons of beaches, lakes, volcanoes, cultural activities, art, cities, bigger population, warmer climate, adventure activities
South Island: Mountains, dramatic scenery, glaciers, wildlife, lakes, adventure activities
A few tips to ensure you have the best trip to New Zealand
Taxes are included

in all prices.  So there is no sales tax or VAT added.  GST is included in all listed prices (goods and services tax)
You

don't have to tip

for service in New Zealand like in the USA.  Meals include service and servers are paid a fair wage.  You will often see a tip jar if you would like to tip for exceptional service and this is usually shared equally amongst all servers.
Most businesses are open from 9-5pm, supermarkets in major towns will close at 9 or 10pm, but in smaller towns it could be as early as 7 or 8pm.  Local businesses are often closed on Saturday afternoons and Sundays whereas chain stores will usually be open then
Sunburn is a real danger in New Zealand due to a

huge hole in the ozone layer.

  In summer burn time can be 10 minutes, so really apply sunscreen regularly.  This is not the European summer holiday where you will get a nice tan and go brown.  New Zealand is more a burn and peel type of summer spot so be warned.
Sandflies are common

, especially in nice warm wet spots such as the West Coast of the South Island and Milford Sound.  Bring insect repellent if you are going to be hanging outside.  They will eat you alive (they aren't dangerous, just annoying and itchy)
You need to bring your own bags to the supermarket or buy some when you are there.  Supermarkets are not allowed to supply plastic bags anymore for carrying your groceries
Remember the "

leave no trace"

principle.  We want New Zealand to be clean and beautiful, so always pack out your rubbish, watch where you step in nature and leave it in a better state that you found it.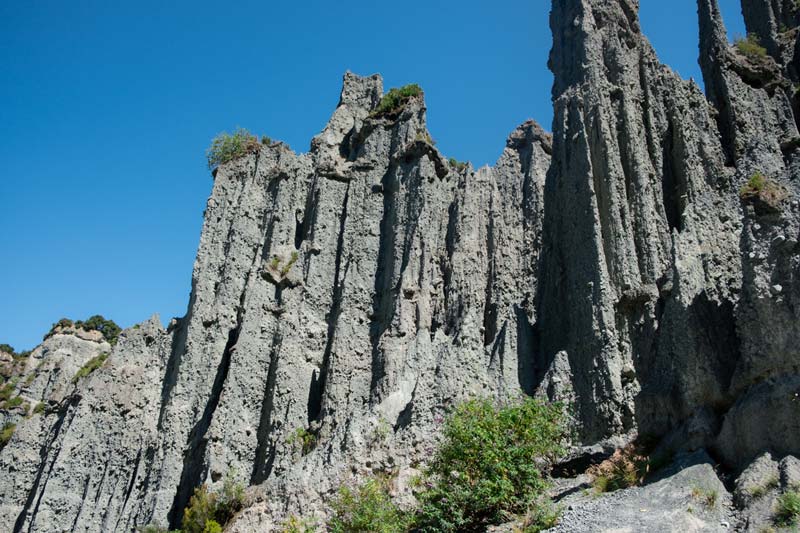 What now?
We hope you have enjoyed our New Zealand Trip Planning Guide. Here are some more resources that may be useful to start planning your New Zealand trip