Guide to Planning your Family Campervan Holiday in New Zealand
Everything you need to know about planning a Family Campervan Holiday in New Zealand
(Updated April 2022)
It's everyone family's dream to hire a campervan and travel around New Zealand, going where the wind takes you.  Stumbling across hidden gems, waking to sunrise over an idyllic beach. I hear you, but what do you need to know about family campervan holidays in New Zealand?
It can be quite a daunting process, planning a New Zealand family vacation, especially if you're going to an overseas country and have no idea what to expect?  So here is a list of the first things to work out before you book that motorhome, RV, campervan, camper or mobile home, whatever you want to call it! (These words will be used interchangably throughout the article)
Please note this article may use affiliate links.  These will not cost you any extra, but do help us cover the costs of running this website.  For more on how we use affiliates and our privacy policy click here
This Family Guide to Campervanning in New Zealand with kids includes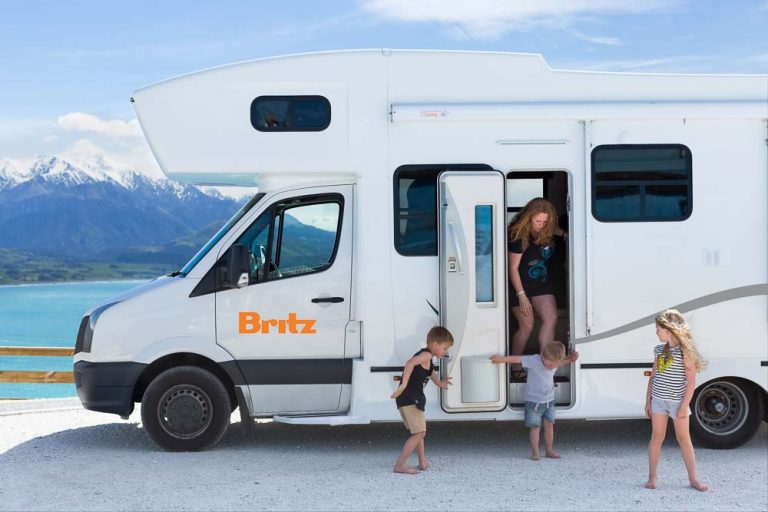 Pros and Cons of a Campervan Vacation with kids
Pros
Easy sleep routines:

If the kids need a nap, you can just pull over while they sleep and relax.  No more rushing to the hotel or planning your trip around day sleeps.

Restaurant on wheels:

  Okay, so its you who is the chef, but having an onboard kitchen and access to a fridge and freezer means you can eat whenever and wherever you want to.  We all know that hangry kids = frustrated parents

Freedom camping

means you can be flexible and go where the wind blows.  You are not restricted by hotel bookings and you can stay longer if you find the perfect spot

Camping and campervan communities

are known to be friendly and you are likely to find another family just like yours.  It's always great for the kids to find friends to play with… just think… adult conversation!!!
Cons
Access:

There are some places you cannot access with a motorhome.  Some companies have rules about driving on places like the Milford Road and up to skifields, which will mean you have to take alternative transport (fortunately these do exist)

Parking

a recreational vehicle is much harder and finding a spot may be difficult in cities or busy places

Speed restriction:

You can only drive 90km/h as opposed to 100km/h in a car

Fuel

will cost you more than in a car

Confined Space:

Rainy days may mean you are quite on top of each other and there's nowhere to go.

Gross:

Having to empty the toilet system.. Enough said.

Ferry crossings and toll roads will cost you extra.
When is the best time to visit New Zealand for a Family Campervan holiday?
You may or may not have a choice about when to take your family motorhome holiday.  What I will tell you, is that no matter what, it will definitely be fun, however there are a few differences based on the season.
Summer Vacation in New Zealand
Summertime in New Zealand is obviously the most obvious time to hire an RV and set off on an adventure holiday, but it is also high season.  Campervans are far more expensive at this time of year, and you also have New Zealand School Holidays to contend with. New Zealand School Holidays are usually around mid-December until late January/Early February.  Schools are allowed to set their own opening dates, but if you want to be safe, I would say avoid 15 December – 7 February.
Unlike in the Northern Hemisphere (like the USA and the UK), our summer holiday break is also our Christmas vacation, so this is a really popular time for kiwis to head away with their families.  Accommodation can book up quickly, especially the cheaper options, so if you are here during this time, definitely book ahead from Christmas to the first full work week in January. For offices and general 9-5 business with shutdown periods, this would have to be the busiest time of the year.
So while it can be busy at this time, New Zealand summers are a perfect time to travel the country.  The weather is warm, it's a great temperature to hike or tramp, swimming at the beach is at its warmest and everything always seems much brighter in the warmth.
So you may be thinking, well why would you want to travel with your family at any other time of the year?  Well the benefits of travelling in the winter, is that it is soooo much cheaper. I was comparing New Zealand campervans that would fit around 4-5 people, and changing the date would drop the price in some from $250, to $80 per day!  Wow! I was actually amazed at the price difference, so if budget is important to you, or you're not sure if it would even be in your price range, then definitely look at the winter campervan deals.
If you're set on a summer holiday, camping with kids (with a car) can be a lot cheaper, so check out our top tips for camping with kids here
Family Campervanning in New Zealand Winter
Travelling around New Zealand in a campervan in winter can be such a beautiful experience.  In many places you can stay by a lake and wake up to snowy mountain views, all while lying in your cosy warm camper.  I don't know about you, but that seems like the perfect view to me.  
Hiking in Winter
Hiking in winter is totally possible, but you just need to wrap up really warm, and obviously if you are doing an alpine hike, you just need to be prepared.  We often hike with our kids in the wintertime, and once they have on all the layers, and remember little things like gloves and hats, they really love it. One of the things I really enjoy, is the fact the UV is much lower in the winter.  In the summer here in New Zealand, you can get burnt in as little as 12 minutes due to the lovely hole in the ozone layer above our country, so with young kids, I'm actually more inclined to get out during the winter.
Skifields and Campervans
Wintertime in New Zealand is amazing for skiing, but do note, that you won't be able to take your campervan up the mountain.  Most of the skifields do have transport from the main towns, or a transfer system from somewhere where you can park. Just check out the skifield websites and they will have all the information there for you.
The other thing of note, when traveling around New Zealand in a campervan during the winter, is to be careful of ice.  Most campers will come with, or require you to hire snow chains for the snow, but black ice is common, particularly in the South Island and can be super dangerous.  If you don't have a lot of experience driving an RV or do not have experience driving in ice and snow, I would just make sure you are traveling during the middle of the day when it is warmest, and is more likely to have melted. So please, please, please be careful.
Fuel up your campervan just in case
Do make sure you always have a full tank of fuel when travelling around the South Island in particular or along the Desert Road in the North Island, as there are areas or alpine passes that do have to close during the snow, so you don't want to get stuck anywhere.  The NZ Transport Agency is pretty good about getting them open as soon as they can, or providing a detour if possible, but it's just something to be aware of. I'm sure that since you have kids, you aren't going to be going anywhere without extra food and supplies, but do stock up before you go.  The good thing about a campervan, is that if you are stopped for a few hours, at least you have somewhere to rest and play!
Top tip:  Have the NZTA website or Facebook page bookmarked on your phone, to keep an eye of up to date road closures.  In Canterbury (South Island), CWU – Canterbury Weather Updates are amazing and very detailed. You can find them online and on Facebook.
Spring and Autumn in New Zealand
Our shoulder seasons of spring and autumn (fall) are actually my favourite times to travel around New Zealand because I don't like the heat too much.  It tends to make me grumpy if I can't cool down. You are looking at temperate days and cooler evenings so do bring warm clothes along with you. The key to New Zealand weather is to bring a lot of layers.  You will find in these shoulder seasons that it can be pretty cold in the morning and you will be down to a t-shirt at lunchtime.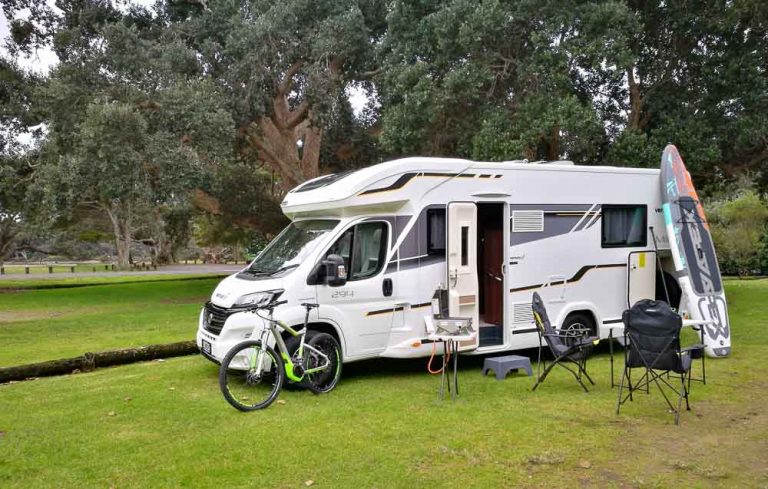 How long should I spend in New Zealand?
So now you have worked out what time of year you are going to travel, the next is to work out how long to stay in New Zealand and what are your must do New Zealand activities.  If you are a super fast traveller who is just looking at doing the highlights and moving on quickly, I would say you could hit most of these in two and a half weeks. A more comfortable timetable would be to do at least 2 weeks in each island.  If you are interested in my Ultimate Family Holiday Itinerary in New Zealand, click on this link to get the download.
All the international tourists I have spoken too all wish they spent longer in New Zealand, so if you aren't sure, book for longer and you won't be disappointed.  I would say 6-8 weeks if you want to actually have time to relax and get off the beaten track.
If you need a South Island Road Trip Guide, check out this self drive itinerary
What type of campervan should I hire and what should I look for when hiring a campervan in New Zealand?
Isn't this just the ultimate question?  While only you know whether you like luxury, budget or something in between, I can give you some things to think about when choosing a campervan in New Zealand
How much space do I need?
Before researching all the available campervan options in New Zealand, I naively assumed that a family campervan would have to be a bulky motorhome.  While these often have all the bells and whistles and all the things you need to turn camping into glamping, these are not the only options. I was pleasantly surprised you could even fit a family of 5 into some hitop campervans or rooftop tent vans.
As a very general rule of thumb, the smaller the van, the cheaper the campervan will be.  It will usually be more fuel efficient too as it is lighter. All things to factor into the equation.
I will give you a very general overview of all the categories to help you start the narrowing down process.
Sleepervan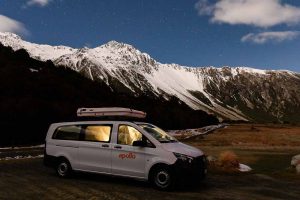 Sleepervans are a normal people mover sized, or sports team sized van with a mattress in the back to sleep on.  They are your typical backpacking campervan, often used by young people travelling on a budget. In the boot (trunk) of the vehicle will usually be a basic cooking set and either a tiny fridge or chilly bin.  Some will come with a portapotti, but most will not be self contained.
Hitop Campervan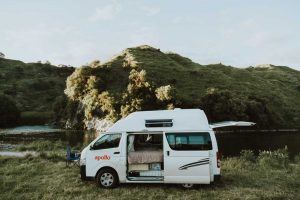 A hitop campervan is the size of a large van, but has a "high top" meaning there is extra room in the roof of the vehicle.  These often sleep 3 to 4 people, with the second bed being above, in a top bunk style setting. Some of these have kitchen facilities in the van and others have these in the rear, like the above sleepervan.  
These hitop campervans can often be the best budget choice for families, however the downside being there really isn't any living space.  If it is a rainy day, or you just want to chill out, its going to be quite squishy inside. There is no walking around space like in a motorhome.
Rooftop tent campervan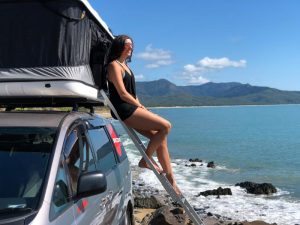 (photo credit: Beta 4 Berth Campervan by Spaceships)
A campervan with a rooftop tent is much like the above hitop, however there is usually a double bed in the back and a double bed sized space in the rooftop tent.  The one thing I really like about these, is for the same small compact van, it gives you two sleeping areas. With young children, this is a huge bonus for me as there is less chance we will wake them, and it means as adults, we don't have to go to bed at 7pm.
Large Motorhome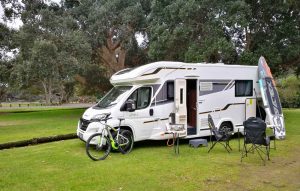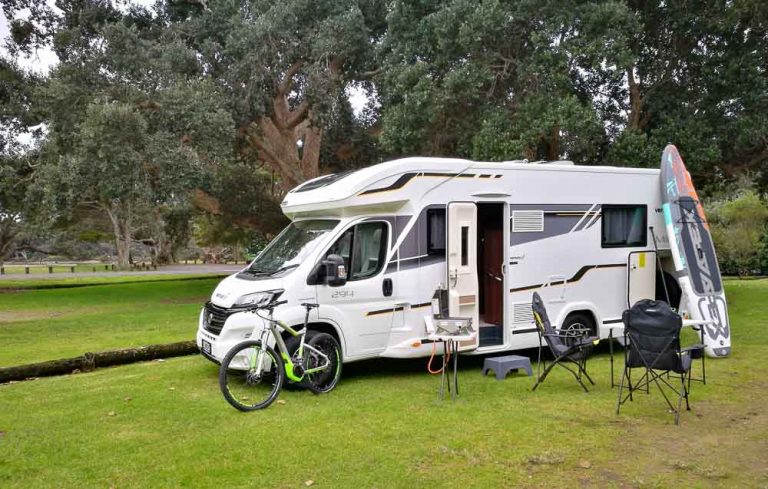 The number of motorhome style campervans in New Zealand is eye watering.  They all have different layouts and amenities. But in a nutshell, they usually sleep 4-6 people, are self contained with a toilet (and most a shower), have decent kitchen facilities with gas stoves and microwaves(some have ovens) They will all have dining space for at least four and usually have a lounge space (the turns into a bed)  
A motorhome is basically a house on wheels and there's not too much they can't do.  The biggest differences are the bed layouts, which are usually double beds, although some have singles/bunks.  Lounge spaces and kitchen are all configured differently so just choose what you think will suit you best.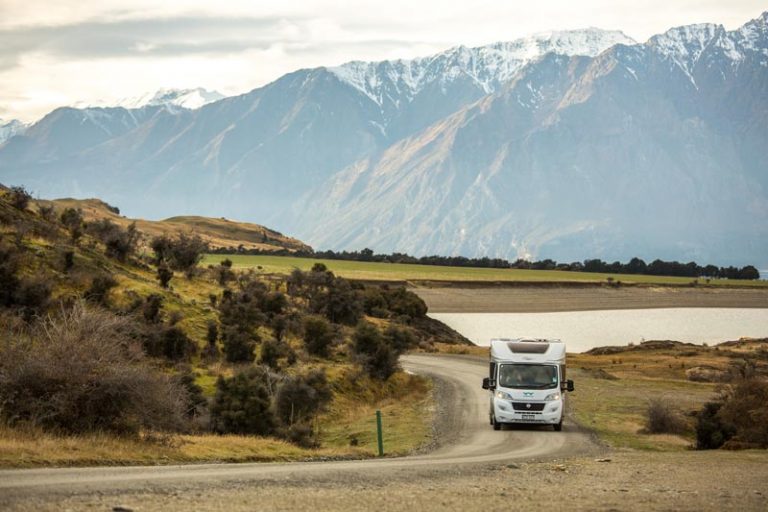 Campervans and Carseats
Legal Requirements in NZ
One of the most important things to consider is whether the campervan has enough spaces for your car seats.  It is a legal requirement in New Zealand for children to be sitting in a carseat or booster seat until they are 8 years old.  It is best practice for them to be in an appropriate child restraint until they are 148cm tall or is 11 years old.
Car Seat placement
Your camper must have enough forward facing seats (ie. looking out the front) to use car seats.  You cannot place a car seat in a rear facing seat. If you have three or more young children like we do, this severely limits the campers you can use.  There are many 6 berth campervans, however they often have 2 forward facing and 2 rear facing seats (like at a table) and this means it is unsuitable. This is my biggest problem with finding a campervan to hire as there are fewer rental companies with these options.  So do make sure you contact them and confirm they have what you need before you do a non-refundable booking.
Hire Carseats or bring your own?
You can often hire carseats from camper hire companies, but if you are only doing this trip on your New Zealand vacation (ie. not travelling on to other countries where you won't use a carseat) I would consider bringing your own, or contact the company to find out what brand and model seat these use.  I have hired a seat a few times just to avoid taking mine on the plane, and to be honest, they weren't of the quality I would usually use. So if this is particularly important to you and you have great quality car seats at home, I would consider bringing them.
Moving your car seats for bed time
Another thing to consider is if you will have to move the car seats to put the beds down. If you are like me, I absolutely hate strapping in car seats. I will go to any lengths to avoid this, just ask my husband.  But you will find that most dining seats (where the car seats will go) will turn into a bed. So every time you want to sleep, you will have to detach it. A way to get around this is to hire a larger camper. For example, upgrading from a 4 berth to 6 berth may mean you can leave one of the double bed options folded away, and leave the car seats as is.  (Something to consider)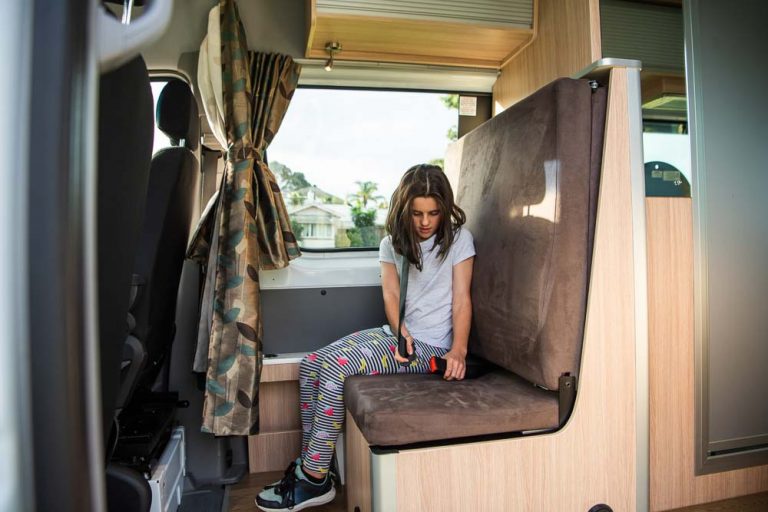 Bedding Configuration
Bunk beds or double beds?
Depending on the age of your children, the configuration may or may not an issue.  For siblings who fight, twin beds or a bunk set may be important for you. Some companies will have these, however the most common are double beds.
Location of the beds
You may also want to think about the location of these beds.  Some are high above the front cab, or are hoisted in the middle, so they may not be suitable for young children if you are worried they might fall out of the bed.  Most campervan hire companies will have a day and a night layout so you can see, but do check if this is a concern.
Some have permanent beds, which means there are already made up, whereas others are pulled out from couches or dining seats.  This may mean you need to move carseats to get enough beds for everyone.  (I hate moving carseats with a passion, so just something to consider if you aren't a fan like me)
Sleeping with a baby in a Motorhome
Baby sleeping arrangements can be a lot more difficult as I'm not sure of any brand where a portacot will fit on the ground. (although I'm open to being wrong, so message me if you have found one).  So then you may be thinking, "Where does a baby sleep in a campervan". There are a few options
Cosleep with the baby next to you

Put up a tent in the awning area and sleep there instead.

Put a portacot up on a large bed. (only if the bed is big enough and you could secure it in with some luggage so it wouldn't fall off.  This really depends on how the beds are all set up
If you have done anything different, I am really interested in hearing, so please contact me.
Toilets and Showers
How important it is for you to have a toilet and shower in your camper, may depend on the age of your children (toilets for a toilet training toddler would be a must in my opinion) as well as where you wish to camp.
If you plan to stay in a camping ground every night, then these facilities will be available for you, however if you choose to freedom camp, you MUST be self contained certified and will need some toilet and water facilities.  I have more information on freedom camping below.
Kitchen Facilities
How often will you be cooking in your campervan?  All motorhomes have at least a double burner for cooking, while others have microwaves, and a small amount have ovens.  I love to use an oven, so this is something I look for. You might also want to consider the size of the fridge. If you are looking to get off the beaten track for long periods of time, away from supermarkets, a larger fridge may be more appropriate.  Bench space is another thing to consider.  
Almost all campervan hire companies will have decent photos, or a 360 degree walkthrough or vide you can view to help you make these decisions.
Consider the type of meals you are likely to prepare too and how often you want to cook vs eat out.  There are plenty of quick and easy camping meals to satisfy your tastebuds.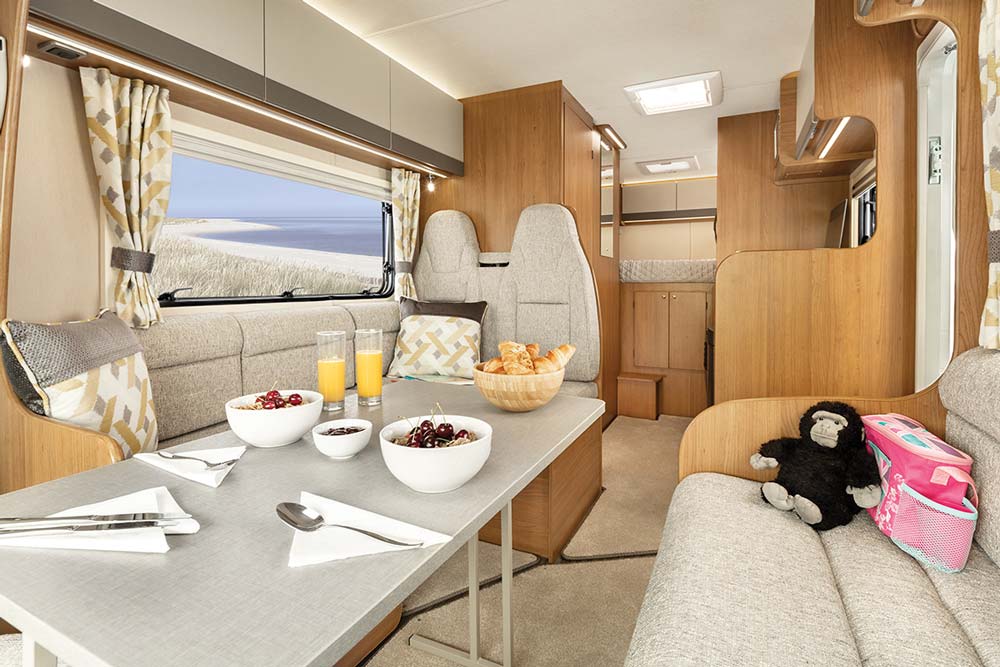 Power sources and going off the grid

 
Something that is a big priority for me, is how long I can go off the grid for without plugging in.  Some vehicles have solar power and this will extend the battery life considerably. Others have gas facilities, so you don't have to plug in.  
If you are planning to head to commercial campsites with powered plug ins most nights, this won't be of concern, but if you are hoping to get off the beaten track, you will need to be aware of what you have access to when you aren't plugged in.  I'd be thinking of my fridge, heating/aircon, power points/udb charging etc. Some of this is often hard to gauge from the websites, but just send the companies an email.
Airconditioning and Heating 
Most motorhome style campervans will have heating (how they are powered, you will need to check) but often they will not have airconditioning in the main cab.  So this means in the summer where it can get over 30C, you may be in a small hot box overnight. If this concerns you, it pays to ask.
While you can always open a window or door in summer, do be aware of our sandflies.  (They aren't dangerous, they just bite and make you itch like crazy – beware West Coast and Milford Sound area in particular)  So see if your campervan comes with fly screens to help. Also try to park your campervan in the shade and roll down blinds early to keep out the sun.  Rolling out the awning (if available) will also provide some shade on your motorhome.
How to reduce the heat in your campervan in summer
While you can always open a window or door in summer, do be aware of our sandflies.  (They aren't dangerous, they just bite and make you itch like crazy – beware West Coast and Milford Sound area in particular)  So see if your campervan comes with fly screens to help.  

Also try to park your campervan in the shade and roll down blinds early to keep out the sun.  

Rolling out the awning (if available) will also provide some shade on your motorhome.
Insurance for RV Vacations
Perhaps one of the biggest cost factors that you will have to consider when hiring a campervan in New Zealand is the cost of insurance.
When you get an online quote, these will generally include very basic insurance with a high excess, sometimes $5000.  Read this as…. You back into something, you have to pay the first $5000. This is likely to be the cost of your whole holiday, or a very good dent in it (no pun intended)
The premium insurance options will drastically reduce your excess, usually a few hundred dollars or even $0 (like with Sunrise Holidays all inclusive package)  Premium insurance packages often come with added extras that could include: road user charges, fast drop off, not having to refuel etc.  
Before you choose your RV insurance option, do check your travel insurance as you could be covered.  Some travel insurance policies will cover hire vehicles and have a much more reasonable insurance excess.  There is no point in being covered twice. Also check that the coverage is valid for New Zealand. Our friends noted their insurance didn't cover campervans here, but did elsewhere.
So what insurance option do you pick?  This I cannot help you with. The vehicles are larger, more complicated to park and are a bigger target for third parties to bump into, so I think they are riskier vehicles.  But if you cannot afford the large excess, then bumping up the insurance just in case is a no brainer. You don't want to ruin your New Zealand holiday because of a "should have, would have, could have" moment.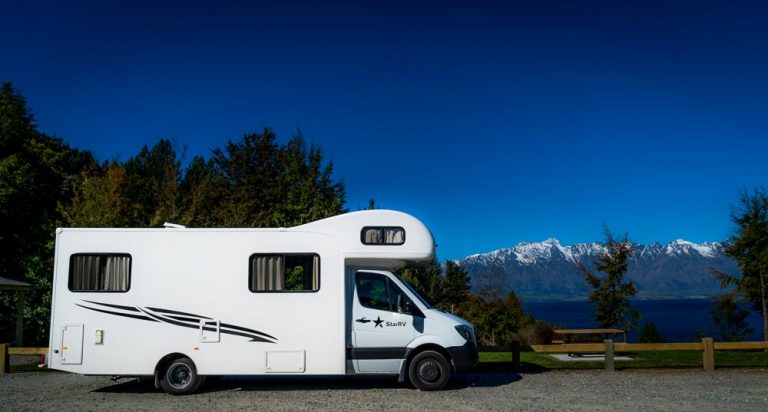 Why would I want a Non Self Contained Vehicle?
Most (not all) self contained vehicles are motorhome style vehicles.  This means they are much larger than a car/van style campervan. There are many ways to save money (and sanity) with a non-self contained vehicle
Your hire will be cheaper.  Smaller van style vehicles are far cheaper than motorhome campervans.  In the summer in particular this can be thousands of dollars in savings.

You will spend less on fuel:  It is much cheaper and far more fuel efficient to have smaller vehicle such as an MPV, as opposed to a heavy 7m motorhome or RV. 

You will spend less on tolls:  We don't have too many toll roads in New Zealand but it will be half the price, having a car, as opposed to a truck sized vehicle

You will spend less on the ferry.  It will cost you about twice as much to take a large motorhome on the ferry, compared to a car.

You can park in a regular car park, even right in the city.  You don't have to worry about car parking buildings, shopping malls or drive thrus.

You don't have to empty the nasty toilet. Enough said.

You can still access free or cheap campsites around New Zealand. You just have to know where to find them.  Spaceship Rentals for example have an app tailored at just this!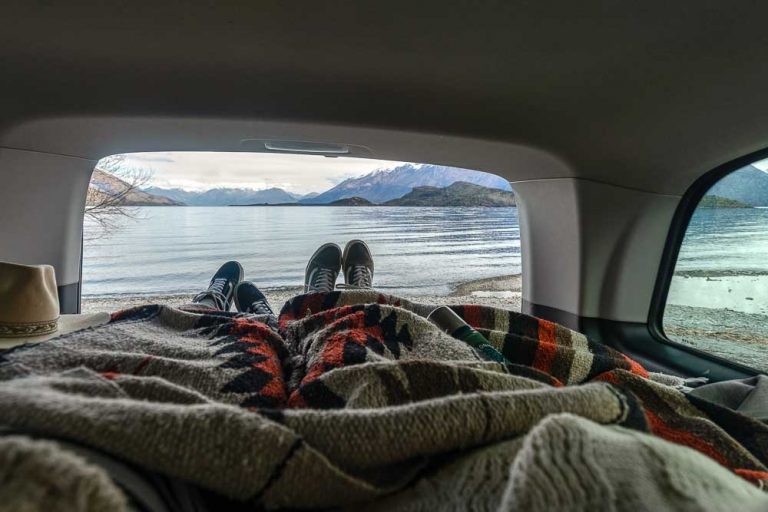 Which company to choose?
There are many different companies who hire campervans to travel around New Zealand, giving you the ultimate family road trip and to be honest, it will all depend on your preferences including layout, budget, availability, add ons etc 
If you have a family of 4, then almost every company has a 4 berth camper so you have a lot more choice.  You could choose a basic van with a pop top where two sleep up top and two in the seating area, which is super compact and easy to get around.  Then there are luxury 4 berths with a ton of space and all the mod cons including toilets, showers and I even saw one with a washing machine.
6 berth campers seem to be the main option for families of more than 4, so I will list for you the options that I have found that would be suitable for the larger family.  I have not personally tried all of these options, however it will give you a great starting point for your research.
I have included a good range of campervans which had great information on their websites or I could attain the information via email.  Some companies did not get back to me via email so I did not include them in my campervan comparison. You want to be able to get all the information you need in a timely fashion
Please note:  I have not personally used all of these options.   This is just an overview of the motorhome research I have completed, just for you.
3 berth campers 
If you only have one child, you have some great options for campervanning on a budget as there are some small vehicles that will work perfectly for you.  Many will choose a traditional 4 berth campers so that you have extra room and facilities, but if camping on a budget is more your thing, then you also have the option of some backpacking van style campervan.  If you are after a larger style or more traditional camper, then check out our 4 berth campers below, but these next options are just for 3 berth.  
In alphabetical order…
This small van is suitable for 2 adults and an infant/toddler. There are 3 seatbelts in the driving cab with the middle seat suitable for a carseat (no airbag on this seat)This vehicle is certified self contained so is great for freedom camping
The sleeping arrangements in this campervan is one large double bed, so the baby will need to share the bed with their parents.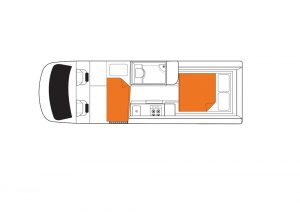 Both of these Britz Campervans will seat one child, however our preference would be the 2+1 as this one has a shower, whereas the Hitop does not. Both vehicles have a double bed and one single bed, meaning no bed sharing for this smaller model. Indoor kitchen and bathroom facilities are available, all in a compact van, making for easily manoeuvrability in cities too.
Happy Campers are touted as cheap and cheerful, and their 3 berth option is just that.  It has a double bed, and single "bunk" in the roof, giving a separate space for adults and child.  Children sit in the middle front seat where there is a childseat anchor point. It is a certified self contained vehicle with a portable toilet.  Surprisingly a microwave is includes, as is unlimited kilometres, airport transfers and one way rentals. They also have a similar model called the Original 3 berth camper.
Perfect for 2 adults and 1 child, this hitop campervan has a double bed in the back, as well as a single bunk bed for 1 child under 45kg. It does have a safety net, if your child is very young and this worries you. Unlike  other small campers, this van has a kitchen inside, more like a traditional motorhome, rather than in the boot.
There is space for one car seat using a lap belt to anchor it, in the front of the campervan with the other passengers.
Another great feature is that it has solar panels and gas/diesel heating so there is no need to plug in at a traditional camping ground. Think of all the money you will save.
It has a built in toilet and shower and a water supply so your vehicle will be certified self contained meaning you can save money by using free freedom camping sites. 
A bonus of the Heron Campers is that all your costs are included. This includes one way fees, airport transfers and even unlimited kilometers. So when comparing prices, remember this is an all in price.
Also check out the Heron Trio which could fit 3 adults (or a child)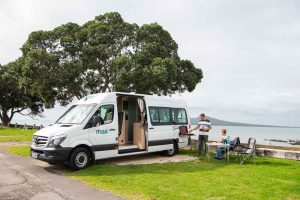 Maui are a luxury campervan brand in New Zealand so you know you are getting top quality when you book one of their vehicles.  The Ultima can take one car seat so is great for small families, and the sleeping arrangements can be 1 double and 1 single or 3 singles. The nice thing in this setup is that the child is blocked from seeing the other bed, so much easier for a child to get to sleep. No bed sharing here.This van style camper is self contained and contains a toilet and shower 
This compact van can accommodate 2 adults and 1 child.  The child's seat is right behind the driver seat and can fit a car seat.  The sleeping arrangements are one double bed in the back, and a single bed up the front of the van.  These van style vehicles are great as they are easy to drive and park. This vehicle also has a toilet and shower included.  It is the perfect getaway vehicle.
Mighty Campers also have a Highball 3 Berth Campervan, that has a double bed and one single bunk bed (above the parents bed) but it only has a porta potti and no shower, so we recommend the Deuce Plus instead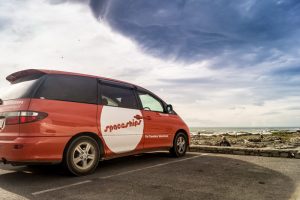 If you have a very young baby, or cosleep with your child, this is a snug option that could work well for you.  While it says it sleeps two, if you are comfortable sharing a sleeping space with your young child, this is a great budget option.
The vehicle has space for a baby/child car seat in the back, but you will have to move it for the sleeping area.  It is a typical backpacking style campervan, essentially just a van with mattress area to sleep in the back and basic camping kitchen facilities in the boot, including a small fridge/freezer.  You will have no problems parking this campervan as it's a normal sized vehicle.
Added bonus is that one way fees are included as is free cancellation. (photo credit: Beta Standard Campervan by Spaceships)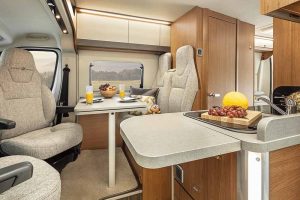 The Piwakakawaka by Sunrise Holidays is a large van style camper that will comfortably fit two adults and one child.  They say technically it can fit 2 kids but feel it's more suited for 1. It has 2 double beds (in a bunk style situation), full kitchen, shower and toilet and is certified self contained.  If you have a small family, this is like a luxury tiny house on wheels. Do note that you must book these for a minimum 3 weeks and Sunrise do not operate between the winter holiday months of June and August.
4 berth campers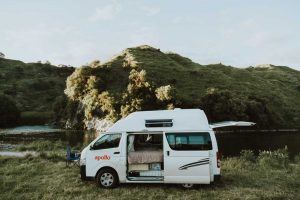 The Apollo Endeavour is a van style camper, with 2 double beds in a bunk style, one above the other.  It is suitable for a family of four and can take 2 car seats. The nice thing about their seating set up is that the back seats and individual seats, meaning if your kids fight a lot and you don't want them right next to each other for your New Zealand road trip, then this is a good choice.  This vehicle has no toilet or shower, so is not certified self contained, but if you are planning to stay in campgrounds everywhere, then this won't be a problem.
This vehicle sleeps 4 and has space for 2 baby/booster seats.  There are two double beds, including one above the cab and one across the dining suite.  It has a large kitchen area, toilet, shower, microwave and is certified self contained.
The Apollo motorhome is quite similar in terms of features to the Euro Camper above, however the layout is a little different.  The 2 double beds set up, has one above the cab, but also one over the lounge area down the back. If you want a little more separation between beds, which could be important with kids, I would recommend this one.  I also prefer this because it actually has some couch space, as opposed to Euro Camper above which does not. It is certified self contained with toilet and shower.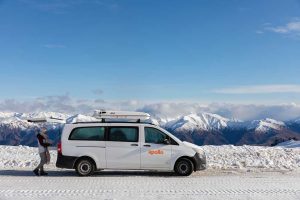 The Vivid Camper is a traditional van style 4 berth camper, but has the unique feature of a rooftop tent.  They do mention that is does take some physical activity to put the tent up and down, but I figure, with all the kid hauling that parents do, we are used to this.  I really like how the camper is dual door, meaning it has sliders on both sides, giving easy access to the camper. Apollo recommend this vehicle for budget conscious families.  It does not have a toilet or shower, and is not certified self contained.
Britz Cruiser 4 Berth (also Britz Discovery which is similar (pictured)
The Britz Cruiser is a more luxurious motorhome from the Britz brand.  It can take 2 car seats and has a nice kitchen area, however there is no microwave in this vehicle.  Their website says it has two double beds, however one of the models does have a twin bed configuration.  I think this is a great option, however their website states this cannot be requested. If layout is important to you, perhaps this is not the best campervan for you.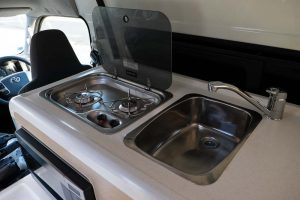 The Britz Voyager is a hitop van style campervan, the same size as a sports team van.  This compact campervan has 2 double beds with one being a "top bunk". It includes the usual kitchen supplies, has a microwave and stove, as well as a toilet, so it is certified self contained.  The camper can fit 2 car seats so is perfect for a family of four.
This cheap and cheerful company has a van style 4 berth vehicle with two double beds (one in the roof area) with essentially a double bunk situation going on.  It has anchor points for 2 car seats, and individual seating, which is great for siblings who fight. It has a portable toilet and certified self contained. This is a super compact way to travel, but really fits quite a lot in a small space.
This 4 berth campervan is a traditional style motorhome with 2 double beds (in bunk bed formation) and seating behind the driver for 2 people at atable. A big selling point with Heron Campers is they have all those extras included such as unlimited mileage, one way fees etc.  
I love that this camper has solar panels which helps keep you off the grid for longer and a great outdoor Weber bbq included. All these little extras will definitely sell you on a Heron Camper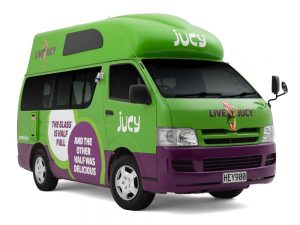 Jucy are your classic backpacker campervan vehicles, which are bright and lively, just like their brand.  Commonly seen driving around New Zealand are their sleeper vans, however they do have larger vans that are perfect for families.
When I contacted them, they recommended the Condo.  This hitop campervan has two double beds, a compact indoor kitchen, a cassette toilet and is fully self contained.  It can fit 2 carseats and has 5 seatbelts.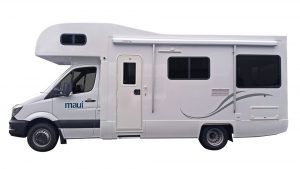 Maui have two 4 berth Campervans that both have space for two car seats. They seem relatively similar, with beach model being a bit longer and taller. Both have 2 large double beds, all the kitchen and bathroom facilities that you need and are new model campers.  You won't find anything more than a year or two old in this premium campervan brand. They are definitely in the luxury range and you will not feel like a backpacker in this vehicle.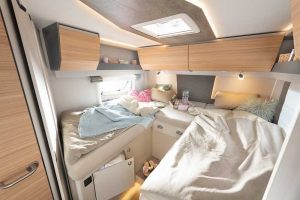 This 4 berth motorhome has two single beds in the rear and a pull down double bed over the seating space.  We really like the single bed options for kids. It is certified self contained and has your usual toilet and kitchen facilities.  McRent also have Comfort Plus 4 berth camper which has an island style walk around double bed in the rear and a double pull down above the seating area.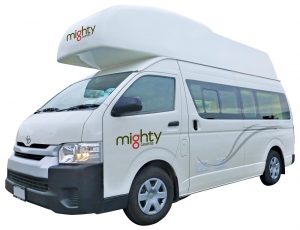 This 4 berth campervan is the size of a team sports van, so not too large if you are concerned about driving a "truck".  It is a compact camper but has two double beds (one a bunk up top). 2 child or booster seats can be fitted in this vehicle so is suitable for kids.  It has a porta potti but no shower. It is certified self contained so a good choice for freedom camping.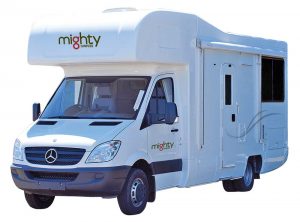 The Double Up Camper, also by Mighty is more of your traditional style motorhome.  It can also take 2 car seats, and has 2 double beds, but this model also has a shower/toilet bathroom and a larger kitchen space than the above.  It is also certified self contained.
This Southern Campers 4 berth is a classic motorhome style vehicle.  It has two double beds, but the vehicle seating is separate, meaning you won't have to move the carseats every time you want to sleep (win!).  In the rear the double bed also converts to two singles, perfect for kids. It has all the usual kitchen facilities, and is certified self contained with toilet and shower.  
The Pandora RV seats and sleeps 4 people.  It can take 2 carseats, so bring the kids (if you like).  There are two double beds, including their "unique electronic belt lift system" which would be perfect for helping busy parents set up a bed quickly and easily.  I like the u shaped lounge area at the back which gives the kids some space to play. This model also has a large fridge and an oven. So if you are planning on self catering a lot, this is a great family option.  The vehicle is certified self contained and toilet and a shower.
The 4 berth Weka campervan is a motorhome style vehicle, with two double beds.  They have a couple of different layouts, with larger kitchens with ovens and all models seem spacious in lounge and dining.  Showers and toilets are included in all and they are certified self contained. Their all inclusive insurance option is a good deal as it includes all the extras such as one way fees, road user charges and reduces your excess to $0.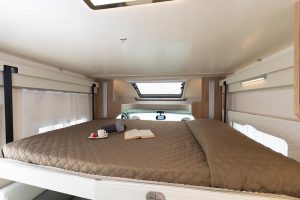 Note: There is a 3 week minimum hire and they are not available between June – August.  You will have to contact them directly for their rates and my dealings with them have been efficient and very friendly.  They did note that their rates do change quite often, and if you are flexible they can get you a really great deal. 
Venture RV have luxury motorhomes and their 4 berth looks very stylish and comfortable.  There are two double beds in this model, including an island style bed in the rear that is permanently made up.  There are doors to isolate the rooms, so parents can shut off their own room once the kids are in bed. They include some special extras such a free airport or city pickup, a free night BnB accommodation so you are refreshed for your drive, and even access to ebikes and paddle boards.
The Koru 4 by Wendekreisen has a unique seating layout, in that the two seats are right in the back of the campervan, and are separated by a table.  If your kids fight, or you really don't want them in your ear while driving, this is a great option. There are two double beds, the usual kitchen supplies and is certified self contained with a toilet and shower. 
Wilderness Motorhomes: King/Twin for 4
This is a huge 4 berth campervan, so if you are looking for a little luxury and space, this may be the best family campervan for you.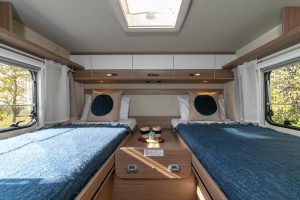 The big plus is that this huge double bed, can also convert to two separate singles, great for kids who don't share a bed well.  The other double bed is pull downs from above.  Personally I'd take the big bed and make the kids share, but all up to you. It is certified self contained, has a toilet, shower and vehicles are no older than 3 years old.  


They also do a VIP package which includes every extra you can think of, such as tolls, road user charges, all the equipment included, making it easy to grab and go.
Wilderness Motorhomes have a range of configurations with three different style four berth campervans.

All of them have ovens, which is not nearly as common. All are certified self contained.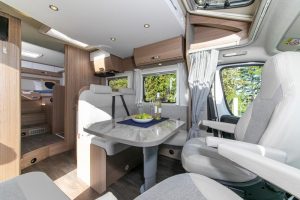 Families of 5 or more, or those looking for a larger spacious campervan 
The Euro Deluxe is Apollo Campers luxury model and largest motorhome.  It can take a total of 2 car seats, so any extra children will need to be over 7 years old to travel in this vehicle safely.  There are two seats in the front, and 4 seats across a table, meaning that two people will be facing the back of the van for the journey.  If your kids get carsick, this may be something to consider. It is certified self contained with a toilet and shower, with the added bonus of having a microwave, 150L fridge/freezer and internal heating.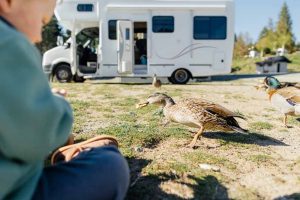 The Britz Frontier is a 6 seater motorhome that can that can take 2 car seats, although I have had friends use a model that can take 3 car seats.  Its just that all seats need to be forward facing, thats the caveat here.  So might pay to give them a call if that is what you need.
3 double beds set up here.  You do have to remove the carseats to use the double bed.
The Budgy Familia 6 is one of the few options that have single beds in its mix.  You can have 3 double beds, or two doubles and 2 singles. This is great for splitting up family or friends who do not want to share a bed.  It also has 4 forward facing seats, so you can actually have 4 car seats in this model, one of only a few where this is possible. It has all your usual kitchen supplies, as well as a toilet and shower.  This certified self contained vehicle is ready to camp off the beaten track. There is no one way fee and unlimited kms here too.
The Budgy Familia 5 has two double beds and a single bed.  It can cater for 2 car seats in the back, plus another member, along with two seats in the front.  A big conus is that it comes with solar panels, helping to make campervanning a cheaper option off the grid.  It also includes camping table and chairs, that many do not. It has a toilet and shower and is certified self contained.  Euro Campers also has unlimited kilometres and no one way fee.
This is perhaps the only 5 berth campervan that is actually a van style, rather than a motorhome.  So if the thought of driving a big recreational vehicle (RV) scares you and you would prefer something the size of a car, then this is a great option.  With 3 kids in this camper, it's definitely a backpacker style trip, but hey, that's part of the adventure right?
There are 3 seats in the front and two in the rear.  As in a standard car, it can fit 3 car seats, including rear facing ones.   There are two double beds, like the 4 berth, but 3 kids could share up above.  It may be a little squishy, but you could always add in a small tent if that could be a problem.  It is certified self contained with a portable toilet and even has a 2 burner stove and fridge. This cheap and cheerful 5 berth could be a great budget option for your family.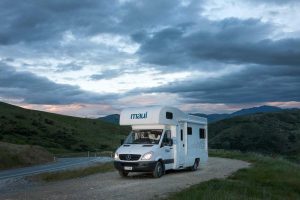 Maui have their River campervan which has 3 double beds of various sizes, so can accommodate 6 sleepers.  This model can fit 2 carseats (or boosters or a combination of both) So if you have more than two children, at least one will have to be out of a carseat.  The River is a luxury model and the finishings look beautiful. A comfortable ride indeed.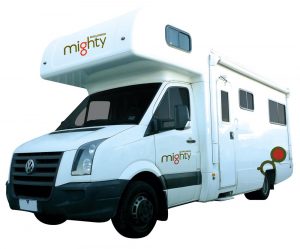 Advertised as the Optimus Prime of campervans, this 6 berth motorhome has 3 double beds, a toilet and shower, and is certified self contained.  It can fit two child or booster seats. It is part of the Maui/Britz/Mighty campervan entity, so is an older, budget friendly model with the same premium service.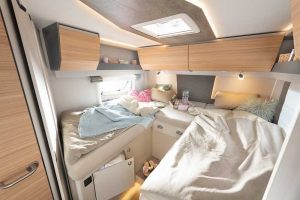 The Family Plus motorhome can seat 6 people, and has two large double beds, along with 2 single bunk beds.  Having bunk beds in this large vehicle is a huge benefit and my favourite part of this campervan. They also have their Family Luxury model which has 3 double beds.  Both vehicles are certified self contained. I emailed them and they can take 4 carseats, which is awesome for young campers. Information on all the vehicle inclusions was light on the website, however their customer service by email was happy to answer my questions.
Southern Campers 6 Berth
Southern Campers has two large 6 berth campers, one a double cab which can fit 2 rear facing car seats plus a forward facing car seat (with lap belt to secure it, no iOS fix on this point). I found, when researching this, that the hardest campervan to find was one that could fit 3 car seats. Knowing that the rule in New Zealand is to have all children in car seats under the age of 8 or 148cm means this may be a factor for a lot of larger families.
The double cab is a great option if you don't want to keep moving your carseats.  Often carseats are positioned at the dining table, which also turns into a bed. I know how frustrating it is to keep moving carseats, so I think this is a huge benefit.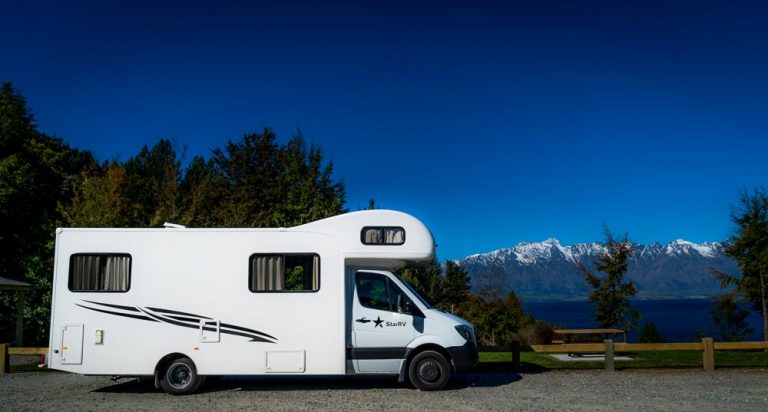 The Hercules RV is a large 6 berth camper that can seat accommodate 2 car seats.  The 4 seats in the back of the camper are dining style, meaning that two will be facing the rear of the camper while driving (take note if kids get carsick)  It has three double beds, air conditioning in the front AND rear cabin, which will be perfect for hot summer road trips in New Zealand. It is certified self contained and has a toilet and shower.  It also has a very large side awning, perfect for shade and summer evenings.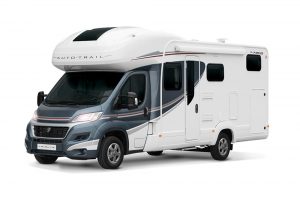 I am quite excited about this 6 berth camper but it is brand new.  This is a new luxury vehicle and I love that one of the models has two lounge areas.  You can eat at one end and adults can chat and the kids can sit down the back and play. It is these small details that can make life much easier on the road. This motorhome has three double beds, full kitchen with oven, toilets and showers (certified self contained)
There are a couple of Takapu models, but their 736 will take 4 car seats so if you have a large young family, this is the model for you.  Their other Takapu models will take 2 car seats.
There is a 3 week minimum hire and they are not available between June – August.  You will have to contact them directly for their rates and my dealings with them have been efficient and very friendly.  They did note that their rates do change quite often, and if you are flexible they can get you a really great deal.  
The Tui Camper can take 4 carseats!  Wow! It can fit a total of 2 rear facing seats, or four booster seats.  This is such a great find if you have young kids. There are 3 double beds, shower and toilet, meaning its certified self contained and contains all your kitchen essentials.  
Wenderkreisen is a brand I had never heard of, but it popped up through traveller recommendations.  Pleasantly surprised that their motorhomes are reasonable and the quality looks great too. The 6 berth can take 2 car seats and has three double beds.  Shower and toilets means this is a certified self contained vehicle. The kitchen has an impressive 4 burner stove and microwave, but no oven. Included in this rental is unlimited kms, free one way hire and camping tables and chairs.
Campervan Rental Options with a difference
When I started to research the best campervans in New Zealand, I did not expect to be presented with so many options.  And the best part is, if you are after a unique campervan rental, then there are some awesome options.  While some of them may not be budget campervan options, their uniqueness will surely make for a memorable New Zealand holiday.  Check out my roundup of the most interesting rentals with a twist.
Off Track Rentals 4-5 person Landcruiser with Pop up tents
If you are looking to really get off road, this 4×4 Landcruiser with double pop up tents could be perfect for you.  In this model there are 2 pop up tents (a two bedroom luxury with kids). It comes with a weber gas bbq, memory foam mattress and the tents are easily assembled.  Unzip, pull on the ladder and up she pops. There are some crazy off road trails across the country so if you are ready for backcountry camping in New Zealand, this rugged camper is for you.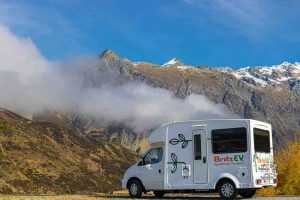 If you are looking for an ecofriendly campervan, then why not try the Britz Evolve.  It is a fully electric camper that can sleep two people. It cannot take a carseat, but if you are on holiday solo with an older child, then why not try some slow travel and take a Britz electric vehicle.  You can hire these out of Auckland or Queenstown and need to return them to their starting point.  
A big question is how far can I travel on an electric campervan?  The answer: up to 120km. While New Zealand is a big place, this is a great opportunity to slow down, see the smaller towns and get off the beaten track.  Britz has some great itineraries that will help show you the best places to recharge and what to see along the way. So reduce your carbon footprint by choosing an electric campervan.
Hire a Kombi
Are you looking for a retro campervan to hire?  Is a Kombi the best way to campervan around New Zealand?  These Kombi campervan hires are seriously cool. And I'm not saying that you should do it for the 'gram' but how cool will your family campervan photos look, when you are driving around New Zealand in a Kombi? And yes, they can take families.  Every Kombi is quite different in terms of features, so check out all these individual vans to choose the best campervan for your family.
So if you are looking for a Kombi, check out
These guys hire out Land Rovers, Jeeps and Landcruisers with rooftop tents to get off the beaten track.  They include rooftop and ground based tents, camping equipment like bbqs, kitchen equipment, chilly bin and table and chairs.  They are not self contained though.
Private Motorhome Rentals
Websites such as shareacamper.co.nz and Mighway.com will have a multitude of options for family motorhomes.  One of the bonuses of a private rental is they often come with all those family extras such as games and bike racks, that their own family would use along the way.  Conditions vary and so do their prices.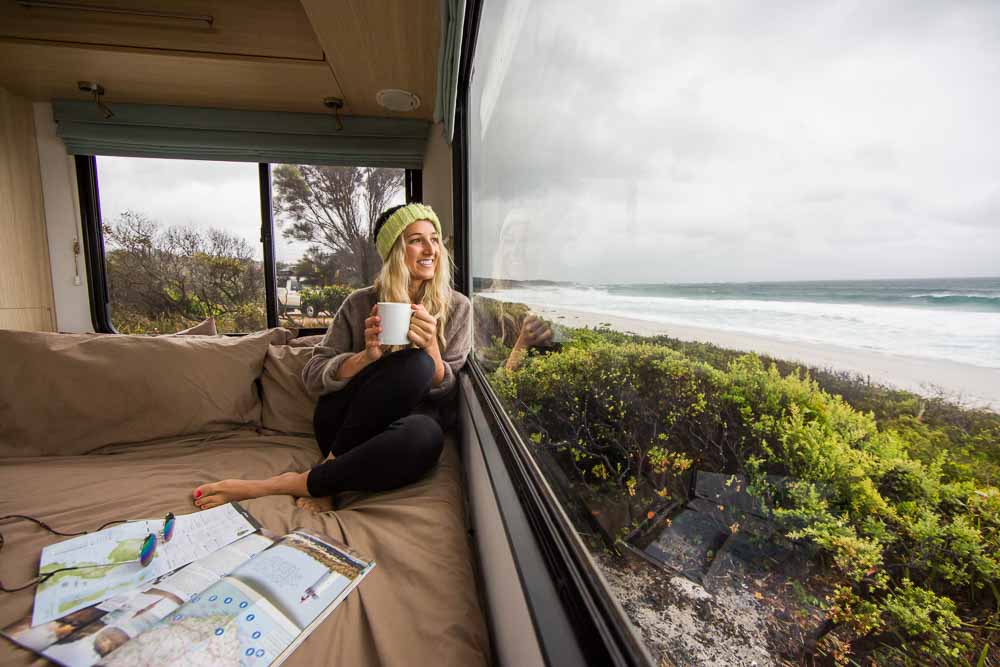 What is the cheapest campervan to hire in New Zealand?
Price isn't everything, but I do know that travelling with a family can be expensive.  So if budget is a factor for you, I have rounded up the cheapest campervans in each category, both in February and June.  You will note there is a huge difference between high season and low season.  Most RV rental companies will tell you that demand far exceeds supply in the motorhome market, so if you are looking for a bargain, try low season (or a shoulder season, not calculated here)
We are working on updating this for 2023, however this might still be interesting reading.
**PLEASE NOTE, THESE PRICES WERE ATTAINED BETWEEN 10-24 AUGUST 2019 FOR 2 WEEKS IN FEBRUARY 2020 AND JUNE 2020.  THEY WERE ATTAINED VIA WEBSITE OR DIRECT CONTACT WITH THE SUPPLIER AND WERE ACCURATE AT THE TIME OF WRITING.  PRICES CHANGE BASED ON AVAILABILITY AND THIS IS NOT A GUARANTEE OF PRICE WHEN YOU BOOK.  IT SHOULD BE USED AS A STARTING POINT FOR YOUR OWN RESEARCH.
Cheapest 3 person camper in February (10-24 FEB 2020 as quoted in August 2019)
Spaceships Rentals Beta Standard $1410

Happy Campers 3 Kuga $2475

Mighty Campers Highball 3 berth $3551.00

Britz 3 berth Hitop $3864.00

Heron 2+1 Camper and Affordable Motorhome 2+1, both $3900
Cheapest 3 person camper in June (15-29 JUNE 2020 as quoted in August 2019)
Happy Campers 3 Kuga $900

Britz 3 Berth Hitop $991

Mighty Campers Highball 3 berth $1015.00

Mighty Campers Duece plus 1 $1240.00
Cheapest 4 person campervan in February (10-24 FEB 2020 as quoted in August 2019)
Spaceships Rentals Beta 4 Berth $1980.75

Jucy Condo $2170.75

Apollo Endeavour $2315.62

Apollo Vivid $2458.12
Cheapest 4 person campervan in June (15-29 JUNE 2020 as quoted in August 2019)
Apollo Endeavour $508.75

Jucy Condo $570.00

Apollo Vivid $577.50

Spaceships Beta 4 Berth $783.75
Cheapest 6 person camper in February (10-24 FEB 2020 as quoted in August 2019)
Apollo Campers Euro Deluxe $4859.25

Tui Campers Trail Explorer $5040.84

Southern Campers 6 Berth Motorhome $5117.50 

Wenderkreisen 6 Berth Campervan $5235.00
Cheapest 6 person camper in June (15-29 JUNE 2020 as quoted in August 2019)
Apollo Campers Euro Deluxe $1080.00 

Tui Campers Trail Explorer $1354.15

Britz Frontier or Vista $1410.00

Mighty Big Six $1560.00
RVs that can fit more than 2 car seats
Southern Campers 6 berth

Happy Campers Hi5

McRent Family Plus

Sunrise Holidays Takapu

Budgy Familia 6

Tui Campers Trail Explorer
Campers with bunk beds or single bed options
McRent Family plus 6 berth

Budgy Familia 6 berth

Euro Campers Familia 5 berth

McRent Family Standard 4 berth

Southern Campers 4 berth

Britz Voyager 4 berth

Britz Cruiser 4 berth (some models)

Wilderness 4 berth

Mighty Campers Duece plus 1 3 berth

Mighty Campers 3 berth Highball

Heron Campers 2+1

Maui 2+1 Ultima

Britz 3 berth Hitop

Happy Campers 3 Kuga
Campervans with ovens
Wilderness Motorhomes 4 berth

Apollo Euro Camper 4 berth

Apollo Euro Star 4 berth

StarRV Pandora RV 4 berth

Euro Campers Euro Familia

Budgy Familia 6

Venture RV
Backyard Travel Family Choice
You are probably wondering, after all that information what is the best campervan to hire in New Zealand? So after researching motorhome choices and taking all the inclusions, photos, customer service into account, I thought I would let you know my personal choices.
Luxury 6 berth motorhome: Maui and Sunrise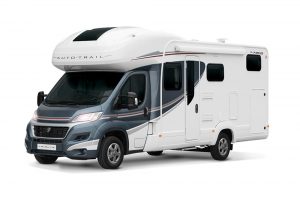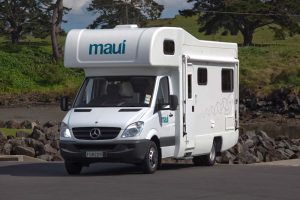 If money was no barrier, my choices would be Maui or Sunrise motorhomes.  They both seemed to have a lot of space and looked really comfortable online.  I liked the vast information on Mauis website and it was easy to compare between models, and Sunrise were perhaps the friendliest and most quick to reply via phone and email.
Value 6 berth motorhome: Britz Frontier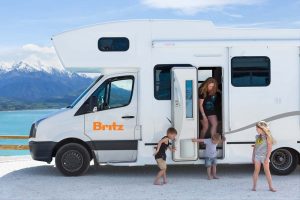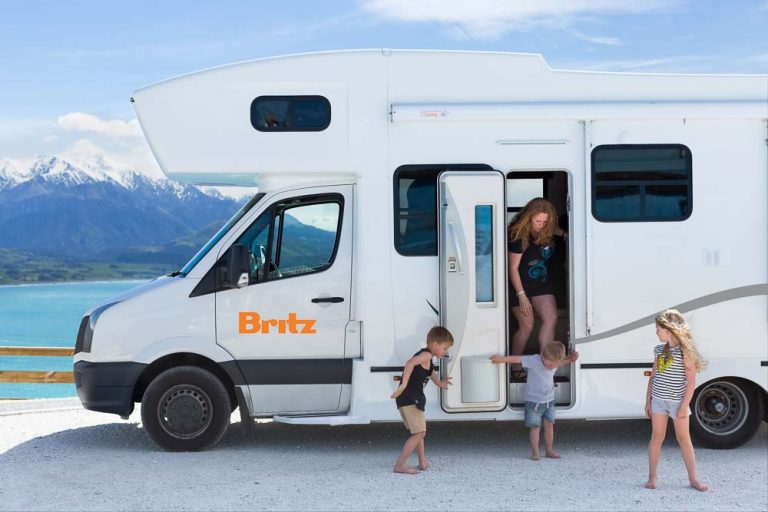 For our family we could probably choose the Britz Frontier as it can accommodate 3 car seats.  I feel it had the best value of facilities, quality of vehicle and price.
Luxury 4 berth motorhomes: Wilderness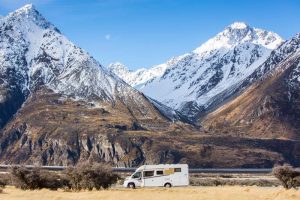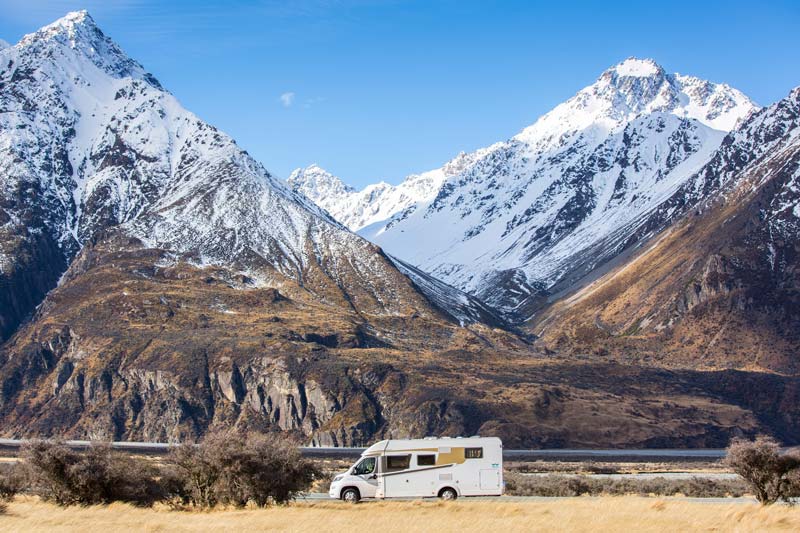 I really like the Wilderness Motorhomes.  In fact, I'm a bit gutted that they don't come in a 6 berth.  I like the option of the huge big permanent beds in the back, and the option to have single beds which I think would be great for my kids too.  One of the things I hate, especially in the heat is having to share a cramped bed and you definitely don't have to do that in a Wilderness 4 berth.  I also really loved that it had an oven. 
Value 4 berth campervan: Weinderkreisen and Apollo Euro Star
If I was travelling for more than two weeks, I would personally choose a motorhome over a van style camper.  Purely for the space and kitchen facilities. These are a bit pricier than the straight van option, but I think it would be worth it.  I would choose either the Wenderkreisen Koru 4 for sheer cost benefits, or the Apollo Euro Star.
Luxury 3 berth campervan: Sunrise Holidays Piwakawaka or Maui 2+1 Ultima
I really love an oven, and the only one in this class that has an oven is the Piwakawaka by Sunrise Holidays but if that wasn't important to you, the Maui 2+1 Ultima looks a great camper too.
Value 3 Berth Campervan: Happy Campers 3 Kuga
I would go with the Happy Campers 3 Kuga, as there is a bed for the little one, rather than having to share with them, and even though there is no shower, I could cope with this for the difference in price.  It is a really good value camper meaning you can spend a lot of money elsewhere.
What about those extra costs?
Believe it or not, the price per day on the front page of the website, is not the final total you will be paying for on your hiring bill.  Depending on the company you hire with, there can be a lot of extra fees so make sure everything you need is definitely included. There are also those other costs, that you just forget about along the way.  So to help you work on your New Zealand campervan budget, we have put together a checklist
Check the costs of these items
The price of kilometres: A lot of motorhome hire companies do not have unlimited kilometres.  At the end of your hire, you may have to pay, for example, $75 per 1000km for road user charges. Some companies you may pay this up front too.  So it can add up. Factor it into your budget. One company recommended budgeting $15 per day, but you could work out a general estimate by putting your route into google maps.  The average mileage cost was $0.75 per 100km. (Road User Charges are a tax that all diesel vehicles in New Zealand have to pay for (even personal cars) Diesel is cheaper but has this tax on top.  Most companies will oncharge this directly, so you just cover your costs, rather than adding it to your hire fee)
The cost of the Cook Strait ferry.  While passengers are not too expensive on the Cook Strait ferry, it will be at least a few hundred dollars to get that camper from the North Island to the South Island (or vice versa)  Check out my article for our top tips on the Cook Strait ferry with families
One way fee: If you are going to travel one way, there is likely to be a fee.  It could be anything from $100 to even $250 to drop it off. But if you are a family of 5, this is much cheaper than having to drive it back across the country, just to drop it off.
A location fee:  Sometimes companies will charge you to drop off the vehicle to a certain location, like a city centre, or deliver it to one of their remote branches.  For Britz, for example, they charge a $95 fee to all campervans picked up/dropped off in Queenstown.
Insurance charges:  Insurance can definitely add up if you are choosing the premium options, but the question is, could you afford not to?  Another thing to consider is if your travel insurance covers rental car hire. Some of them do, so premium insurance may not be required.
Credit card charges:  A lot of companies will charge you 2-3% to use your credit card.  Often American Express credit card charges are higher than this. (3% of $600 is an extra $180)
Snow chains: Some companies you will have to pay extra for these
Young persons surcharge:  Some companies will charge a young drivers surcharge if you are under 25 years old. Also some companies do not hire campervans to driver under 21 years of age.  Do doublecheck this if these age restrictions affect you.
Additional drivers: Does your rental include other drivers, as you can do a lot of driving in New Zealand
Little extras: Does your hire include linen, a GPS, car seats if you need them, bike racks, outdoor chairs etc
Return days and times: It may cost extra to drop a vehicle back on a Sunday, or after hours, or it actually may not even be possible, so you may have a book an extra day.
Private Campervan Rental Tips: Do be aware on some of the private rental sites, there may be additional charges for cleaning, credit cards etc, so its worth getting through the booking process to see the full costs.  When I have been looking, what looks like it would be just over $1000 for a week or so, ended up being closer to $1500 with all the costs added in.
Toll Roads: We only have 3 toll roads in New Zealand.  One just north of Auckland past Orewa (heading north towards Whangarei) and two in Tauranga.  There are no toll booths, it is a smart system where you go online to pay. You can pay for tolls in advance, or you have only 5 days to pay them before they issue you a toll payment notice and it will cost more with the added admin fee.  If you have good mobile phone service, and there are two of you sharing the driving, I would advise just to do it on the way so you don't forget. I have forgotten. A $2.40 toll in Northland became $12.00. The toll website is

https://

tollroad.govt.nz 
Extra tips
Remember a campervan is a big vehicle.  Especially in the cities, or main towns, you will need to be extra smart when you think about parking.  An easy option is to park on the edge of town near a bus or train stop, and using public transport for the day.  Especially in the cities, this will be a much cheaper and less frustrating option.

Your vehicle is also much taller than a car.  Be aware of this when entered parking buildings such as in a shopping mall or even going through a drive through.
How to save money while on your family campervan holiday in New Zealand
Firstly, you need to make the wisest options when choosing a van.  
The most basic campervan may mean you have to stay in a campground vs freedom camping, or you can't cook a lot of food, so you have to eat out more.  These may cost more than upgrading your campervan. So do the sums.

Some features such as a shower, may not be necessary.  You can use a shower at the local pool or gym for just a few dollars, or you can wash off in the beach showers.

Will the premium upgrades for insurance or extras mean you save money in the long run?

Booking your campervan in advance can often nab you an early bird discount.
Saving money while on the road
Ensure you choose the cheapest fuel station and don't get caught out in expensive tourist spots such as Wanaka.  If you want to find out how to get the cheapest fuel deals, click here

Shop at larger supermarkets rather than corner stores in tourist towns.

Use discount booking websites to save money on activities.  To find out more about this click here

Keep to the speed limit.  Especially in holiday times, the speed limit tolerance can be as low as 4km/h, so stick to the speed limit so you don't get a fine (and for safety of course)

Use freedom camping spots to save money on campground fees

Don't bring the kitchen sink, the heavier the vehicle, the more fuel is will take to move

Slow travel will mean you get to absorb the local culture, see more off the beaten track locations and save fuel.
Saving money on return
Make sure you have paid your road tolls.  The added admin fee when they have to send you an invoice just ups your toll price.

Fill up your gas bottle, fill up with fuel and empty all your tanks so you do not incur a fine at the end.

Allow enough time to drop off (and don't miss your flight)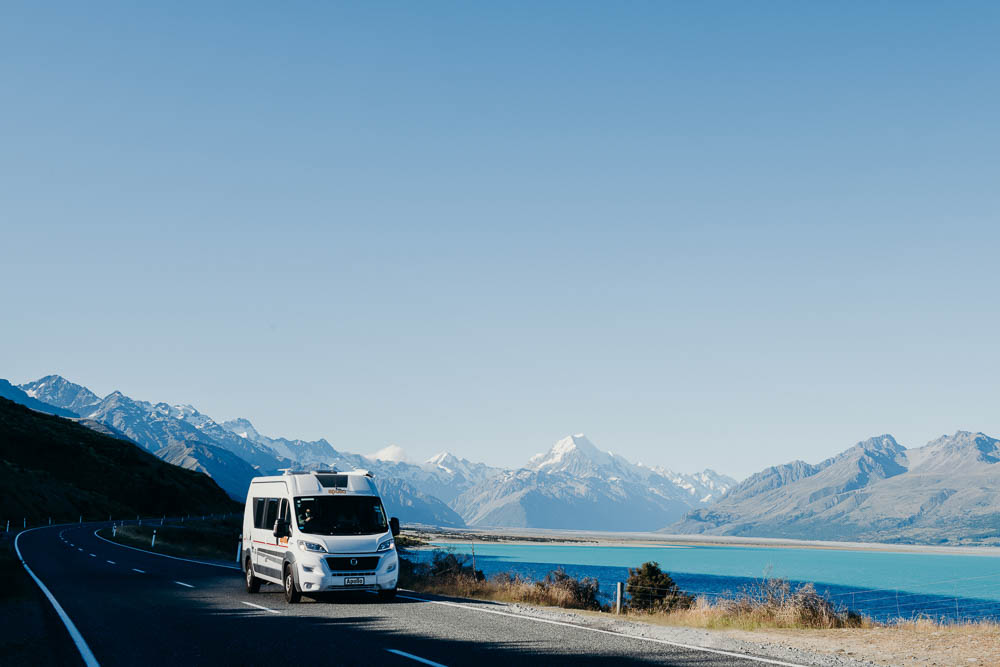 Driving in New Zealand
Making sure you know the road rules is perhaps the most important of all things to research when looking to rent a campervan in New Zealand.  You should always check the road rules for whatever country you are driving in, but here is a short summary/tips to refresh your memory.
Keep Left
We drive on the left-hand side of the road at all times.  Our travelling friends have told me, that backing out of a carpark, or onto rural roads with no traffic, are the most difficult times to remember.  Double check when pulling out into traffic.
We measure in kilometres
Speed in measured in kilometres in New Zealand.  The highest speed limit on an open road is 100km/h (60 miles per hour).  The tolerance for going over the speed limit is very low, and you will be ticketed for doing just 4km over the speed limit in busy holiday periods.  So do keep on eye on the ticker.
New Zealand Roads.
If you are coming from the USA, the UK or Europe, you will note we do not have a lot of motorways or highways.  The vast majority of our roads are single carriageway, ie. one lane travelling in each direction. We have lots of hills and mountains, the roads are beautifully scenic but can be windy so do take care.  We do not have many median barriers, or rumble strips (you know that bumpy strip in between both lanes to remind you, you are too close to the other side) so please keep your eyes on the road.
Red light Rules
Red always mean stop.  We have no free turns at red lights (like in the USA). Sorry guys, you will just have to wait until the light goes green.
Railway Crossings
Railways crossings may not always been marked.  Major intersections will have a bell, flashing lights and a barrier arm, but in the country, there may only be a railway sign crossing and it's up to you to check when it is safe.  So do not rely on the signage, always double check before you cross.
No mobile phones
It is illegal to be use a mobile phone while driving.  Leave it in the glove box or with the passenger. The police are known to pull over drivers and fine them for this offence.
Stick to the speed limit
The maximum speed limit is signposted on all roads, however sometimes they are spread out.  Residential areas are usually 50km/hour, or may be reduced to 30km/h in hot spots.  
School and School Bus Speed Limits   
Schools will often have a 40km/h speed restriction during drop off (8.30-9am) and pick up times (2.45-3.15pm).  Keep an eye out for these. Also if you are passing a school bus with a school sign on the back, your maximum speed is 20km/h.
Take your time
While you can travel across the country at 100km/h, with the winding roads, slowing down through small towns and quick photo stops along the way, you will generally find you can cover around 60-70kms in one hour.  We have very few motorways with multiple lanes, and in most parts of the country, State Highway 1, is just a single lane in each direction.
Farm animals 
This is not something you think you would come across in the driving section of this campervan article, but if you are travelling around rural New Zealand, you are likely to come across sheep or cows being moved down the road.  Do keep your eyes peeled because sometimes you creep up on them quite quickly, especially if you aren't expecting a road full of animals.  
Why? Well sometimes they need to be moved to neighbouring properties (where it isn't feasable to hire a truck) or sometimes it just across the road to the other part of the farm.  If you do approach a road full of animals, just make sure you slow down to a crawl. If they are a good farmer, they should have one person in front of the animals, and one in behind, so just chat with them to see what they would like you to do.  Often they will move them to one side and you just drive carefully down the other, and sometimes they will tell you just to drive on slowly. Whatever you do, don't beep the horn. You will just scare them, you will wind up the farmer and you risk them damaging your vehicle.
Think you know everything? Take the online quiz
This quiz covers all the main things that you need to know about driving in New Zealand.  You can test your knowledge here and guarantee you will keep your family safe.
New Zealand Accommodation Options
Freedom Camping
Freedom Camping is camping in public land, where there isn't an official campsite.  There are different rules in different places regarding freedom camping, so let me tell you the things you need to know.
Certified Self Contained
You may see the words "certified self contained" floating around.  Basically, this means you can be self sufficient for 3 days. This includes not requiring water (because you have your own tank), have a toilet and don't need to dump it and you have a rubbish bin with a lid.  Most larger style family campers you hire will have this. There are a number of freedom camping sites that do not have toilet and water facilities, but you CAN stay if you are certified self contained.  If you are staying off grid for a while, you will also need to consider where to find water and who to fill up your tank.
If you are not certified self contained, you can still freedom camp, it will just need to be at designated spots with toilets.  We really don't want all our beautiful natural areas soiled by thousands of travellers, otherwise it's just not going to be a nice place for everyone in the future.
District Council Rules
Every district council area has their own different rules for Freedom Camping.  Nobody would read them if I spelled out every one, but you can find access to the different council areas here.  Areas such as Queenstown and Wanaka (amongst others) are really tight on their rules for freedom camping as it's such a tourist hotspot and its really expensive for accommodation.  They have strict no camping rules in the townships and you will face a fine if you just park up and camp. So do make sure you are in a designated spot and read the signs. Large campervans are also not allowed to park in the Queenstown CBD, so find the designated parking spots (Boundary Street Carpark)
The best place to find advice for freedom camping is often at the tourist information centres.  They will often have an idea if those spots are busy and give you an idea of alternatives if you need them.
DOC Campsites
The Department of Conservation do an amazing job of providing free or cheap campsites across New Zealand in a range of stunning locations, often off the beaten track.  (All information sourced from the Department of Conservation website) All infants 0-4 years are free.
The 3 types of DOC campsites include: (prices as at August 2019)
Serviced campsites

: the highest comfort level and the most expensive ($18 per adult and $6.50 for children from 5 years old for non powered sites and a few extra dollars per night for power.  These sites will include flushing toilets and hot water showers

Scenic Campsites

have some of the most beautiful locations and adults are charged $13 for non powered sites and $16 for powered.  Less facilities than the serviced sites but if you have a camper, you have everything you need anyway.

Standard Campsites

are $8 per adult or $4 for children.  These sites will still have water, toilets and may have bbqs, picnic tables etc

Basic Campsites

are FREE and will have basic toilets and water may be from a tank or stream.
These campsites are some of the best kept secrets and are great for getting off the beaten track.  Another bonus is they are budget friendly, which is perfect for families
Commercial Campsites
There are hundreds of commercial campsites that range in facilities, but in general they will all have kitchens available, most have cabins, motel type rooms if you are looking for more comfort and lots of playgrounds, games rooms, dvds for the kids.  We often will stay in cabins when travelling in areas that are really expensive or we just like the location. Top 10 Holiday Parks are a major reliable brand of campgrounds if you are looking for a place with lots of services and facilities.
Okaytostay campsites
Okaytostay is a completely unique way of camping and getting to know local New Zealand.  For a small $59 per van annual fee, you will have access to over 100 campsites across to New Zealand for free.  While you can stay for free, you are expected to purchase some of the local produce. This may be wine at a vineyard, local artisan cheese, berries, jams etc.  It is a win-win situation as the camper gets a cheap stay and an insight to rural New Zealand and the artisan grower gets to sell their local product.
Campervans MUST be self contained to use this option as the rural properties are businesses, not campgrounds.  There is no access to power or bathroom facilities.
Off the Beaten Track Website
If you are looking for something a little different, you can find places to camp and lodging on the Off the Beaten Track website.  A little like airbnb for those looking for rural properties and something even a bit quirky. There are many camping locations in stunning places, that you would just not get to view, since its private property.
If you are looking for a night out of the camper, there are many unique options including glamping tents, luxury Bnbs and awesome on farm excursions.
FAQs Campervanning
This section will cover the random questions we are asked by our readers, that do not really fit into other categories.  If you have a question that I haven't covered, just ask us here
Are the road conditions good for campervans?
Yes! Campervanning is a really popular way to travel around New Zealand and you will be able to visit all your favourite New Zealand destinations and tourist activities by camper.
Depending on where you come from though, our roads are a little different.  We do not have many multiple lane motorways, most, including large proportions of State Highway 1 are just one lane going in each direction.  Beautiful mountains and rolling hills also means our roads can be quite windy, so do take care.
Some companies do have restrictions such as no driving on skifield roads, and one said no driving on the Milford Sound Road, but there are alternate options for these excursions.  In general, you shouldn't have a problem.
What type of luggage should I take?
Soft bags are the easiest to pack in campervan.  This means you they are easy to move and can squish into all the storage spots.  Hard shell carriers are much harder to cater for, so leave these at home if possible.
How do you cope with the kids on long road trips?
One of the best things about a campervan is that you can travel long distances and take your home with you.  But it still can mean a decent amount of time in the car, and entertaining them.  If you are interested in some awesome games you can play, things to bring with you to bide time, then check out these tips to make your road trip the best ever
Campervan Etiquette
On the Road
Pull over
If you are going a bit slower, nobody minds because we know you are getting used to the roads, and the scenery is AMAZING, but do please pull over and let everyone pass.  Especially where there are hills and it is windy, those campers are slow to pull up the hill so be courteous to everyone and you're likely to get a thankful 'beep beep' from the locals.
Taking photos
We know there is amazing scenery, but do take care where you park to take a photo.  I've seen people park on blind corners with the back ends hanging over the road and it is just dangerous. Park where its safe, and walk back to that magic spot.  You will often find there are pull off areas in scenic spots, just for that perfect picture too.
Parking Up
Camp in appropriate places
Just because you have a self contained vehicle that does not mean you can park and camp anywhere you like.  Make sure you are in a designated area, or if you are well off the beaten track, ensure you are well off the road and take care of the land.  
Be a tidy kiwi
You may hear this term on your travels.. It was an ad campaign way back when.  But essentially, tidy up and leave your campsite as it was before, or in fact, even better than before.  Ensure you take your rubbish with you or use the bins provided. Be careful where you park so you do not ruin the land.
Respect thy neighbour
Be considerate of others when camping.  
Keep noise to a minimum in the evenings

Respect their campsite.  Don't just walk through it because it's faster to get to the facilities.

If you are arriving late or leaving early, plan ahead so there is little to do in these sleeping hours.  For example, pack up as much as you can the night before, so there is less noise in the morning.

Don't leave your lights on all night.  Nobody likes to sleep with light shining in, especially not if they have kids.

Don't park right next to some else, if there are free spaces elsewhere.  Everyone likes a bit of space to breathe.

Leave the camp kitchens, bathrooms, dump stations clean and tidy.

Say hello!  Kiwis and kiwi travellers are a friendly bunch, having the same experience, so say kia ora and start a conversation.
Follow the rules
If you are in a campground, there will usually be a set of rules and regulations.  Make sure you read them and follow them.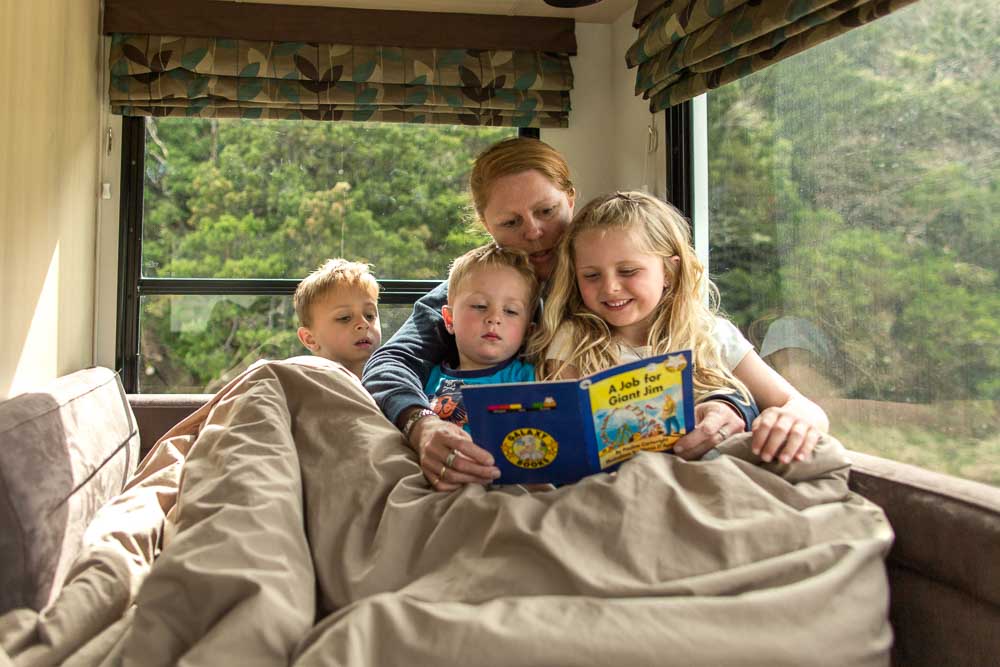 Interview with a travelling family and their campervanning in New Zealand experience
We had a chat to our Instagram Friends Todd and Ashley from @oursquadabroad who are a family of 6.  They toured around New Zealand in a campervan with their four children and had an amazing time.  So we thought we would chat with them, and get their take on travelling around New Zealand by motorhome.
Why did you choose a family campervan holiday in New Zealand?
Just as a background, it is important to know we wouldn't consider ourselves a camping family, so to anyone hesitant about it for that reason, if we can do it, you can to!  New Zealand was our first stop on our big family adventure, and neither of us had ever been. The more we researched NZ the more overwhelmed we felt at the prospect of nailing down an itinerary, there is just so much to do and we were so afraid we would miss out on things because didn't plan perfectly, there was also the stress of packing and unpacking a family of 6 every day or two, knowing that we wanted to see as much of NZ as possible, that had the potential to become a huge burden.  That is when we started looking to campervans, we had come across them several times while researching, and it was looking like they would be a great solution for us. We could totally unpack and settle in, which is so much nicer than living out of a suitcase. We would be able to travel with a stocked fridge and pantry, which is total life saver with kids and would help us to make healthy choices on the road. It would offer us the most flexibility with our timeline, allowing us to spend as much or as little time in places as we wanted.  
Is there anything you wish you would have known before campervanning in NZ?
Every road in NZ is a scenic route; for good and for bad.  The views are spectacular, but the roads follow the beautiful coast making them windy, and slower than we anticipated, so every leg of the trip takes longer than planned.
When travelling to the more iconic tourist spots, get there a bit earlier in the day, the free spots sometimes fill up early, and from what we've heard during the summer months even the paid sites can full up early.
Check your drivers insurance before you go, our Canadian driving insurance will cover us driving in costs of international countries but not in NZ, so we had to get the insurance from the rental company.
This one is probably obvious to everyone else but me… but check what day your flight arrives before booking accommodations.  We ended up having to pay an extra day for our camper because we forgot that we would lose an entire travelling over the date line from North America.
Things close early in NZ especially in some smaller areas on the North Island, don't assume you will be able to find restaurants open later in the evening.  Have enough food/snacks in the camper that if you arrive in an area and nothing is open, you won't go hungry
Best/worst bits about using a camper?
Best: We were able to unpack and settle in, which was so nice for our transitions.  Packing/Unpacking every day or two would have so stressful.
With a young toddler it was nice to have the option to let him nap anywhere, sometimes with kids of varying ages nap times can be tricky, but the big kids could easily  play at the park, while the baby napped inside.
Having food accessible at all times was really nice as well. We would stock up at the grocery store every couple days, and have lots of food available eat on the go.  We also did a lot of our breakfasts and lunches in RV.
Because we were homeschooling while we travelled, being in the same environment really helped us stick to our school routines in the morning.
We loved freedom camping, NZ has some great resources available to help RVers know where they can camp for free (the 2 apps we used were Rankers NZ and Campermate) , and often it was in some of the most beautiful places, we had some of our best views in free camping spots.
Worst: because we are in a larger model to accommodate our family, it was pretty tricky driving and finding parking in the bigger cities.  Weather became a factor for us, the Camper had a heater that worked well, but we visited NZ in the spring and with that came a fair bit of rain and wet clothes, we had a really hard time drying out anything that got wet.
Some of the smaller units have BBQ/grill that you take outside for cooking but ours was inside, which meant that if we cooked anything the smell would linger in the small space for quite some time.  
There are quite a few extra costs that we encountered, when we picked of the camper that we didn't realize, I'm sure that information was available before hand though, so we could have alleviated that stress if we would have read more about it.
When the weather is bad, there is no where to go, and with 4 young kids, we went a little stir crazy, luckily our weather was mostly great. (except that crazy snow day)
In terms of budget, how did this fit in with yours? Was it a good value option?
We were in the camper for 28 days and it ended up being slightly higher than staying in a hotel would have been. With that being said though, because we needed a 6 berth camper we were very limited to units that were available to us. Had we been able to rent a smaller camper, I think it could have been a lot more budget friendly because there are so many more suppliers that offer smaller units.
Would you recommend this as an option for other families travelling around NZ
Absolutely!  Campervan travel was such an exciting way to see an incredibly beautiful country, and makes fast paced travelling incredibly do-able for families.
Is there anything else that you think is helpful for other families to know?
Stop at the Information Centres, the people that work in them are such a great resource to campervanners.  They know great places to stop and we owe some of our best memories in NZ to their fabulous suggestions.
Buy your SIM card at the airport, the big phone companies give way better deals and incentives at their airport kiosks that they do elsewhere. We ended up driving to the airport just to buy a new card when ours ran out because the savings were so significant.