A Day in Ski School at Mt Hutt: A Detailed Guide to Skiwiland and Kea Club
Mt Hutt Ski School, Methven
*** Please note that the ski preschool at Mt Hutt is not open in 2023 due to lack of qualified teachers.  So there is no childcare for U5s in 2023.  General group lessons/ski school is open for kids who are 4 years and older****
As a parent who had never ever dropped their kids off into a kids club, either at the mountain, on a cruise or at a hotel, I have to say I was a little apprehensive about how it would go.  I didn't really know a lot about the facilities or kids club at Mt Hutt and it's always a little harder leaving the kids with someone they haven't built a relationship with. But I needn't have worried, it was awesome.  So let me run you through the kids products at Mt Hutt and exactly how your day will go.
Here are the facts before you read on:
If you are interested in what the ski school is like at Mount Hutt, if Skiwiland is a good option for your child, or just the general kids programmes at Mt Hutt, check out our detailed review below.
Children Ski Programmes
Skiwiland
Kea Club
First Time Skiing at Mt Hutt?
If you want to more about how to get to Mt Hutt, how to teach your kids to ski on your own and all about the facilities on the mountain, see our guide here
What is Kea Club?
Kea Club is Mt Hutts Ski School.  They accept children from 5-17 years old.  Skiing lessons start from 5 years old and snowboarding lessons start from 7 years old.  There is no minimum ability requirement to learn any of these sports, even a complete beginner is taken under their wing and taught all the basics.
The full Kea Club day consists of 2 x 2.5 hour lessons and a decent break for lunch.  Further details can be found below in our review.
What is Skiwiland? 
Skiwiland is Mt Hutt's mountain based preschool.  It is certified by the Ministry of Education and as such has strict protocols ensuring the safety and wellbeing of your child.  In particular is the adult:child ratio which is quite low. Because of this, you will need to book your child in, in advance, as they are often filled to capacity, especially on the weekends.  The benefit of this, is that there is plenty of supervision and that the childcare centre is never overfilled.  It is warm and toasty inside and very homely, so even the smallest babies will enjoy their time here.
Mini Kids Programme (** not currently running)
Mini Kids is the 3 month – 2 year old programme.  These younger kids have their own separate room, allowing quieter play, away from the excited 3 and 4 year olds.  There is a sleep room, dining area and a lovely place space for the little ones. Plenty of toys, musical instruments and art supplies fill the room.  It is pretty awesome that very young children can attend and they note that you are welcome to pop in and breastfeed your baby while on the mountain. (So no pumping required for breastfeeding mums!)
Kiwi Kids Programme (**not currently running)
Kiwi Kids is the older kids (preschool aged) childcare programme catering for kids two years old to five.  The programme includes outside snow play, lunch, snacks and entertaining play throughout the day. This programme does not include ski lessons.  (See Skiwi kids below if you would like your preschoolers to learn to ski)  Toddlers who aren't quite ready to ski will love the variety of activities available during the day.
Skiwi Kids Programme
Skiwi Kids is the preschool learn to ski and childcare programme.  Kids can learn to ski from 3 years old. Just outside the Skiwiland preschool is a purpose built mini slope and rubber mats for them to walk up on their skis.  The focus on these lessons is for kids to learn to stop correctly, and then they are taken out onto the magic carpet and beginners slope. Morning Tea, Lunch and Afternoon Tea is provided for this full day programme, and half day sessions are also on offer.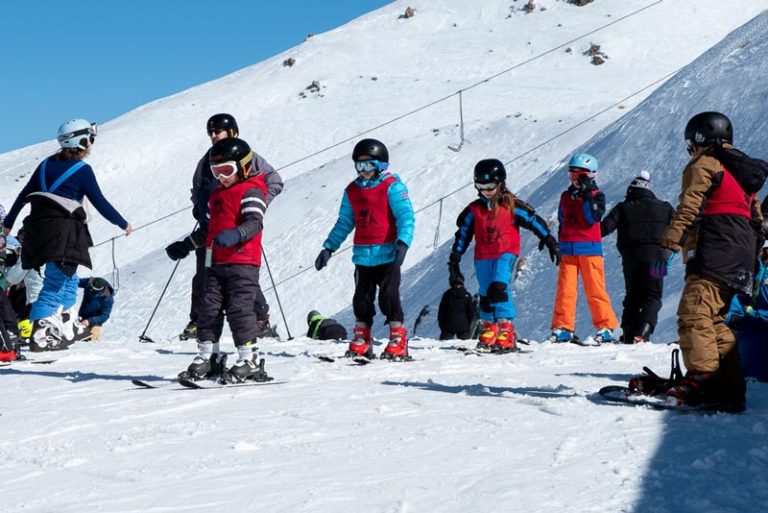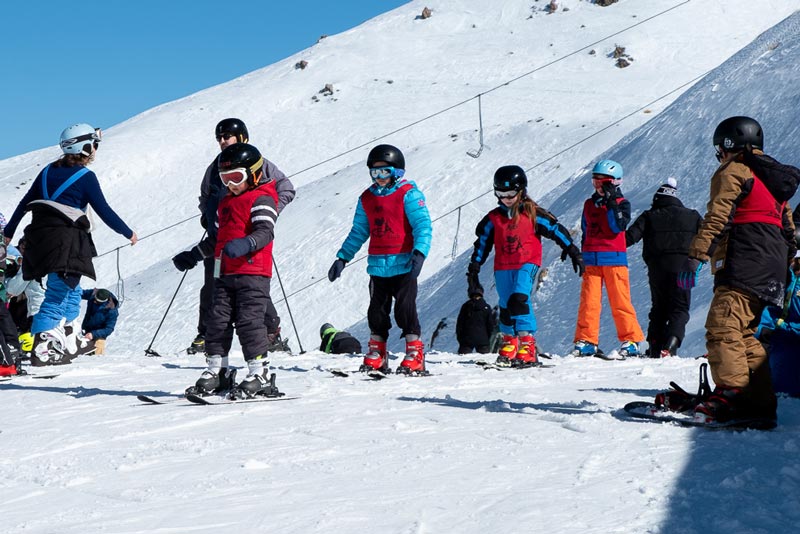 How much does Skiwiland and Kids ski lessons cost? 
(as at June 2022)
Skiwi Kids (2-5 years, with ski lessons if applicable) 9am-4pm
$129 for a full day including morning tea, afternoon tea, lunch, gear rental and lessons
Ski Lessons for Kids 5-17 years old
Kids 5-17 years old: $149 for a full day lesson from 10am-3.30pm.  This does not include lift passes or rental equipment.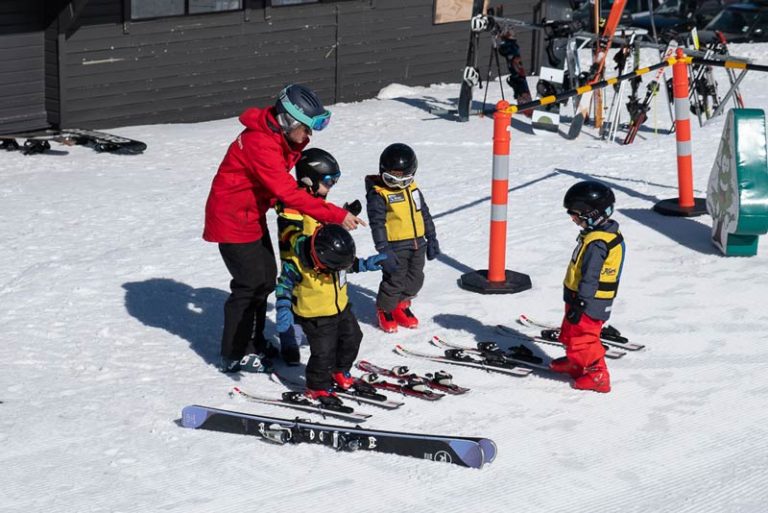 Booking Process for Skiwiland and Kea Club
First Time at Mt Hutt
If this is the first time you have skied at Mt Hutt, or your children have not enrolled in the childcare or ski school facilities, you will need to call Mt Hutt to book them in.  I recommend you do this in advance, as the childcare in particular (Skiwiland – 2 – 5 years) does fill up quickly. As they have to have a small adult:child ratio, it is often difficult to book them in at late notice.  
With limited instructors on the books at the moment, you will also want to get kids booked into ski school as soon as you know your dates.  There is often a small discount for bookings in advance too.
When you arrive at Mt Hutt, you will need to head to Guest Services/Sales and wait in line to make payment and fill in the child care enrollment information with a member of staff.  This took around 10 minutes with 2 children. The busiest time for Guest Services is between 9-10am, so if you can arrive before this, you won't have to wait in line so long with eager children.
We took the 7.45am Methven Travel Ski Bus from the Methven I-Site direct to the door and we arrived around 8.40am.  There were only half a dozen or so people in line then, so I think this was a great arrival time. 
Easiest way to book if you have skied at Mt Hutt before
If your kids have already attended before and have a Mt Hutt MyPass Card, you can use the details on this card to book in online.  This means you can streamline your check in process, pay in advance and not have to attend guest services once you arrive. The MyPass Card will have all the information loaded directly on it, so don't forget to bring it with you.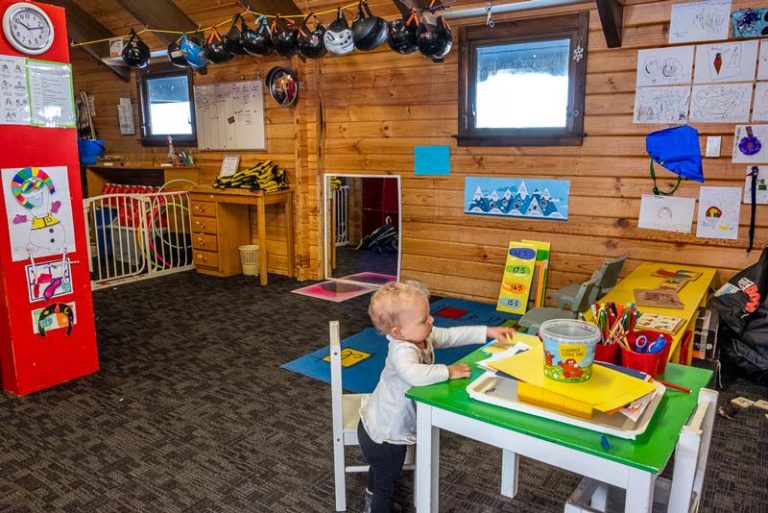 Drop off at Skiwiland
You do need to allow enough time to drop off your kids at Skiwiland before you attend your own lessons or ski on your own.  When you arrive at the Skiwiland Centre, you will need to double check your emergency contact details and sign in your child to the centre.  We were greeted by the most lovely head teacher and he was so warm and welcoming. He happily answered my many questions and made me really feel at ease about leaving my 4 year old with them.
The good thing about Skiwiland is that they have all the skies and gear on site, including helmets and goggles.  So you won't have to pick up any rental gear before you drop them off (time saver!)  
They found Kipton a locker for his gear, double checked about allergies, toileting, naps, whether they were allowed to sunscreen him etc and encouraged him to find some toys to play with.  At this stage, he was good to go! I would allow about 15 minutes to check them in.
Drop them off, then don't come back!
This may sound a little harsh, but the children whose parents left them for their session and didn't come back, were by far the most settled kids.  Also, you have paid good money to leave them under someone else's care, so go and enjoy yourself and know they will be well looked after.
There were a few kids who could see their parents outside milling around, and some who came back to the window to check on them, and every time it was a resettling process for the staff.  I have to say I was really impressed with how the staff handled the kids. I think at one stage there were three upset children and they treated the kids with kindness and patience and did really well at distracting the kids.  Once they were settled, they were absolutely fine.
If your kids are in the Skiwi Kids programme, which means they get ski lessons as part of their day, you will be able to see them from the cafe windows or the deck.  This is a great way to spy on their progress without interrupting them.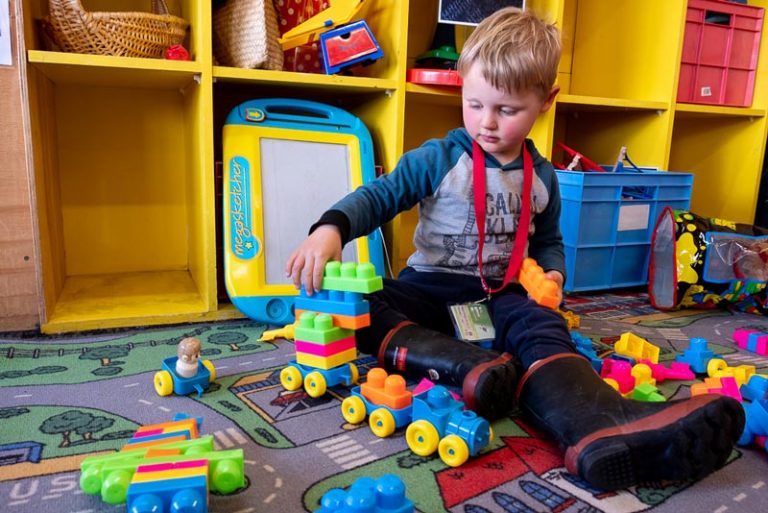 Daily Routine
The Skiwiland daily routine is detailed here on the Mt Hutt website, but in a nutshell…
Arrival/Settle In/Play time

Morning Tea

Ski Lesson (or Snow Play for younger ones, or inside play)

Play

Lunch

Ski Lesson (or Snow Play for younger ones, or inside play)

Play
Ski Lessons at Skiwiland
The best thing about the Skiwiland Preschool is the kids also get to learn to ski (if they are enrolled in Skiwi Kids from 3 years old)  They start the kids off on the little slope right out the door of the preschool, focusing on getting the kids to make a pizza and stop. I love how it is so close, so they don't have to walk far in the heavy skis and if they get tired they can just play in the snow or go inside.
Once the children know how to stop effectively, the ski instructors will take them over to the learner slope and up the magic carpet.  The one boy who was ready for this stage practically got a short one on one private lesson (great value huh?)
Food at Skiwiland
Morning and Afternoon Tea is provided for all children and lunch is provided for full day Skiwiland Kids.  I was really impressed to see there were a lot of healthy choices for the kids, as many kids clubs will resort to just fried foods.  The kids were offered cut up fruit and rice crackers for morning tea and they had good serves of tomato penne pasta for lunch. The food had been freshly prepared onsite and there was plenty of it, so don't worry that your kids will go hungry.
What to pack for Skiwiland
Ski pants

Ski jacket

Waterproof gloves

Merino or thermal underlayers

General preschool clothes for wearing inside (extra underwear if necessary too)

If you have more than one child, it's much easier if they have their own gear in their own bags.
The teachers did mention they had a small amount of snow gear available for the children to borrow, but I would just check if you needed something specific.  But just give them a call if you'd like to know more about what to wear skiing.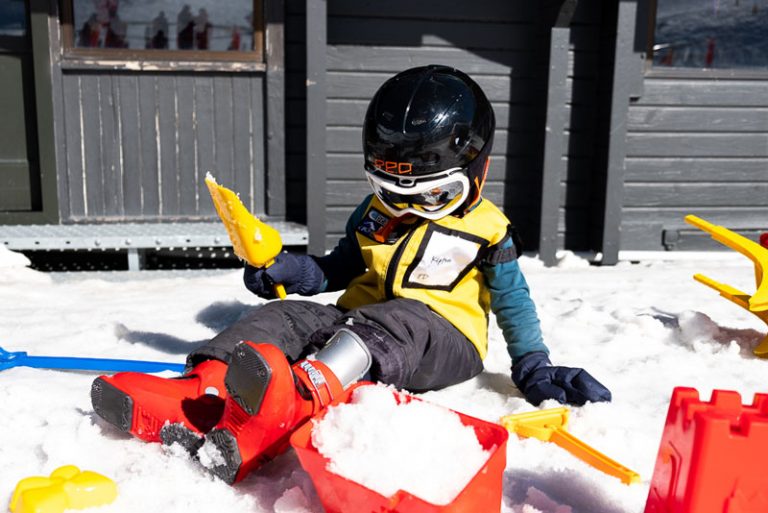 Mini Kids Programme
The Mini Kids programme is essentially the same as the Skiwikids.  The Minis do have their own separate space, as it can get quite noisy and over stimulating for the younger ones in the big room.  The sleep room is also in the Minis area and there are two bunk cots for little ones and some camp style cots for the older children to sleep too. 
Emilia (15 months) who had never been to a preschool before, did pretty well considering she only had a nap on my back for 20 minutes all day.  There was only room for her to be booked in for the afternoon, otherwise I would have hoped for her to sleep in the sleep room (So book early!)
At one stage, they were a little concerned about a rash, so the staff called the on-site doctor.  (Don't worry, it turned out to just be a bit of heat rash) I had no idea there was a doctor on site, so this was good to know they have someone to turn to if they were concerned.
There were all sorts of baby appropriate toys for her to play with, and when she got upset, they took her into the bigger room for her to play with her older brother.  He provided a great deal of comfort for her so I'm glad they used that as a settling strategy.
One thing to note is that the Mini Under 2s need to bring their own food with them.  They find this the most effective way of getting the kids to eat since they are all at such different eating stages.
What to pack for Mini Kids
Ski jacket, pants and waterproof gloves for outside snow play

Food for the whole day

Bottles/Milk

Nappies and wipes

Change of clothes in case of an accident.

Hat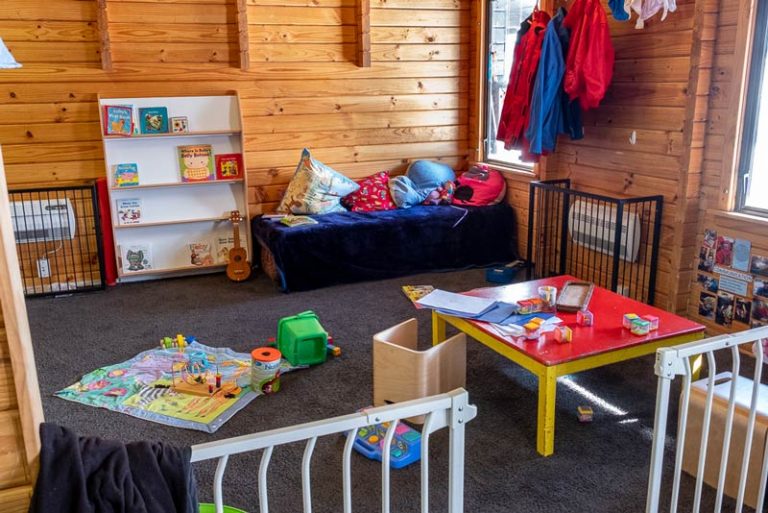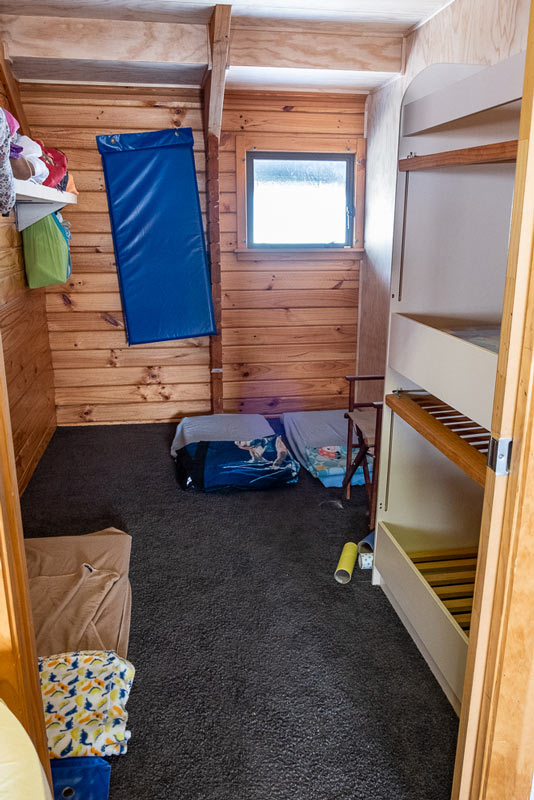 Overall Impression of Skiwiland
Space:  I was quite surprised at the amount of space inside the preschool.  They had all the usual toys, dress ups, paints etc, with the bonus of having a designated snow play area too.  
Staff:  I really could not fault the staff.  They did not get frustrated with the amount of settling they had to do with the kids, were so friendly and welcoming and were also great with the ski instruction.
Ski lessons:  The instructors were really great with the little ones and receptive to the kids getting tired.  They worked within the kids ability and energy levels and I was really happy with Kiptons progress here.

I loved how Kipton came back with paint all over him, showing they really got immersed in some great activities.  It would be easy for sub par facilities to just have a few toys and not engage in messy play, so I am glad he got a full preschool experience up there.

I also really liked how they even had baby sunglasses for the wee ones.  This is something I never even thought of and it was so bright out there.  Great protective measure.
I was really impressed overall with the preschool operation and it was the staff that really sold it to me.  I would have no hesitation recommending this childcare facility to anyone. Your children will be safe and secure and asking to go back like mine were.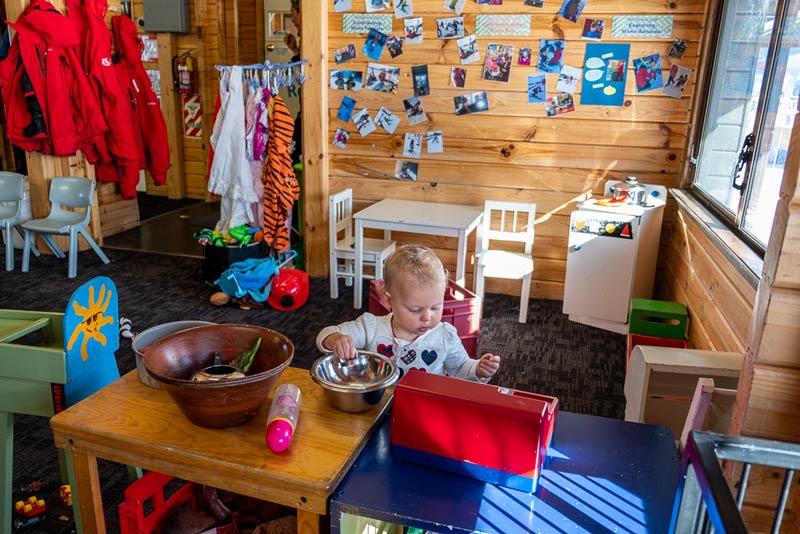 Kea Kids Club Ski Lessons
Lift Pass
One thing we really love about Mt Hutt is their Kids for Free programme.  So kids ski for free if they are 7 years old or under. Their lift pass will allow them to access all parts of the mountain which is awesome.  Even though they ski for free, you still need to have a lift pass as the lift gates only open if they have a pass. Head to Guest Services for your pass and if you are planning on heading up to the mountain a lot, ask them to load an annual pass so you do not have to head to Guest Services each time you come up the mountain.
Drop off and Meeting Point
You will need to drop your child off at the Kea Club Lessons at the colourful arches just outside the Skiwiland Area, opposite the main building.  You will see flags for ski lessons. They recommend being here 15 minutes prior to the lesson start.
Ski instructors will collect your child and determine their ski ability. They will ask questions such as "are they able to stop", "can they make a turn?, "have they skied before" etc.  They will be placed in the appropriate ability level group and then as parents, you are free to go!
As stated above with Skiwiland, especially if your child is a little anxious, it is best to leave them and let them get settled with the instructors.  Once they see a parent they are far more likely to break down or become more unsettled.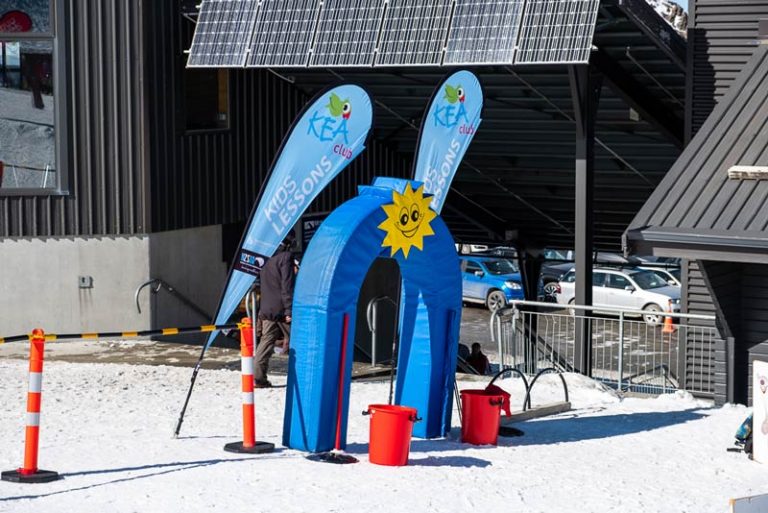 Overview of the Kea Club Kids Ski Lessons day
10am Drop off

Ski Lesson 

Lunch break – bring your own

Ski Lesson 

3.30pm Pickup
Tip: I would ensure that the kids have had an early morning tea, and that you have afternoon tea snacks available for the ride home.  If your kids had breakfast early to make it up the mountain like ours did (6.30am), they are likely to want a snack before their 10am lesson.  So pack a snack in their bag. I feel like a day on the mountain is the same as a day at the pool. They burn so much energy, need a lot of food and then are knackered at the end of the day.  Both kids ate banana sandwiches on the way home after their huge day.
What to bring to Kea Club
Waterproof Jacket and Pants

Waterproof gloves

Skis/snowboard

Thermal or merino layers

Sunglasses/Goggles

Helmet 
Note there is nowhere to leave any gear as part of the Kea Kids Club.  There are public storage areas under the Hubers Hut Restaurant or you can rent a storage locker for the day.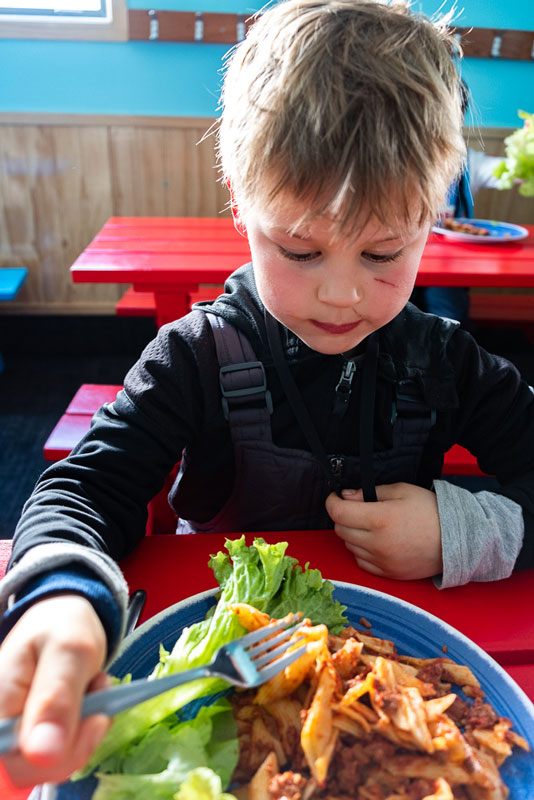 Kea Club Ski Lessons
Nathan (5) was classed as a level two skier meaning he knew how to stop and was working on his turns.  By the end of the day, he was working on his Level 2b skills, which would hopefully allow him to head up his first chairlift shortly. 
He spent the day on the learner slope using the magic carpet, and progressed onto the steeper learner slope in the afternoon.  His group had about 5 students in it and his instructor was very knowledgeable. As students progressed through the day, they were moved between groups, ensuring everyone was always learning at the appropriate level.
I really liked this, as it meant the kids wouldn't get bored or frustrated once they had mastered the skills.   Kids are given a Kea Club progression card to track their skills, and this is a good way for parents to see where they are at.  It is also useful if you book into another lesson, as the instructors can pick up where they left off last time.
Overall Impression
While a little apprehensive at the start, Nathan really enjoyed the day.  He was keen to go back again, so there's nothing more I could ask for

Staff were really friendly, energetic and skilled at teaching different levels
Summary
I was really impressed at the kids programmes that were available at Mt Hutt.  Our kids were well looked after and I could see progress in their skiing. I would definitely recommend it if your kids are new to skiing, or if you don't have the skills to teach them.  It's a great option for parents to have some time together by themselves to ski or snowboard. Whatever you choose, I'm sure you will have a magic day on Mt Hutt.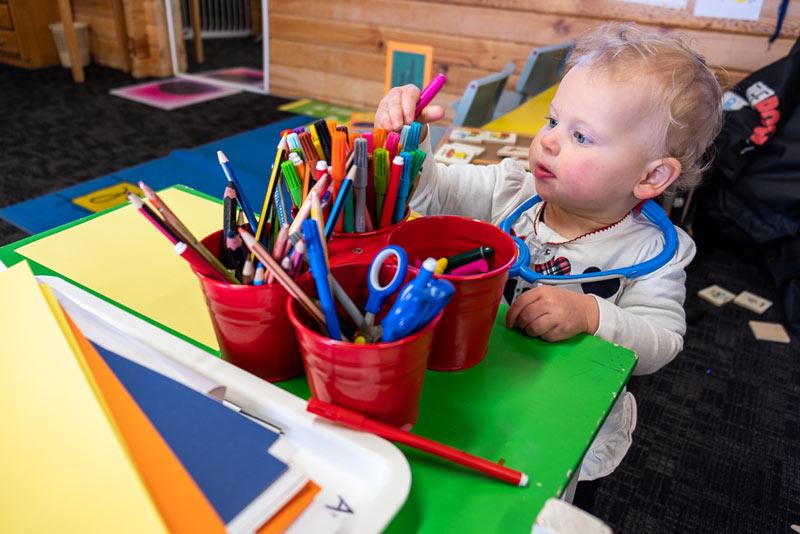 What to do when the Mt Hutt is closed?
Sometimes it is just too windy, snowy or dangerous to get up to Mt Hutt and the mountain is closed.  Here are some other things to do in Methven and the Ashburton District to help keep and the kids busy on the off days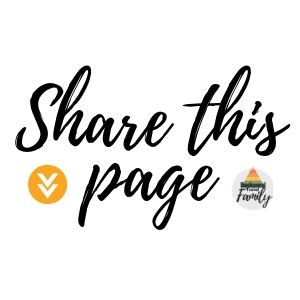 Mummy I am getting better at my pizza (learning to stop) and the pasta was yummy. I think I would like to play here again one day.