Hiking the Routeburn Track with Kids
Tramping the Routeburn Track with Kids
The Routeburn Track is one of New Zealand's Great Walks.  It's a 32km walk that crosses Mt Aspiring National Park and Fiordland National Park.  This three day – two night walk encompasses the most incredible exploration of New Zealand bush, alpine lakes, mountain landscapes and tranquil nature.
A big thank you to Easyhike who provided car relocation, gear and food for this trip.  They are an awesome locally owned company who I would love for you to support as well.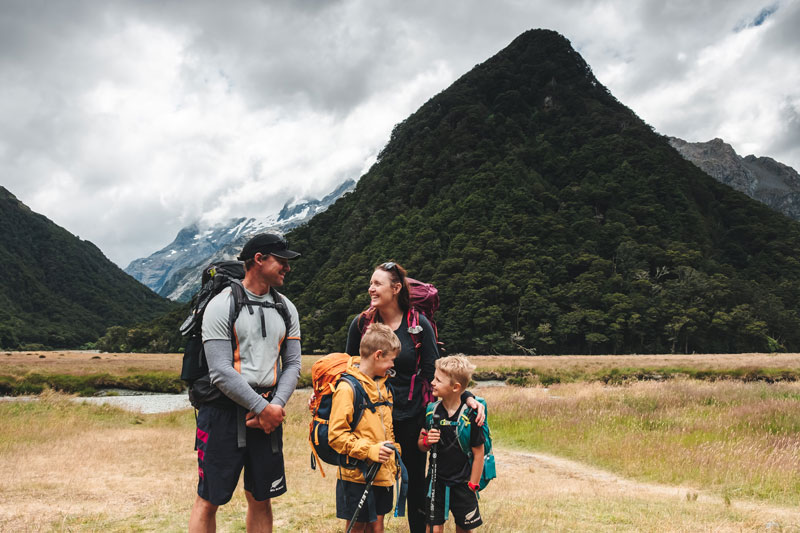 Logistics and Overview
Planning a Multi-day hike for a family can be a little daunting, especially when it's not a loop track.  So there are a few things that you need to plan for to make sure you have all your ducks in a row
*Please note that you do not need to pay a fee to walk the track at all, but you will need to book a site to camp or to stay in a hut.  Some people run it or walk the whole thing in one day (one very big day) so this wouldn't cost you a penny.
Booking the Routeburn Track Huts (or campsites):  The Routeburn Track is a New Zealand Great Walk, making it a popular track for both domestic and international visitors.  Huts must be booked in advance and they usually release hut bookings in June for the Great Walk Season or around September to April.
Book your transport:  This track is a thru hike, meaning it starts in one place and ends in another.  You need to work out how you will get to and from the track.  We used Easyhike to help relocate our car, but they also do bus drop off and pick up as well.
Buy or hire your gear:  A multi day hike in one of the rainiest regions in New Zealand. We let you know what you need and what you can leave behind
Food:  Trying to bring a variety of food that won't go bad, get squashed and will feed the kids can be a little daunting.  It was for us.  We will tell you what worked and what we would change for next time.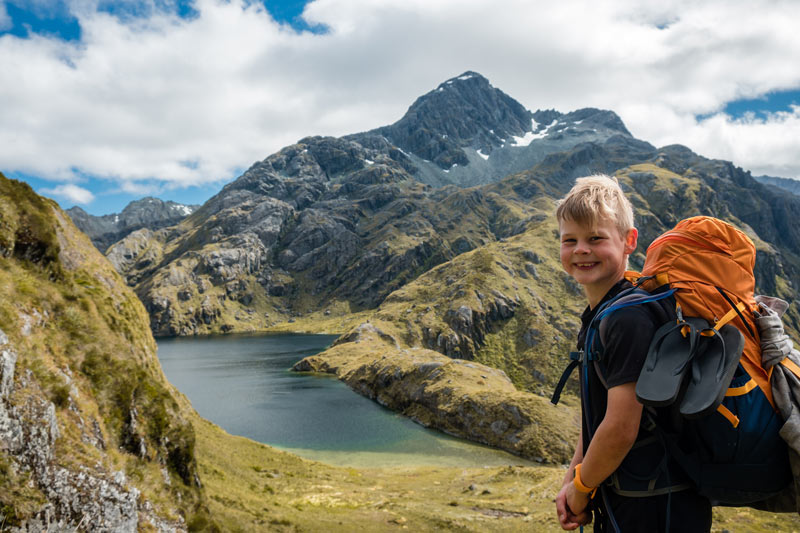 Article Table of Contents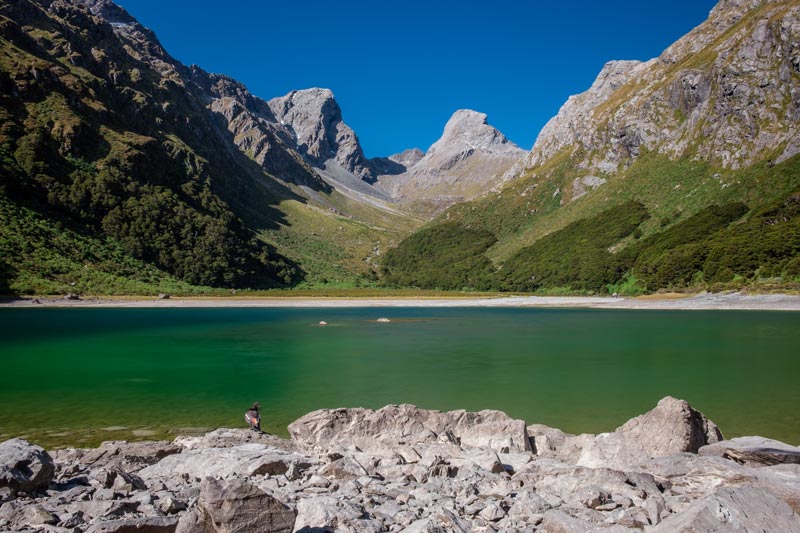 Booking the Routeburn Track
The Routeburn Track is a New Zealand Great Walk.  New Zealand Great Walks are well trodden tracks in some of the most beautiful places in the country.  During Great Walk season they provide rangers to help you where required at the huts and the huts are well looked after.
Great Walk Huts usually have gas and water provided and the "nicest" of the back country huts.  The Great Walk Season runs from about September to April but this particular track is open from 7 December – 30 April.  Outside of this time, it's not recommended to walk some of the Great Walks as winter makes the tracks hazardous due to their alpine nature.
You can walk the tracks outside of the season but there are less facilities provided and the huts are not bookable.  It's also recommended to be an experienced tramper to walk in winter conditions.  I wouldn't be taking my kids in winter thats for sure.
Hiking the Routeburn with Kids:  Book your walk within Great Walk season and there's a good chance (especially in school holidays) that you will be walking with other kids
When to book the Routeburn Track:  As soon as possible.  The bookings for the Routeburn Track usually open in June (ish) for the December-April season.  In past years bookings have filled up for the season within an hour, so get in quick.  Keep an eye on the Department of Conservation website for the official release dates.
Before you book, you will need to know which direction to book the Routeburn Track and have a few preferred dates up your sleeve.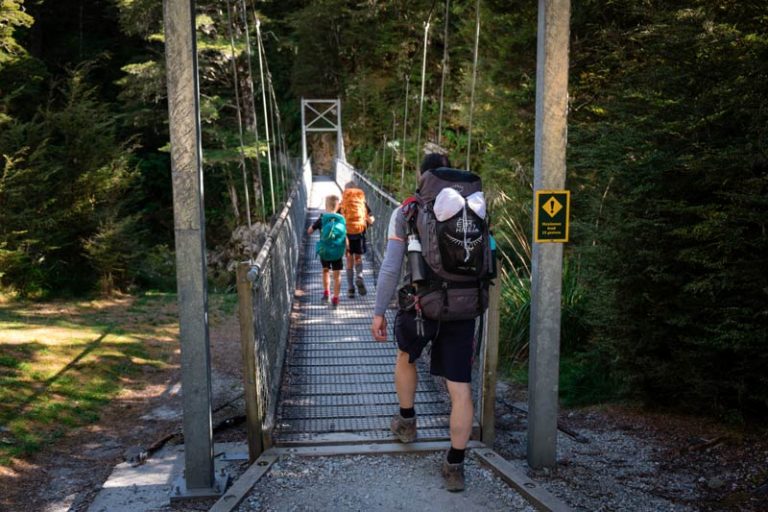 Which direction to book the Routeburn Track
You can walk the track in both directions, so this does give you some flexibility.  You could stay in Queenstown the night before, then walk in from the Routeburn Shelter in Glenorchy.  Or you could stay in Te Anau and start at the Divide side.
We had accommodation in Queenstown and felt with kids, that driving four hours then having a 4 hour walk into the first hut would be a bit much all in one day.  So we took the easier option of a short drive to the Glenorchy end of the track and a long drive back on the last day.  A friend also recommended this to be the better way to walk – thanks Sophie!
The track is relatively similar in both directions, however I do think Routeburn Shelter to the Divide is the easier option.  It avoids the big climb starting out on day 2 so I am happy with the way we walked.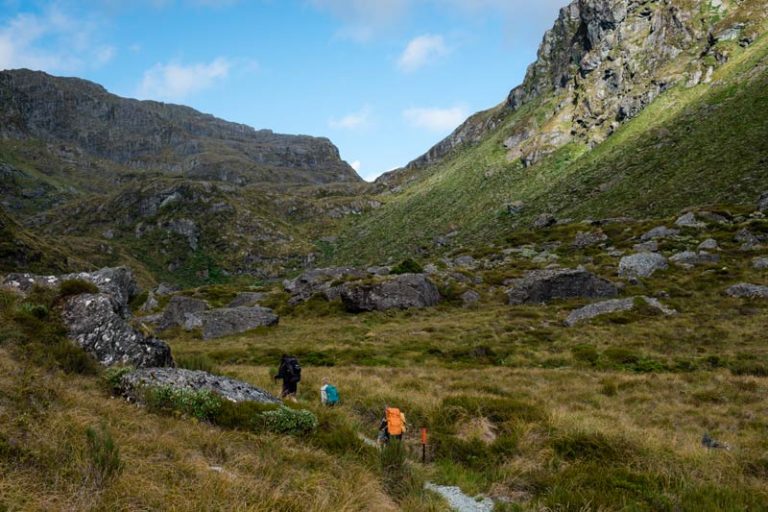 Camping vs Huts on the Routeburn Track
Huts on the Routeburn Track
There are currently three huts on the Routeburn Track: Routeburn Flats Hut, Routeburn Falls Hut and Lake Mackenzie Hut.  Previously there was a hut at Lake Howden however it is not operating at this time (2022)
Huts have the benefit of gas cookers with gas, a fire at the huts and mattress and bunkbed to sleep on.
As at 2022, the Routeburn Huts cost $68 per adult per night for New Zealanders and NZ children under 18 are free.  Hut spaces fill up pretty quickly so this is something to keep in mind.
We chose huts as it seemed an easier option with the kids.

Camping on the Routeburn Track
There are two spots to camp on the Routeburn Track.  There is a campsite at Routeburn Flats Hut, and 10 minutes past Lake Mackenzie Hut.
Campsite users are not allowed to use the facilities at the hut, so this is something to keep in mind.  Campers will obviously have to carry their own tent and cooking gear, adding to your weight.
One nice thing about camping is that you have your own sleeping space.  You don't have to sleep right next to strangers and can move your tent away from the snorers.
During the Great Walk season you must book your campsite in advance.  A bonus of the campsites is that they do not seem to book up quite as quickly as hut sites (not within the hour) but don't be surprised if they are full over the summer period.
The Routeburn campsite prices as at 2022 are $21 per adult for New Zealanders are kids under 18 are free.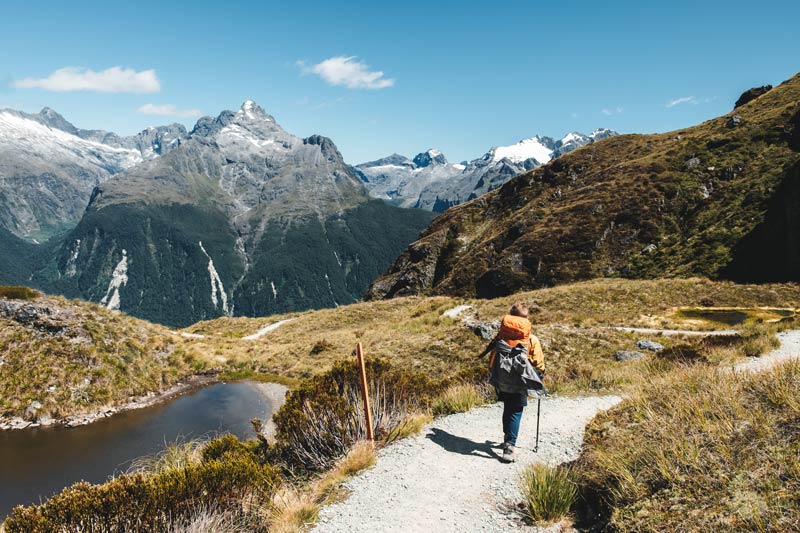 Getting There: Transport Options for the Routeburn Track
The hardest part about planning for the Routeburn Track is organising transport.  The Routeburn is a one way walk that can be walked in either direction.  You can start at Glenorchy and end at the Divide (closeish to Milford Sound) or the reverse.  
Although the Routeburn Track is only 32km long (20 miles), to drive from the starting point to the end point is a whopping 324km, taking around 5 hours to drive.  Crazy huh?
But transport doesn't have to be hard.  We used an awesome local company called Easyhike who arranged our transport for us.  The cheapest option for a family of four is to have your car relocated.
How this works
Book in with Easyhike as soon as you have your hut dates

Easyhike will drop off your lockbox at your Queenstown accommodation before you hike (or you could pick it up)

Drive to the start of the track and lock your key in the special lockbox, attach it to your car and just start walking

Easyhike picks up your vehicle and transfers it to the other end of the track so that it is ready for you on your arrival date.

How easy is that?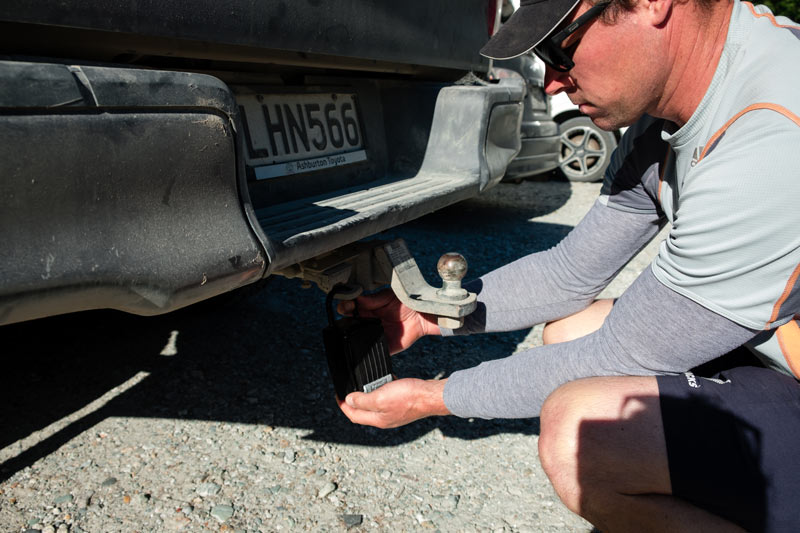 Another option that Easyhike provides is a bus transport service.  This would be a cheaper option if you only had a few people in your tramping party, or you didn't feel like driving the distance.  One downside is that if you are early to the bus, you will have to wait around, or you have to work to a schedule to make sure that you don't miss it.
That being said, leaving the driving to someone else after a few days hiking sounds pretty good to me.
Summary: Transport Options for the Routeburn Track
Car Relocation

Bus Transport

Having someone drop you off and pick you up

Walk the track there and back (probably not ideal with kids)
What gear to take on the Routeburn Track
The balance between taking enough gear for all situations and weather vs being able to comfortably carry at the gear is such a hard one.  I know with kids that I always pack a little extra in case they get things wet or dirty, but on a tramp where every gram counts, you've got to strike it right.
One of the ways to do this is to choose fast drying clothing, so that if you do get wet, it should dry overnight by the fire.  Also consider if there are extra items that you can share as a family or between children, to reduce weight.
If you're not a regular tramper or hiker, then check out Easyhike for their gear packs.  They include all the essentials such as waterproof gear, pack with liner and cover, sleeping bag and liner, cooking gear, first aid kit and more.  The only things you will need are boots, thermal clothing and walking clothes.  Their service is so easy to use and it just takes the stress out of choosing good quality gear and remembering everything.  One thing to note is they don't do gear hire for kids.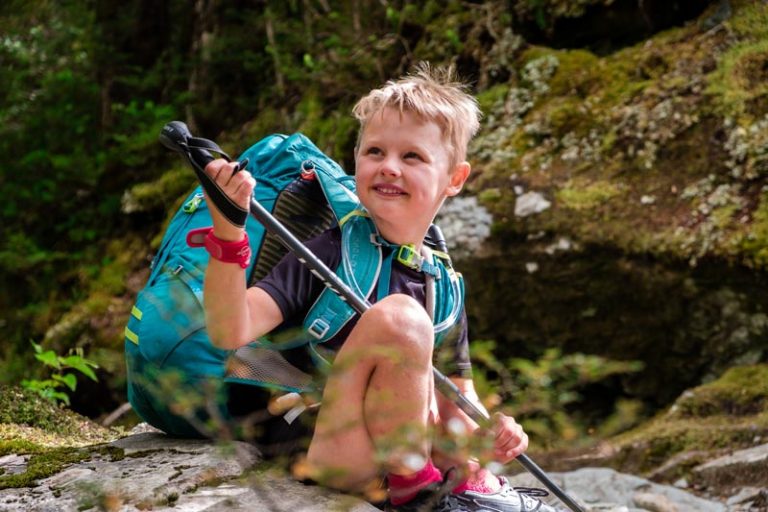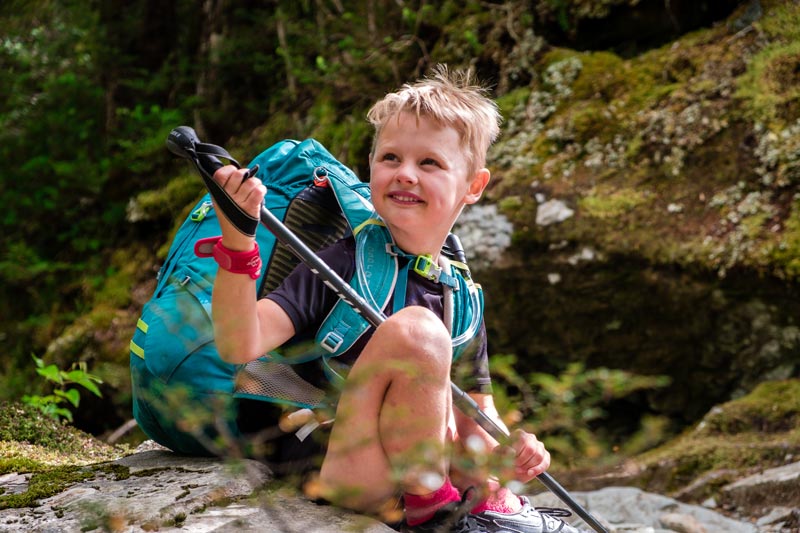 Packing List for the Kids
So something to be aware of is how much the kids will be carrying.  My kids were 6 and 8 years old at the time and this what they carried in their pack
Packs:
Osprey Jet 18 Backpack for 6 year old Kipton

Deuter Fox 30 Backpack for 8 year old Nathan 
Both containing
Adult sized Sea to Summit Sleeping Bag

Packing Cube (which doubled as a pillow)

Long sleeve thermal top and pants

Change of shorts and tshirt

Change of underwear and socks

Sweatshirt

Rainjacket and rainpants

1.5L water bladder

Pack cover

Book

Sunhat

Personal Locator Beacon
All the clothes, besides the jacket fit in their packing cubes, so essentially it was a packing cube, sleeping bag, jacket and water
The boys both wore light shorts and tshirt plus a thermal or jacket from their pack everyday.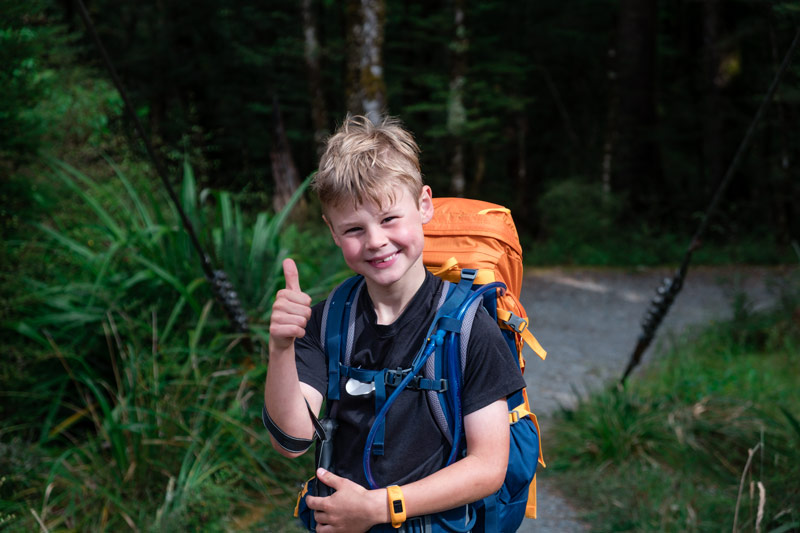 Adult Packing List
We partnered with Queenstown based company Easyhike to make sure we had all the gear we needed for this hike.  You can hire a gear pack from Easyhike so you have all the necessary equipment.
Their gear is top notch and uses high quality brands such as Osprey, Sea to Summit and North Face.  A great option if you don't hike very often, don't have all the gear you need or don't want to transport all your equipment. They made it so easy to plan as they dropped off everything you needed at your accommodation and collected it again.  I can highly recommend it
Below is what we took on the Routeburn Track.  Anything we hired from Easyhike is marked with a *
*Hiking Pack each (65L for Jen and 75L for Ashley)

*Sleeping Bag each

*Sleeping Bag Liner each

*Inflatable pillow

*Pack Liner each (basically a huge plastic bag to keep your things dry if it rains)

*Hiking Pack cover each

*Large Cooking Pot – 1 for the group

*Tea Towel

*Pot scrubber

*Dishwash liquid

*For eating: cups and bowls for everyone, knife, fork, spoon

*Food for 3 days (more on this below)

Water bladder for Jen, drink bottle for Ashley

Clothing (see below)

Hiking poles

Hiking boots

Head torch each

First aid kit

Sunscreen

Insect Repellant

Personal Locator Beacon (one for the group, although we do own 2)

Matches

Ziplock bags and rubbish bag

Cards

Sunhat

Clothing for Adults
Walking Clothes
Shorts or leggings

Tshirt or singlet

Long sleeve thermal or merino layer

Rainjacket*

Waterproof pants*

Fleece if required (we didn't need this while walking, as it was sunny)

Sunhat
Extra Clothes
We carried a full set of replacement walking clothes

Plus hut clothes such as long pants or whatever you feel comfy in. I liked to get out of my leggings

2 socks and underwear

Extra bra (so you can get rid of that cold sweat)

Beanie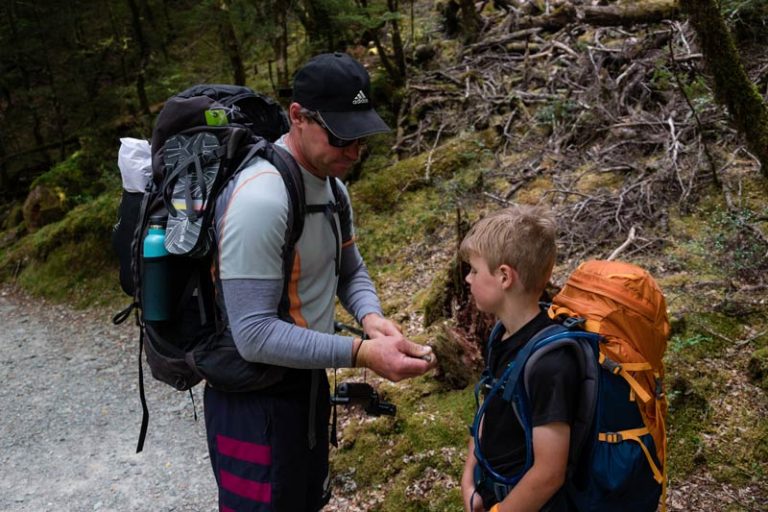 Food on the Routeburn Track
Wow food was perhaps the toughest thing for us to organise.  Stuck between will we have enough? What can I take that won't spoil?  Will everyone eat everything?  If you feel like this too, then you're not alone.
So we did two things on this trip.  We trialled out Easyhike's service of providing all the food for the adults for the whole 2 days and 3 nights.  We filled out and online form with what we liked, what we didn't and they created a custom menu for us.
Here's a photo of what they provided for us below.
For the kids, we opted for light things such as dehydrated meals, which worked somewhat, but I would change it up next time.  I think I would definitely do a fresher first dinner.  I felt by the end of the trip they were a bit over the dehydrated meals.  Even some basic spaghetti pasta cooked in a big pot with some tomato sauce would have worked well.
Cooking at the Routeburn Huts
One of the great things about Great Walk huts is that they provide gas cookers and gas.  So you really only need to bring some lightweight pots and frypans.  This can save a ton of space and means you don't have to buy anything which is ideal.
We also took a Jetboil Flash which is basically a fast water boiler. It can boil water much faster than a gas cooker which was convenient, but it also meant we could have a dehydrated meal on the trail for lunch if we wished.  It wasn't necessary at all, but I found it useful.
This is what we took for the kids for the three days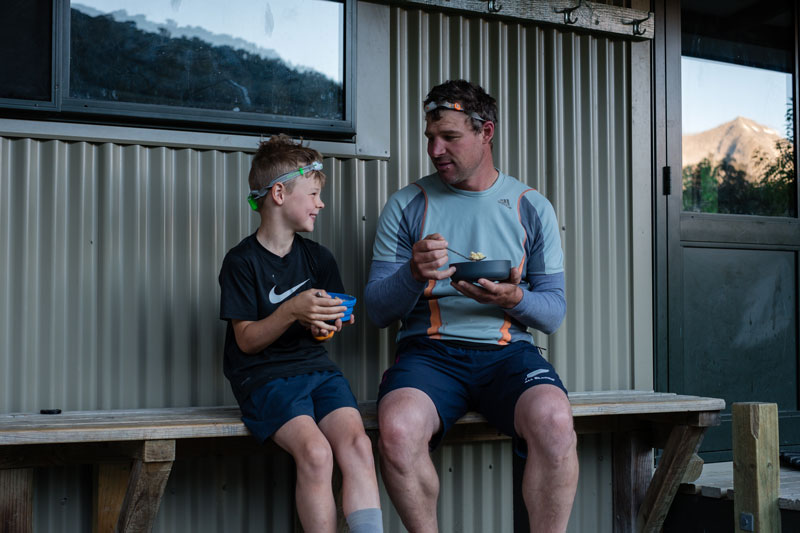 Kids menu for 2 boys sharing
Day 1 Lunch
Fresh filled rolls with fruit

Scroggin and muesli bars for snacks
Day 1 Dinner
The Gourmet Company Butter Chicken

Back Country Pasta Carbonara

Back Country Chocolate Brownie Pudding to share
Day 2 Breakfast
Radix Berry Breakfast

Back Country Cooked Breakfast
Verdict:  My 6 year old decided his cooked breakfast (which we had tried and liked before) was the worst thing on the planet (ugh)  I think an easy option of some weetbix in a ziplock bag and UHT milk would have been absolutely fine.  That would have been more like home.  I'd have taken porridge but he seems to be off that at the moment too
Day 2 Lunch
Salami and cheese and crackers

They shared some of our bacon and egg pie and banana bread from Easyhike (looked so good they wanted some)

Muesli bars

Apple
Verdict:  This went down well.  Having nibbly bits seemed to appease them
Day 2 Dinner
Back Country Honey Soy Chicken with rice

Back Country Roast Chicken and mashed potatoes

Back Country Mixed Berry Cheesecake to share
Verdict: They liked the flavours of these meals and ate it all up without complaint.  These are meals they had tried before and the cheesecake pudding type thing was something new.

Day 3 Breakfast
They shared scrambled eggs and the bacon mash (from Absolute Wilderness which was delicious) with us from Easyhike

Back Country Cooked Breakfast
So again, a meal my 6 year old wouldn't eat.  Really struggled to get good nutrition into him this day.  We had to dose him up with bliss balls and scroggin and juice to get him going.  I didn't really pack any alternatives and since it was the last day he really just had to suck it up.  Again, I would have been happy to carry cereal and milk. (I've done milk powder before but its not great with cereal so I'd do the small 1 cup UHT milks I think)
Day 3 Lunch
Left over crackers

Back Country Pasta Vegetariano (too many olives for me, didn't really enjoy the flavour)

Creamed Rice with Apple

Apples
Snacks: Bliss balls, scroggin,
What I would change with our food
More meals like home.  We didn't need fancy cooked breakfasts.  Muesli or cereal and milk would totally have done well

More fresh food moving into day 2.  I could totally have taken some muffins, or even some bread rolls into day 2 and they wouldn't have gone bad.  Wraps are another good lunch suggestion but we had eaten so many of those on holiday I think the kids were over them.

Then leaving the dehydrated meals until later in the trip.  As an adult, I thought these were great but I think the kids needed a bit more "normal" food.

Easyhike gave us some good things that I wouldn't have considered, like cup of soups and gingernuts.  We don't usually have things like that at home but gingernuts were great.  They didn't get crushed and they were delicious.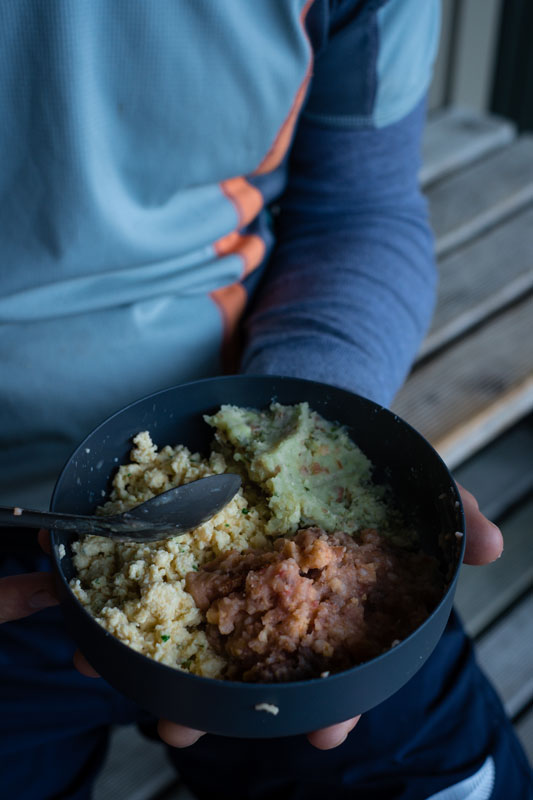 So what is the Routeburn Track like?
In a nutshell, this is what our tramp was like.  Please note that we tramped the Routeburn Track at the end of January in absolutely perfect conditions.  The temperatures were forecasted to be at highs of 16C and lows of 2C.  It was warm without being too hot and the huts were warm from the day so we never felt cold.
Given it rains 200 days a year in Fiordland, I totally expected that it could be 3 full days of rain which would have been testing for sure.  In that case, this track success story would have been totally different.
You have to go into this trail expecting rain given its location.  Unless you are booking just a few days out on the back of someones cancellation, you just have to hope for the best.
We had an absolutely epic time and we highly recommend it.  It was the perfect mix of scenery, long and short days and a great introductory Great Walk for us (another good one is the Abel Tasman Track up in sunny Nelson)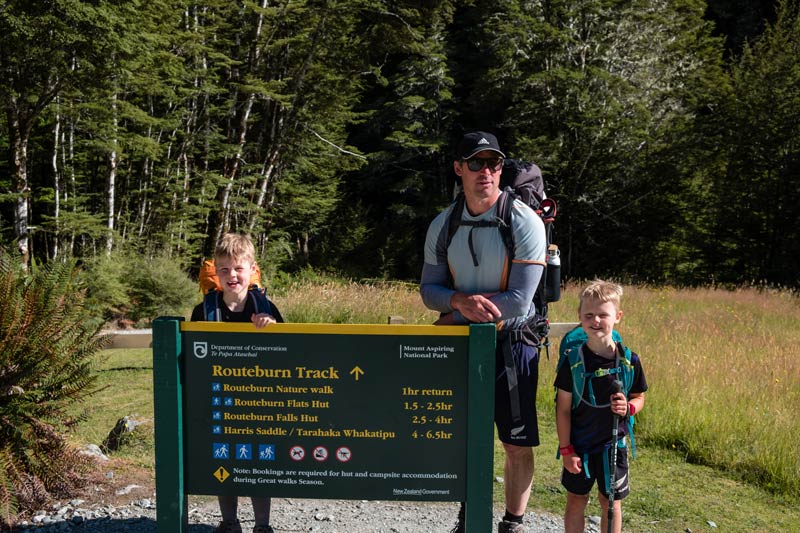 Day One: Routeburn Shelter to Routeburn Falls Hut (9.8km)
This was a great introduction to a Great Walk.  The track was well marked and required no navigation.  It was a traditional kiwi bush track, hiking on a mix of branches, gravel and dirt.  Very easy terrain.
We walked to Routeburn Flats Hut for lunch and this was a mix of mostly flat with some short little inclines here and there.  In tramping terms, it was flat.  But if I said that, you'd get to a short rise and curse me that it's not completely flat.  So just understand there are some small rises here and there.
From the Routeburn Flats Hut, it is signposted to take an hour to the top and I think it took us around 45 minutes.  It rises up a decent hill, then changes to a gentler incline.  I found this section far more interesting than the start of the walk.  There's nothing like a bit of rocky footing and some views to make you feel alive.
All in all, day one was a good bush trail, but you just wait for day two where it all changes
Quick Question: Could you stay at the Routeburn Flats Hut?
You totally could, however day 2 is a big day, so for the kids, it made more sense to push on here.  As adults, if you couldn't get a space at Routeburn Falls Hut, then this option would totally work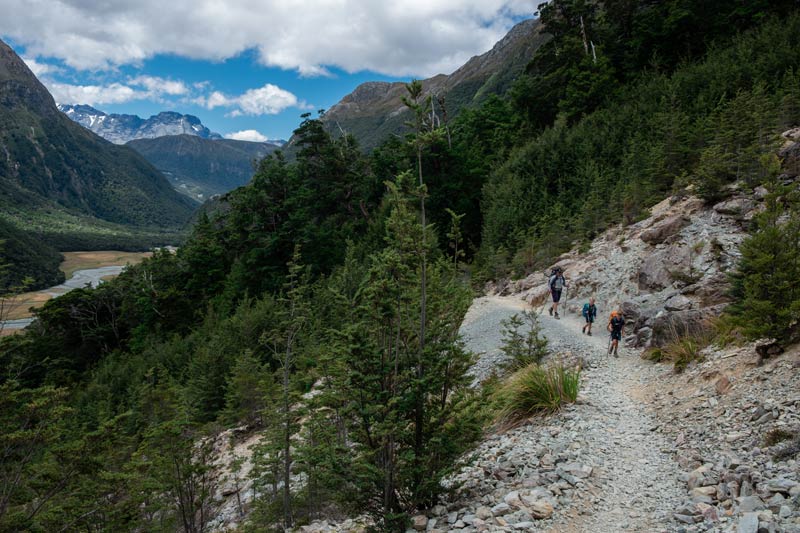 Routeburn Falls Hut
What does $68 per night (2022) get you at a Great Walk Hut.  Well this hut in particular, I was really impressed with.  Built into the side of the hill with a beautiful deck overlooking the view, it felt like a little bit of luxury to me.
Bunkrooms
There were two big bunk rooms and the Falls Hut had a setup that I hadn't seen before in New Zealand Back Country Huts.  There were individual bunks split into "4 bed rooms". This was perfect for us as a foursome, as the kids slept up top, adults were on the bottom and we were segregated a little from all the others.  
(often they have a few large bunks with all the mattresses next to each other so you could be sleeping in a row of 5 or 10 strangers, so this setup was quite welcomed, especially with kids.
Lounge and Kitchen Area
There was a large lounge and kitchen area with a fire (not required on our summery day).  A great thing about this serviced hut is that gas is provided, so you only need to take pots and pans.
Water is available too, however it is recommended that you boil it.  Some people do, some people don't.  It's your stomach and it's up to you. We often refill our bottles in waterfalls along the way, which there were a few of on day two and three.  Cold, fresh and has never put us wrong.
There are plenty of tables and chairs to service the maximum of 48 people who can stay in this hut.  Solar lighting is also available until 10pm.

Toilets
You may be pleasantly surprised that there are flushing toilets in these Great Walk Huts.  Now that feels luxurious given you are out in the middle of nowhere.  Along the track there are also long drop toilets.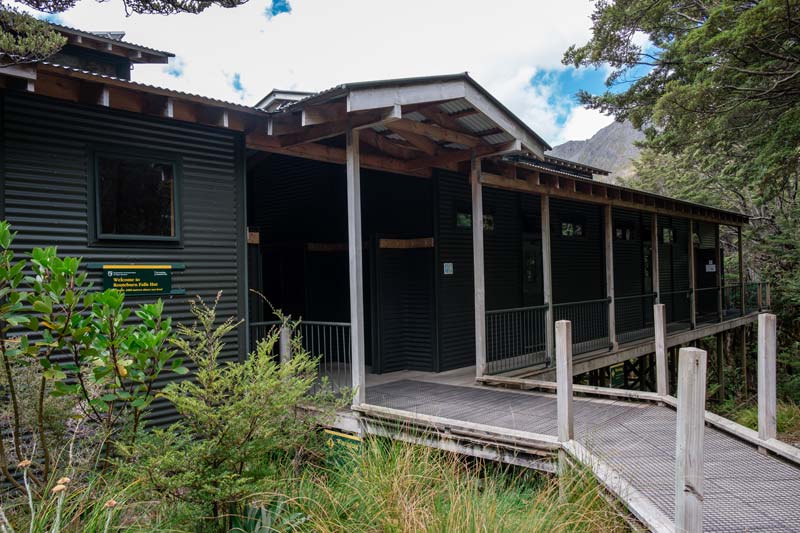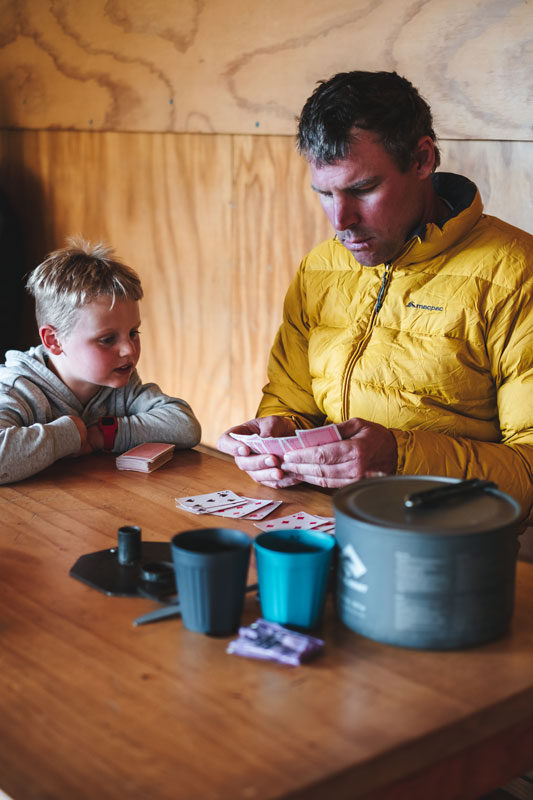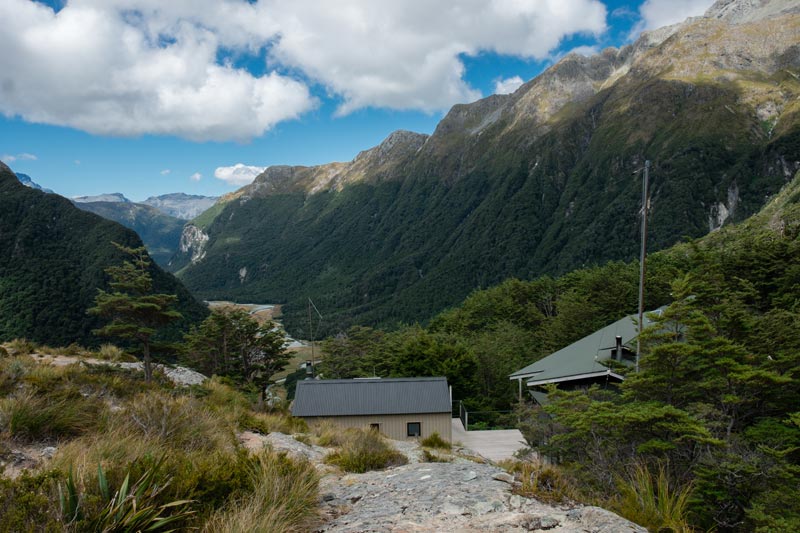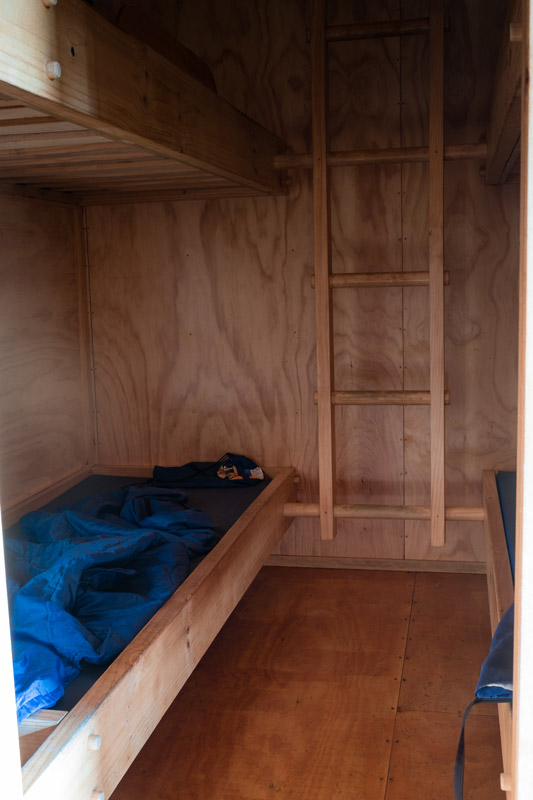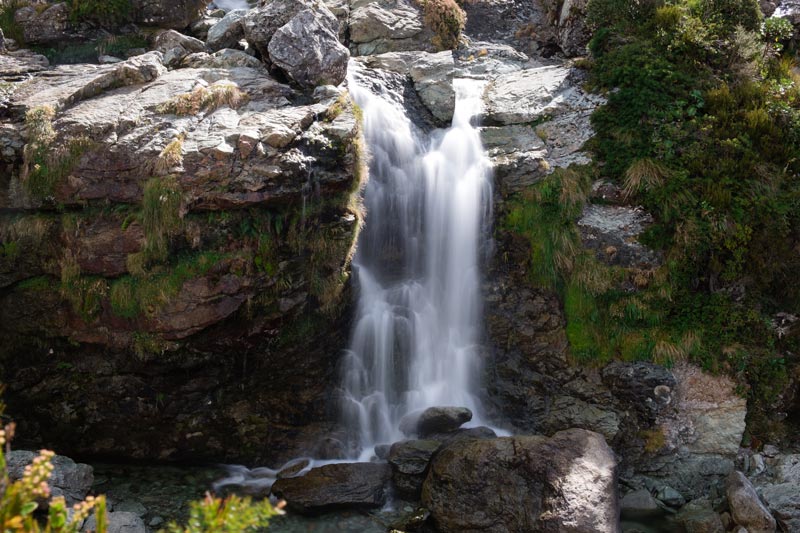 Day 2: Routeburn Falls Hut to Mackenzie Hut:  11.3km, approximately 4 hours 30 minutes – 6 hours (according to DOC)
This was by far my favourite day!! So much cool scenery, but it was also our longest day.  We left at 9.15am and arrived just before 5pm.  Now this did involve a side trip to Conical Hill (an extra hour) and a ton of photography on my end… but well, that's what I do.
Today basically breaks down into three sections
The climb to the Harris Saddle Shelter

The hillside flat walk

The downhill to Lake Mackenzie
Please note:  The track today is all out in the open. There is no bush or shelter (bar the official shelter) It is this day that it is really alpine territory and would be a bit treacherous in rainy, cold and windy conditions.
We were lucky enough to travel on the perfect warm summery day, so while I say that this track was great and completely safe for our well seasoned hiking kids, this day in bad weather would not be that fun.

The Climb to the Harris Saddle Shelter
There is a steepish but very short climb out of the Routeburn Falls Hut, so don't be worried if you are puffing two minutes into your walk (you haven't warmed up yet)
But then as you walk along this flattish section the valley opens up and you are walking in the land of rocks and boulders.  I remember feeling so alive out here and transported to somewhere completely different.
From here it is a good uphill climb up to the saddle.  I found it pretty gentle, but I did stop for a ton of pictures.  You can see where you are heading to, so although it's only about 2km or so, it's a rocky-ish climb so it takes a little longer.
This section took us, with stops 2 hours and 25 minutes to reach the Harris Saddle Shelter

Conical Hill Side Trip
On a clear day, it's worth dropping your bags at the Harris Saddle and trying a bag free climb up Conical Hill.  From the top you can see all the way out to the sea and across the mountain ranges.
Conical Hill is a steep climb which DOC says takes 1-2 hours.  Ashley and Kipton went up really quickly and were up and back within the hour.  Other trampers beside us said it took them 45 minutes to climb.  In some places it was a bit of a scramble, using your hands to help you.
Nathan didn't want to climb it, which was totally fine so we just waited for them to finish here.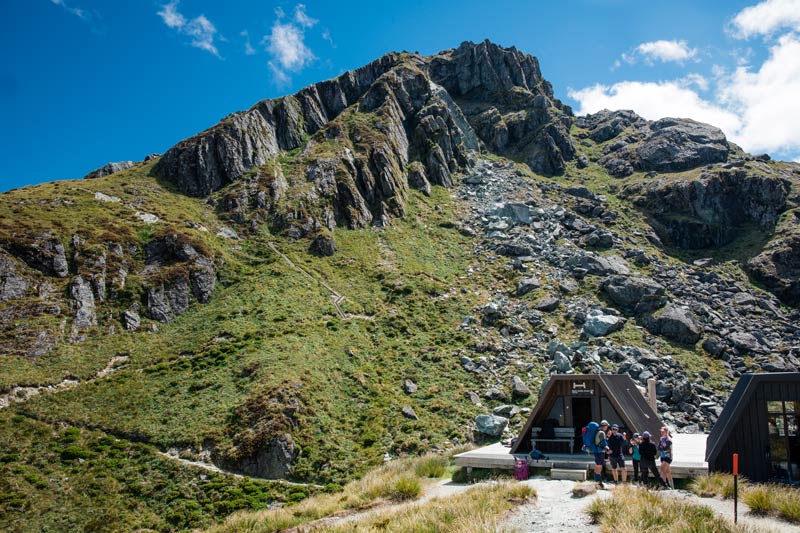 Harris Saddle to the Lake Mackenzie downhill (about 2 hours for us)
The next section heads down from the Harris Saddle and then is flat, sidling along the edge of the hill for almost 5km.  This took us about 2 hours including a break for afternoon tea.
A nice reprieve from climbing in the morning but I found this 5km section really long.  5km in any direction all looking relatively similar was always going to be a little tough.  Each bend you kept wondering if it would change, but it didn't.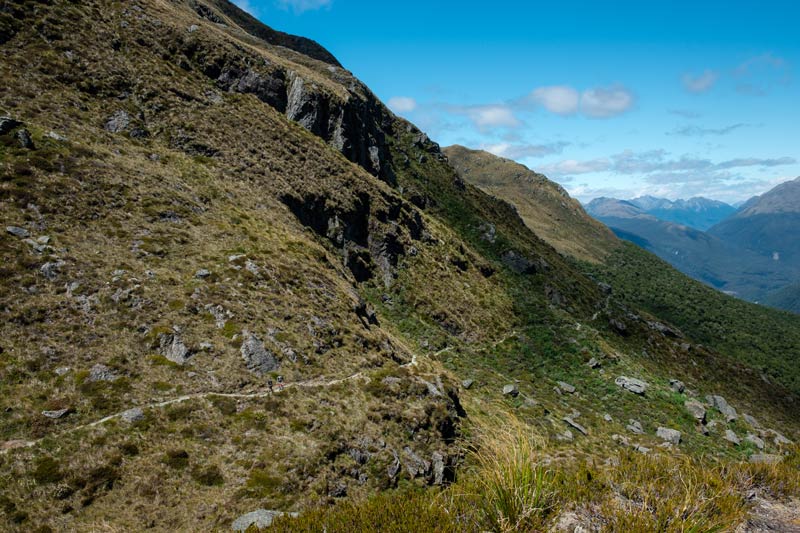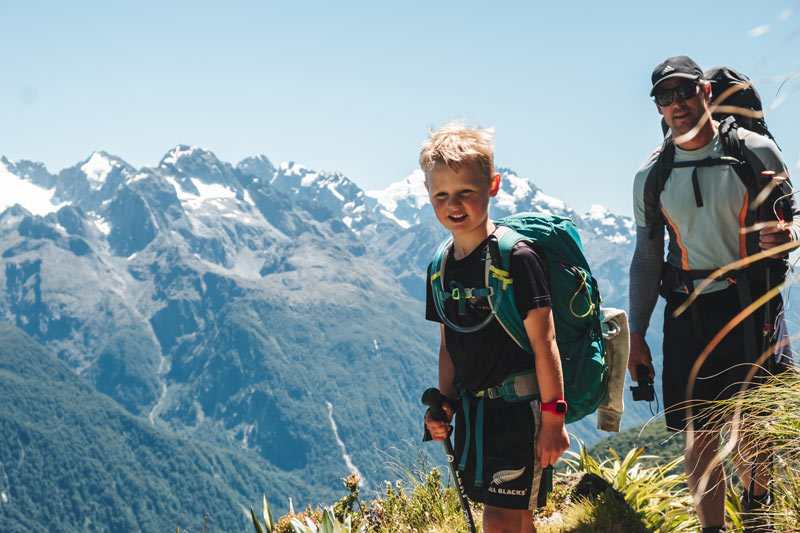 Lake Mackenzie downhill to the Hut (about 80 minutes downhill for us)
You will know the spot I mean, when you strangely head uphill for a moment to reach a viewpoint where you look down over Lake Mackenzie and see the hut from above for the first time.  Then strangely you head away from it as the track zig zags down the hill.
Lake Mackenzie from above is just so beautiful.  Incredibly green and clear from up here.  I do like that we get to look at it the whole way going down, compared to having it at our backs climbing up this hill (if you walked in the other direction)
The track down to Lake Mackenzie Hut you have a mixture of being out in the open, sidling the mountain and about half way, you head into the most beautiful dense bush.  It's like a magical forest wonderland down here.  So incredibly green that it looks fake in my camera.  So this was a nice change and also cooler under the shade
This whole downhill section took us 1 hour and 20 minutes.  I think adults would take around an hour.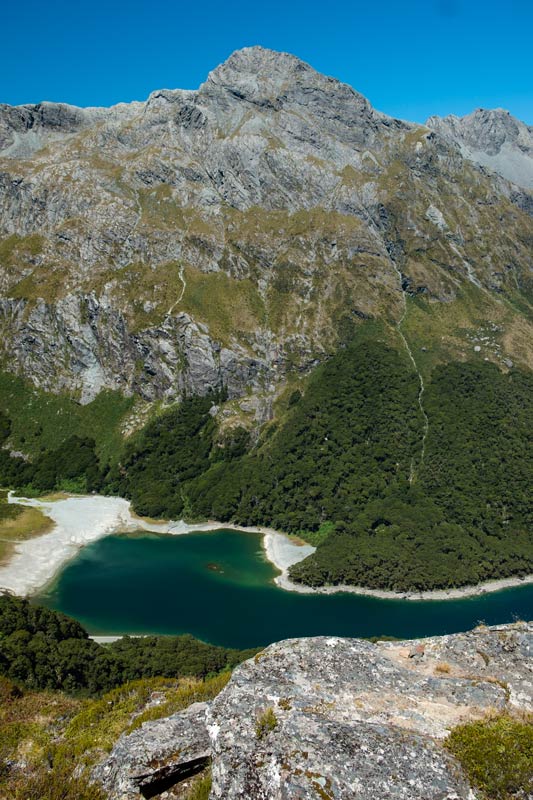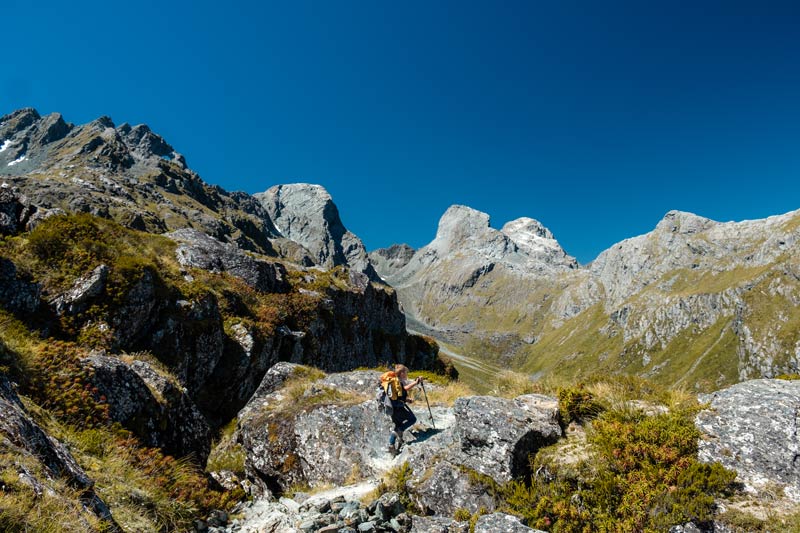 Lake Mackenzie Hut
The most beautifully located hut, just wow!  Can you imagine anything better than taking off a heavy bag on a hot sweaty day, than jumping into the cool alpine lake.  There were people lazing about on the lakeside.  You could be forgiven for thinking it was a new beach holiday location, except you had walked two days to get here.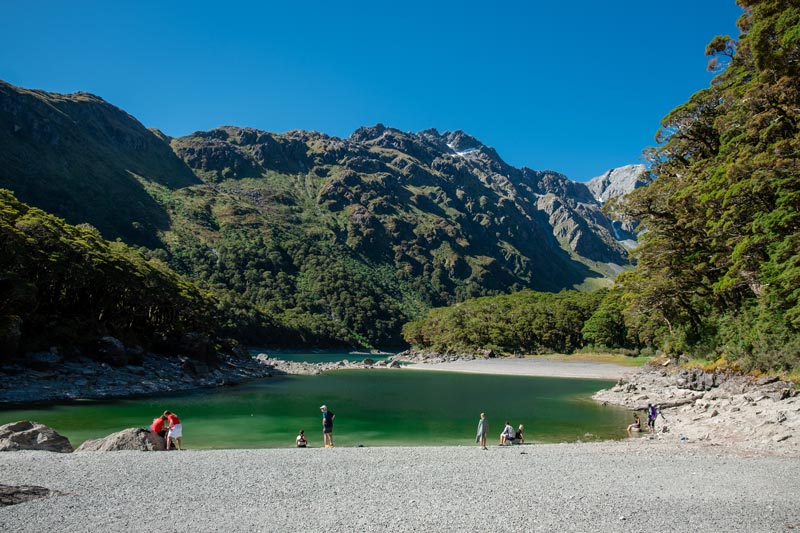 If you were booking last minute and knew the weather would be good, I'd totally be keen to take another day to relax here in the sunshine and read a book.  I really didn't want to leave.
The best views of the lake and the mountain range are actually not from the hut.  No matter how sore you feel, I highly recommend you take the 10 minute walk to the campsite and check out their lakeside beach spot.  The views are sublime (on a clear day of course) and I think it's just a spot that many people would miss.  In fact, they probably don't even know it exists to be honest.
10 minutes, you can do it.  Don't forget this tip.

About Lake Mackenzie Hut
Lake Mackenzie Hut can sleep 50 people.  The main hut has a lounge and kitchen area, with a good looking fire downstairs and some bunks upstairs.  There is also a separate bunkroom and shared toilet/basin facilities.
The bunkroom at Lake Mackenzie Hut was more like other backcountry huts I had stayed in before.  We stayed in the outside bunkroom which had a top bunk with 4 mattresses, and the mirror image underneath.  There were 4 sets of these large bunks, so 32 people slept in this room.
Again, it was perfect for our group of 4 since we didn't have to sleep next to strangers.  If we ever do have to do this, we usually sandwich the kids in the middle and have adults at either end, or go right next to the wall.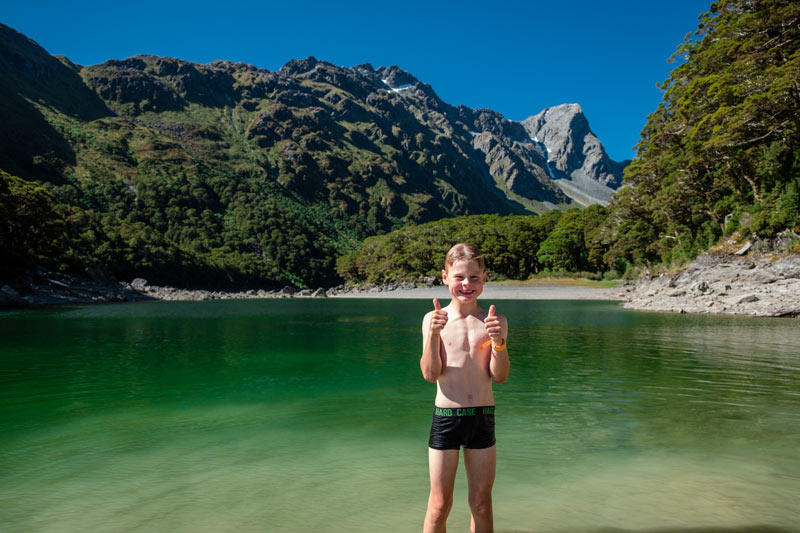 Day 3: Lake Mackenzie Hut to the Divide: 12km, taking 4 hours – 5.5 hours (according to DOC)
I perhaps foolishly thought this was all going to be downhill.  But leaving Lake Mackenzie Hut was quite undulating and had more incline than I expected.
Now I'm not saying crazy uphill, just lots of small uphills that made me go… huh… so we aren't going downhill the whole way.  My Garmin said we went uphill about 300m over the day and downhill about 600m.

Earland Falls
This day is spent mostly in the bush.  There is a good stop for an early lunch at Earland Falls.  There hadn't been much rain this summer so I imagine Earland Falls was not at her best, however it was still pretty.
Kids will absolutely love climbing on all the big boulders here.  I felt like they really needed an outlet here to just be kids and be spontaneous so this was a great stop for that.
You will note there is also a flood route as I imagine with over 200 days of rain in this area, that at times the waterfall will be impassable.  It would be insane to creep up and see what that looked like.  However I'm still glad we had such clear weather with the kids.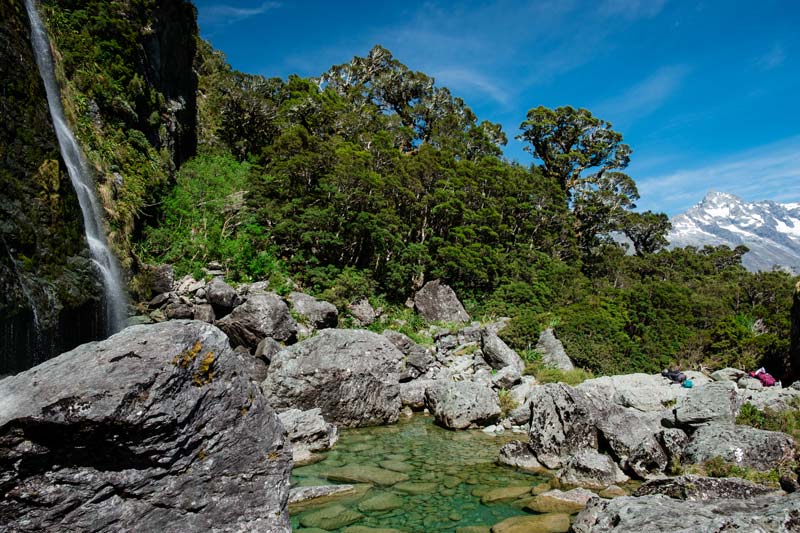 The very last "stop" of the day is at Lake Howden.  There are toilets and you are only an hour from the very end of the Routeburn Track.  It's a short 10-15 minute push up the steep hill and then a long downhill back to the carpark.
Key Summit (side trip)
At the top of the last hill you can take a side trip to Key Summit.  It's a great viewpoint where you can see all across the mountains and over to Lake Marian.  Lake Marian is an alpine lake nestled high up in the mountains, so quite a cool thing to see.  If it's cloudy or foggy, then it's not really worth the trip (according to the Hut Warden)
The kids were pretty tired so we chose to skip this one in favour of making it back to the car.  Key Summit is a popular day walk from the Milford Road.  From the carpark it's about 3 hours return so we might do it again one day from there.
The end
Phew, we made it.  32km on the Routeburn Track over three days with 2 kids.  Done and dusted.  We just loved making it back to the car, kindly relocated by Easyhike and being able to just hit the road and find an ice cream in Te Anau.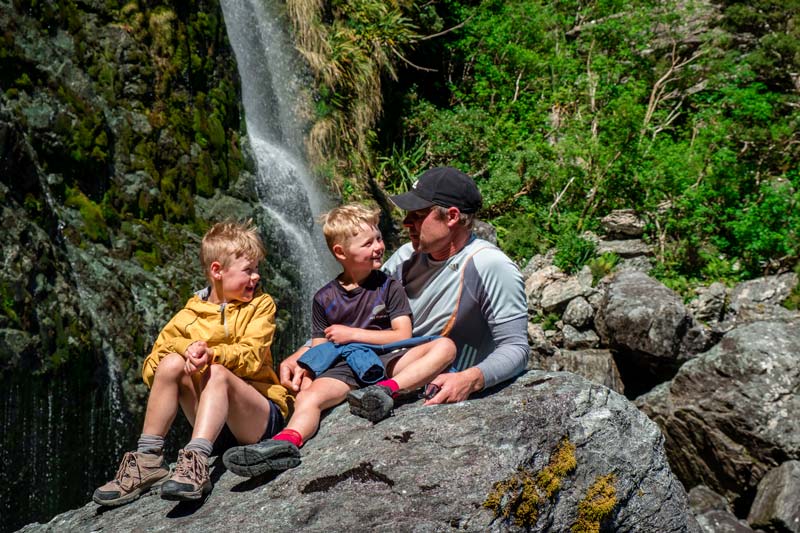 How did the kids cope with the Routeburn Track?
The Department of Conservation recommends this track to kids 10 and over due to alpine conditions.  So if you aren't experienced in alpine areas or your kids are not used to walking long distances, this might not be the track for you.
But as a parent, I think it's totally down to your own judgement, preparedness and skills.  So we took our 6 and 8 year old and they did really well.  They were also a number of other families on the walk too, a few with 8-10 year olds as their youngest.
That's not to say that it was without small hiccups.  My 8 year old has always been a slow starter.  No matter what we do he says he doesn't want to do it, then goes home and says it was awesome.  So when he moaned for the first hour or so that he didn't want to do it and wanted to go home, I took that with a grain of salt.
Call that tough love, sure.  But he is totally capable and has come around every time so leading with this, we pushed on.
My 6 year old is the most adventurous.  He puts his head down and hikes.  He wants to do the longest, tallest, highest of everything.  But in saying that, he struggled a bit with eating enough food and because of that, he was a bit like a pre-menstrual teenager at times.  
He carried a decent bag for a 6 year old and actually walks quite quickly and I just think he was running out of energy.  So in came the juice and reinforcements and he was away again.  Just a learning curve for us and not something we have encountered on our previous big day walks.
But at the end of the day, they loved it.  They loved being outside, swimming in the lakes and swimming holes, finding waterfalls and climbing rocks.  They also love being able to say that they did it.  They are proud they did something that some adults find tough.
One of our chats we have is about mental strength and fortunately due having nothing else to do when you are walking, we have plenty of time to chat about these things. I think it's starting to sink in a little.   

Tips for tramping the Routeburn with Kids
Let them do some of the research with you and get excited about the trip.  Show them some photos or talk about the fun you could have in the swimming holes to get them on board.
We had to buy the kids some new gear for this trip.  They were fizzing to get out there and use it.  It's a nice little motivator, even if it's a new drink bottle or special hiking socks.
Let them be involved in choosing the menu.  If you are going to take dehydrated meals, perhaps try some out before you go.  Hangry kids where there are no other options is not a good combination.
Take them on some training walks.  Our kids are used to climbing 1000m in altitude in a day and can walk 10-16km on a trail.  While that doesn't have to be your training regime, make sure they can hike a good distance.  Even our kids who can do big day hikes, struggled for a wee bit in motivation for doing this three days in a row.  Most of that is mental strength though rather than physical capability.
Have some ideas up your sleeve is the "shit hits the fan".  Whether its a few extra treats they don't know about or some fun games to play along the way, this can help when they get tired and a bit over it.
As a parent, you need a super positive attitude.  The kids will feed off your energy and it can really help.  This tip should probably have gone first.  They will look to you for guidance.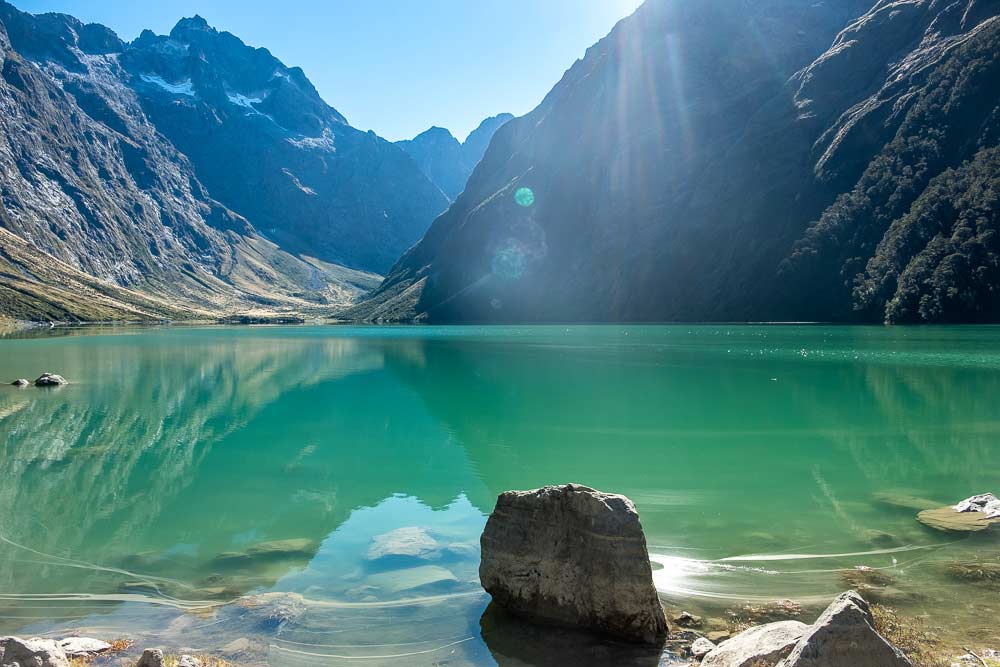 More Things to do in the Queenstown and Fiordland Area
Well thats a wrap!  If you are hanging out in the Queenstown or Fiordland area a little more, you might find these articles helpful in your planning
Queenstown

Fiordland