Awastone Family Rafting Trip
Overnight Family Rafting Trip: The best thing you'll do this summer with your kids
In my wildest dreams, I never thought I would be able to take my 3 year old white water rafting…. But we did and it was just the best experience to have as a family.
Okay, so white water rafting may sound a little scary, but it was a Grade 2 river, which really just means it was gently flowing.  It wasn't risky at all and kids had an absolute blast.  A great way to connect together as a family, get off the grid and remind ourselves what was important; quality time!
We took our 3, 6 and 8 year old on the  family overnight rafting trip at Awastone and we are here to dish out all the details so you can decide if this is a great adventure for you too.
Our trip with Awastone Rafting was kindly hosted by Tricia and her team, but as always, our thoughts are all our own.
Everything you need to know about a family overnight rafting trip with Awastone Mangaweka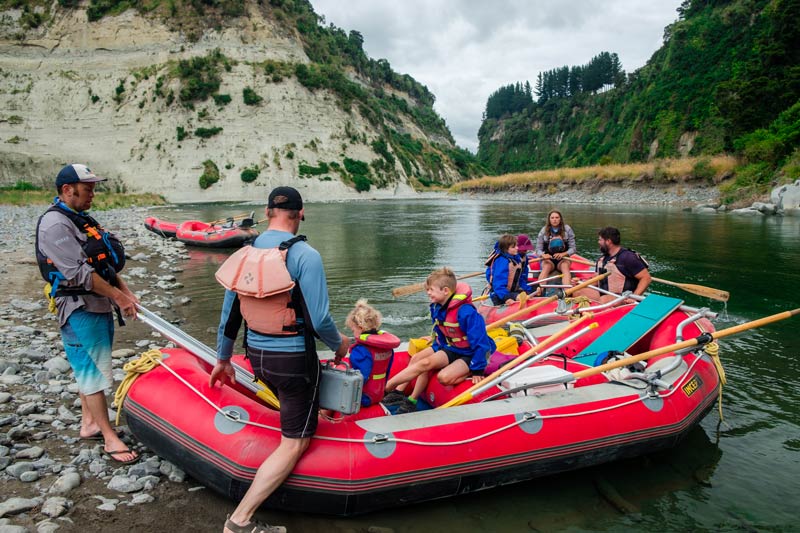 Location: Where is Awastone Rafting?
The family rafting adventure is based out of the Awastone Mangaweka Campsite that sits along the Rangitikei River.  It's only 15 minutes south of Taihape, the closest main centre.  Mangaweka is only a small wee place, so if you still aren't sure, it's just under 3 hours north of Wellington, or 2 hours south of Taupo.
Awastone has two campsites that you can stay at prior or post rafting trips.  Their premium campsite has a great swimming hole, powered campsites, a hot tub for hire, as well as holiday home style accommodation.
We stayed at the Pukeko accommodation which had 4 bedrooms and could sleep up to 11, so perfect for a larger family or a group.  It was awesome to have our own space and the new heat pump for air conditioning was definitely appreciated.
The Mangaweka Campsite is great for budget minded families and is just a few minutes down the road.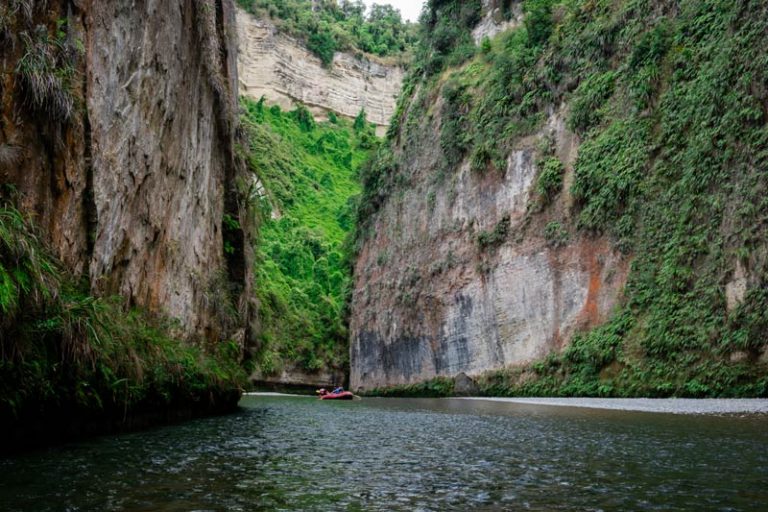 What does the trip entail?
The Family Overnight Rafting Trip is a full two day adventure where you raft around 30km down the Rangitikei River and stay at a wild camp spot.  I'd say we spent about 3-4 hours rafting each day, plus transport to the river, lunch breaks, swim breaks etc. To be honest, we were having so much fun, we didn't clock watch very much.
The trip is on a grade two section of the river, meaning it is really safe.  They say grade 1 is flat bath water, so at grade 2, the river is just gently flowing.  We never felt unsafe and neither did the kids.
We were able to paddle down the river, but in essence, we really didn't have to.  The guide on the back of the boat had two oars and really didn't require our help, although I'm sure they appreciated it.  
In this respect, it was quite a float down the river.  We didn't have to get sore arms and it wasn't arduous at all. It really was quite relaxing.

Day 1
We travelled about 45 minutes upstream to the start of our rafting trip.  We had our safety briefing and the kids learned how to brace themselves if, for example, the raft would bump into the wall.
On the way down we stopped in a hidden canyon and went for a wander to find a secret waterfall.  The canyon  was dramatic and just a stunning piece of nature.  There's just something about being somewhere very few people can ever experience.
At times the gorge was narrow and other times open.  I really enjoyed the changes in the scenery.

Day 2
Day 2 was a little different as the kids had some options to swim along the way.  In between the small "rapids" were beautiful slow sections of water where the kids could jump off and float along.  Everyone was wearing life jackets so this made it really easy to manage. 
They would jump out for a few minutes then we would haul them back in before we went down the little rapids.  In a lot of places it was really shallow too (although I imagine water levels change throughout the season)
Adults also had the option of using a kayak on this day.  While the rapids are very small, when you are in a wobbly kayak, this really adds to the excitement.  For adults, this family float is not "exhilarating" like a higher grade trip.  But if you have adventure seekers, then they may find this adds to the fun.
What is the overnight camp like?
The best thing about this trip is that you really don't need anything in terms of gear.  If you have never camped before, don't worry, because all of this is provided for you.
The campsite is a wild camp.   That's right, out in the middle of nowhere with no electricity, a very small smidge of cell phone reception and just a whole lot of fresh air.  We had a family tent given to us for the night and the first family task was to erect it.
The setting
The campsite was nestled beautifully in the trees just 100m back from the Rangitikei River.  It was quiet and secluded in the trees and would provide some decent shelter from the wind (if there was any)
Our kids had a swim in the river in the afternoon which was quite fresh in this spot, then hung out with the rest of the crew as the campfire was built and dinner was prepped in the evening.  We would have arrived around 4pm ish, so there was some time to play, but not enough to get bored.
Our family tent
The Kiwi Camping belle tent easily fit 5 people and took around 10 minutes to put up.  We also had 5 stretchers that fit in here.  All we needed to bring was our own sleeping bag.
Toilets
I know a common question for you all is…. What's the toilet situation like?  Well, there are no flushing toilets of course, but the set up was really great.  The rafting team erected a toilet tent with a toilet seat over a bucket.  Just like a mini porta loo with a very good view (which you could shut if you wanted)
While you are rafting, you just have to go wild.  Get off the track to do your business, with a shovel to dig a hole if required
Camp Fire
The best part of the campsite was the big campfire kitchen.  Our awesome guides built a great campfire that not only kept us warm for the evening, but was our kitchen to cook our meals.
There is just something about cooking on a campfire that is so nostalgic.  It feels so authentic and raw and really makes the food taste that much better.  They also had a camping double burner run on LPG gas that they used to cook rice, so were well kitted out.
What type of food is provided?
I think every parent breathes a sigh of relief when they don't have to prepare meals for a day or two.  Or is that just me?  I just loved not having to think of any meals and just turn up at dinner time.  The Awastone team did a great job of prepping the food which there was plenty of and it was tasty too
So here's a run down of our menu for the whole rafting trip to give you an idea.
Day 1: Lunch
Fresh meat and salad DIY wraps: Make your own wraps with salad including: ham, chicken, lettuce greens, tomato, cheese, beetroot, gherkin, cucumber, mayo, mustard

Muesli bars

Farmbake cookies

Fruit

Chocolate
Day 1: Pre dinner nibbles
Chips and dip

Crackers and cheeses

BYO alcohol if you wish
Day 1: Dinner
DIY shish kebabs (meat and veges on a stick, cooked over the fire): including: steak, zucchini, corn cobs, cherry tomatoes, mushrooms, capsicum

Rice
Day 1: Dessert
Bananas filled with chocolate pieces, cooked in its skin over the fire.  It made a banana chocolatey melty mess, but was delicious
Day 2: Breakfast
Continental Breakfast: Little cereal and muesli packets and milk

Cooked breakfast:  Eggs Benedict Mcmuffins (english muffins toasted on the fire, with bacon, soft boiled egg and hollandaise sauce)  Very tasty!
Day 2: Lunch – similar to day 1.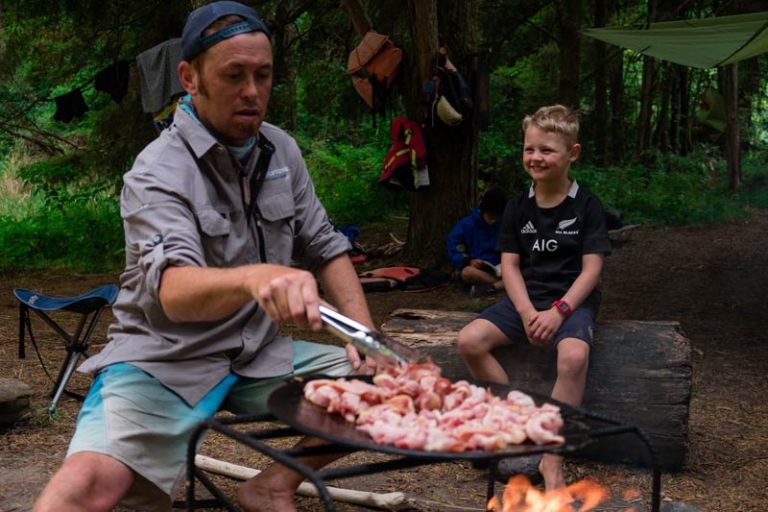 Packing List for the Family Overnight Rafting Trip
One of the great things about this trip is that you really don't need any fancy gear.  Awastone gave us a packing list and these are the things we took
What we took on the river during the day
River clothes: we wore our togs with shorts and long sleeve polypro thermals over top.  Avoid cotton as it gets heavy and cold when wet.  The first day we didn't even get wet, bar a few splashes and wet feet climbing in and out of the raft

River shoes:  We wore sandals which were ideal.  Emilia didn't have any so just wore running shoes.  Just be prepared for them to get wet.

Water bottle

A few snacks: the kids got hungry prior to meal times (little tummies) so I really should have brought a few extra muesli bars and scroggin

Sun hat 

Sunscreen

Bug spray

Camera, GoPro, Phone
In our dry bag (Dry bag provided by Awastone)
Sleeping Bag (you can hire one onsite if you don't have one)

Change of shorts and tshirt for after the river

Warm clothes: long pants and sweatshirt for evenings

Raincoat, just in case

Underwear and warm socks

Dry shoes for the campsite

Torch

Towel

Packing cube: we used this to put our extra clothes in and it doubled as a pillow

Battery charger for phones and cameras

BYO drinks if you like

Book
Most of these things you are likely to have at home, and they have sleeping bags for hire if you need them too.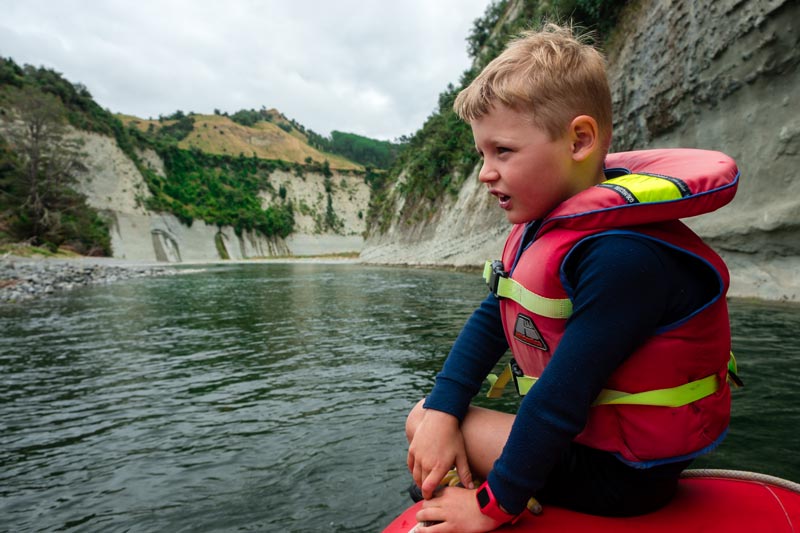 Just the best family adventure!
This was perhaps the highlight of our summer.  It was such a relaxing experience, even as someone taking a ton of photos.  As a parent, I didn't have to stress about the meals or the programme.  The kids just enjoyed being out in nature and trying something completely new.
It was such a great opportunity for us to switch off and connect together.  Just a reminder how important the simple life is without distraction.
We had some awesome family milestones: Emilia learned to trust her lifejacket and swim by herself, it was the first time we had tried cooking on a campfire before and the first time we had paddle in a raft. Memories we would never forget.
The only thing missing was perhaps all of our friends.  This would be an amazing intergenerational trip for young and old, or one to bring all the cousins along.  We really had such a blast.