Walk your way to Narnia: A Guide to Castle Hill, Canterbury, New Zealand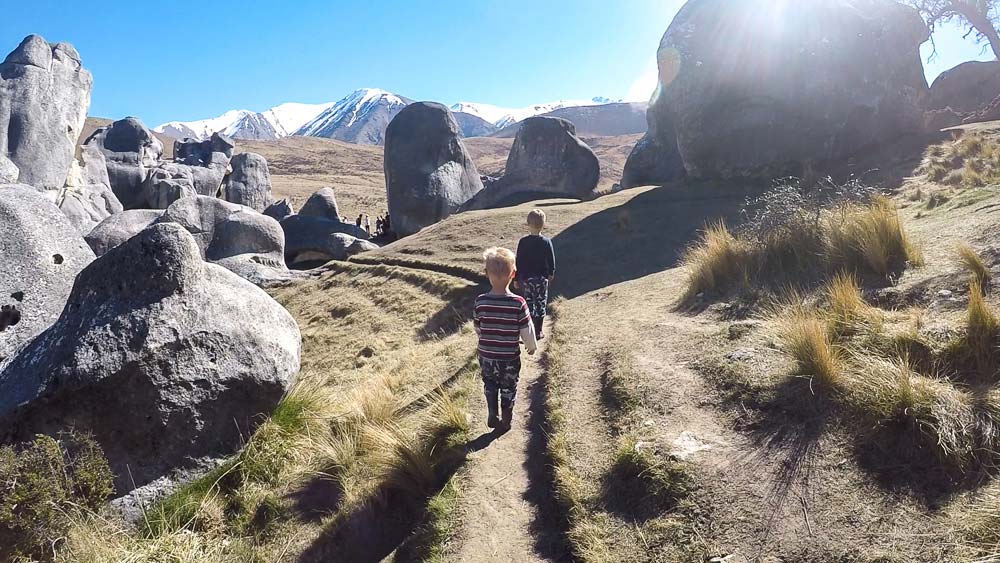 Castle Hill: The Best Family Walk in Arthurs Pass, Canterbury
Don't you just love when a place lives up to expectations?  Especially with kids, its heartbreaking and demoralising when you have spent all this effort and it just wasn't worth it.
Well, DO NOT fear!  This Castle Hill walk is just the magical paradise you expect it to be and it does not cost a thing (Thank you Department of Conservation, New Zealand)
How to get to Castle Hill
Castle Hill is just a 60-70 minute drive from Christchurch Airport is a family adventure for all ages.  Driving from Christchurch on State Highway 73, the walk is clearly signposted and will be on your left. Don't worry, you can't miss it!
Is the Castle Hill walk easy for kids?
Yes, the Castle Hill walk is perfect for young kids, and those young at heart.  There are many Arthurs Pass walks, but most are alpine, or hours long.  This is one of the best walks in Canterbury for kids to explore.
Park in the free carpark and a 10 minute walk along the track will take you to the base of the largest rock. Head to the right and around the front of the rock if you want to scramble up a steep hill to pop out at the top.  
Or you can go to the left and around the back of the rock to enjoy a leisurely walk up to the top. It is nowhere as steep as the first option and we only found this out, coming down (oops)  But the kids did enjoy climbing up – even on their hands and knees in parts. I had a 4 month old in the front pack and I managed fine.
Amazing Natural Playground
Our kids, 3 and 4, had such a ball running down tracks, climbing over rocks and exploring.  Up the top of some of the rocky sections, you do need to be careful, as it is narrow and there are options to fall down.  The kids were fine, but I wouldn't want them exploring up there by themselves and without my watchful eye. Older kids would be fine as long as you told them to be careful.
We were here for about an hour and a half but could easily have stayed for 3-4 hours with a picnic lunch.  We could have just let them roam and explore. I just love free play don't you?
Weather at Castle Hill
Castle Hill, located in Arthurs Pass, is a 700m above sea level.  This means the weather can often differ a lot from Christchurch City, for example.  It is often hotter in the summer, and very cold in the winter.   Rather than driving all that way for a day out, only to be disappointed by the weather at Castle Hill, you can check out the Castle Hill webcam here.  You can check out the Castle Hill Weather Forecast and even get current temperatures.
The Lion, the Witch and the Wardrobe: Welcome to Narnia
In case you are wondering, the actual The Lion, the Witch and the Wardrobe movie was filmed just a bit further down the road on similar terrain but you really do get a sense of what that epic battle was like near the end of the film.  (Tell me I'm not the only one who loves this right?)  While many will say this is the exact film location, it is actually located at Flock Hill Station, a private farm.  (But that doesn't make these Castle Hill rocks any less cool)
Definitely make sure you follow the kids to the top of the big main rock (you will know when you get there)  The views from up there are beautiful. You can see all the crazy rock formations as well as snow capped mountains if you are lucky!
All members of the family will enjoy this easy walk in Arthurs Pass, and if your kids are like ours, they won't walk to leave.
What else can we do near Castle Hill?
Explore Cave Stream Scenic Reserve, a 594m stream (not suitable for young kids due to water levels)
Walk up to Devils Punchbowl Falls in Arthurs Pass Village
If you have loved this Arthurs Pass walk, then try some Castle Hill Accommodation in nearby Castle Hill Village.  There are plenty of holiday homes available to stay in the area a little longer.  You can't camp at Castle Hill, but there is camping available down the road at Mistletoe Flats campground or at Lake Pearson campground.  These are DOC sites and cheaply priced.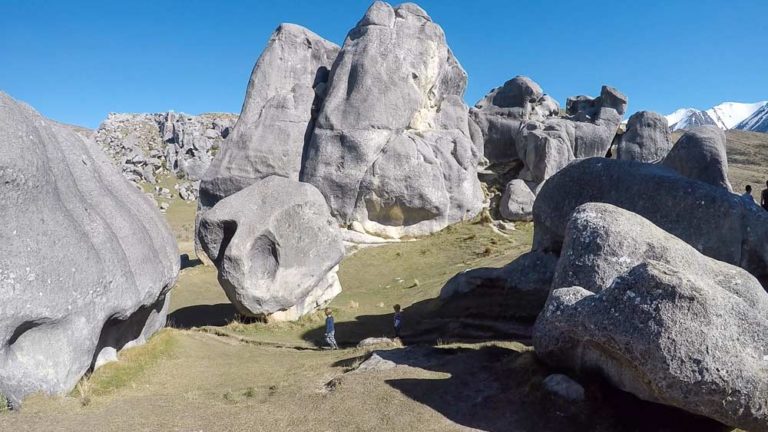 My favourite part was climbing on all the rocks and being up really high. We could run anywhere to explore
I loved that it was an easy walk and we could let the kids roam free. Just had to a be a little careful at the top of the rocks, close to the edges. Loved the view!