The Best Queenstown Family Accommodation: From Budget to Luxury
Best Family Accommodation: Queenstown NZ
Queenstown, one of New Zealand's most popular travel destinations and if you've ever seen photos, then you will understand why.
It's got incredible snow capped mountains, skifields, adventure activities, wineries, amazing hikes and walks, clear blue lakes… and more!  It is the perfect place for exploring with kids, so if you're looking for family friendly accommodation, Queenstown has a lot to offer.
If you're searching for family accommodation, then I imagine you may have kids, so you might also want to take a look at this article: The Best Things to do in Queenstown with Kids.  Queenstown family holidays are the best, so I know you'll have a blast!
Table of Contents: Queenstown Accommodation New Zealand
Things you want to consider when choosing Queenstown family accommodation
If you try searching for "family accommodation Queenstown" you are likely to be met with thousands of listings, with many not having anything more exciting than enough beds for all of your family members.
For us, if we are trying to book family accommodation in Queenstown, we are looking for extra special kids facilities such as toys or playgrounds, great facilities such as kitchen, spacious lounges or adjoining rooms or beautiful accommodation in a great location.
This Queenstown family accommodation article will cover a range of Queenstown accommodation from budget friendly to luxury hotels, as well as some great Queenstown holiday homes worth a look too.
Please note that we have not stayed at all of these Queenstown accommodations, some are recommendations from other families or places on our list to visit.  The links in this article may contain affiliate links, meaning we may get a commission on your purchase.  This does not cost you any extra, but does go towards the running of this website.
Some things you might like to consider before choosing your Queenstown family accommodation
Do you plan to hire a car or bring your own?

 Or do you plan to use public transport and walk?  Parking in central Queenstown can be difficult or you have to pay so consider choosing central accommodation where you can walk, or a Queenstown family hotel with parking facilities
Do you plan to eat out or cook at home?

  For us, we like a mix, as with kids, they often need an early night from all the activities, and I find it a little exhausting eating at restaurants every night.  Choose accommodation in Queenstown with kitchen facilities if this is the case
Are you on a budget?

  Queenstown accommodation can be pretty expensive and competitive!  If you are on a budget and plan to do activities, then choose some cheap accommodation in Queenstown and save your pennies for the awesome activities in the Queenstown Lakes District.  You could also consider staying a bit further from the city centre to help reduce your cost.  
Are you in Queenstown to relax?

  When I am relaxing on holiday, I like long lazy mornings and spending more time in my accommodation.  If you are planning on relaxing or are staying for a little while, consider some luxury accommodation in Queenstown with some space.  We have a great list of Queenstown luxury accommodation below.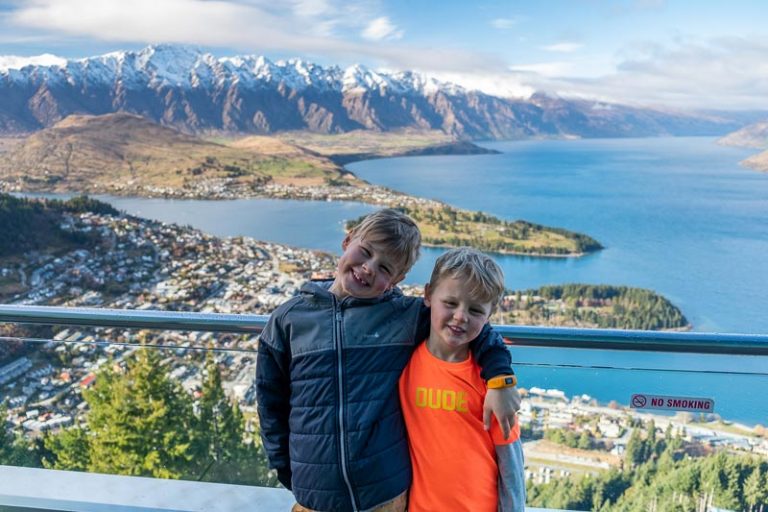 Queenstown Suburbs: Where is the best area to stay in Queenstown?
Here is a brief wee rundown of a few popular suburbs in Queenstown you might be looking at.  In general, Queenstown is a rather affluent area and there are no "bad" places to stay.  Things that may make a difference, is walkability to Queenstown City Centre, proximity to the ski fields or cafes/restaurants etc.
Queenstown Central Accommodation: Central City is the best place to stay in Queenstown for families if you want to walk everywhere.  What's not ideal is the lack of parking.  If you have a vehicle, just know that free parking is hard to find, or there are some spots just available outside of working hours.  Some hotels have paid parking onsite, but others have nothing at all.
Queenstown Hill:  Walking distance to town, but it will be up the hill.  With kids, this might not be a good end to everyday.  On the plus side, the views can be amazing from up here.
Fernhill:  Fernhill and Sunshine Bay are predominantly residential areas and there are some good holiday homes available in this area.  While only a 5 minute drive from town, it may take up to 45 minutes to walk, so if that's important to you, stay a little closer.
Frankton:  Frankton Queenstown accommodation is the place to be if you're after shopping central.  What used to be more of an industrial area is now home to a number of large supermarkets, outdoor stores, restaurants, cafes, Queenstown airport, car hire and more.  
There are lots of hotels popping up here along with holiday homes and apartments.  Its a great place to base yourself with close access to the skifields, Queenstown only a 10 minute drive and Arrowtown not far either.  
It is also a good spot in you are looking for Queenstown airport accommodation as Frankton is where the airport is located.
Jacks Point / Hanleys Farm:  These are new subdivisions and home to some great modern holiday homes and Airbnbs.  It is a great spot if you are looking for Queenstown ski accommodation as you are close to the Remarkables and its proximity to Frankton means you have supermarkets, cafes, restaurants and all the shops you need just 5-10 minutes down the road.
If you want to hang out in Queenstown Central a lot, do note it is 20 minutes to the town centre from here, and more so if there is traffic.
Hotels in Queenstown, New Zealand
Hilton Queenstown Resort and Spa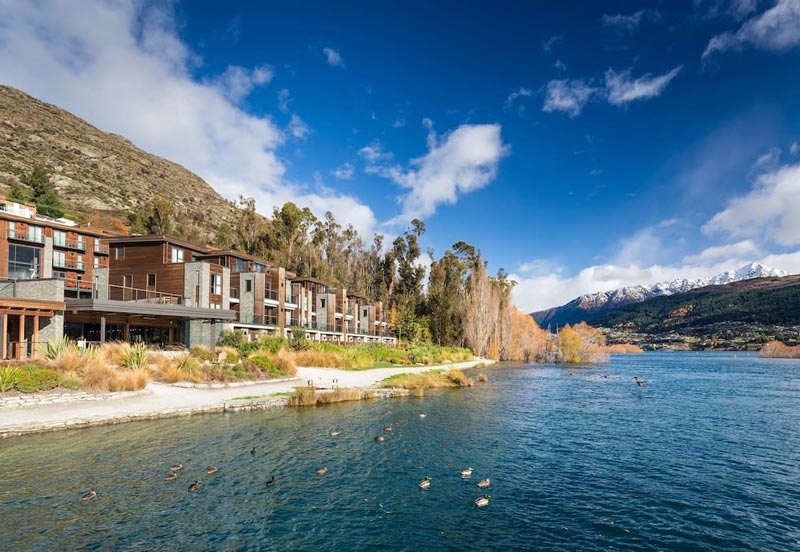 One of the things you know you are getting with a Hilton hotel is quality accommodation and excellent facilities.  The Hilton's two bedroom apartments are the best fit for families, sleeping up to four people.  The apartments include all the little extras, such as a washing machine and dryer (great for those winter ski holidays) and a full kitchen including oven and dishwasher.
The facilities really make this Queenstown hotel.  There is a heated 25m lap pool, a fitness centre and a beauty spa all on site.
We love
Having a warm pool and fitness centre, makes it a lovely resort style holiday.  There aren't too many of these in Queenstown.

Quiet location

Quality brand and service
Downsides
Far from the city centre.  You can take a water taxi ($10 return) from the Hilton to Queenstown.  You would need a car to drive if you weren't taking a water taxi.

Having to pay for onsite parking.
Check out the latest prices at the Hilton Hotel Queenstown New Zealand
Rydges Lakeland Resort Queenstown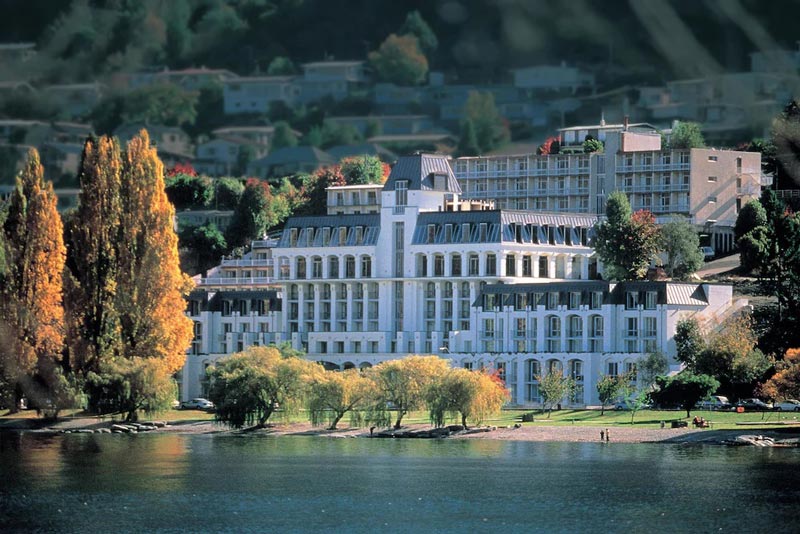 The Rydges Queenstown in one of the best Queenstown hotels for location and has some very reasonably priced family rooms.   Although the family room is only one room with two double beds, it's great lakeside location makes it great value accommodation.  There is also a sitting room in each family suite for some extra space for the kids
We love
Great central location

Kids love the on site swimming pool

Great value pricing
Downsides
You have to pay for parking

No kitchen facilities
Heritage Queenstown
The Heritage Queenstown has a couple of great options from families from one room to an interconnecting suite.  The Heritage has great facilities such as an outdoor swimming pool, spa pool and fitness centre.  
Family Deluxe Rooms:  These rooms are ideal for a family happy sharing together.  They can take three adults, or 2 kids under the age of 14 for free with two adults. We love that there are two single beds as well as a double bed.  Our kids are not the biggest fans of sharing.
Two bedroom studio suites:  These are two interconnecting rooms, with two extra large double beds and two sleep sofas sleeping up to 6 people.
We love
Range of family friendly accommodation options

Great facilities, outdoor pool are quite uncommon

Great lake views from some rooms
Downsides
Not central but only a 5 minute drive to the Queenstown city centre

No cooking facilities in the family deluxe rooms
For more family hotels Queenstown New Zealand, you could also check out
Holiday Home Queenstown
Perfect for large families
This Queenstown holiday home is perfect for larger families, with four bedrooms, two of which have 2 sets of bunk beds each as well as a cot in the master room if required. Or it could be great for two families sharing a residence.
The large bbq is perfect for that classic kiwi dinner and the property is walking distance to Queenstown.
The holiday home is in a residential area, surrounded by locals, yet super close to town, giving you the best of both worlds.
We love
Plenty of rooms and space for 2 families

Close proximity to Queenstown

Kitchen well kitted out

Cot and childs high chair available
Downsides
Older style home, but done up nicely, might not suit everyones tastes
Queenstown Airbnb:  New Modern Home with Large Spa in Jacks Point
This Airbnb in Queenstown is perfect for families, sleeping up to 7 people.  There are 2 double bedrooms and a third with a bunk and single bed, ideal for a kids room.  The owners can also provide a portacot if requested.
The outdoor spa pool is blissful after a days skiing or chasing around the kids all day.  There is a good neighbourhood playground to run out any extra energy the kids have.
The house has a well equipped kitchen, washing machine and everything you need to have your perfect Queenstown family holiday
See photos and prices of this Queenstown accommodation with spa on Airbnb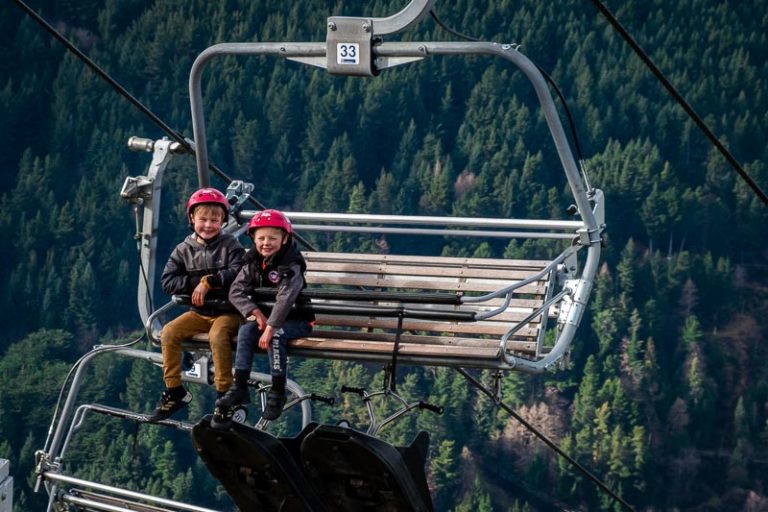 Queenstown Apartment Accommodation
If I was looking for family Queenstown accommodation, apartments would be at the top of the list, as I love a bit of space, a full kitchen and separate rooms for the kids and myself.  If this is you too, then you might like these options.
Garden Court Suites and Apartments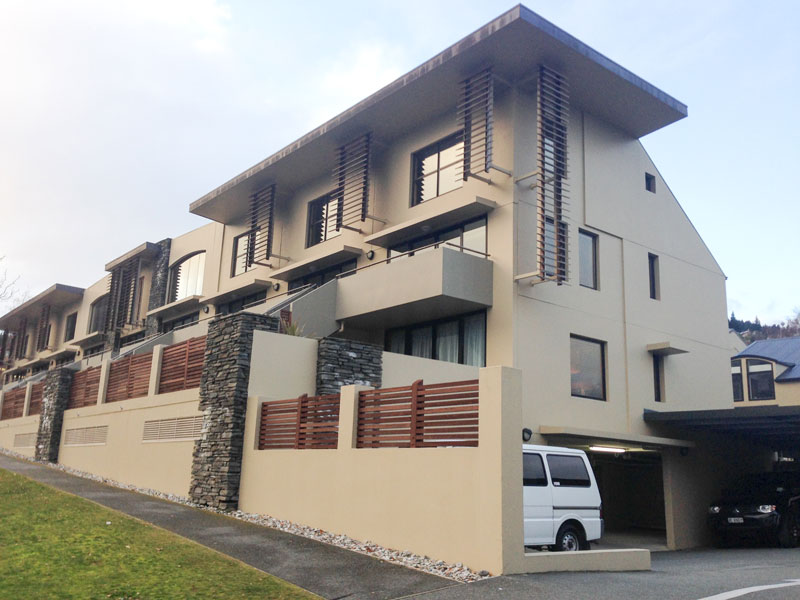 The Garden Court Suites and Apartments have one and two bedroom apartments sleeping up to 6 people.  We stayed here on our first family holiday to Queenstown, when our son was just 10 months old.  
The suites weren't overly large, but there was plenty of room for us.  The kitchen was well stocked and easy to access meaning it was simple to cook meals for the little one.  The one thing we really loved about this place was how close it was to the Queenstown city centre.  Just a small hill to the top of the road and then follow your nose.  It was close to the Queenstown gardens and a playground and we never once drove our car while exploring the centre of Queenstown.
We love
How close it is the central Queenstown

Full kitchen facilities

Suits a mid range budget

Undercover car parking

which was awesome in snowy icy winter
Downsides
Not the most spacious we have encountered, but we didn't have a problem and it was plenty for what we needed
If you are looking for Queenstown Central Accommodation, this is a great apartment of families.  Click here to check out the prices for your trip
Koura Apartments Central Queenstown
If you are looking for some unique accommodation, check out the Koura Apartments Central Queenstown.  These modern stacked container style accommodations have been architecturally designed and the location makes you feel like you are relaxing in the bush.
They have 6 x 3 bedroom apartments, including a wheelchair accessible apartment with a lift to all levels.  All rooms have an ensuite (so no need to queue for hot water or share with the kids) and super king beds (can be split) As well as this, the apartments have free parking and electric vehicle charging.
Rooms are well soundproofed and Nespresso coffee machines are in every apartment.
We love
Unique modern style accommodation

Large apartments

Free Netflix 

2 minute walk to the supermarket 

5 minutes walk to the town centre

Close to the Skyline Gondola and Queenstown Hill walking track
More great family apartments Queenstown
Luxury Accommodation in Queenstown
Platinum Queenstown Apartments
If you're looking for luxury Queenstown accommodation we found a great spot.  We stayed at the Platinum Queenstown Apartments a couple of years ago and just loved it!  We definitely recommend this place for families.  We stayed in a 3 bedroom apartment, which had three bedrooms upstairs (one with ensure and one shared bathroom) and a full kitchen, lounge and dining downstairs
With kids, it was great to have the space and kitchen facilities (even a full size dining table) as well as doors opening to the outside grass area and views over Lake Wakatipu.
They can also provide you with a cot, high chair, fireguards and stair guards, all free of charge.
The area of Fernhill is about a 20 minute walk to the Queenstown City Centre and is a nice quiet area.  There is a bus stop just across the road that will link to the airport (with an easy change in bus). We caught the bus from Queenstown Airport and it was a very simple process.
We loved
Spacious apartment accommodation

Comfortable luxury accommodation

Quiet location

All the baby extras included

Views of Lake Wakatipu
Downsides
A 20 minute walk to town (we enjoyed the walk but there is a big hill so did drive sometimes)

Not walking distance to restaurants (but they are a short drive away)
The Rees Hotel and Luxury Apartments: Queenstown 5 Star Accommodation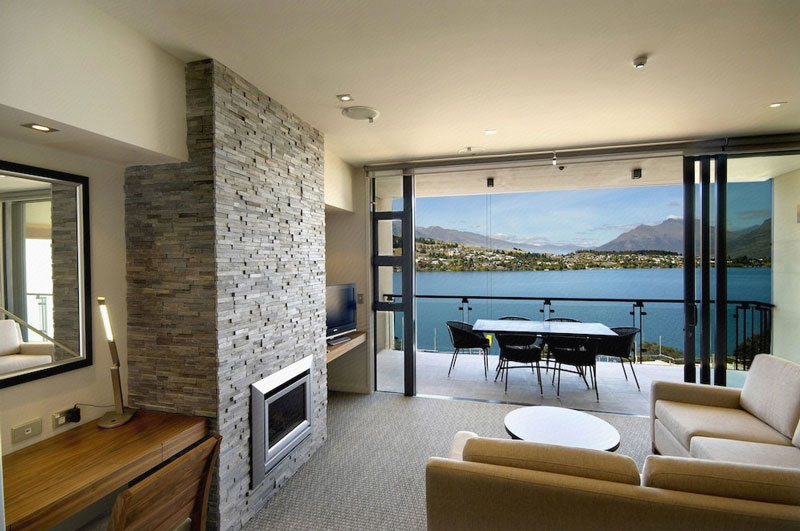 The Rees Hotel and Luxury Apartments have a great range of 1, 2 and 3 bedroom apartments that are great for families.  We love separate sleeping areas as we actually have time to relax as a couple while the kids are asleep.  There's nothing like going to bed at 7pm while the kids are sleeping in the same room to just put a downer on your holiday.
One of the highlights of the Rees Apartments is their incredible view over Lake Wakatipu.  I can imagine sitting by the gas fire and peering out at the mountains and lakes… just bliss.
The Rees Hotel and Luxury Apartments have a FREE shuttle to the centre of Queenstown.  This is great as this Queenstown accommodation is located near the Frankton end of Lake Wakatipu.  There is a lovely lakeside trail that heads into the centre, but it is a wee walk.  If you're up for that, bring a pushchair as it's a great stroller friendly walk.
We love
The amazing views

Lots of space and rooms for the whole family

Free shuttle

Restaurant onsite
Downsides
A decent walk to get to Queenstown City Centre
Millbrook Resort, Arrowtown: Luxury Family Accommodation Queenstown New Zealand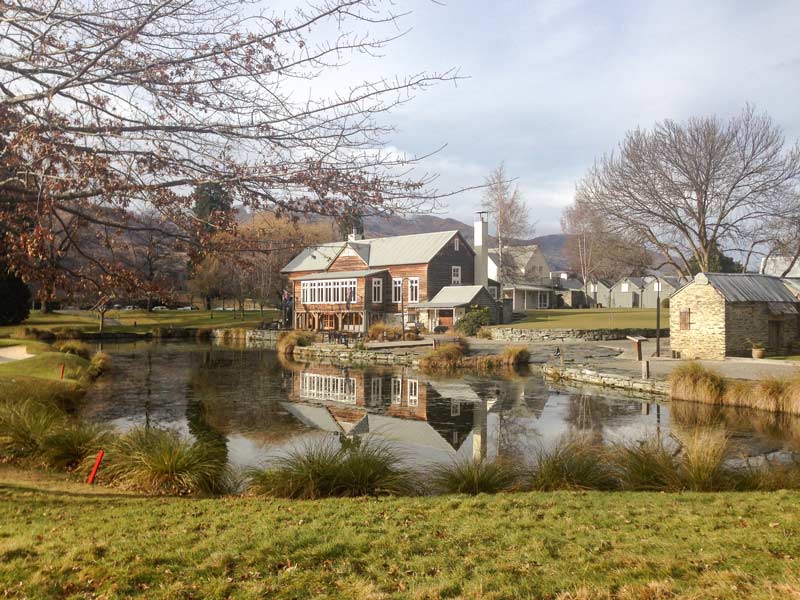 I really love Millbrook Resort, so I have to include it, even though it's technically out of Queenstown itself.  As far as luxury accommodation in Arrowtown goes, this is the cream of the crop.  We had the best winter stay here and would highly recommend it.
Millbrook Resort is only 20 minutes drive from Queenstown and minutes from the quaint gold mining township of Arrowtown.  It is one of New Zealand's best golf resorts, and as such, the range of accommodation is dotted around the resort, providing a tranquil relaxing experience.
The best options for families include two bedroom suites or the two bedroom holiday homes.  Both include great kitchen facilities including an oven and luxurious decor.
Millbrook Resort has both outdoor and indoor heated swimming pools and hot tubs, as well as a fitness centre with fitness classes, day spa and restaurant.
We love
Spacious accommodation and super comfortable beds

Golf resort setting which is exclusive and peaceful

Great facilities
Downsides
20 minutes from Queenstown, but it's definitely worth the drive.
Other luxury family accommodation Queenstown options
Cheap Accommodation, Queenstown
Driftaway Queenstown
Driftaway Queenstown is a brand new (2022) holiday park in Queenstown's Frankton area.  It's about 10 minutes from the main city centre, but is conveniently close to the shopping area with all the big supermarkets and large stores such as Kmart, Mitre 10 and lots of cafes, restaurants and takeaway stores.
The Driftaway not only has campsites for tents and campervans, but also self-contained "villa" accommodation where families will have their own bathroom and kitchen.
Based right on the lakefront, kids will love their own swimming spot, the hot tubs, big outdoor jumping pillow and indoor games room (with air hockey, lego and toddler climbing frame)
We love
Tons of activities for the kids to do

It's brand new! That's always nice

Great base for skiing in winter

Options of self contained accommodation

Beautiful and huge kitchen area

Right at the lake

Pet friendly
Downsides
It would be a long walk to Queenstown so you would have to be happy to drive in (or if you have bikes, it would be a lovely bike)
It's the best accommodation in Queenstown for families on a budget, so check out their options here.  They have the best Queenstown campsite too if you are visiting with a campervan or a tent.  It's also pet friendly accommodation too.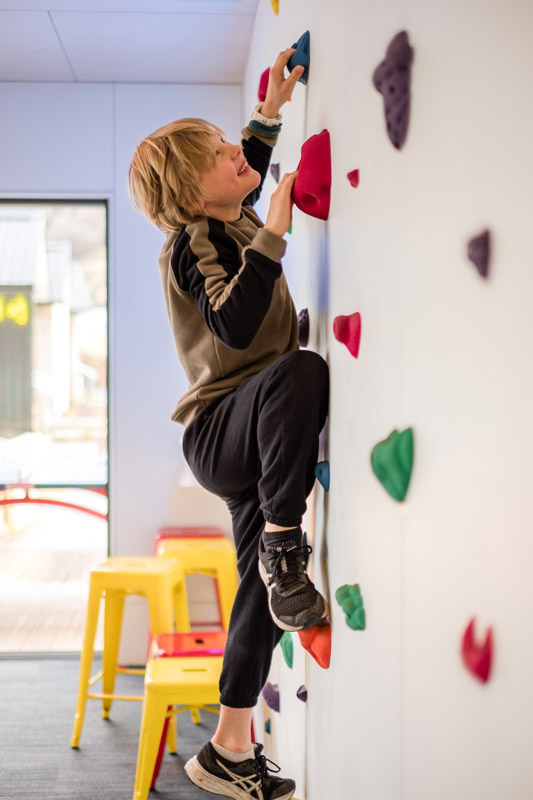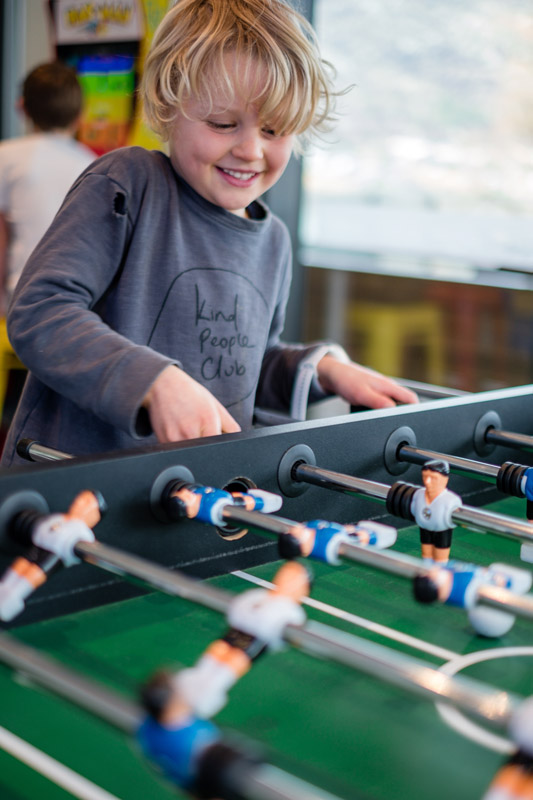 Jucy Snooze
Jucy Snooze is located right in the centre of town and is hostel style accommodation.  But don't be put off, as this unique hostel has some differences that are perfect for families.
The Jucy Snooze pods have a bunk style setup, BUT the best thing is they have shutters so the kids have their own little hideaway when they go to bed.  I'm sure all parents have shared a room and thought, if only we could cover them up so they can't see us, well now it exists.
Each little pod has a light, charging station and a fan to circulate air.  It's the perfect little cubby space.
We love
The kids think it's awesome to have their own hideout sleep space

Access to a kitchen and fridge

Proximity to town.  You can walk everywhere
Downsides
No bathroom in the rooms, you have to walk down the hall

The kitchen is very small, so I imagine it could get busy (although that wasn't the case when we visited)

You may have to walk to find free parking (although there is evening free parking just across the road, not in the day though)
For cheap family accommodation Queenstown, click here for photos and prices at Jucy Snooze

Heartland Hotel Queenstown
The Heartland Hotel offers cheap Queenstown accommodation, well cheap by Queenstown standards and has a good value family chalet that might just suit your family.
For those with families up to four people, they offer a split level family chalet, giving you a separate sleeping area from the children (yay!)
It has free wifi and a shower over the bath, great for young kids.
We love
Budget Accommodation Queenstown New Zealand – tick!

Separate sleeping spaces

Located close to Queenstown city centre
Downsides
Dated decor and Triangle chalet styles won't suit everyone

Microwave and fridge, but no real cooking facilities
Other Queenstown cheap accommodation you could consider
How to get the best Queenstown Accommodation Deals and Specials
There are so many places to stay in Queenstown New Zealand, so here are some tips for finding accommodation Queenstown deals.
Book off-peak:

  Queenstown is a popular ski destination, so it is busy during the winter/spring ski season (Late June – Early October) as well as the New Zealand busy season over the summertime (December – Feb/March)  You can find Queenstown accommodation cheaper outside of these times.
Compare Booking websites

or contact the hotel directly to see if they can offer a better deal.  We like booking.com because they often offer free cancellation which is great if plans change and we want to be flexible.
Book in advance:  Lock in your dates when there is plenty of supply so you aren't left with expensive options.  Booking.com often have free cancellation so lock in what you need without risk and cancel if you need to.  Check out booking.com for your Queenstown holiday here
Book for a longer length of time.

  Many holiday homes and AirBnBs offer discounted rates for longer bookings, bringing down your average accommodation per night.
Check out discount sites

such as Grabone, Queenstown accommodation is often up for grabs as package deals.
Best Queenstown Accommodation NZ?  This will just depend on your budget and what type of New Zealand holiday you are looking for.  We would love to hear any Queenstown family accommodation that we should add to the list, so come over to Instagram or Facebook and share your vacation with us.
For more information on Queenstown and surrounds, including the best Queenstown family activities, check out these articles below