Beautiful and Breathtaking Things to Do in the Catlins
Things to Do in the Catlins New Zealand
Wow, the Catlins, where do I start?  A bit rugged, a bit wild, with a sense of yesteryear, void of flashy tourism, just a sense of old school off the beaten track beauty, with some beautiful waterfalls thrown in.  How's that for the Catlins in a nutshell?
This Guide to the Catlins will highlight everything you need to know if you are visiting for the first time and some great things to do in the Catlins while you are there.  We have spelled out our top 10 Catlins Must Do's and given you some extra things to explore if you have more time, or if you've been before.  So lets dive on in!
Things to do in the Catlins, NZ
Please note: This article may contain affiliate links.  This does not cost you any extra but any commission goes towards the running of this website.  Thanks so much for supporting us!
Where are the Catlins?
A great question, because even I have to admit, that I actually thought they were a set of Islands, perhaps I was thinking of the Chatham Islands… so I apologise Southland, I am educated now and there is no way I am going to forget this great place.
The Catlins are a beautiful region in the very south east of the South Island.  Yip, the bottom right, loosely the coastal area between Invercargill and Dunedin (technically between Balclutha and Fortrose, but I forgive you if you don't know where this is.)
I expected the area to be more rugged and forest like, so I was quite surprised to see it was quite open with large farms dotting the countryside.  While there were a couple of enclosed windy sections, it was mostly gentle hills and open spaces.
One of the best things, is that there are so many things to do in the Catlins for free.  So much of the allure of the Catlins is its beautiful scenery and being in nature.  For those looking for a budget friendly holiday, this is a great spot to explore.  So if you are wondering what to do in the Catlins, and find out if it's worth visiting, keep on scrolling down.
Driving the Southern Scenic Route, Catlins
The biggest tourist drive is the Southern Scenic Route.  It is a great route to follow on your Catlins road trip.  I mistakenly thought this would be a coastal road, but to hit the beautiful beaches, you will need to divert off the Southern Scenic Route, often about 10 kilometres or so.  If you are looking to drive from Dunedin to Invercargill via the Catlins, then it's the Southern Scenic Route you are looking for.
From Fortrose in the West, to Balclutha in the East, it's only about a 1 hour 40 minute drive. So in essence, the Catlins isn't huge, however there are a lot of sidetrips off this main route to explore beaches and waterfalls, so it will take you longer than you think if you are making lots of stops.  You won't be wondering what to see in the Catlins for long as there are so many little signposts dotted along this scenic route.
Unlike many scenic routes, this road is not super windy or crazy.  You will drive around farmlands, through the Catlins Forest Park (with some more curvy roads) and really just explore the land.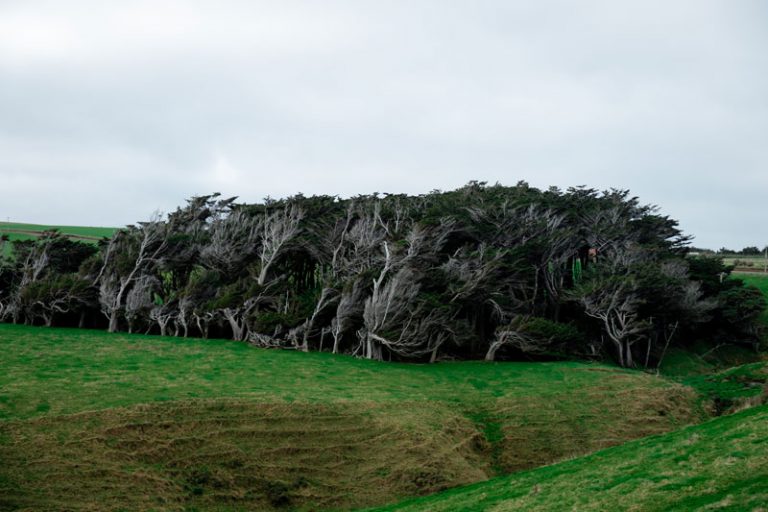 How to get to the Catlins
If you are looking to fly into the Catlins area, the closest airports are Invercargill Airport and Dunedin Airport.  It is about a 40 minutes drive from Invercargill to the Catlins (well, Fortrose on the Western edge of the Catlins) or the same from Dunedin to the Catlins (Balclutha, the eastern edge of the Catlins)
If you are coming from Queenstown to the Catlins, it will take about 2.5-3 hours to drive.
Best way to travel around the Catlins
The best way to travel around the Catlins is by car.  There is no public transport in the Catlins and only one or two infrequent buses that help tour the area.  But to be honest, you need a car to access these off the beaten track sites.
You can hire a car from Dunedin Airport or Invercargill Airport if you are flying straight in, or any other major town around the South Island.  Common road trip loops often start in Christchurch or Queenstown.
Weather in the Catlins
You may be thinking that one of New Zealand's southernmost regions will be the coldest, but in fact, it doesn't often snow in the Catlins.  Even in winter, as it's coastal, it could almost be called temperate.  Almost.
It can be a very windy place though, so even if winter temperatures for example are 10C, it may feel a lot colder than this due to wind chill.  We visited the Catlins in the July school holidays, in winter and happily explored with three young kids.  
A lot of the Catlins waterfall walks are well sheltered and we explored in just a tshirt and a sweatshirt, whereas on the coast, for example, Slope Point and Nugget Point Lighthouse, a winter jacket was really required.
Average temperatures for summer range between 16C-24 degrees (my ideal range if I'm honest) and for winter, average 8-13 degrees.  There is a decent amount of rainfall too, so always bring a rainjacket.
If I was to sum up the weather in the Catlins, I would say, expect a bit of wild rain and wind and be surprised by its beauty.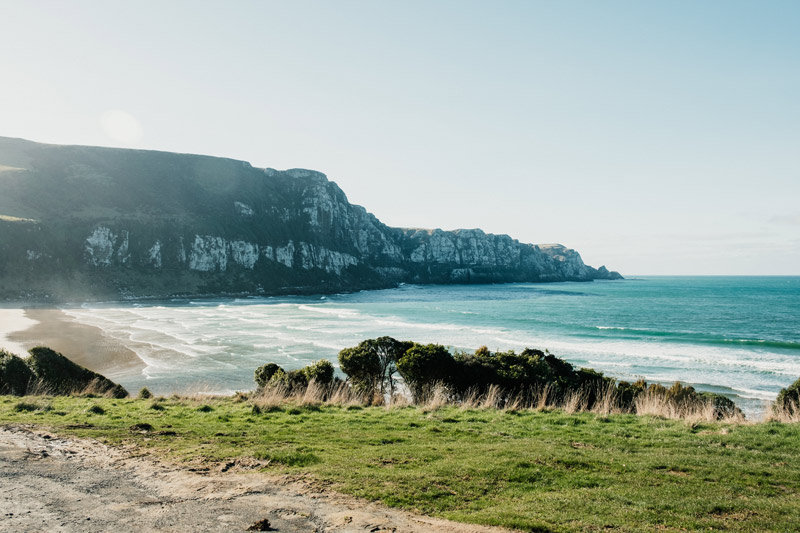 What you need to know about the Catlins before you go?
There is only one supermarket in the Catlins, the 4 Square Supermarket at Owaka.  It is only small, so make sure you stock up before you go, especially if you have specific dietary requirements

There are not a lot of fuel stations, so if you are keen on driving to some off the beaten track locations, be wary of your emptying gas tank.  We filled up in Invercargill before we left and Balclutha on the way out.

It is a pretty cruisy and rustic place.  If you are looking for swanky cafes or glitzy accommodation, this might not be the place for you.

A lot of the side roads to beaches and waterfalls end up in gravel.  Everywhere we visited was fine, but it looked like some of the dirt roads would get slippery in the rain.  Just something to note.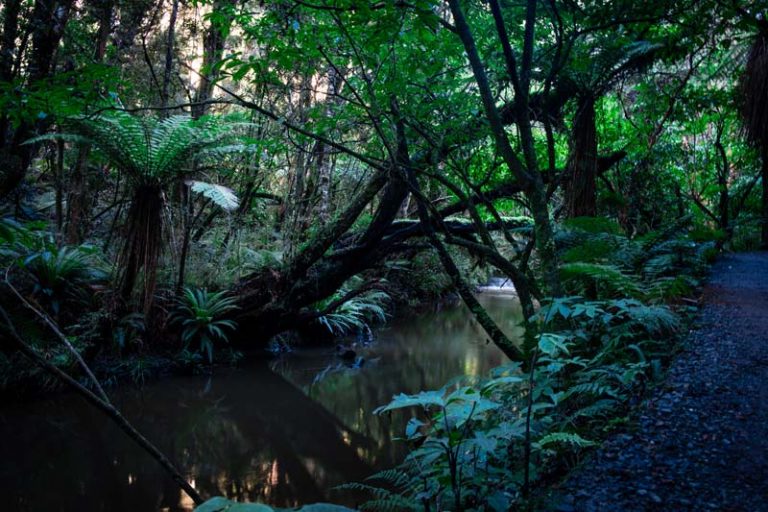 Where to stay in the Catlins
The best Catlins Accommodation will highly depend on how many days you plan to stay in the area, and the road trip direction you are travelling.  It will also depend on whether you want to see the iconic Nugget Point Lighthouse at sunrise, in which case I would recommend staying at Kaka Point, which is the closest township.
To give you an idea, on one trip, our Catlins Itinerary looked like this
2 days Catlins Itinerary
Catlins Accommodation
If you are looking for big hotels and motels here, you aren't going to find this in the Catlins.  In fact, accommodation in the catlins is rather light on the ground, with the best options often being camping grounds or holiday homes.  There are a lot of old school baches here, so a search on some of the holiday home websites often brought us better options than perhaps a booking site like booking.com
Below I will show you where we stayed, and give you some of other options we were looking at too.
Kaka Point Beach House
We stayed at this cute 2 bedroom bach which was absolutely perfect and budget friendly too.  We paid about $120 per night, but did have to bring our own bedding and towels, as well as clean it when we left.  It was the perfect space for us, and had room for a portacot and was right next to the playground, as well as up the hill from the beach. (The Fish and Chip shop here had some of the best chips I've tasted in a while) The only thing it didn't have was a microwave.  So highly recommend this spot.  
You can check availability and current prices at Kaka Point Beach House on BookaBach here
There are quite a few other options for holiday homes at Kaka Point on BookaBach too.  We found the range much better than general accommodation websites.
Catlins Camping Grounds
We haven't been camping in the Catlins yet, but everyone I have spoken to recommends these three options
The

DOC Campsite at Purakaunui Bay

.  It's a stunning location.  We went down for a picnic and it was truly idyllic.  Just toilet and water facilities, so you will need to bring everything else.  Just a beautiful spot.  $8 per adult and $4 per child (Sept 2020)

Whistling Frog Accommodation and Campground:

  A range of accommodation available here and it's very close to McLean Falls.  A good midpoint spot in the Catlins between the Curio Bay attractions and Purakaunui/Owaka. 

Find up to date prices here

at the Whistling Frog, Catlins.

Catlins Newhaven Holiday Park

at Surat Bay:  Beach access and cheap tourist cabins are available too.  Also prone to visits from the local seals. 

Take a look at the prices and availability here
For other places to stay in the Catlins, you could take a look below
The Catlins Map
The absolute best map of the Catlins, with all the Catlins things to do on it, can be found right here.  I took a screenshot of this as sometimes there's not much cell phone reception, or you can often find a copy of this Catlins map at your accommodation.

Top Things to do in the Catlins, NZ
Nugget Point Lighthouse and Roaring Bay
The Catlins Lighthouse at Nugget Point is perhaps the poster child and one of the top things to do in the Catlins.  The Nugget Point Lighthouse is a 15 minute drive from the nearby village of Kaka Point.  It is a windy drive, then only a short 15 minute stroll to reach the lighthouse itself.
It can be super windy here but there are also amazing views at sunrise and often sunset here.  You cannot go into the lighthouse, but you can follow the track right to the base.  If you are lucky you may even see some wildlife on the rocks below.
Neighbouring site Roaring Bay is a great place to see penguins in the Catlins.  You can explore the beach during the day, but after 3pm you may only view the beach from the penguin hide on the hill.  It is recommended to visit here between 3pm and dusk to have the best chance of seeing cute wee penguins come home for the night. 
You can get to Nugget Point, Catlins by heading to the end of The Nuggets Road, just a 15 minute drive from the nearby village of Kaka Point.
Purakaunui Falls, Catlins
Purakaunui Falls are the prettiest and perhaps even the best waterfalls in the Catlins.  Access is very easy with a 10 minute walk down to the Purakaunui waterfall itself.  There is a viewing platform at the top, making this section wheelchair and stroller accessible, however the real views are from the base.  A beautiful cascade waterfall, a must do in the Catlins.
Purakaunui Falls can be found on Purakaunui Falls Road, about 10 minutes from Owaka.  Don't miss this spot, easily one of the easiest and best things to do in the Catlins.
McLean Falls, Catlins
McLean Falls are my favourite waterfalls in the Catlins, probably because it can require a little adventure.  It is only a short 20 minute walk to the water, but we spent a good 30-40 minute exploring and climbing up to the top level of the waterfall.  It's a bit of a wet scramble, but is so much fun.  Our kids just loved this!
McLean Falls is found at the end of Rewcastle Road, just off the Chaslands Highway (Southern Scenic Route)
Read More:  More Amazing Waterfalls in the Catlins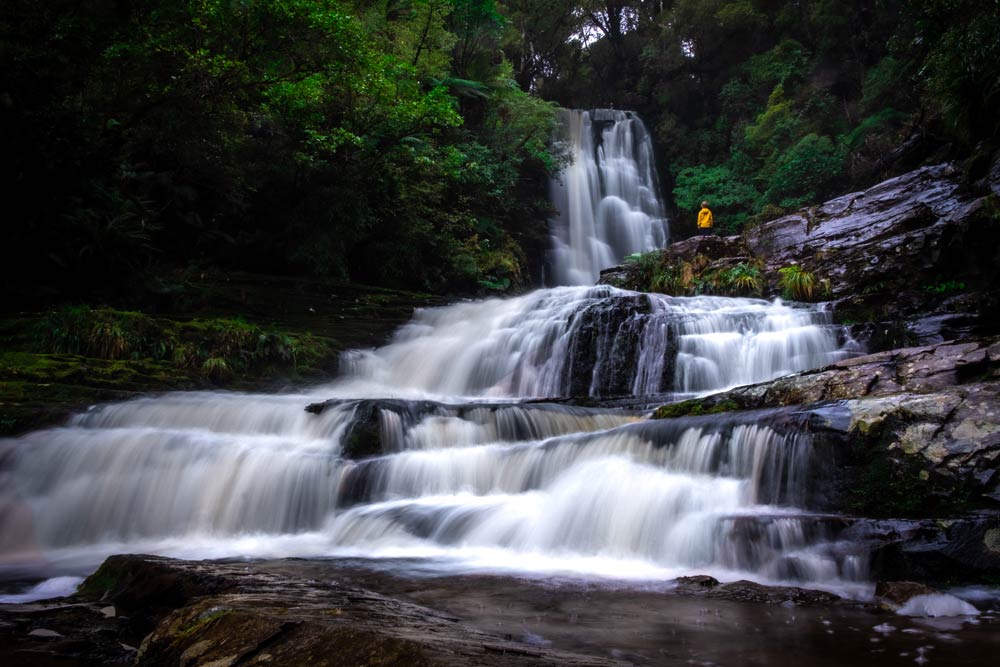 Jacks Blowhole at Jacks Bay, Catlins
Jacks Bay is a family friendly beach, great for exploring and spotting sea lions.  The bay also has a walking track that leads to Jacks Blowhole which is 55m deep.  The underground tunnel filled with water, sees it explode through the blowhole like a crazy water fountain.  These surges are pretty impressive, one of the cool things to do in the Catlins with kids.  From here, there are also great views over the Catlins coastline.
Jacks Bay is about 6km from Owaka (the main township) on Jacks Bay Road.
Cathedral Caves, Catlins
Cathedral Caves (not to be confused with Cathedral Cove in the Coromandel, North Island) are an impressive site, consisting of two passages totalling 200m in length and up to 30m tall.  You can explore this amazing cave, but only at low tide, and only between October and May.  You can find out more about the Catlins tides table here
The beach here is great to explore and if you are lucky you may see birdlife such as albatross and oystercatchers, and the odd sea lion or fur seal.
There is a small charge (EFTPOS available) of $10 per adult and $2 per child (as at September 2020) to access the caves and the beach.  This land, carpark and toilet facilities are all cared for by a Maori trust so the charges help upkeep the area which can be very popular.
The walk to Cathedral Caves is about 1km and can be quite steep at the beginning, so is not wheelchair accessible.  You will only have about a 3 hour window to explore the caves, so make sure you time your visit to Cathedral Caves, Catlins right.  If you want to go deep within the cave, you may consider bringing a flashlight.
Purakaunui Bay, Catlins
Purakaunui Bay is a stunning beach and picnic spot, or if you have a campervan and love it, then there is DOC campground here too.  There is quite an estuary here, so it will require wet feet (and legs potentially) to get to the sandy beach, but the beautiful cliffside makes you feel a world away.
We visited in winter, however I imagine this would be a popular spot in the summer.
Slope Point, Catlins
Slope Point is at the bottom of the South Island, the southernmost point in the South Island in fact, often thought to be Bluff.  There isn't much to see here besides the crazy windy coastline here, however there is a signpost signifying this momentous occasion.  Definitely a photo moment.  Also make sure you note the trees on the farmland across the road.  They are definitely sloping.
Curio Bay
Wow Curio Bay, what a destination.  There are actually quite a few things to explore here that I didn't know about, so let me tell you what you can find.
The Petrified Forest Curio Bay:

One of the main reasons for visiting Curio Bay is to see an ancient Petrified Forest.  The petrified forest basically means you will see the fossils of a forest from a long ago.  You can see old tree trunks, almost like they have been cemented in the ground, but only at low tide, so check the tide times.

Curio Bay Headland and Curio Bay Cliffs:

 You can drive through the campsite up to the top of the hill to see the amazing views of Curio Bay, over towards the petrified forest as well as of Porpoise Bay (2 great views from one location)

Penguin Viewing:

  The cute yellow eyed penguin loves to hang out in Curio Bay.  As you walk towards the Petrified Forest, there is a penguin walk, where you may be lucky enough to peer in at the fenced off enclosure.  Afternoons, closer to dusk are the most common times to see them.

Curioscape Gateway Experience:

 The Gateway experience is an interactive museum style exhibit helping you to understand the history of the area and the incredible environment.  There is also an immersive theatre experience showcasing the area from the Jurassic period, to today.  With all gateway experiences, comes a mobile audio guide that you can use as you explore all of Curio Bay.

The Living Forest Walk:

 In contrast to the very "dead" petrified forest, the Living Forest is said to be a descendent of the Petrified Forest.  So essentially these trees are all from the same "family".  So far it's the only place in the world where this has been discovered.  The short walk here will take 20-30 minutes and is a lovely forest walk.  Very easy for young kids to walk and explore, but is all in the forest, so no views here

Spot Dolphins or swim in Porpoise Bay:

  Porpoise Bay has beautiful white sand and is a big expansive bay.  Aptly named Porpoise Bay, you may be lucky enough to see dolphins playing here.

You can camp here at the

Curio Bay Campsite:

 We haven't camped here, but it was quite windy when we visited.  In saying that, there was quite a selection of campsites on both sides of the peninsula. Or if you aren't too keen to camp, but want to spend some more time here, you might consider the

Lazy Dolphin Lodge

right on the beach.

Go surfing at the Catlins Surf School

at Curio Bay.  You can hire surfboards and paddleboards here, and even get some lessons.
You can get to the Petrified Forest, Catlins and these other great spots in Curio Bay by heading to the end of Waikawa-Curio Bay Road
Florence Hill Lookout
A beautiful lookout over Tautuku Bay, the Florence Hill lookout is an easy stop on your drive along the Southern Scenic Route.  The small carpark area is perfect for a picnic with an incredible view.  Don't forget the camera.
Visit the Shipwreck at Fortrose
Kids will get a kick out of seeing the shipwreck at Fortrose, however be warned, there isn't too much left.  If you visit at low tide, you can see the remains poking up through the sand.  You can see enough though to imagine it as a boat, so not a bad stop.  (The remnants are of the Ino, a 46 tonne steamship built in Hokitika)
Other Things to do in the Catlins


Tunnel Hill Walk
The Tunnel Hill Walk is a quirky little walk if the kids are into tunnels.  Just a short 2 minute walk from the carpark will take you to the historic tunnel.  You can walk through the whole railway tunnel to the other end, but then there is a sign asking you to turn around.  It was built in 1895 using handmade bricks and the railway ran all the way to Balclutha until 1971.
Do you make sure you bring a torch (or a phone light which is passable) as it is extremely dark.
Catlins Waterfalls
There are a few other waterfalls that you can visit, after reaching the most popular two above.  They include: Matai Falls, Koropuku Falls, Waipohatu Falls, Barr Falls and Niagara Falls.  You can find out more about these waterfalls and which are worth visiting here on my Catlins waterfall article
Read more:  The Best Catlins Waterfalls
Visit the Lost Gypsy Caravan
The Gypsy Caravan is a quirky thing to do in the Catlins.  The Lost Gypsy Art Gallery is located in an old extended caravan with an eclectic mix of art pieces, tinkering and memorabilia.  The Gypsy Caravan is family friendly, but you are asked to watch the kids closely, and the onsite Winding Thoughts Theatre is R13.  It is closed over winter so we haven't been here yet… but it's intriguing enough that we might have to come back.
Teapot Land Owaka
There are plenty of weird and wonderful things in the Catlins.  The Teapot Garden is one of them.  On the main road in Owaka (heading towards Balclutha/Kaka Point) on the left hand side of the road you will find a house, with a strange looking garden.  It is filled with teapots, over 1000 of them.  There is no charge to view the teapots, although they ask for a donation (in a teapot of course) if you wish to take photos.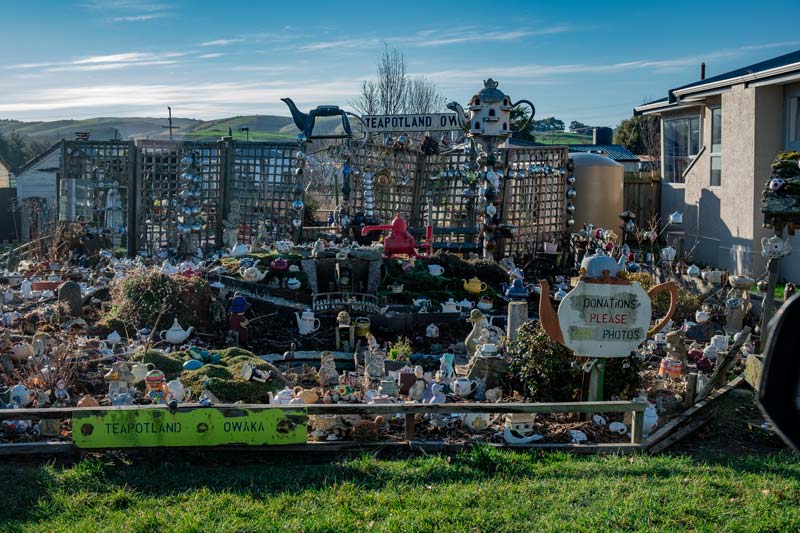 Visit the sea lions at Surat Bay, Catlins
Named after the Surat ship that sunk here, Surat Bay is a picturesque spot, made popular by the resident seal lion population who live here.  The New Zealand sea lion is the world's rarest sea lion, which was almost hunted to extinction 200 years ago.
You can find Surat Bay at the end of Surat Bay Road, and walk along the beach to the sea lion colony from here.
Owaka Playground
There is a surprisingly good childrens playground in Owaka in the centre of the township.  Thanks to the local Lions club, Owaka is now home to the best playground in the Catlins.  If you have young ones, you will appreciate the fully fenced option for under 5s.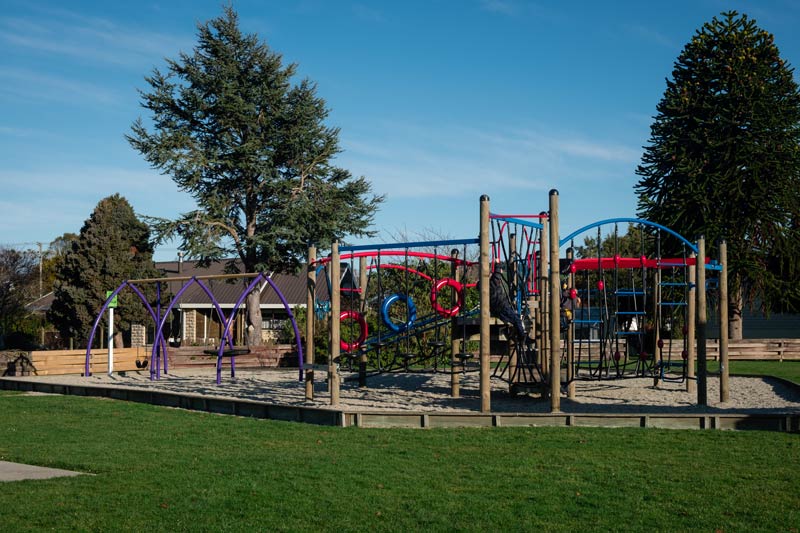 More Catlins Walking Tracks
We didn't have time for absolutely everything here, but if you feel like diving a little deeper into exploring the Catlins, you might want to consider some of these other Catlins walks
Walk to Lake Wilkie

, a beautiful Catlins lake, only a 30 minute walk, stroller and wheelchair accessible and has plenty of birdlife living at the lake

Catlins River Walk:

5-6 hour return walk, 4 swingbridges

Wisp Loop Track: 

4-5 hour return walk, at a higher altitude, a popular side trip to Rocky Knoll lookout for those with good fitness.  Views over the forest and vegetation.

You can combine the above to make a 24km, 2 day adventure called the

Catlins River Wisp Loop Track

.  If you are looking for a good challenge, then this Catlins hike might be for you, but I think I prefer more coastal views.

You can find more Catlins waterfall walks in our guide here
So if you are looking for things to do, Catlins attractions aren't too hard to find when you have our Catlins Guide.