Outdoor Gear Recommendations: What Backyard Travel Family use
Outdoor Gear:  What we use at Backyard Travel Family
We often get asked what gear we recommend for getting our family into the outdoors.  I know there is so much choice out there and I trust my friends recommendations more so than general advertising.
So from one friend to another, here is the gear we have and why we like it.  I hope this helps you narrow down your options so you can get the whole family out and exploring.  If you want to find something quickly, click below.
Please note: this article contains affiliate links.  These do not cost you any extra but any commission earned goes towards the running of this website. Thank you so much for your support

Table of Contents
Roaring Peak Day Pack with water bladder

Osprey Jet 18 Backpack

Deuter Fox 30 Backpack
Hiking Boots for Kids:  Northside Snohomish

Hiking Boots for Women: Lowa Renegades

Jackets for Kids: Therm

Jackets for Women: Macpac Copland Jacket
Ski Jackets and Overalls for Kids: Therm

Ski Gloves/Mittens: XTM

Ski Helmets: Bolle

Adult Ski Jacket and Bibs: XTM
Sleeping Bags:  How to choose them and our choice: Sea to Summit

Cooking: Jetboil Flash

Tent: Zempire XTL Pro (sleeping 8 people)

Sleeping Mats: Zempire Monstamats

Camping accessories

Sea to Summit bowls
Mirrorless Camera: Fuji XT2

GoPro Hero 10 Black
Backpacks for the kids

Roaring Peak Day Pack with water bladder
We may be a little biased since we created this backpack ourselves.  Roaring Peak is our own brand and we designed this small backpack for day walks as we just couldn't find something that fit our needs.
It is perfect for kids for day hikes when they don't need to be weighed down with a bag, or for kids around 4+ to have their first real hiking bag.
Designed with a water bladder so they can start carrying their own water, this bag can fit a lightweight jacket or kids sweatshirt as well as snacks for the day.  
It also comes with a bungy cord on the front pocket so you can easily clip on extra things or tie on a spare jacket.  We use this feature a lot.
We also use it for biking, skiing and travel.
The Roaring Peak backpack is COMING SOON to Amazon
Osprey Jet 18 Backpack
Buy here on Amazon We got our shipped from the USA
I really like this backpack for the kids.  I gave this to Nathan as a 5 year old and it still fits him well at almost 9.  I just have a larger pack for him now since he can carry more, but size wise it's a great day pack.
Things I really like about the Osprey Jet 18 Backpack
The pocket on the hood of the bag.  It's a great place to stash easy to reach items

The mesh pocket.  Extra sweatshirts fit great in here when you take them off

Good chest clip and whistle
Things that are not as great
The boys wish the small hip belt had pockets for snacks (our Fox 30 does)

The drawstring to the main pocket took me ages to work out how to open it.  Gets me every time.  It works absolutely fine but it is just a little odd.

Deuter Fox 30 Backpack
Buy in New Zealand at Complete Outdoors
We purchased the Deuter Fox 30 Backpack for Nathan for his first multi-day hike when he was 8.  It has more of a frame like an adults pack, compared to the Osprey Jet 18.  He really likes this and the straps are all well padded which he finds really comfortable.
In this pack he carried: sleeping bag, his own 2L water bladder, lunch and snacks for the day (we as adults carried the excess days food), as well as his clothing for the trip (1 packing cube) and jacket.  This was pretty full, but not packed to the brim, so there was definitely plenty of room here.
Things we like about this hiking backpack
Snack pockets on the hip belt

Adjustable frame (up and down) so it moves as they grow

Good size for multi day hikes

Separate compartment for sleeping bag at the bottom, or for shoes perhaps.  You can unzip it too for one full compartment

2 pockets in the hood of the pack
Things we don't like
I really miss a mesh stuff pocket to put those little things, like gloves, or if you take off a hat.  A stretchy mesh pocket makes it so easy.  But thats the only thing I could suggest.
Hiking Boots
Northside Hiking Boots
My kids use Northside hiking boots and really like them.  One bonus with Northside is they start at quite small sizes.  Junior kids boots start at a kids size 11. My daughter is 4 and fits these at the moment.
The kids find them really comfy and while they do say they are waterproof, standing in a river won't keep your feet dry.  But in general rain and walking they will keep your feet, it's not Gore-tex though, your top of the range waterproofing fabric for boots.
We had tried Mountain Warehouse hiking shoes for Emilia and she wore through the soles so fast, so don't recommend those.

Lowa Renegades
I have been hiking in my Lowa Renegades and they have been great for day hikes.  They are light, waterproof and really comfy.  I've had them for close to 2 years now and they have worn really well.
They are designed for day hikes without carrying a ton of weight in a backpack for example.  I'm also going to look into some others for multi day hikes that can help me carry the load.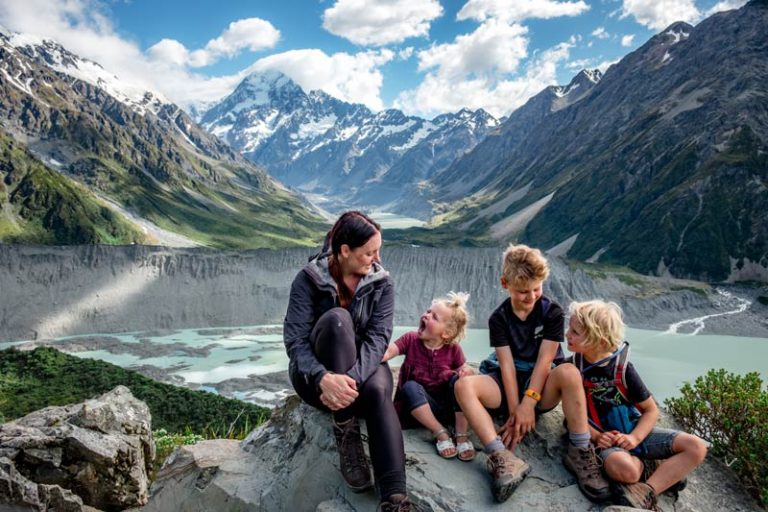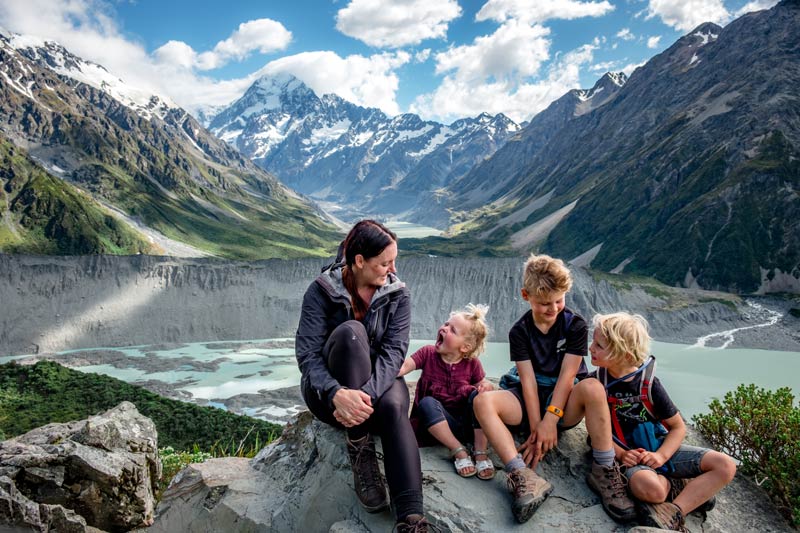 Jackets
Therm Jackets: The best jackets for kids
Code: BACKYARD10 FOR 10% OFF YOUR ORDER at Therm.co.nz (switch to USA and Canada stores too)
We have had Therm jackets for over three years now and one thing I love is that no matter how dirty they get, they wash up like brand new.
The Splashmagic jackets are the kids favourite, as when they are wet, a pattern shines through.  It just makes it fun and encourages kids to get out in the rain, or play no matter the weather.
Some features we really like:
Thumb holes on the cuff

A hood that hits nice and snug

Zipped pockets

The cool splashmagic designs
We have had their rainjacket, storm jackets (which are a rain jacket with fleece lining) as well as their hydropuffer, a puffer jacket which is also waterproof and have loved all of these.  The Storm jackets probably get the most use as they are warm and lightweight as well
Sizing for Therm jackets are generous and you can fit a few layers underneath so we have fond that their true to size sizing allows good room for a year or two.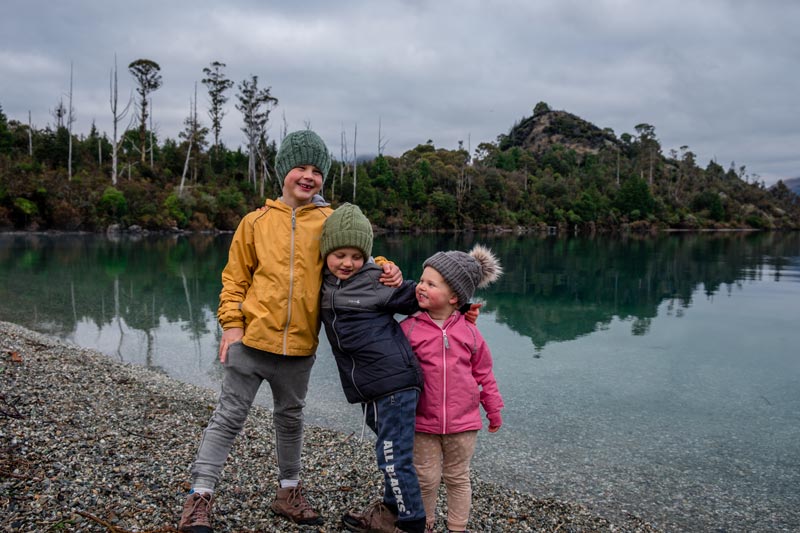 Womens Jacket: Macpac Copland Jacket
If you've ever seen photos of me hiking, I'm likely to be in my navy Macpac Copland rain jacket.  I've had it for over 3 years and it's still going strong.
What I really like about it:
Its longer length, so it keeps my bum warm and dry and it doesn't ride up with my pack

The vertical breast pocket.  It means I can keep my phone in there which is easy to access for photos.  When you wear a pack, the pockets aren't accessible as the waist strap cover them, so a breast pocket is ideal

There are double pockets – one for putting your hands in, and a top fill pocket for extra bits and pieces.  I hate putting my hands in pockets filled with other stuff and I'm always scared those will fall out.
Ski Gear Recommendations
Therm Ski Gear
CODE: BACKYARD10 FOR 10% OFF YOUR ORDER  at Therm.co.nz (switch to USA and Canada stores too)
Therm Ski Gear is just the best and all our kids wear for snow play and skiing.  Fully waterproof, the kids have never been cold on the mountain and the designs are always fun and lively.
Here's what we love about their innovative design
Jackets:

 They have zipped pockets AND warm pockets.  So there are fleece pockets to keep your hands warm and zipped pockets for "stuff"  This means you will never lose what's in those pockets – it's genius and my favourite feature
Jackets: 

Cuffs that tighten, so snow doesn't make it in.  They also help secure the kids gloves too as they always seem to get snow in their gloves
Overalls:

 Having overalls as opposed to pants means that if they slide over, there is no risk of their jackets riding up and getting snow up their back.  The overalls are also detachable and zips off, so if you prefer to have pants, you can just have those too.  Our kids love the overalls and have never ended up wet
Overalls:

 Have a cargo pocket that's great for snacks
Overalls:

 A skirt at the bottom of each pant leg to tuck in, to ensure no snow enters their boots
They also have snowsuits for the little ones, so go and check them out.  We honestly can't fault them.

XTM gloves/mittens
The age old debate – which is better?  Gloves or Mittens? 
Mittens will keep their fingers warmer as they use the heat from neighbouring fingers to keep them warm.  Ultimately they will be easier to put on as you don't have to painstakingly put each individual finger into each hole.
Even as an adult, I find if I need to be dexterous then I pull off a glove anyway, so I quite like mittens for myself.  I use XTM mittens and love that my hands have never been cold, but I wouldn't recommend getting them in white.  They get dirty very quickly despite snow being white – haha
All the kids' mittens are XTM and they are reasonably priced and have done a good job.  For littlelies you can get velcro ones that make it so much easier to get their hands into.  We've had the macpac ones that look similar, but they didn't stay on as well as the XTM gloves.  Even the very small sized ones fit my 5 year old and 2 year old well so they will get some good use out of them
From about 4 years and up we have used the straight pull on mittens.  They come in a range of cool colours and designs and my recommendation is the brighter, the better.  It makes them easier to find in a bag and buy different designs so the kids don't mix them up.

XTM jacket and bib overalls for Adults
My XTM bib overalls have been a gamechanger and I don't think I would ever wear ski pants again.  Here's why
If you fall over or slide, there's no way that you'll get cold with snow as you are well protected.

There's no waist band to cut into you when you bend which I love!

There are back zips so you can go to the toilet without having to take off your jacket and overalls.  This makes life so easy.   I wish the kids had this option.

I like the zip pocket on my chest for small things I use a lot like lip balm

They're just so comfy!
I have a XTM snow jacket too.  It's a standard jacket that has a zip out fleece layer.  This means if it gets warm, you can loose a layer but still keep a waterproof outer layer.  I also like the vertical zip where I can access for phone easily, much easier than in pants pockets.
Helmets by Bolle
Ski Helmets are an essential in our house.  With New Zealand's mountains being very rocky (as opposed to many grass fields overseas) and just the chance of inexperienced skiers or boarders running into you or your kids, it really is a must have for skiing.
I really like the helmets by Bolle.  We have chosen ones that are adjustable at the back like a bike helmet, meaning they will last for a number of years.  Cheap helmets are often unadjustble, which isn't ideal for kids, and if you decided you wanted to wear a hat, or a ponytail, then its much harder to get the fit right.
The other thing we love about the Bolle helmets is the soft and warm ear muffs.  There is no need to wear a hat to keep you warm with these helmets as your ears are all toasty.  
I'd also look for a helmet that has a vent as when you are spring skiing it can get quite warm and this allows your head to breathe.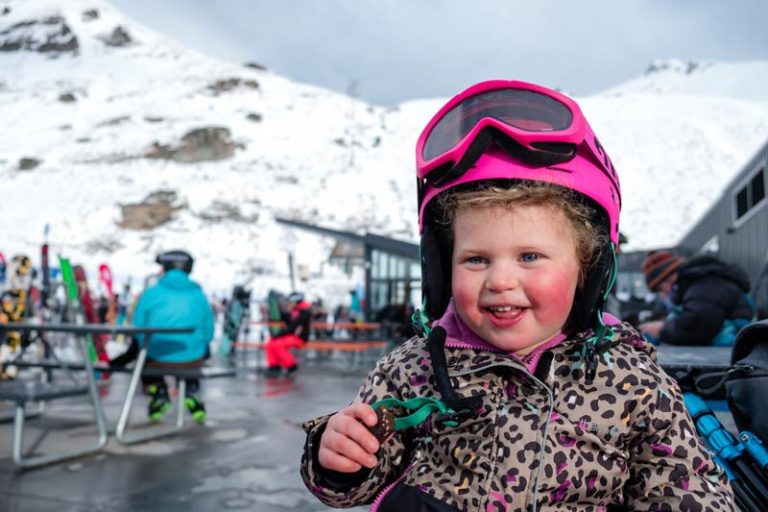 Photography Gear
Fuji XT2 and why I love mirrorless cameras
Buy the newest version of my camera, the Fuji XT4 here on Amazon
I just love my Fuji XT2 camera and I find it's amazing to learn on, as well as has the capability to produce incredible quality images that I have sold to brands around New Zealand.
Mirrorless cameras are still a new genre but are on the rise and I do think they will over the DSLR market.  What makes a mirrorless camera so good is that you can adjust the settings in real time.  
On a DSLR camera, you semi have to guess your settings, take a look at the photo, then decide if you need it lighter or darker, a wider aperture or not etc.  Whereas in a mirrorless camera, it's a digital view of what the photo will actually come out like.  This makes it faster to adjust your settings and much easier to learn on, if you are a beginner.
One thing I like about the Fuji XT2 is the retro buttons and settings.  It means you don't have to scroll through the menu to find all your basic adjustments such as Aperture, Iso and Shutter Speed.  They are all physical dials on top so you can easily see all our settings at any stage.  This is particularly useful if you are shooting in manual mode (or are learning to shoot in full manual mode)
If you are still learning, there are options to put the settings in fully automatic mode or manipulate just your priority settings.  For example, if you are shooting your kids playing sport, you will need a faster shutter speed to freeze that action (so its not blurry) or if you want to take a portrait with a blurred background, then you just adjust your aperture.
The Fuji XT2 comes with a beautiful kit lens, which is most brands is a pretty average lens, however this is f2.8 18-55mm lens which is a great adjustable zoom for most situations with quite a low aperture for a kit lens.  This means it lets in more light which is super helpful.
So whether you are a beginner just getting into learning a professional camera or wanting a lightweight camera with professional output, this one I highly recommend.
GoPro Hero 10 Black
We have had a GoPro in our bag for years now and I just love how easy they are to use and capture those fun moments like nothing else.
I love the wide angle on a GoPro which means we can easily fit the whole family into a photo.  It's really hard to miss.  We have a handheld mount that also has a tripod on the bottom, so even when we are exploring we can quickly set up a group shot.
GoPro video is very easy to shoot.  In fact it's a one hit button and you can record all those candid and fun moments, like skiing, snorkelling, waterslides, hiking, camping, waterparks and more.
The colours are great, there is an awesome app that will sync your content to music and you'll have some great memories to cherish for years to come.
Tip:  Take a hi resolution video and use the GoPro app to take a screengrab like this family jet boating shot.  You get to have an awesome video, as well as photos in the moment.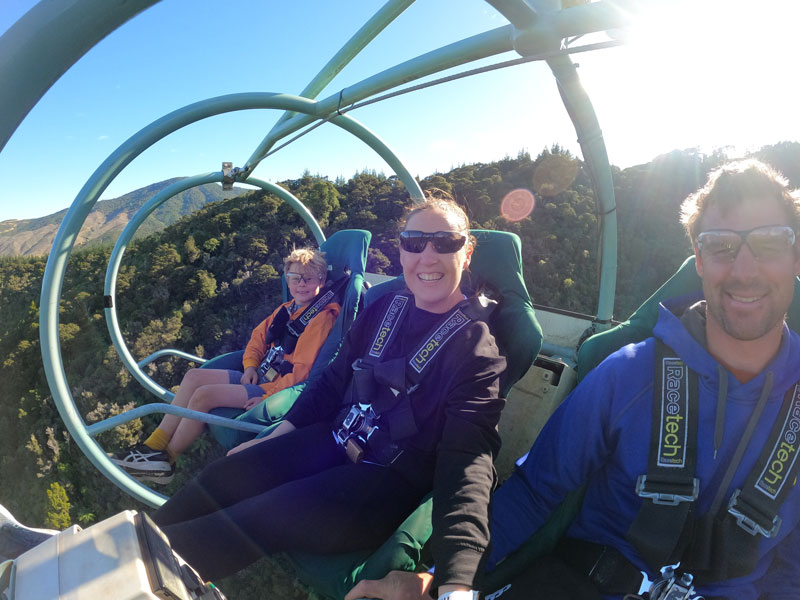 Zempire Camping Gear
We have a vast range of Zempire camping gear.  Proudly designed in New Zealand for the crazy camping conditions we have here in New Zealand, they are high quality products that will last you for years and years.
Beware that the gear does not go on sale so you aren't going to get a good discounted deal anywhere, but you do get what you pay for, which is a great quality product.
What we have
Zempire TXL Pro Tent – sleeps up to 8 people and is 35m2

Zempire Deluxe Double Burner cooker

Zempire Monstamats – these are worth their weight in gold and are super popular

Zempire table and chairs

Zempire cupboards
Zempire TXL Pro Tent
Buy in New Zealand directly at Zempire or through Complete Outdoors
This tent is the thing of dreams.  When my dad first visited us camping, he called it a hotel as it was that big.  One thing that is really awesome is that it is an inflatable tent.  Now don't be put off thinking it's like an inflatable pool toy.  The big thick beams are structural and strong.  We have been in crazy winds and it didn't budge one bit
If you want to see a tour around the tent – check out our highlights on Instagram here

Here are a few things we love about it
You can put it up easily with just one adult.  Great for solo parents or those who trip without their partner a lot like me.

4 bedrooms, with one removable if you want a bigger lounge space

Lots of storage pockets

Glow in dark zip pulls so you can find your way out of your tent bedroom in the night

Big front awning for sun protection or more space in the rain.

Over 2m in height so you can walk around everywhere

Takes less than 10 minutes to pull out and inflate.  Then you just have to peg it out.

Main door has a rain shelter so you don't get wet opening the zips

A 2 way pump means inflating is fast.  You can use an automatic pump so you don't get sweaty, but it does take a bit longer.

If you need to move the tent for some reason, you can just pull the pegs out and pull it.  Easy to relocate.
The downsides of this tent
It is 35m2 so it won't fit into every campground.  We just squeezed into some doc sites one year and had to peg it into the bush, but we got there.

Everyone who walks past wants a nosey so it's just such a cool tent.  Seriously, I do tent tours all the time by neighbours at the campground.  It's quite a site to watch a mum and kids put up a huge tent by themselves.

Zempire Monstamats
Buy in New Zealand directly at Zempire or through Complete Outdoors
Now I know that the main concern people have with camping is sleeping well, but these Zempire Monstamats are a game changer.  They are thick, well insulated (meaning you won't get cold in the night) and you won't feel the ground, even if you are a side sleeper.
Now since Ive had kids I'm the lightest sleeper and I can sleep fully through the night on one of these mats (if, someone doesn't wake me up to go to the toilet of course)
I cannot say more, these are seriously the bees knees and worth the investment.  When you've paid good money for a tent and a holiday away, you want to actually enjoy it!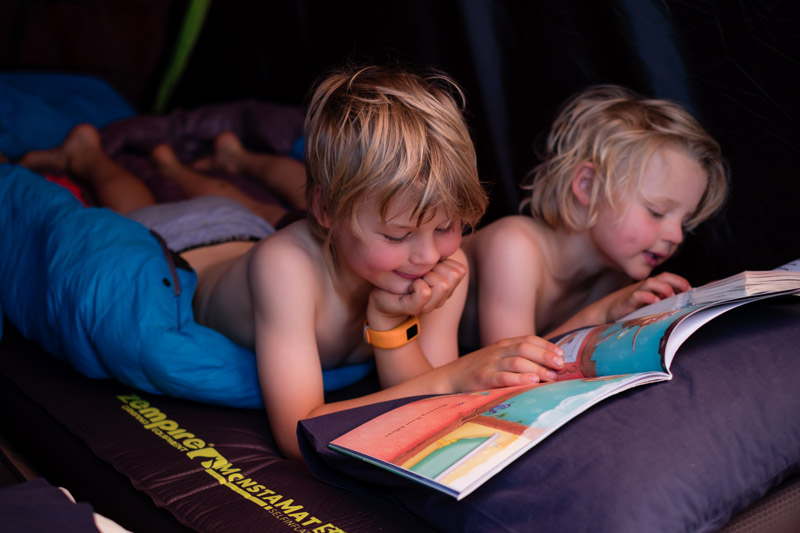 Sea to Summit bowls
For camping and hiking bowls we have the sea to summit collapsibles.  They fit in the pack easily, can fully contain hot food and you can even flip it upside down and use the bottom of it as a wee chopping board.
Sea to Summit sleeping bags
There are so many sleeping bags, it can be hard to figure out what you need right?  And they can be crazy expensive.  So I'll take you through my process, so you can see why I chose what I did, and that might help narrow down your options too.
For me, the most important factors were temperature rating, weight and size.  But it also depends on the purpose.  Are you just going to be car camping?  Then having a bigger sleeping bag might work well, or if you are winter hiking, then a small, warm mummy shaped bag will be important.
Sleeping Bag Temperature Ratings explained.
You will note that there are often three temperature ratings for sleeping bags.  One is your comfort rating, one is the limit and one is extreme.
So a comfort temperature rating is what an average female would sleep through the night in just one layer of clothing (like merinos or thermals)  And a limit rating is the same for an average man (they can sleep in cooler temps without waking)  The last limit is an extreme temperature and that is a temp that you would likely just stay alive in for a few hours and not die.
So the extreme rating…. Not one I need to even think about as its just for family camping and hiking.
So I usually look for the cooler end of what I'd likely be camping and hiking and pick somewhere between comfort and limit.  I figure I would add a few layers if I was cold at night anyway.  So we settled on a bag so we could sleep comfortably at about -3C.  We regularly camp at just over zero degrees and sleep just fine. 
Size and Weight
For me, size makes a difference as the kids need the sleeping bags to fit easily into their bags, so a down sleeping bag that compresses is really important.  We also don't want them to carry too much weight, so that is a factor too.  
For me, I have to carry Emilia's gear as well as my own, so carrying multiple sleeping bags in my pack means they need to fit in well.
In general,  the lightest, smallest and warmest sleeping bag will be the most expensive.  But its unlikely you will need a bag that is for comfort level -15C.  So I start with temperature first, and then pick a size and weight that fits my budget best. 
In the end, we chose Sea to Summit Talus sleeping bag.  It has a comfort rating of -2.7C and a limit of -10C.  It weighs 1045g.  It came with a great compression sack which I highly recommend and can squash down pretty small which is great.  These were around $500 on sale back in 2019.
I would have purchased these for the boys too but couldn't get anything similar and so they have Exped Lite bags that have a similar temperature rating.
JetBoil Cooking System
We have a Jetboil for camping and hiking and it is just incredible.  It's basically the fastest water boiler that you can have on the go.  We have the JetBoil Flash which is designed just to boil water, so you can have hot coffee or packet soup, or to add to dehydrated meals such as Backcountry Cuisine or Radix.
You can boil 2 cups of water in less than 2 minutes from whoa to go, which is pretty awesome.  Can't recommend the product enough.