The Best Christchurch Family Accommodation
The best family accommodation in Christchurch
Welcome to Christchurch, the Gateway to the South Island.  A beautiful city that has beaches within 20 minutes of the CBD and mountains in about an hour, it really is a city that has it all.
Christchurch is a big city by New Zealand standards and the best place to stay in Christchurch really depends on what you plan to do.  Accommodation in Christchurch for families ranges from budget options in holidays parks and motel, to luxury 5 star hotels.
** Please note this article may use affiliate links.  These do not cost you any extra but go towards the running of this website. Thanks so much for your support
In this Christchurch family accommodation article we will cover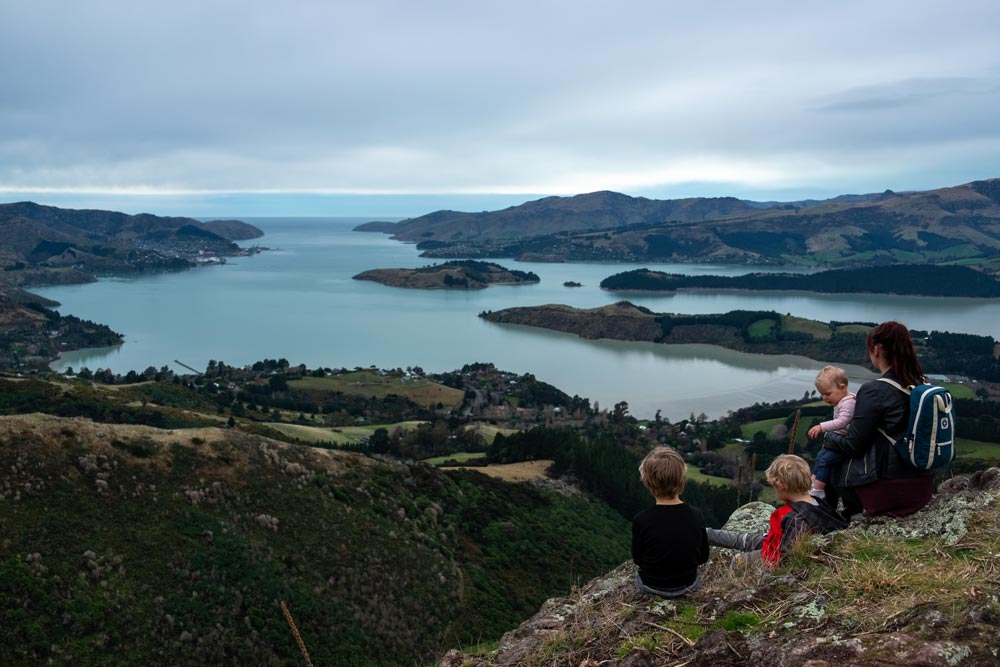 Considerations before choosing your family accommodation in Christchurch New Zealand
Do you plan to hire a car or bring your own?

 Or do you plan to use public transport and walk?  Parking in central Christchurch can be difficult or you have to pay so consider choosing central accommodation where you can walk, or a Christchurch family hotel with parking facilities.  There are ample bus networks around Christchurch and the Christchurch Tram is a great way to see the CBD.
Do you plan to eat out or cook at home?

  For us, we like a mix, as with kids, they often need an early night from all the activities, and I find it a little exhausting eating at restaurants every night.  Choose accommodation in Christchurch with kitchen facilities if this is the case.
Are you on a budget?

If you are on a budget and plan to do activities, then choose some cheap accommodation in Christchurch and save your pennies for the awesome activities in the Canterbury region. You could also consider staying a bit further from the city centre to help reduce your cost.  
Are you in Christchurch to relax?  When I am relaxing on holiday, I like long lazy mornings and spending more time in my accommodation.  If you are planning on relaxing or are staying for a little while, consider some luxury accommodation in Christchurch city with some space.  We have a great list of Christchurch luxury accommodation below.
About the neighbourhoods: The best places to stay in Christchurch: 
Christchurch Airport: for shorter stays and vehicle pickups
If you are arriving in Christchurch on an international flight, or moving on further north or south, then a Christchurch airport hotel is ideal. It's also a good spot if you are picking up a rental car or campervan as most depots are based near the airport.
There are good facilities near Christchurch Airport such as Spitfire Square that includes a Countdown supermarket, as well as restaurants and takeaways such as Lone Star, McDonalds, Mexicali Fresh, Burger Fuel and the Coffee Club.  This is a great place to pick up supplies and grab a meal before you rest up for the night.
The International Antarctic Centre is close to the airport and if you love animals, then you can also check out Orana Park or Willowbank Wildlife Reserve which are on this side of town.
Other suburbs that are close to the airport:  Fendalton, Burnside, Avonhead, Ilam.
We recommend 

Christchurch CBD:  for the best access to tourist attractions 
If you are wanting to explore Christchurch CBD and all the best Christchurch tourist attractions, then hit into Christchurch City Centre.
The centre of the city is marked by the Christchurch Cathedral in Cathedral Square.  It was damaged in the 2010/11 earthquakes so is still with scaffolding.  This particular area still feels a bit like a construction site, but it's a good central location.
In the Christchurch CBD you will be able to walk or take the Christchurch Tram around the city.  Kids will love the Margaret Mahy Playground, the biggest playground in Christchurch that's close by and other tourists attractions such as Punting on the Avon and the Christchurch Museum.
The downside of the CBD is that you often have to pay for parking as streetside parking is metered.  Most hotels provide some sort of secure or valet parking.
I love being able to walk around the city and stroll by the river.  Some of my favourite family restaurants in Christchurch are cool spots to eat are at the Riverside Market and Little High Street Eatery that provide a range of cuisines so you know it will have something to suit everyone.
We recommend:

Riccarton and Addington: Close to shops and supermarkets
The Riccarton and Addington Areas are full of motor lodge and Christchurch motel accommodation.  They are easy to access and close to main shopping areas if you need easy access to supermarkets, restaurants and supplies.
Parking is usually provided at these accommodations, so you won't have so much of a hassle compared to CBD parking.  The Riccarton area, particularly Riccarton Road and Blenheim road are high traffic areas which does mean its busy at peak times.  We stay in this area sometimes and it's just something to plan around.
If you are visiting Christchurch for an All Blacks rugby game, or a concert, then this location is close to Horncastle Arena and Orangetheory Stadium.  A lot of Christchurch Accommodation in this space will be walkable to your event.
We recommend:
Get away from it all: Where to stay near Christchurch
Sumner Beach: for a beach holiday
If you are looking for a beach holiday, Sumner Beach is a beautiful location and only 20 minutes from Christchurch CBD.  It's got a lovely little boardwalk so you can walk from one end of the beach to the other and is a popular place to learn to surf.
Confident surfers can also pop over the hill, another 15 mins or so to Taylors Mistake which can get some great surf too.  It's a bit more chill over there too.  Sumner is Christchurch's most popular beach and can get busy on hot weekend days.
Lyttelton and the Bays: Getting away from it all, but still close
Lyttelton is just a 20 minute drive to the CBD and the jumping off point for all the beautiful bays and Banks Peninsula.  Besides our favourite Glamour Cake Bakery in Lyttelton, we love to pop over to Corsair Bay, Cass Bay beach and Diamond Harbour to enjoy a little getaway close to the city.
If you feel like getting away from Christchurch, make sure you head to Akaroa, about 90 minutes from Christchurch and the perfect little seaside jaunt on a French heritage town.  The dolphin watching here is a big fav too.  See our best things to do in Akaroa article, a great day trip from Christchurch
Areas to avoid in Christchurch
There are some areas in Christchurch that don't have many restaurants and facilities, or are lower socio economic areas that you may wish to avoid.
When looking for accommodation I would steer clear of Linwood, Aranui, New Brighton and Sydenham
Luxury Hotels in Christchurch
The George Hotel: 5 star Luxury Accommodation in Christchurch
The George Hotel is one of Christchurch's most exclusive hotels and they are well known for their excellent service and its timeless elegance
What we love:
Parents will love the huge king and california king beds

Fine dining with 50 Bistro, one of the best restaurants in Christchurch

Free WIFI

Right close to the Christchurch Botanic Gardens, Hagley Park, Christchurch Museum and walking distance to Christchurch attractions

Onsite gym

Bicycles and helmet provided free of charge

Just a really beautiful hotel with a lovely old school feel
Downsides
Rooms only sleep 2 or 3, so you would have to book multiple rooms for larger families or book the exclusive residence which has 3 bedrooms

Only limited parking available, however you may be able to get parking further around Hagley Park
Click here to see the latest prices at the George Hotel in Christchurch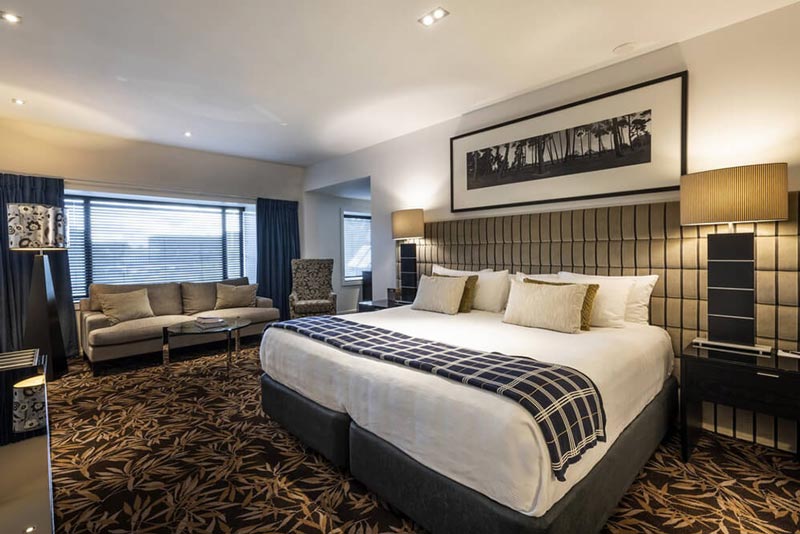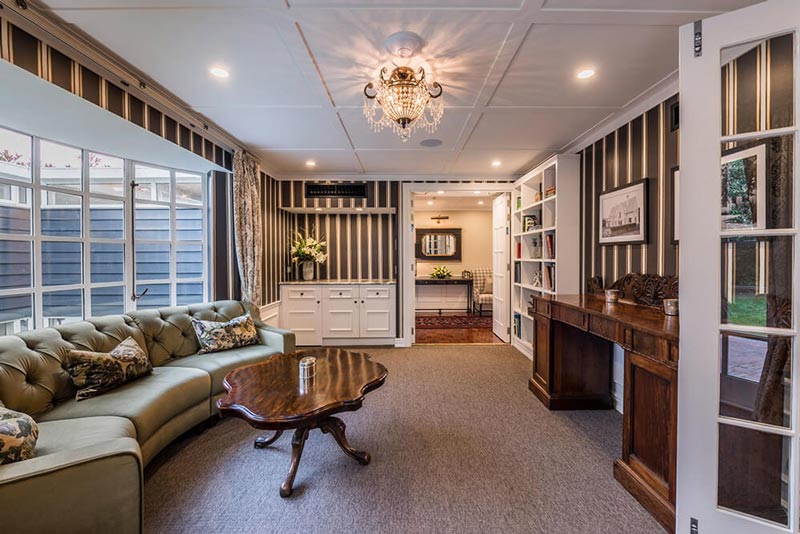 Hotel Montreal: Christchurch Boutique Hotel
Located right close to Christchurch's famous Hagley Park and close to the city attractions, this boutique hotel offers some of the largest hotel rooms in Christchurch.
This Christchurch 5 star hotel has lovely grounds including a courtyard to play croquet and unwind with a cocktail.  A lovely elegance and great accommodation for families in Christchurch
What we love at Hotel Montreal
The 3 bedroom penthouse suite is a home away from home including a full kitchen, in room ipad and is a crazy 162m2

The family suite has a great king and two king single beds for families up to 4 people

Onsite fitness centre

Free bicycles, or you can hire ebikes

Bar and restaurant onsite for easy meals

Great location in the central city.
Downsides
Click to see prices on Hotel Montreal: Great family accommodation Christchurch NZ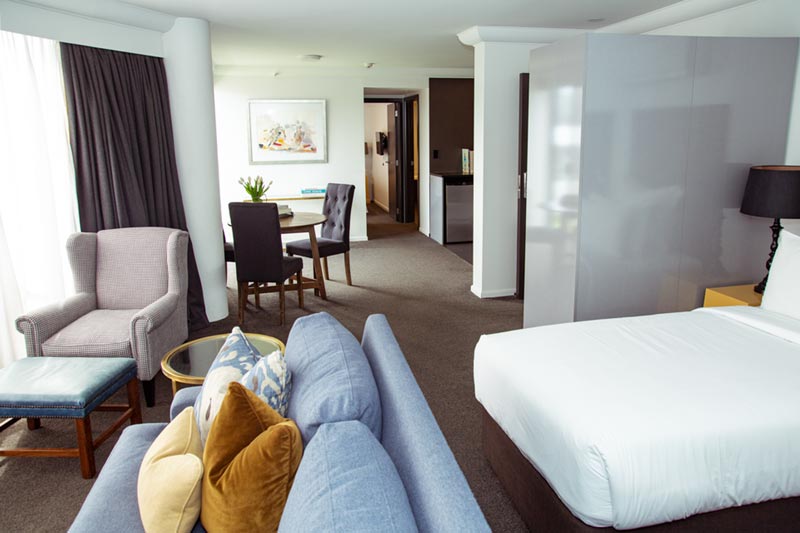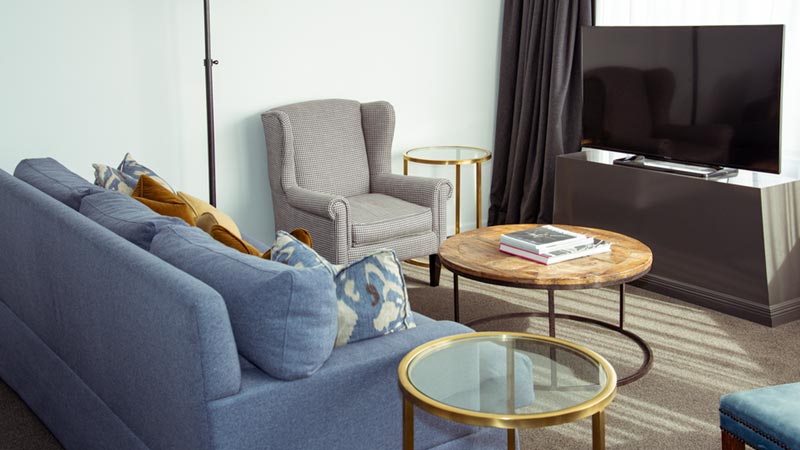 Distinction Hotel Christchurch: Luxury Accommodation Christchurch
A beautiful Christchurch hotel right in the heart of the CBD in Cathedral Square, this is such a great place to stay with kids.  We visited our friends who stayed here and I was really impressed with the size of the rooms at the Distinction Hotel.
This location is great for exploring the CBD and is walking distance to lots of great food options.  We loved the Riverside Market and Little High Street Eatery.
What we love about this great Christchurch family accommodation:
Location right in Cathedral Square in the CBD.  The Christchurch Tram is great for sightseeing and is practically on the doorstep

Huge rooms with really comfortable beds. Family room available with separate bedrooms. A great Christchurch family hotel setup.

Free WIFI

Modern hotel

Onsite restaurant
The downsides
Parking is not free.  You can purchase valet parking onsite or use a public carpark

The Christchurch Cathedral is still in a "renovation" state so it looks like a construction site across the road.  This is from the Christchurch earthquake in 2011

No kitchen facilities

Rooms only sleep up to 4, so would require a second room for a larger family
Heritage Hotel Christchurch: Beautiful accommodation Christchurch CBD
The CBD has some of the best accommodation Christchurch has to offer and this hotel is one of my favourites.  I love Heritage Hotels.  With a bit of whimsical old school luxury, they offer so much more than the bulk standard modern box.  
We stayed here when our first born was only little and just loved how much space there was and its fabulous location right in Christchurch CBD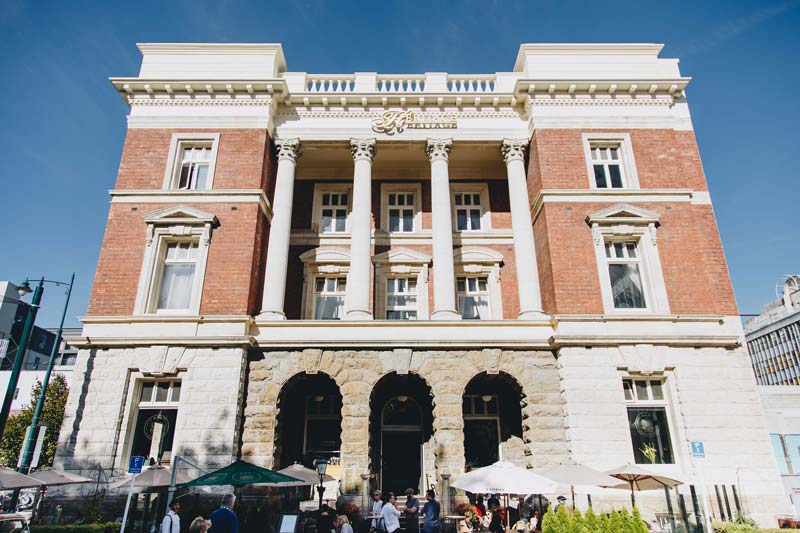 What we love about
Old school grand decor in the Old Government Building

1, 2 and 3 bedroom suites with lots of single bed options if you have multiple kids. 

The suites have a huge amount of space which makes this a great place to stay with kids.

Full kitchens including oven, full sized fridge and dishwashers

Lap pool, hot tub, gym and sauna

Washing machine

Great CBD location
The downsides
Like the Christchurch Distinction Hotel above, the view out the front is of scaffolding of the Christchurch Cathedral

You have to pay for parking, but it is undercover, secure and valet.
The Heritage collection are some of my favourite family hotels, Christchurch has one of the best.
Click here to check out photos of the rooms and prices at the Christchurch Heritage Hotel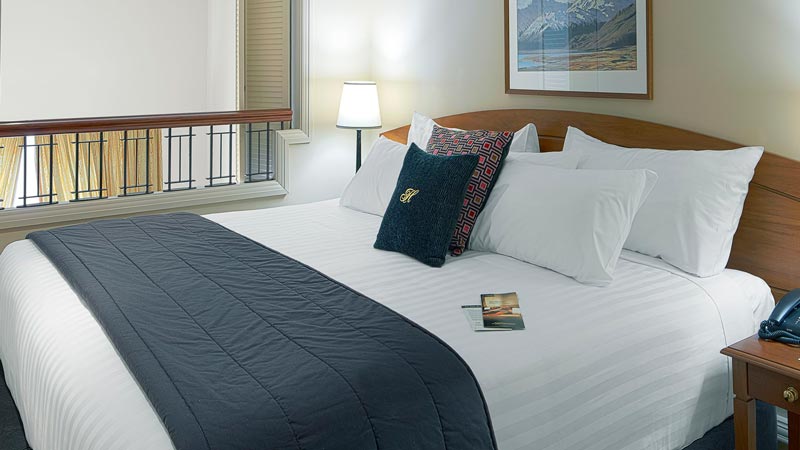 Christchurch Motels
Deans Bush Motel: Central Accommodation Christchurch New Zealand
Right in the action but close to the beautiful Deans Bush gardens where you can relax and the kids can run around.  It's right across the road from Westfield Riccarton, a large shopping centre with a supermarket, cinema and restaurants.
If you're a foodie, then be here on a Saturday morning so you can walk to the Christchurch Farmers Market.  Fresh produce and tons of beautiful delicacies for brunch.
What we love about this Christchurch Motel: Deans Bush Riccarton
Budget friendly

One and two bedroom apartments for families

Free parking

Great location near the shopping mall and gardens

Free WIFI

Kitchenette with fridge and stove cooker

Some have a spa bath, great if you need to bath a baby
The downsides
Riccarton Road can be a busy at peak hours

Need to buy another room for families more than 4 people

No air conditioning

Tidy and simple.  If you're looking for modern luxury, this isn't the right option for you
See prices of this lovely Christchurch lodging: Deans Bush Motel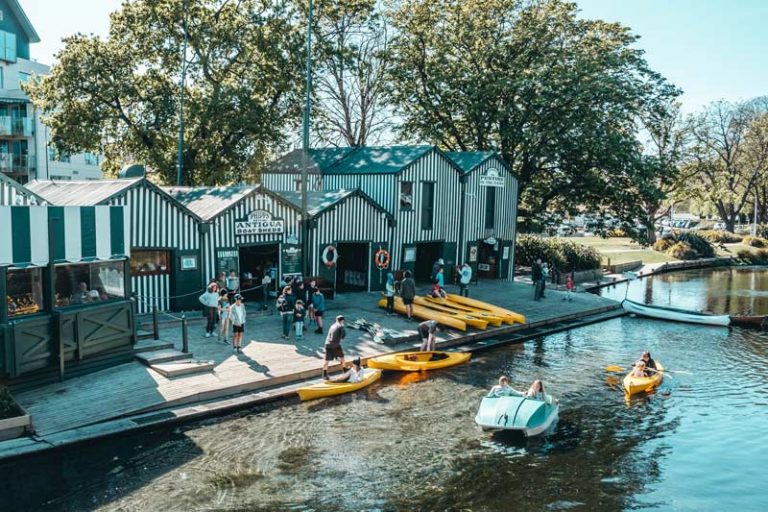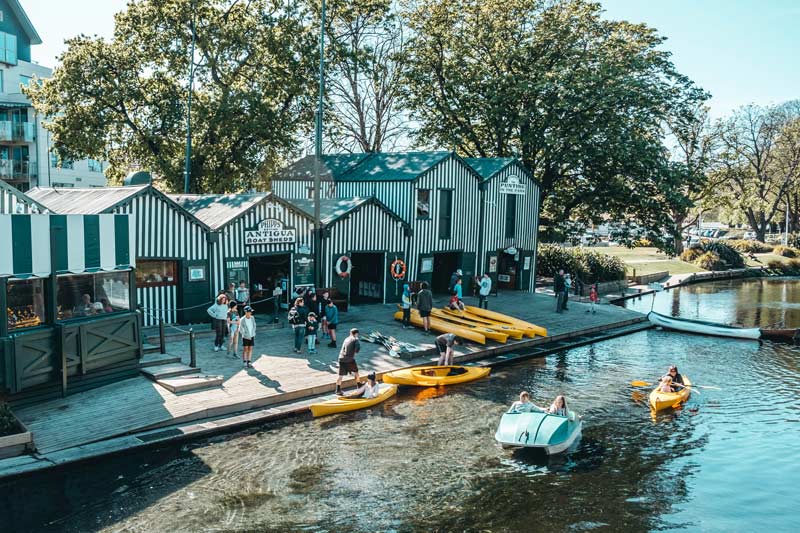 239 on Lincoln Motel, Christchurch
Lovely modern Christchurch motel on a good arterial route, means you'll be close to the action and still get a carpark. Rooms are equipped with a kitchenette for light meals and breakfast at home, always great for saving a few dollars
What we love about 230 on Lincoln
Excellent location, the best place to stay for Horncastle Arena and Orangetheory Stadium, only 1km from the Christchurch train station.

Lovely modern and new

Family rooms have a separate bedroom for the kids

On a busy road, but the rooms have soundproofing

Some rooms have a kitchen with an oven, so make an early request if this is important to you

Free WIFI

The downsides
This intersection where the motel is located can get busy at peak times or on event days.
***If you're interested in more Christchurch family motels, scroll down for a couple more under cheap accommodation in Christchurch with kids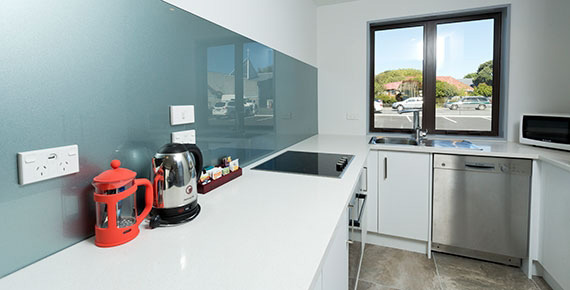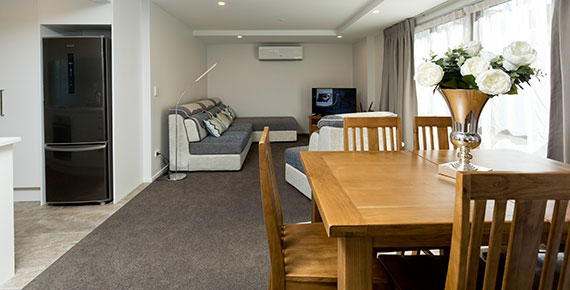 Accommodation: Christchurch Airport recommendations
Christchurch Airport Hotels
Novotel Christchurch Airport: Closest Christchurch family accommodation to the Airport
This is the best accommodation Christchurch Airport has to offer.  Right on site at Christchurch Airport, this is the perfect spot if you have an early or late flight.  With kids, you don't need the hassle of arriving really late (or leaving early) and having to negotiate pick ups and long transfers.
What we love about the Novotel Christchurch Airport Hotel
New modern hotel

Kids will love watching the planes take off out of the window

On site restaurant

The closest hotel to Christchurch Airport

Gym

WIFI

A short walk to the supermarket and further restaurants at Spitfire Square
The downsides
No rooms with separate bedrooms for kids.  They offer 3 single bed rooms or two queen bed rooms.  For more people you would have to purchase an additional room

Parking additional cost

Airport Motels in Christchurch New Zealand
The Airport Gateway Motor Lodge: Great family accommodation, Christchurch New Zealand
Close to the airport, with a free shuttle, the Airport Gateway Motor Lodge is ideal for one or two night stay.  This family accommodation in Christchurch is more on the basic side, but has everything you need for a comfortable short stay.
Here's what we like about it:
2 and 3 bedroom apartments available, great for spreading kids out into separate bedrooms

Free unlimited wifi and chromecast

Free parking and airport shuttle that runs 24/7

Full kitchen including microwave, oven and stove

A short drive to the International Antarctic Centre, Orana Park (Christchurch Zoo) and Willowbank Wildlife Reserve

Onsite restaurant with 24 hour room service, great for early and late flights
The downsides
Decor is a little dated, however the business wing has upgraded rooms that look lovely

Far from the CBD if you wish to do some sightseeing
Click here to check out prices and availability at this well located Christchurch motel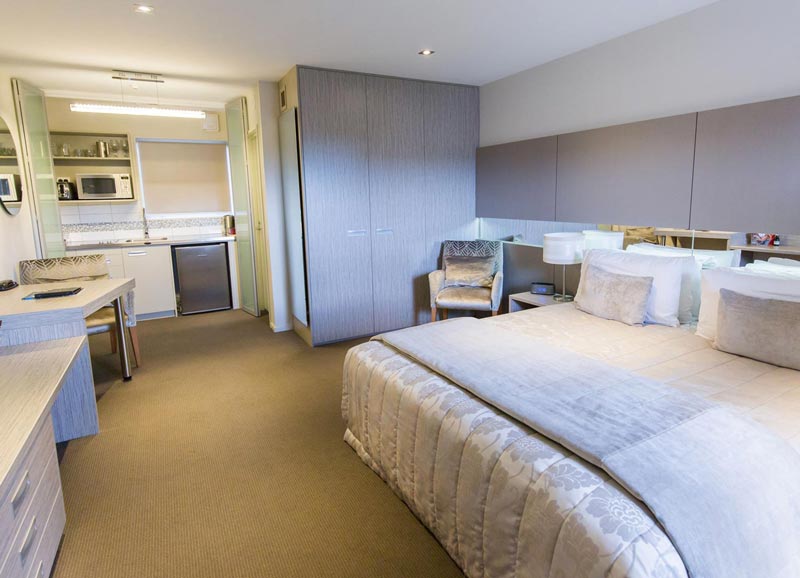 Cheap Accommodation in Christchurch NZ
Tower Junction Motor Lodge: Great value and cheap accommodation Christchurch
Tower Junction is a great spot, just out of the Christchurch CBD, but only a 5 minute drive away.  What you will find here is less issues with parking and busy streets, but also great access to shops and the Southern Motorway, making it fast to access everywhere.
It's also close to the Christchurch train station, ideal if you are doing the Transalpine train trip from Christchurch – Greymouth
We have personally stayed here and it was just an easy access spot.  Very clean, simple and modern and just the base we needed for exploring.
What we love:
Plenty of options for families including a one bedroom apartment sleeping up to 4, or a 2 bedroom family apartment sleeping up to 6.

Free shuttle to the railway station

Kitchenette in rooms and onsite bbq available

Free WIFI

Free parking

Great location close to Riccarton Mall, Horncastle Arena (shows, indoor sports such as netball) and Orangetheory Stadium (rugby games etc)
The downsides:
Can be a busy area of town so expect traffic at peak times on your way home (4.30-6pm)

Northwood Motor Lodge
Formerly the Chardonnay Motor Lodge, this 4 star motel has studios, family rooms and one bedroom apartments that would suit the family well.
It is right near the Groynes recreation reserve that has a number of playgrounds, an orienteering course, great shaded picnic spots and lovely walks.
What we love about Northwood Motor Lodge: Christchurch Family Accommodation
One bedroom family apartment sleeps 2 singles in the bedroom and one queen in the living space.

Also available is a 3 bedroom standalone townhouse sleeping up to 8

Large lush grounds with playground

Kitchenettes in all rooms

Close to the airport, without being the busyness of an airport motel

Free airport shuttles

BBQs

Free WIFI

Air conditioning

Free parking

The downsides:
No restaurants within walking distance

A small amount of road noise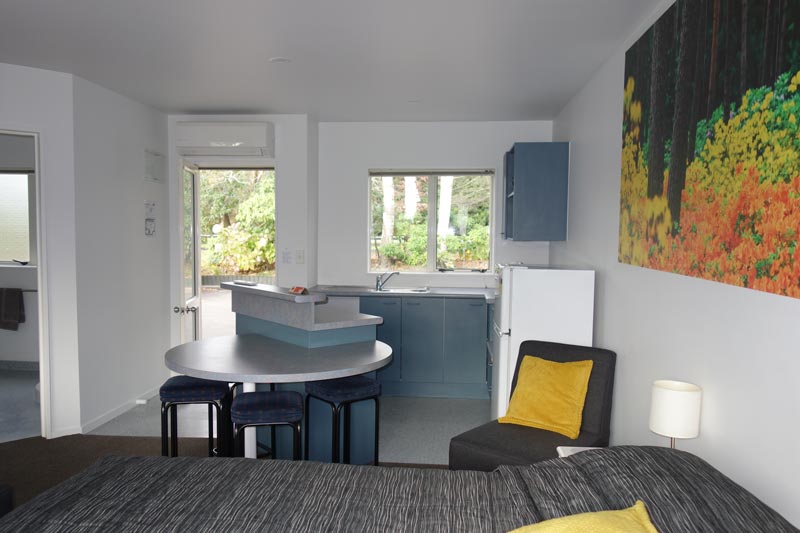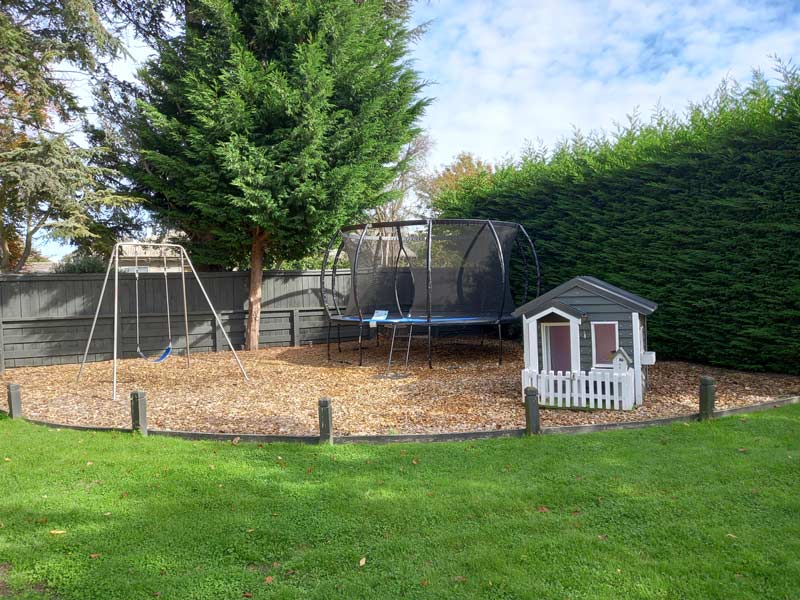 North South Holiday Park Christchurch
This is great budget friendly accommodation in Christchurch, not too far from the airport, so if you are picking up a campervan, this is a great spot.
For the cheapest option at
North South Holiday Park,
rent a quadruple room with shared bathroom, consisting of 4 bunk beds or choose motel or apartment style rooms with the biggest room sleeping up to 6.

What we love:
Rooms that can sleep large families including a family suite sleeping up to 11

Great onsite facilities including a heated outdoor pool, playground, jumping pillow, board games and more

It's pet friendly accommodation in Christchurch, you just to need to contact them to make this request

Free WIFI

Free Parking

Access to kitchen

Budget friendly
Downsides
This is a holiday park, so accommodation is simple but has everything you need
Other budget family accommodation Christchurch, NZ
You could also consider Tasman Holiday Park in Christchurch, which was formerly the Christchurch Top 10 Holiday Park.  Holiday Parks will be some of the cheapest accommodation in Christchurch, so great if you are on a budget.
What to do in Christchurch NZ
Here are some resources that might help you while you are here