Things to do in Taupo with kids
Things to do in Lake Taupo with Kids
Published: October 2021
Welcome to Taupo!! Located in the centre of the North Island, Taupo is a great place to visit with kids.   Lake Taupo is the largest lake in New Zealand and one of the coolest facts:  It's actually a crater lake as this whole area was a big volcano.  How cool is that?
So… this makes a particularly interesting place to visit as there are tons of geothermal sites to explore and even to swim in, and the whole Lake Taupo area is a popular place to summer holiday in.
But there is more than just the lake, the best things to do in Taupo in winter, is to ski, as Mt Ruapehu is an easy day trip from Taupo.  Ski in the day, hot pools to recover… no matter the season, there is always something great to do in Taupo.
This article will cover
Please note, this article may contain affiliate links, these do not cost you any extra, but do help with the running of this website.  Thanks so much for your support!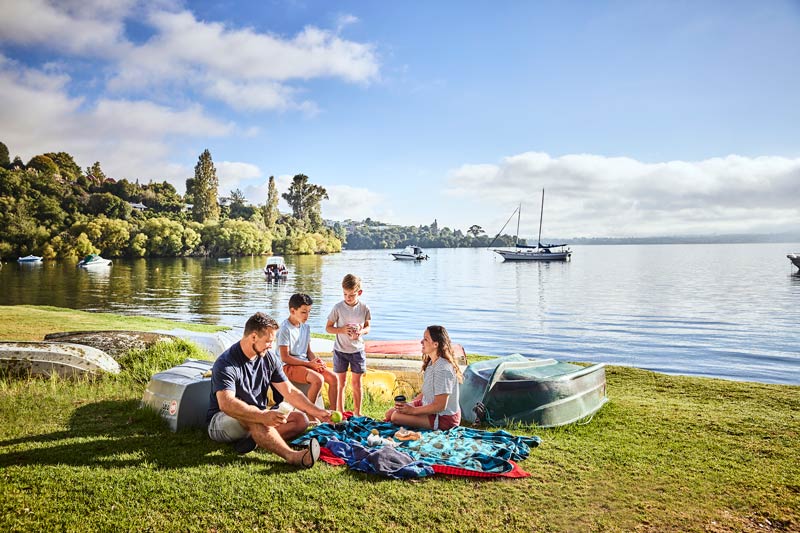 Where to stay in Taupo: The Best Taupo Accommodation with Kids
With a multitude of Taupo family activities on offer, you will surely need a number of days to explore fully.  Fortunately there is a range of places to stay in Taupo for all budgets (Taupo Hotels, motels in Taupo, holidays parks, Taupo camping) and here are some of our favourites
The kids will love:   Lake Taupo Holiday Resort with its onsite waterpark. (something that is not very common here in New Zealand)  They have beautiful modern villas as well as holiday cottages, basic cabins and a campsite.  They really do have accommodation for all budgets here.  Click here for up to date prices at Lake Taupo Holiday Resort
Campers love:  Motutere Top 10 Holiday Park:  Its the only campsite on the lakeside, this holiday park is out of the hustle and bustle of Taupo, has lakeside camp spots, playground, trampoline and water sport hire on site. Click here for campsite prices.
Big families: Apartments that sleep up to 7 are rare, but Hilton Lake Taupo has a great setup for families with apartments up to 3 bedrooms.  Full kitchens, outdoor pool, outdoor fireplace and bbq and even a restaurant onsite, its just easy to stay here.  Easily one of the best hotels in Taupo for families with kids.  Click here to check availability and pricing at the Hilton Taupo
Budget families:  Try the Taupo YHA.  They have family rooms, without bunk beds even, or try out their new pods, giving everyone their own space.  It's one of the best hostels in Taupo and is great budget friendly accommodation.
Hidden Getaway:  Head to the other side of Lake Taupo, to Kuratau and Oreti Beach.  Kuratau Beach is a great place to swim and set up for the day.  With swimming platforms to jump off and a laid back vibe, it's a perfect holiday spot.  The Oreti Village Resort has great accommodation for families with kids with their 2 bedroom apartments with lake views. If you are looking for holiday homes in Taupo, this would feel like your own space.  To find out the latest prices, click here
Right, that's enough accommodation in Taupo, let's find out the best things to do in Taupo with children and families.
Top 10 Things to do in Taupo New Zealand
Before we dive in, here are my top 10 things to do in Taupo with kids.  They will link the main body of the article, but everyone always asks what my personal top 10 are… so in no particular order
Taupo Attractions and Taupo Adventure Activities
If you are heading to Lake Taupo, things to do include:
Tongariro River Rafting Taupo (from 3 years old)
Have you ever wanted to go on a family white water rafting trip?  Well you can with Tongariro River Rafting and kids can go on a family float trip from the age of 3.  You will travel down the gentle rapids of the Tongariro river for about 90 minutes, with the whole trip taking around 3 hours.
Don't worry this trip isn't an adrenaline rush, but the younger kids will absolutely love being involved.  A perfect trip for the grandparents too.  I'm sure this will end up being one of your favourite activities in Taupo for kids.
For adrenaline lovers, why not try out the grade 3 white water rafting trip, which takes teenagers from 16 years old.  Around 60 rapids over 13km, this trip is really great fun for those up for a thrill.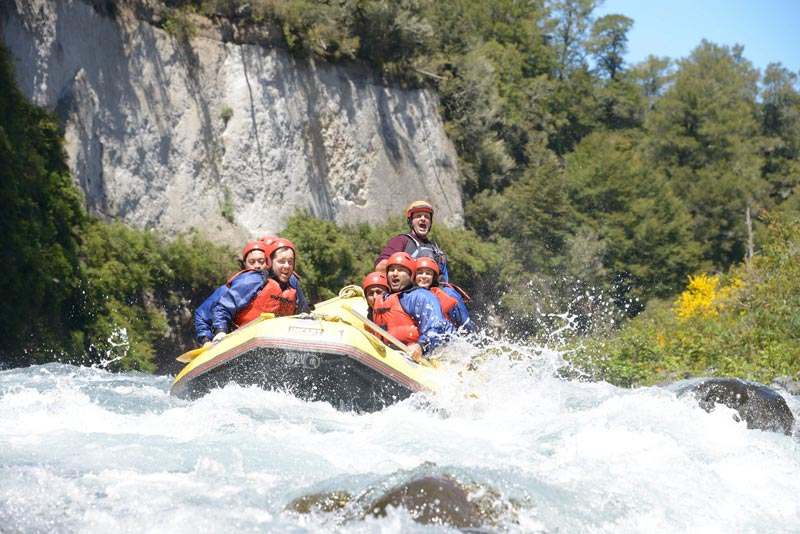 AJ Hackett Bungy Jump (from 10 years old up)
If you are visiting New Zealand, you can't not bungy right?  I actually bungy jumped here, twice when I was a teenager.  Once forward, then the next backward.  I'm not sure if I would be game again though.
Even if you don't want to bungy, its a pretty cool thing to watch.  The 47m Taupo bungy jump can include a water touch if you like, and can also be a tandem jump.  Kids can jump from 10 years old and must be 35kg+
As far as Taupo New Zealand attractions go, you've absolutely got to do something adventurous.  
Skydiving in Taupo (5 years +)
If your kids are adrenaline junkies, you may be interested to know that Taupo Tandem Skydiving doesn't have an age limit.  In fact the youngest kid who has jumped was just 5 years old (and the oldest 95)  You just have to be able to fit in the harness.
Pretty crazy but pretty awesome.  Now that would be something to do in Taupo that you wouldn't forget.
Huka Jet (kids from 1m and taller)
Wondering what to do in Taupo for kids? The Huka Falls jet is a great adventure activity for the whole family.  Kids from 1m and taller can join this Taupo jet boat ride.  (Generally tall 3 year olds and most 4 year olds should meet this mark)
Orakei Korako (all ages)
Orakei Korako is also named the "hidden valley."  It's just 25 minutes from Taupo and is an incredible geothermal experience.  It is the largest geyser field in New Zealand and has some really interesting natural attractions.
Have you heard of the pink and white terraces?  The ones that were destroyed in a volcanic eruption.  Well Orakei Korako now has some of the largest terraces, including the beautiful Emerald terrace.  
It is also the site of New Zealand's only geothermal cave.  You can't go down into the water, its acid, but theres a good viewing platform here.
Your admission includes a short ferry ride across the lake and the whole walk takes about 1-2 hours.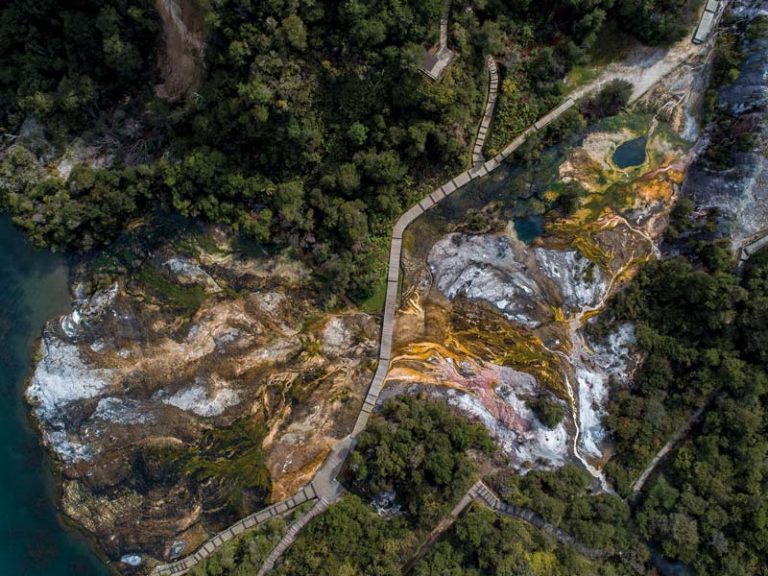 Free things to do in Taupo, New Zealand
If you're wondering what to do in Taupo for free, here are our favourites.  We have linked them to the other areas in our articles where they pop up
The Best Free Things to do in Taupo
Fun things to do in Taupo with Kids
Playgrounds in Taupo
The biggest Taupo playground is on Tongariro Street.  The Tongariro Public playground is in Tongariro Domain, across the street from the Taupo i-site and next to the Superloo (these public toilets cost FYI)
It's a great playground for all ages and on some weekends and school holidays, even has the Lions express train that goes around the domain.
Other Taupo playgrounds include
Acacia Bay Playground, Besley Park – Pirate ship themed (Wakeman Road)

Spa Park playground (Spa Road)
Huka Prawn Park (all ages)
Taupo's Huka Prawn Park is like an eclectic playground and waterplay and prawn hatchery all rolled into one.  It's a little quirky, but what it adds up to, is a whole lot of fun family activities where you could literally spend the day.
They've got water bikes, pedal boats and stand up paddleboards which are so fun in summer.  Kids playgrounds and adventure walks, as well as the prawn hatchery, prawn fishing and trout feeding.  Adults will enjoy the adult nature walk, the geothermal foot spa and the delicious offerings at the cafe
Kids should definitely bring their togs and towel and the water bucket gauntlet is calling.  One of the most unique and fun things to do in Taupo with kids, so go get amongst it.
Huka Honey Hive (tours from 5 years old)
The Huka Honey Hive offers a Honey Shack Tour that is suitable for kids 5 and older.  You can don a beekeeping suit and get a personal tour with the beekeepers, seeing the honeycomb up close.  You even get your own pot of honey to take home.
Hole in One Taupo (best for teens and above)
An iconic Taupo attraction thats been around for years, the Taupo Hole in One Challenge.  Open to all ages, however only those with a decent golf swing would make this worthwhile.  Hit the golf ball from a lakefront spot onto the floating pontoon, and get a hole in one and win $10,000 for the red flag hole or a raft of experiences if you sink the other two holes.
A whole lot of fun for sure, suitable for teenagers to adults and a whole family of spectators.  This is one of the most unique things to do in Lake Taupo, New Zealand, so make sure you stop by to have a look.
If the kids do want to give golf a go, try Mini Golf Taupo, just walking distance from the hole in one challenge, at 11 Northcroft Street.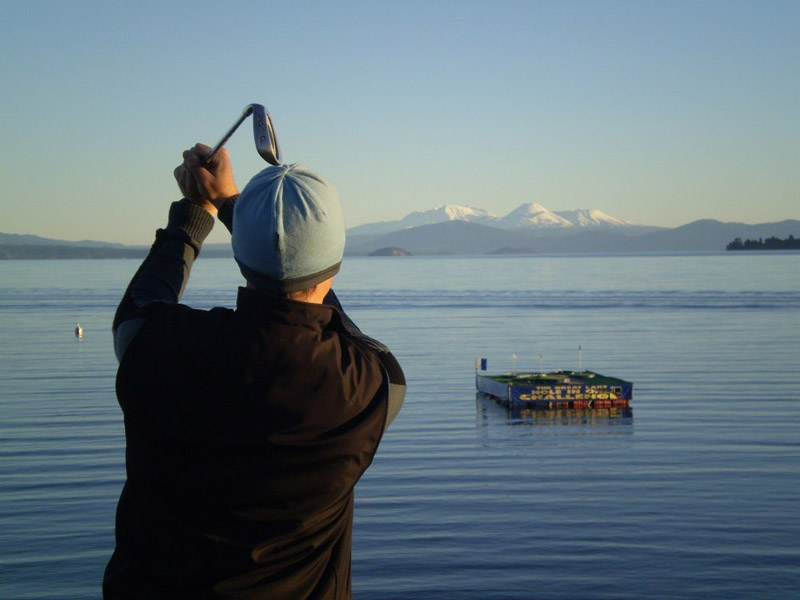 Taupo Walks
Huka Falls (all ages)
Huka Falls is an incredibly powerful waterfall.  This is not a whimsical beautiful waterfall, this is a roaring giant, pumping out the water.  The short walk from the Huka Falls carpark to the waterfall only take a few minutes, but you can also walk from here to Spa Park, which will take about 90 mins return.
This is one of the top things to do in Taupo with families and such an easy one.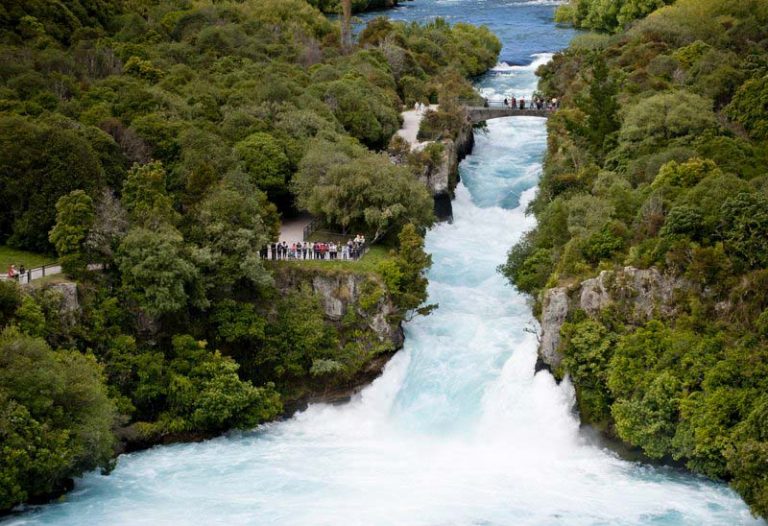 Lake Taupo Lakefront (all ages)
The lakefront at Lake Taupo is a great place to stroll and the footpath here is perfect for kids to scooter and balance bike.  I know I'm always looking for a good spot for little ones.  Nothing beats the good views here and you have to take a family selfie at the #lovetaupo sign.  A great little Taupo bike ride for kids and pleasant stroll for the adults.
Craters of the Moon Taupo Geothermal Walk (all ages, stroller friendly)
Don't worry what to do in Taupo with kids, because this awesome attraction will keep everyone entertained. The Crater of the Moon walk takes around 40 minutes for the main loop and you can add on another 20 minutes for the lookout. This walk has a small admissions charge but it really does look like the moon.
With geothermal steam rising from all areas, boardwalks across desolate cracked moonlike land and boiling mudpools, it feels like a different world.  Strollers can be used on the main walk, but are not suitable for the lookout track.  Geothermal activity is one of the most popular things to see in Taupo, so make sure you check it out somewhere on your Taupo holiday.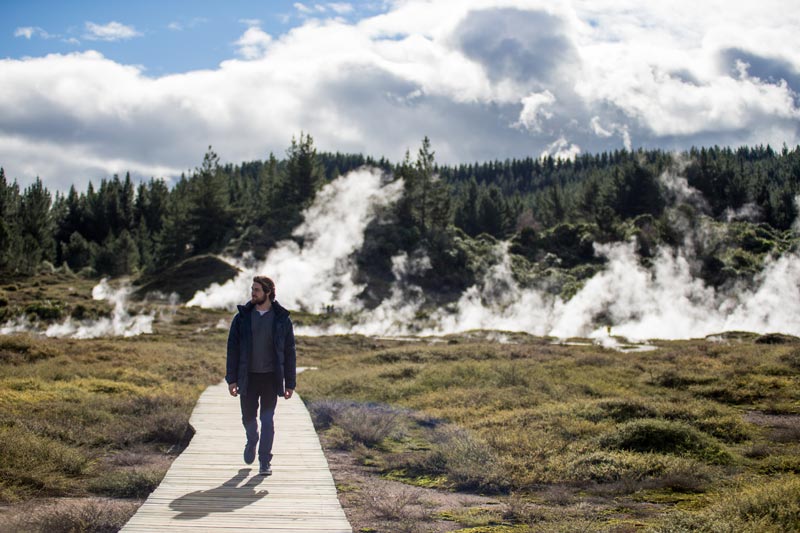 Aratiatia Rapids Lookout Walk (all ages)
The Aratiatia Rapids are just down from the Huka Dam.  At certain times of the day (10am,12pm,2pm and 4pm in summer) the floodgates open and the water rushes down through the rapids.  It lasts about 15 minutes before it settles again.  It's quite a cool sight and one most kids will enjoy.
This walk is also a Hobbit film location.  It's where the famous barrel scene in the Desolation of Smaug was filmed.
Location: You can find this walk on Aratiatia Road.  It's about 600m to the lookout point.  You can also walk from Huka Falls.  This is a 7km walk.  We love free and cheap things to do in Taupo, so check this natural wonder out at no cost.
Please note:  This rapids are extremely dangerous.  You should never swim, kayak or even go near the water at this site.
Tongariro River Trail (all ages)
The Tongariro River Trail is a 15km loop track that takes around 2-3 hours to complete.  It is a great family half day walk and is relatively flat except for one steep hill.  This makes it a good track for most.  
You can start the track at the Turangi I-site and its also a mountain bike friendly trail too.
Photo below: Tongariro River / Photo Credit: Love Taupo
 Tahunatara Point Walk
Whakaipo Bay is a great place to hang out at the beach.  If you are up for a Taupo family walk while you are there, then the 2km return walk to Tahunatara Point is a great stroll.  It's an easy walk and at the end there are awesome views of the Karangahape cliffs and across the lake you can see the volcanoes too.
Rangitira Point Walk
The Rangitira Point Track runs along the lakeside of Acacia Bay Drive.  There are a few different entry points, but basically you can walk from Tekumi Bay, past Totara Bay all the way to Rangitira Point and Whakamoenga Point
The point has some beautiful views and you can access fishing and swimming spots from the walk too.  The whole trail is about 3km return, so allow a leisurely 60-90 minutes to stroll.
Taupo Hikes
Mt Tauhara
If you are looking for a longer Taupo hike, then Mt Tauhara is a popular walk.  Just 10km drive from Taupo, this 2-3 hour walk is a good 500m altitude climb.  It is steep in sections but manageable.  Quite a popular climb at sunrise or sunset when the light is just beautiful.
If you're looking for more hike in Taupo, you could also consider the Tongariro Crossing, a big 17km trek through volcanic landscape.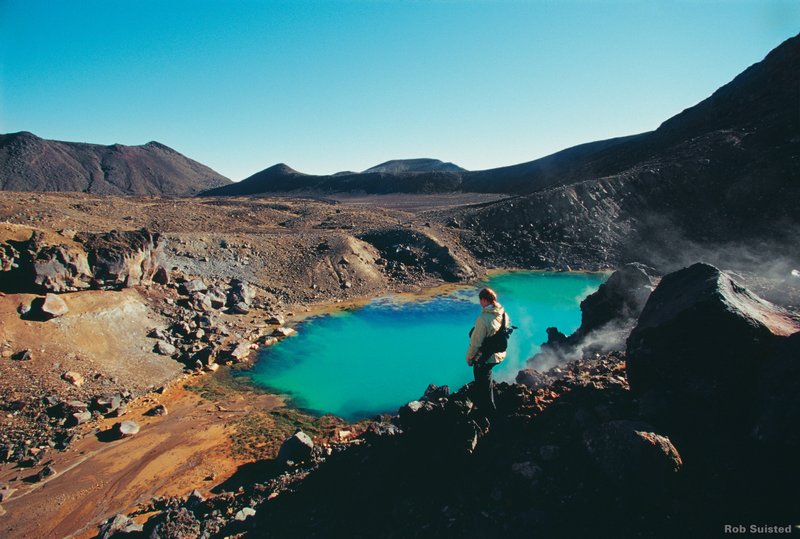 Mountain Biking and Cycling in Taupo
Mountain biking is one of our favourite family things to do in Taupo as there is something for everyone here.  From flat pathways, to adrenalin rides and a bmx track, you're going to keep all of the kids happy with this activity.  Here are a few Taupo cycle tracks below that your family might love

Craters Mountain Biking Park
Craters MTB is a great place to mountain bike for all levels.  From beginners and kids trail to advanced and black diamond tracks, there really is something for everyone.  If you don't have a bike, you can hire them next door to the cafe
You must be a member of Bike Taupo to use these trails, but don't be put off.  Kids memberships for a year are only $5 and adults can get a 7 day pass for just $10.  You can do this online on the Bike Taupo Membership page
Great Lake Pathway: Bike along the Taupo Waterfront
The Great Lake Pathway starts at the Taupo Boat Harbour and runs a bit past 3 Mile Bay.  Its about 10km return and the path is an easy trail.  You will pass the #lovetaupo sign for an obligatory photo as well as beach spots to swim as well as many cafes for coffee and ice cream.
This is a stroller friendly and a dog friendly trail and one we highly recommend for young kids on balance bikes (I know it can be quite hard to find something suitable for them to toddle along on)

Huka Trails
The Huka Trails are a network of cycling tracks that run along the Waikato River in the Taupo Area.  Here is a brief description so that you can delve into more
Riverside Trail: 3 km starting from the Control Gates
Rotary Ride:  Bike from Spa Park to Huka Falls, a popular ride for intermediate riders.  11km return on a grade 3 trail
Huka Falls to Aratiatia Dam: 14km return trail, grade 3 (intermediate)
Taupo BMX Track
If you are up for a fun track to ride on, the Taupo BMX Track can be found in Crown Park at 115 Taharepa Road.  Keen bikers will find this one of the best places to go in Taupo and hang out, especially if they want to hang out with local teens.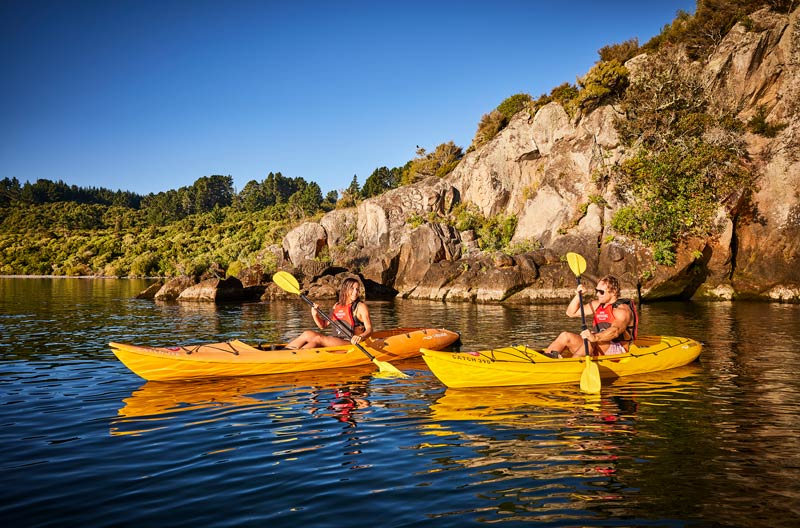 Water-based activities in Taupo
Taupo Spa Park (free)
Taupo Spa Thermal Park is a free reserve area that is the starting point for many beautiful Taupo walks and cycle trails.  But many also visit for the Otumuheke Stream, which is a free geothermal swimming spot.  As far as free activities in Taupo, this is one of the best!
The water is naturally heated and is one of the best things to do in Taupo for free.  There are changing rooms onsite too.
The Huka trail walk also starts here and takes around 2 hours return.  Its about 3km each way, so you could also make it a  short bike ride, on the intermediate/grade 3 trail.
Doughboats (all ages)
Doughboats are one of the best family activities in Taupo.  Take their pink doughnut shaped electric boat out onto Lake Taupo and explore for up to 2 hours.  Sail on your pink doughnut to Acacia Bay or Two Mile Bay, bring a long a chilly bin full of snacks, or order a platter or pizza straight to your doughboat.
Kids of all ages are allowed, just make sure that enough little lifejackets are available.  This is a great activity even in winter, as they make it all warm and toasty on board.  This bright pink boat excursion will be one of your favourite activities to do in Taupo.
Taupo Parasailing (5 years old +)
Big Sky Parasailing is a great thing to do in Taupo in summer.  Get pulled along in a parachute, 40 stories above Lake Taupo behind a boat.  Can you imagine the awesome view from up there?
Kids as young as 5 years old have parasailed with Big Sky Parasaiing, the only caveat is that they have a minimum combined weight of 60kg, so kids will have to ride with parents if they are too light.  Up to 3 people can parasail at a time.
If you're visiting Taupo in summer, this should definitely be on your Taupo Things to do List!
Visit the Maori Rock Art, Lake Taupo New Zealand
The incredible Maori Rock Art in Mine Bay, Lake Taupo can only be accessed by water.  These amazing works of art were created in the 1970s and reach as high as 14m above the water.  It is one of the most extraordinary places to visit in Taupo.
A number of operators run Maori Rock Art cruises such as Chris Jolly Outdoors and Ernest Kemp Cruises.  These Lake Taupo activities will be such a memory part of your family holiday. (Chris Jolly Taupo also do hunting and fly fishing adventures if that is something your family is interested in)
Kids 12 years and older, may also consider a Maori Rock Art kayak tour.  These usually take around 3-4 hours and Canoe and Kayak Taupo even offer motorised kayaks for those who might struggle to paddle the whole way.  Taupo Kayaking Adventures also offer kayaking tours in Lake Taupo as well.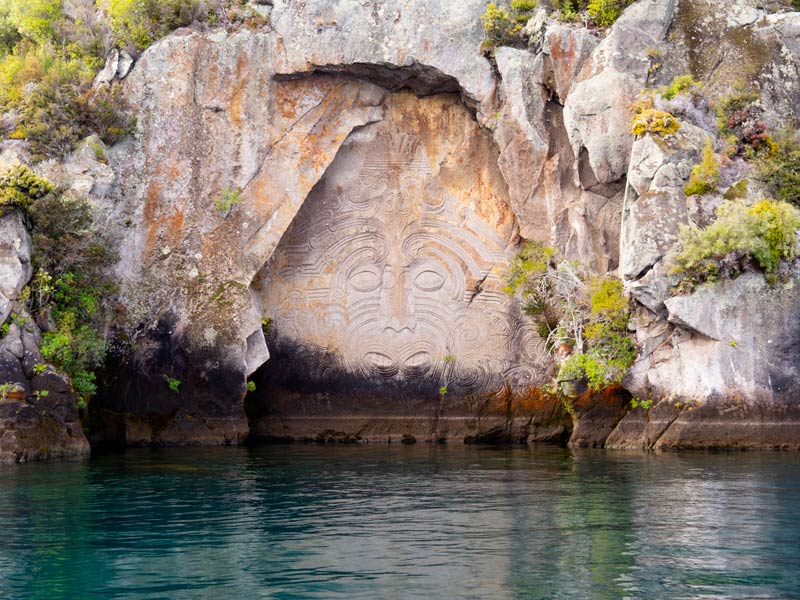 Hire a kayak or paddleboard, Taupo
One of the best ways to explore Lake Taupo is to get out on the lake.  If you're looking for some classic Taupo family friendly activities then why not hire a kayak or paddleboard to get around.
Here are a few places to hire kayaks in Taupo, and SUPs too
Motutuere Top 10 Holiday Park

Taupo Kayaking Adventures

Canoe and Kayak Taupo

LakeFUN Kayak and SUP Hire

Photo credit: Love Taupo
Go Fishing
Fishing in Taupo is a great family activity.  You can jump aboard a fishing charter boat or take a fishing cruise, or you can fish from your own boat, kayak or from the shore.  Rainbow Trout and Brown Trout are common fish in Lake Taupo.  Other popular spots include the Tongariro River and Tauranga-Taupo River.
A few things you will need to note when you are fishing in Lake Taupo
You need a fishing licence to fish in Lake Taupo.  This includes every member of the family who drops a line to fish, including the children.

You need a permit to launch a boat around Lake Taupo

There are a number of rules and regulations around fishing in Lake Taupo.  A good place to start is the NZFishing.com website that has many maps and clearly outlines the do's and don'ts
Seriously, if you love trout fishing, Taupo is one of the best places in New Zealand to do it  Its a great Taupo attraction for family groups as you can go on a boat tour, hire a charter boat or even take the kids to learn at the Tongariro National Trout Centre (more on that below)
Swimming at Lake Taupo
Swimming is one of the best things to do in Taupo for kids.  You can swim in the lake and some of the great beachside lake spots, or you can find a great hot pool facility if you need a warmer option.  Swimming in the hot pools is one of the best things to do in Lake Taupo in winter as it does get very cold. (there's even a skifield not too far away)
There are a lot of motorised boats on Lake Taupo, so fortunately there are some swimming only areas marked with white/black posts.  You know that these are safe areas for kids to swim and no motorised boats are allowed.  These include:
Main Boat Taupo

Yacht Club Taupo

Kinloch Beach

Kuratau Beach

Beach area between 3 and 4 Mile Bay

Pukawa

Whareroa
If swimming is your favourite kids activities, Taupo has a ton of great spots suitable for the whole family to swim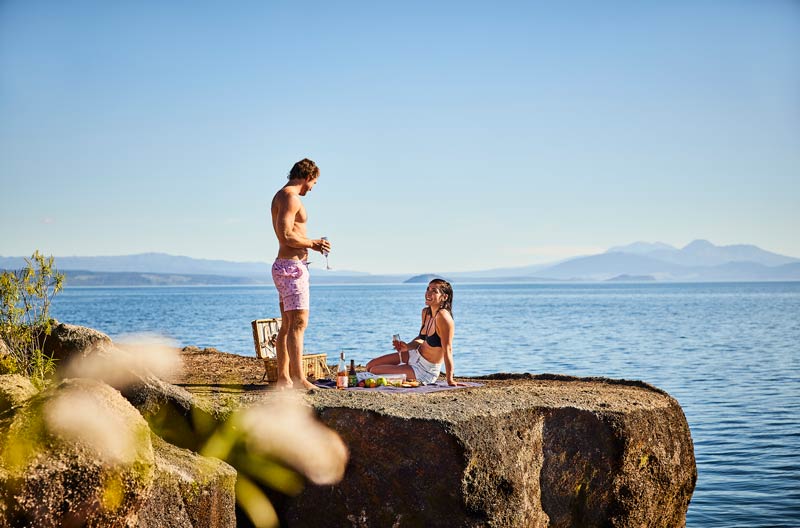 Swim at Lake Taupo Holiday Resort
A stay at the Lake Taupo Holiday Resort will give you access to the awesome pool facilities on site.   The Lagoon at Lake Taupo Holiday Resort is thermally heated all year around, so even in the winter, it will be warm to swim in.
The big lagoon pool has sand, a waterfall, and even a big 4m deep cave with treasure to find.  The pool does go deep and over the kids heads, however there are shallow areas and this is gradual.  Parents will love the swim up bar and access to poolside snacks.
Swim at Debretts Hot Springs
Debretts Hot Springs has accommodation attached to the facility but you don't have to stay here to access the hot pools.  (But if you are staying in Debretts accommodation you do get a discount, or can choose a package with waterpark tickets)
The Debretts waterpark includes naturally heated spa pools, a kids water play area, hydroslides and private spa. Kids will also love the playground and giant checkers game.  Easily one of the most fun things to do in Taupo for families.
Click here to check out Debretts accommodation options and deals
AC Baths Hot Pools
AC Baths is the main council swimming pool complex, like most regions have in their area. Beyond lane swimming and regular swimming lessons, the AC Baths Taupo complex also has a large outdoor pool (even with a bomb area and big rope swing) with a small slide and toddler pools.  There are 2 large hydroslides but kids have to be 1.1m to ride them. (this would be around 4 years old ish)
Tokaanu Thermal Pools (hot springs near Taupo)
Tokaanu Thermal Pools are close to Turangi, on the southern side of Lake Taupo.  I remember visiting these thermal pools as a kid.  This is a very basic hot pool facility so don't be expecting a luxury spa affair here.  Essentially this is a school pool type facility where the waters are thermally heated.    Its a great cheap hot pool option in Taupo and so cool to experience a natural hot spring. (Taupo and Rotorua are full of them)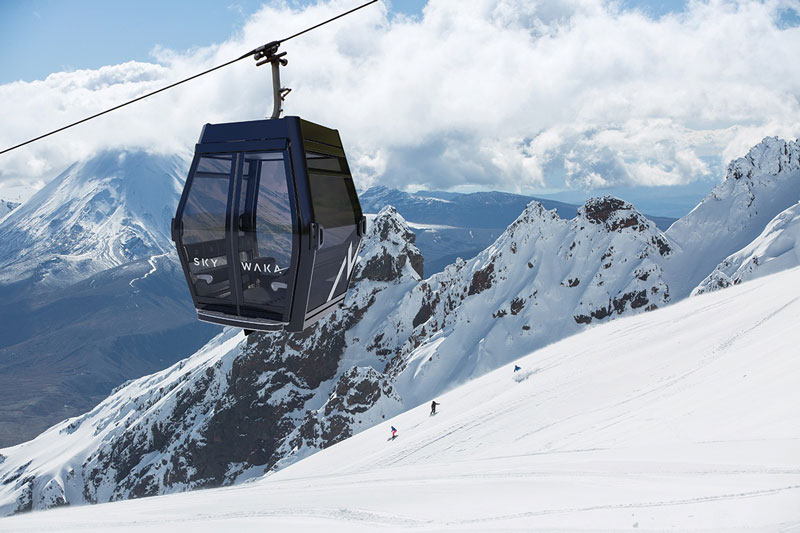 Snow Based Activities
If you're wondering what to do in Taupo in winter, well head to the snow baby! Taupo is an excellent place to base yourself for the winter ski season at Mt Ruapehu.  Both Turoa and Whakapapa are an easy drive from Taupo, and a common commute during the winter months.  If you are here in winter and are looking for some awesome things to do with kids in Taupo, then you must go find some snow.
Whakapapa Skifield
Whakapapa is a great ski field for kids and beginners.   It is the largest ski field in New Zealand with over 44km of trails and 75% of the trails aimed at beginners and intermediate skiers.  Note: it can be very busy and in the past, has had issues with not enough car parks.  You can book car parking in advance, or take a shuttle to ensure you don't miss out.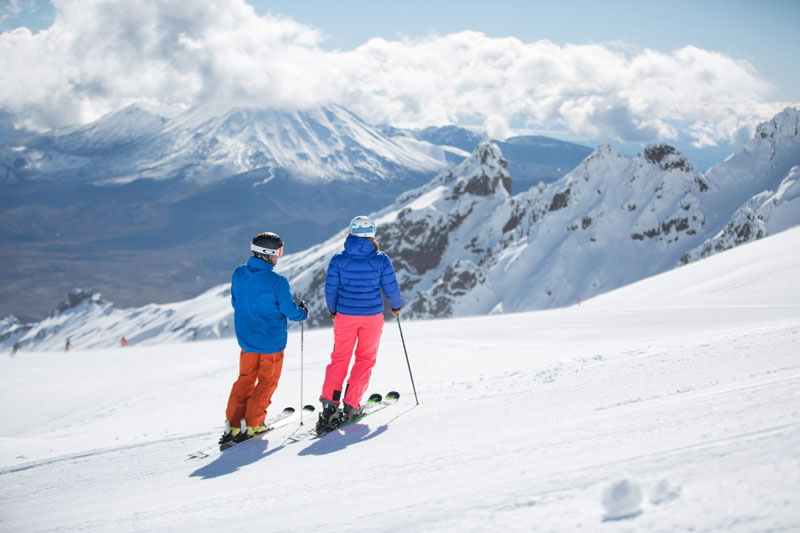 Parents will love Happy Valley, the beginner and learner ski areas where the kids can practice and the cafe is right closeby.  Non-skiers and snowboarders will also love the Sky Waka at Whakapapa Skifield, more on that below
Okay, so what are the best things to do in Taupo in winter if you don't ski? The Sky Waka is one of the best ways to enjoy the mountains in winter, without having to actually ski or snowboard.  
The Sky Waka Gondola is a 1.8km sightseeing ride that takes you to the Knoll Ridge Chalet on Mt Ruapehu.  The views from up here are incredible, there is a dedicated snow play area for kids here (and adults of course) and you can grab a great meal at the top.  In the summer you can also still ride the sky waka and you can actually hike up from here to some of the Ruapehu trails.

Snow Play and Sledding at Whakapapa:  There is a dedicated sledding area here, but you cannot use your own sled.  You have to hire a sled and you get a 1 hour sledding spot.  Kids under 8 must ride with an adult and they have to pay too.  This irks me a bit, as in August 2021, adults are $20 and kids $15, so it would cost $50 for an adult and 2 kids to sled.  At that cost, I'd buy my own and find some other snow off the ski field to play in.
Turoa Skifield
Turoa Skifield has more trails for intermediate and advanced skiers.  With only 20% beginner slopes and 55% for intermediate, this is a better skifield if you have older or more experienced skiers in the family.  There is a sledding area here too, similar to the Whakapapa ski field, but see my discussion on that above.
Turoa is often open when Whakapapa is shut for fog or bad weather, so keep this on your list if this might work for your family.
If you love to ski, then a season pass will let you have access to both Turoa and Whakapapa ski fields.  Buy these before the season starts for the best deals.
Things to do in Taupo on a Rainy Day with kids
As far as indoor activities, Taupo doesn't have too many, but these are a few that might appeal to kids.  Okay, and a few big kids too.
Chipmunks Taupo
Chipmunks is a classic indoor playground experience and they have these all around New Zealand.  While not a main Taupo attraction, if it's been rainy and the kids need to get out, this is a great option.  Full of ball pits, slides, bouncy/inflatable type activities, it is a fun thing for kids to do in Taupo for under 12s.
They also have separate areas for under 5s so it's a great thing to do in Taupo with toddlers.
Mind Junction Taupo
Mind Junction is a great Taupo family activity.  You can buy an all day pass to access all the fun activities or can just purchase tickets for individual areas
These include 
A discovery centre: illusions and hands on experiments

Flight simulator

Giant Maze

Mini Golf

Lego Display

Shooting simulator
Taupo Movie Theatre
The Starlight Cinema is the only movie theatre in Taupo.  It's a small local cinema running all the new releases and is a great thing to do in Taupo when its raining.
Have McDonalds inside an airplane
Yes, that is right, we have the most unique McDonalds in the world in Taupo and you can in fact eat your Big Mac and fries in an old airplane. I remember doing this as a kid and its amazing the memories that stick.  So if you are a fan of the old happy meal then take your camera to snap your most memorable McDonalds experience
Lava Glass Glassblowing Display
Lava Glass in Taupo is an incredible glass shop, but they also have a glass sculpture garden you can explore and you can watch the designers blow the glass on site.  A portion of your admission ticket also goes towards any purchases you make.
Tongariro National Trout Centre
If your kids love fish, then this is a brilliant wee gem.  Located in Turangi, the National Trout Centre has a history museum to learn all about the awesome trout here in the Tongariro River and also has a freshwater aquarium.  
The Trout Hatchery is really interesting as you will learn adult hens and see where they house up to 16000 babies. 
This is a great thing to do on a rainy day in Taupo, but you also must come back during the school holidays when the weather is dry.  What makes this spot special, and what parents rave about is the Kids fishing experience.  This 2 hour experience will teach the kids to fish in the kids pond and is such a great memory and start to fishing.  It is only available for school aged kids, no adult lessons available.
Taupo Museum
The Taupo Museum is a good indoor activity in Taupo.  While we are a more outdoorsy family, I do love when the kids learn something interesting.  Of particular interest to the kids at the Taupo Museum is the old kiwiana caravan with all sorts of kiwi memorabilia (okay, the parents would love that) the Maori meeting house and the volcanic displays.  If you didn't know, Lake Taupo is a crater lake so learning about the volcanic landscape is a great way to learn about the local area.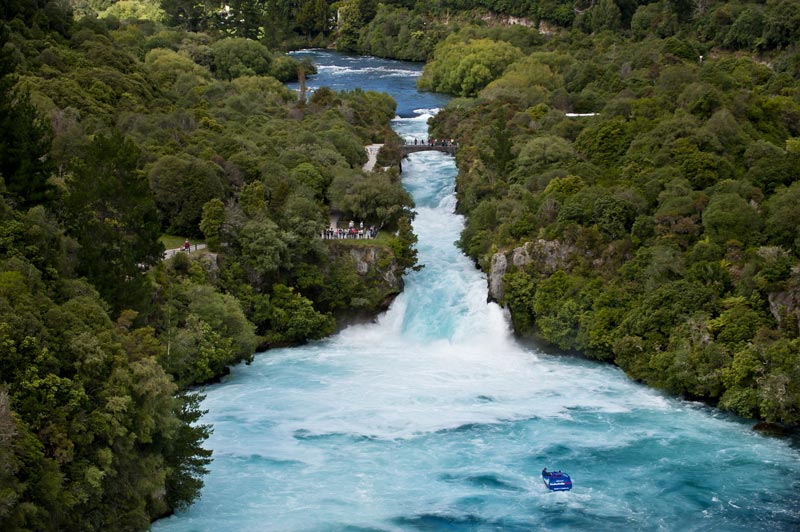 Things to do near Taupo New Zealand
Taupo is a great place to base yourself for exploring the wider region.  With Rotorua only an hour away, this is a great day trip from Taupo.  You can also head further south to Mt Ruapehu, which is great for skiing in winter, or there are some good Tongariro walks in the summer.
In a nutshell here are a few great things to do around Taupo
Taranaki Falls walk:  Head south to Mt Ruapehu for this awesome family walk.  A 2 hour round trip in volcanic and bush landscape to a 30m waterfall (photo below)

Hike the Tongariro Crossing (full day walk)

Check out all the awesome things to do in Rotorua – only a 1 hour drive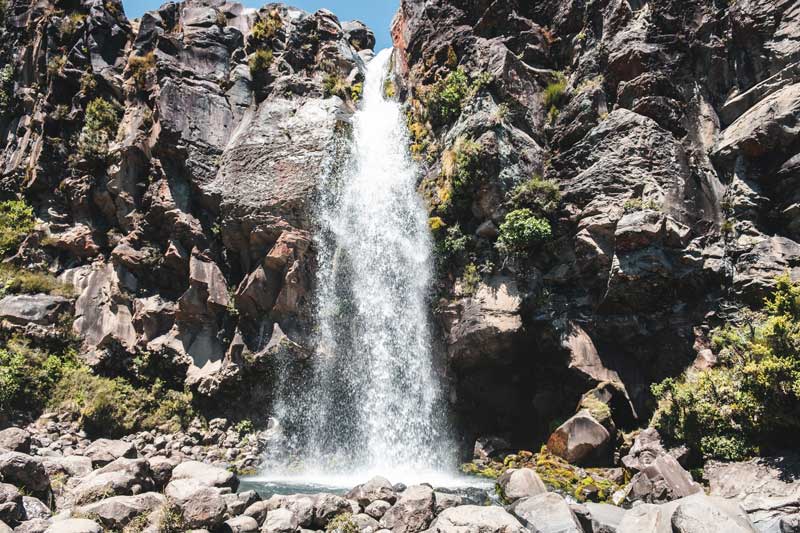 How to get to Taupo NZ
Taupo is located in the Central North Island.  It's a spot to base yourself and not far from most major locations in New Zealand.  
Flying to Taupo
While there is a small airport, most people choose to fly into a main hub and then drive.  The closest main hub would be Rotorua.  It's only a one hour drive from Rotorua to Taupo.  But many will choose to fly into Auckland and drive the 3.5 hours south.
Driving to Taupo
Driving is the most common way to get to Taupo and if you want to explore Lake Taupo and travel to other destinations, then you really do need a car.
Here are the driving times to Taupo
Rotorua to Taupo – 1 hour

Tauranga to Taupo – 1 hour 50 mins

Napier to Taupo – 1 hour 50 mins

Hamilton to Taupo – 2 hours

Auckland to Taupo – 3 ½ hours

Wellington to Taupo – 5 hours
What to do in Lake Taupo – Surely now you are sussed.
If you and your family are looking for some epic things to do, Taupo is the perfect spot for a family holiday.  From awesome water sports, to a relaxing day by the lake, there really is something for everyone.  Hope you liked our best things to do at Taupo article!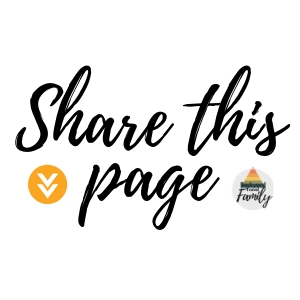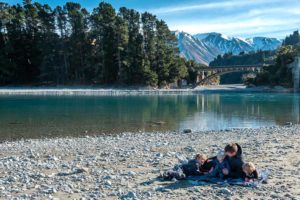 Things to do in Ashburton with Kids and around the Mid Canterbury Region If you are like me, you are always looking for interesting things
Read More »