First Time Skiing in Queenstown: Remarkables Ski Field
First time skiing at the Remarkables Queenstown
You can't visit Queenstown in winter and not visit a skifield.  If its your first time skiing in Queenstown or your first time skiing ever, then we have all the information you need to know to have an epic day on the mountain.
If you're a parent like me, skiing can be a bit of a mission, but if you prepare well, then you will be well ahead of the game.
Please note: this article may contain affiliate links.  These do not cost you any extra but any commission earned goes towards the running of this website. Thanks so much for your support!
Table of Contents
Where are the Remarkables, Queenstown?
The Remarkables are one of the incredible Queenstown ski fields in the Southern Alps region in the South Island of New Zealand.  It is one of 4 ski fields in the Queenstown/Wanaka area and is operated by NZSki, which also own Coronet Peak (Queenstown) and Mt Hutt (Methven/Christchurch region)
The Remarkables are in the Frankton area of Queenstown, not terribly far from Queenstown Airport and the Frankton industrial area. (well the turnoff is, then you have the ski road to contend with)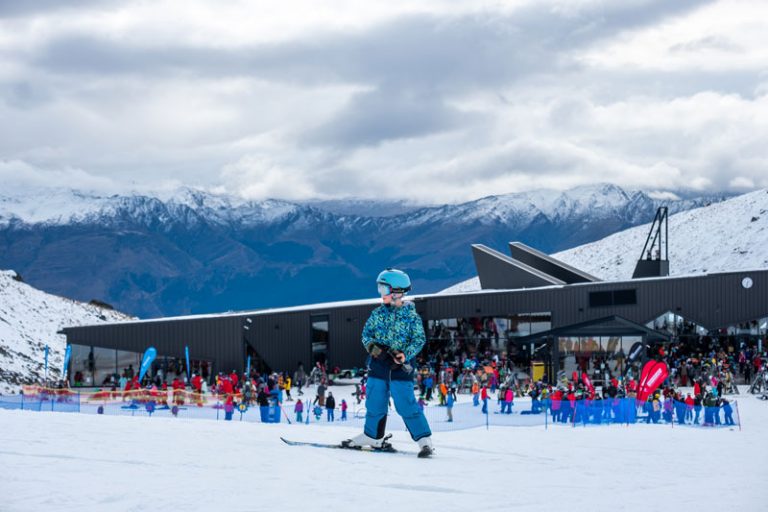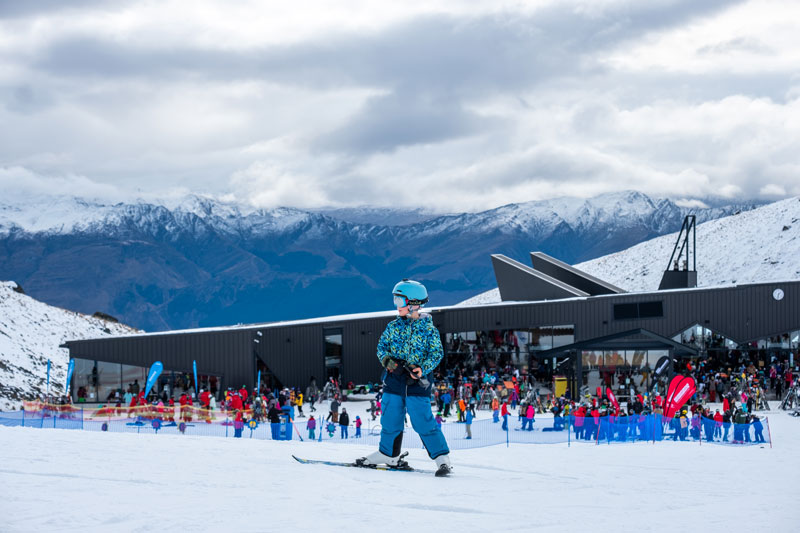 Where to stay in Queenstown
It really isn't necessary to stay really close to the Remarkables ski field.  It is an easy drive or bus to get there, however if you do want to be on the mountain super early or nab the best carparks, I would consider the Frankton Area, Kawarau Falls, or Jacks Point and Hanleys Farm if you are using an Airbnb.
Unlike in Europe or North America, there are no Queenstown ski resorts where you can stay on the Remarkables mountain.  So here are a few Queenstown accommodation options where we have stayed before.
Budget Accommodation, Queenstown:  
Top 10 Holiday Park Queenstown
You can't go past the Driftaway Queenstown if you're looking for fun low key accommodation in Queenstown.  Perfect if you are in a campervan or they do have luxury villas that are self contained that are just incredible.
The kids love the indoor playroom, perfect for a rainy day and the big play area outside.  Seriously, it is so lovely here you need to check it out.
Check prices at the Driftaway Queenstown
If you are looking for super cheap camping in Queenstown, then head down to the DOC campsites at 12 Mile Delta or the Moke Lake campsite.  These are further from town, with only toilets for facilities but if you have your own camper, that might be all you need.
Mid Range Accommodation: Garden Court Suites and Apartments
We chose the Garden Court Suites and Apartments for our first Queenstown holiday.  We loved how close it was to town and we walked everywhere.  It had a full kitchen as we cooked often (easier with a baby) and we had undercover parking (great for winter). 
The Queenstown ski bus can also pick up from across the road which is ideal
Check out the latest prices here
Luxury Accommodation: Platinum Queenstown Apartments
We stayed in a three bedroom apartment at the Platinum Queenstown Apartments and had such a great stay.  It was a 5 minute drive to central Queenstown up on the hill with amazing views.  The apartment was very modern, had a full kitchen and plenty of space to relax.  We loved the ranch slider opening onto the grassy lawn for the kids to play on.  (see photo below)
The Queenstown Ski Bus runs past this accommodation so you can just walk outside in the morning and collect the bus.  No issues with parking or walking from the carpark.
Click here for the latest prices at Platinum here

Luxury Accommodation:  Millbrook Resort, Arrowtown
I have to include Millbrook Resort, even though it is 20 minutes away in Arrowtown because the accommodation was just so relaxing and luxurious.  The golf resort accommodation gives you access to a swimming pool, fitness centre with classes, a spa and restaurants, so is a great break away.  We finished our stay here and explored all the things to do in Arrowtown. 
In terms of how close it is to the Remarkables, Millbrook is a similar distance from central Queenstown to the mountain.
Easily one of the best places to stay in Queenstown, so find a deal on Millbrook resort here
 
Some other family accommodation in Queenstown that our friends have recommended to us (but we haven't stayed in yet)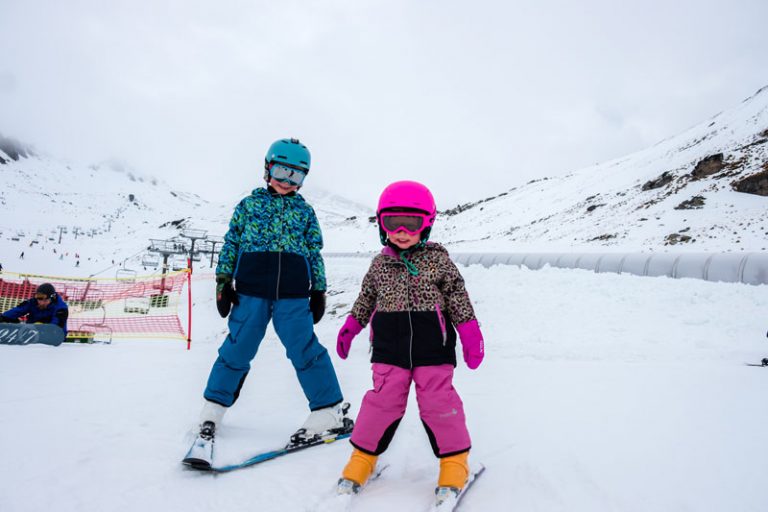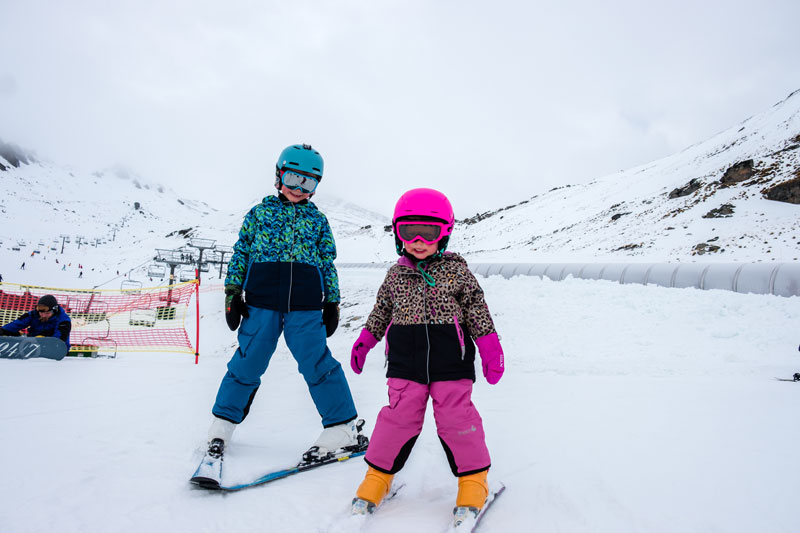 How to get to the Remarkables Ski Field
The best way to get to the Remarkables Ski Area Queenstown are either by ski bus or by private vehicle.  
Queenstown to Remarkables Ski Field by Bus
As at 2023, you must now book a space on the Queenstown Ski Bus.  This is actually great as you used to just wait at the bus depot in crazy long lines in the cold and get on the first bus available.  
You will allocate a pick up spot and choose the mountain you would like to head to.  The Remarkables and Coronet Peak ski fields are run by the same company, so you'll just choose where you plan to head up to.
There is an option to reschedule your bus pick up time prior to your booked time, so its handy that changes can be made.
Booking the Remarkables Bus
Tips for booking
You must have a NZSki Remarkables myPass card.  This card will be the same for Coronet Peak, the Remarkables and Mt Hutt ski field.  If you already have a card from one of these other ski fields, it will work here too.

If you have a physical pass, you can login to (or setup) your myPass account and load your bus ticket onto your card.  You will need to have everyone's individual cards load these.  If this is too hard, you can head into the Queenstown Snow Centre in the centre of Queenstown and do it in person there

If you don't have a card yet, then head into the Queenstown Snow Centre and get setup there.  You can purchase your lessons and lift passes right then and there, so you don't have to wait in lines when you arrive at the mountain.
Driving by private vehicle
You can drive your own vehicle up the Remarkables ski road and there is parking available.  It is free to park at the ski carparks.  It is advisable to have chains to drive up the ski road and on occasion this may not be necessary.
Everyday, the Remarkables weather report (found on the Remarkables website) will be updated with the road conditions.  If you have a rental car, you will definitely want to pick up chains with your hire.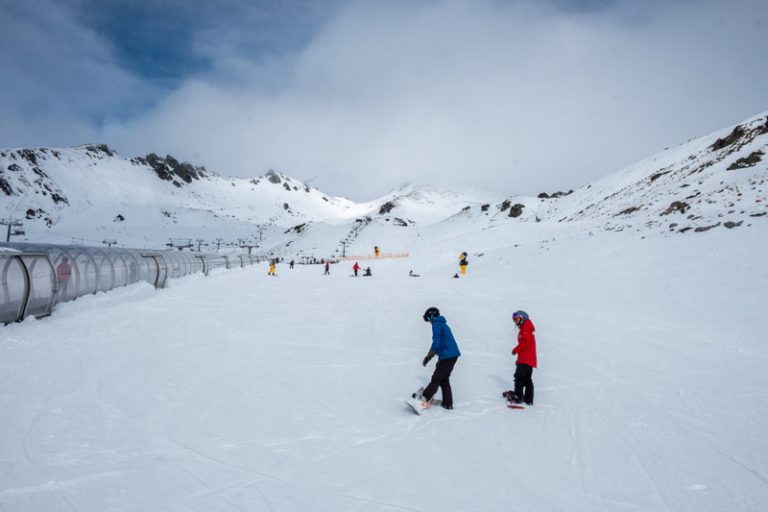 Hire ski gear at the Remarkables or rent ski gear in Queenstown?
Pros of hiring ski gear on the mountain
You don't have to carry your gear up the mountain

If you have any issues, you can swap it right then and there

You can store your hire gear at the Remarkables overnight if you are coming back the next day.
Cons of hiring ski gear on the mountain
More expensive.

Have to wait in line when you arrive at the Remarkables
Pros of hiring ski gear in Queenstown
Cheaper

Ski rental decreases the longer you hire

Can get good packages/deals in Queenstown

Many ski rental stores to choose from

More time on the mountain as you don't have to wait in line when you arrive
Cons of hiring ski gear in Queenstown
You have to transport your ski gear up to the mountain, either by bus or car

If you have any issues or want to change sizes etc, you cannot change then and there
Tips for families: Hiring ski gear
We recommend hiring your ski gear in Queenstown.  You can go into a rental store the day before and spend time trying on your gear, without feeling like you are wasting valuable ski time on the mountain.
In 2023, Browns Ski Shop has a great deal for kids.  For every set of ski or snowboard gear, one child under 10 years old will get their full kit FREE.  All kids under 18 also get a helmet hire free of charge.  They can also drop your gear at your hotel after you've tried it on.  Great if you are parked far from the store, or are exploring Queenstown on foot.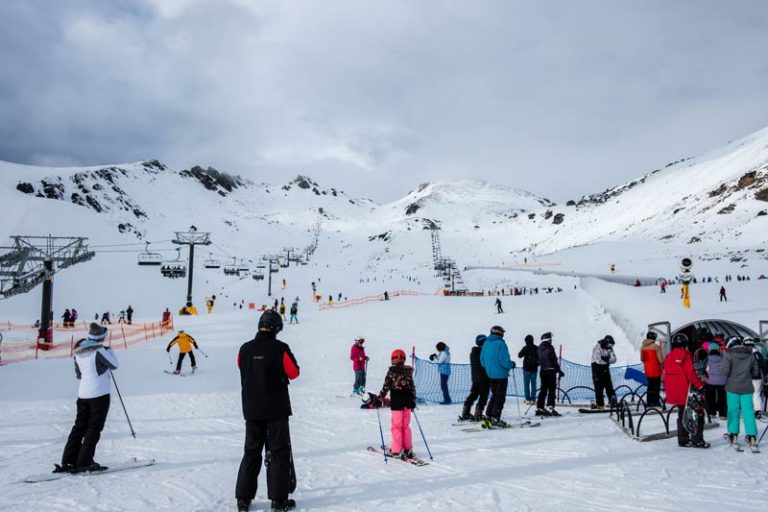 Cost of the Remarkables Ski Passes
A one off day pass to ski at the Remarkables can be pretty pricey, however the price reduces if you buy multiple days
For example, 2023 prices for a Remarkables lift pass for adults (full mountain) is $159 for one day, $139 for two, but $109 per day for 5 days or more.  For kids it is $99 per day and reduces each day, down to $59 per day for 5 days or more.
Remarkables Season Passes and Deals
If you are organised and plan on skiing in Queenstown for a week or two, I highly recommend the early bird 3 peak pass.  These are released around October or very close to the end of the season and will be the cheapest you will see season passes.
Kids under 6 are free (2023)
Yes you read that right, in 2023, kids who are 6 and under get a free lift pass which is an awesome way to get the kids into swimming or snowboarding.
You will however need to get the kids a myPass card so they can load the free lift pass onto the card.  The card will cost $5, but there are no other costs you need to pay.  
Queenstown Ski Packages
If you need ski hire and lessons for a few days, then you might want to consider a Queenstown ski package.  These can be purchased directly from the Remarkables NZ website and offer deals such as a 4 day intro to snow package or a starter package
Skiing the Remarkables Queenstown for First time and Beginner Skiers
The Remarkables is a great place to learn to ski.  One thing we really liked was how close it was to the cafe and seating area.  Parents will love being so close to the seating, allowing easy access for the kids to rest, or a great viewing platform for watching their lessons.
There are three areas that are perfect for beginners who have never skied before (for beginner lift info, scroll down)  The Remarkables have magic carpets in all of these areas.  A magic carpet is like a travelator you might see at an airport, with a gentle incline.
Take a look at the very beginners area.  Very first lessons take place here.  Its very gentle and safe for kids and adults alike.  Once you can stop, you can progress to the next two areas
There are two large beginner slopes.  The first is gentler and the second a little steeper.  I really like at the top of the steepest beginner slope, that you can actually join a real beginners run about ¾ of the way down.  It's a great step to skiing a steeper slope without having to take the chairlift.

Chairlifts
The Remarkables has one of the best varieties of beginners terrain that I have seen at a commercial field.  My boys are 5 and 7 and they are running beginner (green) and intermediate (blue) trails and there are so many options.  We will definitely be coming back here so they can ride the range of trails.
If you're new to skiing, and you're trying to workout if this skifield is for you, here are the colour meanings
Green = Beginner
Blue = Intermediate
Red = Advanced
Black = Expert
Intermediate – Expert Runs
They have a great variety of runs here, so if your kids have experienced or you have older children, then you will really love the Remarkables.
Part way down the Curvey Basin intermediate run, you will also find the Ice Bar.  You have a selection of drinks to choose from and even a hot sausage sizzle if you're lucky.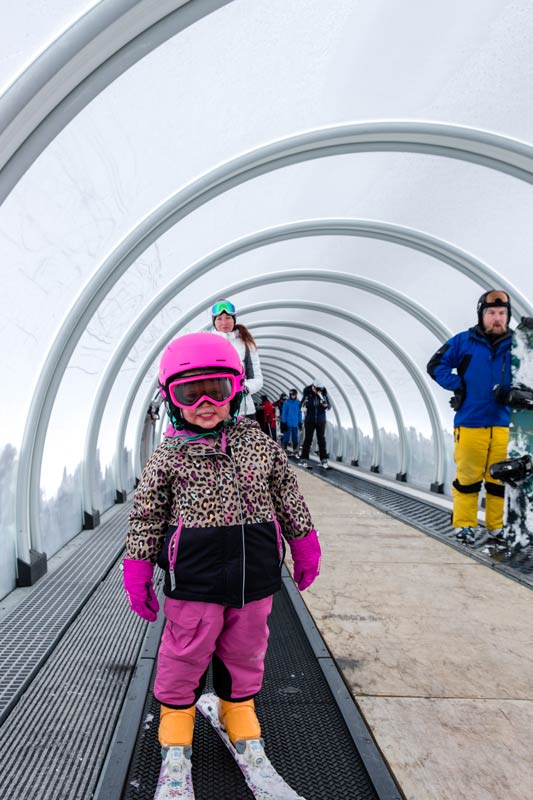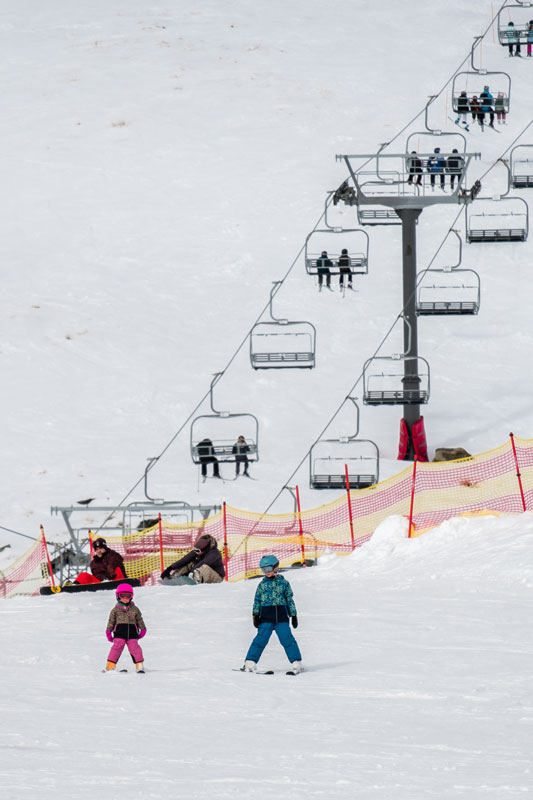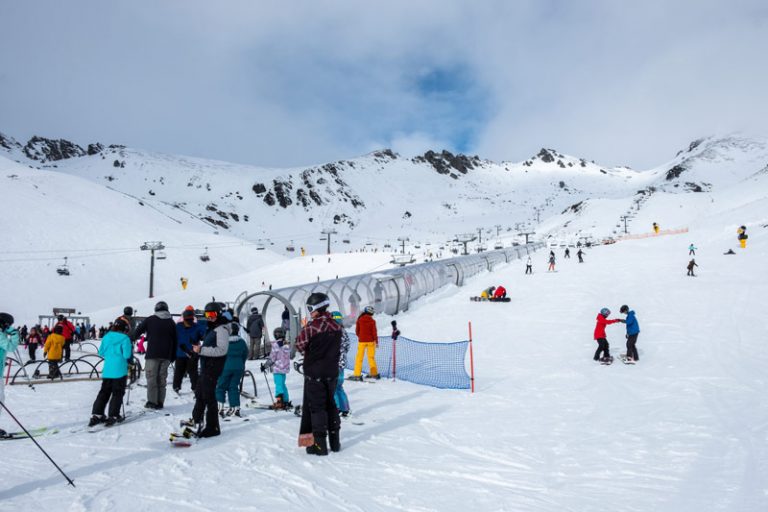 Snow Play, Remarkables Ski Area
There is a small snow play area which is perfect for kids who want a first touch of the snow, or need to take a break from lessons.  You will find it to the far right of the beginner areas, up the stairs next to the Shadow Basin Lift.  It is not marked in the Remarkables Terrain Map.
At the Remarkables Snow Play area you can toboggan down the small hills. Either bring your own sled, or hire one from guest services in the main building.  
Be aware that the snow play for kids is just a small area, better suited for young kids, as opposed to sledding thrill seekers.  I wouldn't head up the mountain especially for this, but for young ones who are there with the family, it's a good little activity.

Sightseeing
One of the best things about the Remarkables are the amazing views, but you only really get to see them if you head up to the top of the chair lifts.  If you want to see them, but don't ski, then you can get a sightseeing pass.  
This pass will give you access to the chairlift, where you can then walk to the viewpoint.  You will need suitable shoes for this walk and it is usually only available in the early afternoon.  So check in for timings when you buy a sightseeing pass from Guest Services in the main building.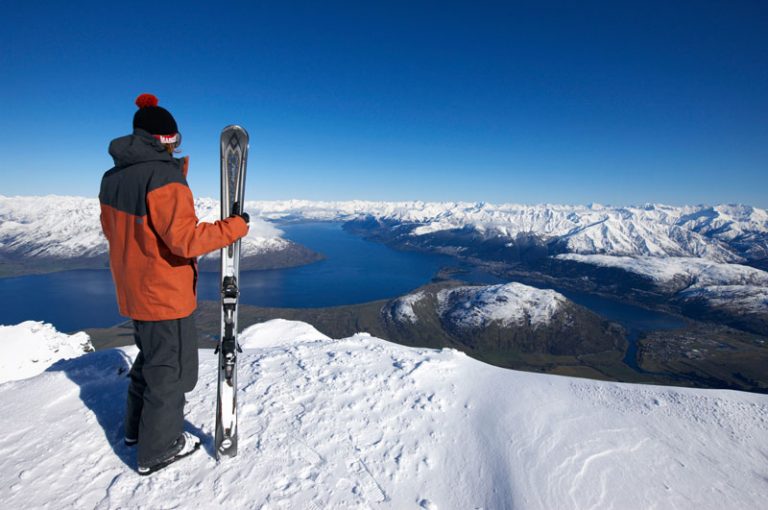 Facilities at the Remarkables New Zealand
The Remarkables have a great range of facilities and I really liked their base area.  The main building is modern and airy and there was plenty of seating when we visited on a busy school holidays weekday
Here are their facilities onsite
Restaurant and Cafe food and drink

2 bars including the Ice Bar on the mountain itself

Indoor Toilet

Indoor and Outdoor Seating and picnic tables

Ski/Snowboard Hire

Ski/Snowboard/Gear Shop
Things we really liked
How close the beginner slopes were to the seating

The range of terrain

Great areas to transition from learning to beginner ski lifts

Nice quiet deck area out the back of the main building

Dual magic carpets so the lines don't take too long

Loved being able to book everything in Queenstown so we didn't have to waste time on the mountain
Things we didn't like
Snow play area was tiny.  Good as a little activity to break up skiing, but not worth the effort on its own.
Visiting at Peak Times: School Holidays or on Sunny Weekends
A few tips if you are visiting when it is super busy
Buy your ski passes and gear in Queenstown prior to visiting the ski field so you don't have to wait in line

Book your ski lessons early and in advance.  Kids ski lessons can book out over the school holidays

If you are driving, they will often limit car parking in the upper carparks to those with 3 or more passengers.  So carpool if you can or take the bus so you don't have to worry.  They do have a free shuttle from the lower carparks up to the Remarkables base.
More things to do in Queenstown
If you are spending some time visiting Queenstown and Wanaka, you may be interested in these articles