That night our family slept in a grain silo…..
Silo Stay Review: Little River Accommodation
Little River is a cute wee township, just 45 minutes from Christchurch and 40 minutes from Akaroa.  It is predominantly a farming community, with some great quality cafes.  However if you are driving along, you may notice, some incredibly prominent grain silos on the main road.  These silos in fact, as an incredible unique accommodation offering, called the Silo Stays.
What? How?  Yes, I wondered that too.  The Silo Stays, are exactly that.  Accommodation inside a grain silo.  They are some seriously impressive pieces of architecture, but what makes them even more interesting, is that they are incredibly eco friendly.
There are 9 silos in total, with 8 being couples accommodation and the 9th, a family friendly wheelchair accessible silo.
We were hosted by the Silo Stays and our family stayed in the family silo.  The kids just loved the whole experience and spent the whole of the next morning exploring all the little details.  I was really surprised by the amount of space we had in the silo, and I particularly loved the wee alcove for the kids.  It felt like they had a separate space from us, which was ideal.
** Please note this article may contain affiliate links.  This does not cost you any extra but any commission helps us run this website.  Thanks so much for your support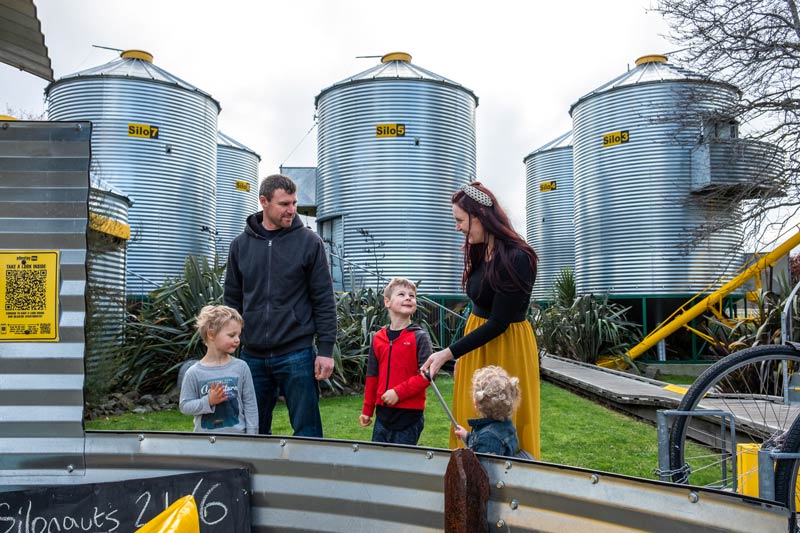 Family Silo Stay Details
One queen bed and one king single, with a trundler bed (electric blankets on beds)

Portacot available to add 1 baby to the family silo

Kitchenette with microwave, 2 hobs, small fridge, all plates and cutlery, toaster, kettle, coffee plunger

Wheelchair accessible bathroom with open shower space and Ecostore products

TV with DVD player

Free WIFI

Table with two chairs

Outdoor seating and private deck
Unique Features and Eco friendly details
Cycle hire on site for the Little River Rail Trail

Book Exchange Fridge

Openings in the top of the grain silos to stargaze from bed

Toolboxes for cutlery drawers

Eco friendly pellet boiler system that heats all the hot water and heating on the property

Biolytix wastewater system that uses all onsite waste and breaks in down to feed to worm farm onsite
Silo Stays Review Verdict
We just loved how different the accommodation was.  This wasn't just a place to rest your head for the night, it was an attraction in its own.  We loved all the space and the fact you could cook a simple meal if you wanted to. (Just don't forget to bring your own supermarket supplies as there isn't a store close)
We definitely recommend this as a great experience that you won't forget.
Want to book this too?  Find out the prices here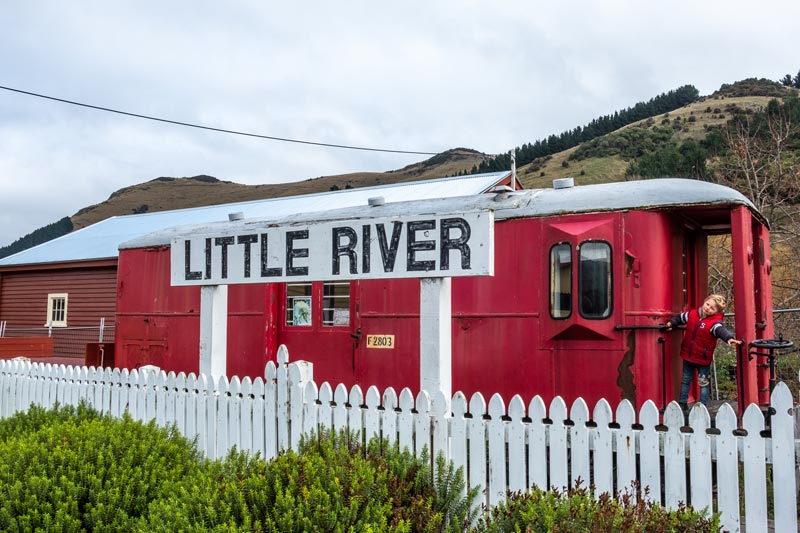 Things to do in Little River
While Little River is a very small town, it is a great base to explore the wider region.  Here are some great things to do in Little River and Banks Peninsula, while you are staying at the Silo Stays
Little River Rail Trail:  Bike all or just a section of this flat trail

Take a hike to Rod Donald Hut, a DOC Hut which is a great place for a lunch picnic.  This uphill walk will take 50 minutes to reach from the carpark.  

Explore the rugged beaches of Tumbledown Bay and Te Oka Bay

Marvel at the creative endeavours of the Little River Art Gallery

Take the kids to the Historic train station at Little River and have a play on the old trains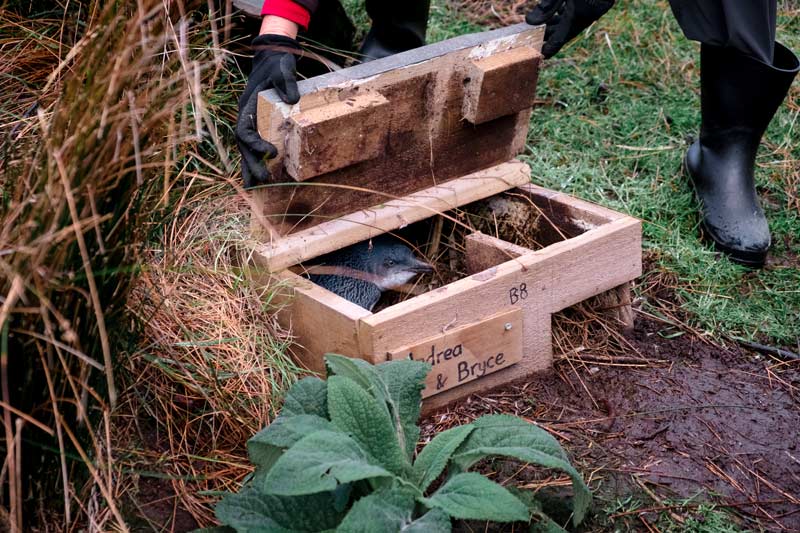 Explore wider Banks Peninsula
Banks Peninsula has a beautiful collection of bays and beaches.  In fact, it wouldn't be hard to get a beach almost to yourself in the summer, if you are keen to drive off the beaten track.  The main town in Banks Peninsula is Akaroa, an old French settlement.  There are some great things to do in this region too, and it is only 40 minutes drive from the Silo Stays
Read more: 15 Incredible Things to do in Akaroa: For families, foodies, wildlife lovers and history buffs

Head to the Hilltop Cafe for great views and some good hearty tucker

Have a beach day out at Okains Bay, a lovely flat beach with sand for the kids and an estuary.  There's also a great playground at the DOC campsite here.

Visit

Pohatu Penguins:  This penguin colony is based at Flea Bay, but this tour is on private land where the owners are dedicated to helping the penguins thrive.  You will get to see penguins up close in nesting boxes, playing at sea (through binoculars and telescopes) and if you're lucky, waddling into shore for the night.  We did this tour while staying at the Silo Stay.  You can find out more info and prices of Pohatu Penguins here

Take a

Dolphin tour

and find Hectors Dolphins, the rarest dolphins who love to play in the Akaroa Harbour.  Some packages you are even able to swim with the dolphins too.