Godley Head Track with kids: The Best Coastline Walk in Christchurch
Godley Head Track
Wow! If you are wanting a great introductory half day hike for the kids in Christchurch, then this is a great one!  For adults, it would be around 3 hours return, but with three kids, it definitely took the recommended 1 hour, 45 minutes each way, plus stops.
When you google the Godley Heads Track, you will see there is a carpark up at the heads.  You can do the walk from there, but we love to park at Taylors Mistake beach as it means its all downhill on the way back.  It also puts the interesting historical landmarks at the halfway mark, which is when the kids start to need entertaining.
Highlights of the Godley Head Walk, Taylors Mistake
The coastal views are incredible.  You will see from our photos that we were there on a cloudy day and it was still beautiful.  The boys loved watching the surfers from up above.  To think this place is just 30 minutes from Christchurch City, yet is both serene and wild.  I really felt it was a breath of fresh air out here.
Animal spotting is always a highlight and this Godley Heads Walk provided many opportunities. We saw all types of birds, some sheep and friends have even seen penguins and dolphins out at sea, so keep your eyes peeled.
Old war buildings and gun emplacements
Dotted around the end of the peninsula are a number of old relics from World War II.  The boys just loved climbing inside and exploring and it really broke up the walk from just.. well.. walking. We also found an old hut that was originally destined from Antarctica and some old observation buildings.  Around the south side of the peninsula, all the buildings have information boards to learn about what happened here long ago.  There is even the Godley Head Lighthouse, however it teters on the edge of the cliff so you can't visit it.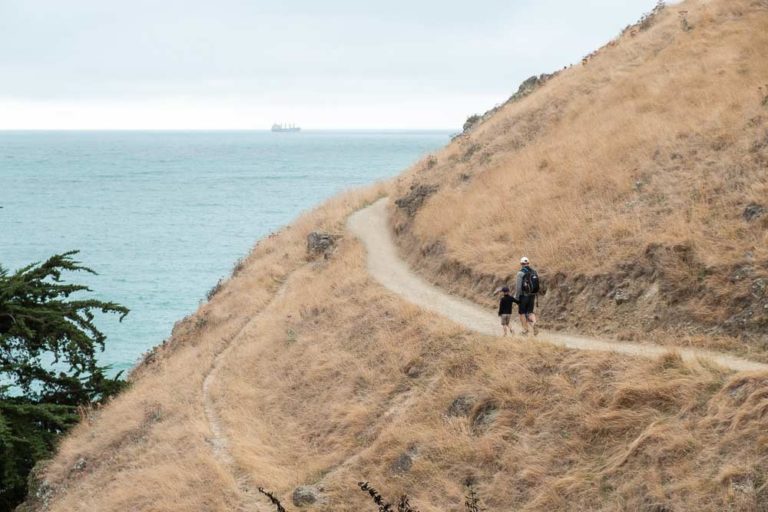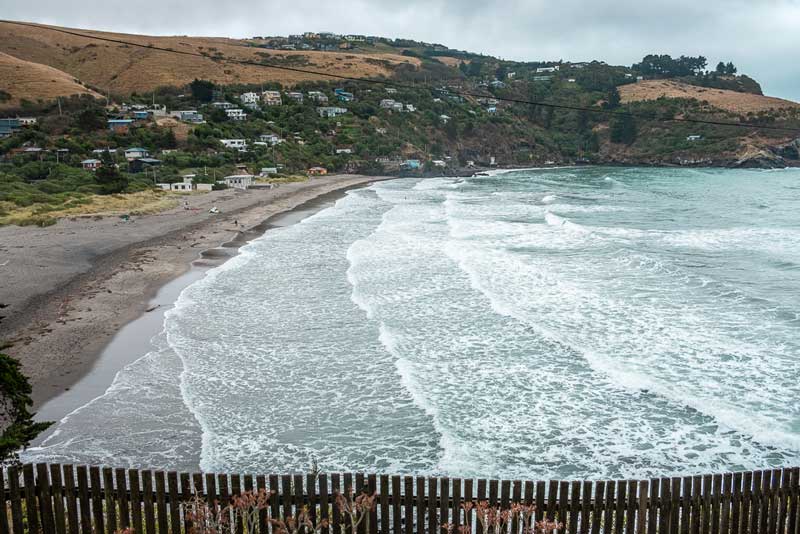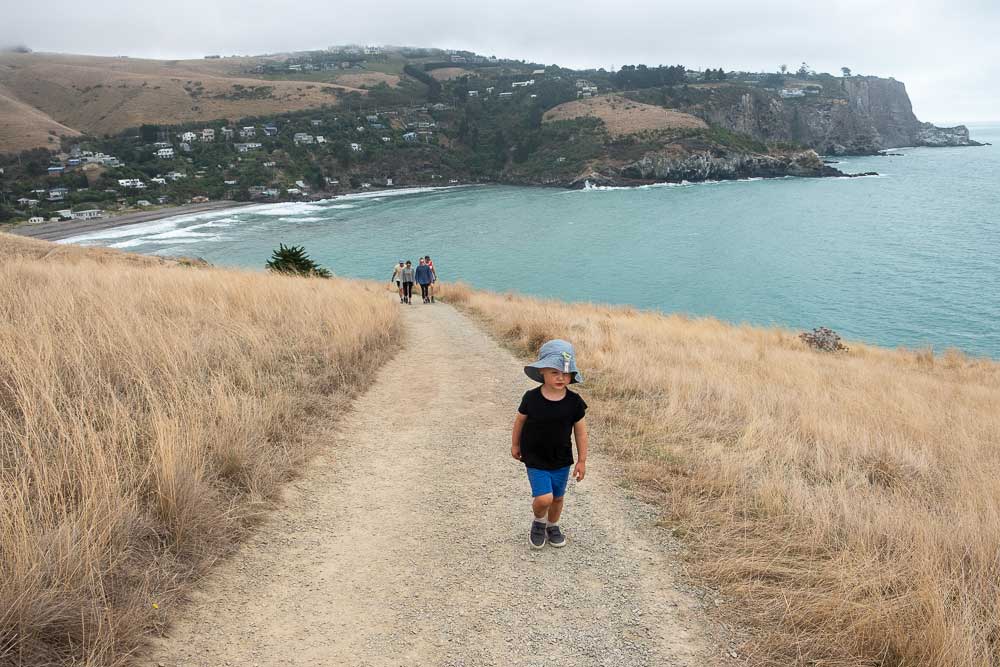 A longer hike for little ones
We were searching for a walk to push the endurance of our 5 year old and see if he was up for a longer walk.  This was perfect. The track was dirt and gravel and not too narrow, which was important since it is a coastal track high up on the cliff.  In general, it was pretty flat (mild inclines/declines) on the way out to the end of peninsula and a steep short climb up to the top (perhaps 10 minutes of climbing)
You could go around the peninsula in a loop track or return back the way you came.  We opted to go around the loop and heading down the shared use track at Breezes Col, which was perhaps a little faster on the way down.  Mostly downhill and a little steep and slippery on the dry gravel but nothing more than a hand held was required.
Can the kids really walk this long?
I was really impressed at the way our 5 year old kept going along this track.  With all the stops, we were away for 4 hours. While there were times where he just wanted to know "how much further" and told us his legs were a little tired, all in all he coped just fine.
Our three year old walked the first 40 minutes, then we popped him into a backpack and then he did lots of "walking, then backpack" etc.  The walk itself isn't particularly difficult, just long for little legs.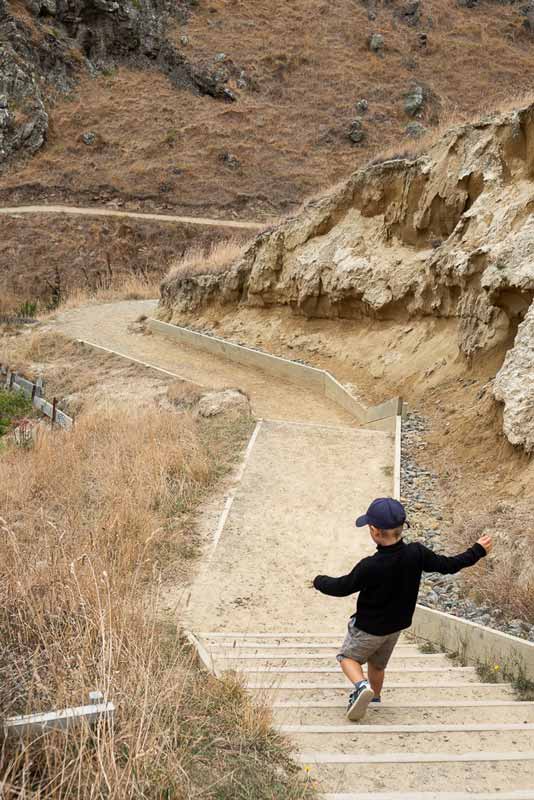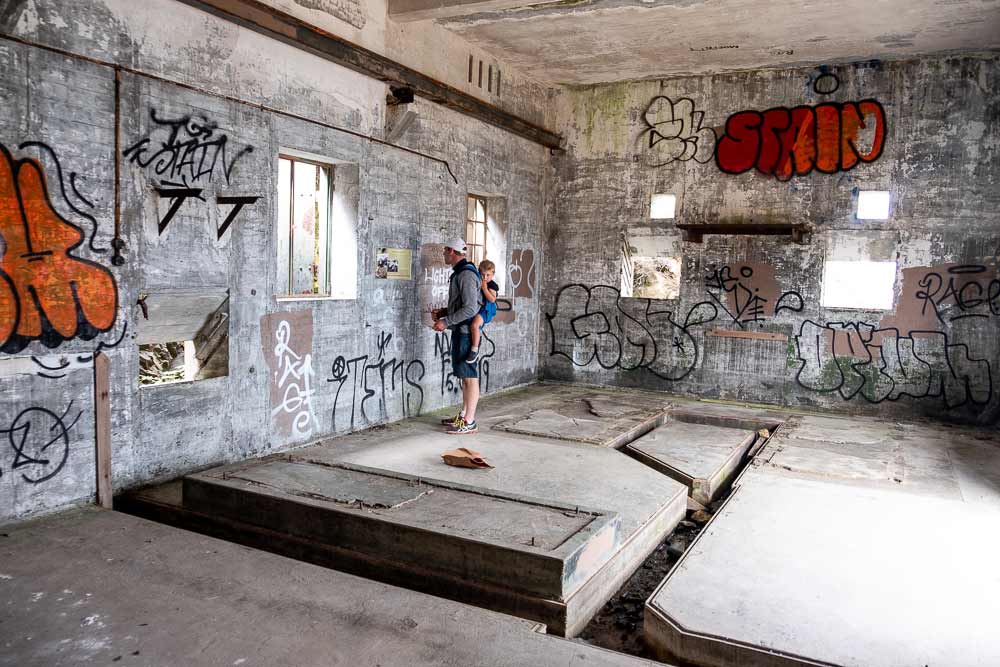 A shorter version of this hike
If you want to these beautiful views, you could easily just walk for half an hour on this track, and return.  You would get a great sense of the coastline without being out for too long.
If you really want to see the old WWII relics, then you could also drive to the Godley Head carpark on the Summit Road. There is parking up here and also the Godley Head campsite. From there you could walk around the head in perhaps 45 minutes, depending on the pace of little feet.
Other activities in this area
What to do in Christchurch Guide to the City Tourist Attractions
Swimming at Taylors Mistake Beach
Walk along the Esplanade at Sumner
Play at the Scarborough Park Playground
Captain Thomas Walking Track (45-60 minutes one way, 3km)
Rapaki Track, Port Hills, Christchurch (2 hour return walk with city and Banks Peninsula views)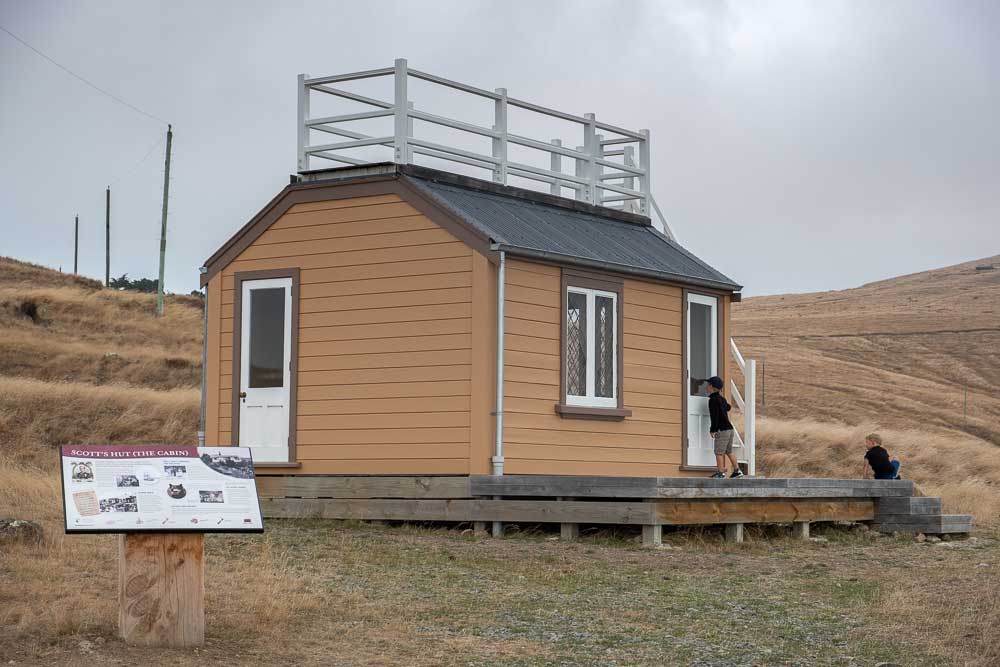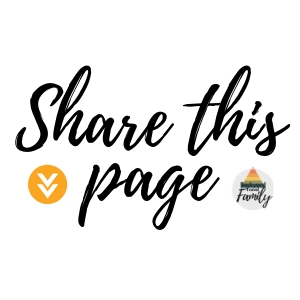 I walked for a long way today. And we saw 4 ships in the water. I got a bit tired, but Daddy carried me. We saw lots of old buildings, but the war was a long time ago. They aren't going to be shooting anything anymore.