Innovative New-Age: Foster Park Playground, Rolleston, Christchurch
Foster Park Playground is a destination playground!
If you're looking for a good playground near Christchurch, but not in the hustle and bustle of the city, check out Foster Park Playground in Rolleston.  This new age playground is a great destination playground, meaning it's worth the travel just to get there and there is enough to entertain the kids for a couple of hours.  I would have to make the big call and say this is one of the best playgrounds in Canterbury.
Read More: The Best Playgrounds in Christchurch
Highlights of Foster Park Playground
Flying Fox
Huge wide stainless steel slide
Large blue slide
Unique climbing rope frames
Swings including baby swing and hanging basket
Spinning climbing frame
Toddler train playground and small hut
Where is Foster Park, Rolleston?
Located just a couple of minutes from the Rolleston town centre, and just 5 minutes from State Highway 1, this is an easy side trip or day trip in Canterbury.  There is plenty of parking, given there are sports fields alongside this adventure playground, although I imagine it would be busy on a Saturday morning with sport.
Rolleston is just 25 minutes from the Christchurch International Airport and Christchurch CBD, or 50 minutes from Ashburton.  Foster Park is definitely one of the best things to do in Rolleston with kids, so worth the trip!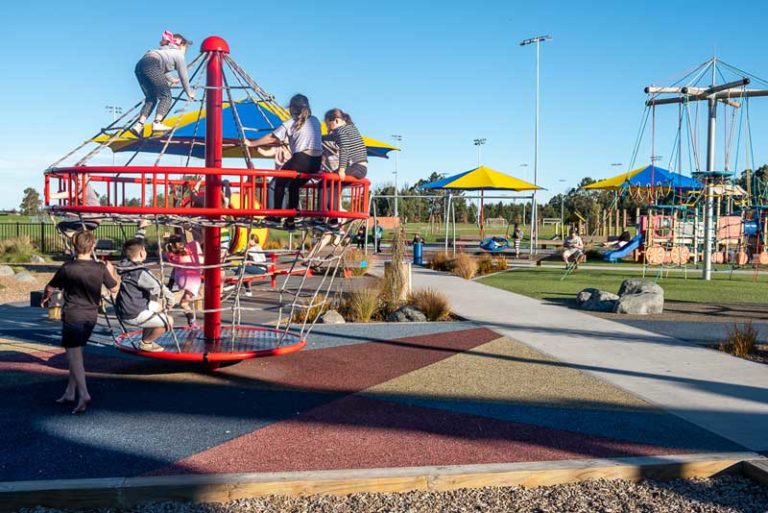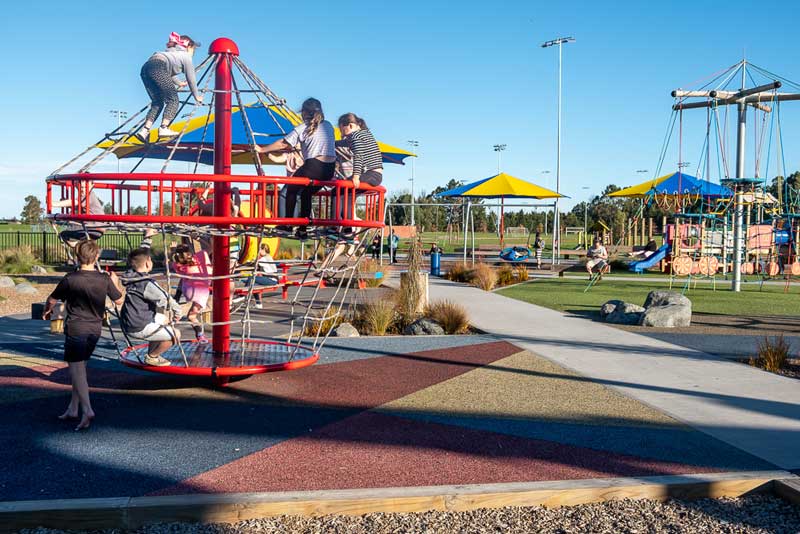 Is Foster Park suitable for all kids?
One of the best things about this playground is that there are activities for all ages.  It has a great selection for toddlers and just walkers, including a train, tunnel and slide that was very popular with my one year old, and there are a variety of activities for the older kids too!
Perhaps one of the highlights are Foster Park's two big slides, one a covered slide, and the second a wide stainless steel slide that ensures no one is waiting to slide for very long.  Do be careful though as in some temperatures it gets a bit hot, and depending on the humidity, you may shoot off the end. (I'm looking at you parents… have those feet prepared for slowing down or beware the numb bum)
There is a great flying fox, rock climbing holds to climb up to the slides, some great rope climbing frames that provide an element of risk, while still being super safe.  The other great thing is that the surface is all completely waterproof with the fake grass and that soft spongy non slip rubber surface. I know we are always looking for the best playground in the winter to avoid getting wet and muddy so this is a great one.
What are the facilities like at Foster Park?
This Rolleston playground is well set up for picnics with plenty of seating and some good shaded areas.  There is a water fountain in case you have forgotten your drink bottle, or need to fill up yours.
The only downside is that the toilets are down the other end of the carpark in a semi-permanent portable building.  This does make it hard to just nip away if your kids need to go. I find I have to take them all with me. If you do send the kids down by themselves, just be aware that the doors are super heavy and even my 5 year old struggles to open it.  (You don't want them to get stuck)
There are no food or coffee facilities on site but it is a short two minute drive to the Rolleston town centre where there are two supermarkets and numerous cafes and restaurants.  On State Highway 1, you will also find your usual fast food outlets.
Other activities close by that we love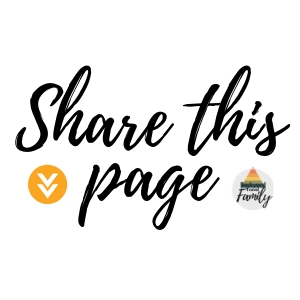 Everyone talks about the new Margaret Mahy Playground in the city, which we love, but this is far easier to get to and park and I love all the really different innovative activities. We love this as a good stop on the way, as its only a short detour off State Highway 1. The kids think its awesome and often ask to go here.