Hiking to Woolshed Creek, Mt Somers with Kids: Is this the best beginners overnight tramp or half day hike for families?
Woolshed Creek Hut, Mt Somers Track
Updated: December 2020.  
Touted as one of the best overnight hikes for beginners and family tramps, I had to test this out myself and I am inclined to agree!  The hike to Woolshed Creek Hut is a great hike for kids in Canterbury, or a good half day hike. We loved the variety on the trail, the old historic coal mine along the way and the great mountain views.  The Woolshed Creek hut is a well equipped hut to stay in overnight or a great halfway point lunch stop, as it was for us.  Easily one of the best things to do in Canterbury with kids.
If you're looking for an introductory overnight hike for children or a fun half day family walk with lots of variety, then this is for you.  Our Guide to walking Woolshed Creek Hut with kids contains the following information:
Please note: this article may contain affiliate links.  These do not cost you any extra but any commission earned goes towards the running of this website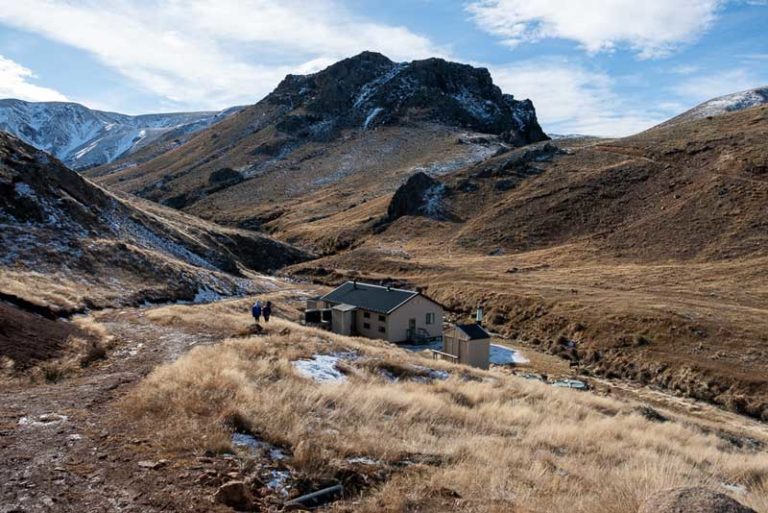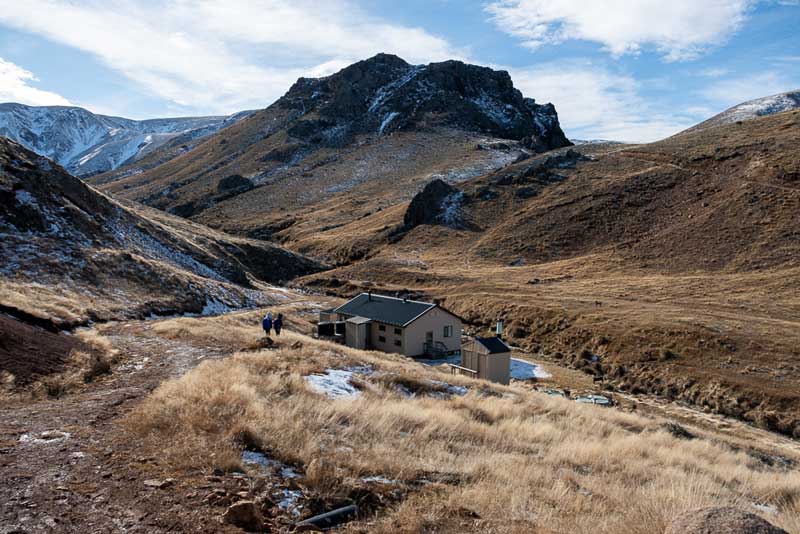 How to get to Woolshed Creek Hut
Drive past Mt Somers Village on Ashburton Gorge Road, heading up towards the Ashburton Lakes
Turn right onto Jig road, signposted for Mt Somers Track (gravel road)
As you reach a fork in the road, turn left onto the Woolshed Creek Hut access driveway (small sign on the fence post)
Follow the road to the end and there is a large carpark.
Start the Miners Trail to the left of the map board.
3 different tracks to reach Woolshed Creek Hut
There are three alternate tracks from the Woolshed Creek Carpark up to Woolshed Creek Hut.
The Miners Track with the 4WD detour (easiest)

The Miners Track (over the hill)

The Rhyolite Track via the Bus Stop (hardest)
The Miners Track with the 4WD detour is the easiest track to Woolshed Creek Hut.  You will reach a fenceline with an open gate (after the mine)  Straight ahead is a big hill (the original track) and to the left you will see a well trodden path through the tussock.(it isn't signposted)  Turn left here and follow this trail for about 5-10 minutes until you hit the 4WD trail.  Turn right on this 4WD track and follow it all the way to Woolshed Creek. 
The original Miners Track will lead you up and over the hill, then down a winding narrower track to Woolshed Hut.  It is a steep little climb, but doesn't last too long.  Do be careful coming down the hill here too.  You could make this a loop to mix up your walk.
The Rhyolite Track via the Bus Stop is a much harder track.  If you are a beginner hiker or have inexperienced kids, this isn't the first track I would try.  From Woolshed Creek Carpark, you cross the bridge and head up a steep hill, full of scree and unstable stones.  There are a number of good climbs up and big downhill sections, so essentially it is undulating all the way to Woolshed Creek.
You will pass the famous Bus Stop, cross a couple of creeks, a dodgy one person bridge and you can even take a detour to a waterfall along the way.  This track is much more difficult and will take 4-5 hours one way with kids.  It is however, a much more interesting track covering lots of different terrain so older kids may enjoy this.  You could also make a full loop track, walking in via one track and out via the other.
The rest of this article will discuss the easiest route via the 4WD track to Woolshed Creek Hut
How long will it take to hike to Woolshed Creek with kids (via the easiest route)
I walked with a 1 year old on my back, and with a 5 and 8 year old, and it took us about 2 hours, 20 minutes to reach the hut, with a few short stops for morning tea and a look around the coal mine.  I think an adult could walk to the Hut in about 90-100 minutes.
The return walk from Woolshed Creek Hut back to the carpark took about 2 hours.  I would expect the round trip to take about 3 hours for adults and I would allow 4-5 hours walking with a family, plus a lunch stop.  The Department of Conservation signage suggests it is a 3 hour walk to the hut, but we did it considerably faster, but it would take no longer than this.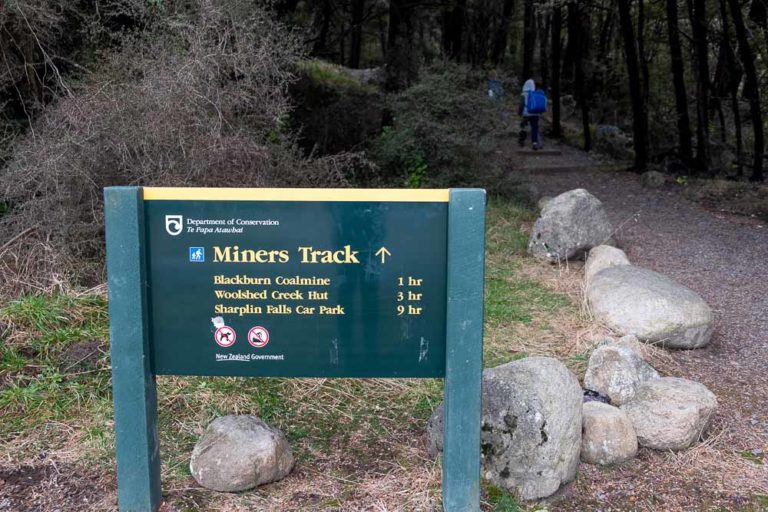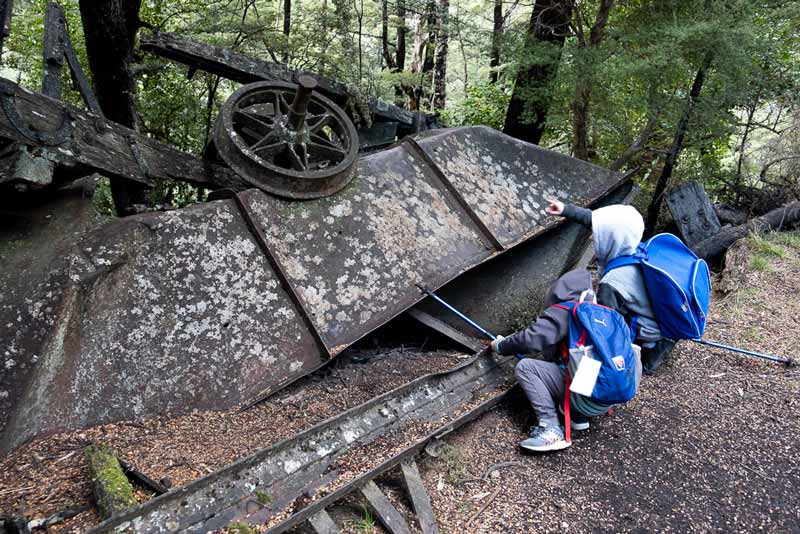 What is the Woolshed Creek Hut walk with kids like?
Even though this is recommended as an easy tramping track for kids, it is by no means flat.  The trail itself is easy and it is not difficult to walk on, the terrain is a compacted dirt and bush track, then onto a dirt 4WD track, but it does have a good climb in it.  
From the carpark to the top of the hill, it took about an hour.  Then you walk along a 4WD track which is a mild incline and flat, so an easy walk, and you will spend the last 20 minutes heading down into the valley to the Hut.
Two thirds of the way up the hill you will come across the old coal mine.  It's great for kids as they can climb in the old coal cart and see some of the old machinery which is "displayed" on the trail.  It is what makes this walk really interesting and is a great way to break up all the walking. The variety is what makes this a great half day hike for kids 
Along the 4WD portion of the track you will be able to get great mountain views and there are a number of great viewpoints along the way.  We tramped this trail on a warm winters day in July, so it was lovely to have snow on the mountains. There were remnants of the latest snow on the track, so if you plan to hike this track in Winter, you will need to be careful of the weather and have good alpine safety.  If you need to know more, check out this awesome guide from the Mountain Safety Council New Zealand here.
What age would the kids need to be to hike this?
Our 5 year old walked the whole Woolshed Creek Hut track, there and back in one day, carrying his own bag with water and lunch.  He managed it easily, but has done a small handful of 4 hour walks before. If you give yourself plenty of time to rest and explore, I would say most school aged kids would manage this.
Younger kids could manage this depending on their previous walking ability.  Our almost 4 year old was at preschool, so he didn't walk this trail, but I think he could manage it also.  If you were planning to do this as an overnight hike, so only walking a couple of hours on each day, confident 3 and 4 year olds could manage this, as long as you can manage their pace.  I say this with slight hesitation as I would hate for everyone to think this is an easy track and all preschoolers could do it, but if they have had some walking practice and like to climb, and you have plenty of patience, then I think this would be a good one to attempt first.
I often find my kids are much better with the forest tracks where they can't see what is next, so it spurs them on, as opposed to flat trails that look like they go on forever.  The boys definitely found the bush track up the hill for the first hour more entertaining and they didn't drag their feet at all.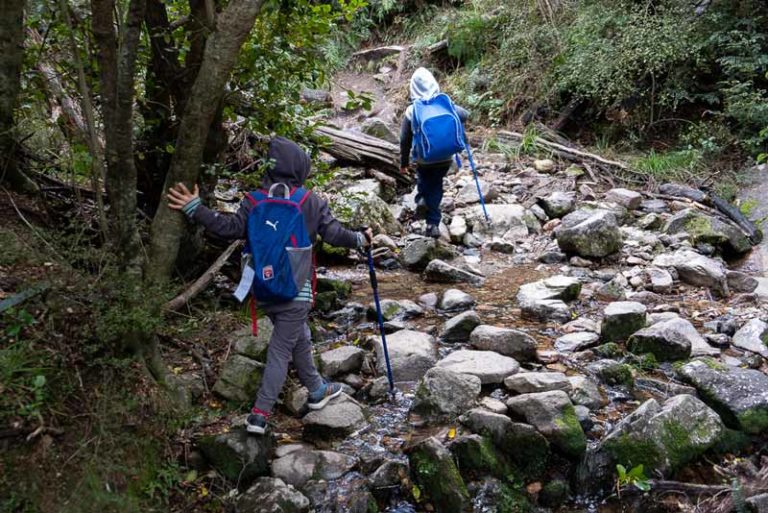 What facilities does the Woolshed Creek Hut have?
Woohoo! You have made it to Woolshed Creek Hut.  You will be pleasantly surprised to see that this hut is quite modern and rather large (compared to some of the other backcountry huts we have seen).  
Woolshed Creek Hut has 26 bunk beds and even has double glazing.  It is such a great DOC Hut and one of our favourites!
How to book Woolshed Creek Hut
You can book the Woolshed Creek Hut online on the DOC website.  As at 2022, the prices to book Woolshed Creek Hut are:
Cheaper on Sunday – Thursday Nights: $15 per adult, $7.50 per 11-17 year olds and free for 0-10 year olds
Friday-Saturday nights: $20 per adult, $10 per child 11-7 years old and free for 0-10 year olds
You can also camp at Woolshed Creek.  This is a great option if you want to avoid snorers or have young kids who you think might not be great at sharing with others.  The downside of camping is that you will have to carry in your tent, sleeping mats etc.
Top tip:  Book well ahead for weekends and school holidays.  It is a popular back country hut for families and these are peak times.
Bunk Rooms
There are two large bunkrooms each with one long top bunk and bottom bunk, all for sharing.  If you are new to back country huts, you may not know that most of the sleeping arrangements as shared. One of the bunkrooms had 5 mattresses on the bottom and 5 on top, meaning you may be sleeping next to a stranger.  The mattresses are large, wipeable and clean, so you won't feel too on top of each other.  
Top tip: If you are bringing the kids, put the adults on the outside and sandwich the kids in the middle so they are always next to someone familiar.
Kitchen
There are large stainless steel preparation areas, but no cooking facilities.  You will need to bring your own cooker for your dinner, or a pot to put on top of the log burner.  There are no fridges or freezers, or implements etc so you will need to bring everything that you need to cook with.  Don't skimp on the food supplies as all that walking and outdoor air will definitely make the kids hungry.
Dining Area
There are a number of large wooden tables and benches to eat your dinner on, and these also double as your lounge seating.  There are no lounge suites here, but it is the perfect place to play a game of cards and talk to other hut trampers who have also been walking on the Mt Somers Track.
Toilet Facilities
There are a couple of eco toilets in an ablutions block 20m from the hut.  When we were there, they were clean, didn't smell bad and had an easy pump flush.  For young kids, it wasn't a scary long drop style where you can see everything at the bottom, so a much more pleasant experience.  You will need to bring toilet paper with you.
Heating
Woolshed Creek Hut is heated by a log burner.  There is wood outside in the woodshed and an axe provided to chop your own firewood.  Bring along some matches and either some firelighters or some newspaper.
Further Walks on the Mt Somers Track
The track from Jig Road to Woolshed Creek Hut, is just a small part of the Mount Somers Track.  You could continue onto Pinnacles Hut (3 hours from Woolshed Creek Hut) and then onto the Sharplin Falls Carpark (another 3 hours onward).  You can also climb to the Mt Somers Summit.
Please note the detour to Sharplins Falls in currently closed, but this is just an offset of the whole Mt Somers Track, so will not hinder your hike.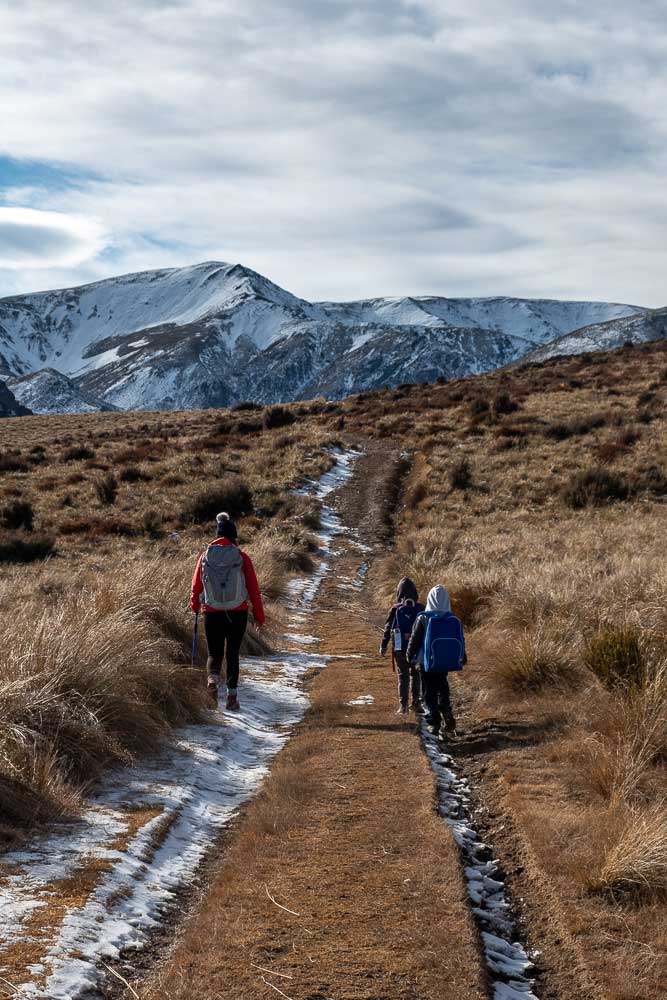 What do I need to bring to stay overnight at Woolshed Creek Hut? 
Overnight Packing List
Toilet Paper

Matches or lighter

Firelighters or newspaper

Cooking equipment: gas cooker/portable stove with fuel, pots/pans, spoons, utensils, dishwash liquid, tea towel to wipe out bowls if required.

Eating equipment: bowls, plates, cups, cutlery

Food: Snacks, dinner, breakfast, lunches (for potentially two days depending on how long you stay)

Sleeping bag, pillowcase to put a jersey or jacket in instead of a pillow

Warm clothing with plenty of layers: waterproof travel jackets are a must in the changeable weather

Pack of cards, small toys for young kids

For babies: familar sleeping cues such as their sleeping bag, dummies, soft toy, merino layers, baby spoons and food, nappies and wipes
Rubbish bag to take your rubbish home with you.
Mt Somers Accommodation
If you want to do the Woolshed Creek Walks, but perhaps don't want to stay overnight, there are some great places to stay in the Mt Somers Area.  There are a variety of options for accommodation in Mt Somers, or you can venture further into the beautiful Ashburton Lakes Area. There are many things to do at the Ashburton Lakes and the Hakatere Conservation Park.  An easy walk for kids is the Mt Sunday walk, a 60-90 minute walk for the whole family. It's home to Edoras, a Lord of the Rings film location, and is a great thing to do, for FREE. For more information on this walk, click here for the Mt Sunday Walk
Mt Somers Accommodation options for families
Powered and Non Powered Campsites available, along with cabin accommodation.  The Mt Somers Domain next door has a great playground for kids
Studio and family rooms available with their fabulous onsite restaurant.  They can accommodate up to 6 in their largest family room. Lovely playground for kids here too.
Other Activities in the area
Disclosure: Backyard Travel Family is a participant in the Amazon Services LLC Associates Program, an affiliate advertising program designed to provide a means for sites to earn advertising fees by advertising and linking to amazon.com.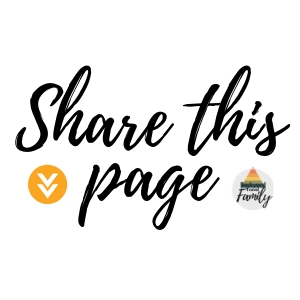 Seeing the snow was so cool! The ice crunched under our feet when we were walking, and we did ice skating outside the hut. It wasn't real though, just a big puddle that was frozen and we were skating across it in our shoes. I really want to stay in the bunk beds overnight next time.