Christchurch Playgrounds
There are a ton of playgrounds in Christchurch.  In fact, I'd say every suburb has at least one playground, even if its just a small one.  If we covered every Christchurch playground in every suburb, we would be here all day.
So we have chosen a few of the larger playgrounds, or ones that have something a little different that your kids would just love.

Christchurch Parks and Playgrounds
Destination Playgrounds
I class destination playgrounds as those you would travel across town for.  A destination playground is one that you could spend a couple of hours at and is an attraction in itself.  Christchurch has a few destination playgrounds that will keep your kids entertained for ages and the others on our list are really good playgrounds in themselves if you are in the area.
If you're visiting from out of town, one of these is a must do.  And if you're staying a while, you might want to check out our favourite Christchurch Family Accommodation
Destination Playgrounds
More Christchurch Playgrounds
The Best Playgrounds in Christchurch: Backyard Travel Family Rankings
Margaret Mahy Playground
The Margaret Mahy Family Playground is the biggest playground in Christchurch and is one of the best things to do in Christchurch with kids.  This playground is centrally located and has only 2 downsides.
It can get extremely busy

While there is free parking, it's usually full on weekends.
That being said, it is one of my children's favourite playgrounds in Christchurch and is suitable for all ages from babies to teenagers.

Water Play/Sprinkler Fun
During the summer time, make sure you bring a change of clothes or togs as there is a large water play area.  Kids can jump around in the sprinkler/fountain type area, or play at the awesome metal dam system.  I love how there is no actual swimming area so that the toddlers and preschoolers can explore without us parents having to helicopter so closely.
It's a great way to cool off and enjoy the hot summer sun.  Note there is usually an ice cream vendor here during the summer time.
Huge Sandpit
If you don't mind the kids getting sandy feet, then there is a large beachy setup with beautiful yellow sand.  Kids can not only build an awesome sandcastle, but they can haul their sand on a pulley system to the "lifeguard" tower as well as do some water play here too.
Main Playground
This central city playground is huge and has different types of play equipment.  When it's busy it can be difficult to keep an eye on your kids, so dress them in bright colours or fluoro if you need to keep tabs on them easily.  
Our favourite part of the main playground is the wide metal slide.  It runs fast and is wide enough that kids never really have to wait to go down it. They also love twirly slide which is a  dark slide so you can't see much on the way down.
Other parts we love: the mini trampolines, the climbing wall up to the wide metal slide and the kids love all the things that spin.
Things I don't like about the Margaret Mahy Playground
Parking can be an issue, but they have tried their best, prime land

The netting cargo net to get up to the twirly dark slide has a section that makes it hard for large people to get through.  I have to flip on my back to go up with the kids when they were smaller.  It makes me worry about larger people. So I think that's a bad call

It gets super busy on weekends and holidays – but that's because it's one of the best playgrounds in Christchurch.
Great for 
Toddlers

Primary School Kids

Teenagers (as far as cool playgrounds in Christchurch, this one is fun no matter what your age)
More Cool Playgrounds in Christchurch
New Brighton Pirate Playground
If you visited the New Brighton Playground at the Pier years ago, you would have remembered the big whale and shallow splash pool for the kids.  Well this playground has totally been redone and there is a replacement whale.  Goodbye old friend, but I appreciate bringing a new updated version for nostalgia.
The New Brighton Playground is located right next to the New Brighton Pier and New Brighton Library.  It has a large playground as well as a great splash pad and shallow swimming pool.  It's a great place to visit right next to the beach and if it's ever too rough to swim at the beach, then you can take the kids here instead.
Nearby is also the New Brighton Saltwater Pools if you need a nice warm pool to play in
It's one of the best playgrounds Christchurch has to offer!
Playground Features
Huge pirate ship feature

Swings

Spinning climbing frame (one of my kids favs)

Musical toys

Slides
Splash Pad / New Brighton swimming pool
Shallow pool area that is great for young kids

Big whale feature in the pool area

Rubber floored splash pad area

Water guns

Fountain
Facilities at the New Brighton Playground
Toilets

Some shaded areas and seats

Cafes and food within walking distance

Next to the New Brighton Pier and Library

Beachside location
Great for
Toddlers

Preschoolers

Teenagers (younger teens)
Foster Park Playground
Just 20 minutes south of Christchurch is a great Rolleston playground.  Foster Park is in the growing area of Rolleston and we enjoy this playground as an alternative to the Margaret Mahy Playground.  While it has no water or sand play here, the playground is modern and has lots of different things to play on, and much better parking.
Playground Features
Large wide metal slide

Enclosed slide

Flying Fox

Spinning climbing frame

Unique rope climbing frame

Spinning roundabout

Tunnels

Swings and basket swing

Small toddler climbing set including mini slides and a train

Facilities at Foster Park Playground
Toilets nearby but not right on site

Great shaded seating and picnic tables.  Best shade we have seen

Grassy fields for sport next door
Great for
Toddlers

Primary Aged Kids

Teenagers would enjoy this too I think (personally don't have any but I've seen teens here)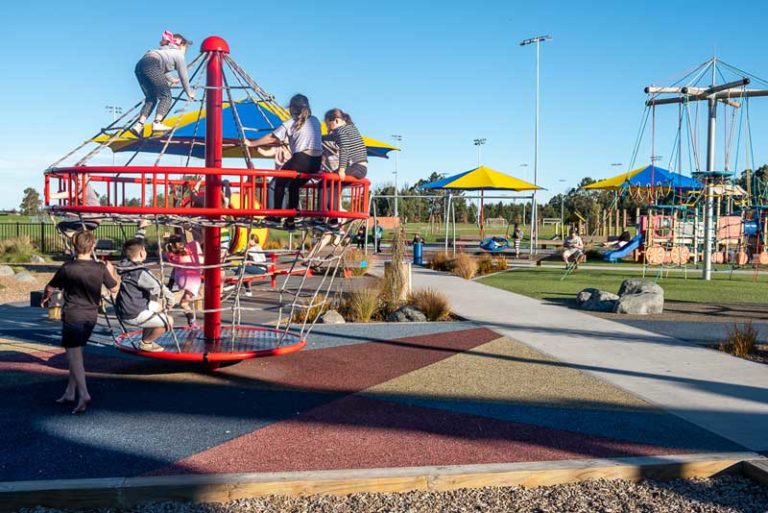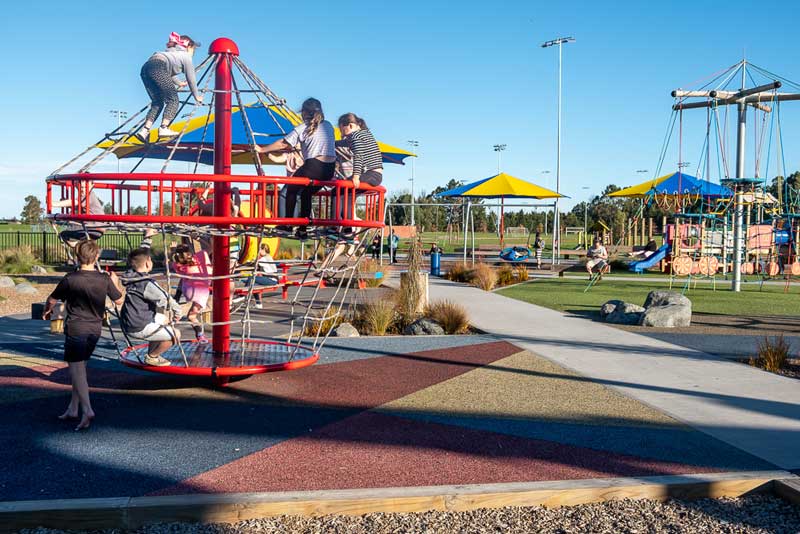 Scarborough Park, Sumner
Scarborough Park is a modern playground in Sumner which is practically on the beach.  It was redone in 2018 and is a bright, fun place to play.  If you are visiting Sumner: the best beach in Christchurch, then its easy to pair this with a visit to the Scarborough playground.
At this Sumner playground there is a small splash pad and swimming area which is perfect for under 5s who need a safe space to play.  This water will be warmer than the sea since its pretty shallow.
In the main playground, the kids love: the slide tower and the spinning rope swing and the climbing frame.  There is also a hamster wheel, swings, musical toys etc
Playground Features
Shallow splash pad, swimming area for younger kids

Slides

Swings

Big spinning rope swing

Hamster Wheel

Climbing rope frame

Musical toys

Facilities at the Scarborough Park Playground, Sumner
Toilets

Some seating and shade

Free BBQs

Food and ice cream just next door

Just back from Sumner Beach

Nice to place to scooter/balance bike along the waterfront walkway

Not far from a good half day walk at Taylors Mistake: Godley Head Track

Great for
Toddlers

Primary aged children
My kids give this playground a 10/10.  They love the variety, the bright colours and that they can combine this with a trip to the beach
Parent rating:  Can get a bit busy in weekends and summertime, which is to be expected. I give it a 9/10.
Victoria Park Playground, Port Hills
Victoria Park is way up in the Port Hills and probably not where you would expect to find a big grassy area and a big kids playground.  If you are doing some of the many walking tracks in the Port Hills, then this will be a good playground to visit for a breather.
Who is this playground best for? The playground equipment here has been designed for smaller kids.  In fact, my 8 year old couldn't do the monkey bars as he was tall enough to stand underneath.  So for this reason I would say it's best for kids up to 8 years old.
However bigger kids will love the speed slide, being able to climb in the trees nearby and for the adventurous, they can even practice a bit of rock climbing at the area at the top of the slide (keep the littles away from up there)
Playground Details
Toddler swings and playground equipment

Big speed slide that is fast and fun

Monkey Bars

Climbing frames

Small slides

Huge trees to climb

Rocks to climb on the path behind the slide

Facilities at Victoria Park Playground
Toilets

Sheltered Picnic Tables

Trees for shade, but no shade over the playground

Great views over Christchurch

Lots of walking and biking tracks from here

Best bits: the Speed Slide
Kids rating: 7/10 Kids loved the slide and exploring
Mum rating: 6/10 – I didn't think the playground equipment was quite as engaging, but it would be a good spot for a picnic and a play.  I think the 6 and 8 year old would have more fun exploring the trees and rocks and using the speed slide, but the other playground equipment wasn't as great for them.
In saying that, if we were taking a Christchurch walk here in the Port Hills, I think it would be worth a stop.  I just wouldn't cross town for it.
South New Brighton Playground
South New Brighton Playground is a modern style playground in the quiet suburb of South New Brighton.  Just a couple of blocks back from the beach, the South New Brighton playground is in the middle of a large park which is perfect for a family game of touch.

Playground Features
Big Flying Fox

Extremely tall climbing frame

Spinning roundabout

2 slides

Baby swings

Inward facing swings set

Basketball court

Large grass field next door

Playground Facilities
Toilets

Drinking water

Free bbq

Easy parking
I really liked this playground.  The flying fox was one of the best I had been on (although the rope to pull it back was too short for my 6 year old to pull back)  The playground equipment was different and there were lots of pieces we had never seen before.  A spinning bouncy see saw??  
The climbing frame went up around 7m high, but was enclosed so there were no safety issues.  I thought it was quite different and well worth the effort.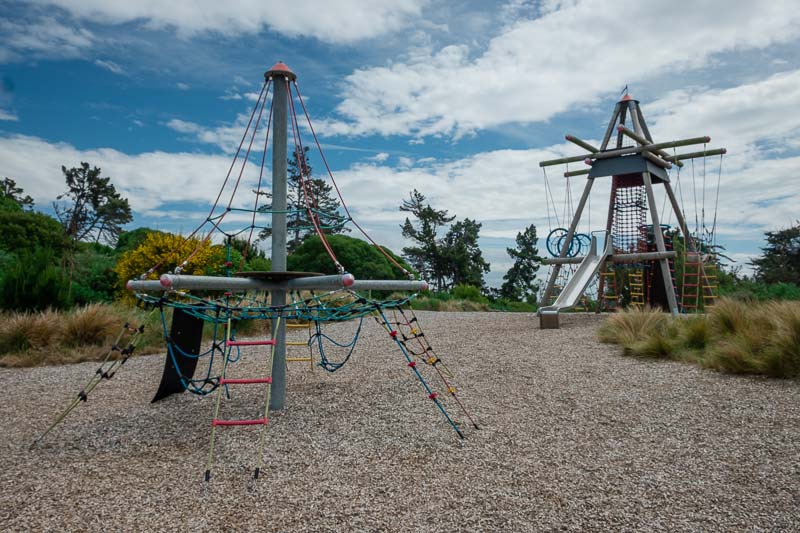 Important notes for parents with young children
The one thing that playground designers often get wrong is spreading out a playground too much.  There were a few trees in places and I could not see my children at all times here.  I find this incredibly annoying when I have to be all hands on deck with my preschooler.
This playground wasn't great if you have toddlers and very young ones.  They only had swings, a wee roundabout and the see saw that they could really play on.  
I thought it was pretty good for preschoolers.  My three year old had a lot of options and I could even help her on the flying fox.  There was also a smaller rope climbing frame which she could explore a bit closer to the ground.  It's not often they have small ones for kids
Best bits: Flying Fox and the Big Climbing Frame
Mum rating: I rated this playground an 8/10
Kids rating: 8/10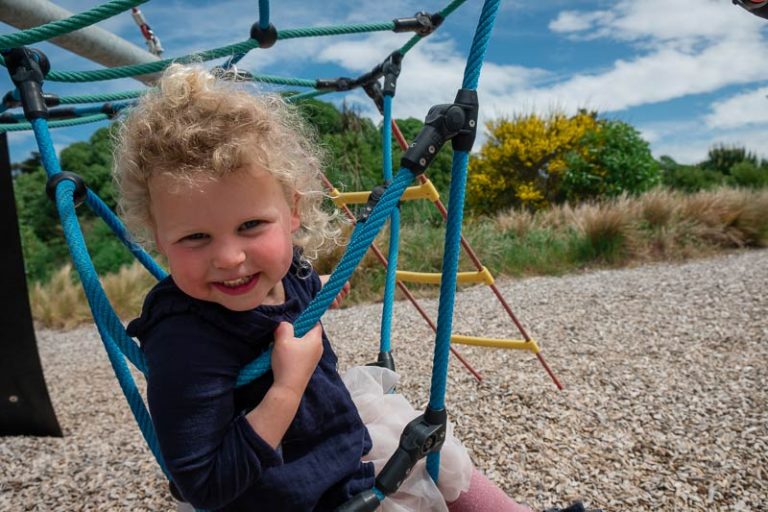 Thomsons Park North New Brighton
Thomsons Park is an old school traditional playground.  Now I love a new modern playground with its innovative equipment and clean aesthetic looks, but I had forgotten the fun that these playgrounds can be.  And this playground is huge.
Very underwhelming to look at, but the one thing that new playgrounds miss, is that old school connected fort style structure.  Where you can play a game of tag, or "the ground is lava" and have a million options where to run.  You can slide down poles or ladders, or cross bridges.  There are a ton of exit points and places to run and hide.  Unlike modern equipment which all seems to have one particular use.
These are the playgrounds where the best of the mass games with local kids happen.  And to be honest, I'd forgotten the fun.  It was a welcome reminder.

Playground Features
Old school traditional wooden playground with bark

All interconnected for fun obstacle course and tag games

Big skate and scooter area

Separate toddler area

Big Flying Fox

Full Basketball court

Playground Facilities
Picnic Tables and Benches

Toilets

Small amount of shade in the trees

Trees to climb

Just across the road from the beach and freedom camping area
Kids Rating: 10/10
Mum rating: 9/10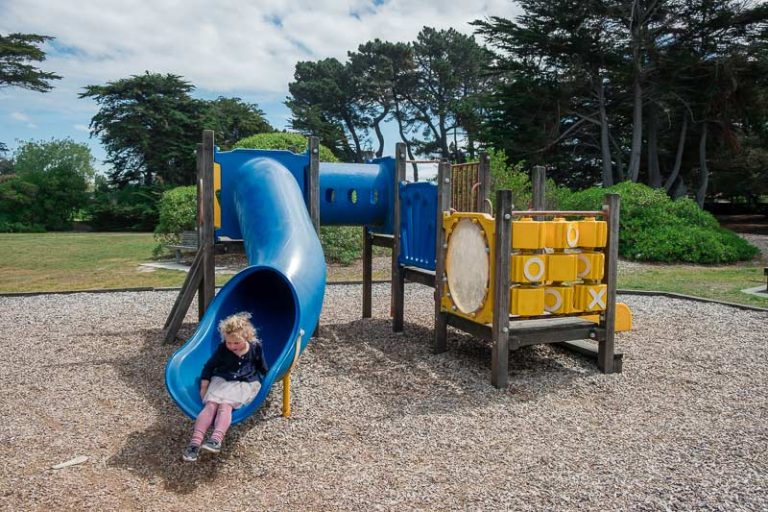 Broad Park, North New Brighton
Broad Park is just a couple of kilometres down the road from Thomsons Park and the playground has a similar feel but on a smaller scale.
This wooden playground is a little newer and more polished than Thomsons Park, but perhaps that's because it doesn't have a skate and scooter park running through the middle of it.
One thing I really liked about this playground is that you could watch the kids while sitting in your car if you wanted to.  If you had older kids, this would be a total plus, especially for those days when the kids want to play in the cold and it's just a bit cold for spectators sitting still.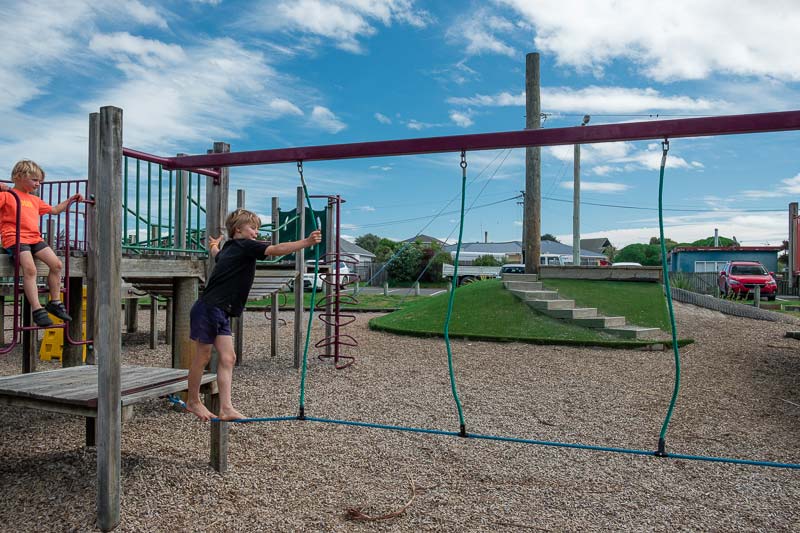 Mum and Kids Rating: Solid 7/10 playground that will keep the kids entertained for a while, but nothing too out of the ordinary here.  A good spot if you want to head to the beach as well as visit a good Christchurch playground.
Playground Features
Wooden framed playground (big fort style) with an assortment of other equipment

Big flying fox

Lots of swings and slides

Climbing equipment such as cargo nets, ladders, monkey bars etc

Beach access

Can play in the Forest and trees
Playground Facilities
Toilets around the corner

Beach Cafe across the road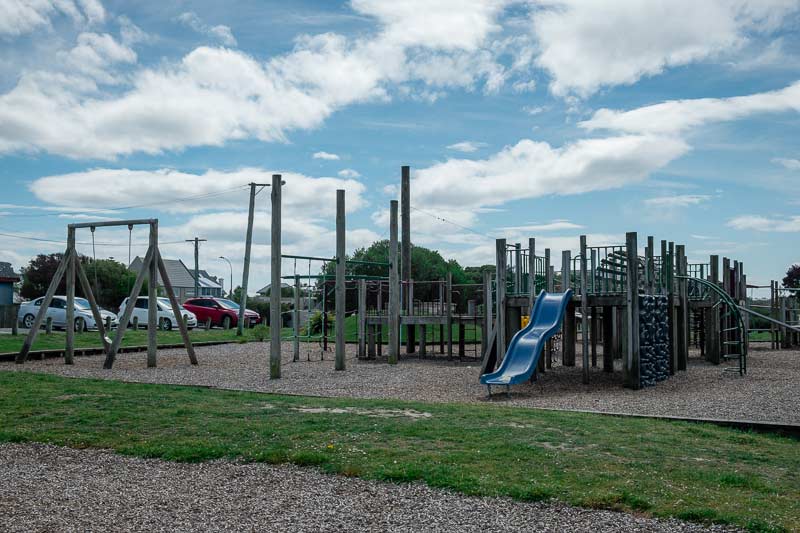 The Groynes Playground, Christchurch
The Groynes has a number of playgrounds in this Christchurch park, but the best one is the natural playground near the boatshed.  The large coconut fibre rope swing is a favourite with the kids as is the huge spinning "swings?" Why I question… well the kids can climb in the cage and be spun around.
One of the great things about the Groynes is there is an orienteering trail that is perfect for kids.  You can download the map on the Peninsula and Plains Orienteering website. There are a number of walking trails and picnic spots and it's a great place for a day out.
The Groynes is located on the Groynes Drive and is only 8km from Christchurch Airport.  So if you are looking for a playground near Christchurch Airport, this is a great place to pass the time before you leave on your flight. 
Playground Features
Rope Swing

Spinning Rope and Climbing frame

Roundabout

Climbing activities
Playground Facilities
BBQs

Walking Trails

Toilets

Shady trees for shelter

Fishing 

Boating

Pedal Boats in the Lake

Dog Park
Kids Rating: 7/10
Parent Rating: 8/10 as there were other activities you could do here too
Spencer Park Playground
The playground at Spencer Park is quite unassuming.  Perhaps I was a little underwhelmed the day we visited as it felt a little unkept as the scraggly grass hadn't been mown and I wasn't sure what I was expecting. But…
But, once we walked across from parking, it was actually quite good.  The playground is mostly wooden and blends in with its surroundings, so don't expect bright colours as per the likes of Scarborough in Sumner.
Spencer Park is on the northern side of Christchurch, but it is worth the drive as not only is there a good adventure playground here, there is an animal park, lagoon walks, mountain biking closeby, a campground and the beach right there.  So its a great day trip if you combine it with the other local activities.
This playground is actually great for older kids (not something I say as much) as there are lots of things to climb and some taller structures.  One thing I did find with younger kids is that it was quite hard to sight them all the time as there were long brushes and spread out playground areas.  So that's something to note if you have multiple toddlers and preschoolers etc.
Something that is unique to Spencer Park is that there is a small animal farm here.  Just a few minutes walk from the playground you can enter a gated off area where you can explore the farmlet area.  If you aren't a fan of birds wandering at your feet, you might want to skip this one.
Fun Activities near Spencer Park
There are also wetland walks here at Brooklands Lagoon and its a short walk to the beach.  Spencer Park is also connected to Bottle Lake Forest which is a great place to mountain bike with kids.
Playground Features
Slides 

Swings

Climbing Frames and Cargo Nets
Playground Facilities
Toilets

Free BBQs to use

Sheltered Picnic Tables
Kids and Parents rating: 7/10
A few smaller playgrounds
Craighead Reserve
This playground is just a small local playground but it was quite pretty.  It was lovely to have some shade under the big trees and awesome. You could see the bike pump track as well as the playground.
There isn't too much variety and only a few activities for each age group, but if this was your local playground that you could walk to from home, then it's a good little space.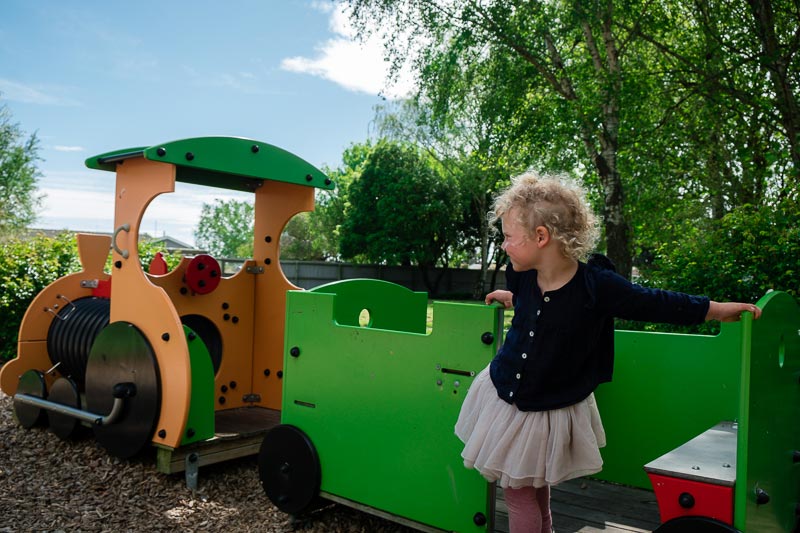 Playground Features:
Small local playground

Good little pump track next door, suitable for balance bikes

Big slide

Monkey Bars for older kids

Fun train for imaginative play.  My kids really liked it

Swings and basket swing

Little motorbike rocker
My 6 year old rated it was 8/10, my 8 year old said it was a 5/10 and I rated it a 5/10

Knights Stream Park
Okay, so technically Knights Stream Park is a scooter park (and skate park and bike park) but there is a small playground across the road.
But I thought if your kids are like mine, then they might love this spot in Halswell.  It has a great big skate bowl, flat scooter and skate area with jumps and rails as well as a learn to ride area with giveaway and stop signs.  The learn to ride area is perfectly flat so great for young ones and a good place to scooter too.
Across the road is Neil Graham Park so you can easily visit both skate park and playground while you are here.  The playground has some great climbing frames the kids really enjoyed but its not great for toddlers.  There is less for them to do here.  Good for primary school kids though.
For more photos and information about the Knights Stream Scooter and Bike Park in Halswell click here
Other playgrounds you might like to check out
Barrington Park: Close to Barrington Mall
Westburn Reserve:  Basic playground but does have a really cool bike park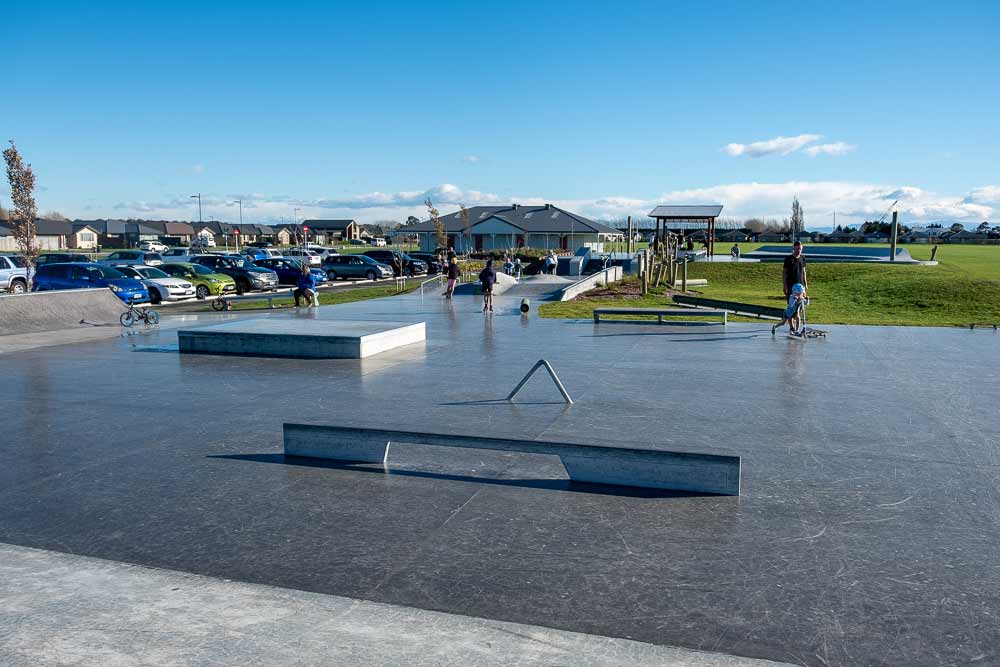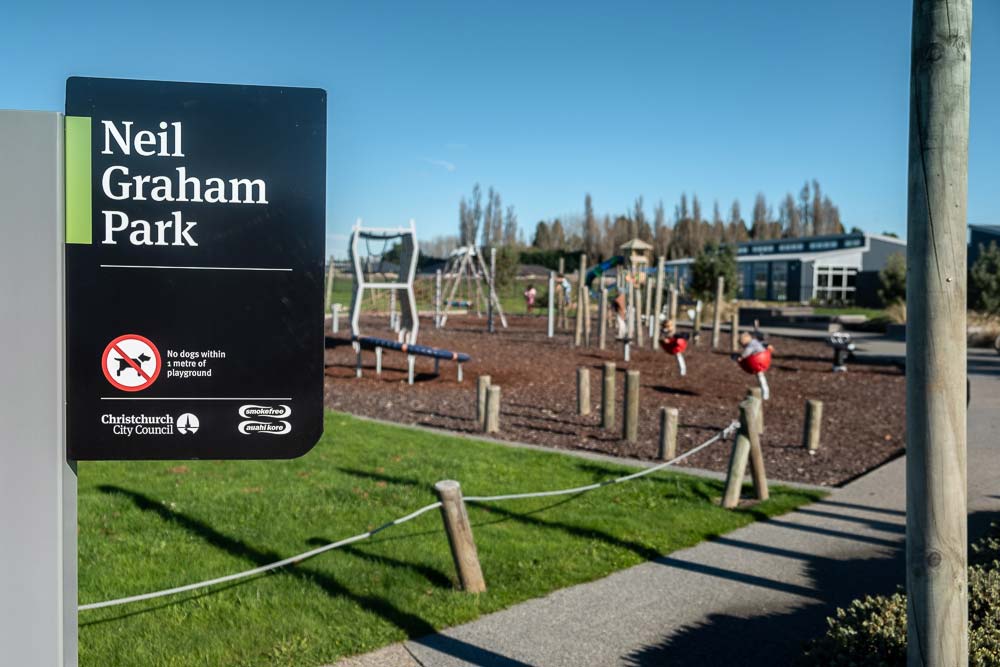 Indoor Playgrounds, Christchurch
There aren't a lot of good indoor places to play in Christchurch, but if its a rainy day in Christchurch and you are keen for the kids to burn off some steam, here are some of the best place to do that
Chipmunks Playgrounds
This Christchurch indoor playground is best for toddlers, preschoolers and primary school aged kids.  There are dedicated areas for under 5s so they don't get knocked over the big kids, which is great. 
Chipmunks is a franchised activity playground and includes big slides, ball pits, huge inflatables etc.  Its a great thing to do on a rainy day and is a popular place for kids birthday parties.
Chipmunks can be found in Papanui and Wigram, Christchurch
Other great indoor play areas
YMCA Clip n Climb and Rock climbing walls in Christchurch Central City

Indoor Trampoline Parks such as Mega Air, MoveX and Launch Pad

Inflatable World in Hornby
For more family friendly indoor activities in Christchurch, read here: Best Free Things to do in Christchurch with Kids