International Antarctic Centre Review
International Antarctic Centre Review
We are so proud to jump on board as ambassadors for the International Antarctic Centre.  I love learning about the research and life on Antarctica and my kids have been passionate about this icy continent ever since they learned about Sir Edmund Hillarys crossing. They are a little Edmund Hillary obsessed to be perfectly honest and are currently working on their climbing so that they too, one day, may climb Mt Everest.
The International Antarctic Centre, New Zealand's only Antarctic Experience is a must do Christchurch attraction.  Where else can you get to experience a real snow storm, watch penguins swim for fish and ride on a real Hagglund vehicle.  Christchurch is actually one of the few departure points for Antarctica, a gateway to Antarctica in fact, so this is why the center is located here in Chrstichurch.
So here is everything families need to know about visiting with kids and our International Antarctic Centre Review
(please note this article is written in partnership with the International Antarctic Centre and may contain affiliate links)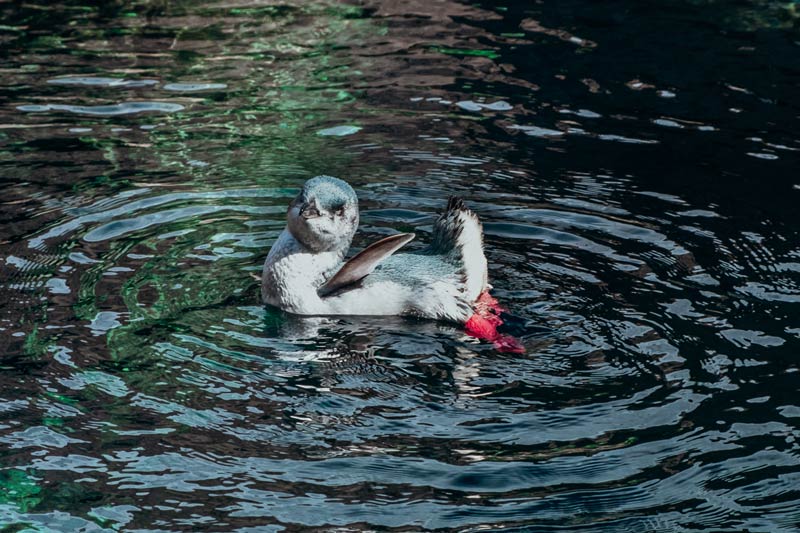 Attractions at the International Antarctic Centre, Christchurch
Husky Zone

Hagglund Field Trip

Penguin Rescue

Antarctic Museum Christchurch

Storm Dome

4D Theatre

Penguin VIP Tour
We also cover some FAQs about the Antarctic Center
How to get to the International Antarctic Centre

Antarctic Centre Christchurch Prices

International Antarctic Centre Opening Hours

Prices of admission and Antarctic Centre Discounts and deals

Whether it is worth visiting with young children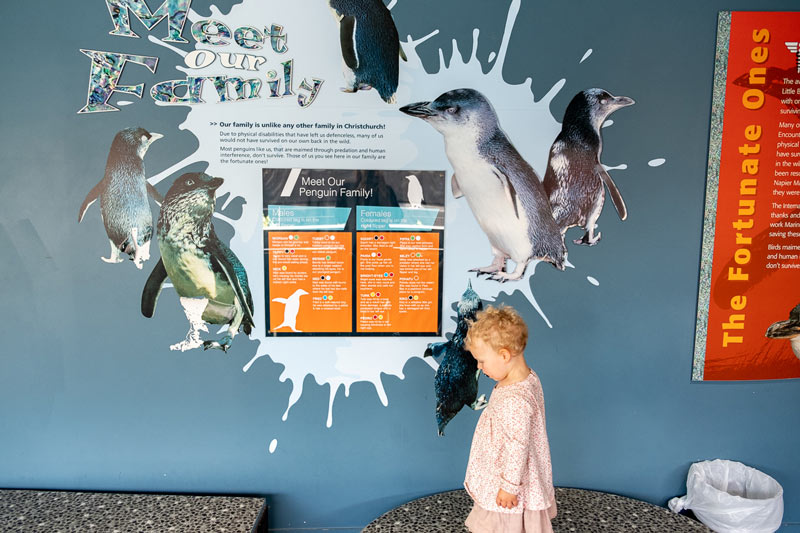 Husky Zone
Huskies were such an important part of transport around Antarctica, pulling sled, teams and gear across the icy continent when horses or machines couldn't do the work.  So it is lovely to get the chance to meet these wonderful dogs. The International Antarctic Centre has a partnership with Husky Rescue NZ and at the Husky Zone you will get a chance to pat and cuddle the huskies.  Have a chat with the handler and find out all about these lovely hard working dogs.
The International Antarctic Centre Husky Zone is open all day, except the lunch break from 12.30-1.30pm
Hagglund Field Trip
The Hagglund ride is my favourite attraction at the International Antarctic Centre. The Hagglund vehicles are used to transport people and gear between bases and camps on Antarctica.  It feels like a ride, but it's incredible to see the power and skill of these vehicles. Kids will love the "ride" and adults will marvel at its ability. Its traction on angles, ability to "jump" a hole or crevasse and climbing up a 7m hill is an impressive feat.
Kids must be 3 years and older to ride (Sorry Emilia), so we had to tag team since Emilia was too little.  But the kids didn't mind as they got to ride it twice. The back carriage is far more bumpy, so if you want a bit of a smoother ride, ask to ride up front.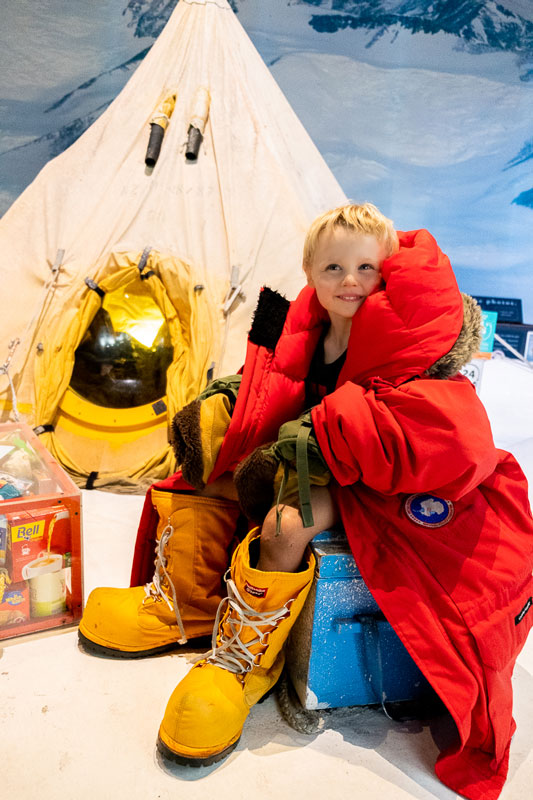 Penguin Rescue
One of the highlights, and perhaps our favourite part of the International Antarctic Centre is the penguin tank.  The penguin tank offers 360 degree views of the penguins from their land based activities, to their little hidey holes, to their underwater swimming.  So no matter what activity the penguins are doing, you will be able to see them.
One thing that is really important to us is the ethical conservation of animals and it is great to know that here at the International Antarctic Centre they do need breed penguins.  In fact, they only take in penguins who are not able to be returned to the wild safely. For example, one of the penguins is blind and cannot find food, so is hand fed, one has a prosthetic flipper and one is so traumatised by the water that it won't even enter.  So the poor thing is fed on the land, so there is no way it would survive out in the wild by itself.
There are two penguin feedings throughout the day and I highly recommend planning your visit around them.  Watching the penguins dive for fish and hearing the penguin love stories will light up the kids eyes and I have to say that I really love the penguins too.
Antarctic Museum and Highlights for kids
The "museum section" of the Antarctic Centre is not too large and in a nutshell is about what life is like in Antarctica.  Kids will enjoy sitting on a sled, looking out all the old food rations they used to take and even dressing up in huge snow jackets and boots.  
There is a kids only section where they can cuddle with big toy penguins, read penguins stories and watch snowy movies.  It's a great distraction for younger kids if parents want to have time to read and explore.
Older children will enjoy the big globe that you can turn in the air to see how the seasons work in Antarctica.  They will be able to see how it is light all summer and dark all winter. There is also plenty of information about the wildlife in Antarctica and interesting tidbits, like how your camera will work down there too.
Throughout the whole museum there are lots of interactive displays for kids to learn and even for early learners.  Preschoolers can press the buttons to choose what they think a penguin looks like, or work out how big a penguins egg is.  All these little displays are at toddler height which our kids definitely appreciate.
The only thing I was disappointed about, is that there isn't any information about Hillary's big journey across Antarctica as my kids are super interested in expeditions.  However I do know there is some information on this in the Canterbury Museum in Christchurch City. I just thought they may have included this here.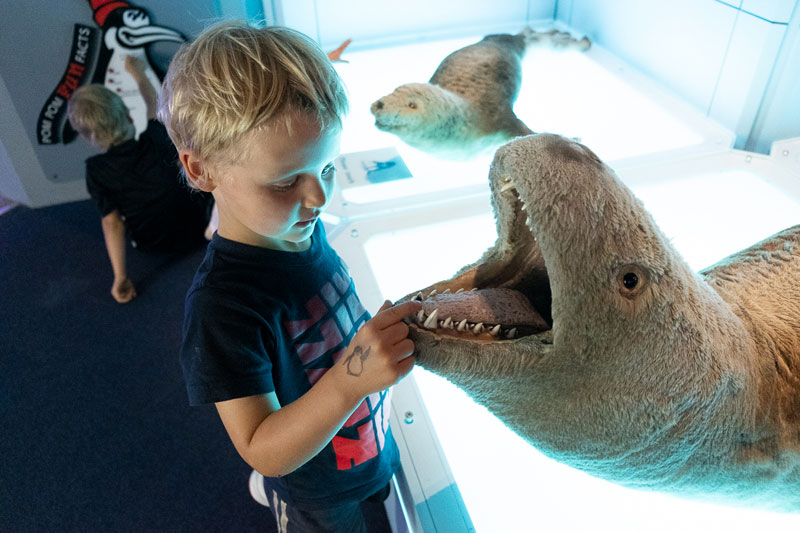 Storm Dome: Experiencing the wind chill and snow of Antarctica
Oh the Storm Dome is great!  If you have never experienced snow before, this is a great place to do it.  If you are wondering what to wear, don't worry if you aren't dressed appropriately, there are warm jackets (even for kids) and booties to keep the snow clean.  Get all rugged up and head into the snow room.  
The Snow Dome has an igloo, a stationary skidoo and a wind chill machine.  At certain times of the day you can also try out an Antarctic storm. The temperature drops significantly and the wind blows, all simulating an Antarctic storm.  It's freezing, so when you exit, warm your hands on the heated hand rail. (They've thought of everything)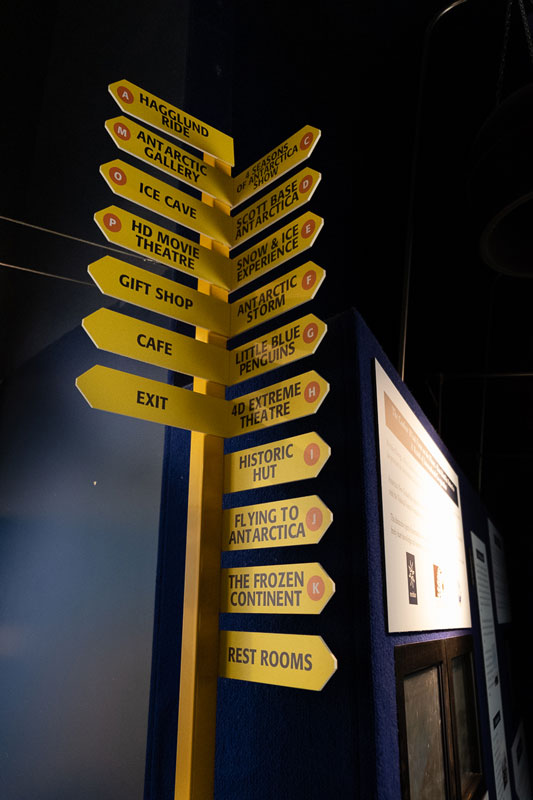 4D Theatre
The 4D Theatre was something I wasn't expecting at the Antarctic Centre, it was a little random, however the kids really enjoyed it.  This sort of activity is often a paid extra at other attractions, but it is included in the price of your ticket.
4D means you really feel like you are in the movie.  You have the 3D glasses, with the added effects of having a wee fan blow in your face, or water splashes you and one more fun effect that I will leave for you to discover.
At the time of our visit there were two "movies" that lasted about 10 minutes each.  An "kids movie" which was a 4D part of the Abominable film which your kids may have seen and a more adult film about a ship crossing the Drake Passage.  It is not like a "motion master" type ride where you are strapped in and move side to side, but the seats do jiggle a little.
My 4 and 6 year old enjoyed both "movies" and my one year old has been on two different occasions and has been fine one time and hated it the other.  So if your younger ones are scared of the dark, then you may want to skip this one.
Additional Antarctic Attractions
There are a few more activities that you can add on to your general admission pass.  These include a Penguin VIP, school holiday programmes and birthday parties. We were lucky enough to give the Penguin VIP tour a whirl and got to see a penguin right up close.
Penguin VIP tour
The Penguin tour is great for those who are interested in how penguins are looked after and how the rescue penguin programme works at the Antarctic Centre.  You start the tour with a visit to the penguin tank. You get access to the staff only section where the staff feed the penguins from so you get to see them up quite close.  They take you under the penguin tank and explain how they keep the tank clean and all the inner working behind their pool area. Nathan really liked being able to hold a piece of the tank glass and seeing how thick it was.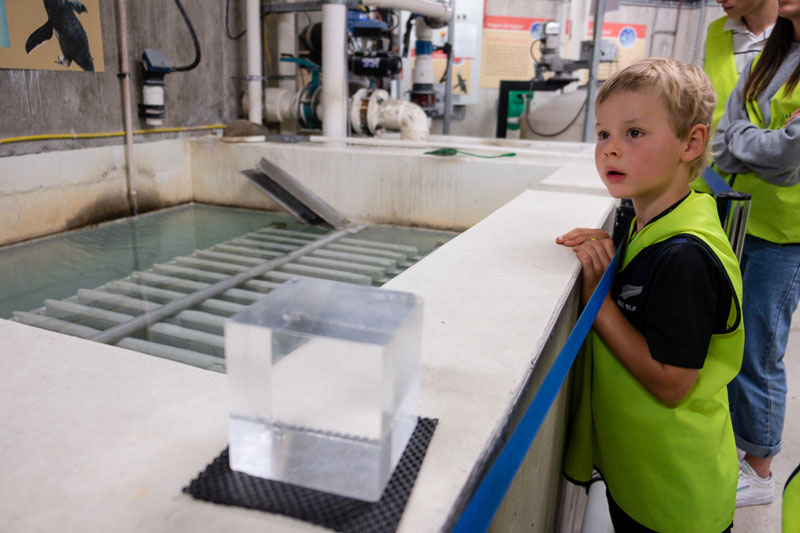 Lastly you get to meet a penguin up close, learn about their routines, touch their feathers and even see a penguin skeleton.  The experience only takes 20-25 minutes, but is such a small group, so it really is a personal tour.  
It is only available for kids 6 years and older and younger kids wouldn't get as much out of it as there is a lot of listening, so much better to wait until they are really old enough to understand.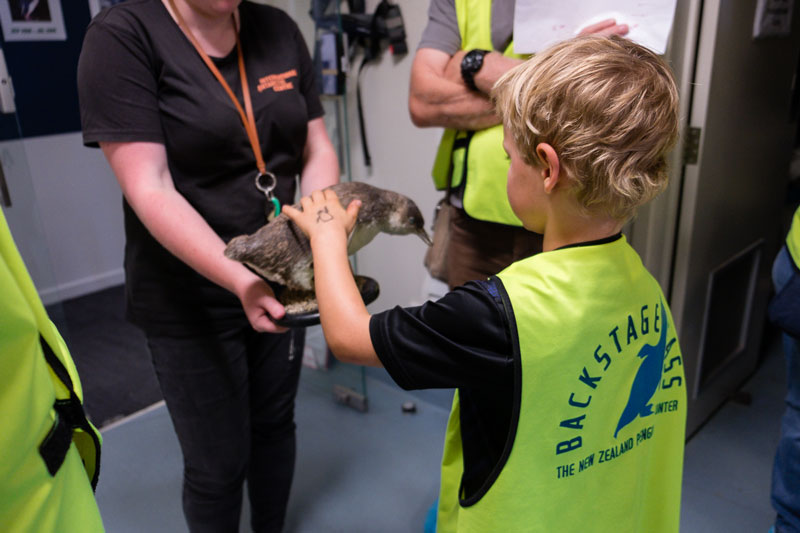 FAQs about the International Antarctic Centre, Christchurch
How much does it cost to visit the International Antarctic Centre? Are there any Antarctic Center deals or vouchers?
As at April 2020, it is $59 for an adult admission, $29 for children (5+) and $129 for a family pass.  BUT if you do think you would want to visit more than once in a year, then I would highly recommend the Ambassador Pass.  For a family pass, it's only an extra $21 and you can visit as many times in the year as you like and adult or child individual passes are only an extra $11.  So in two visits it has already covered itself.
You also get discounts such as 20% off at the cafe, or for family and friends to visit, as well as with their partners such as Go Orange (for rafting, cruises, kayaking etc) and Real Journeys Earnslaw cruise in Queenstown.
If you want a good deal on one day admission, click here as prices are cheaper than booking directly through the Antarctic Centre.
How long should you allow to visit?
With kids, if you do all of the activities, I would allow 2-3 hours
How to get to the International Antarctic Centre, Christchurch
The International Antarctic Centre is located just minutes from Christchurch International Airport.  Lots of people coincide their visit with arriving or leaving Christchurch, as it is so close and you can walk to the airport.  Ideal if you have rented a vehicle and need something to do with the kids while it's all being sorted out.
If you have a vehicle, the easiest way is to drive.  The International Antarctic Centre address is 38 Orchard Road, Christchurch Airport.  There is free parking available and plenty of it. There is even room for your campervan to park here during your visit.
If you are in Christchurch City, there is a free Antarctic Centre shuttle that runs from Canterbury Museum to the International Antarctic Centre and return for all visitors.  It runs on the hour in the morning and on the half hour in the afternoons.
Is it worth it for toddlers and preschoolers?
One of the good things is that kids under 5 go free so it is much cheaper to visit when they are little.  My 1 year old has enjoyed toddling around here a lot. She loves to visit the penguins and enjoys walking on the carpeted museum floor.  We find it a great thing to do in Christchurch when its raining. She is completely happy playing with the interactive activities while I read the information.  Since we have a year long pass, we actually often drop in just to see the penguins for half an hour or do shorter stints, since we can always come back to do some of the other activities later on if we like.
My 4 year old really enjoyed it too.  He liked sitting on all the skidoos and dressing up.  His favourite parts were the movie, the penguins and the Hagglund ride.  Once the kids are old enough to do the Hagglund ride (3) it makes it easier for parents and is quite a highlight.
Antarctic Centre Opening Hours
The International Antarctic Centre is open from 9am-530pm, 365 days of the year.
International Antarctic Review Conclusion
Our kids really loved the International Antarctic Centre, Christchurch and often talk about bringing their friends along too.  Their favourite attractions are definitely the Hagglund Ride and the Penguin Encounter and always find new things to learn when they visit.  
It is a great thing to do in Christchurch when its raining or an awesome Christchurch indoor activity when its cold.
We asked the kids and they gave it 4/5 stars, since there wasn't anything about Edmund Hillary here.
If you are looking for more fun things to do in Christchurch, you could also check out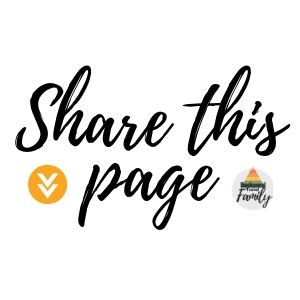 The penguins are my favourite part! Some of them cant get their own food so they feed them from a bucket. Oh and the ride is good too. We went across this gap and it was like we were floating. It was really bumpy but really cool