What its actually like to Hire a Campervan in New Zealand
What it's really like to hire a campervan in New Zealand:
Tips, Tricks and why we chose Wendekreisen
One of the things we get asked the most is: "Whats the best campervan to take?" and how can we make it work with kids.  So the only way to figure this out, was to take a New Zealand motorhome holiday with kids and this is what we learnt.
Article Table of Contents
Why we chose Wendekreisen?
Being a family of 5 makes it a little tougher to hire a campervan in New Zealand.  Not all companies have a 6 berth sized camper, nor do they all have room for carseats.  And my biggest pain point on carseats is a camper that requires me to remove all the carseats to make up a bed.
I'm not sure I've met a parent that "doesn't mind" moving carseats, so finding out that Wendekreisen's 6 berth negated that issue, I was immediately in.
They are the only company to include road user charges (RUCs) in the cost of their hire.  These are usually about $75 per 1000km and are paid at the balance of your trip (all diesel vehicle users have to pay these, even our own ute at home)  And you can travel as many kilometres as you like.  It's unlimited.
They also have free one way hires, meaning you don't have to do a round trip.  This is amazing if you are wanting to start in Auckland and finish up in the South Island.  They have branches in Auckland and Christchurch.  One great thing is that if you are flying in, they will pick you up from the airport (within their open hours of course) and take you straight to your campervan.
So we approached Wendekreisen and they kindly gifted us a 6 berth camper to try out for a week.  It was honestly one of the easiest holidays we have ever taken.  So while the motorhome was provided for us to test out, our opinions are all our own.

Reasons why loved this van
You

don't have to move the carseats

.  When picking a model, many vans use the dining area as both seating for carseats as well as the third bed.  This means moving the carseats every time you want to sleep and eat.  I am so glad we didn't have to do this everyday.
The

gas cooker was so fast

.  In fact, it boiled a big pot of water faster than it does at home, so don't be concerned it will be a pathetic little cooker.  It is, in fact, legit
The big lounge and dining area at the back was

comfy and plenty big enough

for our family of 5.  I have seen campers that have the small tables in the middle of the van and that just wouldn't work for our family.  
There was

plenty of storage

.  In fact, we didn't even fill it all, even with our added extras such as a paddleboard and 3 kids scooters and helmets.
It was

well kitted out for a family in the kitchen

.  I really appreciated the huge pot to cook in, as anyone who has been to a motel to cook a family meal in a tiny pot will understand.  It also had a decent grater, strainer, salad bowl etc.  The only thing I found that I wanted was a wooden spoon.
It was so

easy to drive

.  I have never driven anything this big, but after 30 mins or so, you start to get an idea of where the camper fits in the lane and you are good to go.  We didn't have to leave the driving to Dad, I (Mum) drove the majority of this trip and I loved it. Just take big wide corners and you'll be totally fine.
The

fridge was an amazing size

which kept everything we needed (we did one supermarket stock up on the way) and the freezer actually worked.  Unlike those motel fridges that half freeze your items, this freezer was great and would totally fit a full 2L tub of ice cream.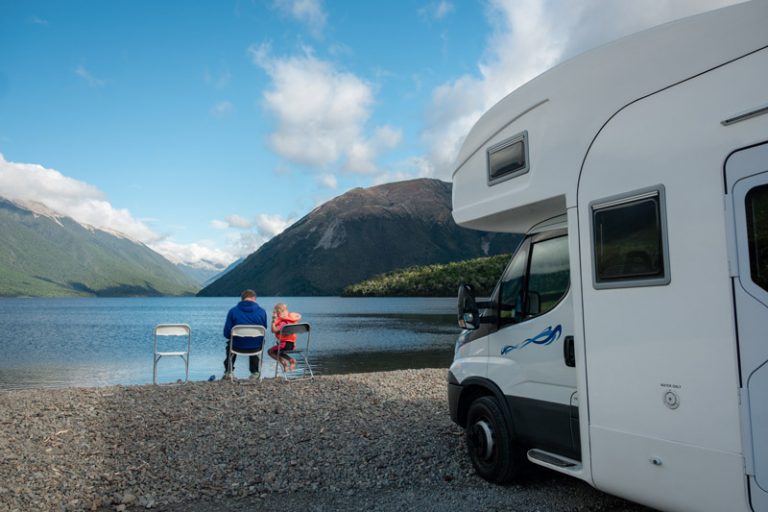 Campervan Photo Tour
I love seeing inside campervans and being able to imagine a little more what it actually looks like, so check out these photos to see a few more details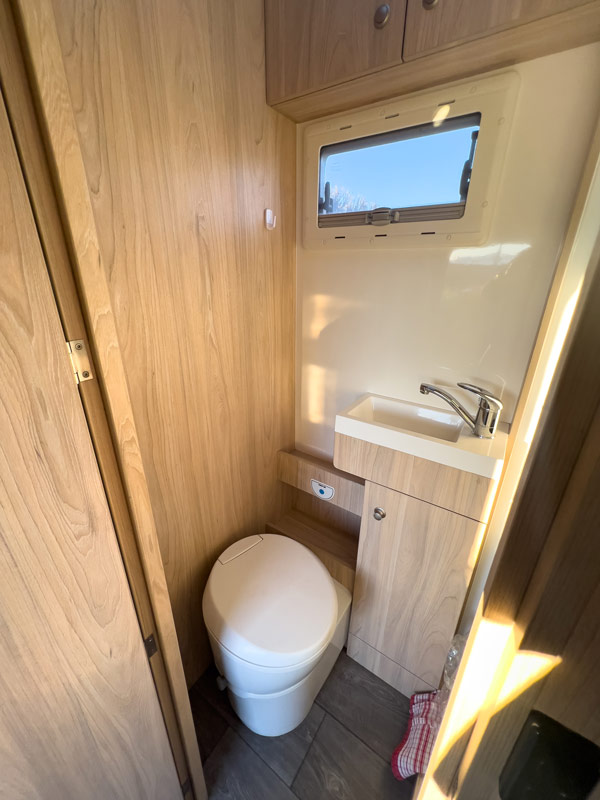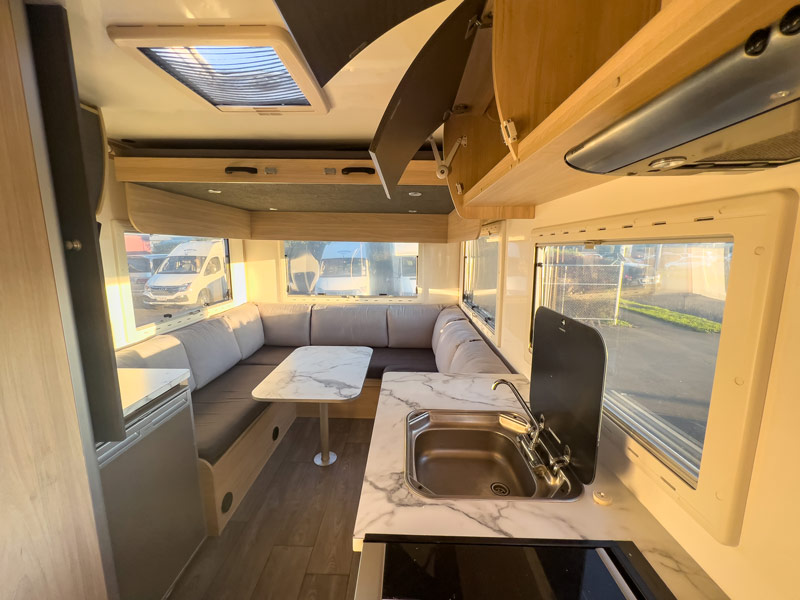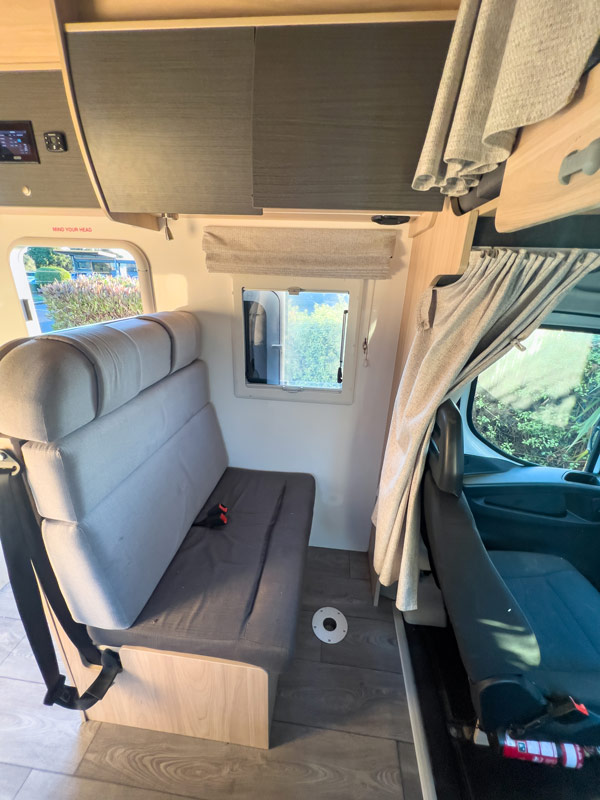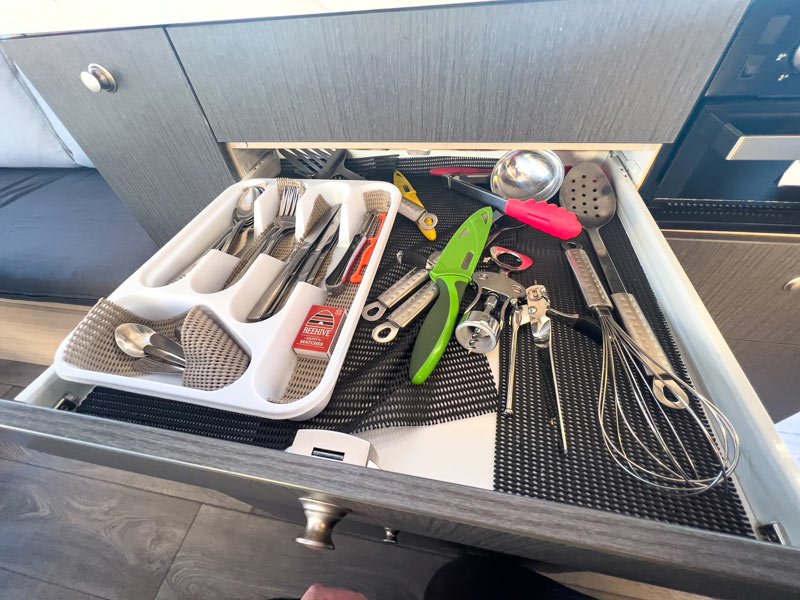 Choosing a road trip itinerary
The hardest part about planning a camper trip is choosing where to go.  We have a great North Island itinerary and South Island Road Trip Itinerary on our website that might be useful in narrowing down your options.
The other thing to think about is where you will stay along the way.  Some things you might like to think about when planning
Ideally, you will want to plan on hooking up to power at least every 3-4 days

Think about how far you want to drive each day and remember it will take a little longer in a camper (90km/h speed limit)

You will need to book campsites ahead of time during Dec-Feb (peak season) as well as public holidays and sometimes school holidays.

Some freedom camping spots only have a few spaces, so plan to secure your spot earlier in the day, or have a backup option if its not available.

Don't forget you will need to offload your camper waste, so do that at an official campsite, or find dump spots along the way

Do your research on Freedom camping in New Zealand.  We have some tips for you below
If you're still narrowing down where you want to go, we have some destination guides that might be helpful.  Check these out
North Island

South Island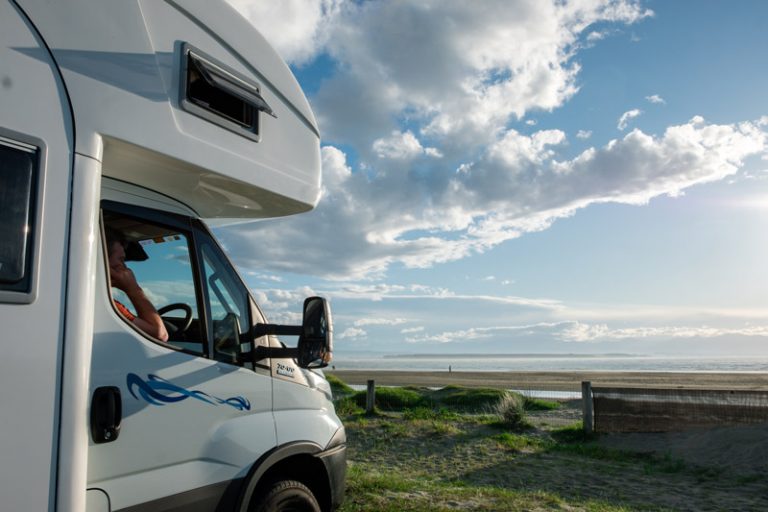 Freedom Camping and New Zealand campsites
Freedom Camping in New Zealand.  Well…. Contrary to popular belief you cannot just park up anywhere in New Zealand and camp for free.  But there are plenty of places you can do this, you just need to do a little research.
In New Zealand, freedom camping is allowed in certain places if you are certified self contained.  This means that the vehicle has a special licence showing it has met all the conditions such as a toilet that can be accessed at all times, enough grey water and fresh water for three days etc.  The fortunate thing is that if you booked with Wendekreisen, all their vehicles have this certification so you are good to go.
How to find freedom camping spaces?
One of my biggest fears is the knock on the door being woken in the night to say "oi, you can't camp here" so I like to know that I am definitely in the right place.
Apps such as Campermate
The Campermate app is worth a download.  Not only does it highlight a ton of free and paid campsites (not all, but lots), you can also find dump stations, toilets, public showers, rubbish bins and recycling, water, lpg bottle fills and more.
There is also the Wikicamps app which is specific to New Zealand, but we haven't used this one yet.  Also try at Rankers Camping app.
Doc Website
The Department of Conservation has a ton of campsites around New Zealand.  While most require a fee, their "basic campsites" do not and are free to use.  There are over 60 campsites listed here and you can just filter "free"
Check out the Doc Campsites here
Council websites
Unfortunately every region in New Zealand, governed by their own local councils, have different rules for freedom camping.  Some regions have a ton of easy spaces such as the Mackenzie District with some incredible locations on the edge of Lake Pukaki.
Other regions such as Queenstown and Wanaka, it is an absolute no go anywhere close to the towns.  If it's a big tourist area, the likelihood of freedom camping close to town is low.  A good alternative is a Department of Conservation (Doc) campsite which is relatively inexpensive.
There are too many district council websites to list, but if you google the town and "freedom camping" you will usually be able to find the rules and bylaws.
Traditional Campsites
It's ideal to stop in at a powered site to recharge the battery after a few days and there are plenty to choose from around the country.
Family friendly favourite brand Top 10 always offer a great range of facilities including playgrounds, indoor lounges to relax and often the ever popular jumping pillow.  But there are plenty of independent sites that are well set up for tents and campers.
Here are a couple of campsites that we stayed at that were perfect for families
Motueka Top 10 Holiday Park: 

 The place my kids were really mad to leave because they just wanted to hang out here.  With a scavenger hunt, giant chess, jumping pillow, gokarts, playground and heated swimming pool with slide, you can understand why families keep coming back here.  We also sneaked a night in their one bedroom apartment for Mothers Day which was roomy and relaxing
Kaiteriteri Recreation Reserve: 

Right across the road from one of the prettiest beaches with golden sand, you can stay on the doorstep to the Abel Tasman National Park.  Fabulous locations, free showers and bargain priced laundry at just $2 per load
Tahuna Beach Holiday Park:

So close to Nelson, right on the beach with 5 playgrounds, mini golf and up to 2500 people in summer, this sure is a popular spot.  The kids swam at the beach here in May, so sunny Nelson sure lived up to its name.
Can you run out of power?
We were never more than a couple of days without plugging in for a charge up, but we were never close to draining the power.  This is a big electronic panel that shows you how many amps you are using, how full the house battery was, as well as how much fresh and grey water you had.
The control panel meant we could turn off power to anything we weren't using quickly and in one place.  Super easy to monitor.
We had plenty of inside lighting in all the bedroom areas, and we could charge our devices by USB at all times.  The fridge constantly stayed on, so we didn't have to worry about that at all.  
The only thing we couldn't really use was the toaster when we were unplugged.  But there was a grill under the stove where you could cook toast if you wanted, so it wasn't a problem at all.
The motorhome also had a gas heater (no power required) so you could keep warm whenever you need it.  However it was warm enough that we didn't get to test it.
So while I'm sure you could run out of power, we certainly didn't get close.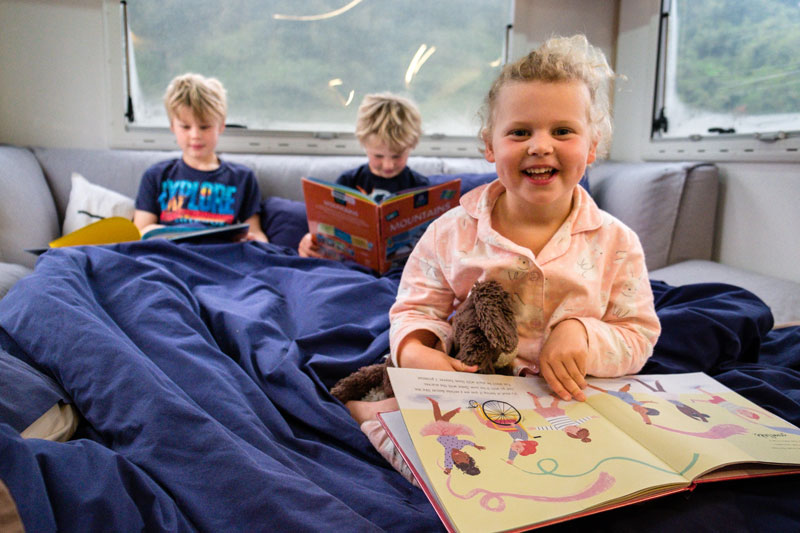 Campervan 101: How to change the toilet. Is it hard?
To be honest, I don't know what the fuss is all about.  The toilet is so easy to use and empty.  You don't need to see any of the mess.  Seriously, if you have a family in particular, just use the bathroom.  Yes, even no. 2's
The toilet is a cassette style toilet.  There is a special container underneath, that you access from the outside of the camper.  All your collections go into the cassette container and when you want to empty it, you just unclick it and head to a dump station.  It even has wheels and a handle if you have to take it a little way.
The dump station is essentially a hole in the ground that you are allowed to get rid of waste.  There is a wide nozzle on the cassette container which becomes your tube to empty it.  If you put this tube right into the dump hole, you won't even see any of the waste as it empties.  Just fill it with water and give it a swish around, empty that and you are done.  Seriously, so easy.  Don't be scared.
You will be given a toilet solution, a lovely blue cleaning liquid to pour into the toilet, which you do after each empty session.  It helps to keep it clean, gives it some liquid in the bottom and smells quite fresh and cleaner like.
We used the Campermate app to find dump stations along the way when we were freedom camping, or else if you stay at a paid campsite, there will be on site for you.
How long will it take to fill the toilet?
If you aren't using any other amenities, it took our family of 5 just 2 days to fill the toilet at one point, and 3 days the other time.  So if you need it to last a decent stretch, encourage the kids to use public toilets along the way if possible.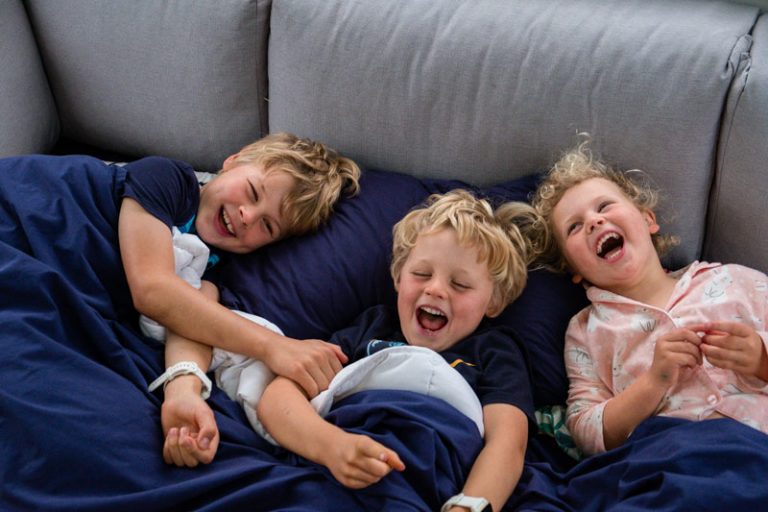 Is it hard to drive the motorhome?
I was pleasantly surprised by how easy it was to drive the 6 berth motorhome.  I'd like to class myself as a good car driver.  I've driven a school van, but I can't confidently back a trailer, nor have I driven a tractor or farm vehicle like my husband.  So if this is also you, never fear.
The campervan was great to drive.  By the end of my first hour, I had stopped religiously checking my side mirrors, as I had a sense of where I was in the lane and I ended up driving the majority of the trip.
The campervan is wide.  On a normal road, you don't have a ton of room either side, but the wing mirrors are large and easy to keep tabs on how you are going.  You do have to make sure you take wide corners, especially on those left hand turns.  Also if you are going downhill, it will take longer to brake, since you are in a heavy vehicle, so brake earlier and give yourself plenty of time to slow down.
The maximum speed you are allowed to drive a big campervan like this is 90km/h, just like carrying a trailer and there was a nice alarm that dinged if you went over.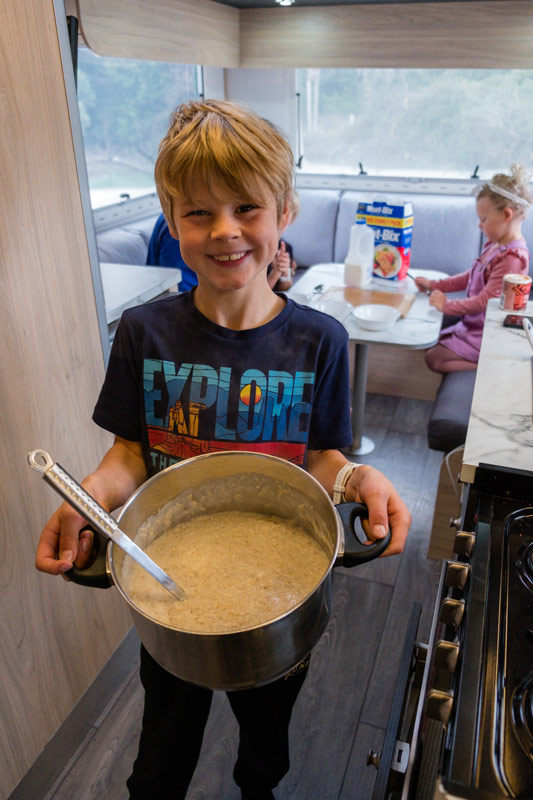 Tips for getting the kids to bed
The kids slept really well in the campervan.  We just continued our everyday routines as much as possible and got them to bed at a regular time.  
There are three double beds in the campervan and we gave the kids the "bedroom" at the back.  2 kids in the bottom bed, separated by one of the headrests, which made a great barrier between them and one up on top who could spread out.
As adults, we took the bed above the drivers seats, which was plenty long enough for my over 6ft husband, but also had a curtain that blocked out a surprising amount of sound and light.  
So when the kids went to bed, we retired to our hidey hole and watched Netflix or worked.  In the summer, we totally would have used the outdoor chairs and tables and sat outside, but being May, it was a little chilly in the evenings.
One night we were still tinkering around so I just tucked some clean towels to the top bunk, so the kids down the bottom couldn't see what we were doing.  The makeshift curtain worked well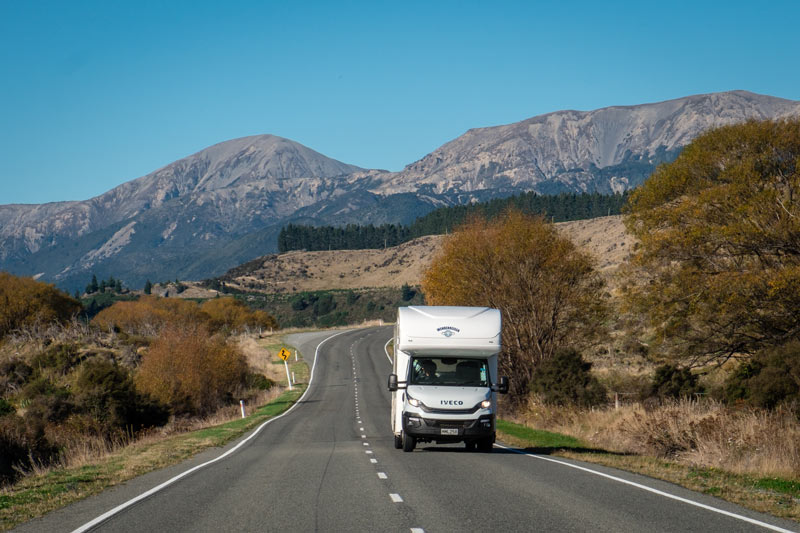 Fuel and Prohibited Roads
Fuel will obviously be more expensive than hiring a car and you are moving a much bigger vehicle.  Obviously it will depend on where you go as to how much it will cost.
I noted that the vehicle ran at 10.5L/km when we were travelling at 90km/h on a flat road, and up to 22L/km when travelling uphill.
Are there any roads you can't drive on?
Yes there are some New Zealand roads that you cannot drive on.  This is common with most campervan companies, however they do vary
These are the roads that you can't drive on with Wendekreisen
Any salt water beaches or 4 wheel drive only roads

Ninety Mile Beach (Northland)

North of Colville township (Coromandel)

Bluff Road between Kuaotunu and Matarangi (Coromandel)

Unsealed parts of Tasman Valley Road (Mt Cook)

Unsealed part of Wanaka-Mt Aspiring Road (this is road to Aspiring Hut and Rob Roy Glacier)

Skipper Road at Skippers Canyon, Queenstown (you wouldn't want to take a camper here, it's very narrow and a bit dodgy, but there are tours out here)
Some other roads that other companies may restrict.  Make sure you check the fine print when choosing your campervan.  (Note you could drive these roads with Wendekreisen)
Milford Road

The Crown Range from Queenstown to Wanaka

Skifield roads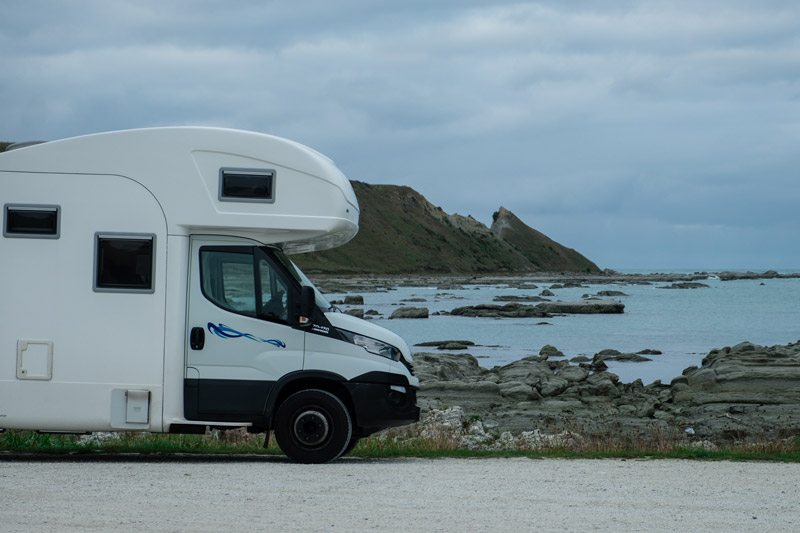 How to keep organised
One thing to note is that the campervan is quite a small space when you are actually living in it.  3 jackets and two pairs of shoes on the floor and it looks like a bombsite.  So here's a few tips to keeping everything organised
Ditch the big bags: 

Your huge duffel or pull along luggage won't easily fit inside the camper (plenty of space underneath though)  You could pop them up on the overhead bed, but then you will be moving it around forever.  Downside, or ditch the huge bags.
Packing Cubes:

  We found the overhead compartments perfect for clothing and all our personal gear.  I would highly recommend packing cubes to store your gear, so it's easy to find what you need, or you don't have to refold (okay shove) everything back on the shelves neatly.  We have different colours for each kid which made finding things much easier.
Tubs/Containers:

  If you're lucky enough to be picking up a campervan in your home town, then I highly recommend a flexi tub or two.  We used these to contain all our shoes which was great.  There are also no seatback pockets like in a car, so books, activities, drink bottles etc could fly around on the floor and become a huge mess.  Even a small cardboard box from the supermarket would double well for storage here.
Establish a place for everything so you don't lose them:

 Things we kept losing: the car keys, phone cords, sunscreen and bug spray.  So we established a "tech cupboard" under the tv and had a special cupboard in the bathroom for the sunscreen and insect repellent.  The kids had certain cupboards for their clothes and we loved the little shelf on the overhead bed for all the little things.  Also its a good drinks holder at night.
Do a little tidy a few times a day:

 At times, our camper looked like a bombsite, I won't lie.  But it would have taken 4 minutes to tidy it as everything had a place.  I mean, who's to stop the kids rushing to find their togs to go and swim before the sun goes down… and with that comes a wardrobe explosion.  Easily fixed though.
Things you need to bring / wish we had brought
Dish brush

Dishwashing liquid

Hand soap for the bathroom

Welcome mat (if you can bring yours from home easily, it was super handy)

An extra sleeping bag so the kids didn't have to share a blanket.
Why campervanning totally worked for us
I loved not having to pack lunches every day.  We just pulled up next to a beach and made food just like at home.  There were no soggy sandwiches, the cheese was always cold (pain point for me) and we could use real plates like civilised people.
I loved being able to come back to a cold drink.  After a 5 hour hike where we were all hot and sweaty, a cold drink was an absolute luxury
The beds were big enough for us to put a divider between the kids so they essentially had their own single beds.  One thing I would have done differently was to bring a sleeping bag for one of them, so they didn't have to fight over the duvet.
We also didn't hit the big cities like Auckland or Wellington, so never had an issue with parking or navigating small streets.  We found parking at supermarkets down the back and parked across a couple of bays, or just parked further down the road.  The big vehicle was barely an issue.
I loved that we could go where the wind blew us.  Next time I would plan less and just be a little more spontaneous.
Not having to unpack and repack in every location, which was amazing when we moved most nights.  Also saved us a ton of time compared to camping which we also quite like doing.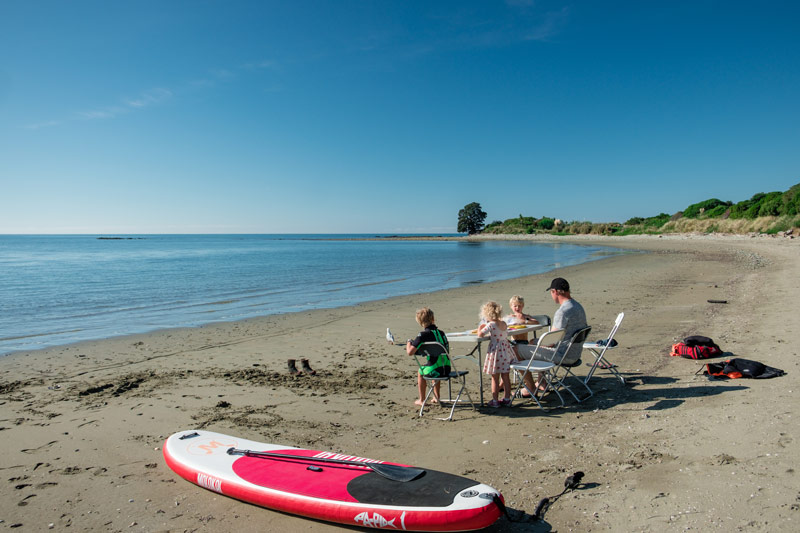 The downsides of campervanning
 Don't get me wrong, I loved this trip immensely, but it wouldn't be fair if I didn't share these thoughts
Not exclusive to this motorhome, but campers jiggle.  When you are sleeping, you feel movement every time someone rolls over.   Not a problem for my conked out 

husband and kids. Me though… I would generally wake a few times in the night.
As much as I tried, I couldn't keep the sand and dirt out.  I swept out the floor space daily every with us mostly removing our shoes.  It's just annoying, but easy to remedy.
In a nutshell, we had an absolute blast and I don't hesitate to recommend Wendekreisen and their campers.  Their customer service was awesome and relaxed.  I felt totally reassured when I left the depot that I could drive it all on my own!
If you have any questions, just over on Instagram and DM me, we are happy to help and share our experiences.