Things to do in the Nelson Tasman Region
Things to do in Nelson Tasman Region
Sunshine, beaches, clear waters and family fun all comes to mind when I think of the Nelson Tasman region. At the top of New Zealand's South Island, sunny Nelson is where Mainlanders head for great beaches and summer fun.
While South Island water is known to be rather fresh (okay, cold) the Nelson and Tasman region have the only beaches to rival the North Islands.  I mean, if we could swim in 20C temperatures in May (late autumn) then that's saying something.
Beyond the beaches, you have incredible hikes in the Nelson Lakes National Park, vineyards and orchards galore for some of the best produce in the country and tons of kid friendly activities.  So let's check out some of our favourite things to do in Nelson and surrounds.
The Best Things to do in the Nelson Region
How to get to Nelson, New Zealand
No matter what, if you really want to explore, you will want to have access to a vehicle.  If you are short on time, then you can fly directly into Nelson airport with Air New Zealand or Sounds Air.  You can then pick up a rental car at Nelson Airport.
Commonly, people will either take a ferry from the North Island (Wellington to Picton) and drive across, or take a big road trip from Christchurch (about 6 hours straight driving)
We recommend Ezi Car Rentals or Go Rentals, or Wendekreisen for campervans and motorhomes.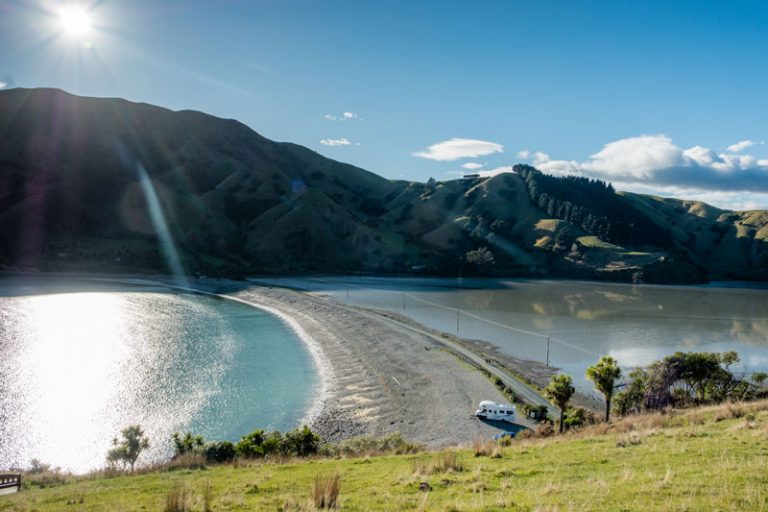 Where to stay in Nelson
Nelson Tasman has some great accommodation choices, but being in a camper on our first visit meant we got to check out some great campsites in Nelson.  Even if you're not a camping fan, all these accommodations have motel style units and cabins, so you can be comfortable but use all their family friendly amenities
Tahuna Beach Holiday Park, Nelson
Camping in Nelson? Well, Tahunanui is well known for its huge beach so close to Nelson City and there's nothing better than staying right at it.  The huge promenade board walk was a favourite of ours, strolling down here at sunset before eating fish and chips at the beach.  A perfect summer treat, except it was really autumn, but thats sunny Nelson for you.
This campsite can sleep thousands of guests in the summer, so book ahead if you're heading in at peak time.  With five playgrounds including a very good flying fox that I tested, the kids won't be short of anything to do.
The far end of the campground has direct access to the beach, so that would be my pick if you're able to choose.
Find out pricing on this awesome family friendly spot at Tahuna Beach Holiday Park Nelson here
Kaiteriteri Recreation Reserve
When visiting Kaiteriteri, you want to be close to the beach and the Kaiteriteri Recreation Reserve campsite is as close as you can get.  We stayed in a beachfront campsite with only the road stopping us from spilling onto the sand.
The Kaiteriteri campsite is huge and has some fabulous showers (I may have stayed in these a little too long).  They have cheap washing facilities on site, a playground with big flying fox, a small store with the all important coffee and fresh fruit ice cream on tap.  It's like a little village that you don't need to leave.
They also have a range of other accommodation if you don't want to camp, but still want the awesome locations. Find out more about their Kaiteriteri cabins here or their beautiful apartments here

Motueka Top 10 Holiday Park
The kids yelled at me when we left this place so that's saying something.  We just loved how many activities there were to do at the Motueka Holiday Park.  The kids did a scavenger hunt looking for stickers all across the campsite, rode pedal karts, played at the playground, the jumping pillow and even giant chess.
We didn't even get to use the heated swimming pool with slide as we just didn't have enough time.  This campground is a destination in itself and the kids will have a ton to do.
We were also treated to a night in their one bedroom motel unit and I was seriously impressed.  The kids room with bunk and queen bed was so spacious and the bathroom was huge.  Full cooking facilities made life so easy as did free wifi for us to get some work done when the kids were asleep.
We are definitely coming back here!
Click here to see the great option at the Motueka Top 10 Holiday Park

If you would rather hotels in Nelson or motel accommodation, our friends also suggest these options
Rutherford Hotel Nelson:  Families will love the interconnecting room options or couples might choose to upgrade to a deluxe suite with separate bedroom and kitchenette.  There's a fitness centre, outdoor pool and restaurant on site, so its a great place to relax.  Click here to see photos and pricing and more about this lovely Nelson hotel.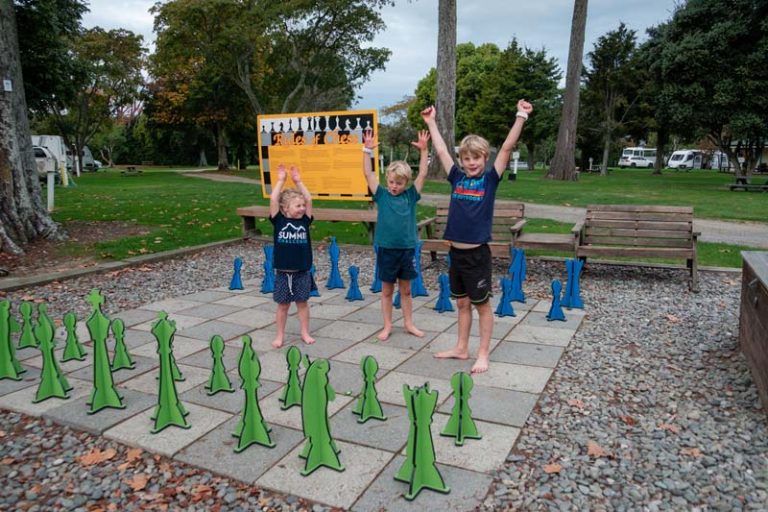 Things to do in Nelson City
So you're wondering what to do in Nelson? Nelson is a pretty relaxed city so you won't find high rises or uppity folk here.  It has a more eclectic vibe, where you'll find art that is just a bit different, unique food growers creating incredible deliciousness and artisans taking their extraordinary creations to the world.
There are many activities in Nelson, so lets check out some of the best:
Pics Peanut Butter Factory, Nelson
Fast becoming the most popular Nelson attraction, the Pics Peanut Butter Factory is one of the best free things to do in Nelson.   With arguably the country's best peanut butter made on site, you will get to see the full process from roasting down to the final packaging.
The tour guides help you fall in love with their peanut butter that you can't help but buy some on the way out.  Our kids loved learning the full process and one of the best things to do in Nelson with kids is surely the bicycle that churn peanuts for them to eat themselves.  I mean, how cool is that?
We got tasting samples of a whole range of products and we may or may not have a 5kg tub in our cupboard now.  A unique experience that the kids won't forget and all free to try.  Just make sure you book online so you don't miss out on this Nelson must do attraction.

Cable Bay, Nelson
Cable Bay is a beautiful beach area, unassumingly hidden in the farmland just 20 minutes from Nelson City Centre.  I have driven past the signage on the main road many times, and now I'm regretting not visiting earlier.
After seeing some friends' beautiful photos, I just knew I had to visit and walk up the Cable Bay Walkway.  This is a three hour one way walk, however if you want these incredible views below, you'll need to walk about 30 minutes to the top of the hill.  It's a fully uphill lungburner, where the grass is rather slippery, but you are well rewarded.
A popular spot for sunrise and sunset, but we managed to have it to ourselves this Autumn morning and it was the most marvellous spot to watch the sunrise.  The dew was quite slippery, which was more of an issue on the downhill, but you've been warned.  There are also some farm animals on the land (cows and sheep) so take care not to step in their business.
One of my new favourite things to do around Nelson, you won't be disappointed.

Cable Bay Adventure Park
Cable Bay Adventure Park really has something for everyone.  From the mildly adventurous to the adrenaline junkies, every family member can enjoy their own adventure.  Maybe that's why it's one of the top things to do in Nelson NZ
The highlight of Cable Bay Adventure Park is its unique Skywire Experience.  Think of it as a huge seated flying fox that you are strapped into, that floats across the treetops.  It's not scary at all like those slingshot style theme park rides that go from 0-100 in mere seconds.  Like a flying fox, it gains speed as it heads down and our trip hit 85km/h
It was a cool mixture of both exhilarating and peaceful and one we think most would enjoy.  Do note that kids need to be 120cm or taller, which is probably around 6 years old.  This is so they fit the seated harness.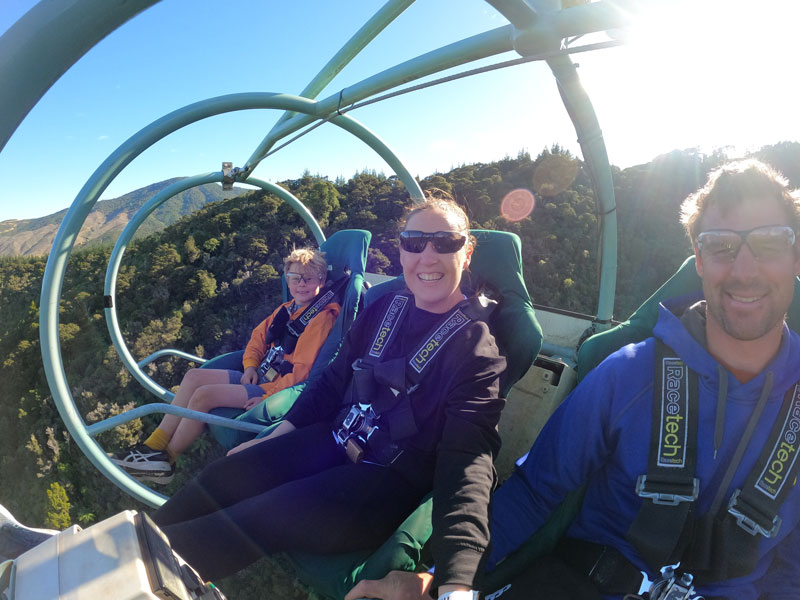 While the Skywire was awesome, the one our kids can't stop raving about was the Argo.  The 8 wheel amphibious all terrain vehicle took off through the farmland, through deep underpasses and swung us around corners.  The kids loved doing doughnuts and changing direction quickly.  I haven't laughed so much in excitement in a long time.
On top of this, Cable Bay Adventure Park also has:
Mountain biking

Quad bike tours

Rock climbing wall

Farm animals to visit and feed

Paintball

A lovely cafe
Check out more about our kids favourite Nelson tourist attraction here

Mountain Biking and Cycling
One bonus of having some good hills in the Nelson Tasman region is that there are some great places to mountain bike.  There are spots for both beginner to advanced so check out these if you are a keen shredder.
Tasman Great Taste Trail
We haven't done this trail yet but its on my list.  With around 175km in a full loop, there are so many options for day trips and multi-day trips to the whole complete trail.  
The route is well supported with bike hire providers and shuttles, who can not only shuttle your bike, but also your overnight gear.
The trail is broken into four sections
Town to Country: from Nelson City/Airport to Wakefield (34km, 2-3 hours, grade 1)

Rural Tasman: from Wakefield to Tapawera (31km, 2-3 hours, grade 2)

Back and Beyond: from Tapawera to Riwaka (63km, 4-6 hours, grade 3)

Sparkling Coastline: from Kaiteriteri/Riwaka to Richmond (64km, 4-6 hours, grade 1-3)
Image credit: Nelson Tasman

If you are looking for more advanced trails, you might enjoy the Coppermine Trail (43km, recommended for confident single trail riders)  
And if these distances all look a bit too long, don't forget you can just choose a small section to bike, perhaps an hour to turnaround point and back again.  The great thing is these trails are all well formed and have great terrain, so there is a beautiful section to ride for people of all abilities.
Image below: Copper Mine Trail / Photo Credit: Virginia Wolfe Photography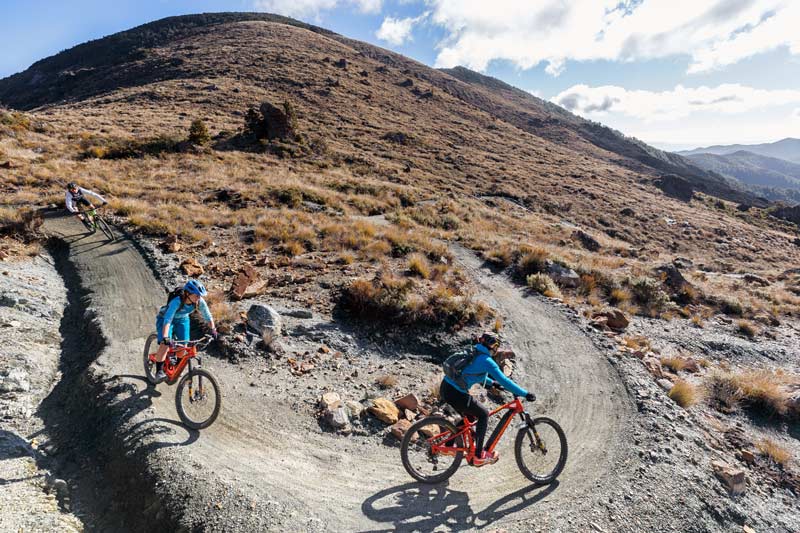 More things to do in Nelson New Zealand
Walk to the centre of New Zealand:  In the 1800's this was the central survey point of New Zealand.  This 30-60 minute walk will take you to the top of Botanical Hill for a great view of the city and coastline.  A short but steep walk and a great place to see in Nelson
Visit the Brook Waimarama Sanctuary:  The largest fenced sanctuary in the South Island, that you wouldn't believe is right in the city.  Take a guided tour, or explore at your leisure, finding all sorts of native birds and plants along the way.  Wheelchair and stroller friendly.
Visit Tahunanui Beach, Nelsons favourite beach. Swimming, paddleboarding ,windsurfing and more, its a great place to relax and have fun, just moments from the city.  Or check out the Nelson Fun Park for bumper boats, mini golf and more
Indoor Activities, Nelson:  If you're looking for the best things to do in Nelson on a rainy day, you could try the Nelson Classic Car Museum, one of Nelson's many art galleries such as the Suter Art Gallery or kids might enjoy a round of indoor mini golf.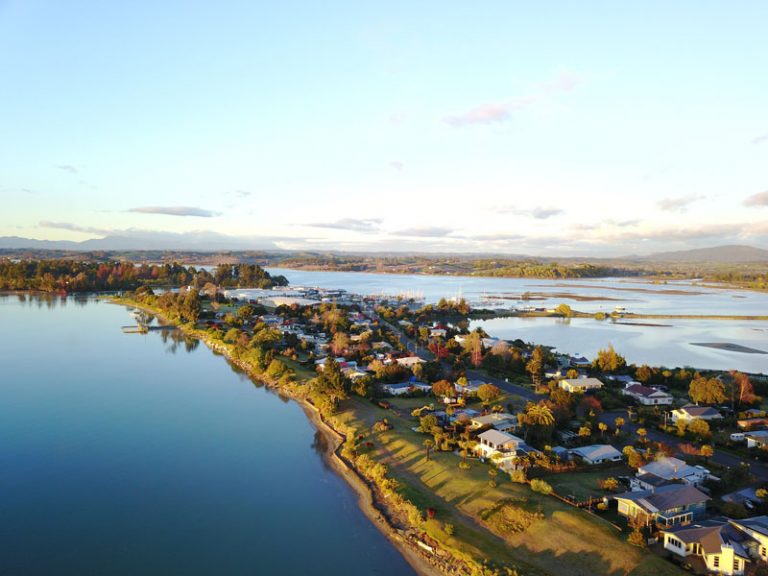 Nelson Tasman Region
There are many places to visit in Nelson beyond the city itself.  Some of the most popular spots are Motueka, Kaiteriteri, Takaka, Collingwood and the Abel Tasman National Park.  You would need a couple of weeks to even get close to exploring everything, but lets show you the highlights and let you choose.

Things to do in Motueka and Kaiteriteri
Motueka is a cute little service town and the hub for the surrounding Kaiteriteri and Tasman region.  It is a great place to base yourself to explore the area, including day trips to Golden Bay if you don't have too much time up your sleeve.  It's also a popular jumping off spot for the Abel Tasman National Park
Lets check out the best things to do in Motueka and surrounds
Walking the Abel Tasman Track
Easily one of the best things to do in Nelson is to walk this popular trail.  Nelson sightseeing at its best, you've got coastal views and golden beaches, all I can say is yes!  The Abel Tasman Track is one of New Zealand's Great Walks and is the easiest of these multi day walks.  Most people complete the 32km trail in 3-4 days, staying at the huts and campsites along the way.
But if a multi day walk is not what you are after right now, the best part of this track is that it is accessible by boat.  This means you can walk just a section of the Abel Tasman Track for a taster of Great Walk, without it requiring too much time or equipment.
We travelled with Wilsons Abel Tasman who provided a cruise and walk option, giving us 2-3 hours on the water in total, plus a 1.5-2 hour walk (in a 4 hour timeframe)  It was the perfect way to explore the Abel Tasman National Park, with plenty of time for a picnic and a swim.
We chose the Seals and Beach tour, which dropped us off at Tonga Quarry and picked us up from Medlands Beach, just past the popular Bark Bay campsite.  During our cruise we spotted both seals and a huge pod of dolphins, delighting the children.
The walk was undulating, but the hills weren't large at all.  None taking more than 3-4 minutes to climb.  In terms of tramping, its a very easy trail (but do note, it's not perfectly flat)
Bark Bay was a great place to swim, use the toilet facilities and there is filtered drinking water here.  Such a great family day out, we highly recommend it.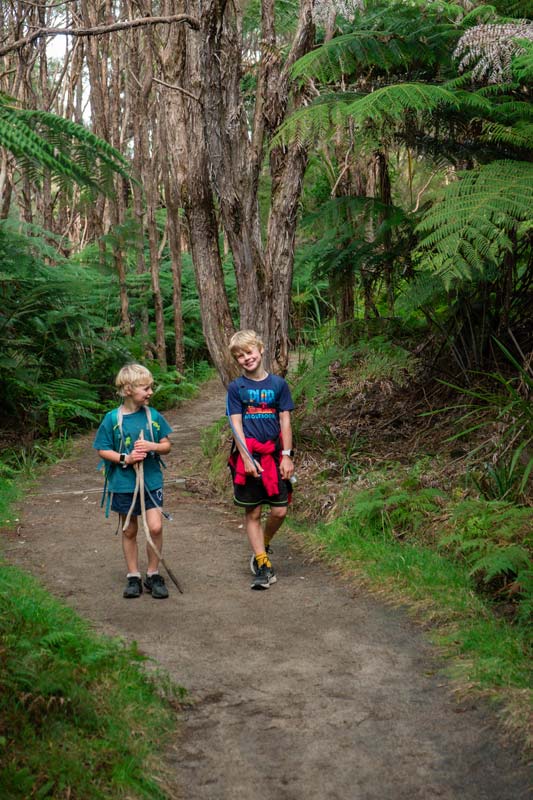 Kaiteriteri Mountain Bike Park
Right near the Kaiteriteri Recreation Reserve campsite is this awesome mountain bike park.  Our kids would stay mostly on the beginner trails of which there are five, and there are also links to the famous Tasman Great Taste Trail, which is an easy gravel trail highlighting the incredible foodie region that you can explore by bike.
They have mountain bike hire available, workshops and kids programmes throughout the year.  Its super popular in school and summer holidays so book in advance
Janie Seddon Shipwreck, Motueka
The Janie Seddon Shipwreck is an iconic Motueka landmark, sitting boldly on the shore near Motueka Wharf.  She served in both world wars before being used for fishing in the local waters.  
The Motueka shipwreck is a popular spot for photography as there are some incredible sunrises and sunsets at this spot.
Photo below: Motueka Shipwreck / Photo credit: Abel Tasman

Motueka Salt Water Baths
The Motueka Salt Water baths provide a safe place to swim and play overlooking the bay.  It was originally created back in the 1920's after there had been sharks spotted in the water.  Now its a great free space to enjoy the water.  It has quite an infinity pool look to it at high tide.
Photo below: Motueka Salt Water Baths / Photo credit: Abel Tasman
Riwaka Resurgence
The Riwaka Resurgence walk takes you to a beautiful deep pool that is incredibly clear but also a deep blue.  The area is incredibly green and whimsical, what you imagine an author would picture in a fairy tale.
It is an easy to access track, being only a 10 minute walk, and is about 11km from the small Riwaka township.  A great family friendly Nelson activity.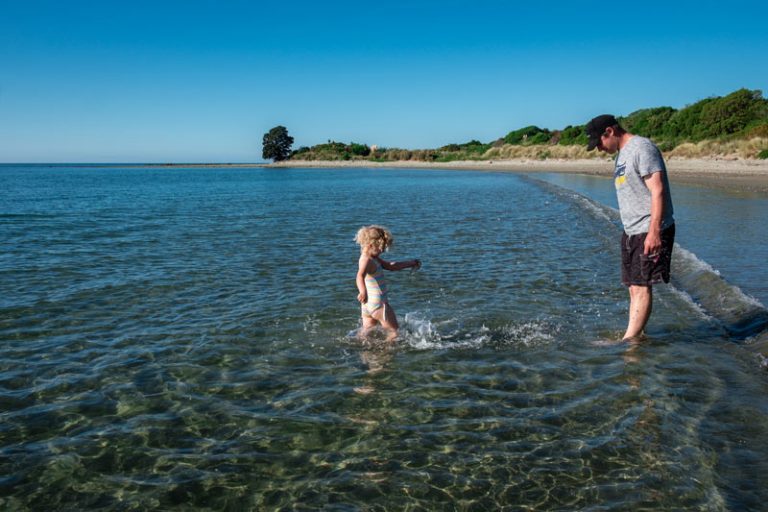 Things to do in Golden Bay
Labyrinth Rocks, Takaka
A hidden gem in Takaka and the perfect place to explore with kids, Labyrinth Rocks is a whole lot of free family fun.  Just out of town and weirdly right next to the recycling centre, you'll find some incredible rock formations that have been well preserved.
It's free to enter and they have maps out the front that will help you find all the nooks and crannies of this place.  It makes me think this would be amazing for a great big game of hide and seek as there are so many tunnels and paths that weave their way around.
You are not allowed to climb on the rocks, but young kids will love finding all the little toys that are hidden along the way.  Each area has been named so you may be able to use your imagination to find such rocks as the "kissing pigs" and more.
An easy family spot that the kids will love.  You could easily wander quickly through in 30 minutes, but allow about an hour to really explore and have fun.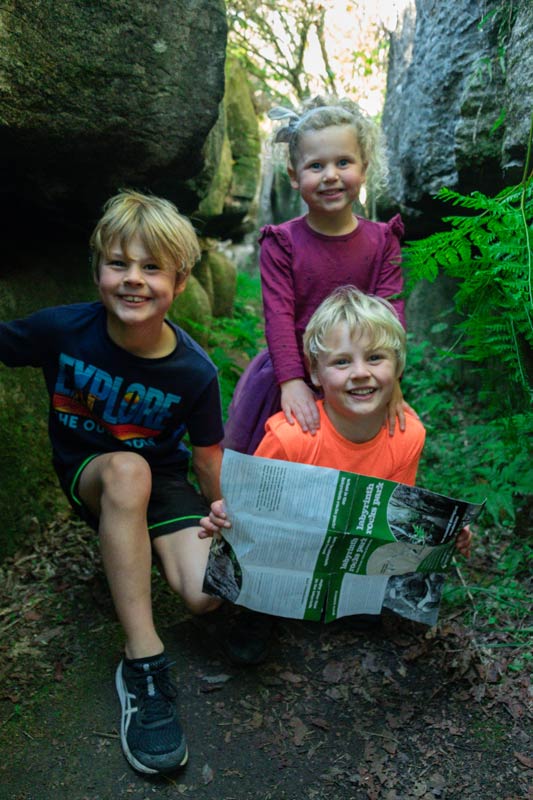 Te Waikoropupu Springs, Takaka
Also known as the shortened Pupu Springs, Te Waikoropupu Springs is home to the clearest natural springs in the water.  And while I'm sure you would absolutely love to swim in it, there is no touching allowed to preserve this incredible water for generations to come.
You will be amazed at its clarity and how deep you can see with the naked eye.  The one way track to Te Waikoropupu Springs is a leisurely 20 minute stroll through the beautiful native bush where you cruise along boardwalks and listen to birdsong.
The track is stroller and wheelchair accessible so everyone can enjoy this sacred place.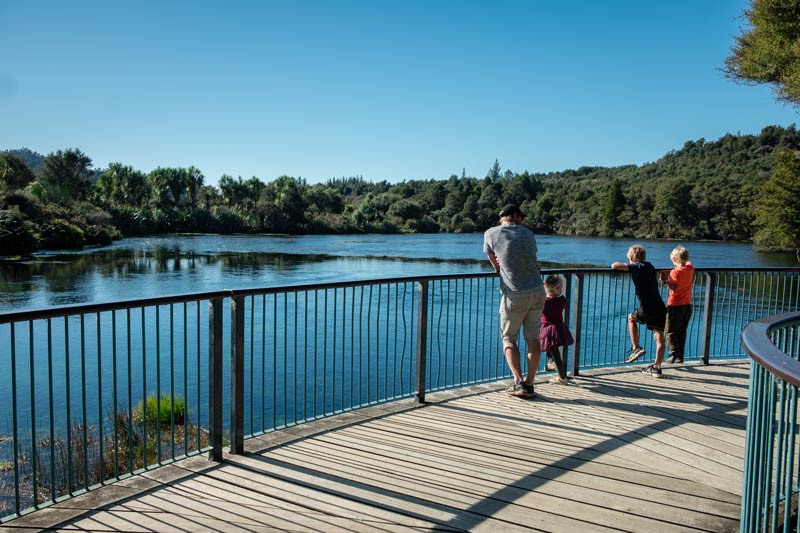 Hit the Beach
Sunny Nelson Tasman certainly lives up to its name, making it the best place in the South Island to have a beachy holiday.  With plenty of spots to swim, paddleboard and kayak you must absolutely stop and relax at a Tasman Beach.
Don't be put off by the season either.  The kids were swimming in early May on a 20C day and were perfectly happy.
If some of the best places to see in Nelson are the beaches, then you'll want some recommendations.  Try these Nelson beaches
Totaranui Beach:  At the top of the Abel Tasman National Park (accessed either by boat, or the big drive over the Takaka Hill) you won't forget the golden sand this spot has.  Gold sand, clear water, it's practically an island paradise.  It also has a DOC campsite right on the beach but book early over summer
Tata Beach:  A beautifully tranquil Golden Bay beach, just 15 minutes from Takaka, this is a chilled spot to relax
Patons Rock:  (pictured below) This is my newly discovered favourite.  We based ourselves at Patons Rock reserve, a lovely wee green grassy spot with a few picnic tables and had the beach to ourselves on a hot autumn day. The beach is shallow for a long way so its great for kids.
Wharariki Beach, Golden Bay
Wharariki Beach is an incredibly remote beach way up in northern Golden Bay near Farewell Spit.  It is almost an hour from Takaka (the main town in Golden Bay) but it is well worth the drive.
The incredible rock formation on this beach make for some iconic photos and its just a very pretty beach to explore.
Once you get to the beach carpark, there is about a 20 minute walk to actually get to the beach.  So if you plan to hang out there for a while, bring a backpack to put all your gear.  The 1km walk is across farmland and then you end up on top of the sand dunes overlooking the beach.
If you want to find the amazing rocks, you will need to walk another 10 minutes across the sand dunes to make it here.
It is a popular spot for sunset and sunrise photos.  If you can time it right with low tide, then the wet sand can make great reflections of rocks on the sand.
Our kids just loved running up and down on the sand, building sandcastles and doing running races on the hard sand.  Such a stunning place to explore.

Anatoki Salmon Farm, Takaka
If you've ever wanted to catch your own salmon, then get your reel ready, because this is the spot.  The Anatoki Salmon Farm is located right close to the Takaka township is a great spot to fish for your own dinner.
These plump salmon are ripe for the reeling.  There is no cost to borrowing a reel to fish, however you do need to pay for the fish you catch.  Word of advice for those with kids, don't give everyone a rod unless you are wanting a freezer full of salmon.  While the salmon is well priced, you don't usually buy a whole one at the supermarket, so a fat one could be a little pricey.
On site, once caught, they can hot smoke it, or make it into sashimi, ready to eat at no extra cost, or you can package it up to take it away with you.
So if you're looking for fun Nelson attractions for families, and you get fed, this is a win-win!
Nelson Lakes National Park
Wow this place took my breath away!  We visited in autumn and the weather was warm enough for the kids to paddle in the water as well as the paddleboard, but I wasn't game enough for a dip.
In the summer, I can imagine this spot is absolutely humming.  But if you are looking for things to do in Nelson in winter, then you might like to check out Rainbow Ski Field.  It's only 40 minutes from St Arnaud and caters for all abilities.
Where to stay in National Lakes National Park
We visited in a campervan and there is no better spot than the Kerr Bay Campsite run by the Department of Conservation.  So close to the lake, they even have powered sites and hot showers, so pretty fancy for a DOC site.
The small holiday village of St Arnaud is also home to some holiday homes available online, or you can visit as a day trip from Nelson, it's just over an hour from the city.

Mt Robert Circuit Track, Nelson Lakes National Park
The most incredible views of Lake Rotoiti can be had from the Mt Robert Track.  The lake is beautiful from St Arnaud but you are absolutely missing out if you don't head up.
The Mt Robert Circuit Track is a 9km loop track taking around 5 hours.  We hiked up the Pinchgut Track and back down Paddys Track. It was a steeper climb first, then it flattened off when you headed across to Bushline Hut (14 beds, can stay overnight)
With around 550m of elevation, it was a decent climb, but only about 90 minutes up, so it is doable for most.  Be aware that there may be snow in the winter, there were very tall markers that alerted us to this along the way.

The views of the lake and whole St Arnaud region are just stunning.  We were so lucky with our bluebird autumn day.  We highly recommend
Intrepid travellers with the correct gear and experience may like to head further to Angelus Hut, but be aware there have been fatalities on this track so plan ahead in this alpine region.
For more things to do in the Nelson Marlborough region check out these articles below

 
We would love to hear your favourite attractions in Nelson, so come and find us on Facebook or Instagram and we would love you to share.