Ashburton Lakes: Guide to hikes, biking and staying in New Zealands most beautiful hidden region
Ashburton Lakes
The Ashburton Lakes are the epitome of a hidden gem. If you are looking for the quintessential back country experience of what remote locations looked like from yesteryear, then this is the place to come.  Its sheer magnificent beauty is raw and still untouched. The lakes and mountain views are to die for, and there is not a tourist shop or hotel in sight. When I first visited the lakes and the Hakatere Conservation Park, I felt like I was transported to a completely new place.  It was unlike anything I was expecting.
Part of me loves that many of the tourists race past the Ashburton Lakes and Mid Canterbury area in search of the "bigger highlights" in Christchurch and Lake Tekapo.  The fact I can often have these lakes all to myself is a blessing. But there are many people, even local people who haven't ventured an hour from the Ashburton township to check out the paradise that is hidden behind Mt Somers.
Please note: This article may contain affiliate links.  This does not cost you any extra, but goes towards the running of this website
Contents of this article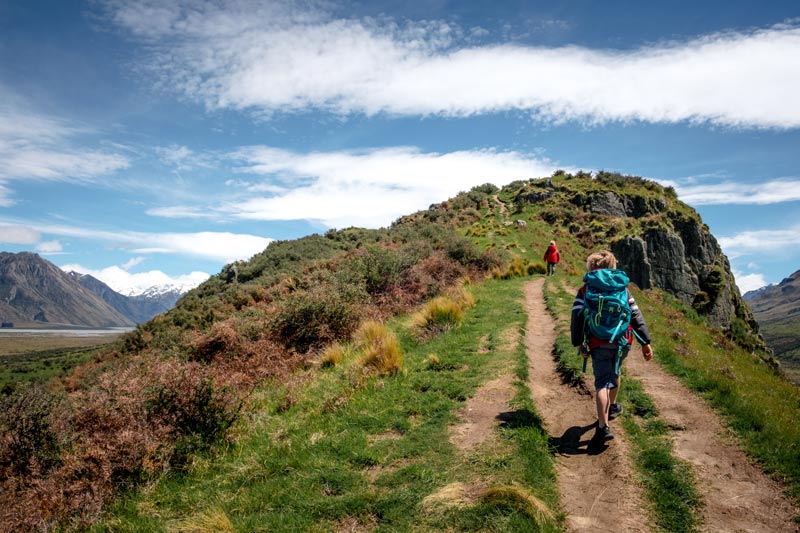 Where are the Ashburton Lakes?
The Ashburton Lakes are about an hour (75km) from Ashburton (the nearest service town) and just under an hour from Methven (65km).  From Christchurch to Ashburton Lakes, it is about a two hour drive (145km)  Just put Ashburton Gorge Road into your maps and off you go!
Your last stop for food will be at Mt Somers, and this is also the last location for fuel.  Do be aware that there is no cell phone service too much further past Mt Somers, so if you are using googlemaps, plug in your location before you start driving.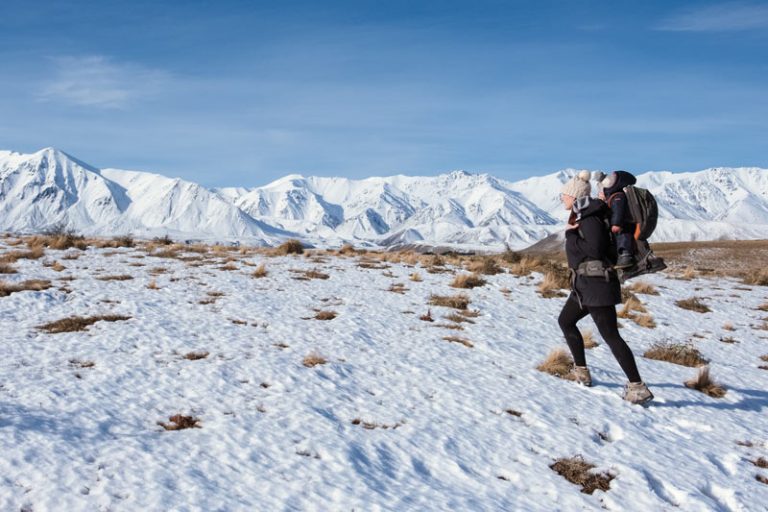 Weather at Ashburton Lakes
Do be aware the Ashburton Lakes are part of the Canterbury High Country, and does seem to have it's own microclimate.  It can be sunny and clear in Ashburton, just an hour away and windy and cloudy in the Ashburton Lakes. If you are checking out the weather in an app, Mt Somers is probably the closest main location.
Top Tip:  Arrowsmith Station has a webcam here.  I always check it out before I head up there to get an idea of the day.  Also quite fun to check if there has been snow up here in the winter. Lake Heron is absolutely stunning after a snow.  The reflections are second to none.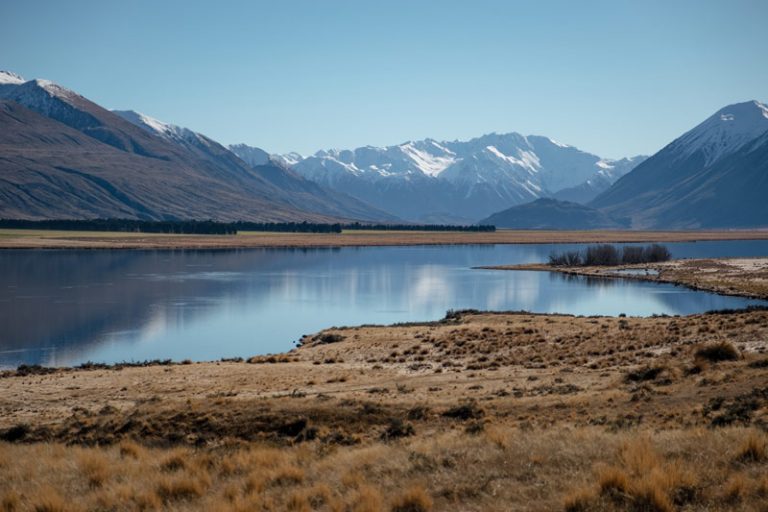 Lake Heron
Lake Heron is surely the hero of all the Ashburton Lakes.  She sits majestically below the mountains which only become more magical in winter.  The best thing about this high country lake is that it is easy to access and you will rarely find it busy.
How to get here: Head through the township of Mt Somers, follow the signs towards the Ashburton Lakes.  Just after the historic buildings, turn right into Hakatere Heron Rd and follow it for around 15 minutes. Lake Heron will be in your right hand side.  You will see a carpark on your right, but if you follow the dirt and gravel track through the carpark, it will lead to the base of the Lake Hill Walk and toilet facilities.
Lake Hill Walk
Lake Hill Walk will take approximately 45 minutes each way and will lead you to the top of the small hill you can see from the carpark.  It is an easy leisurely walk. Be aware of some of the marshy puddles after a rain.
One of our favourite places to take photographs is along this walk, right on the shore front, with those dreamy mountain views in behind.
Maori Lakes
You can find Maori Lakes on the drive to Lake Heron on Hakatere Heron Rd.  Located on your left, these beautiful small lakes have the most beautiful reflections on a still morning.  They are my favourite Ashburton lake, with the surrounding reeds and wetlands reminding me of an African oasis (minus the mountains of course) Make sure you stop, as it's one of the best things to do in Lake Heron area.
There are no walks here, but it is a lovely spot for a stop and some birdwatching.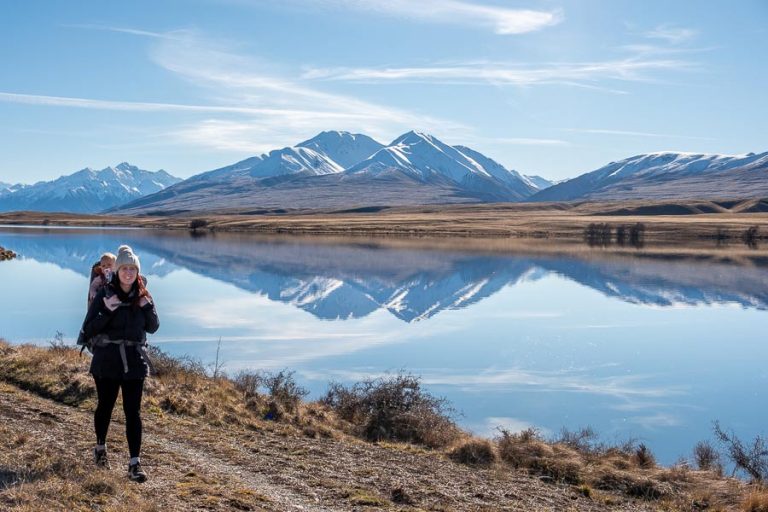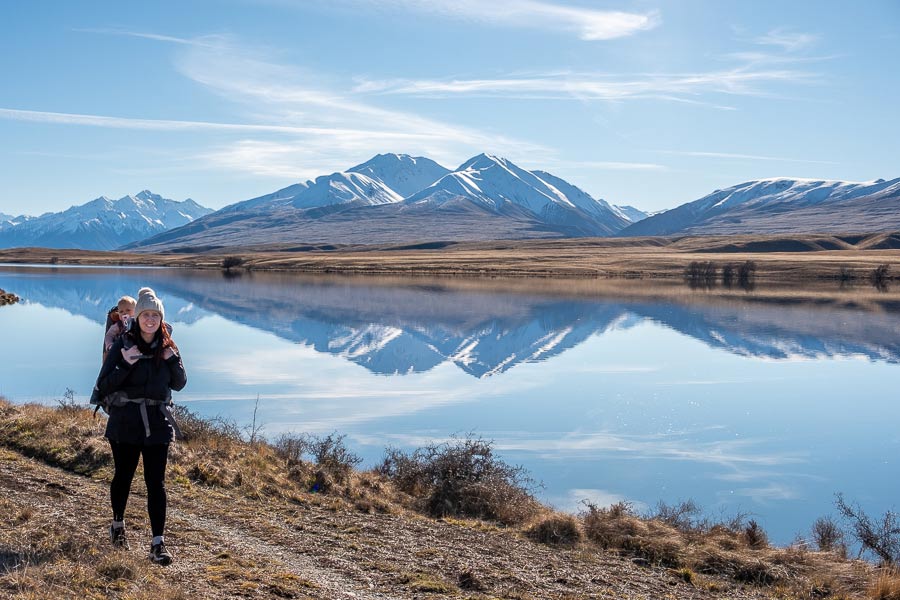 Lake Clearwater
Lake Clearwater, one of the larger Ashburton Lakes, is a great holiday destination that reminds me of yesteryear.  I imagine the old school baches (holiday house) that perhaps my grandparents used to holiday at. In many senses, this high country holiday destination is still an old fashioned spot.  There is no power here and no cell phone service. So if you are looking for an off the grid New Zealand vacation, this picturesque spot could be for you.
There are around 100 holiday homes at Lake Clearwater, with some available on Book a Bach websites, so you may be able to snag one for your trip.  The Lake Clearwater campground is located right on the lakefront and uses an honesty box system to collect the tariff.
Motorised powerboats are not permitted on Lake Clearwater, meaning your visit here will be quiet and tranquil.  They are however allowed on Lake Camp, a 2 minute walk across the road. So do bring your boat along if you have one.  
The Ashburton Lakes are quite well known for fishing and Lake Clearwater has a good supply of brown trout (do note there are limits on the number of fish you can take from the lake)
Walks at Lake Clearwater
Lake Clearwater Circuit
Take an easy walk around Lake Clearwater, following the 10km Track.  It will take you around 3 hours to walk, or you can mountain bike around it too.  Some of the track is a wider 4WD track and other parts are a narrow single bike track, so young children may find these narrow parts difficult.
Mt Guy Summit Walk
Standing above Lake Clearwater is the steep 1319m Mount Guy.  This is not an easy track, however the views over the Lakes District are breathtaking.  This 4.3km track is classified as a tramping track, and includes a flat walk around part of Lake Clearwater, to the base of Mt Guy, then a steep incline up a rocky face to the summit.  This walk is very exposed and would be difficult on windy days. Not advised with young kids. We did this walk with toddlers in our backpacks and it was pretty tough.
Lake Clearwater to Mystery Lake
I haven't walked the track to Mystery Lake yet but this walk is almost 12km and takes around 4 hours to walk one way.  You can find more about this walk here
Lake Camp
The beautiful and smaller Lake Camp is located opposite Lake Clearwater and will be the first lake you see from the road on your drive through the Hakatere Conservation Park.  
Lake Camp is the only one of the Ashburton Lakes where using a powerboat is permitted.  It is a popular for swimming, waterskiing, biscuitting, wind and kitesurfing. Do note there is no fuel station in the Hakatere Conservation Park.  Your closest fuel station will be in the Mt Somers township. 
One of the great things about the Ashburton Lakes, is that they are relatively shallow, meaning they can be warm in summer.  I've also heard they can freeze over in winter but haven't had the pleasure of seeing this with my own eyes. Since there are not a lot of swimable beaches in Mid Canterbury, this is surely the best place to swim in Ashburton.
Self Contained Vehicles can freedom camp at Lake Camp and there are toilet facilities at the far end of the lake. These toilet facilities are extremely clean and modern, some of the best I've seen.
Lake Emma
Lake Emma can be accessed by 4WD track (better during the summer when the ground is harder) or you can mountain bike or walk here from the roadside.  There is an old historic hut on the lakefront but you cannot stay overnight here. The 2 room hut was built in the late 1800s and is still accessible for day visits and picnic lunches.
After a picnic beside Lake Emma, you can follow the track to Lake Camp.  This 9km track is good for mountain biking and walking. The walk will take around 3 hours one way.
Another activity at Lake Emma is to bring your kayak or paddleboard and get out on the water.  There is an area to launch your "boat" at the north end of the beach, making entry to the water easily accessible.
Lake Roundabout
Lake Roundabout, a very unknown lake in the Hakatere Conservation Reserve, can be accessed from the Lake Emma carpark. It's a small wee lake with lovely views of the mountain.  If you are after a great instagrammable spot that no one else has, check out this wee gem. We have found it is a more sheltered place to picnic when there is wind at Lake Emma.
Lake Emily
Lake Emily is the starting point for the track to Manuka Hut.  You can stay overnight at Manuka Hut, which has 6 bunk beds, and is FREE.  (Bookings not required, first in, first served) This walk is also part of the Te Araroa Trail (the length of New Zealand)  It is 4.5km one way and will take about 90 minutes.  
You can also access Manuka Hut via mountain bike or horseback, and there is a further track (separate to the Te Araroa walking track) for this.  To find out more about this grade 2 track click here.
There are further longer walks such as the Lake Emily to Stour Bridge Carpark (15km) and the Lake Emily to Glenrock Stream walk, which is part of the Te Araroa Trail (43km) and you can find more about these longer Ashburton Lakes walks here 
How to get to Lake Emily:  Lake Emily is on Hakatere Heron Road (on the right hand side) on the way to Lake Heron.  You can park on the edge of the farm track, or 4WDs can continue on to the carpark.
Spider Lakes
Spider Lakes is practically a hidden area, opposite the signpost to Lake Emily.  These small lakes can only be accessed by foot, and the allure is the brown trout.  So if you are a fly fisher and want to practically guarantee you will fish on your own, then this is your hidden gem.  You can also access Lake Denny from here too.
Mystery Lake
Mystery Lake is not an easily accessible lake as you have to walk in a fair distance to reach it.  It wouldn't be my pick of the bunch to walk with a family, but if you are looking for a trail that not many would complete, then give it a crack.  The area around Mystery Lake is full of strange rocky knobs and formations and scree, so this may be of interest to you.
If you're up for a longer Ashburton Lakes walk, you can walk in from Lake Clearwater, which is 11.8km track, taking about 4 hours (one way) or from Potts River car park which is 9.2km and also taking 4 hours.  You will find Potts River Car Park on Hakatere Potts Road, on the way to Mt Sunday.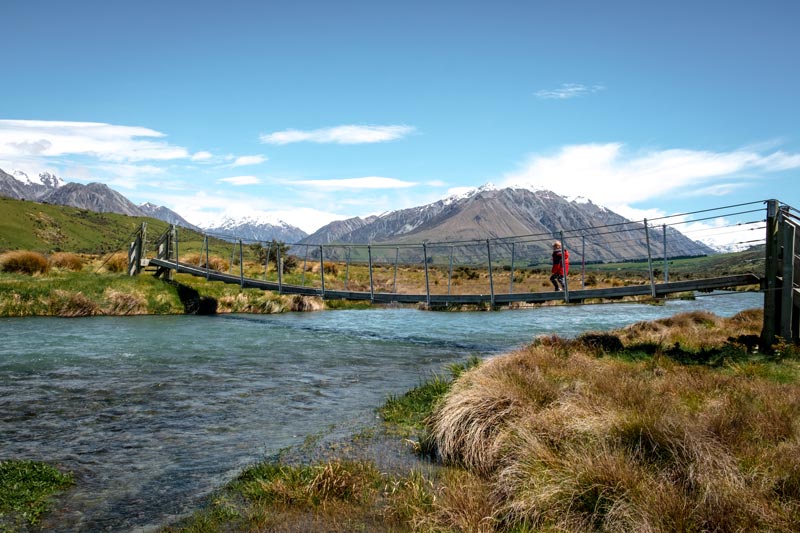 Mt Sunday: Walk and Lord of the Rings Film Location
One of the most popular things to do in the Ashburton Lakes is to climb Mt Sunday.  Mt Sunday was a Lord of the Rings film location, although nothing remains of it today.  Can't quite place the Lord of the Rings reference? Let me help jog your memory.
In the second Lord of the Rings film, The Lord of the Rings: The Two Towers, Edoras was where Aragorn, Legolas, Gimli and Gandalf met with King Theoden.  It is a large fortresses city high in the hull, whose people were farmers and horsemen.
You will be interested to know that Mt Sunday wasn't even on the original list of film locations to scout, however a storm caused the scout plane to detour, and they stumbled across the perfect location for Edoras.  If you are looking for a unique free Lord of the Rings experience, then exploring Mt Sunday and the surrounding area is for you.
Mt Sunday is one of my favourite Ashburton Lakes walks.  The track will take about 90 minutes return and is flat, except for the last 10-15 minutes of climbing Mt Sunday at the end.  The big drawcard is the incredible 360 degree views of the mountains and plains in this area. Kids will enjoy climbing over the two bridges and seeing the amazingly clear water that flows down the river through here.
Do be aware it gets very windy at the top.  I haven't ever been when it is still. There is also a very small stream to cross, so you may briefly get wet feet.  But don't worry, they will dry. For more information about this Lord of the Rings walk, click here
Take a tour:  While I do like the flexibility of driving myself, you can actually take a tour and sit down and relax.  The tour is a round trip journey from Christchurch, and one of the great things is that they have props to take photos with.  So if you are a fan of the film, click here for this awesome tour
How to get here:  Mt Sunday is located on Hakatere Potts Road.  Head past the Lake Clearwater settlement, down the huge hill and you will see the small "mound" in the middle of the plains.  That mound is Mt Sunday.
Read More:  Mt Sunday – for more info and photos of this walk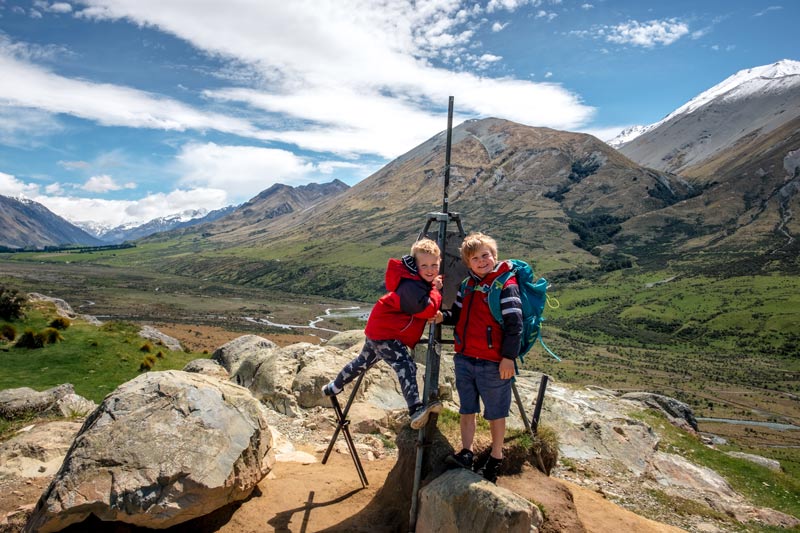 Mt Barossa Summit Track
Mt Barossa is a great climb if you are looking for some elevation gain and love the view of our beautiful Canterbury farmland.  You can't quite see the lakes up close from up here, so if you are after a lake view, then Mt Guy is also a high peak, albeit a harder walk.  There is some scree nearer to the top of the Mt Barossa track, so be careful with your footing when you are up here.
The summit of Mt Barossa is 1364m and you will gain a bit over 800m in elevation on your climb to the top.  Do be aware that this track is extremely exposed. There is no protection from wind or sun up here, so be prepared.
How to get here:  This walk is the first you will come across in the Hakatere Conservation Park.  After travelling through Mt Somers, on the Ashburton Gorge Road, you will a small car park with a green/yellow Department of Conservation sign on the right hand side.  If you reach the turnoff to Lake Heron, you have gone too far.
Fishing at Ashburton Lakes
Many people head to the Ashburton Lakes to fish.  The Open Season begins on the first Saturday of November and closes at the end of April, meaning no fishing at other times.
Trout are the most common fish found in the Ashburton Lakes. Salmon can also be found at Lake Heron. There are regulations as to how many you can catch (usually 2 trout) so have a look on the Fish and Game website for the current South Island Fishing Regulations (you can just look up the lake under the "Central South Island" section.
There are also local rules about whether you can fish by boat, or if it is fly fishing only, or you can use a kayak or dinghy, but it needs to be anchored etc.  So do be aware of these too.
You will also need to buy a fishing licence to fish at the lakes.  All the information about costs of fishing licences and buying one online can be found
here
Boating at Ashburton Lakes
Boating is one of the best things to do in the Hakatere Conservation Park, but do make sure you follow the rules.  The only lake that allows motorised powerboats is Lake Camp, opposite Lake Clearwater, however if you have a kayak, paddleboard, windsurfing or kitesurfing boards, or dinghy, you can use these on many other lakes.  Windsurfing is particularly good at Lake Clearwater as good strong high country winds are common here. 
Kayaking or stand up paddle boarding at any of the lakes.
Since motorised crafts are only allowed on Lake Camp, this makes the rest of the Ashburton Lakes, the best place to kayak or paddleboard.  Not having to fight for space, or manoeuvre through the wake of a speedboat will make for a quiet and idyllic experience. With many lakes to explore with your non-motorised craft, it will take you a long time to get bored paddling in the Hakatere Conservation Park.
Mountain Biking at Ashburton Lakes
The Ashburton Lakes are a great place to mountain bike.  There are a number of walking tracks that are shared use, that you can mountain bike on, or many bike along the gravel roads between the lakes.
Here is a list of the trails that are mountain bike accessible.
Stour Bridge Car Park to Lake Emily (15km)

Lake Emma Carpark to Lake Camp (9km)

Lake Clearwater Circuit Track (10.3km)

Potts River Carpark to Mystery Lake (9.2km)

Potts River Carpark to Potts Hutt (23km)

Potts River Car park to Buicks Bridge Car Park (21km)

Buicks Bridge car park to Boundary Creek Hut (13.9km)

Buicks Bridge car park to Potts Hut (29.7km)

Lake Heron Car Park to Double Hut (10km)
Please note:  We haven't cycled all of these so cannot comment on their difficulty.  They are noted that they are mostly grade 2 tracks, meaning there are mostly flat with some gentle climbs on a smooth track.
Ashburton Lakes Accommodation
Lake Camp
Self contained vehicles can freedom camp here around the edge of the lake.  New toilet facilities available here that are the cleanest and nicest public toilets I've seen.
Lake Clearwater
Basic campground available on the beautiful Lake Clearwater. Toilets available here, honesty box for camping fee.
Lake Heron Station
Situated at the magnificent Lake Heron, this beautiful accommodation includes a 3 bedroom cottage as well as a remote hut sleeping up to 13 people.  But don't be fooled by the terms cottage or hut, this is boutique accommodation in the most stunning location. Borrow a kayak, jump on a bike or fly with Lake Heron air to see all that the high country has to offer.
Arrowsmith Station
There are a variety of options for accommodation at Arrowsmith Station on Lake Heron including Mt Arrowsmith Lodge, Arrowsmith Woolshed (think marae style budget accommodation) Lake Heron Campground and a couple of backcounty huts accessible by 4WD.  

Sleeping in Edoras, capital of Rohan.
If the Ashburton Lakes are or Mt Potts Station feel a little familiar to you, it may be because this area was a Lord of the Rings film location.  While nothing is left of it now, you can walk up Mt Sunday for free and view the city of Edoras for yourself. While you cannot stay overnight here, you can stay at Mt Potts Lodge or neighbouring Erewhon Station and look over Rohan from there as the sun goes down.
Mt Potts Lodge
Cottage, studio, ensuite rooms and camping accommodation options are available at Mt Potts Lodge, about an hour from Mt Somers.  Close to the Mt Sunday walk and options to take a helicopter tour or heliski nearby in winter or take a farm tour around Mt Potts Station.
Erewhon Station
Erewhon Station, deep in the Ashburton Lakes is a large 35,000 acre sheep and beef farm, but perhaps their most exciting feature is their working Clydesdale horse stud. These beautiful horses are used on the farm instead of vehicles and you can join them on a horse and wagon tour, or even an overnight trip to their hut across the river.  
A unique opportunity to try out something completely different in high country New Zealand.  This New Zealand High Country experience is easily one of the most unique things to do in New Zealand.
A 4 bedroom homestead is available for accommodation and is a great place for a couple of families to share.  The four bedroom property sleeps up to 16 people and starts from $250 per night (for 8 people)
From Erewhon Station you can enjoy the beautiful scenery, horse trekking, high country walks, mountain biking, fishing and tramping.  A truly unique experience in amongst the mountains.
Accommodation Near the Ashburton Lakes
If you are interested in a day trip to the Ashburton Lakes, you may also like to stay in the surrounding areas of Mt Somers or Methven.  Here are a few family friendly accommodation options
Mt Somers is only a 35 minute drive from Lake Clearwater so is a great spot just out of the lakes area, while still close to the towns of Methven and Ashburton
Stronechrubie Restaurant and Accommodation
Stonechrubie has an amazing restaurant that is very well known in the local area, but it also has a number of motel rooms, including family rooms with a double bed and 2 singles.  The prices are very reasonable, so check out the latest prices here
Mount Somers Holiday Park
Mt Somers Holiday Park has powered tent sites, as well as standard cabins sleeping up to 6 people and ensuite cabins.  Check out the latest prices for the holiday park here
Southern X Lodge, Methven
Southern X Lodge has some great family rooms that can accommodate 2 adults and up to 4 children.  Some of the rooms can interconnect, so get in touch with them to find the best room configuration for you.  An added bonus is that breakfast is included during the winter and you can enquire about evening meals! How easy it that?  Check out the latest prices here
Skitime Methven
Skitime has a great range of rooms for families, starting from a deluxe lodge room sleeping up to 3, as well as two and three bedroom apartments with full kitchen and living areas.  One of the big highlights of Skitime is its beautiful restaurant and the fact that kids 10 and under eat for free here.
For the latest prices on accommodation at Skitime, click here
—-
Interested in More Things to Do in Mid Canterbury?
There are so many things to do in Ashburton Lakes, Canterbury and we know you will enjoyed this off the beaten track location.  Check us out on Instagram as we share more beautiful photos of the Ashburton Lakes and New Zealand