Mahinepua Peninsula Track
Mahinepua Peninsula Walk: Northland's most beautiful walk
Sweeping coastal views, secluded beaches and waters of emerald and sapphire, this family friendly walk was one of the highlights of my whole trip to Northland.  I love any walk with amazing views, so walking along the cliffs with ocean on either side, just made you feel on top of the world.
The Mahinepua Peninsula Walk, is located about 40 minutes north of Kerikeri in Northland, pretty close to the top of New Zealand's North Island.  The hike runs through the beautiful Mahinepua Scenic Reserve, with views over to the majestic Cavalli Islands.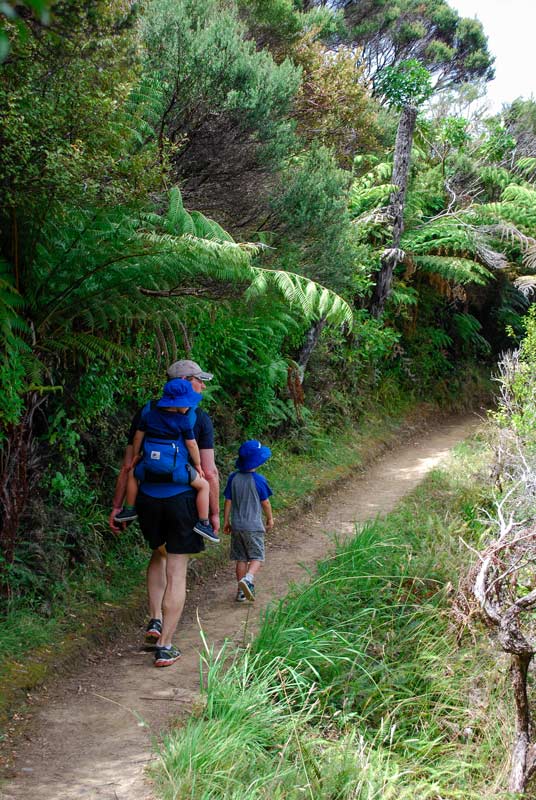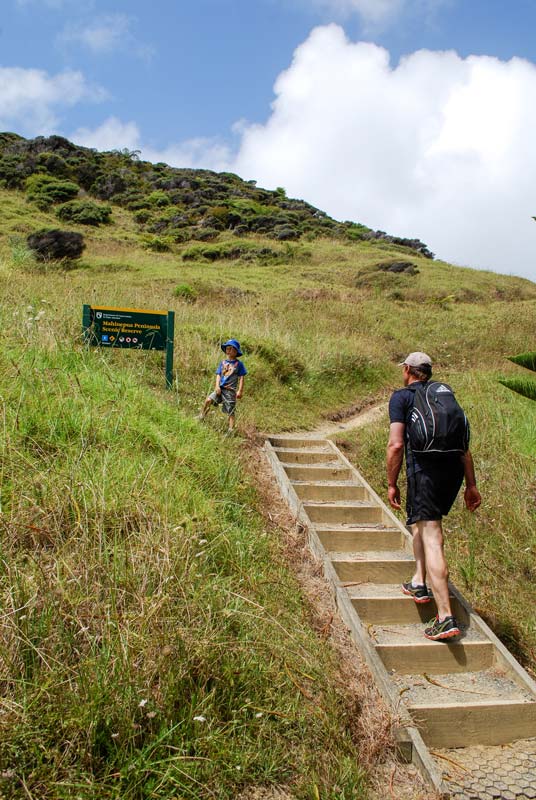 How long does it take to walk the Mahinepua Peninsula Track?
The walk took around 1 hour each way, not accounting for stops at the beaches and viewpoints.  You could definitely take your togs for a summers day swim at the beautiful golden beach, which is about the halfway mark along the track.  Adults would take around 1.5 hours return without kids.
Nathan walked the whole track when he was 5 and I suspect Kipton may have walked the majority of it (3 years old) but it was late in the day and he was already exhausted (oops!)  Ashley popped him in his backpack and I had wee Emilia on my front.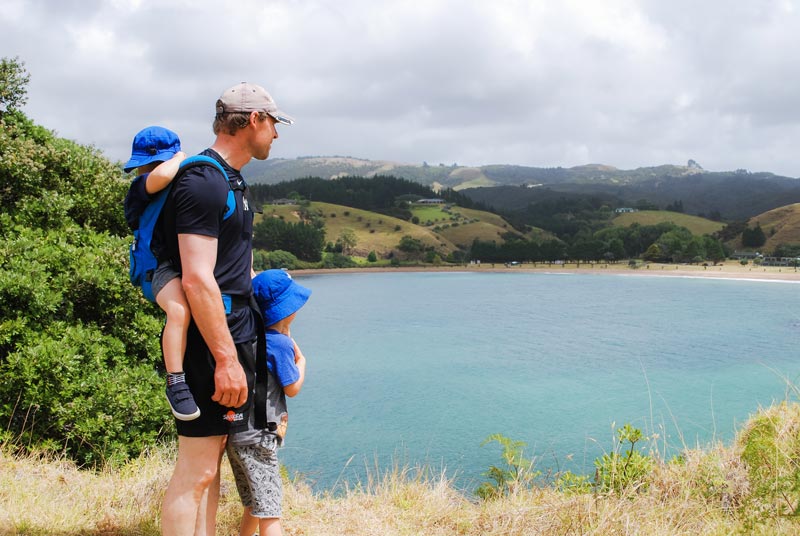 What is the Mahinepua walk like?
The track itself is a mixture of grass and dirt/gravel.  The path is well walked and is easy to follow. Things to note is that there is not a lot of shade along the way and its very exposed so it can get windy.  So make sure you have lots of sunscreen and even an extra layer if its not 28C like it was for us.
The track is undulating with a few short steep bits, but not difficult by any means.  I think Nathan counted around 300 stairs, give or take a 5 year olds counting. So for toddlers, there is plenty they can walk, and a shoulder carry would be suffice for those tired moments, or when you just want to go a wee bit faster.  Older kids will breeze through this and really enjoy the variety of views, stairs, cliff tops and beaches.
There is a trig point at the very end of the Peninsula which is the turnaround point.  This Northland walk can also be a loop trail. Adding the loop will add approximately an extra 20 minutes to the whole walk.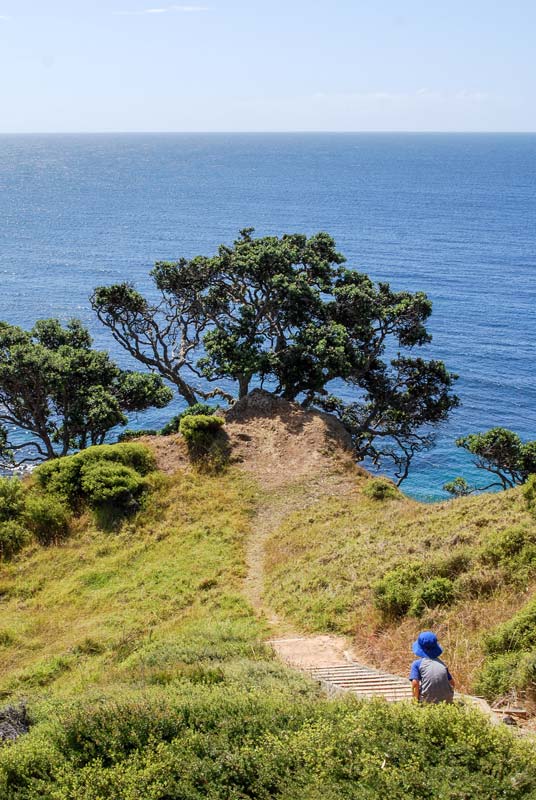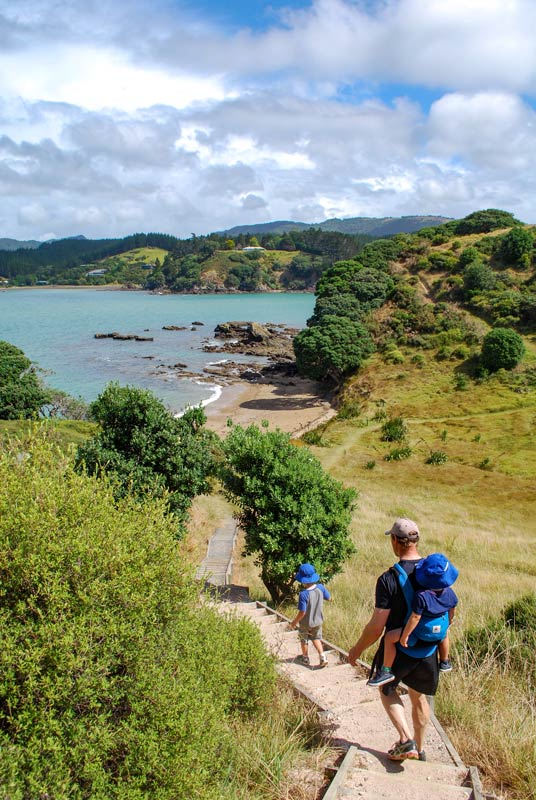 Keep your eyes peeled for wildlife
Locals have told us that you can often see dolphins and even whales while walking in the Mahinepua Scenic Reserve.  Unfortunately we didn't see any marine animals during our walk, but do keep an eye out just in case.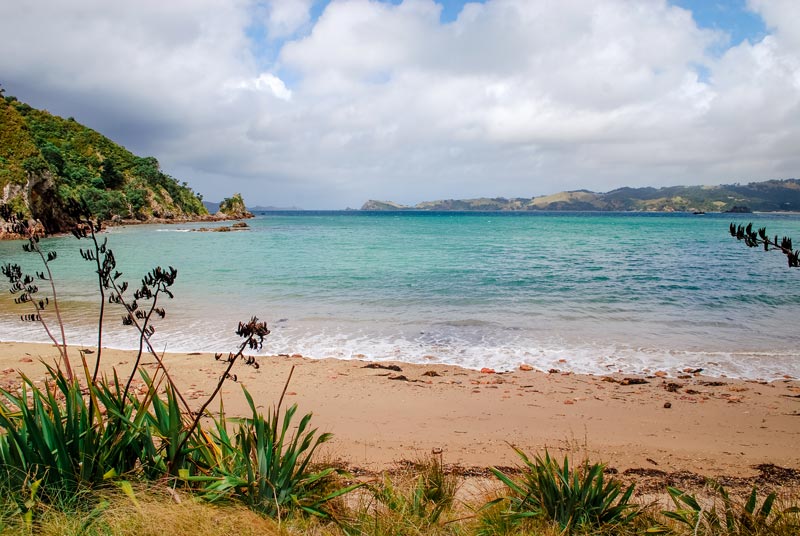 Now sit back and relax in Mahinepua Bay
After your walk on the Mahinepua Peninsula track, you may want to cool off in the beautiful Mahinepua Bay at your carpark.  It's a lovely beach here, I wished we had come earlier and didn't have to head back for dinner.

How to get to the Mahinepua Peninsula track
The Mahinepua Peninsula walk is definitely off the beaten path, so you will need to drive to get here.  There is no public transport options to get here, so it's road trip time!
From Kerikeri to Mahinepua (from the south)
If you are heading from Kerikeri, go through the township of Kaeo, and as the main road heads left over the one way bridge,  you go straight ahead on Whangaroa Road
From Coopers Beach to Mahinepua (from the north)
If you're heading south from Coopers Beach or Kaitaia, head over the one way bridge towards Kaeo and turn left onto Whangaroa Road
Once on Whangaroa Road, continue along until you turn right on Wainui Rd and follow the "tourist drive"

Head down Wainui Road for about 13km, then turn left onto Mahinepua Road.  It's a little concealed if you aren't looking for it, and its gravel.

As you reach Mahinepua beach, toilets will be on the right hand side.  Then head along the beachfront parking to the left, all the way along and you will see the start of the track by the fence.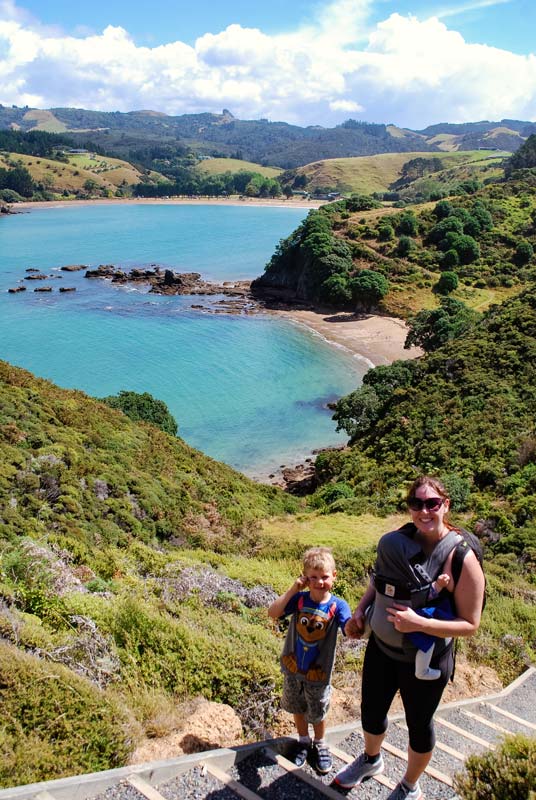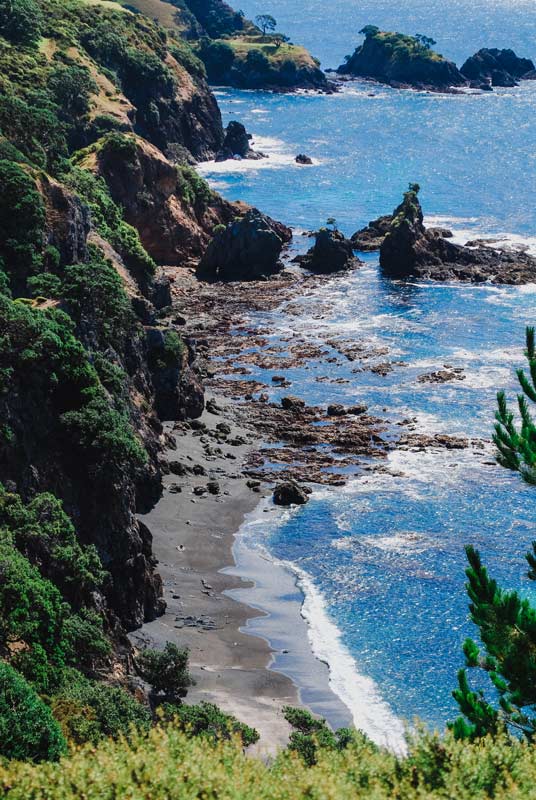 Accommodation near Mahinepua Bay
This place is truly beautiful and well off the beaten track, so I can understand wanting to stay here for longer.  Here are a few options in the local area.
Waiwurrie Coastal Farm Lodge
This would have to be the closest accommodation to the Mahinepua walk.  There are two bedrooms at this bed and breakfast with all meals available if you wish.
Te Koha Lodge
If you are looking for a little luxury, the Te Koha Lodge is for you.  With suites for two and larger accommodation for four, this will be a plush place to lay your head.
Matauri Bay Holiday Park
I remember staying at the Matauri Bay Holiday Park as a kid and have such fond memories of the expansive flat beach and learning to boogie board for the first time.  This holiday park has campsites, chalets, units, caravans and old style cabins. The best part of the Matauri Bay Holiday Park is that it is beachfront. A perfect summer holiday!  
While there are not a lot of accommodation options close to Mahinepua Bay, you can also look at accommodation in Mangonui and Coopers Beach to the north.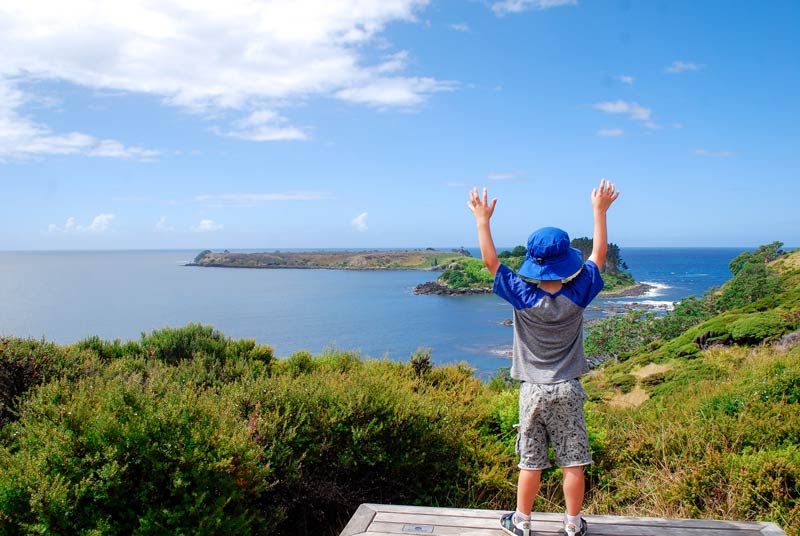 Other awesome things to do in Northland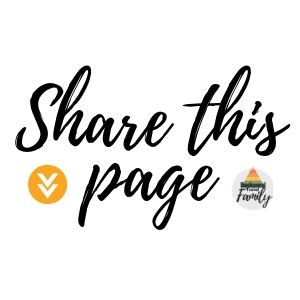 This was the perfect length walk for a summer afternoon, albiet a little hot. I love a walk with views and these had plenty. A real highlight of our trip to Northland