Urupukapuka Island Escape: One of the best Bay of Island Tours
Urupukapuka Island: The Best of Northland's Bay of Islands Tours
With waters as clear as a tropical island or Fiji, and the most incredible 360 degree views of the Bay of Islands, this is my top pic for a day trip in Northland.  Welcome to my hidden gem, Urupukapuka Island.  The cheapest and best value Bay of Islands Tour.
Urupukapuka Island is only accessible by boat, and is about 40 minutes from Paihia or Russell in the Bay of Islands.  We hopped on board the Explore ferry to Otehei Bay (main bay and wharf at Urupukapuka Island) and spent the whole day on the island, and to be honest, we could have stayed longer.  Of all the Bay of Island Tours, this trip has you spending just enough time on the boat to see the beautiful scenery, but with all the fun of an island stopover.
So if you don't have your own boat, you could jump on the ferry like we did, or you can combine your trip with a Hole in the Rock tour.  Explore take a boat out to the famous Hole in the Rock and then do a stop at Urupukapuka Island on the way back. You can even hop off your Hole in the Rock tour and get a later boat back if you wanted to stay for a while.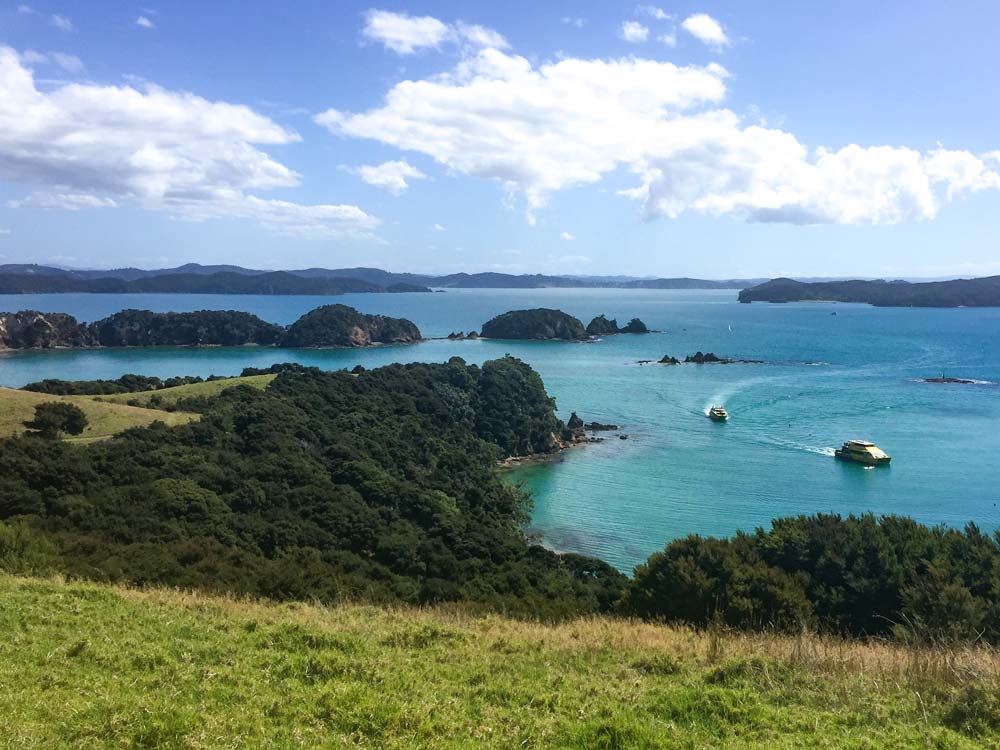 How much does it cost to get to Urupukapuka Island?
As at November 2019, it was $50 return for the 40 minute ferry ride, but free for under 5s, so this made it a pretty cost effective day.  You can take strollers onboard and we even saw a family with one of those collapsible beach wagons for transporting gear, filled to the brim with kids equipment and food.   We actually borrowed an inflatable paddleboard from a friend and carried that with us, which turned out to be a perfect idea. Otehei Bay is so sheltered, shallow and clear, it made it an amazing place for beginner paddleboarding.
Why is Urupukapuka Island perfect for families?
Sheltered shallow bay which is perfect for babies and toddlers

The kids snorkelled with fish under the wharf

Warm water

Picnic tables and shade right near the beach

Walks with 360 degree views of the Bay of Islands (short and long)

Cafe/Bar/Restaurant if you don't want to bring your own food

There is Giant Jenga, Petanque and Volleyball on the lawn in front of the Explore Cafe

DOC campsites scattered over the island

Kayaks/paddleboards for hire

We saw dolphins from the ferry and they slowed down for us to watch them!

The best value of the Bay of Islands tours
Top Tip for Families:  Choosing the best spot!
As soon as you arrive, nab a picnic table in some shade to the right hand side of the wharf (when looking at the island)  It will get very sunny and shelter is hard to come by.  It also gets very busy on the cafe side with day trippers, or those dropping in for just an hour, so its far more quiet on this side.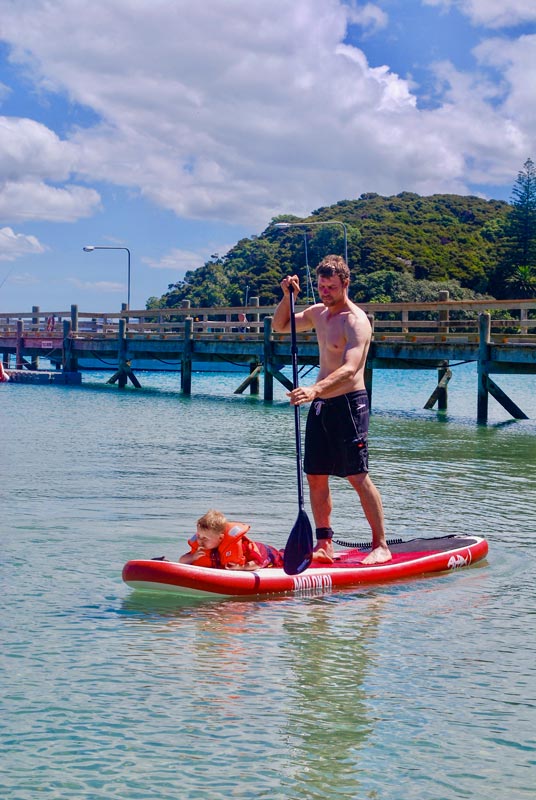 Walks on Urupukapuka Island
There are many loop tracks on the island, ranging from 1 hour short loops to the whole 5 hour island loop.   Probably my greatest regret was not going on one of these 1-2 hour walks. Instead we spent more time at the beach because it was the first really clear and sheltered place we had been for Nathan to learn to snorkel.  And he saw fish! So it was worth it for him.
My secret spot for the best views
If you don't have the time, or the patience to walk with the kids, I will let you in on a wee secret.. You can get epic 360 degree views, just 10 minutes walk from the beach.  If you are standing on the jetty looking at the island, you will see the peninsula up to your right. Head up the wee sheep track, which will take you all of 5 minutes and you can already see to the bays on the other side of the island.  If you head to the top of the Peninsula, only another few minutes up the hill, you will be able to see widely across the whole of the Bay of Islands. 
Kids will find this little track up quite steep, but it's totally doable as its short.  My 3 year old loved sitting up on top of the peninsula watching the boats and helicopters fly in.  
There won't be any shelter on these walks on the island, because you really are right up on top here, so my advice if you are here in the height of summer, would be to do one of these walks, first up before the sun gets too intense and hot, then start your swimming/beaching after that.  We were pretty hot and sweaty just from the short climb.
Official Walks on Urupukapuka Island
There are a number of walks and tracks around the island.  The official Urupukapuka Island walk is 7.3km and will take about 5 hours.  My guess would be longer with kids and heat.  But there are a number of loop tracks that will provide an awesome experience but keep the walking time down
Otehei Bay Loop (20 mins – 1 hour)
Cable Bay Loop (1 hour)
Urupukapuka Bay Loop (1-1.5 hours)
Paradise Bay Loop (1 hour)
Pateke Loop (1.5-2 hours)
Cliff Pa Look (1 hour)
Akeake Peninsula (1 hour return)
A number of these walks start from other bays on the island, but you can join them together to create your own ideal walk.  Explore have put together an amazing map, so grab a copy when you jump on board.
Island Conservation Centre
Project Island Song helps to keep Urupukapuka Island pest free and is helping to return the birdlife to the island.  You can learn all about the conservation efforts and more about the history of the island, in the Island Conservation Centre.  It is free for both adults and children.
Getting to Urupukapuka Island by Boat
We loved the guys at Explore for this trip out to the island.  They were super helpful with the stroller we took out there and it was just really nice to be greeted with smiling happy faces who just really looked like they wanted to be there.  I think in general that this something that Kiwis are known for, but it was just really nice to see.
As mentioned above, you can take a ferry to Urupukapuka Island or visit as part of a day trip or Hole in the Rock tour.  The boats leave from Paihia and also do a pickup in Russell. 
Seeing dolphins in the Bay of Islands
We saw dolphins!  They have to be one of my favourite animals and yes, I do get giddy, like a small child when I see them, but we saw at least a dozen.  Some rode the stern of the boat and we even saw some out in the distance leaping out of the water. We also saw a number of fish while snorkelling at Oretei Bay.  The water is beautifully clear here so was a great place for the kids to learn to snorkel.
If you're looking for the perfect little island getaway and a cheap way to experience the Bay of Islands, look no further than Otehei Bay on Urupukapuka Island.
More awesome things to do in Northland
After your amazing day trip to Urupukapuka Island and tour of some of the beautiful Bay of Islands, there is no doubt that you will want to stay in the region.  Here are some more of our favourite things to do in Northland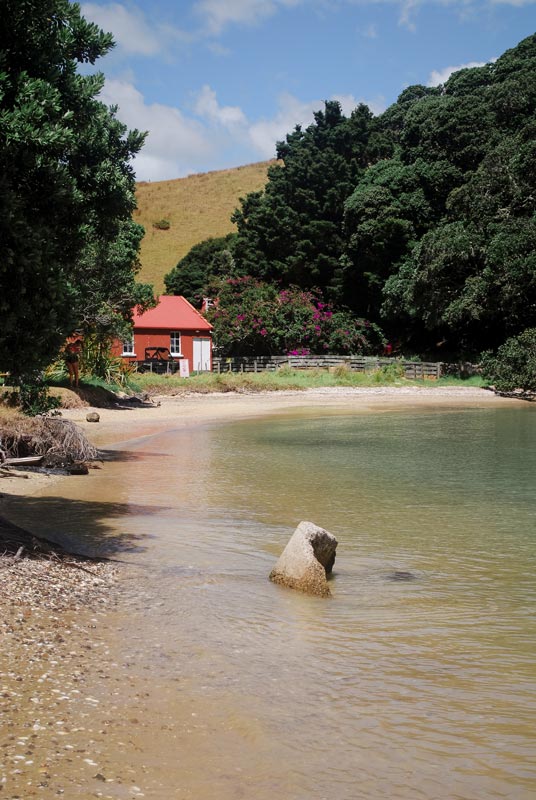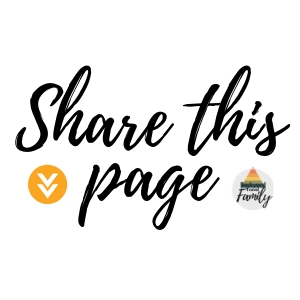 Ive been a bit scared to snorkel in the sea. I've only done it in the pool, but today I did it! I did it! We saw fish under the wharf. And I jumped off the wharf too! I was very brave
This trip really wowed me! Even as a local kiwi, I felt like I was somewhere overseas, somewhere new. So that feeling of holiday really hit me. Incredible! This is one bucket list activity thats not just a one off. We will be going again.