Lake Marian Track Fiordland: Half Day Family Walk with Kids
Lake Marian Track with kids
The Lake Marian Track on Milford Road in Fiordland has been at the top of my bucket list for half day walks in the South Island.  Why? Well, its this beautiful alpine lake located in a hanging valley, secluded way up in the Fiordland National Park.  The water was remarkably clear and this beautiful, almost turquoise green.But to be perfectly honest, I didn't actually think I would be able to do it for years, as it's an uphill climb and I have these lovely things called…. Children.  When we tackled this trail, Nathan was 5, Kipton was 3 and Emilia was exactly 11 months old. And you know what… we made it, it was amazing, and I am just so stoked!
While you are in the area, make sure you check out a Milford Sound Cruise too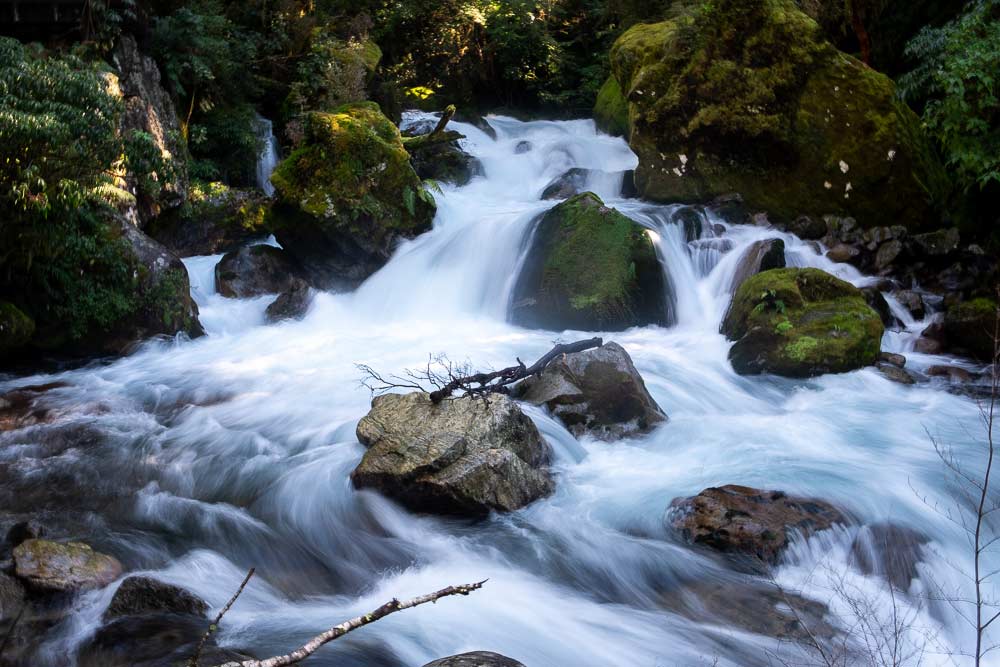 Can a 5 year old walk the Lake Marian track for 3 whole hours?
Let me preface this by telling you about the trail.  The Department of Conservation said it was a 3 hour return journey, which was basically all uphill past the waterfalls.  So I sat on the fence for such a long time about whether we, as a family of 5, could actually make it. Two adults, two backpacks, and one kid left over…hmmm.  Could our five year old actually walk at least 90 minutes uphill? But… it's the best half day hike in Fiordland…  
Prepared for the worst
For the first time we bought some treats along the way.  In general, I hate using food as reward, but you know what, in this case, it was about making my bucket list, and I was completely ok with it.  Nathan and I had a pre walk pep talk and he seemed positive and in the zone. And you may be thinking that I over thought this and over prepped, but when you drive 2 hours each way for a walk, you really want it to be successful.  
But you know what… I need not have worried at all.  My 5 year old walked the whole way up and back, without any injuries (phew!). Mr 3 year old walked up the first 1 hour and 20 minutes before he lost concentration and we didn't trust him not to fall over.  So Ashley packed him in the backpack for 15 minutes before letting him walk the rest. We did carry him the whole way down due to time constraints and terrain, which I will explain to you next.
Lake Marian Track Terrain
Wow, the trail here was rocky!  You could walk to the waterfalls on the trail just fine, but once you were past this, there was not a flat piece of dirt or trail to be found.  If you imagine a stony river bed, but dry, so there is no water at all, it was like climbing that, THE WHOLE WAY. I think the kids actually found that really interesting, along with the fact the trail was in forest, so you couldn't see that far ahead of you.  To be honest, they do much better in forest trails like that, than an easy flat track that doesn't feel like they are getting anywhere.
It took us 2 hours from the beginning of the trail to Lake Marian at the very top.  You can't actually see the lake until the very end, so it's quite a nice surprise. There are a few views down the valley on the way up, but the majority is in beautiful forest.  Besides walking on rocks, you also walked on tree roots. Amazing trees that have been growing for hundreds of years were sprawling everywhere..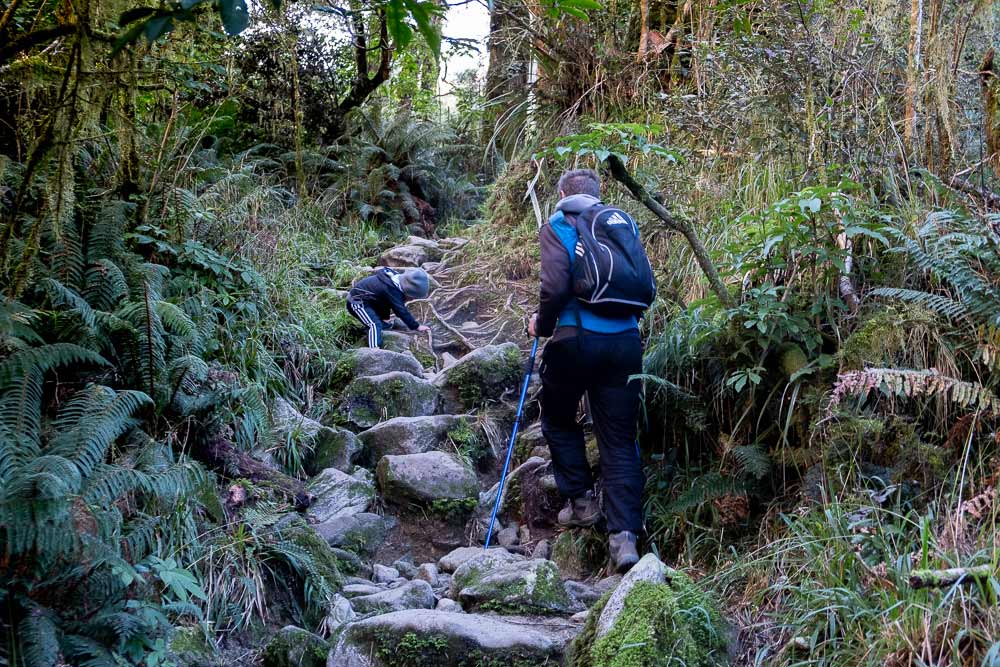 Rock Climbing Skills required (just a wee bit)
So this isn't a half day hike for everyone.  There was one section where you had to hang onto tree roots to climb up a couple of metres to get out of a riverbed, and the stony terrain would mean that those knee or ankle issues would need to take care.  We brought our hiking boots, which was great in the terrain and had it been rainy, it would have been a muddy messy walk. But there were plenty how who running shoes and were fine.
I'm also not saying that any 3 and 5 year old can walk those, because certainly I was surprised at the ease they walked up to Lake Marian, even when it took them 2 hours.  But you will know your own kids and if you walk often like we do, and have some patience, then it is doable, but I wouldn't recommend this in general for younger kids.
Lake Marian Summit
Wow wow wow!  It had been on my list, I had seen in on instagram. (I swear all the Lake Marian posts were stalking me) and it was just as beautiful a lake as I had hoped.  We had a beautifully sunny day and as you walked through the clearing, the blue green lake just glistened in the sunshine. There aren't a lot of flat places to sit, but you can perch on the shore or sit on the rocks.
By the time we fed the troops, fed the baby, took some photos and sat peacefully for what seemed like one whole minute, we decided to head back down, as we really didn't know how long it would take us.
Heading down the Lake Marian Track
Much to 3 year old Kiptons disgust, we popped him in the backpack to save us some time and trauma, as no doubt he was going to fall.  5 year old Nathan put on a cracking pace downhill and we made it down in about 1 hour 40 minutes. All the stones, boulders and rocks meant there was a lot of concentration, which I swear kept Nathan busy, but if you have bad knees, this downhill will be a challenge.
Safety on the Lake Marian Track
We arrived back to the carpark around 3.45pm (after leaving at 11.30am) and we met people along the way who were just starting the walk then.  When we were there in April, sunset was just before 6.30pm, and obviously that's at sea level. In the mountains you lose light so much faster, so we did advise those later walkers to just be careful and consider the light as it was definitely going to take 2.5-3 hours for adults return.  
So please consider these factors when doing an alpine hike.  The weather can change quickly and you do not want to be stuck on one of these trails in the dark with no cellphone service.  I would definitely advise always taking some thermals and jackets, food and water just in case. We came across a few girls who got lost off the track, which I'm not quite sure how, but clearly it does happen.  So be prepared and follow the orange triangle markers.
For more information on how to prepare safely for alpine hikes in New Zealand, check out the Mountain Safety Councils Guide to Walking/Tramping in New Zealand 
Where is the Lake Marian Track?
The Lake Marian Track is located on Milford Road, the road that leads you to Milford Sound.  So many visitors will just go to Milford Sound and even back to Queenstown in just one day, but I implore you to slow down the journey and see what the Fiordland National Park has to offer. 
The Lake Marian carpark is about 1 km down a gravel road called Hollyford Track. Keep an eye out, it is a righthand turn coming from Te Anau, but the track and Humboldt Falls (also on this road) is on the signpost.
If you really enjoy these type of hikes in the Fiordland National Park, you may also be interested in some longer walks, such as the Milford Track or the Routeburn.  They do recommend these Great New Zealand Walks for children 10 year old and above, so we will just have to wait to give these a go.  Or you could try the Key Summit Track, which is the first few hours of the Routeburn Track and is also a popular half day walk near Milford Sound.
There are actually a ton of awesome things to do in Fiordland, so whatever trail you explore, we know you will love it
Want a short option? Lake Marian Falls Track
The walk to the waterfall is a great option for those wanting to enjoy our native bush and stretch those legs along the Milford Road track.  Toddlers and preschoolers would be able to walk this track for as long as you can bear their pace.
And just steps into the walk, there is a great swingbridge over some of the bluest, crispest water I have ever seen.  You will have heard all about the Blue Pools in Wanaka or in the Waikato, but this water just has to be seen to be believed, and noone seems to talk about it, so a great little hidden gem here.  The kids will love the swingbridge that is actually quite bouncy, and to be honest, the fence could have been a little higher given the bounce. But all quite safe.
The track to Lake Marian Falls will take about 15-20 minutes to reach so a perfect stop along the Milford Road.  There are also picnic tables in the carpark for a pre or post walk lunch.
Other things to do on the Milford Road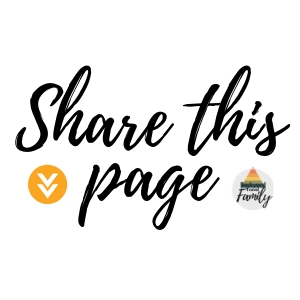 Mum said it was going to be really hard, but I was really good, and I didn't even get tired. The lake was really pretty, and then I got to be the leader the whole way day. There was one bit that I had to do some rock climbing and that was really cool.
I wasn't sure whether it would be possible to walk the Lake Marian Track with kids, but it was, and it was incredible! Honestly one of the highlights of the whole South Island for me!