Trig M Track, Canterbury: Great Beginner Uphill Hike
Trig M Track, Canterbury
The Trig M Track is a great 2-3 hour return walk overlooking Lake Lyndon, with views right over the Canterbury Plains, even out to Christchurch City and the ocean.  The track is not particularly tough, but it does have some steep sections and is uphill the majority of the way.  The bonus is that the track is quite short and you are likely to make it to the top in 90-100 minutes.  This is via the Starvation Gully track to Trig M, the shorter of the two tracks here.
It is a great beginner hike in Canterbury, so if you are looking for a good uphill walk, following a clear path with markers to test your fitness then this is a great one.  You are well rewarded with beautiful views in all directions, so even though it is short in half day walk terms, it will definitely feel like you are up on top of a mountain.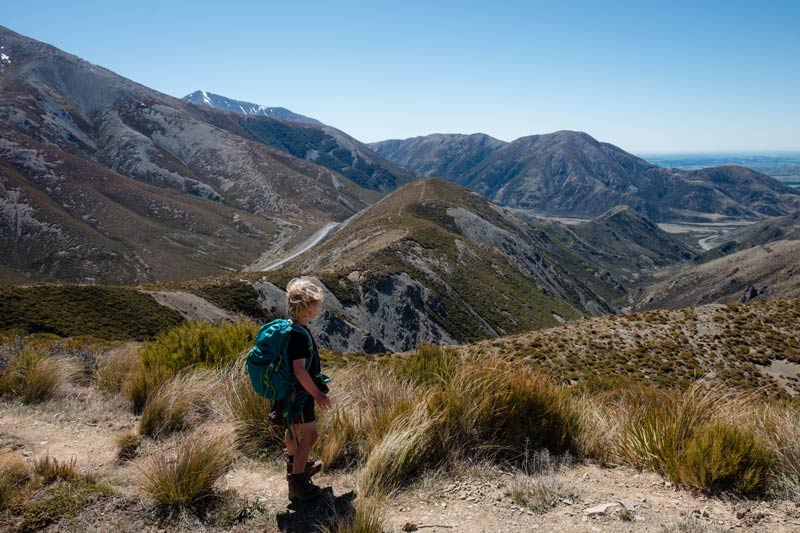 2 tracks to reach Trig M
There are two tracks that will lead you to the Trig M summit.  These are
Starvation Gully to Trig M Summit: 3.2km uphill to the summit, 2.5-3 hours return.  We took this track as the most direct route.
Coach Stream to Trig M Summit: 5.5km uphill to the summit, 3-4 hours return.
A few things to note:
Part of the Coach Stream Track runs through private land at Ben More Station.  This land is closed for lambing between 1 October and 20 November each year, so you will need to take the alternate route at Starvation Gully at this time.
Starvation Gully Track is a dog friendly walk in Arthurs Pass
How to get to the Trig M Track from Starvation Gully.
The Trig M Track is located in Korwai/Torlesse Tussocklands Park, near the Porters Pass Road on the way to Arthurs Pass.  It is about 85km from Christchurch City Centre and will take about 1 hour and 15 minutes to drive there from the CBD or just over an hour from Christchurch Airport
This has to be one of the worst signposted walks for a Department of Conservation track.  They are usually easy to find and have a big green and yellow sign but this does not.  
If you are coming from the Christchurch direction, Starvation Gully is on your left, on a tiny pull off area just before Lake Lyndon.  Start looking for it just a few minutes after you come down the hill from the lookout at Porters Pass.  If you reach the lake, you have gone too far.
If you are coming from the Arthurs Pass Village side, go past Lake Lyndon (on your right) and start looking for that verge with the marker pole (details below)
How to spot it:  You will see a fence post with a marker pole (you know the wooden ones that help you climb over the fence) and a map board over the fence.  That is it.  If you google earth "Trig M" you will be able to see the track head down to the road, to give you a wee indication.  But there will be no big sign saying Trig M Track.  Parking is literally on the verge of the road.
What is the Trig M walk like?
The track is well marked and starts off as a dirt farm track with only a few minutes on the flat grass before it winds up the hill.  As you start the walk you will see a big hill up to your right, but this isn't the summit, sorry to disappoint.  There are a few false hill summits.
We found the first 25 minutes until you reached the first ridge the hardest.  As your muscles are warming up, and it's quite a steep short section is always a bit of a killer for the lungs, but after this it is a little more undulating with some passages of down and flat (small passages but enough to relieve the legs a little)
We hiked this track with a 5 and 7 year old, as well as a 2 year old on our back and these were the timings.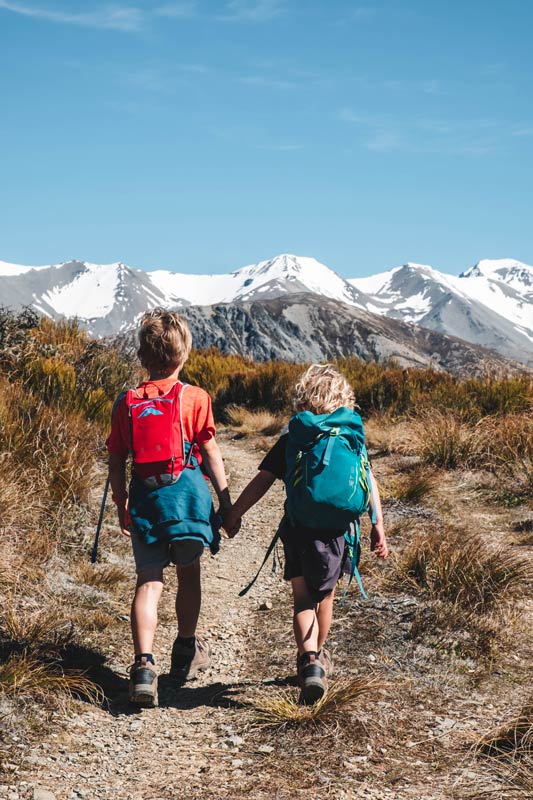 How long does it take to hike the Trig M Track
Start to first ridge – 25 minutes

15 more minutes hiking for the first glimpse of Lake Lyndon

15 minutes to the Coach Stream and Starvation Gully track cross over with the 1 hour to go sign

35 minutes to the Trig M Summit from here (not the 1 hour it discussed)
It took us about an hour to head down, some with the 2 year old walking, so I would say it would take 40-45 minutes at a decent adult pace to make it back down the track.
The Summit is marked with a trig point and there is plenty of room to explore up here.  It is a big hill summit so feel free to bring a picnic.
Trig M Track Elevation Gain
The elevation gain for the Trig M Track is about 400m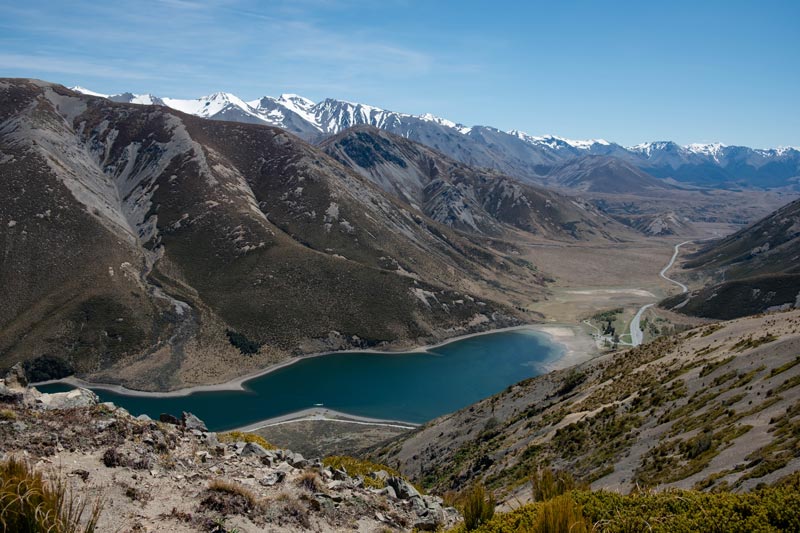 Weather in Arthurs Pass
The weather in Arthurs Pass can be very volatile given it is an alpine region.  Lake Lyndon is 816m above sea level already and really has its own microclimate compared to just down the road in Christchurch.
It can be incredibly hot and dry in the summer and often snows in the winter, so please check the weather forecast before you head out on this track.  The whole track is completely exposed to the elements.  There is no shelter or tree lines so it is very out in the open.

Facilities nearby
There are no facilities right at the Trig M Track (I mean, there is barely a sign) however there are toilets and a shelter at Lake Lyndon just two minutes down the road.
If you are looking for food, the closest cafes are at Springfield, 20 minutes from Lake Lyndon towards Christchurch or if you are continuing on towards the West Coast, Arthurs Pass Village is 50 minutes drive from here.
Other Awesome Canterbury Walks and Activities