Sharplin Falls Walk: Easy walk for beginners and families
Sharplin Falls Track, Mid Canterbury
Sharplin Falls is a beautiful waterfall nestled in the foothills of Mt Somers.  It's a great family friendly walk, suitable for kids and beginner hikers too.  A lovely stroll through the beautiful bush, full of birdlife and ending at the lovely Sharplin Falls waterfall.
The original Sharplin Falls track was damaged by the Christchurch 2010 earthquake.  So if you have walked the Sharplin Falls track pre-earthquake, you will now notice the track is completely different.  In fact it runs on the other side of the stream.  The old Sharplin Falls track used to be a turnoff on the Mt Somers Track to Pinnacles Hut.  
But now, the Mt Somers Walking Society has built a completely new track on the western side of the stream and in winter 2023, it finally reopened.  So many volunteers and donors have helped to get this project up and going, so a big thank you to all the locals.  They've done such a great job.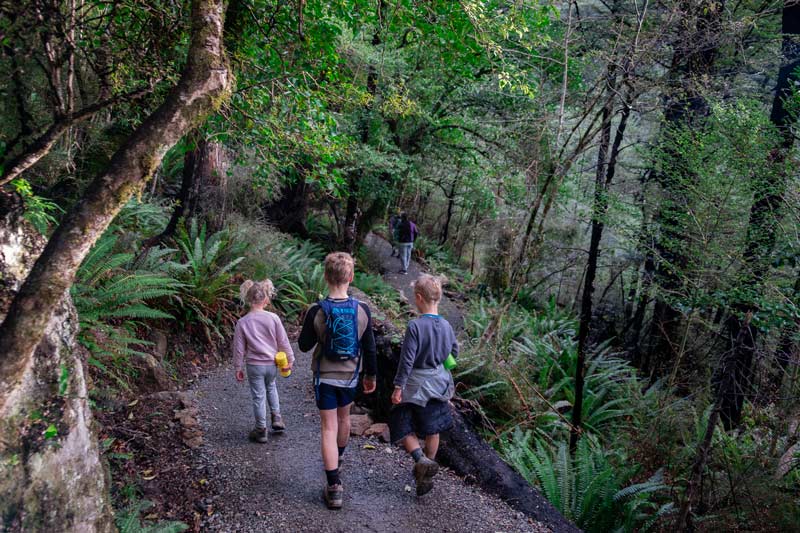 Where is the Sharplin Falls track?
This track is located in the foothills of Mt Somers in the Mid Canterbury region of South Island, New Zealand
Sharplin Falls Reserve is located at the end of Flynns Road in the small rural settlement of Staveley.  You may have heard of the Staveley Store which is known for some good home baking.
It's about 35 minutes from Ashburton and a bit under 90 minutes from Christchurch.  Sharplin Falls Reserve is the start of this short walk, along with the hike to Pinnacles Hut and the Mt Somers Summit.  You can also walk over to Woolshed Creek Hut from here, but it isn't the closest entrance.
How long does the Sharplin Falls Track take?
One of the signposts recommends about 45 minutes to walk to Sharplin Falls, however it took the kids and I around 35 minutes with a few photo stops.  I would allow 1-2 hours return to enjoy the track at leisure.

What is the Sharplin Falls walk like?
I was quite surprised how undulating this trail was.  It wasn't too difficult by any means but there are definitely 2-3 minutes of uphill, then downhill, then uphill again.  They have named a number of cute sections along the trail, including "the zig zag."
When we visited, there were plenty of toddlers and kids walking along the trail, so it's definitely a family friendly track.  There were a number of wooden bench seats along the way, so a great place to stop and enjoy the bush and birdlife around.
The terrain on the Sharplin Falls track was that of compacted gravel.  As the track is quite new, it's quite a soft pack at the time of opening but this will compact down over time.  You do not need any tramping boots or particular gear.  Normal running shoes are absolutely fine on this track.
 
Highlights of the Sharplin Falls Track
Sharplin Falls Waterfall
Sharplin Falls itself can be viewed from a great viewing platform.  There is a seat here to rest and would be perfect with a thermos of hot coffee and that perfect outlook.  Sharplin Falls isn't a huge waterfall although it has a number of cascading sections.  The water is incredibly clear and creates some beautiful blue green pools.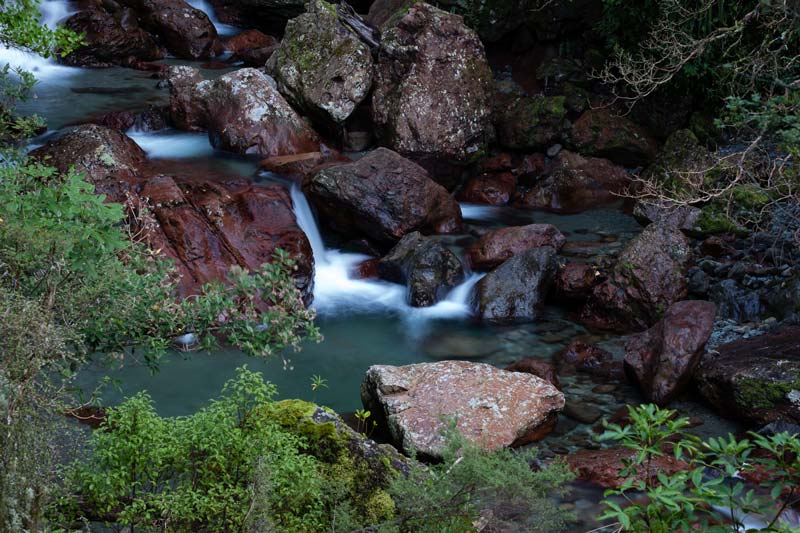 2 big bridges
Unfortunately these are not swingbridges (perhaps fortunate for some) but these 2 bridges are sturdy and have some lovely views.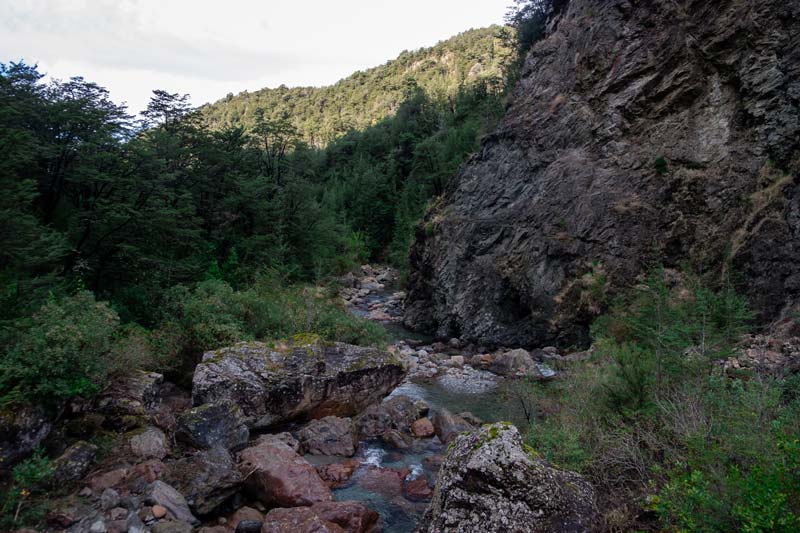 Exploring
You can access the stream under the first swingbridge and this is a great spot for some rock hopping, stone throwing and general river exploring.  You could easily have a picnic here and cool your feet off in the summer.  There is no access to the base of Sharplin Falls so if you're after a bit of water play, this is the best spot
The second bridge is right before Sharplin Falls and there's a cool little cave to explore and lovely forest vistas here.
 
What else to do here in Mid Canterbury