16 Top Tips for Camping with Kids and Loving It!
Top Tips to make Camping with Kids a Dream
Camping is one of those activities that can be extremely daunting for those that weren't brought up with it.  I wasn't brought up with camping at all, but I did spend 7 months camping through Africa and Europe in those big OE pre kids times (they feel so long ago right?)  I was so terrified of wasting my money staying in dingy hotels and hostels that this seemed like such a better option with my own bed every night, and you know what, it totally was!
If you are new to camping, or haven't camped with your kids yet then the best advice I can offer is to be organised and we have a ton of tips that will help you.  If you aren't quite sure whether you want to commit to a tent, then perhaps try out a family campervan holiday and our guide here
If you're on the other side of the fence, wondering why on earth you would camp with your kids, then here are a few great reasons below
Please note: this article may contain affiliate links.  These do not cost you any extra but a small commission may be earned to help support this website and bring more useful info to you, for free.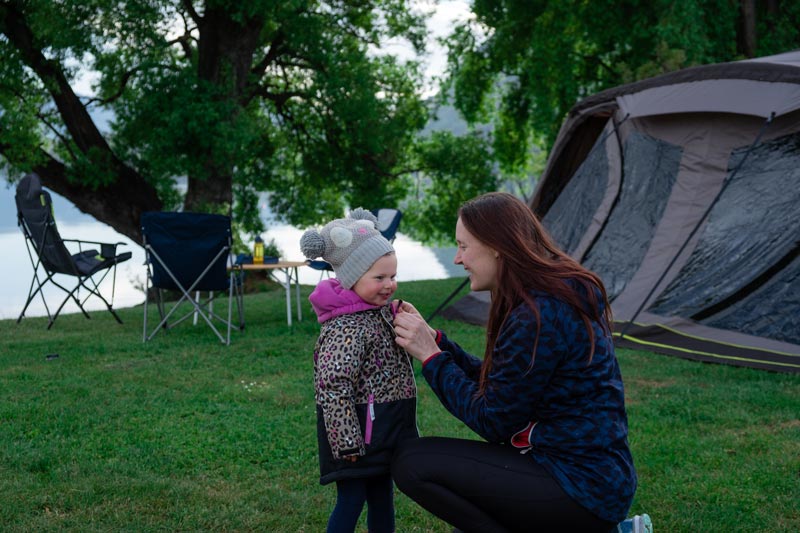 Why on earth would you consider camping with kids?
Kids love getting outdoors in nature and you will be surprised how they can busy themselves with sticks and rocks and maybe a lake to swim in.

You may be considering camping because it's a cheaper form of accommodation.  It will definitely help your holiday activity budget by saving on accommodation.  While there may be an initial outlay (for tent, sleeping bags/mats and other gear) don't forget that your good quality gear will last for years to come.   A holiday for 10 days at $200 per night could also be your $2000 camping equipment budget, meaning the next years you are just paying a few dollars for a campsite fee.

You never have to worry or stress about staying in a hotel that does not look like their website photos and everything you bring is your own.

It's a great chance for everyone to switch off from devices (parents included) and just have some quality time together.

Campgrounds are great places for kids to find others to play with, something that wouldn't usually happen if you were staying at an Airbnb or a hotel.

Most campsites have self catering facilities, or you bring your own cooking gear, savings lots of money eating out everyday (and while I often love a rest from cooking, it can be exhausting for a whole holiday)

Being outdoors all day in the fresh air really helps the kids to sleep well. (getting them to bed from all the fun they're having… well that's another story)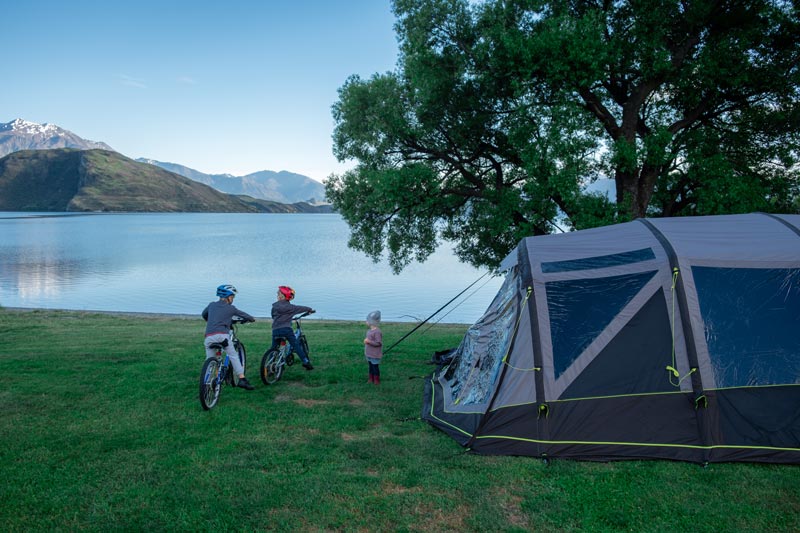 1. Pitch your tent for the first time before you go
I know, I know, this sounds like something your dad would make you do and you go and ignore it, but it seriously makes a difference.  It also means that argument about who does what, and "that's not how you do it"… happens at home, rather than ruining the start of your holiday. (husband, I'm looking at you)
Practice pitching your tent before you go so you know what you're doing while you are in WIFI range.  Our Zempire tent has instructions in the storage pocket of the bag, but I much prefer watching videos, it makes more sense to me that way.  So a good option is to set it up at home to iron out the kinks and make sure you know exactly what you are doing, while you have WIFI or can call for help
Involve the kids:  Get them to pack a bag, or help bang in the pegs, set up the quality camping chairs/tables/bedding, time how long it takes you etc
2. Purchase a tent that is easy and suits your needs
We were kindly gifted a Zempire TXL Pro tent, designed here in New Zealand and it is the easiest family tent I have ever put up.  In fact, as the tent is inflatable, I can put it up completely on my own.  Not a bad feat for a family sized tent that I can stand up in, as well as has 4 bedrooms and lounge and awning area.  It is easily the best family camping tent we have ever had and has made camping with kids so much easier.
Yes this tent has it all and is perfect for our family of 5.  There are no niggly poles to push through, and no risk of breaking a tent pole in the wind as this tent is incredibly strong. Plus you can tell that this brand has been designed by avid campers:  glow in the dark zip rings, lots of storage, power cord holes, a million tie backs and even tinted windows (what?)
So do your research, figure out what types of camping you will do and don't forget about a little space for a rainy day.
Extra tip: Make sure your new tent fits in your vehicle.  There is nothing like choosing a roomy tent, only to find that nothing else will fit in the boot… and what about that chilly bin?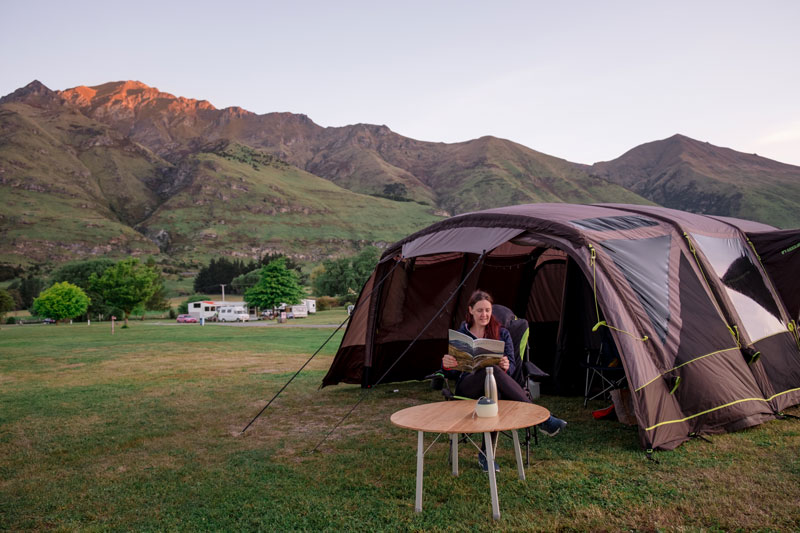 3. Do some meal preparation before you go
Meal Prepping ahead of time is the most annoying thing to have to do, but it will make your holiday much more relaxing.  You can freeze meals ahead, or make some components such as sauces, so you only have to heat meals, or cook a few things.
This leaves more time to swim at the beach and relax, rather than slave over a small camp stove.
Remember if you do choose to camp at a holiday park, there are often fridge and freezer facilities as well as ovens.  Next time you make a lasagne, nachos or a stirfry, cook a double batch and freeze a portion to take on your next holiday.
A frozen meal in the chilly bin will often be nicely defrosted by day 3, just when you might need a break from cooking.
4. Have a packing list!
Create your own packing list so you do not forget anything, or download ours! The amount of times I have tried to remember the brush and shovel, but have forgotten it (yes, every time) made me create a list. (or the tea towel, or the detergent or a decent chopping board)
If you are lucky enough to have secondary sets of things, or old cutlery, cooking implements etc, then having a "camping container" that is just used for your holidays can be really handy.  That way you can throw everything in here, rather than raiding the pantry and laundry for a lot of common items.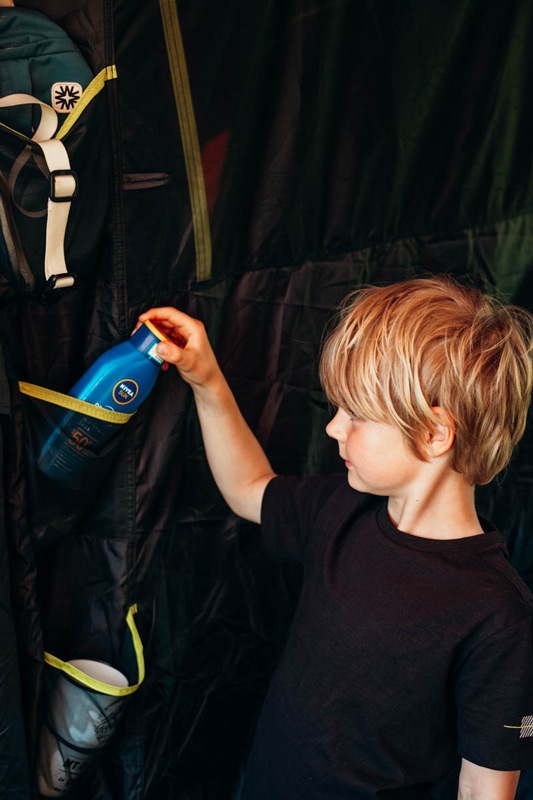 5. Merino layers have super powers
If you are not a fan of merino layers, then I implore you to get some.  Clothing made in merino wool helps to regulate your temperature which is particularly important for babies.  They also keep you warm in winter and remove sweat from the body in summer.  It is also odour resistant meaning you can wear them for days without smelling like you have. (anyone else have teenagers or active kids and parents?)
This is ideal when you are camping with kids (who go through so many changes) and don't have access to a washer.  The layers usually dry quite quickly too which is another added bonus.
6. Bring a few home comforts for the kids
Bring a few treasures from home, such as a soft toy or pillow to make it feel more like home.  If you have room, a cuddly blanket or a few toys won't go amiss.
7. Wet Weather Planning
If there is rain on the forecast, that doesn't mean you have to cancel your plans.  If you have a good quality waterproof tent like our Zempire Aero TXL Pro, and you secure it properly, you are unlikely to get wet.  Just use this as a good chance to have a chill out day, explore the local town or if it's warm, swimming in the rain is a fun memory for the kids.
Some easy camping activities for kids in the rain include
Colouring books
Reading books
Cards
Small travel games (travel monopoly etc)
A box of lego (sometimes we bring a small container of toys if the weather forecast is iffy)
Little cars and trucks to play in the dirt/sand
If you can avoid packing up in the rain, that would be my advice.  Firstly, you will get quite wet, but it will also mean you will need to dry out your tent at home before you store it properly.  With an inflatable Zempire tent, that fortunately won't take too long, but its an extra step if you have to reset it up just to dry it out. 
8. Flexi Tubs are amazing
Flexi tubs can be used for anything and adding a few extra barely takes up any more room than just one.  I'm sure you are well aware that camping with children means quite a lot of stuff (although to be fair, any travel requires quite a lot)  
Uses for flexi tubs
Portable bathtub

Dirty Washing basket

Kids clothes basket

Dishwashing sink

Clothes basket for the showers

Rubbish bin

Toy box

Beer and wine cooler (filled with ice)
9. Have a great system for rubbish
If you are long term camping, or are at a site with few facilities, you will likely need a rubbish system.  My lovely friend Rachel is so organised with her camping setup and recommends lidded rubbish bins.  1 for recycling (for those wine and beer bottles), 1 for compost (food scraps) and 1 for landfill.  Lids will keep the smells and flies away, and will keep the bins from tipping over your boot too on the way home.
Some campgrounds with great facilities will have these in place for you, but if you are going off the grid for a while, this can be super helpful.
10. Bring a stroller for day naps
In the summer, tents can be extremely hot and if you are counting on your baby or toddler to have a nap, then they will likely struggle in the tent.  For this reason we highly recommend taking a stroller so you can push them to sleep and park them in the shade under a tree.  
We have often used a Snoozeshade cover, which is breathable but helps to block out the light.  Or a muslin cover may work well too and you can always remove it to create some airflow after they have fallen asleep.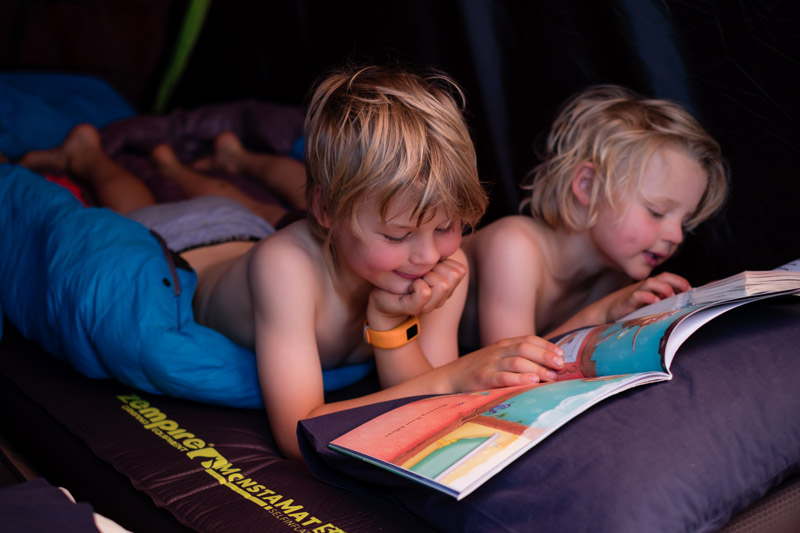 11. Consider a portapotty or bucket
If you are far from the campsite toilet, or don't want to be getting up in the night to go to the loo, have a container/bucket to empty in the morning.  This will save considerable time in the night getting up with little ones (or pregnant mums – I've been there and done that) or it getting to the toilet is not ideal at night.
Glam it up: Make your own portapotty by getting an ordinary round bucket and slicing off a section of pool noodle to fit around the edges.  There is no something comfy to sit on and you just saved yourself some cash.
12. Making the most of your Chilly bin
If you are going somewhere remote, freeze your milk so you have fresh milk further on in your trip.  Use this as some of your ice packs and open the chilly bin as little as possible
Did you know that freezing salt water will help your ice last longer?  Salted water has a lower freezing point, allowing it to be colder, therefore last longer.  Sea water often works best, but you can also add salt to your own fresh water from home.  Freeze large blocks in ice cream containers or milk containers.
Be wary of using ice cubes to keep the chilly bin full.  This will lead to a swimming pool of water and I bet your food isn't all waterproof.  To save yourself a wet mess, use water bottles or milk bottles to container the water and you may just have to wipe condensation instead. (did you remember to pack a teatowel?)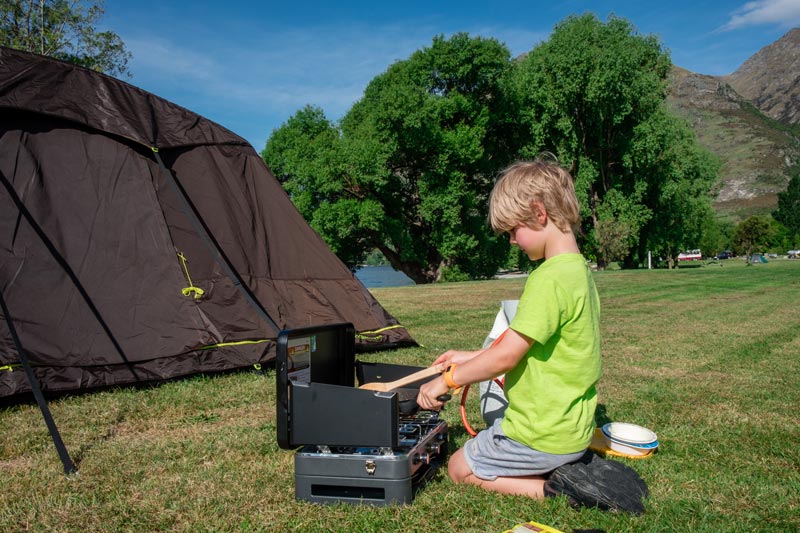 13. Keep the kids warm at night
You will be surprised how much the temperature drops at night in New Zealand.  Even up in sunny Northland, we have been at 30C in the day where it is too hot to sleep, and dressing the kids in merino layers and two sleeping bags at night.  To help stop any night waking, make sure you rug them up in the evening (or add a wee cardi or jumper later on before you go to bed)
Air Mattresses and Airbeds can actually be quite cold to sleep on.  So if you have one of these, then you may like to add a blanket or layer under your sleeping bag to help insulate your bed.  Or if you have a Zempire Monstamat, you won't have this problem at all. They negate the chill from below as they are thermo rated at approx 9.5 and stop the chill coming up from below keeping kids and adults warmer at night too
We recommend taking merino layers for bed and some warm socks.  Our kids used the Woolbabe sleeping bags as babies and toddlers and often layered up two at nightime to help keep them warm.  To be honest, they always slept longer rugged up on a cold night compared to a warm one, so don't be scared of the cooler temperatures.
14. Choose the right campsite for your family
If you have a young family, especially with toddlers, keeping them contained and stopping them from wandering off can be difficult at times.  Be wary of water hazards such as rivers, lakes and ocean that can be safety hazards for kids.  Also a note about campsites near rivers: rivers can rise quickly leading to flooding.  Something to take into consideration along with the weather.
I remember the first time I took my eldest camping as a toddler, an article recommended chicken wire for fencing and I laughed.  But since we were outside and not contained in four walls, he did keep running off and exploring.  I now understand the suggestion. (Camping with toddlers really is fun, I promise)
You may also need to consider the likelihood of sandflies.  For example, on the West Coast of the South Island, anywhere near water there will be tons of sandflies.  It's a beautiful part of the country, but if you think they may annoy you, you may need to reconsider.  Always, always bring insect repellent.
Some of our favourite places to camp have been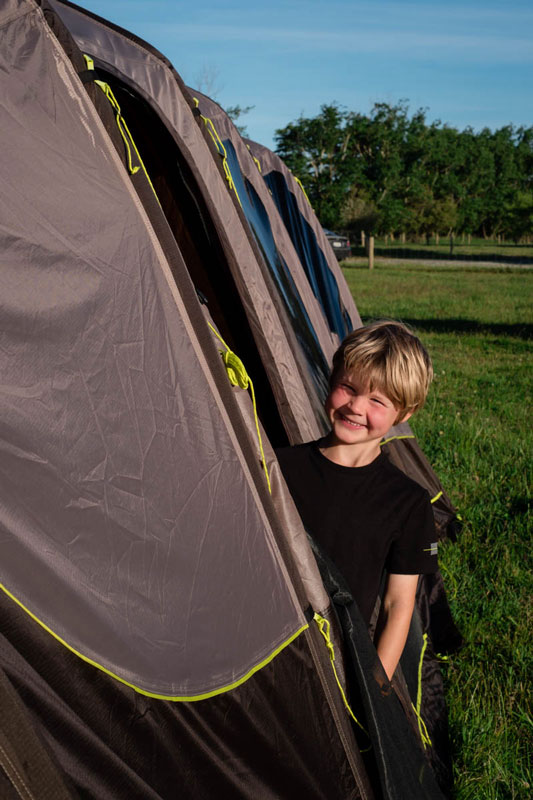 15. Bring the fun!
There are some camping purests who say you have to be completely off grid, do it yourself, don't use the facilities and you have to have the perfect camping gear.
But hell to that…. If you want to bring your own version of glamping and you have the room, then why not!
If you have a powered site and the right power connector (a special camping one, not just an extension cord – think rain vs your powercord), you could bring
Your hair straighteners

Your coffee machine

An airfryer

Your laptop so you can watch downloaded episodes from Netflix
There's no judgement here.  You don't have to be cut off from creature comforts if you don't want to.  I mean, usually we camp to get outdoors and enjoy nature.  But it's also cheaper holiday accommodation and there will always be members of the family who are way less into it than we are (cue: I never camped with my parents, ever….)
Here are a few things to add a little fun, luxury and magic
Bring solar fairy lights to decorate the tent.  Not only can you light up some of those crucial guy ropes, it will help the kids figure out where they are going

Make smores:  The best way is to grab a pack of marshmallows, a packet of chocolate wheatens (biscuit with a chocolate coating) and even if you can't have a fire, you can cook them over your cooker.  The kids will love it either way.  If you have marshmallow skewers bring them along!

Bring some rugs and cushions to make it feel more cozy

If you have room, a duvet will give a luxury feel

Don't forget the wine (or beer) and one of those reusable stemless glasses (the ones that keep your drink cold)  After a few days outside, you deserve some chill too.
16. Be Patient
Easier said than done, but kids are like vultures, they feed off your stress and they can sense it too.  Get them involved, even though it may take longer and don't forget to breathe.
Going with another family can really help reduce the stress too.  Not only is it more fun as they get to play with other kids,  you can tag team the "chores".  Two can cook dinner while the other two bathe the kids.  Or even babysit while one couple goes out for date night – wouldn't that actually be amazing?
And don't forget – what doesn't go perfectly turns into a great story and family memory (later on… when you've dried out… after you forgot to put the tent fly on in the rain)  Camping with family is something they will never forget, so have a blast!
We would love to know what are some of your top tips for camping with kids?  Make sure you also check out of Camping Checklist Guide with our own personal recommendations Anything you swear by and think other parents should know?  Come and chat to us over on Instagram or Facebook (@backyardtravelfamily) – we would love to add your ideas to the article!