Hiking Roys Peak with Kids
Hiking Roys Peak with Kids? Is it even possible?
Roys Peak is the most iconic walk in Wanaka, New Zealand and it's not hard to see why.  Incredible 360 degree views from the Roys Peak Summit and a very famous viewpoint that is clearly a New Zealand Must Do on Instagram.  One of the best things to do in Wanaka? You be the judge
The views truly are phenomenal and the mixture of Lake Wanaka and the mountain vistas are a match made in heaven.  I would even say that is more beautiful in winter with the snow capped mountains and even snow on the trail if you're lucky (or unlucky depending how you look at it)
Views aside, it is a challenging walk.  A boring, relentless walk at that, but the views are worth it, at least once. So let's dive into some details to figure out whether the Roys Peak hike is worth it for you, and also what it's like walking Roys Peak with kids.
Oh, and it is totally doable with kids who have hiking experience.  It's not technically difficult, it will just require some great mental toughness.  Our kids were 5 and 7 when they walked this (and wee Emilia was 2.5 years old in the backpack)
Where does the Roys Peak hike start from?
You will find the starting point for the Roys Peak Wanaka hike on the main road from Wanaka to Glendhu Bay – Wanaka Mt Aspiring Road.  It is only a 7km drive from the Wanaka town centre, taking about 9 minutes to drive.  You do really need your own public transport to get there, although some do walk or bike out here.  The carpark is difficult to miss and is located on the left hand side of the road next to the mountain.
A few notes about carparking at the start of the Roys Peak Hike
While the carpark seems large for a New Zealand walk, this is a very popular Wanaka hike, so it fills up quickly.  Your best bet for securing a carpark is to arrive early for a sunrise hike, or later in the day (after the sunrisers are done) for a sunset walk

There have been instances of break-ins here so do not leave anything valuable in your vehicle.

Toilets are provided just a minute up the track and there is not another one until the Roys Peak viewpoint which is the majority of the way up the track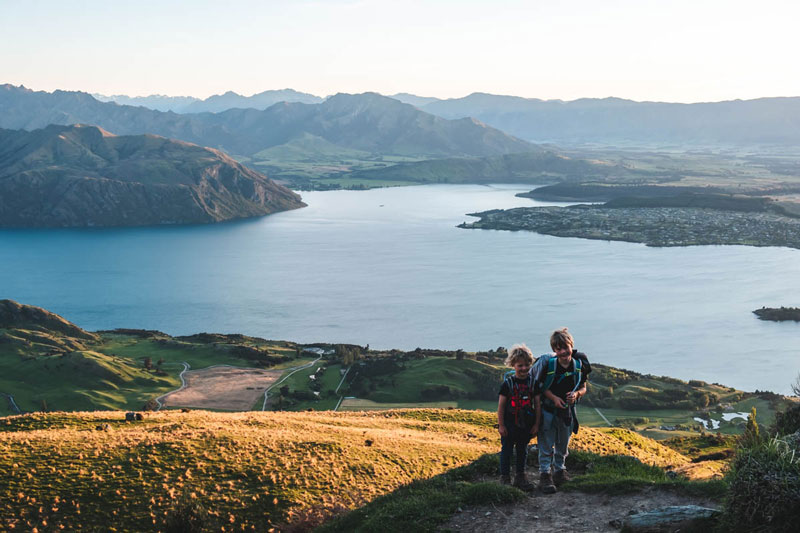 How long does it take to hike Roys Peak?
The Department of Conservation signposts state that this Wanaka walk takes 5-6 hours.  In general you would be looking at 3 hours uphill and 2 hours downhill plus rest stops and photostops which you would need.
The track is a 16km return walk, so that is quite a fair distance and has a 1228m elevation gain.  If you're unsure whether that is a lot of not… its a lot!  That's 3-4 hours straight uphill, so it's a good slog.  The Roys Peak Summit is at 1578m.
Hiking Roys Peak with kids mind you, took us a little longer.  Without our big lunch break, to walk it with kids (7 year old, 5 year old and a 2 year old in a backpack) it took us 3 hours and 45 minutes to the summit and 3 hours back down again.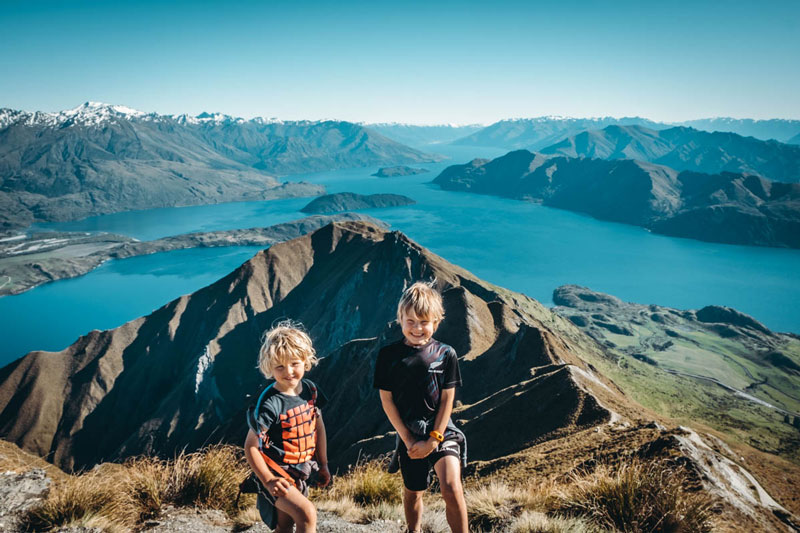 What is the Roys Peak Track like?
I hate to be the bearer of bad news, but the Roys Peak walk is a boring and monotonous walk.  It is basically a 4WD style track that zig zags up the mountain in a relentless uphill fashion.  
It is uphill the whole way and there is no undulation (no up or down sections at all) and no flat sections to speak of.  BUT the track itself is easy to walk on.  Mostly a compacted dirt track with a few sections of grass, meaning you don't have to have specialist hiking boots, running boots would be sufficient.
It is also very easy to navigate and you are not going to get lost on this very clear path.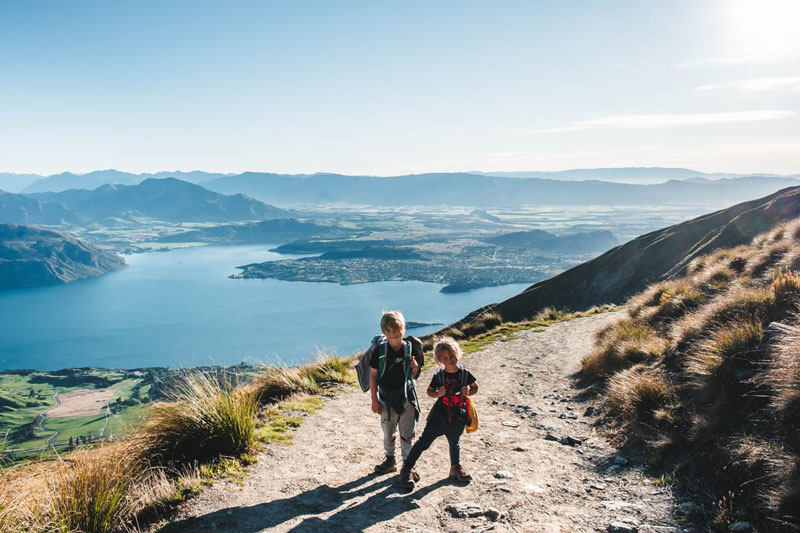 That Beautiful Instagram Viewpoint
The first part of the zig zag section goes to the famous Instagram viewpoint.  It is your first real rest point on the track and a great place to stop.  There is also a toilet here should you need to use it.  This took the kids about 3 hours to reach, but I would imagine 2.5 hours would be a good time to budget for.
People often go to this viewpoint, take the photo and go back down again.  But I implore you to continue.  The viewpoint here is wonderful, but it has nothing on the summit where you have real 360 degree views.  You really are on top of the world at the Mt Roy summit.
Roys Peak Summit
It is signposted to take just 30 minutes which I think is pretty accurate.  It took the kids 45 minutes from this point. The first 15 minutes is still pretty steep but it's not as bad after that.
It really is worth it to go the extra hour return.  After all, you made it all this way, it's only a little bit more and you can claim you actually made it to the summit.
When is the best time to hike Roys Peak?
Morning, midday or afternoon?  Summer or Winter?  They are all so different and all need some discussion.
But it is worth noting that you CANNOT hike Roys Peak between 1 October and 10 November due to lambing.  Part of the climb to Roys Peak crosses private farmland so during this time the track is shut so hikers do not disturb the lambs.
A popular time to hike to Roys Peak is for sunrise or sunset.  This will mean that you are completing half of the hike in darkness (so bring a headtorch) but you will be viewing it at the most beautiful times of the day.  Keen photographers will love shooting at golden hour which brings such beautiful light.
We hiked up early in the morning and caught sunrise on the way up. (so clearly didn't leave early enough)  Since the track is not particularly interesting, then you will not miss much by hiking in the darkness.  In fact, it makes it a little more mysterious and does help that you cannot see the up, up, up for the whole walk.
Summer and Winter both have their advantages and disadvantages so let's take a look below
Summer hiking Roys Peak
Is extremely exposed so it can be very hot!  You will need a lot of water and sunscreen.  I would avoid the middle of the day in peak summer.

The earliest sunrise time is around 5.50am, meaning you will have to get up around 2/3am to hike for sunrise (a very early start) But you could be down between 8-9am leaving you the whole day to explore Wanaka more.

Sunset times in December are around 9.30pm, which could mean you are climbing back down very close to midnight.  But if you are looking for an activity you can do later in the day, then this may be perfect.  A much cooler time to climb too.

You have a much longer window to hike, great for those who want to take their time or need lots of rest.
Hiking Roys Peak in Winter
Since the hike reaches alpine levels, the weather can change very quickly making it very dangerous in the snow.  Please check weather forecasts very carefully

There is often snow on this track, so be prepared and take ice axes and crampons if required.  The Wanaka Tourist Information Centre should be able to provide you with some information on the conditions here.  You should also have waterproof hiking boots, suitable jackets and a million warm layers (plus hats, gloves etc)  Hiking poles would be useful too.

Sunrise in the middle of winter is around 8.20am and sunset is 5.05pm.  This would make for a more leisurely morning wakeup, but again, please be wary of weather conditions.

Winter often has a period of inversion cloud that can be quite cool, looking like you are hiking up in the clouds, but will cloud your views of the lake.  So if the hike is cloudy when you start, you may end up, up above it.
What to pack to hike Roys Peak
All year around
Lots of water (there is nowhere to fill up, and no rivers/streams etc)

Toilet paper for the toilet at the Roys Peak viewpoint

Snacks/lunch food.  It's a decent walk taking at least 5 hours, so fuel up efficiently

Lots of layers: Weather can change quickly in alpine environments.  Always take a thermal/merino layer and a waterproof jacket

Head torch/flashlight for hiking at sunrise or sunset

Walking poles are super handy on the downhill trail to help your knees

Sunhat/warm beanie and sunscreen
In Winter
Ice axe

Crampons

Warm Hat

Gloves

Winter jackets and thermals

Balaclava or scarf in windy conditions can be helpful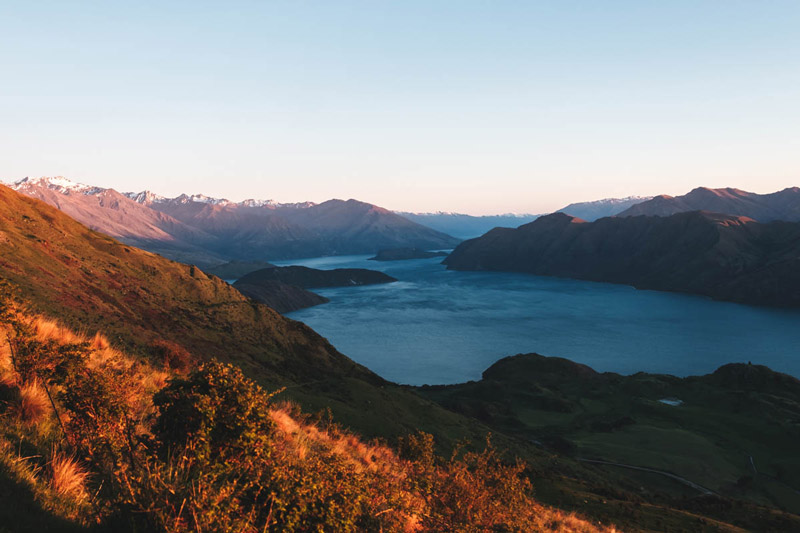 Hiking Roys Peak with Kids
In general, this isn't a walk that I would recommend for young kids.  My kids were 7 and 5 at the time and I carried a two year old on my back.  The track is not particularly interesting for them, although they did agree that the views were pretty amazing.
We headed up the track at 4.45am and it was dark for around 45-60 minutes which made it quite fun and interesting for them.  I felt that this broke up the hike and made it somewhat more bearable.
As mentioned above, the walk isn't very interesting.  Bar a few sheep on the track it is a relentless slog uphill.  Often our New Zealand walks have plenty of interest.  Bush sections, rivers or bridges to cross, forests to explore, a mixture of terrains and viewpoints, but this is not the walk for that.
It wasn't without a few tears, but it was character building.  Knowing they could push on and actually make it to the top was great, and they are stronger for it now.  But don't be expecting this one to be good at distracting them like some other amazing tracks.
If this is already feeling too difficult then I totally understand.  The kids took 3 hours and 45 minutes to climb up and 3 hours to come back down.  On top of that was about an hour stop at the viewpoint, so it really was an 8 hour day.
Another great hike with amazing views is the Rocky Mountain Track.  It will take about 3 hours return, is still a good uphill climb, but is far more interesting and there are flatter sections within the walk.  This walk was far more enjoyable, and one that I would do again. But I am definitely glad we did make it up Roys Peak, but just once I think with the kids.
Verdict: Roys Peak Hike
It is definitely worth it for the views.  I am glad we did it once, but I won't be jumping up and down to come back to walk up the track.  Unless it was for fitness, I feel there are more enjoyable climbs and interesting walks with great views.
Other Wanaka Hikes with great views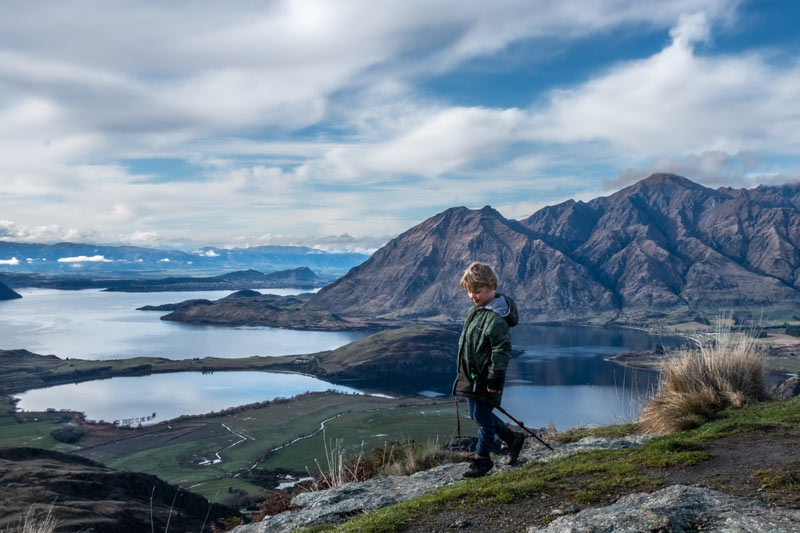 If you are nearby exploring Wanaka, then pop over to Queenstown, just an hour up the road.  Check out these articles to help you plan