Rob Roy Glacier Track: Half Day Hike in Wanaka with glacier views and epic drive to trailhead
Rob Roy Glacier Track Wanaka
The Rob Roy Glacier Track is a beautiful walk just a short road trip from Wanaka.  It's a great day trip from Wanaka and such an incredible drive.  You'll get to see the beautiful Matukituki Valley and Matukituki River and incredible scenery on the Rob Roy Glacier trek. It's an amazing view of the Wanaka glacier so we really enjoy this hike.
This is a great family friendly Wanaka hike and an awesome beginner tramp.  If you are considering hiking with kids, the track is a decent length, so they will need to be able to walk 11km.  The good thing is that the whole second half is downhill, so if they make it to the viewpoint, 75% of the mental game is done (does anyone else think like that)
We hiked this track with a 2 year old in a backpack, a 5 and 7 year old and a Grandad.  So here is everything you need to know about completing the Rob Roy Glacier walk.
Note: Don't confuse this walk with Mt Roy Wanaka or Roys Peak, that is a 4-6 hour strenuous hike, much closer to Wanaka with incredible views.  Read more: Roys Peak Hike Wanaka.
Contents of this article
How hard and how long is the Rob Roy Glacier Track?
The Department of Conservation suggests this is a 10km track taking 3-4 hours.  This is a similar description to the famous Hooker Valley Track at Mt Cook, which is completely flat.  So naturally I was not expecting this to be too hard.  But the Rob Roy Glacier track with kids, was much harder than the Hooker Valley Track for sure.
This isn't to say that it was difficult, just that I was not expecting it to be mostly uphill given the length and time specified.  This is one of the issues I have with the Department of Conservation.  The timings seem to be very varied and it makes it difficult to plan for, especially with children.
The track is well formed, with new stairs in some sections.  It is not difficult to navigate and you are unlikely to get lost on the trail.
How long did it take us to do the  Rob Roy Walk, Wanaka?
It was quite busy on the Rob Roy track the day we hiked, since this Wanaka track had just reopened, so it took about 2 hours 20 to head up with some stops for photos and snacks and it took the boys 1.5 hours to come back down.  Whereas I walked down with Grandad and Emilia on my back and it took about 2 hours to head back down.  
We had a big stop at the end as the photographer in me wanted to take some photos, so all up, our trip took around 5-6 hours.  (For us, I always allow an hour for lunch and exploring at the turnaround point.)
So that just gives a good idea for variation depending on how fast you walk.  Also factor in how long you will spend at the top.  I always think I stop for about 20-30 minutes, but it's always more like 45-60 once I take photos and we eat and the kids play.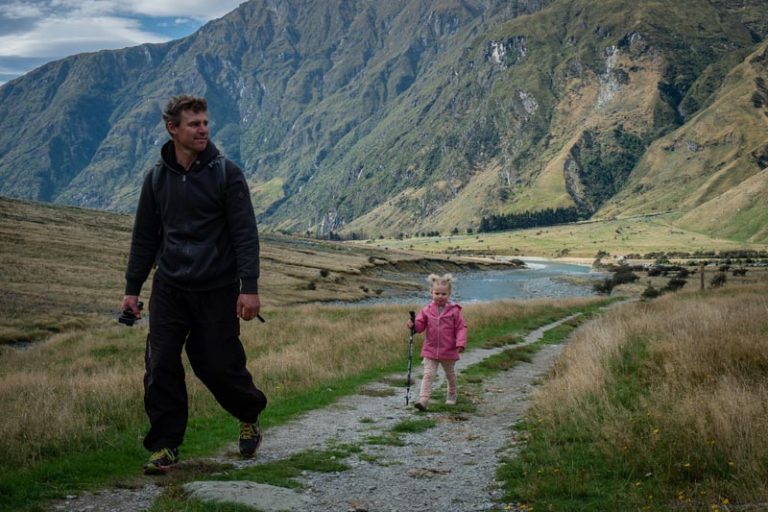 So what was the Rob Roy Track like?
The first 15 minutes or so heads into the valley where you will find an awesome swing bridge that crosses the Matukituki River.  From here you head onto a bush track and spend the majority of the time in forest cover.  
The bush track heads uphill the whole way.  It ranges between gentle uphill, with some steeper sections and some good stair climbs.  
You will also see a section of track that has been replaced.  It was washed out and the whole Rob Roy Glacier Track was closed for some time.  Fortunately it is back open again.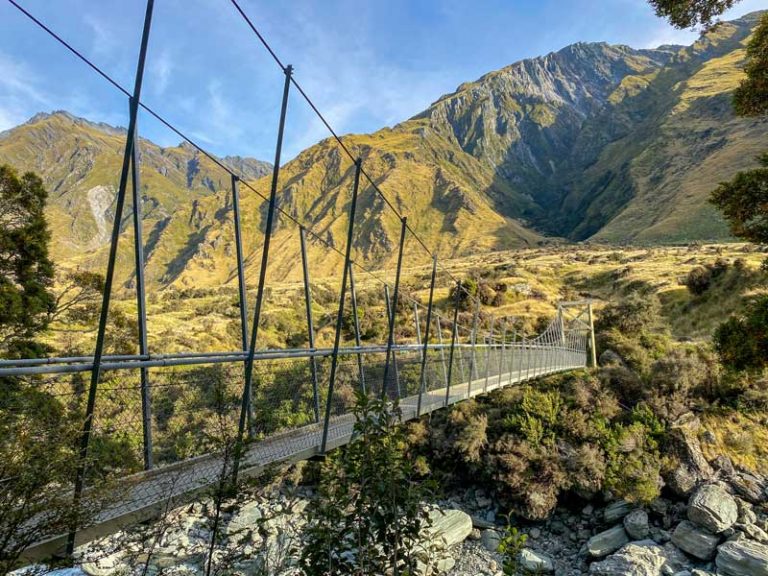 Lower Glacier Lookout
At the Lower Glacier Lookout there is a bench seat to rest on, but I would definitely head to the main Rob Roy Glacier Viewpoint.  The views are far better and to be honest, I wouldn't bother with the hike if you were to stop here.  From the Lower Glacier Lookout to the Upper lookout, it's about another 30 minute walk to the top.
Upper Glacier Lookout
The final section of the track opens out into a huge clearing and the views from here are incredible.  You look across the snowy mountains and the huge Rob Roy Glacier. We found some really tall waterfalls and the kids spotted some birds flying about.
The terrain here is a dirt track and some huge rocks that you can sit on.  We found it a great spot for a picnic but do be aware it is very exposed, so might not be great in all weathers.  There are toilets about 5 minutes prior to this final lookout so make sure you stop on the way past.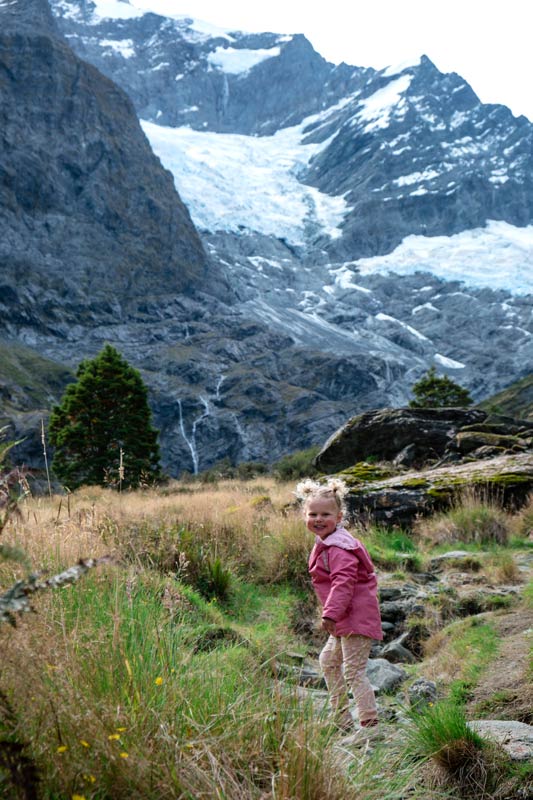 Highlights of the Rob Roy Glacier Track
Great swingbridge over the Matukituki River which is beautifully clear

Waterfalls

Glacier Views

Pretty bush track

Great family friendly walk
Where is the Rob Roy Glacier Trail?
The Rob Roy track hikes to a beautiful New Zealand glacier, about an hour out of Wanaka in the South Island of New Zealand.  It's in the beautiful Queenstown Lakes District and is a popular place to travel in New Zealand.
How to get to the Rob Roy Glacier Hike Wanaka
It doesn't take that long!
If you google directions from Wanaka to the Rob Roy Glacier Track, it may say almost 2 hours. That's what it told me, but in reality it was around an hour (depending on how fast you drive down the gravel road)
Driving time: Wanaka to Rob Roy Glacier Track: Around 1 hour give or take.
The last 30km of the road is an unsealed road, with a mixture of dirt and gravel.  It's worth noting that this is a fine weather road only, as there are a few fords along the way that would be impassable in big rains.
The track starts at the Raspberry Flat car park.  So google this, or Rob Roy Glacier Track Trailhead for your starting marking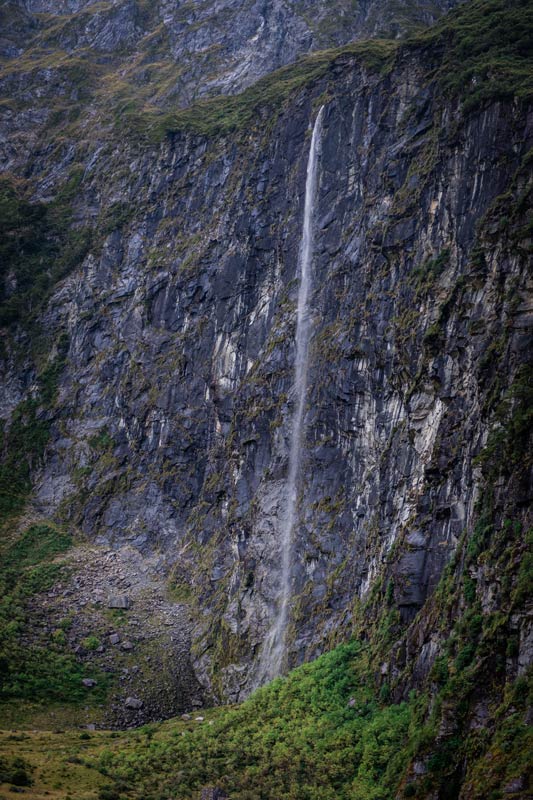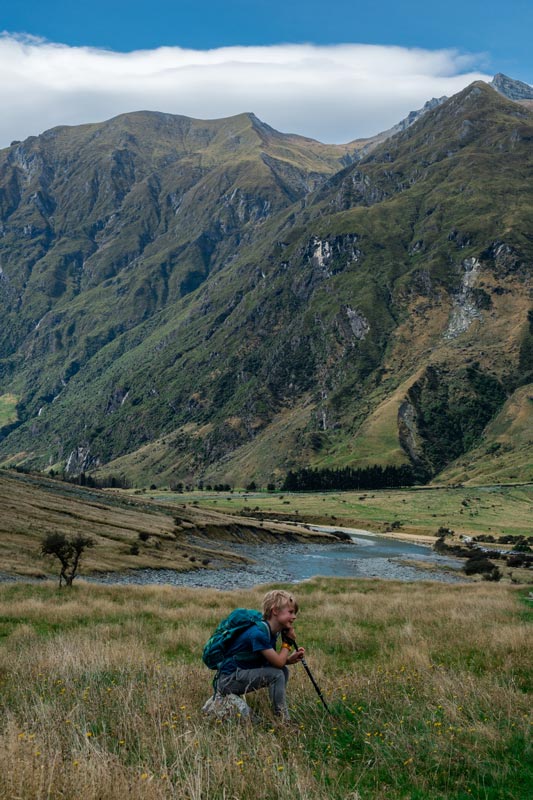 Raspberry Creek Carpark and Facilities
The Raspberry Creek carpark area at the trailhead is also the starting point for a number of other tracks.  As such it is quite well appointed.  There is a modern toilet unit as well as undercover picnic tables next to the large parking area.
The Raspberry Flat carpark also leads to
Aspiring Hut (New Zealand Alpine Club Hut)

French Ridge Hut (New Zealand Alpine Club Hut)

Liverpool Hut

Rob Roy Peak: an advanced alpine climb
Rob Roy Glacier Weather
As this is an alpine region, the weather can be unpredictable.  Even on a sunny summers day, you must still pack a windproof jacket just in case.  
The road to the Rob Roy Glacier track will be affected by rain and flooding and make the road impassable (due to the ford crossings) so do keep an eye on the weather prior to your trip.  We use the YR.no website which we think has the most accurate New Zealand weather forecasts.
The Rob Roy Track in winter can be snowy and icy. So it may be worth contacting the local Department of Conservation visitor centre to check in on the track conditions.
Top Tips for the Rob Roy hike
It's a decent length track so make sure you take food and water

This is an alpine region and there is avalanche risk in the area so please pay attention to the Rob Roy Glacier weather forecast

Pay attention to the weather conditions to check if the road will be passabe.

There is no cellphone reception out here, so download the map if you need it or take a screenshot on your phone

Make sure someone knows where you are heading to stay safe.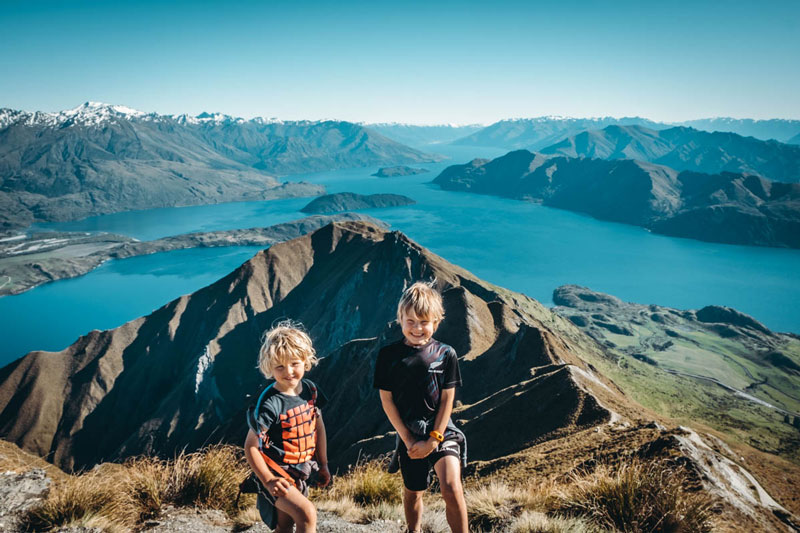 If you are exploring the Wanaka and Queenstown region after your Rob Roy Valley track hike, then check out these useful articles below
We would love it if you could share you Rob Roy Glacier Wanaka adventure with us, so head over to our Instagram or Facebook page and tell us what you thought.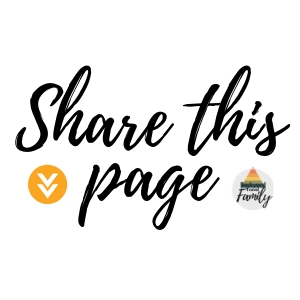 The glacier was really good. We brought a Jetboil with us and had a hot lunch. Grandad slowed us down a bit. Hes old. Daddy and Kippy and I ran the last bit home. We were super fast.