Hooker Hut: The Best Short Overnight Hut Walk in New Zealand
Hooker Hut, Mt Cook National Park
The historic Hooker Hut in Mt Cook National Park has to be one of the best family friendly overnight tramps in New Zealand.  Not only does the walk itself have epic views, the hut is the cutest thing you have ever seen and it's only a 90 minute walk from the carpark.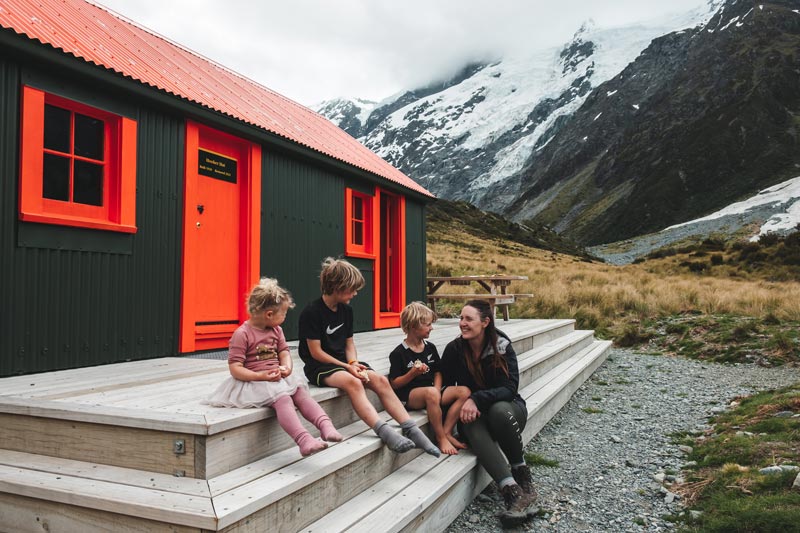 What I love about the Hooker Hut hike
It only takes 90 mins to walk there, making it perfect for families and new trampers

The hut is away from the busy Hooker Valley Track and is totally secluded

The Hooker Hut has views of Mt Cook right from the deck

You can book the hut online and its cheap. $15 for adults and $7.50 for kids, those under 5 are free
It's one of the best first overnight walks for kids or those who are less able and it will be an experience you won't forget.
While this article will cover some family friendly tips, if you're an adult or a couple wanting to do this hike then you totally should.  I plan to head back here in the winter to do some sunrise, sunset and astrophotography and it is the perfect base.
You will also want to stick around as the track to the Hooker Hut is not marked and you will need to follow precise instructions to work out how to get there.  So stay tuned so you too, can hut bag this epic Aoraki Mt Cook hut.

This Hooker Hut Article will cover
Detailed instructions to get to the Hooker Hut

Photos of how to get to Hooker Hut

How long does it take to get to the Mt Cook hut

What the Hooker Hut track is like, including walking to the Hooker Hut with kids

About the Hooker Hut

Facilities at the Hooker Hut

Equipment list for first time trampers staying at the Hooker Hut

How to book the Hooker Hut

Hooker Hut walk with kids
Getting to the Hooker Hut: Finding the unmarked path
The Hooker Hut is not marked off the Hooker Valley Track, so if you were hoping to see a signpost, you are out of luck.  But follow these detailed instructions and we will get you there safe and sound.
As a note:  You cannot see the Hooker Hut from the Hooker Valley Track.  As you walk along the Hooker Valley Track, you will see Mueller Lake to the left and a large moraine wall (very rocky wall) on the right hand side of that lake (as it looks when you are walking)  The Hooker Hut is actually at the behind the crumbling moraine wall in the valley, so it cannot be seen by passers by.

How to get to the Hooker Hut, Mt Cook National Park
Here are some written instructions on how to get to the Hooker Hut.  Scroll down for photo instructions.
Start at White Horse Hill Campground and carpark and start the Hooker Valley Track
Continue on the Hooker Valley Track until you have passed two swing bridges and you arrive at the concrete toilets (they will be on your left)
Slow down and take note here.  Go past the picnic table on your left and start the small boardwalk.  It will turn to the right, and right before this corner, look down to the left and you will see a trodden trail.  If you go over the bridge you have gone too far.
Take a left off the board walk and hike into the tussock.  Stocking Stream will be on your right.
Follow the trail through the tussock and cutty grass.  If you have little kids here, some of the grasses and prickly bushes are right at head height for the younger ones.
The trail will hit stocking stream and you walk along the rocks for a short time and then you can see the path head back into the tussock
Then eventually it will come out at the stream again.  This is where things got a little tricky.  Still following the stream (on your right) you will see a large expanse on land and tussock on your left.  Its an open space and it feels a bit like you have lost the trail.  If you stand in this open space, if you have good eyes, you will be able to see an orange marker up towards the ridgeline.  Then head through the tussock directly towards it.  There isn't a clear path through the tussock, it looks like a number of animal tracks but it doesn't exactly matter at this point.
After a few minutes of bushwacking, you will look up and realise you can't actually see the marker anymore.  At this stage, take a look to your left.  You will see a ridgeline with a saddle in it (like a U shape) and some rocks going up.  This is the moraine wall.  Bring your sight down a bit and you will see a wee rock scramble that isn't too far away.  Climb up this rock scramble and at the top you will see an orange marker directly in front of you.
Look to the left and you will see another 2-3 orange markers.  Follow these and you will be at the Hooker Hut in about 5 minutes
Photos of How to Get to the Hooker Hut
This is such a cool experience for kids and I am so excited that you might be taking your family for this overnight adventure.
I know the main reason that this hut isn't marked off the track is that they don't want the thousands of day walkers to over run the hut.  It's a great little experience that I would almost like to keep to myself.  But I also know that this is a very doable first overnight tramp and that an unmarked trail, following a few little instructions can be very overwhelming.
As a parent who travels by herself I like to have as much info because getting lost by myself with the kids is not my idea of fun.  So for all the parents gaining confidence in the outdoors.. these instructions are for you.
1. Follow the Hooker Valley Track until you pass the toilets.  Then follow these instructions below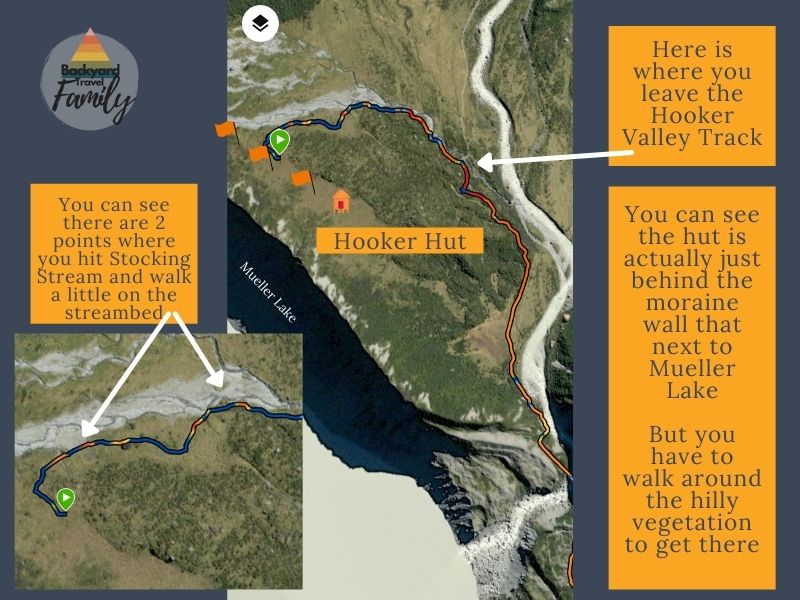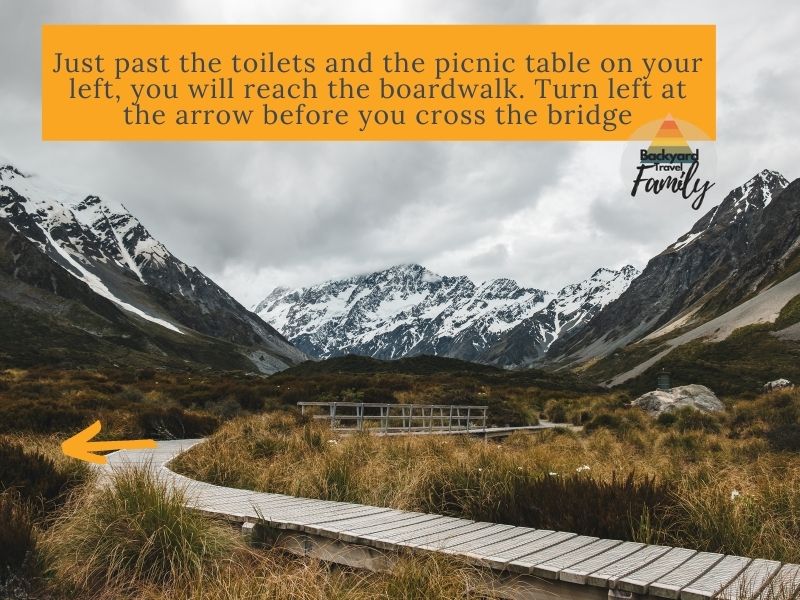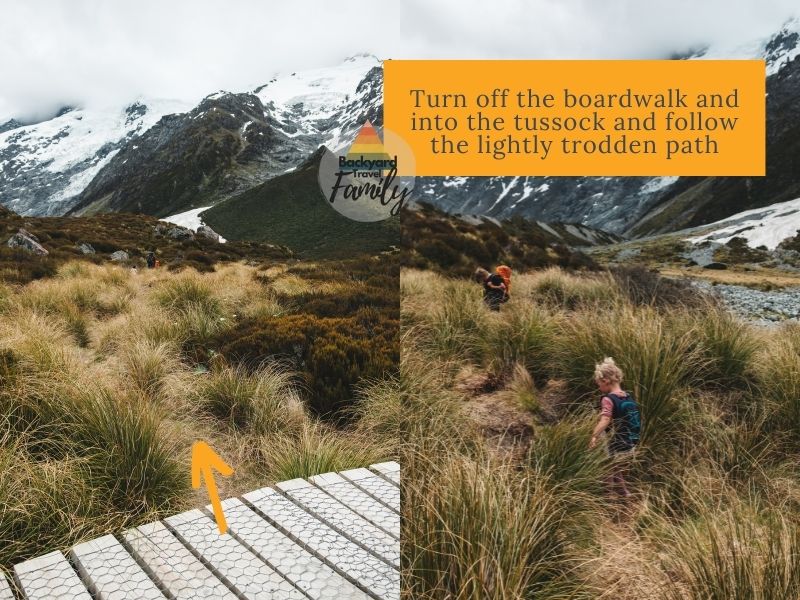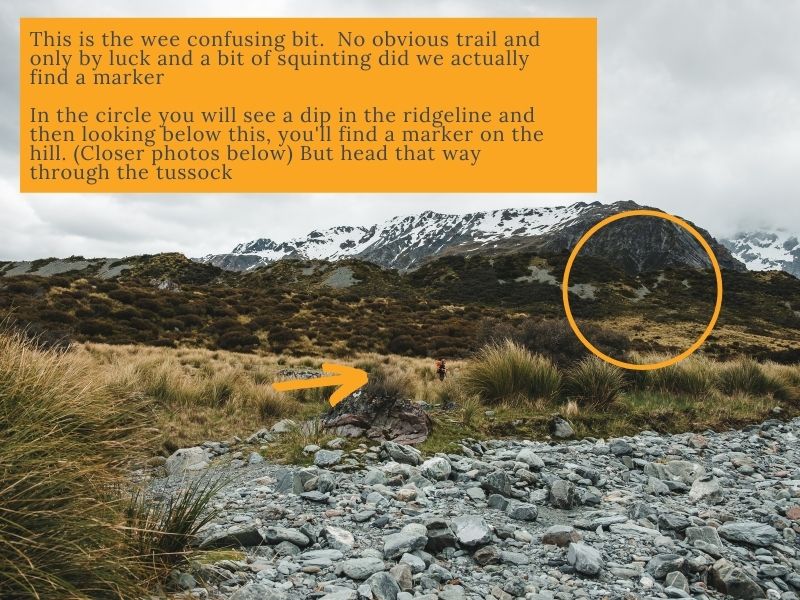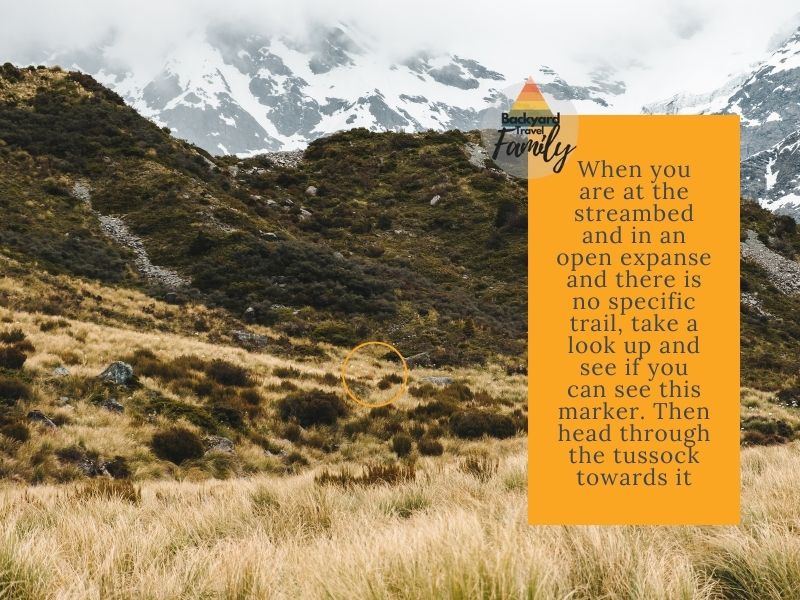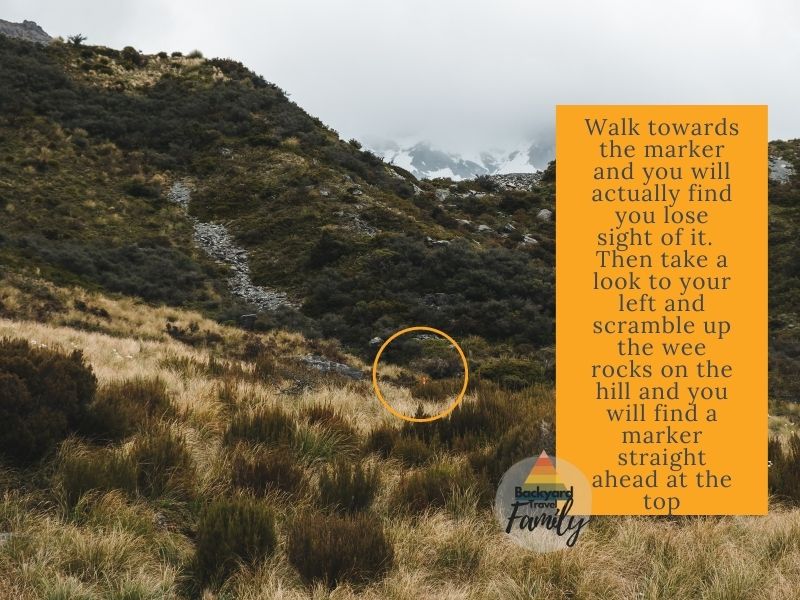 How long does it take to walk to the Hooker Hut?
According to my Garmin, the hike was 4.5km one way.  If you are walking the Hooker Hut with kids, it might be useful to know that my 3 year old walked this in about 90 minutes.
As an adult, I'd allow about an hour, depending on how long you spend taking photos, or maybe thats just me.
Below we will talk a little more about what the actual walk is like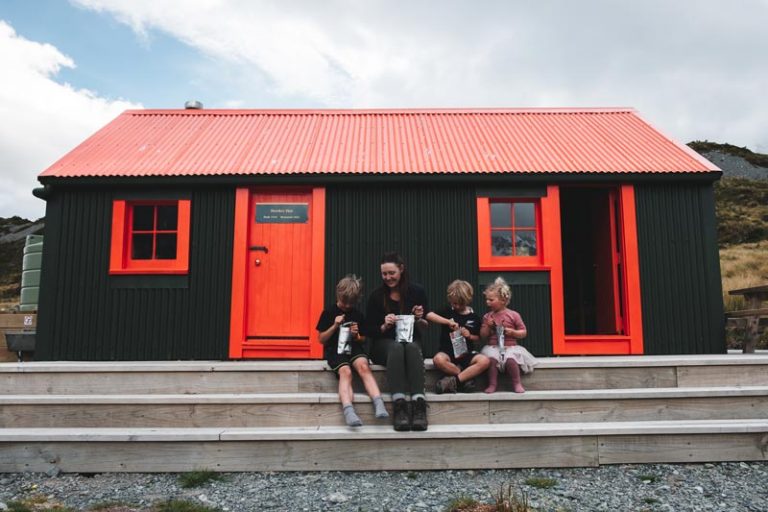 What is the walk like to the Hooker Hut?
We walked the Hooker Hut Track and it took us about 90 minutes with a 3 year old, 6 year old and 8 year old.  This was with a few short stops along the way.  I think adults would make this walk in around an hour or so.
The walk itself is made up to 2 parts
The unmarked trail to the Hooker Hut
The Hooker Valley Track is an incredible walk.  It is most flat, except for some very slight undulations and a set of stairs before the first swingbridge.  The path is very compacted, a combination of dirt and gravel but is very stable.  There are also some great boardwalk sections.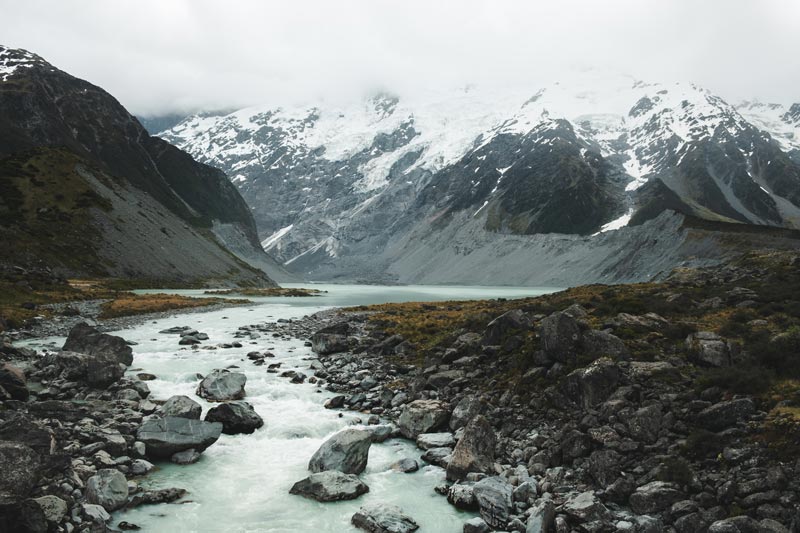 Some of the highlights on the Hooker Valley Track include:
2 swingbridges to cross.  (there is a third but you don't pass it on the way to the Hooker Hut

Great views of Mueller Lake

The track is surrounded by mountains and hearing avalanches are common (don't worry, they are a long distance away, so there is no risk)

If you're lucky, you may see or hear the Kea, the only alpine parrot in the world
Read more and see more photos here: Hooker Valley Track Guide
The Unmarked trail to the Hooker Hut
See above if you want to figure out how to find the turn off to the Hooker Hut as it is unmarked on the trail. You need to know what you are looking for.
In terms of the track, it took the kids around 30-40 minutes to walk the 1km through the tussock, long grasses and scrub.  For adults, this is no particular issue, but it was a little slow for my three year old who kept hitting prickly bushes and cutty grass at head height.
The trail here is completely unmarked so you have to follow the "goat trail".  Some sections are really easy to follow and others you have to walk in the general direction.  Refer to our "how to get to the Hooker Valley Hut section" and the photos.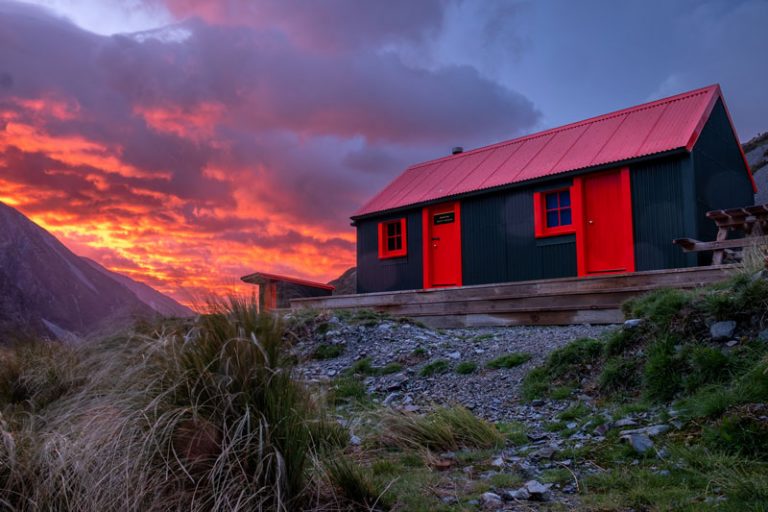 About the Hooker Hut
Congratulations, you have made it to the Hooker Hut. It is looked after by the Department of Conservation, who also have a visitor centre in Mount Cook Village. 
But what is the Hooker Hut like?  Firstly it is the oldest hut in Mt Cook National Park and was first opened in 1910.  This was not its original location, it was further up towards the moraine wall, closer to the mountain range and was moved a number of times due to erosion.  
But this renovated Hooker Hut was moved to its current spot and opened again in 2021.  So the "new" Hooker Hut is just like the old, just very structurally stable.  It sleeps 8 people or pitch your tent at the Hooker Hut campsite, aka, the ground outside.
Some quirky things about the Hooker Hut
The hut is over 100 years old.  You can tell how old the hut is as the door frames are low.  Even at 171cm tall, I had to stoop to walk through the doorways

The beds are also short.  I could tuck my feet over the end of the mattress

There is a wee draft near the bedroom door.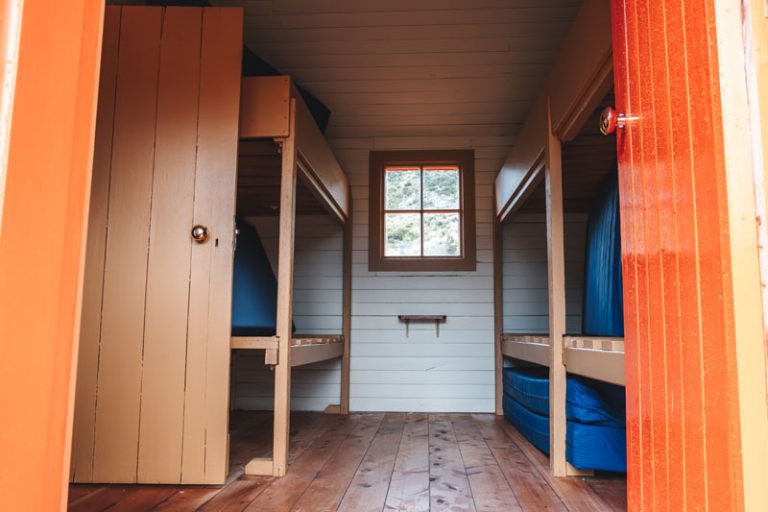 Facilities at Hooker Hut
8 single bunk beds.  No sleeping right next to a stranger here. 2 beds in the kitchen/dining area and 6 beds in the bedroom.  Door separates both rooms.  Space under beds for packs.

Good fire in the kitchen/dining room

Kitchen facilities: double burner stove with gas.  Just bring something to light it (matches/lighter) Bench space, sink, dining table with benches, shelves to place your food or belongings.

Firewood in the woodshed with an axe to chop kindling.  The shed is locked and you need to get the code from the DOC visitor centre.  I just gave them a call

Detached toilet.  A very solid building and very clean! Toilet paper was provided but I always bring some just in case.

Water tank outside, filled with rain water with a sink.  There is a note to say that you should boil your water before use

Outside picnic table

Great deck with a view of Aoraki Mount Cook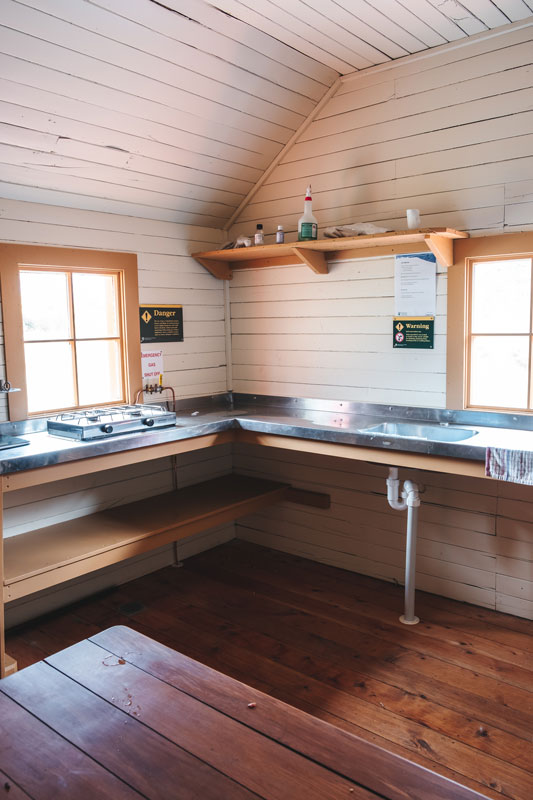 Equipment List for the Hooker Hut
Here is what we packed for the Hooker Hut
Sleeping Bag

Jetboil all in one cooking system (for boiling water) or bring a pot/frypan if you want to use the gas stove provided

Food for dinner and breakfast, as well as snacks

Spoons/forks, bowls/plates – depending on what you're eating.  If you choose a freeze dried meal you can eat these straight out of the packet.

Cup for hot drinks if you drink them

Matches/lighter

Head torch or some sort of lantern/lighting

Rubbish bag to carry out any food scraps, nappies etc

Personal Locator Beacon (PLB)

Emergency blanket

Toilet paper (not required but I always pack it)

Backpack (I took a 60L bag with food for 4, as well as clothes/sleeping bags for my daughter and I.  My 6 year old carried an 18L bag with clothes and sleeping bag and my 8 year old carried a 30L bag)

Drink bottle or water bladder

Rain Cover for pack

First aid kit with plasters because… kids

Your camera!

Clothing
The clothing you need will really depend on the time of year that you visit and the weather forecast. One thing to note is that this is still an alpine environment.  Mt Cook Village is at 750m of altitude, even though it all feels flat, so you are already a long way above see level.
What does this mean in essence? Well mountain weather is volatile.  It changes quickly and can get cold quickly.  So be prepared.
When we completed this hike, it was a sunny 18-20C afternoon on the way in, and there were wind and rain weather warnings the next morning as we walked out in rain and gale force winds.  In fact the wind knocked over one of my kids at one stage so please bring warm clothes no matter what.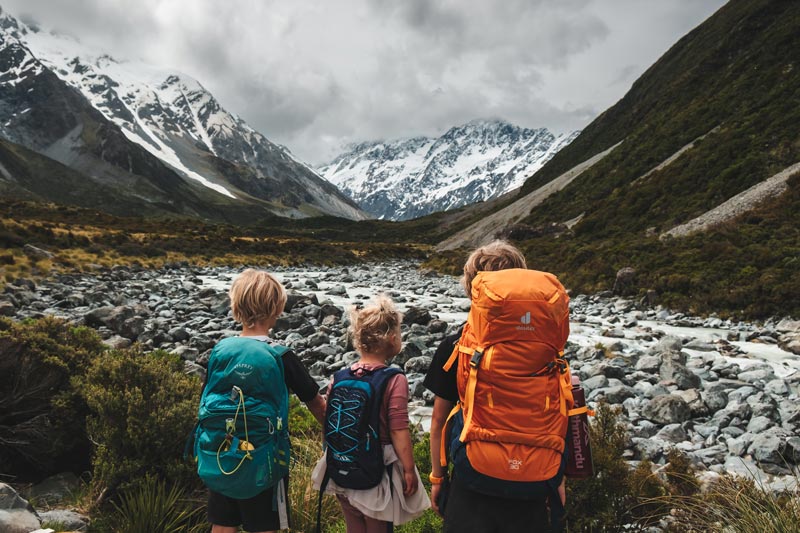 Our clothing packing list for Hooker Hut in November
Rain jacket

Waterproof pants

Thermal top and pants (these make good pjs too)

Warm beanie

Shorts and tshirt

Longsleeve tshirt and pants

Fleece or warm mid layer

Hiking Boots or shoes (unless the unmarked path was horrendously wet and got boggy, you can get away with just sneakers for this walk.  The main track is very well formed)

Socks to wear and a spare

A pair of hut shoes (lightweight like jandals etc so you don't have to put boots on to go to the toilet and good hut etiquette is not to wear your boots inside)
If I knew the weather was freezing I would also take
How to book the Hooker Hut
The Hooker Hut, located in Mount Cook National Park can only be booked online.  Since it is such a short walk, making it such a great family friendly walk, you will find weekends are very popular, along with school holidays and Christmas.
If you wish to book during these busy times, then please make sure you book ahead.
Walking to the Hooker Hut with Kids
You can walk the Hooker Valley Track with kids, very easily in fact.  Emilia is 3.5 years old and coped with this beautifully.  In fact we walked with friends who had a 2 year old and she made it all by herself (albiet at 2 year old pace)
So if you want to take on your first family overnight tramping trip, and have some time and patience, this is suitable for the wee ones, up to the grandparents too.  The only caveat is to keep an eye on the weather conditions.
Here are a few tips that may help if you are hiking with kids, particularly with young ones
Make sure you are well prepared and the weather conditions are suitable.  If you are new to hiking, then the Plan my walk app can help advise on weather conditions, gear requirements and safety

If you are walking this with a preschooler or carrying a baby, then consider booking the Hooker Hut during the week.  It's far less busy at these times.

The Hooker Hut has windows with no curtains (common with huts) so if you are visiting during the summer, it will stay light at night and wake you early.  We popped the extra mattresses in front of the windows to help reduce the light

The section off the marked path can be hard for younger ones as there are lots of prickly bushes.  You may want to carry them through here.

Bring some hut shoes for those little night time shuffles to the outdoor toilet

If you arrive early in the day, bring some things to do such as cards or colouring.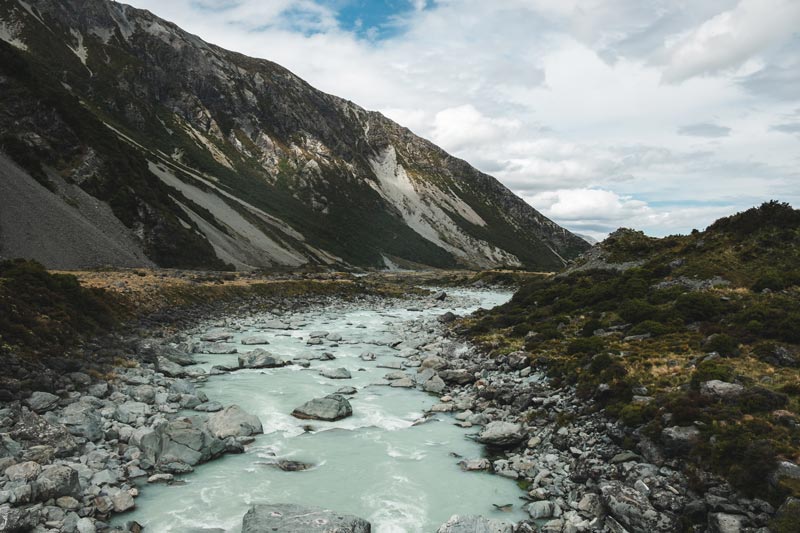 More Awesome Walks in Mt Cook
Kea Point Track: 1 hour return, off road stroller friendly. Mt Cook and Mueller Lake views
Tasman Glacier Viewpoint: 30-60 minutes return.
Red Tarns Track: 2 hours return, up stairs to views of Mt Cook
Sealy Tarns Track: 3-4 hours up 2200 stairs to incredible views of Mt Cook. One of our favourites
Mueller Hut: 6-8 hours return to the famous red hut.  The most incredible viewpoint. Highly recommend if you have the fitness for it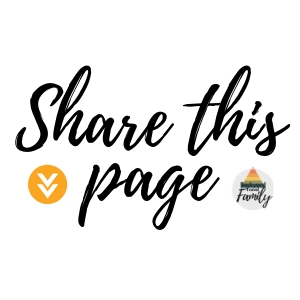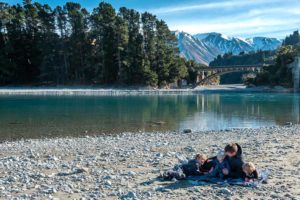 Things to do in Ashburton with Kids and around the Mid Canterbury Region If you are like me, you are always looking for interesting things
Read More »