Truman Track, Punakaiki: Secret Beaches and Hidden Waterfalls
The Truman Track on the West Coast
The Truman Track is an absolute gem of a track.  I have to say, when I read that it was a 15 minute walk to a lookout point, I was a little underwhelmed at the thought.  How good could a walk be that is only 15 minutes long?
Well I have to say I was blown away.  The view was incredible, but the secret beach you could access from here was just the icing on the cake.  Are you hooked yet?
Here is what you need to know about the Truman Track, Punakaiki
What is the Truman Track like?
It is an easy walk and a great one for the family.  The track creeps slowly downhill through the bush, all enclosed by a treetop canopy.  The track terrain is a well maintained dirt and gravel path.  Kiwis would likely walk this in their jandals (flip flops) but shoes are always easier.
There is a slight uphill on the way back but it isn't too difficult (and its short)
How long does the Truman Track take?
The Truman Track takes about 15 minutes each way to walk and we found this to be true when walking with kids too.  The track is around 1.4km long.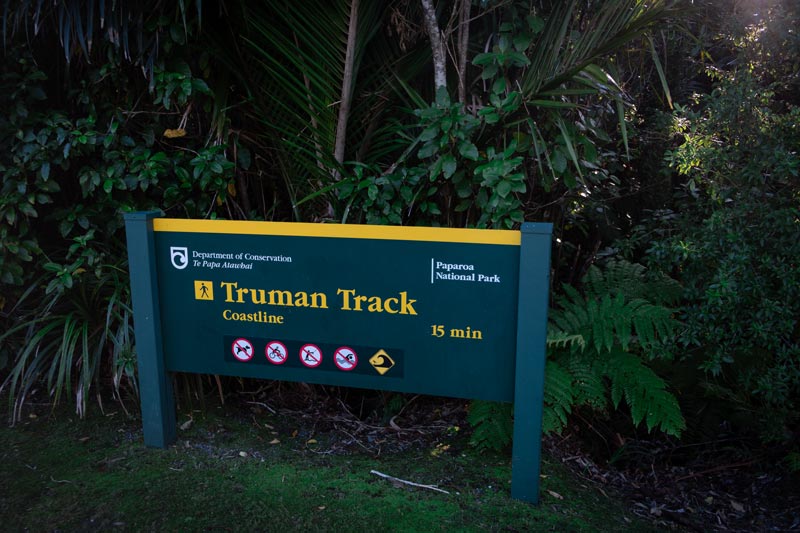 Highlight of the Truman Track
One of the lovely surprises is that you cannot see the beach until the very end as you are well hidden in the forest.  As the walk grows brighter from the sunlight, you will come across a large wooden platform, perfect for admiring the West Coast.
West Coast beaches are known for their ruggedness and their wildness.  They often have black sand, or have rocky shores.  Perhaps this is why I was stunned at an expansive, somewhat golden beach.  To be fair, we hit in on an incredible day where the sand just glistened in the sun, but I really felt transported to a new place.  Perhaps it had a Coromandel glow to it. 
The Truman Track waterfall is quite high, and I imagine it would be amazing after a good West Coast rain.  We also saw a weka, so keep your eyes peeled for wildlife.
I may sound a little insane, but I really was just in awe.
Truman Track Beach
When it is low tide, you can follow the stairs down to the Truman Track Beach.  While it looks sandy, you will find it is actually lots of tiny stones.  They will find their way into your shoes, there's just no helping that.
There is a shallow cave to explore, a waterfall pouring down from the ledge above which is even bigger after a rain and another secluded beach around the corner.  Do make sure you watch the tide though, as it comes right in and you don't want to get trapped (or worse) down there.
It's a great beach for kids as they can explore the rocks, play in the waterfall water, all in the confines of a cozy beach!  Next time we would totally take a picnic.
How to get to the Truman Track, Punakaiki
The Truman Track is located just 5 minutes drive north of the Pancake Rocks, Punakaiki.  There is free parking on the right hand side of the road (heading north) and the track starts on the left.
Other few little tips for this Punakaiki walk
As with most places on the West Coast, make sure you bring some insect repellant, as the sandflies will be out to get you!

This is a great track for kids, as it is short, has a great viewpoint and there is plenty of space to play on the beach.
So even though this Punakaiki walk is only a quick 30 minute round trip, we highly recommend it.  So don't just walk to Pancake Rocks and drive off in a hurry.  There is so much beauty in the Punakaiki area, just make sure you stick around to see it.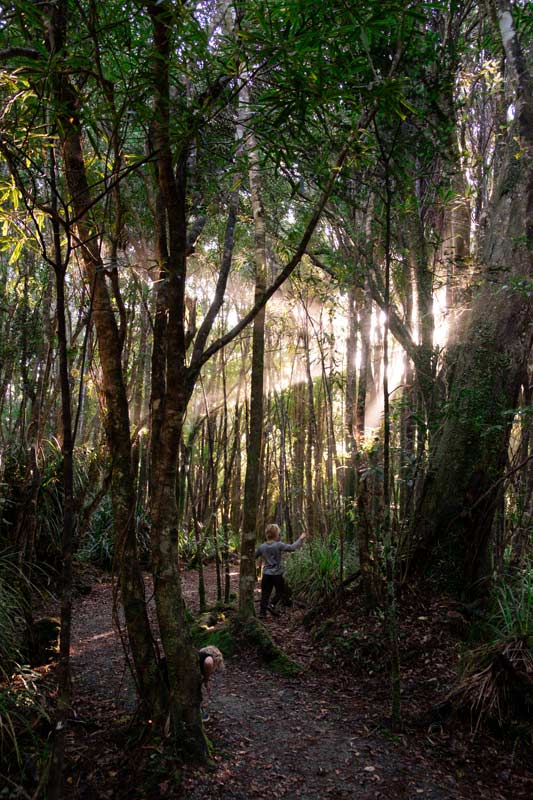 Other Punakaiki walks
Other things to do in this West Coast area
Woods Creek Walk:

A 1km exploration through the old gold mine area with a tunnel and caves to explore.

Hokitika Gorge: Stunning 15 minute track to a beautiful swingbridge over the azure blue green waters.
Brunner Mine Site: Explore this free site right alongside the Grey River.
Coal Creek Falls: Beautiful Cascade waterfall, an easy walk with kids near Greymouth
Cape Foulwind Walkway: A two hour return walk from the Cape Foulwind Lighthouse to the Seal Colony at Tauranga Bay.  A great walk for kids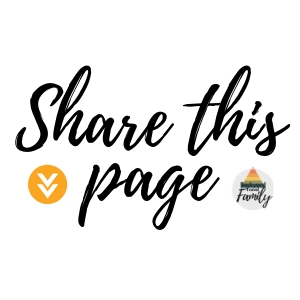 The beach was so cool. We saw a weka on the stairs. I thought it was a kiwi, but it was actually a weka. Its a bird that steals lots of stuff. I have a book at home. There is a waterfall but it was too cold to play in. Also we had to run fast to get back to the stairs as the waves were coming in. But I jumped up on the rocks so it didn't get me.