Unique Container Accommodation: Ross Beach Top 10 Holiday Park Review
Ross Beach Top 10 Holiday Park Review
*Please note this article may contain affiliate links.  These do not cost you any extra but the commission goes towards running this website.  Thanks for supporting us
Top 10 Holiday Parks are well known for their great facilities and a high standard across all of their holiday parks.  We have stayed in their campgrounds before with tents as well as in their cabins.  With access to kitchens and lots of family friendly facilities, we find them great value for money.
So it was a no brainer when we were welcomed across by lovely owner Sue, to the Ross Beach Top 10 Holiday Park to check out her unique accommodation.
This holiday park is very unique in that it is all container accommodation.  They have small budget friendly cabins known as sleeping pods, up to beautiful studio apartment pods, all in renovated shipping containers.  Even the kitchen and dining area is a shipping container.  These refurbished containers are light, airy and modern.  In fact, not something you would typically find from a holiday park at all.
So let me tell you a wee bit about our pod experience and the facilities here at Ross Beach Top 10 Holiday Park.
Apartment Pod for two and camping on the lawn
Kids love camping, it's such a kiwi classic, but sometimes as an adult, I really want a great sleep and we all sleep better in a comfy bed.  So the option to have our own apartment pod for the adults, and to pop the kids on our private lawn was ideal.
The apartment pods all have their own parking space and hedged off deck and lawn area.  In fact, it doesn't feel like you are in a campground.  More like a private holiday home.  And the best bit, it's only a minute's walk to the beach, right on site.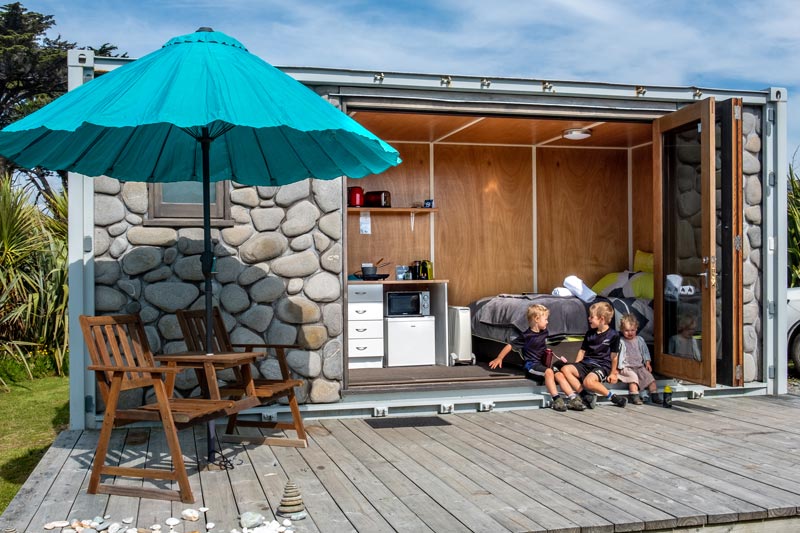 The apartment pod has:
Queen bed with duvets and linen

Fridge, microwave, induction cooking (so so fast!) and your own bbq (gas provided)

Ensuite with toilet and shower

Huge bifold doors to open up the room on the deck

Deck seating, a picnic table and bbq

Private hedged lawn area
There is plenty of space to play on the lawn and relax.  Do make sure you keep your tent all zipped up as the cheeky wekas love to dance around and steal your things.  We visited in January and didn't have any problems with the mighty West Coast sandflies (but I would still have insect spray just in case)
With an apartment pod, you still have access to all the kitchen facilities in the main cooking pod (for example if you need an oven) or extra showers for everyone to get clean at the same time.
Camping and Campervanning at Ross Beach Top 10 Holiday Park
If you bring your campervan, the best bit about Ross Beach, is that you can have a beachfront site.  These don't have power, but you can park up with the best view and watch a classic West Coast sunset which is mighty magical.  
There are a few places for camping including right near the ktichen and bathroom facilities or down the back near the kids playground.  This is all on grass.  Do choose your spots wisely, as there are some section on a wee slope or angle.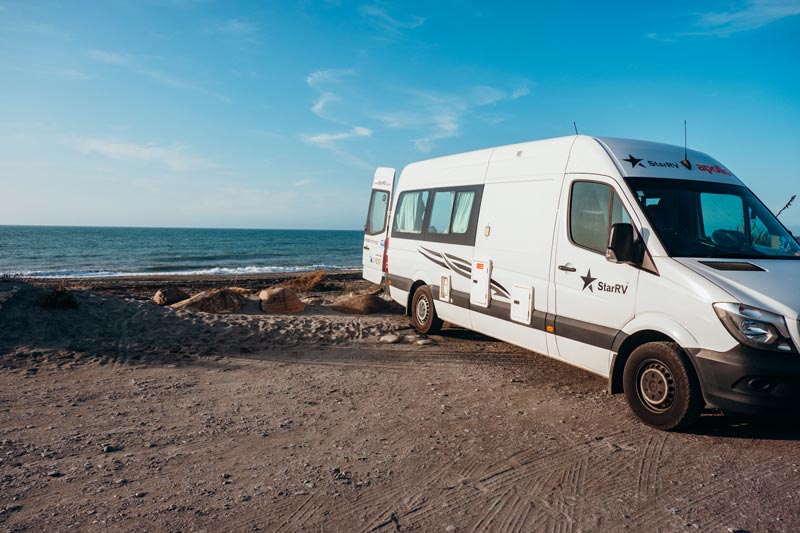 Facilities at Ross Beach Top 10 Holiday Park
Kitchen/Dining/Lounge areas
The kitchen/dining pod was lovely and new and clean, with all plates, cutlery etc provided.  This is great if you were biking the Wilderness Trail and didn't want to carry everything with you.
My only criticism of the whole kitchen/dining space is that it is incredibly small.  If it rained, which is common on the West Coast, and there were more than 6-8 people milling around here, then it would be overcrowded.  There is also no place to go in the rain.  So if you were in a tent, or needed more space than your pod, then there was no tv room or lounge area to retreat too.
This wasn't a problem for us as we had great weather and spent the entire time outside, but if you had to hunker down for a day or two, then somewhere to relax, or even more room for a few people to eat would be ideal.  Just something to note.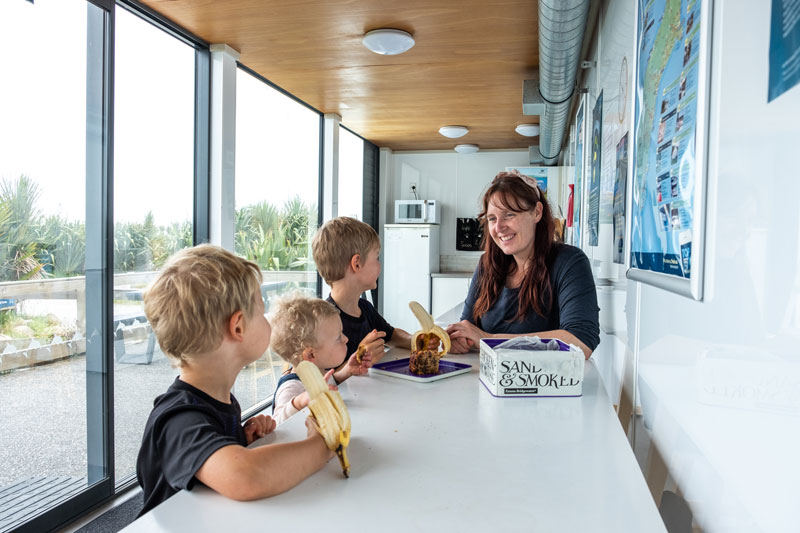 Childrens Playground
There is a small childrens playground near the back of the property on some lovely lush grass.  Our kids, who were 6, 4 and 1 at the time thought it was great.  Its a great playground for younger kids.  The older kids will have to find their own fun, like perhaps the karts they hire onsite.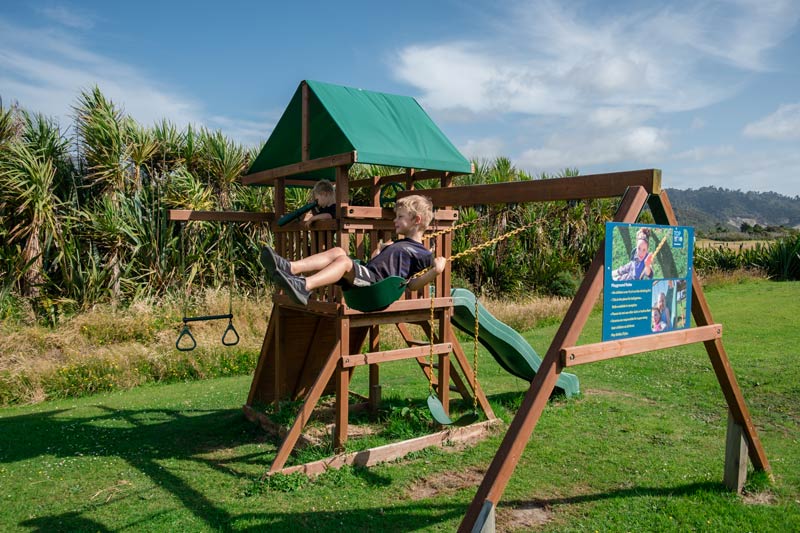 Ross Beach
Ross Beach is a classic West Coast beach.  It has dark sand, can be rugged and messy, but with the right weather, it can be safe to swim.  Our kids were happy to paddle and run from the waves, but to be honest, spent most of their time, digging and building with rocks and tree branches found on the beach.
If you fish, this is a popular place for the locals to come to find some tucker for dinner.
Beachfront Accommodation Location
Ross Beach Top 10 Holiday Park is just 20 minutes south of Hokitika.  It is a great place to explore the marvelous things in Hokitika, and you can even day trip to Franz Josef Glacier from here, being less than a 90 minute drive.  
Here are some great things we love to do when we visit Ross Top 10 Holiday Park
Explore the

Ross Gold Mining area
Hokitika Gorge: A short walk to an awesome swing bridge and amazing colours of the Hokitika Gorge
Explore Lake Kaniere and Dorothy Falls (a 1 minute walk to a lovely waterfall)
Head up to the Woods Creek Track south of Greymouth (a 1 hour loop track with mining tunnels and old relics to explore in beautiful bush – great for young kids to explore)

Take a ride on the

Wilderness Trail

.  You can access the trail right from Ross Beach, or another lovely section with kids is the Mananui Tramline near Lake Mahinepua

If you head to Franz Josef, make sure you do the Franz Josef Glacier Walk, with lovely waterfalls and views of the glacier (a 90 minute return walk)
90 minutes north is the famous Pancake Rocks at Punakaiki, the secret beach on the Truman Track and Punakaiki Cavern
Coal Creek Falls: A beautiful cascade waterfall, a 1 hour return walk for the whole family
Verdict at Ross Beach Top 10 Holiday Park
We loved how different and innovative the container accommodation pods were.  Everything was fresh and clean and modern.  Having the option for the kids to camp, and the parents to have a wee bit of luxury was the perfect summer holiday compromise and we really enjoyed having our own private space.
Sue is a lovely host who loves chatting to her guests.  She is always happy to help and will go out of her way to make sure you have a great stay.
I can't fault anything at the holiday park at all.  My only concern here is if it rained and we were staying for a long time.  In saying that, there are lots of great bush walks that you don't get too wet in, in the rain as they are well covered, so you can make it work.