Isthmus Peak, Wanaka: An alternative to Roys Peak
Isthmus Peak Track Wanaka
The Isthmus Peak Track is an incredible Wanaka hike in the beautiful South Island of New Zealand.  Less famous than the Instagram favourite Roys Peak, but with similarly spectacular views, this is a good track for those who love a lung burner and an incline.
What makes Isthmus Peak unique is that you can see both Lake Wanaka and Lake Hawea from the summit.  The twin lake views are incredible so make sure you have a camera or phone on you.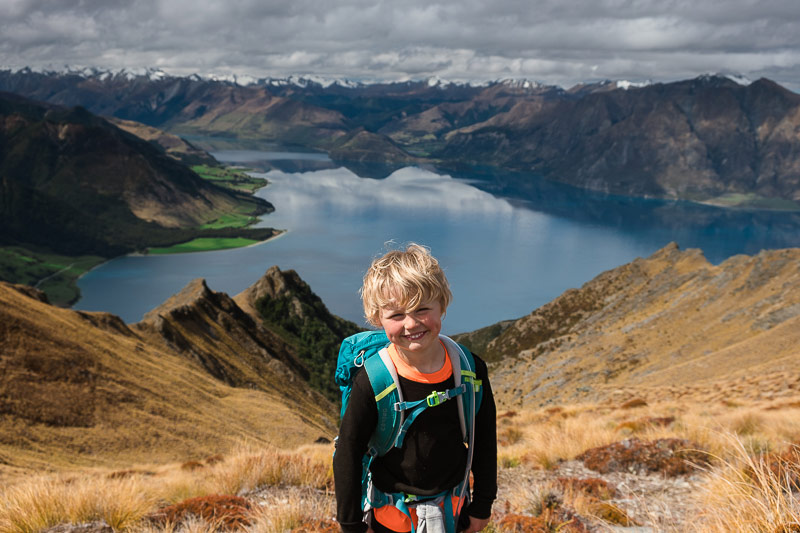 How to get to the Isthmus Peak Track
The Isthmus Peak Track is just over 20 minutes from Lake Wanaka township and 12 minutes from Lake Hawea.  Coming from Wanaka you will drive a beautiful section of the Lake Hawea lakeside road before stopping in a pull off area on the right hand side of the road.  
The Isthmus Peak car park is less of an actual car park and more of a big shoulder, but it is safe for a small number of cars.  Head just a few minutes back up the hill on the side of the road and there is signage for the Isthmus Peak track
This track is in the Matatiaho Conservation Area.  The Isthmus Peak Track also crosses private property so is actually closed between 20 November and 20 December each year for fawning (cute baby deers 🙂
Table of Contents
Track details:

How tall is Isthmus Peak
Elevation Gain on Isthmus Peak
Track distance
What is the Isthmus Peak track like?
In terms of navigation, it is an easy trail.  The track is well marked with orange markers.  At the start you will head across farmland with a more gentle climb before you hit the steep wide trail that leads to the top.
The majority of the track is wide and similar to a 4WD track.  In some sections it is even in grass which provides some nice cushioning for your knees on the way down.
You will have lake views the entire way which provides some breathtaking moments.  Seeing both lakes from the top is quite special indeed.  You won't be disappointed with the views on this trip.
3 sections to the Isthmus Peak Track: A rundown of the details
There are three main sections to the Isthmus Peak Track.  The first, heading across the farmland, with some up and across sections amongst the sheep.  Plenty of poo about, so be careful with your feet if that bothers you.
The second section is the steep switchback uphill.  This is quite a trudge up and does feel relentless at times.  The good thing is you now how beautiful views over Lake Hawea, so when you stop and pant (which we all do), it will be with an incredible view.
The end of this main section is where you hit the false summit.  All this up effort makes it feel like you are almost at the top, with alas, there is still plenty more.  In fairness though, you have just completed the steepest of the sections overall.  There is a toilet not too far from here (byo toilet paper)
The third section is the final push.  This last section is still uphill, but think of this part as heading over towards Lake Wanaka.  You can't see it until you are right near the end.  When you see a flattening section heading across to your right, just know that the summit is right at the end.  You have made it!!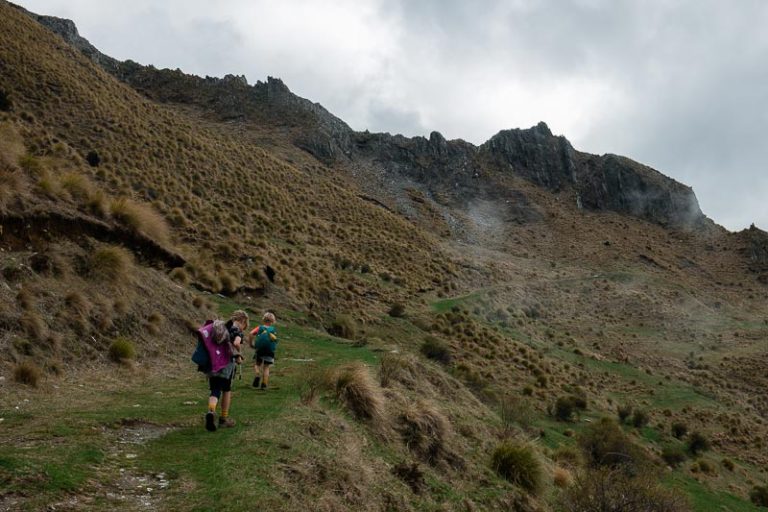 How tall is Isthmus Peak Wanaka?
Isthmus Peak is 1385m above sea level.
How much elevation gain is there on the Isthmus Peak Track
The Isthmus Peak summit is at 1385m, giving you around 1000m of elevation gain on this track.  In candid terms, it's an uphill trail with barely any flat/reprieve from the incline.  You will need a decent amount of fitness for this one
How far is the Isthmus Peak Track?
The Isthmus Peak track is 8km one way, so 16km return.
How long does it take to climb Isthmus Peak?
The Department of Conservation recommends allowing 3-4 hours to walk to trail one way.  I walked this trail with a 3 year old in a backpack, and a 6 and 8 year old and it took them 3 hours and 50 minutes to walk this on the way up and 3 hours on the way down.  Adults would walk this far more quickly downhill.  They've only got little legs.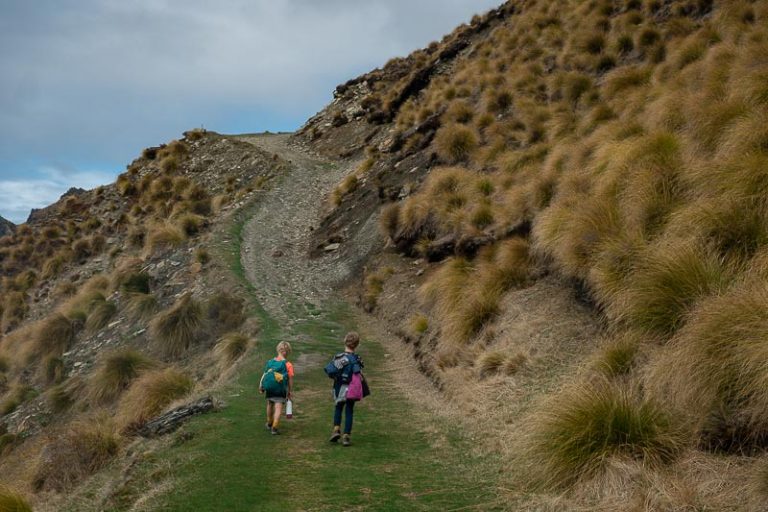 How difficult is Isthmus Peak?
Isthmus Peak is of moderate difficulty.  It's a tough climb for the Joe Bloggs who likes to does a few walks a year and has reasonable fitness.  For regular trampers who hike a lot on a range of terrain, this will be far easier, but it is still a consistent uphill climb of 8km.
It is not a technical trail and navigation is easy, but it's still a full 16km hike, so it's a goodie.
Hiking Isthmus Peak with kids
I walked this track with a 3 year old on my back and a 6 and 8 year old.  This track was pretty tough for them.  It was relentless and uphill but they made it.  It is totally doable but will require a ton of mental strength.
The track is not unsafe and the terrain itself is easy.  With the majority of the track being a 4wd style surface, there was not a lot of rock scrambling or anything to make it technically difficult.
It will just be an uphill battle but kids can totally do it if they put their minds to it.  (It's worth noting if you are new to our website or Instagram, that the kids have been hiking decent distances for a few years now and have built up stamina over time)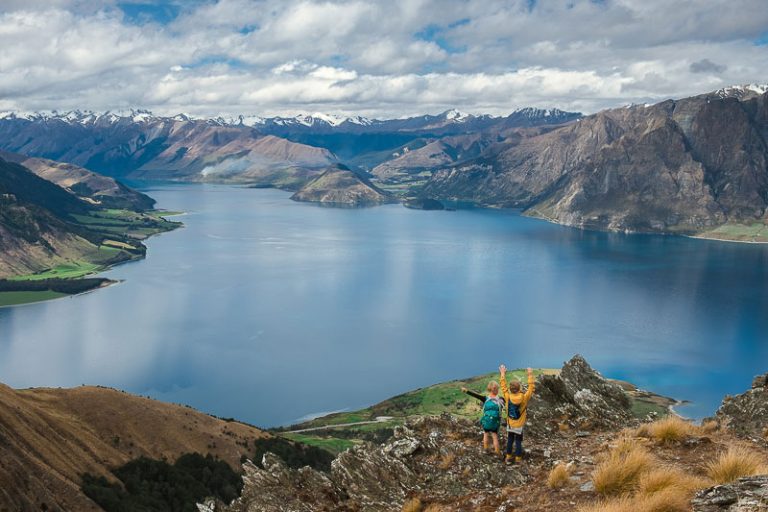 Roys Peak vs Isthmus Peak walk
There is a lot of comparison between the Roys Peak Track and Isthmus Peak.  They are both a similar length track, up over 1000m in elevation to some incredible views.
Which track is the easiest?
Isthmus Peak by a smidge.  A very small smidge, but don't choose it just for that.  Isthmus Peak has a little more variety.  You cross farmland for the first section which breaks up the switchbacks.  So for that reason, it was mentally a little easier.
Both trails have a large switchback section where you can see the long boring trail ahead.  I say boring, as compared to other tracks where they might be bush sections, alpine sections, waterfalls and more fun things to look out, these trails really are about putting your head down and getting to the top.
Which track has the best views
Roys Peak if you are looking for an Instagram moment or more aesthetically pleasing photos.  Both have amazing lake views and you won't be disappointed in either (unless you hit bad weather or you get clouded in)
Did I think Lake Hawea on the Isthmus Peak hike looked incredible and did I find some great viewpoints, yes, I totally did.  But if I had to choose, Roys Peak takes this one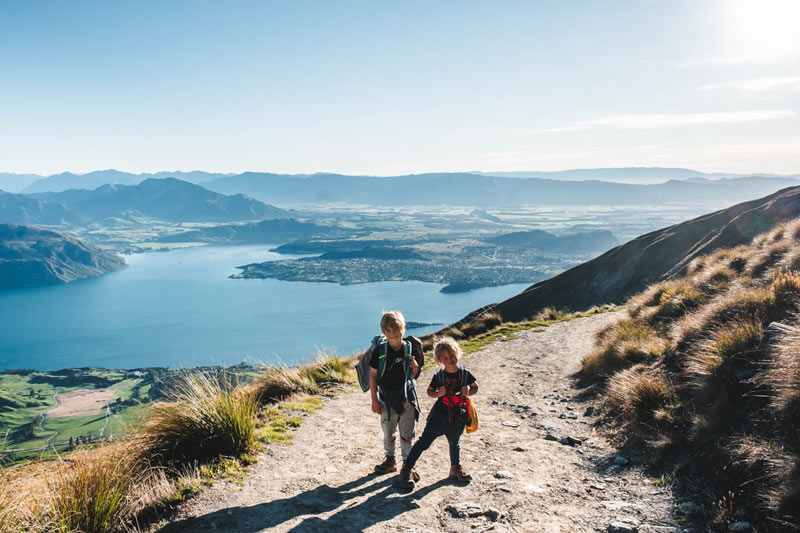 Isthmus Peak vs Roys Peak: The details
Isthmus Peak Summit Height: 1385m
Roys Peak Summit Height: 1578m (reminder that Instagram viewpoint is not the actual summit)
Total distance walked
Isthmus Peak return distance: 16km
Roys Peak return distance: 16km
Dates when the track is shut
Isthmus Peak is closed between 20 November and 20 December for fawning
Roys Peak is closed between 1 October and 10 November for lambing.  You cannot climb during this time
This means that you can always complete at least one of the tracks when you are visiting Wanaka.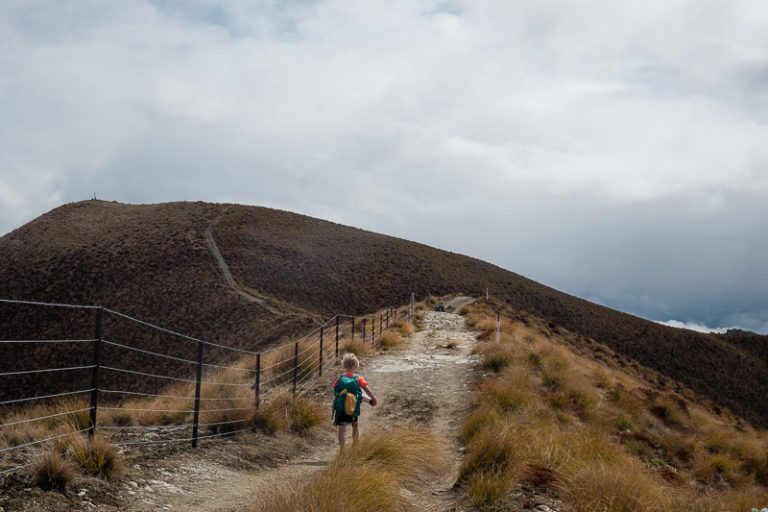 Weather on Isthmus Peak
With an altitude of 1365m at the summit, it's worth noting that the weather is more volatile up this high.  Wind chill is a big concern and weather can change from fine to rainy quickly.  
In winter, there can be snow on this trail, so wear appropriate footwear and even crampons if required.  Always carry a waterproof rain jacket and warm layers as 8km is a long way home in the cold.
So be smart, use a weather app and keep safe 🙂
Top tip for weather is have a chat to the awesome DOC team at Tititea / Mount Aspiring National Park Visitor Centre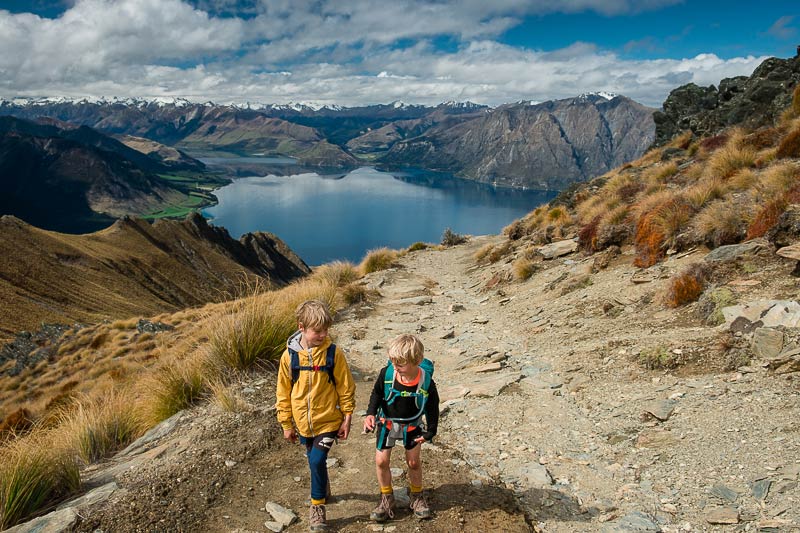 Important thing to note for the Isthmus Peak Track
There are toilets just a few minutes into the trail at the base of the mountain and one about ⅔ of the way to the top.  Bring your own toilet paper

95% of the trail is completely exposed to the elements with nowhere to shelter.  In summer it is blisteringly hot and I can imagine that wind and rain would batter you on this exposed track.  Choose your weather window wisely

You will get super thirsty and sweaty on this track so bring enough water.  There is nowhere really to fill up.  We saw a little inner hill trickle but that was about all.  We drank way more than we thought on this trip.
Looking for more things to do in Wanaka?  You might like these articles