Lake Dunstan Cycle Trail
The Lake Dunstan New Zealand Cycle Trail is New Zealand's newest bike trail which opened in May 2021 and is turning out to be one of the most popular in the country.  With over 1 million cyclists riding the track in its first year, we just had to check out what the fuss was all about.  And was it worth it? 100%
The Lake Dunstan Track is a 55km (34mi) cycle trail that runs between Cromwell and Clyde in Central Otago.  A more unknown part of New Zealand, but this trail is putting Cromwell on the map.  Cromwell is only a 40 minute drive from Queenstown, so is also an easy day trip on your South Island adventure.  (It's sometimes referred to as the Clyde Cromwell Cycle Trail)
Did you know that this is also the Lake Dunstan Walking Trail? The track is a dual purpose track so do keep an eye out for walkers.  It's a stunning track.
This article will run through the sections of the track we completed, the logistics of hiring bikes and shuttle transport if you require it, as well as what the Lake Dunstan Cycle Trail is like to cycle with kids.
Please note: this article may contain affiliate links.  These do not cost you any extra, but any commission earned goes towards the running of this site.  Thanks so much for your support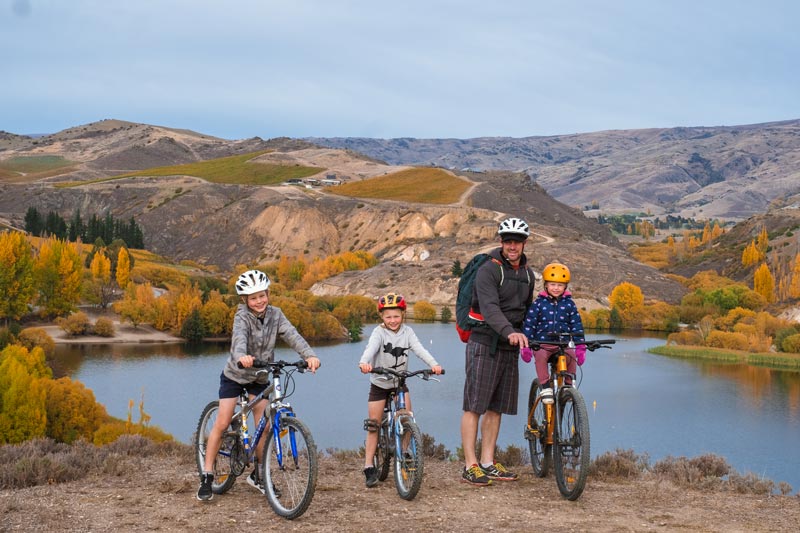 Table of Contents
Where does the Lake Dunstan Cycle Trail start?
The Lake Dunstan Cycle Trail is a two way track that starts at either Cronwell or Clyde in the South Island's Central Otago region.  It is not a loop track.  Lake Dunstan was a little unknown in the past, many assuming it is the Cromwell Lake (after the town obviously), but this trail is putting Lake Dunstan on the map.
There are multiple car parks and access points closer to the ends of the trail, so you can easily shorten the trip, or do an out-and-back cycle.
Does the Lake Dunstan Cycle Trail cost?  
No, the track is completely free to cycle, but you may have to factor in shuttle transport and bike hire.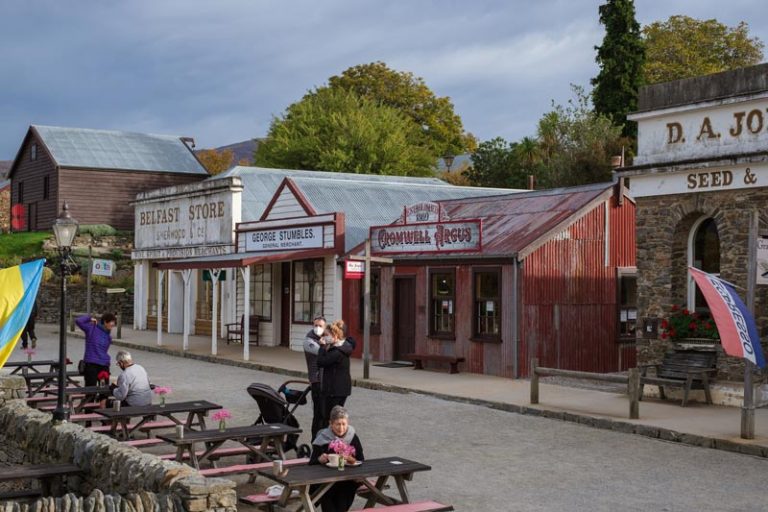 How long does it take to cycle the Lake Dunstan Cycle Trail?
Most Lake Dunstan Cycle Trail shuttle operators suggest allowing 4-6 hours to cycle the 55km Lake Dunstan bike track.  Ebikes will be on the shorter side, and this timing allows stops along the way.
Of course, you can always shorten the journey and just ride a section of the track.  If you want to cycle the Lake Dunstan cycle trail with kids, see below for our own review.
Lake Dunstan Cycle Trail Map
Courtesy of the Central Otago tourism website, here is the Lake Dunstan Cycle Track map

How hard is the Lake Dunstan Cycle Track?
The Lake Dunstan Cycle Trail is regarded as a moderate trail in its entirety.  It is graded 1-3, with sections suitable for beginners and grade 3 sections for the more experienced rider.
Note: We only did the section between Bannockburn Inlet and Hugo Bridge so cycled 30km in total with the kids
The hard riding surface made the track much more manageable than most mountain bike tracks.  The paths are wide for the most part, especially for mountain bike tracks and while there were a couple of big hills throughout the whole trail, I was pleasantly surprised at its ease.
If you are concerned it might be too difficult, you could just do a portion of the track and turn back.  Or you could hire an e-bike.  There were a ton of people on ebikes, especially retirees who made it up the hills with ease.  An assist would definitely be recommended if you aren't used to biking and want to give it a go.
What grade is the Lake Dunstan Cycle Trail: Mountain Bike Grades explained
The Lake Dunstan Cycle Trail has sections of grade 1, 2 and 3 mountain bike tracks. In a simplified nutshell, this is what it means
Grade 1:  The easiest mountain bike trails, ideal for bikers who are new to mountain biking. The trail is likely to be wide and flat, a smooth or gravel surface.
Grade 2:  Still an easy trail with some gentle hills.  There may be obstacles on the trail but they are avoidable.  Think potholes, rocks or tree roots, but you can cycle around them.
Grade 3: An intermediate grade trail.  There may be steep hills, obstacles you can't avoid such as rocks you will have to navigate.  The trail may be narrower and there may be drop offs on the outer edge of the trail.  This for me is the part you have to be super careful with kids.
On the grade three sections we cycled, there weren't any obstacles, just the track narrowed and there were drop offs.  I didn't feel uncertain at any stage and there were fenced sections that were narrow around the cliff edge, so this was much easier than other grade 3 trails I have cycled.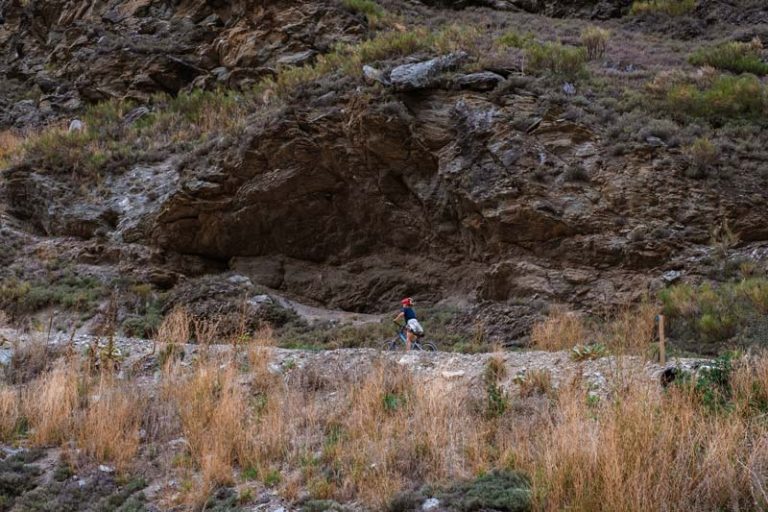 Lake Dunstan Cycle Trail terrain
Note: We only did the section between Bannockburn Inlet and Hugo Bridge but I imagine it would be similar throughout
The track itself I would more describe as an off road trail rather than a mountain bike track.  It was very easy to ride given it was well compacted dirt with very fine grit.  It wasn't shingle type gravel, or anything that made it difficult to ride.  I was pleasantly surprised.
I'm not a huge fan of mountain biking where you have to watch out for rocks, or its a narrow single trail so this type of relatively wide trail I really enjoyed.
Unlike other cycle trails in the area, this is not the Lake Dunstan rail trail, it is a purpose built cycle and walking track.  If you are interested in doing a rail trail, the Otago Rail Trail is well regarded.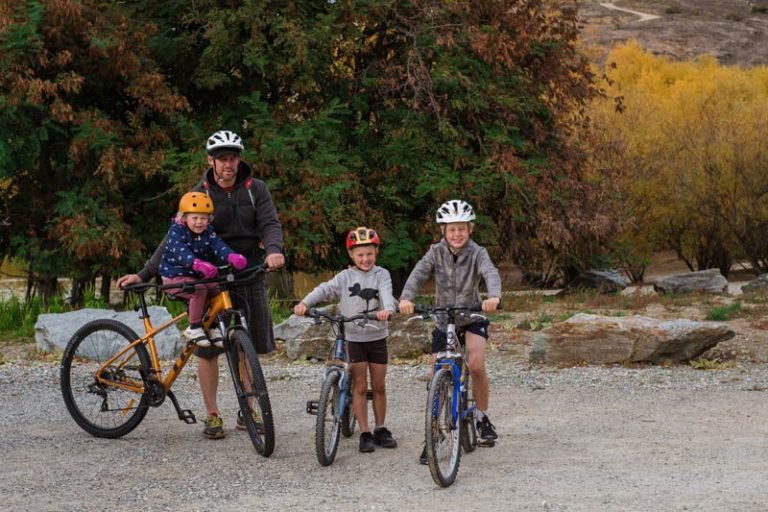 Which direction should I cycle the Lake Dunstan Track
It's been said that the Cromwell – Clyde direction is a little easier than the reverse.  If you are completing the whole 55km track, you will need to arrange a shuttle to return you to where you started.
I personally like to be shuttled out, then I can ride back at my leisure.  There's nothing to ruin a ride like stressing that you will "miss the bus".  Below is some information about shuttle operators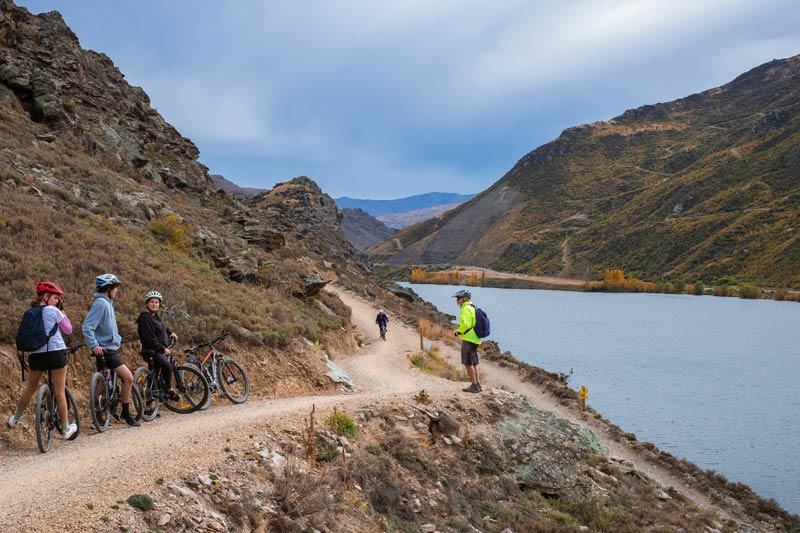 Lake Dunstan Cycle Trail Bike Hire and Shuttle Operators for the Lake Dunstan Track
Cromwell Heritage Precinct Bike Hire: Grab a great package option of bike hire and shuttle transport, with options for e-bikes too.  
Bike it Now:  Lake Dunstan bike hire based in Clyde and Cromwell and operates shuttle drop offs from either of these bases.  They will also do Queenstown transfers.  Regular and e-bike hire available
She Bikes He Bikes: Great Lake Dunstan trail bike hire which also offers transport between Clyde and Cromwell.  Regular and e-bikes available.  Offers kids ebikes at 24inches (130-150cm tall)
Trail Journeys: This Lake Dunstan cycle trail transport runs shuttles that drops off at Cromwell, so you can cycle back to Clyde.  Hires out regular mountain bikes, ebikes and tandem bikes
Wanaka Bike Tours:  Can arrange transport from Wanaka to either Clyde or Cromwell and will transport you back.  They also do regular Clyde-Cromwell shuttles (and reverse)  You can hire bikes from them too.
Trail Transfer:  Instead of transporting you and your bikes, Trail Transfer relocate your car.  This would be a good option for families or groups as it would work out much cheaper than taking a shuttle for 4 or more people.  Your key goes in a lockbox and you return this after your ride.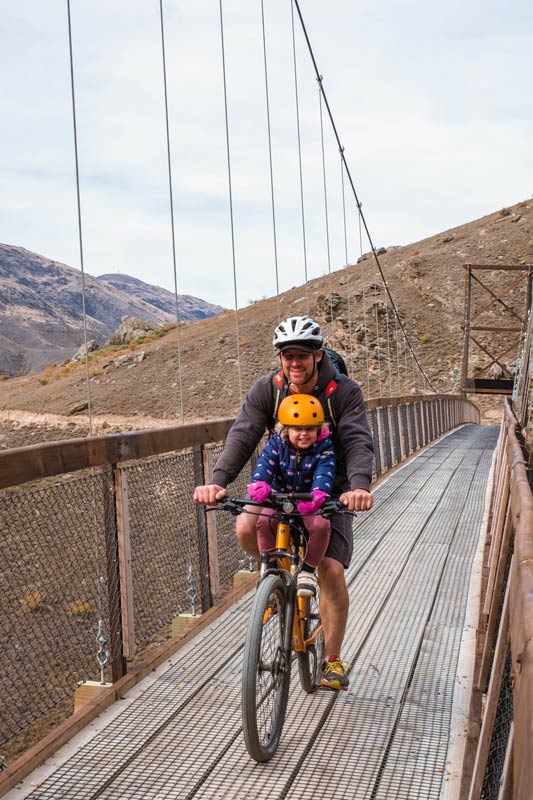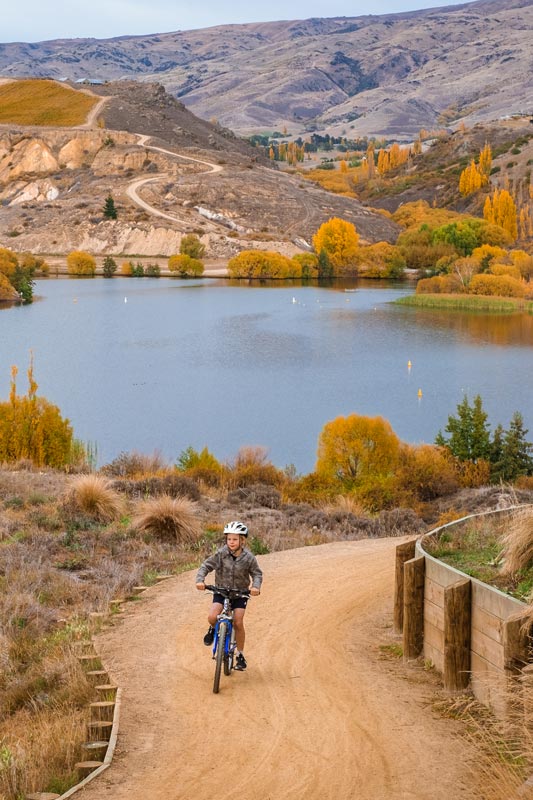 Lake Dunstan Cycle Trail with kids: Our Lake Dunstan Cycle Trail review
According to official information, the Lake Dunstan Cycle Trail is not recommended for young children.  What it is meant by young children, I'm not sure, but we took a 6 and 8 year old and did 30km over the day and it was fabulous.
I will start with a disclaimer that I am not a risk averse parent.  My children have been hiking for years and they use their bikes around home regularly (but are not into anything extreme like downhill mountain biking) and we found it great.  The kids are very used to following instructions, we briefed them on each section and they had very clear guidelines of what to do.  
So if you understand your children's abilities well and have got your head screwed on, then this can be a great family bike.
So here are my tips for cycling the Lake Dunstan Cycle trail with kids
If you are going to do a good stint on the cycle trail, you will want your kids to be able to change their gears and use their brakes confidently.  
There are sections which are closer to the edge so we did encourage the kids to cycle more to the middle.  We had an adult at the front and the back of our group.  At the front I just mentioned to cyclists we had kids behind me, just so they were aware.
The biggest hazard was cyclists travelling in the opposite direction.  There were times we had to pull over and wait to let people pass, but this was only in the grade 3 sections.  Everything in grade 2 was perfectly fine.
Our 6 year old bikes with a 20 inch bike.  This worked out well but given his bike was smaller, meant he was doing a powerload of work.  Bring plenty of food and water.  There was nowhere to fill up with fresh water in the sections of the track we did.  We didn't take enough.
Ensure the kids leave enough following distance between each other
One lady we saw have a bell and she dinged it around the blind corners which I thought was genius.  If the kids have one, encourage this, otherwise I just talked loudly (haha)

The sections we cycled
There are a number of entry and exit points at either end, but once you get into the middle of the gorge, you really do have to bike out the way you came, or continue on through.
Since we didn't quite know what to expect, we biked out and turned around to ride back.  This meant we didn't need a shuttle and could bike as far as we wanted.
We cycled from Bannockburn Inlet to Hugo Bridge and back again.  This was about 30km return and took us 5.5 hours with lots of stops and photos along the way.  I'll go into a little detail of the sections we did below.
Bannockburn Inlet to Cairnmuir Gully (11.3km)
It's a pain that they don't actually mark Cairnmuir Gully on the Lake Dunstan cycle map.  But the Gully is at the bottom of the Cairnmuir Ladder.  This is the first big hill if you are coming from the Cromwell end.  It's also where you will find the floating cafe with coffee, venison burgers and ice cream.
This is a grade 2-3 section, which just fluctuates due the narrowness of the track and that certain sections are a little close to the edge.  I didn't feel any fear or anxiety for my kids on this section of the track at all.  It was plenty wide enough if there weren't people going the other way.
From Bannockburn Inlet to Cornish Point was about 7/8km and was a lovely section of slightly undulating trail.  There is one small hill up to the vineyard (photo above), but very doable.  It's a little easier going out to Cornish Point on this section, than coming back (just FYI)  
From Cornish Point to the Cairnmuir Gully, this is where the track changes a bit.  It hugs the lakeside and it narrows in places.  This is where you will find the fun photos of the platforms that hug the rockside.  These sections are well fenced but you just have to bike slowly since there are blind corners.  It's beautiful and a very cool section.
From Bannockburn Inlet to Cairnmuir Gully at the floating cafe, it took us about 75 minutes with some short stops.  There are no big hills in this section, it's picturesque and not too demanding, I found this a great section to do with kids.  If you want to do a couple of good hills, then read on.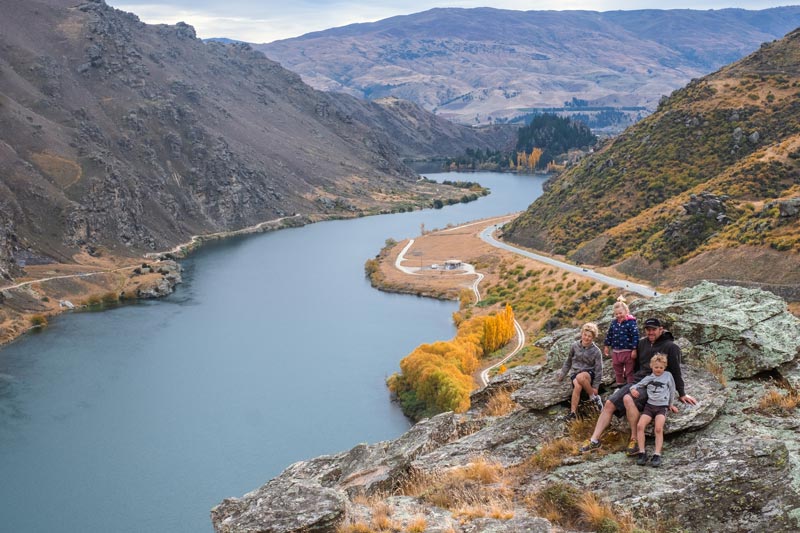 Cairnmuir Gully to Hugo Bridge
We hadn't planned to go up the hill to be honest, but it was just so intriguing that we gave it a go.
The Cairnmuir Ladder is a zig zag path up to the highest point on the track.  I have to say that they have done an impeccable job with the gradient of this hill.  I haven't biked a hill in years and while I hike a lot, I'm not bike fit.  But I managed to push my way up this hill on my own steam with a photo stop or two without too much trouble.  So very impressed.
Once at the top of the hill you can see down both sides of Lake Dunstan.  It's amazing looking at the rock hugging track we had just done.  There are some cool rocks and places for photos up there so make sure you stop.
From here we headed carefully down the hill and across to the Hugo Bridge.  It's a pretty impressive suspension bridge effectively in the middle of nowhere.  This was our turnaround today as we were close to the halfway mark and hadn't booked a shuttle.
The push back up the hill to the viewpoint was much harder than the ladder.  I hopped off and walked with Kipton.  I would have said it took us maybe 15-20 minutes (hard to tell)  But there's no failing in getting off your bike to push it.
Hugo Bridge to Bannockburn Inlet
The return journey felt like there was a little more uphill.  Mostly gentle uphill that we just sailed down the first time.  After 20kms or so, even the little uphills felt a little heavier.  I recall it being recommended cycling from Cromwell to Clyde as the preferred direction as it is a little easier.
But we were stoked with our massive effort, not knowing exactly what it would be like, and with a hill in there, very proud of our achievements as a family.
Thoughts on the Lake Dunstan Cycleway
Here are a few of our thoughts on the whole thing
The section we did was easier than I thought, pleasantly surprised

Loved the whole thing! Amazing, would go back again for the Lake Dunstan bike ride.

We found it quite busy when we did it in the school holidays (April) but not with families, more older people on e-bikes

The fact that the trail is 2 way made it harder as the day went on.  In the morning on the way out to Hugo Bridge, we didn't have many coming towards us, but later on in the afternoon we did.  Just have to keep your wits about you.

Unfortunately we can't comment on the rest of the track, but will update when we get a chance to.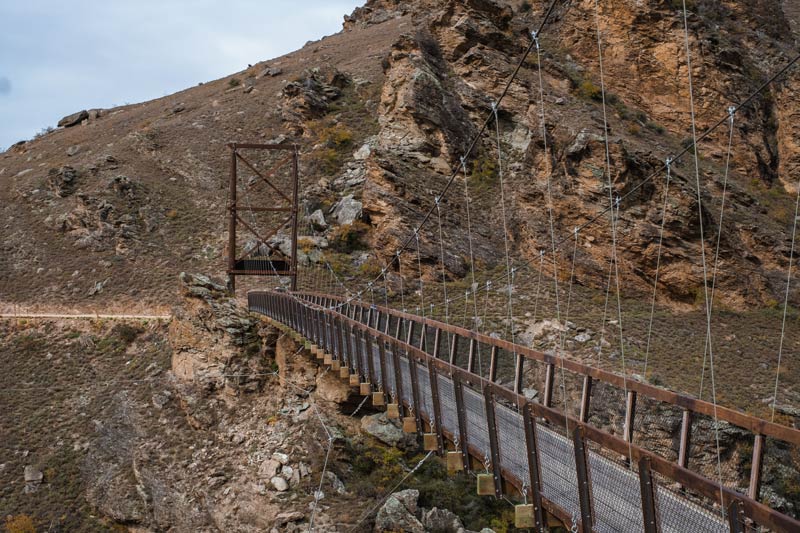 Facilities on the Lake Dunstan Cycle Trail
Toilets:  There are 9 toilets on the whole 55km bike trail.  Well located, we found these great
Water: On the section we did, there was nowhere to fill up our water bottles.  Some toilets had taps but it said to boil first.  So make sure you take plenty of water.  The floating cafe may have been a place where you could purchase some perhaps.
Cellphone signal:  It can be patchy along the trail.  I know at the Hugo Bridge when I checked my phone for the Lake Dunstan bike trail map, I didn't have any service there.  So be aware it might not always work.  Download the maps or trail info you need earlier, or screenshot them.  We always take a PLB (personal locator beacon) with us, just in case of an accident.
Markers:  There are kilometre markers the whole way along the trail, every 1km, so you will have a fair idea of where you are.
What to bring on the Lake Dunstan Bike Trail
Bike and helmet:  Bring your own, or hire one from the many cycle providers in the area.  They offer regular bikes as well as e-bikes
Water:  Bring at least 2L per person.  Biking is thirsty work.
Food:  Pack plenty of snacks and lunch, and if you do need a little extra, bring your eftpos card for the floating cafe.  We saw ice cream, waffles and venison burgers on the menu.
Clothing:  Bring plenty of layers as once you've climbed a hill, you'll be surprised how fast that sweat cools down zooming downhill.  The track itself is very exposed, so there really isn't anywhere you can hide from wind and rain.  In the same respect, in the heat of the summer, the track will be hot!  Layers are best to cover all bases
Cycle Shorts:  If you haven't been on your bike for a while, these will make your trip a lot more comfortable.
Cycle Gloves:  The kids found their handlebars would get extra sweaty and slippery.  I think we will get them some gloves for this longer distance riding.  Also if you do the trail in winter, it will keep them warm.  Once their hands are cold, there's not much to make them warm again.
Cellphone/PLB:  There's not always cellphone access on the trail so a locator beacon is a good idea in case of any accidents.
Sunscreen: Self explanatory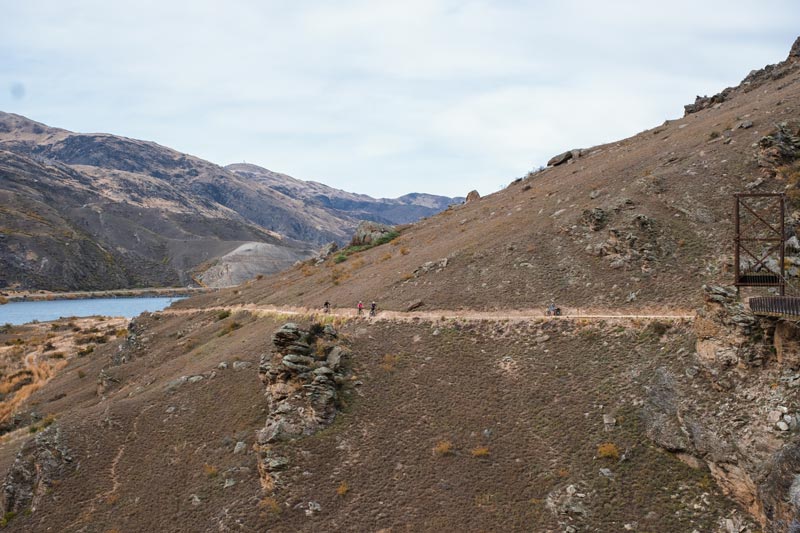 Biking the Lake Dunstan Trail with young kids
The track is not recommended for young children but if you do want to take them along, we highly recommend the Kids Ride Shotgun seat.  Our three year old rode on this set for our full 30km journey and just loved it.
The Kids Ride Shotgun seat is mounted on the front and can come with handlebars.  Having the children front mounted means you can easily chat to them and they start to learn a little as you bike.  They also don't have to look at your back the whole time.
The track does narrow in places so a tow behind trailer would be too wide.  However in the first section we rode from Bannockburn Inlet to Cornish Point, I feel this would be okay, and this looked similar to the Cromwell Heritage Precinct trail (We didn't ride this bit, but it would be worth checking if you wanted to do a smaller easier section of the trail)
Don't forget: For young kids on bikes – when they aren't pedalling, it can get quite cold, so pack extra clothing for them as well as gloves if it's in the cooler months.
Lake Dunstan Cycle Trail Accommodation
Since the Lake Dunstan Cycle Trail runs from Cromwell to Clyde, the most logical places to stay would be these two towns.  This will also work if you want to break up the cycle into two days perhaps or if you are moving on to cycle other trails such as the Roxburgh Track.
Your other options would be to stay in Queenstown or Wanaka and do the cycle track as a day trip from there.  Queenstown and Wanaka are only 40 minutes drive from Cromwell so it isn't too far.
Here are some great options for accommodation on the Lake Dunstan Cycle Trail
What do you think about this Lake Dunstan ride?  Sound like a great trip?  We know you will love this active adventure on your New Zealand holiday.  Good luck!