Deals, Discounts and Savings: Your Guide to Extending your Budget travelling in New Zealand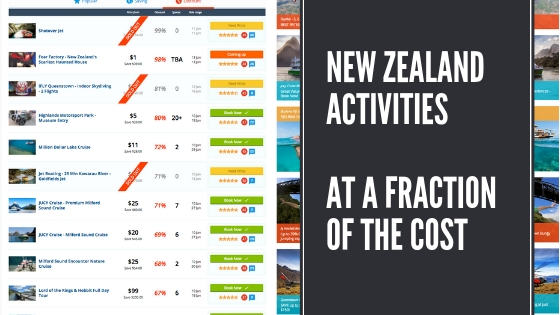 Travelling with a family can be expensive, especially when you compare to more budget friendly travel destinations such as Asia.  But travelling around New Zealand doesn't have to cost the Earth.  If you follow these tips for some of your higher ticket items and mix in the amazing walks, scenery, playgrounds and museums that you can find for FREE, then you may find your budget extending further than you think.  Budget Travel in New Zealand is possible, if you're clever.  (By the way, all the headings below in blue, are clickable links, so no need to google them 🙂
 If you are wondering "How much does a trip to New Zealand cost?" or "What should my New Zealand travel budget be?", it's a little like asking how long is a piece of string.  But what this article will tell you, is how to reduce your travel costs and get you the best deals in New Zealand.  These are all budget tricks I use myself and it is very rare that we pay full price for our travel around NZ.
This article will cover
Flight deals: What websites to check and our two main carriers

How to save money on fuel

What fuel stations are the cheapest in New Zealand
Which towns to avoid for higher gas prices
What fuel discount cards are on offer

How to get cheaper car hire and campervan rentals
The top discount websites in New Zealand to save money and food and activities
One particular discount book that I guarantee no over New Zealand travel blogger has written about before, and it could save you hundreds of dollars
Flight deals in New Zealand
There are two main airlines in New Zealand.  Air New Zealand and Jet Star. Air New Zealand will be the only way to fly in and out of regional airports in small towns around New Zealand, while Jet Star (Australian airline) will provide some competition for Auckland, Wellington, Christchurch and Queenstown.  I have never found anywhere like Skyscanner or Expedia to be any cheaper so I always book direct. (Let me know if you prove me wrong)
The cheapest way to get these flights are to book directly.  But they often have sales where you can travel from Auckland to Wellington, for example, for $39NZD one way.  Sign up to their newsletter so you get some warning, and their Facebook page. They often release deals at midnight and have a limited number, so if you're up early (yay for breastfeeding mothers haha) you can easily nab some of these cheap deals
Grabaseat is Air New Zealands deal website, so check out there, especially if your dates are a bit flexible, and get their alerts on Facebook to get in early.
They have less flights available, for example, two flights from Wellington to Christchurch daily, as opposed to Air New Zealands 10-12, but are often cheaper.  So do compare.
Sounds Air is a smaller regional airline servicing Picton, Blenheim, Wellington, Nelson, Taupo, Napier, Paraparaumu (just north of Wellington), Christchurch and Westport.  While their services are not as regular as the larger Air New Zealand carrier, they do have over 300 flights per week between these destinations, so if you looking to head off the beaten track, check out Sounds Air.
Ferry Sailings
The Bluebridge and Interislander are the two ferry companies that travel across the Cook Strait between the North and South Island (Wellington – Picton).  You can sign up to their newsletter for regular 10-15% off deals. If you are interested in the best tips for making the Cook Strait sailing a success with kids, check out my dedicated article here
How to save money on fuel
If you are travelling beyond our cities with a family, you will definitely need a vehicle, and fuel can end up costing quite a bit.  It is totally worth it, but here are a few tips to finding the best discounts and helping that budget. There are many great travel apps and cards you can use to help reduce the cost
Use the App Gaspy. Its a crowd sourced app where locals log the price at their particular fuel station.  You can easily check if theres a cheaper price just down the road
Supermarket Vouchers:  A lot of supermarkets collaborate with fuel stations.  Our local New World will give you a 6c off voucher at Mobil after spending a certain amount.  Some supermarkets such as Pak n Save often have their own fuel.  So buy your groceries first, then get your voucher to fill up. (note they are usually only valid at the local station near the supermarket, not the whole chain across the country)  Every now and then the supermarkets will do a 20c or 30c off per litre, so do check your docket.
AA Smartfuel Card:  Pick up one at BP, Caltex or Countdown (supermarket)  This will give you a discount at the pump every time.
Mobil Smiles card: Like the above card, it offers discounts just for Mobil.  There is a rewards scheme associated if you fill up a lot, but either way, a discount on the pump price everytime.
Gull in the North Island and NPD in the South Island are usually self service and are often the cheapest across the country.  They are our go to's first.  Allied Petroleum is also usually cheaper too.
Auckland:  Well, you would think that a big city should mean cheaper prices, but Auckland has a fuel tax to help with all the extra roading, so its often cheaper outside of the city.
Wanaka:  Strangely enough this place always seems to be that much more expensive than the likes of Queenstown or even rural towns such as Twizel or Omarama.  Avoid it if possible.
How to get cheap car rental and campervan hire
1. Signing up for discount codes via newsletter
While signing up for a newsletter may not sound like your idea of fun, many car rental companies will send you discount codes throughout the year.  One of my particular favourites is Go Rentals and I always have a 10-15% discount code in my inbox for most times of the year.  I recommend these guys are their cars are always pretty new, top notch, the service is good and their company is pink, so you can always find them.
2.  Vehicle Relocation Services
If you are flexible, why not try relocating a rental car or campervan through New Zealand.  Relocation websites such as Transfer Car and Imoova offer reputable brands for free or very low cost such as $5 per day.  Do scroll through to choose the best deal, as some companies will include a free ferry crossing (a savings of a couple of hundred dollars at least), or even free fuel.  Vehicles do vary, but you can even get a 6 berth campervan for hire for just $5 a day.
How to save money on food and activities
This is by far my favourite site for booking activities.  They have great deals, sometimes over 50% off, but limited numbers.  Usually I start checking a few weeks out from my trip, especially for higher priced options.  In the past I have saved over $70 on a Milford Sound trip from Queenstown and had 70% off activities like the Ice Bar and Queenstown Lake Cruise.
One downside is that you are locked into a time for that activity, however a bonus is the first activity of the day (often 9am) is usually the best deal.  As parents, since we are up early anyway, I find this works out perfectly.
They don't usually have deals on child tickets, however reducing the adult price really lowers the spending for the day
Examples of discounted activities
Rafting

Gondola

Glow worm caves

Day cruises

Agrodome Farm Show

Hot Pool entry

Etc
So make sure you check out this website regularly while you travelling around.
Grabone is one of those "new deals everyday" type sites, although now lots of them have weekly deals.  You can check out this site for cheap restaurant vouchers, hotel deals and even experiences such as paddleboard hire etc.  Just make sure you read the terms and conditions because some have blackout dates or terms that might not suit you.
This is another great site to search especially for more luxury or boutique stays.  Great for nabbing a good deal on something you wouldn't usually splurge on.   Often their hotel deals have lots of added extras too and who doesn't love a bit of a package deal.
One thing I do find about New Zealand, is that it can be quite expensive to eat out as a family, especially on a regular basis like a holiday.  This is why we love First Table. You can book the first table of the night at many different restaurants (so an early sitting 5 or 6pm ish) and you get 50% off your meal.  That can mean fine dining for only $20 per plate (#winning) This works perfectly for families as I know we always like to eat at this time anyway and I loooove a good deal!
If you are going to be spending a long time in one area, and you know you will be eating out a lot or doing lots of paid activities, then the Entertainment Book will offer you great value!  Its perhaps the best kept secret to help your budget while travelling in New Zealand and I guarantee you won't find this on any other website.  The Entertainment Book is designed as a fundraising tool for schools, sports club etc, but is now an app, so you don't even actually need the book, you can just buy access to the vouchers online.
The "book" is full of deals, mostly restaurants and cafes, but also a lot of fun family activities.  The food deals are usually to buy one main, get one free, or perhaps 25% off the bill. Activities could include: buy one waterslide pass at Tekapo Springs and get one free or 25% off a scenic balloon flights (up to $325 value)
The cost for this is around $70, which I know sounds like quite a large investment.  But if you have a browse through the website and see if there are restaurants and activities already on your list, then it will pay for itself easily.
For example
International Antarctic Centre, Christchurch
Usually $59 per adult or family is $149
Entertainment Book Deal: Buy one adult, get one free, or 50% off family pass
Family saving $75 (actually this would even pay for the whole book!)
Willowbank Wildlife Reserve, Christchurch (see Kiwi here)
Usually $32.50 per adult
Entertaiment Book: Buy one get one free
Savings $32.50
Black Cat Swimming with Dolphins, Akaroa, Canterbury
Usually $175 per person
Entertainment Book: 25% off up to 2 people
Savings for two people: $87.50
How to Sign up
Click Join

Click Find a fundraiser

Choose an organisation (you could search your own or use my netball club: CFC Netball)

Click Next

Scroll down to the bottom of the page, then choose your region option and pay.

Then download the app and sign in
Your money will go to support a local New Zealand club or organisation AND you get access to such great deals.  We buy one everyone year and it encourages us to try out different things and find new favourites!
Cheap Mobile Phone Plans in New Zealand
No doubt you will want to have access to your mobile while you are travelling in New Zealand.  While we have great cell phone coverage in the cities, in rural New Zealand, no matter what provider you use, you are likely to run out of signal when exploring off the beaten track.  Google Maps is one of the best things you can use to help you get from A to B, but obviously you do need cell phone service to run it.
The main mobile phone service providers are:
Spark

Vodafone

Skinny 

2 degrees
We hope these budget tips will help you to enjoy more experiences in New Zealand, sooth that budget while travelling and even stay a little longer