Hiking to Mueller Hut and Mt Ollivier, Mt Cook National Park
Mueller Hut, Mt Cook
The Mueller Hut hike in Mt Cook National Park, has to be one of the most incredible day walks in New Zealand.  I cannot get over the mountain and glacier views here, some of the best I have seen in my entire life.
If you want to hike to incredible views of Aoraki Mt Cook, love glaciers and alpine huts, then this is the hike for you.  Avid Sir Edmund Hillary lovers, you're in for a treat, as just past Mueller Hut is Mt Ollivier, Hillarys first summit.
The Mueller Hut walk is a great full day walk, or overnight hut walk. It is a challenge though, with 3-4 hours of uphill walking to reach the hut and alpine conditions, so do make sure you are very carefully prepared (gear and weather, we will give you the lowdown below)
(please note this article may contain affiliate links.  These do not cost you any extra but any small commission earned goes towards the running of this website.  Thank you so much for your support)
In this article we will cover
Hiking to Mueller Hut with kids

Extension Walk: Hiking to Mt Ollivier

What to pack to walk to Mueller Hut, NZ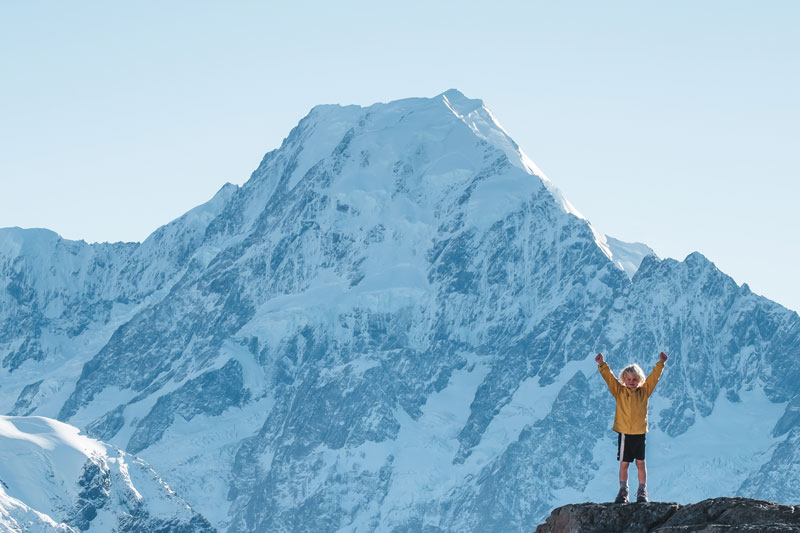 Mueller Hut Booking
During the serviced season from Mid November to the end of April, you will need to book Mueller Hut online on the DOC website.  Outside of these times (also outside of the recommending walking window) you can turn up on a first come, first served basis.
It is a popular weekend overnight hike, so Saturday night bookings often fill up fast.  Make sure you book these early in advance. It is same over the Christmas school holidays (mid December – late January)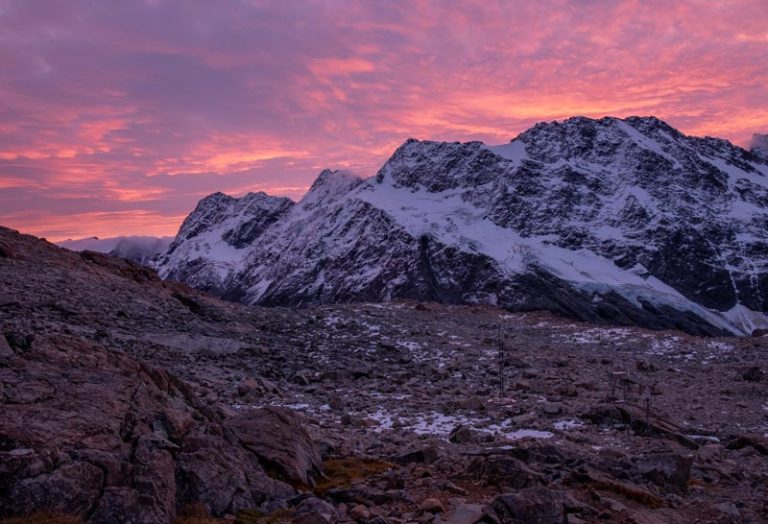 Where to stay in Mt Cook before you hike
I highly recommend staying a night in Mt Cook Village before you head up to Mueller Hut.  This way you don't have to travel far, can be well rested, and you will have to time to check in with the visitor centre before you go.
Mountain weather is often more settled in the mornings (not always mind you, but if I was to bet on something) so setting off to your Mt Cook hut earlier in the day is advisable.  This means you have all day to enjoy the hike and do not risk running out of light if it takes you longer to walk than expected.
Day walkers who wish to walk up and back in one day should definitely give themselves as much time as possible.

YHA Mt Cook
The Aoraki Mt Cook YHA is a great budget friendly location to prepare for a hike.  A big bonus is the kitchen space, so you can prepare anything you need. (boiled eggs, a frozen meal etc) Or like us, you may even bump into other hikers who are heading up too.  Always great to see a friendly place on the trail.
Dorm rooms as well as comfortable private rooms (including family rooms) are available.  Click here for the latest prices and availability.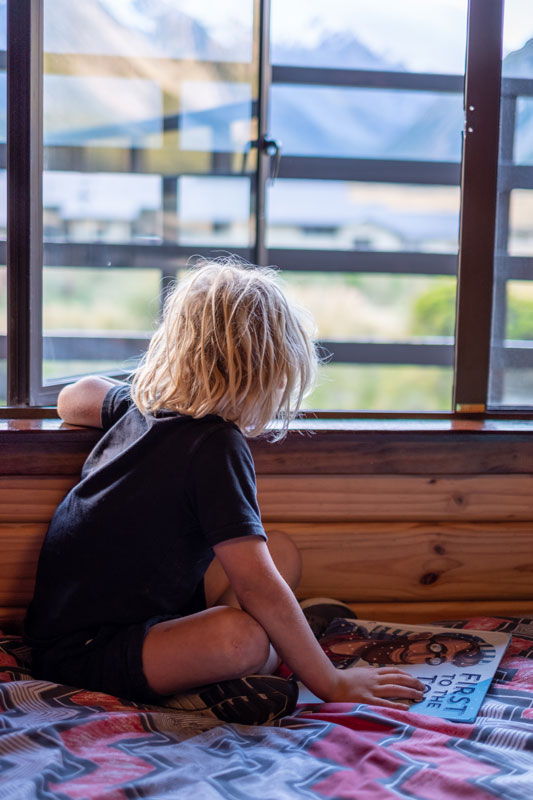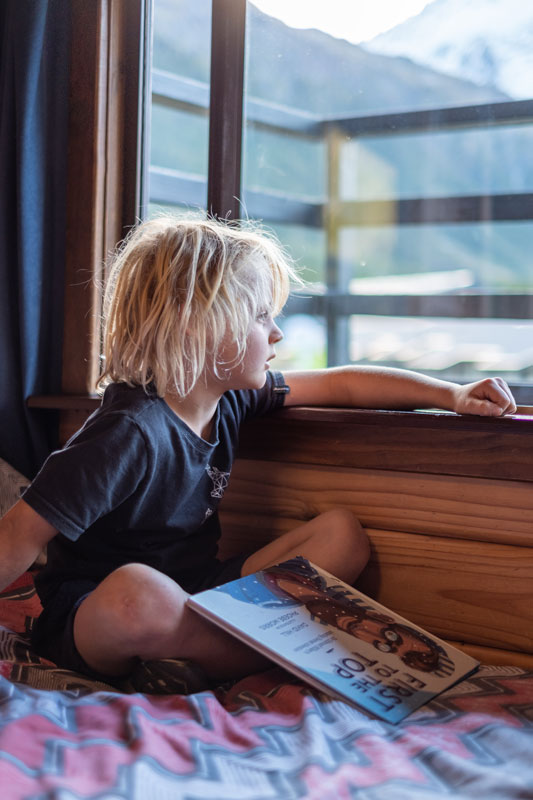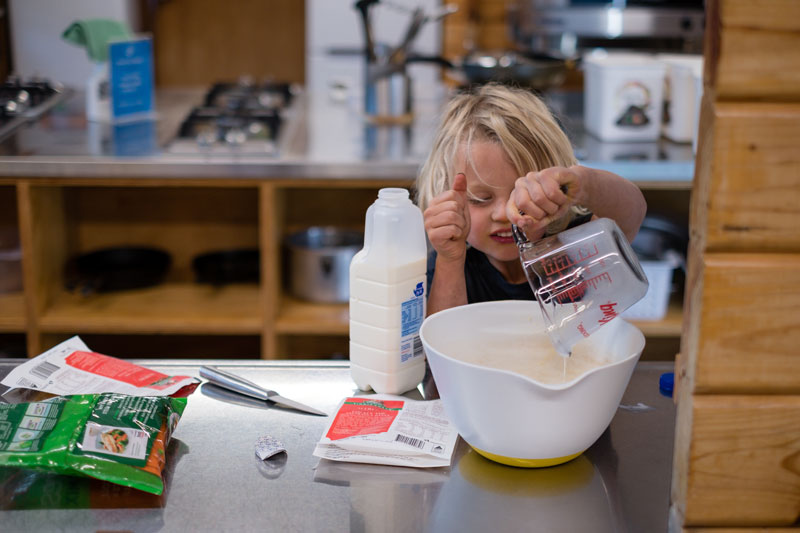 The Hermitage Hotel Mt Cook
The Hermitage Hotel is the best luxury accommodation in Mt Cook, so if you are after a comfortable night sleep and a hearty cooked breakfast before you go, then this is the perfect option.
There is nothing like waking up to views of the mountains, so
book your mountain view room here
A few other options include
Camping at Mt Cook
Looking for a Mt Cook campsite?  Well you have two options here. 
The White Horse Hill Campground

, a DOC campsite.  The cheapest accommodation in Mt Cook National Park.  You have access to toilets and a shelter, but you will need to bring everything else with you.  A good place to park a campervan.  This is right at the Mueller Hut trailhead

Glentanner Park: A fully serviced campsite near Mt Cook Village, just 20 minutes down the road.  You have the usual camping and motorhome options, as well as cabins and motel style accommodation. You can see availability and prices here

You have further campground options in Twizel and Tekapo.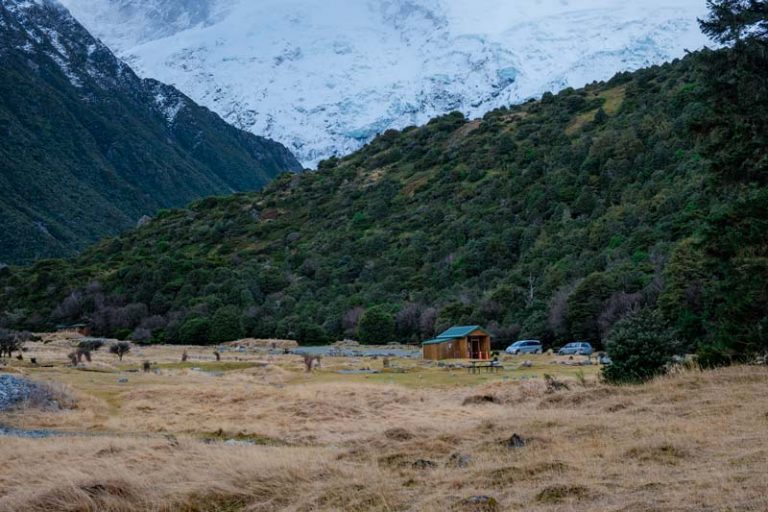 How long does it take to hike the Mueller Hut Track, Mount Cook National Park
The Department of Conservation recommends allowing 4 hours one way to complete the hike from the valley to Mueller Hut.  It took us 4 hours and 15 minutes, including a 30 minute stop at Sealy Tarns on the way up, and plenty of short pauses for photos and rest stops.  
On the way back down, it took us 3 and a half hours, including a 35 minute stop at Sealy Tarns for lunch.  It will just depend on how fast you walk downhill here.  My son obviously has much shorter legs, so going downhill with him is not quite as fast as you would think.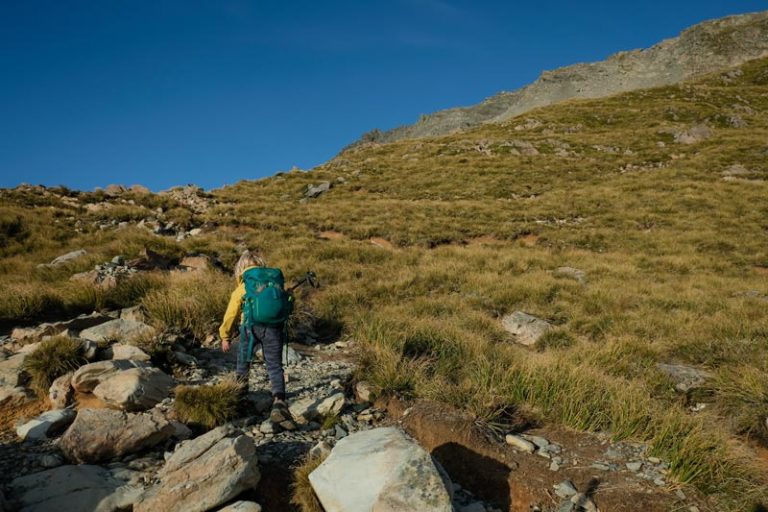 When is the best time to climb to Mueller Hut, Mt Cook?
The best time to hike to Mueller Hut is between Mid November and 30 April.  The Department of Conservation strongly advise not to hike outside of this season, unless you are an experienced climber.  Outside of these dates, there is great avalanche risk and the weather can be bitterly cold and dangerous.
If you do have mountaineering experience, you can hire any equipment you need such as crampons or ice axes from Alpine Guides in Mt Cook Village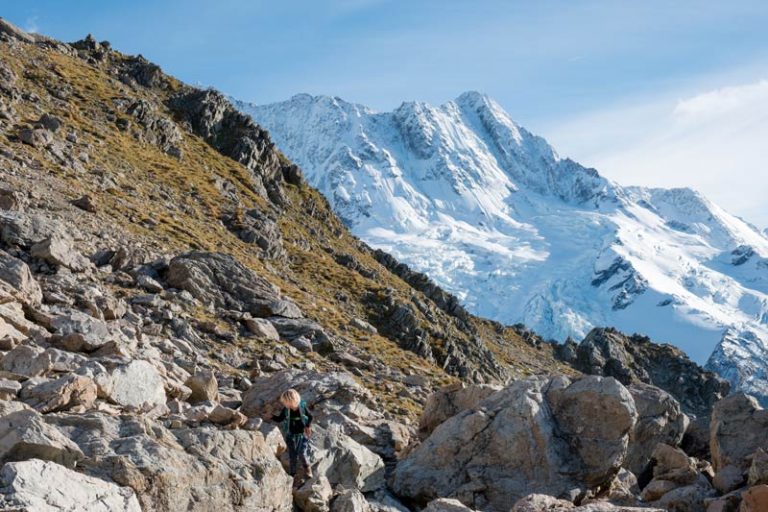 Mueller Hut Track in Winter
Mueller Hut winter conditions can be treacherous.  The Department of Conservation recommends that only very experienced hikers and mountaineers attempt the hike to Mueller Hut in winter.  You need to have experience using crampons and ice axes, as well as avalanche training as the risk here is high. 
You should always check with the New Zealand Avalanche Advisory, and have a avalanche transmitter, probe and snow shovel with you (and know how to use them)
Obviously do not attempt this route with children in winter.
Safety on the Mueller Hut Route
Keeping safe on the Mueller Hut Route is paramount.  I believe the weather is the greatest risk here, as alpine conditions means the weather changes quickly.  Some great resources for the weather include YR.no and windy.com 
Always make sure you check in with the DOC Visitor Centre in Mt Cook Village.  They have on the ground knowledge of the weather patterns.
A few tips for keeping safe on the Mueller Hut track New Zealand
Bring enough warm clothing and extra in case in rains

Check the Mueller Hut weather forecast carefully and check in with DOC

If in doubt, reassess the situation at Sealy Tarns, and if you're not sure of the weather, then don't go.

There are no Mueller Hut webcams but you can find the Hermitage Hotel webcam or Glentanner Park webcam, to give you an idea of the live weather conditions if you are coming from afar.

Ensure you have enough fitness to sustain a 4-6 hour uphill hike.  Reassess your fitness levels at Sealy Tarns as it gets tougher after this

Check out the Mountain Safety Council video on Mueller Hut.  This shows the stages where the track can be very exposed to weather.

Always ensure you have enough food and water

Make sure you let someone know where you are going before you leave

Take an emergency locator beacon or satellite communication in case you need help.

There is on cell phone reception at Mueller Hut, but there is on Mt Ollivier and at Sealy Tarns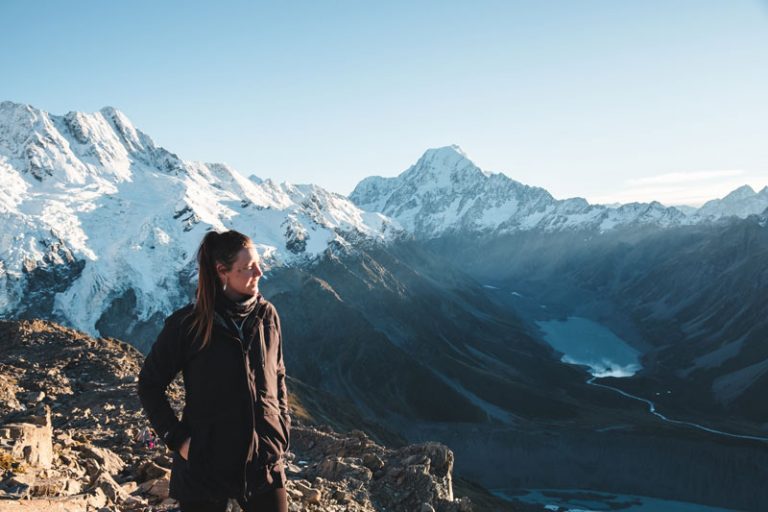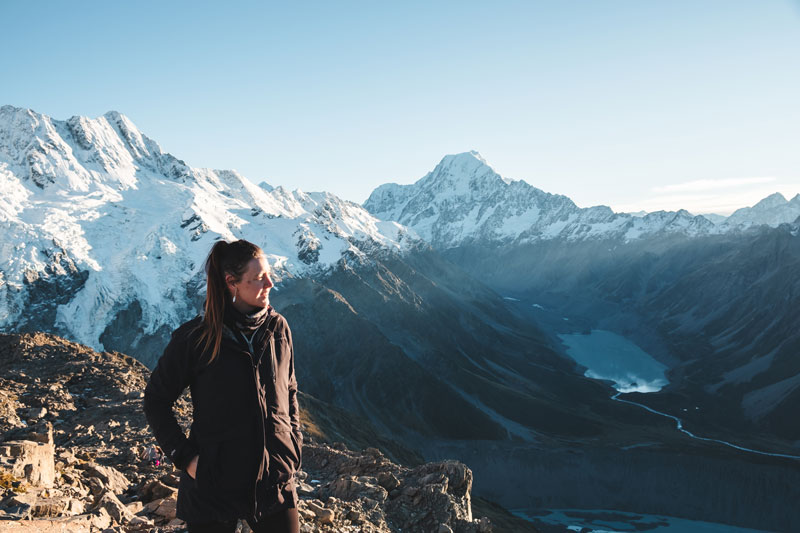 Check in at the Mt Cook Visitor Centre
The Department of Conservation Mt Cook Village visitor centre is a great source of information.  It actually has some great displays and museum-like exhibitions, so is worth a look whether you are climbing to Mueller Hut or not.  You can also make your Mueller Hut reservations here if you cannot do so online.
You can pick up your hut pass at the DOC visitor centre, but if its not open when you leave, you will need a print out or a screenshot of your booking confirmation.
The visitor centre is a great resource of information, so if you have any questions about the hike, weather or any concerns, be sure to call in before you head up the mountain.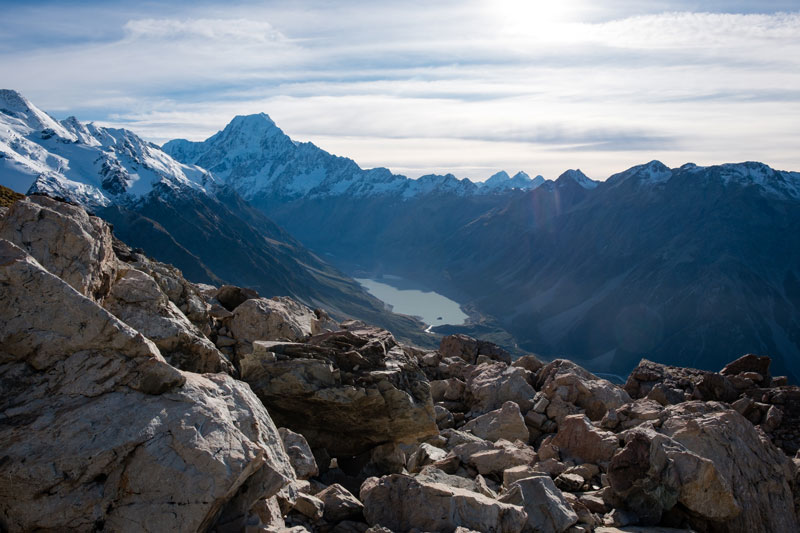 Details of the Mueller Hut track
The Mueller Hut walk can be a little daunting, given its a steep climb in an alpine environment.  So I'm going to give you a detailed rundown of what it was like in each section, so you have a better idea if this is the Mt Cook hike for you.
This walk can be broken down into the following sections
Sealy Tarns walk

False summit

Boulders and Scree section

Ridgeline Summit

Ridge boulders

Last push to Mueller Hut
Sealy Tarns Hike
The Sealy Tarns track has a 600m altitude gain over 2200 stairs.  It is a brutal uphill stair hike, however the stairs are very well formed and maintained, making it a very fast way to ascend 600m.  This "stairway to heaven" will take 1-2 hours depending on your stair climbing speed, plus a 15 minute walk from the carpark to the start of the staircase.
We have hiked this Sealy Tarns walk on two occasions, the first time with 3 kids, and this took 1 hour and 45 minutes from the carpark to the top of the Sealy Tarns Track, and the second time with just one child, and it was 1 hour and 15 minutes (this was quite a decent push with few breaks as we were rushing up for sunrise)
If you'd like some more in depth discussion of this track with some more photos, head to our Sealy Tarns Track article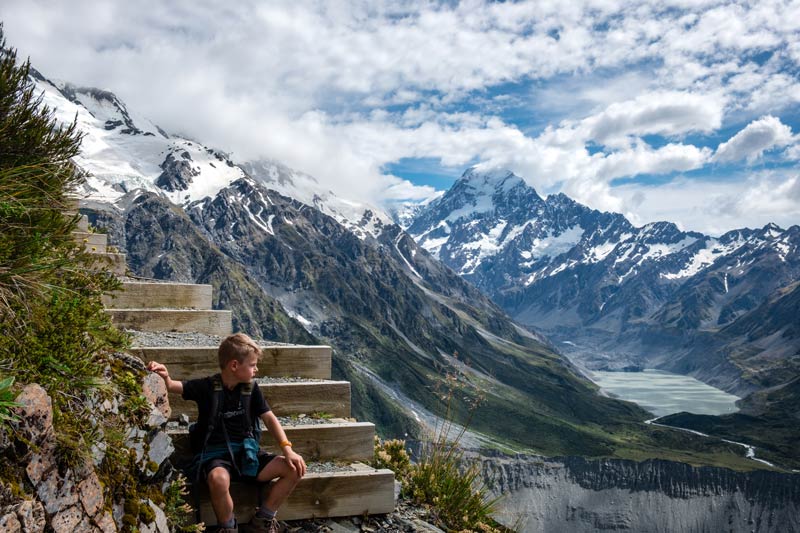 Sealy Tarns Summit
The Sealy Tarns is a very small alpine lake (pond sized to be honest) that overlooks Aoraki Mt Cook and the Hooker Lake.  It has a huge picnic table and is a great spot to regroup, grab a snack before you hit the advanced section of this Mt Cook tramping track.
It is also a good place to assess your fitness and take note of the weather. The Mueller Hut route only gets tougher from here, so if you found this section unmanageable, then there is a long way to go from here.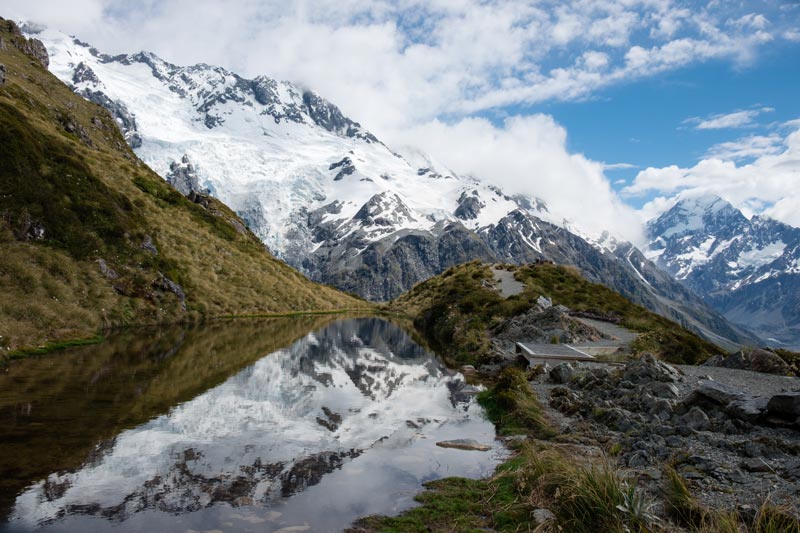 False Summit
When you look up from the Sealy Tarns, you'll see the goat track weave its way up the mountain.  From here, it looks like you can see the top, however it is a false summit.  Behind this section of the mountain, is another very steep section.  But you can do it, just keep going.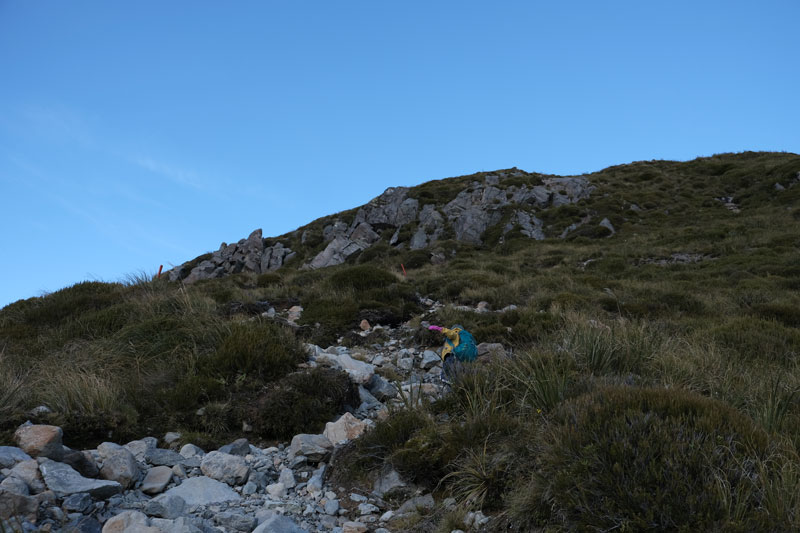 Boulders and Scree Section
Scree is a ton of loose small stones that cover a section of a mountain.  It's very loose under footing and it's really slippery.  In some places as you climb, you even slip back downhill.  So scree makes life a little difficult.
The Boulder section here is really fun though.  I really enjoyed this bit. Hopping from rock to rock was quite easy, although my 5 year old needed both his hands to navigate through, as his legs were obviously much shorter than mine.
From here, a final good section of scree and then you make it to the ridgeline.  Woohoo… no seriously, you can get a little excited, as the majority of the hard work has been done.  It's not too much further and it's not nearly as difficult from here.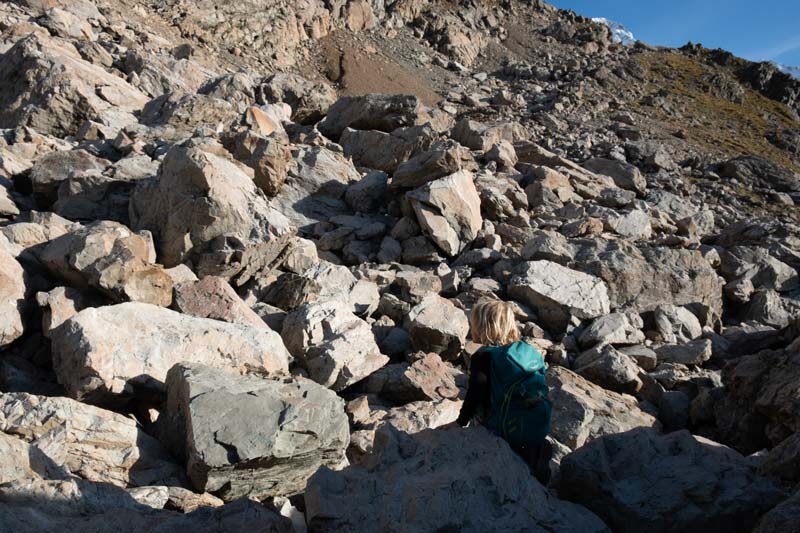 Ridgeline Summit
Wow when you make it to the ridgeline summit you have my permission to bask in the beauty.  As you finish your uphill climb and step up to the ridge, your view will suddenly be filled with snowy mountains and incredible glaciers.  Avalanches are very common here so don't be surprised as the thunderous echos bounce off the surrounding mountains.  
It's truly breathtaking and you can give yourself a wee pat on the back, because only those who are coming right up here will be able to see these views.  It's not something you can see from the valley floor.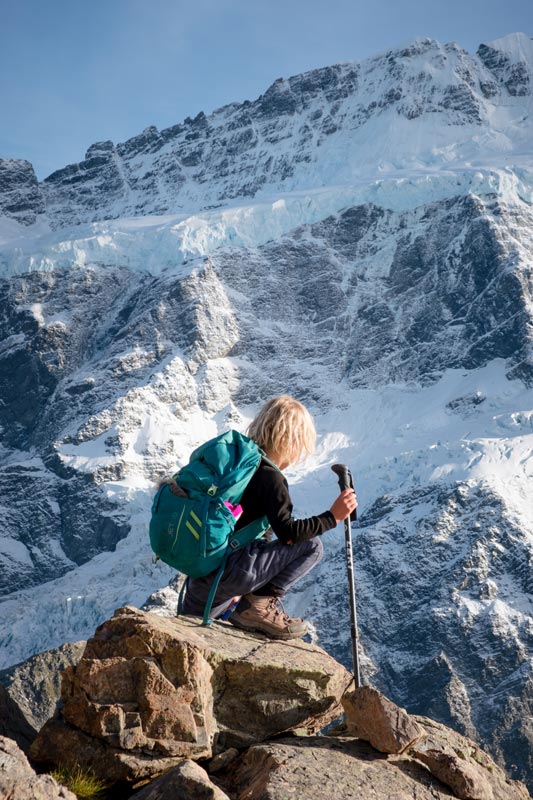 Ridgeline Boulders
From the summit, you hug the lefthand side of the mountain and head towards Mueller Hut.  There isn't too much more incline from here, but you do have another boulder section to cover here.  Make sure you take note of the orange trail markers that will lead you on the safest rock hopping route.
You can only imagine what this would be like in the snow.  Incredibly dangerous as there would definitely be snow covered big holes and gaps in the rock.  I would not like to be hopping across these boulders if there was snow blocking rock visibility here.  In fact, the experienced hut wardens we had chatted to, mentioned it once took them around an hour to cover this section safely (which may only take you 10 minutes or so when its clear)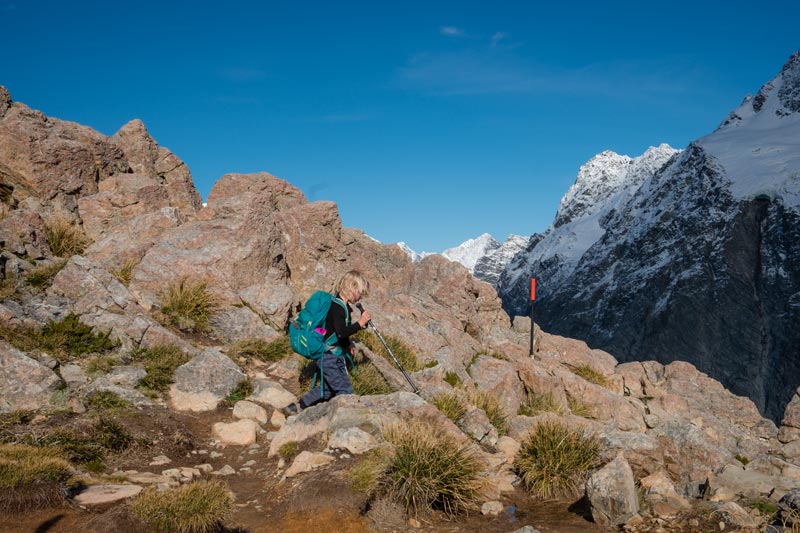 Final section to Mueller Hut
Just after you finish the boulder section, low and behold, the beautiful red hut will come into view.  It's the moment you have been waiting for, the finish is on the horizon.
Another 15 minutes or so will see you at your destination.  Note in behind, the big rocky rubbly mountain… this is Mt Ollivier.  Why bring up this mountain?  Well Mt Ollivier is in fact, the first summit that Sir Edmund Hillary climbed. (and the main reason my 5 year old was so keen to head up to this mountain)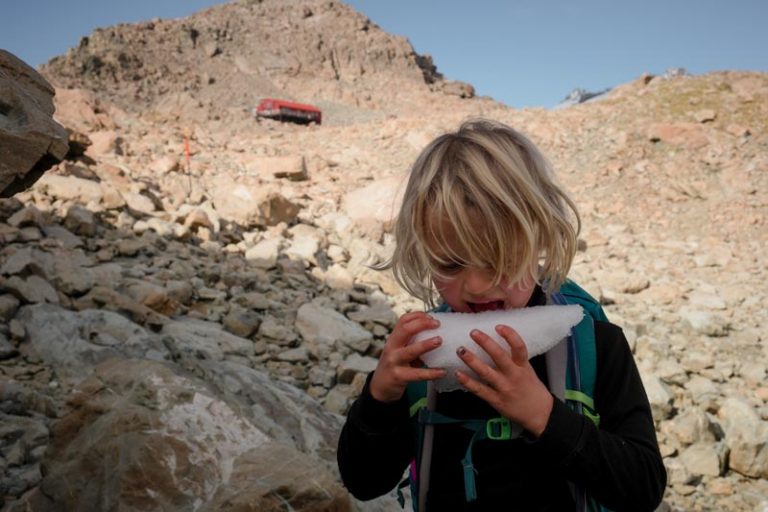 Everything you need to know about Mueller Hut, New Zealand
Welcome to Mueller Hut!  I can feel that great big sigh of relief as you reach the beautiful red shed, I had it too.
Mueller Hut is a serviced alpine hut in Mt Cook National Park.  It is a Department of Conservation Hut and is well looked after.  In fact, during the summer months there is usually a warden onsite to help welcome you, give you the lay of the land or help you with anything that you need.
Check out these Mueller Hut pictures below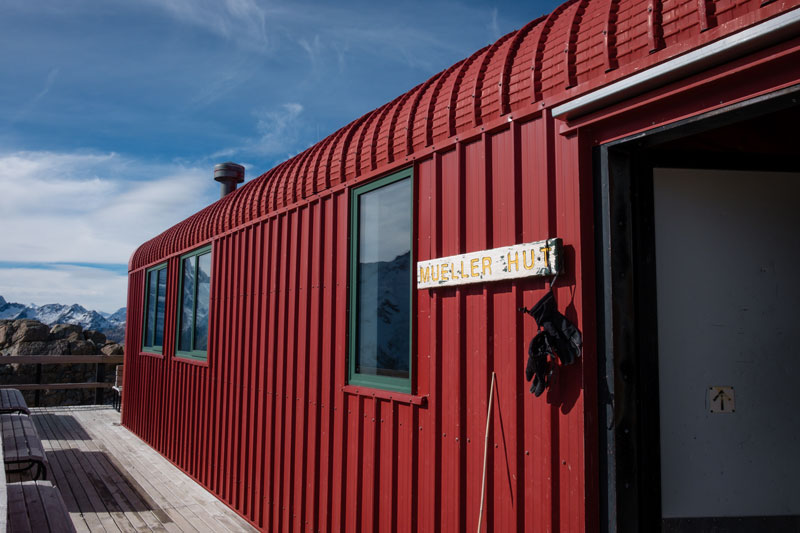 Mueller Hut Bunkrooms
Mueller Hut can sleep 28 people, with two bunk rooms sleeping 14 people in each room.  If you haven't slept at an alpine hut before, its not like a hostel.  There is one big long bunk, sleeping 7 on top and 7 underneath.  Fortunately, the bunks are well made and wooden, not a rickety metal bunk that shakes around every time someone climbs up on top.
Every person is provided with a mattress, rather similar to a school gym mat with a vinyl cover and you will be sleeping next to a stranger (or someone else in your travelling party).  For kids, I highly recommend putting them against a wall so they don't roll into another unsuspecting member of the public.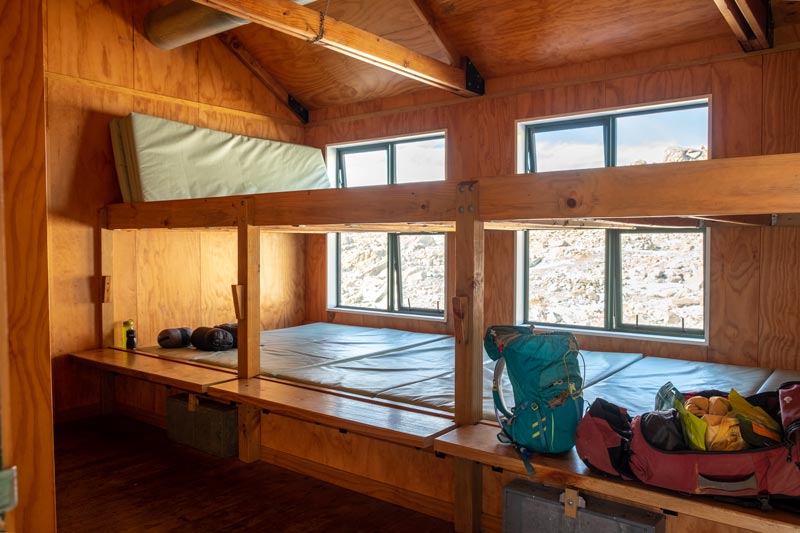 Mueller Hut Kitchen/Lounge/Dining area
What is quite unique about this hut, is that gas and gas cookers are provided.  So this is great if you don't want to lug your cooker up the mountain.  You will however need to bring your own pots, plates, cookware etc along with out.  It will take a wee while to boil your water however and if there are a lot of people in the hut cooking, you may have to wait for a cooker.  We brought our own Jetboil all in one cooker which was much faster, but its a great option to have.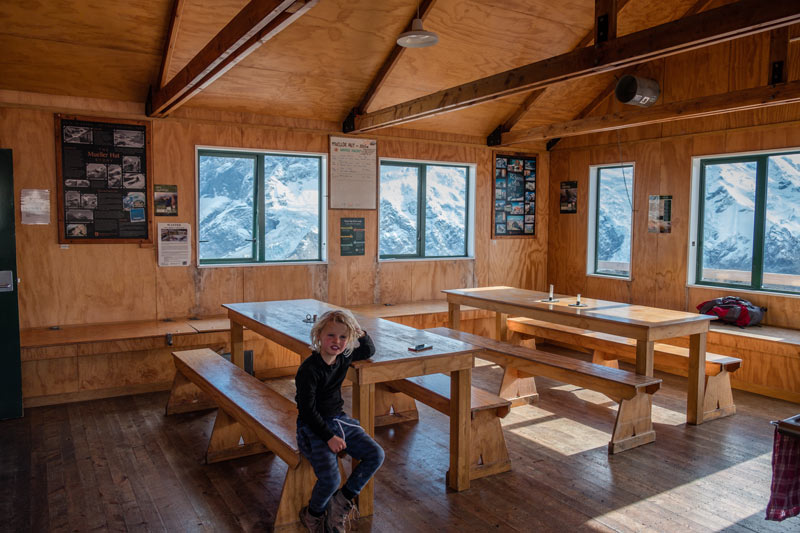 Water is also provided and it is recommended by DOC that you boil the water before use.  (We didn't and didn't die or get sick, but that risk is totally up to you)  This is awesome as you don't have to lug up many litres of water up the mountain.  (Don't forget 1L = 1kg)
Inside the kitchen area there are two big long wooden dining tables and wooden seating around the edge of the room.  Candle holders are provided, but you will need to bring your own candles
What is provided at Mueller Hut
Bunk Bed with sleeping mat

Gas stoves with gas (bring pots and pans)

Candle holders

Water (to be boiled)

Radio connected to Mt Cook base (weather report after sunset)

Used playing cards and magazine on the shelf
Note: There is no heating at Mueller Hut as the wood would have to be flown in (no trees at this level)  So do make sure you bring enough warm clothing to keep you warm, whatever the overnight temperature will be.
Hiking the Mueller Hut Track with kids
The Mueller Hut Route is an incredible hike.  Kids can definitely do it.  In fact, when we climbed up to Mueller Hut, there was a group of four families, with 9 kids between them ranging from 8-14 years old.  (But keep reading, you need to be well prepared, there are safety concerns and kids should have tramping experience)
I walked up with my 5 year old on a perfect weather day and he absolutely nailed it without issue.  However he has been regularly hiking decent length hikes since he was about 3.5 years old, so this is something to bear in mind.  There is around 1000m of elevation gain on this hike, so it's definitely not a walk in the park.
The kids will need to be tough and resilient as the hike is essentially a four hour uphill hike.  There are not a lot of flat sections here, it is a big slog uphill.  But if your children have been hiking for a while and are active kids, then it may be well worth giving it a crack.  Only you will know your own kids.
The other option is to test out the track to the Sealy Tarns.  For us, this was about ⅓ of the full distance and a good uphill climb.  If they find this too tough, then the rest of the track is much harder from here (although more interesting as they really have to concentrate and find their own route when climbing uphill)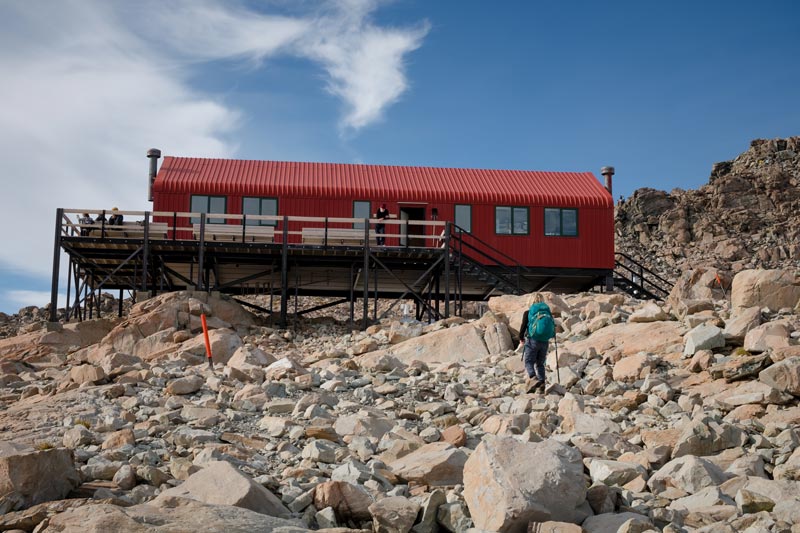 The biggest concern for tramping the Mueller Hut hike with kids, is the weather.  We were incredibly lucky in that the weather was sunny, fine and had absolutely no wind on our hike.  The conditions were perfect.  However alpine conditions are hardly ever perfect and a combination of wind and cold could have made this hike incredibly dangerous.
Up on the ridgeline, the wind is known to howl in here.  So I cannot implore you enough to check the weather conditions, talk to the DOC visitor centre and if in doubt, don't go.  A really good video about the hike and the weather conditions was put together by the Mountain Safety Council, and I highly recommend you give it a watch before attempting the track.
But if the weather is good and your kids are seasoned trampers, this will be one of the most magical hikes of your life.  It was breathtaking and you will be just on top of the world.  
Top tips for hiking Mueller Hut with kids
If you are concerned about how long it is going to take you, then start early in the morning.  The last thing you want to do is run out of sunlight.  In fact my son wanted to see sunrise at Sealy Tarns so we spent about 45 minutes hiking in the dark up the Sealy Tarns stairs.  Given they were well formed, this is absolutely doable and makes the hike really interesting

Don't load up the kids bags too much.  This will slow them down significantly

Make sure you pack plenty of warm gear.  It is alpine conditions.  Even on a day that reached 16C in no wind, our early morning hike required a hat, jacket and gloves.

Have plenty of snacks and water on board

Take plenty of short breaks on the way up.  We set targets such as another 100 stairs, or 3 more markers before we took a break.

I highly recommend hiking boots.  A lot of time is spent on uneven ground that is slippery and unstable.  Good grip will be really helpful.

Bring some small to do like cards, pen and paper etc.  You can lose the light on the mountains early and it can get cold quickly, so having something to do indoors will help pass the time before bed.
Hiking to Mt Ollivier (1933m)
Mt Ollivier is the rocky, rubbly summit just behind Mueller Hut.  There is no defined route up here, but just be careful as it requires some climbing and boulder hopping.  Just don't end up on the cliff side as a slip here would be dangerous.
Mt Ollivier was Sir Edmund Hillary's first summit, so climbing here is a must for avid Hillary fans.  Hillary first climbed Mt Ollivier in 1939.  You can find more information about Sir Edmund Hillary at the Alpine Centre based at the Hermitage Hotel.
It takes about another 30 minutes to climb to the top of Mt Ollivier from Mueller Hut.
The views from Mt Ollivier are incredible.  You will get 360 degree views over the Southern Alps and see all the way out to Lake Pukaki. Given that Mueller Hut is in a bit of a basin, the views from the top really do feel like you are on top of the world.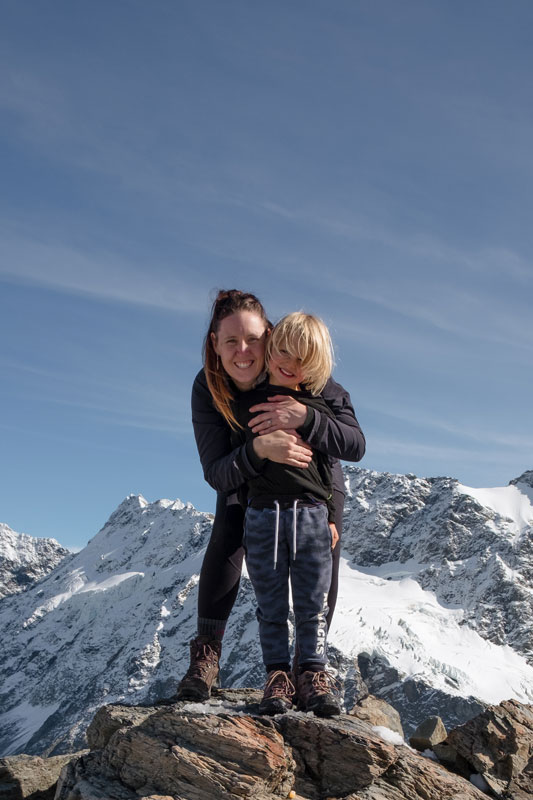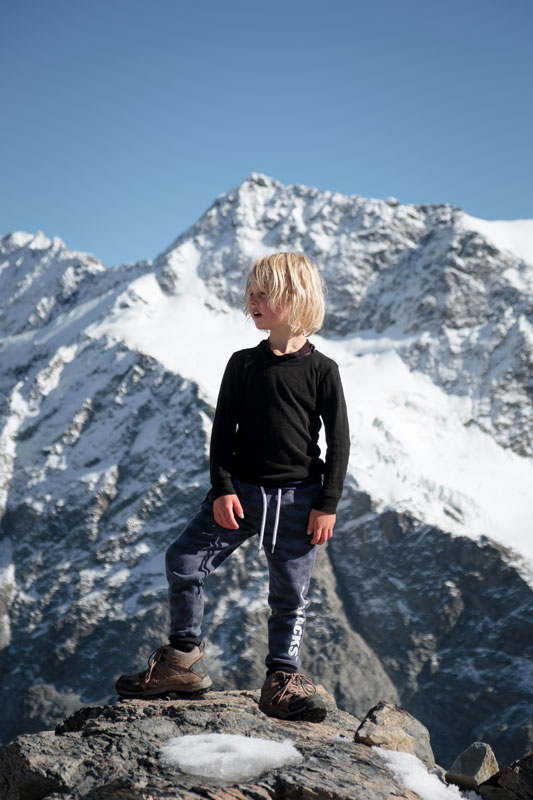 Packing List for Mueller Hut Overnight Hike
Safety items: PLB (personal locator beacon), first aid kit, emergency bag

Hiking boots

Good pack with waterproof cover

Rain Jacket (I also took waterproof pants for my child)

Mid layers for warmth such as down jacket or fleece

Base layers: merino or thermals to protect your core

Complete change of hiking clothes in case it gets wet from rain or snow, and ladies, an extra bra to change out of that cold sweat, change of socks

Clothes to sleep in: I used long sleeve thermal tops and pants to sleep in with my fleece layer

Warm hat and gloves

Toilet paper (byo)

Food (including extra food in case you were snowed in, or got stuck on the mountain)

Water bladder or drink bottle (you can refill at the hut)

Pots, pans or cooking system to heat your food

Any bowls, plates, cutlery, mugs if required
Optional extras
Walking poles (I highly recommend these on this Mt Cook hike, they helped me immensely – and I don't usually use them)

Hut shoes for inside the hut

Small games/book/things to do

Charger for phone and camera

Sunglasses

Camera gear
Just don't forget, when you are hiking the Mueller Track, Mt Cook National Park has very volatile alpine conditions.  They change quickly, so the most important thing is to be prepared.  And if in doubt, don't go.
More Awesome Mt Cook Hikes and Walks
So if you've ticked off the Mueller Hut Track, or decided its not quite for you, there are so many more Mt Cook hikes and walks for you to conquer.  We have done a ton of them, so check out our first hand accounts below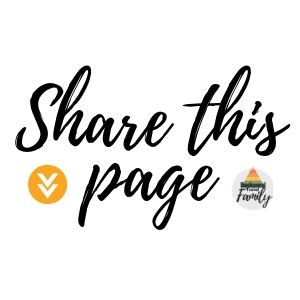 Sir Edmund Hillary climbed to the top of Mt Ollivier, it was his first summit, and I wanted to climb it too, just like him. Staying at Mueller Hut was cool. We had chocolate pudding for dessert. It was just in a bag and we got to pour the water in. I saw the sunrise over the mountains... it was really cool but cold. It wasn't hard at all... I like climbing. I want to climb a higher mountain now